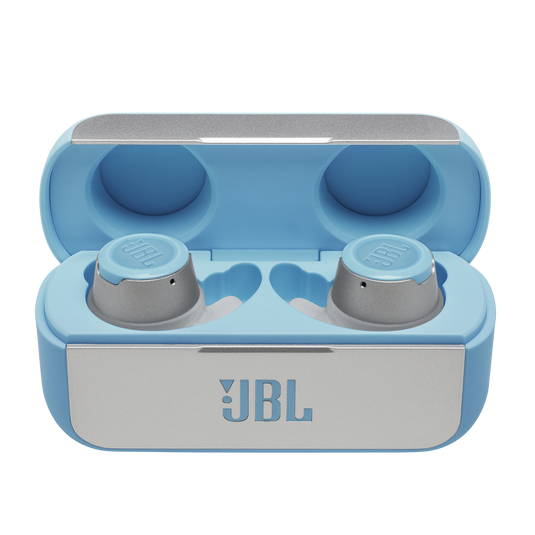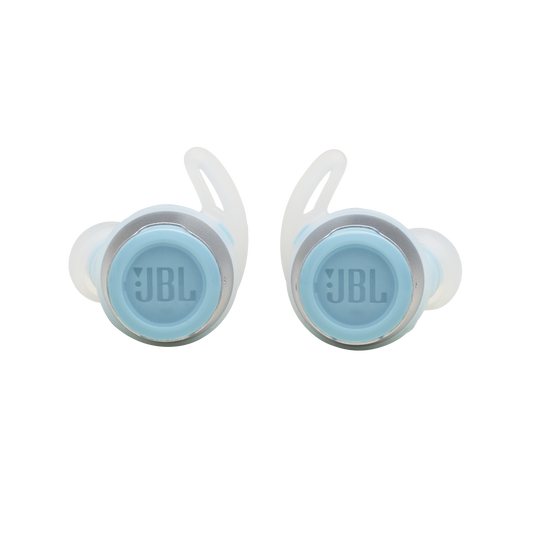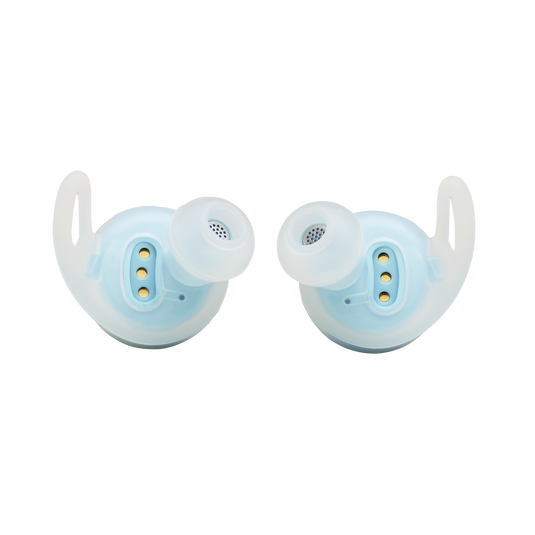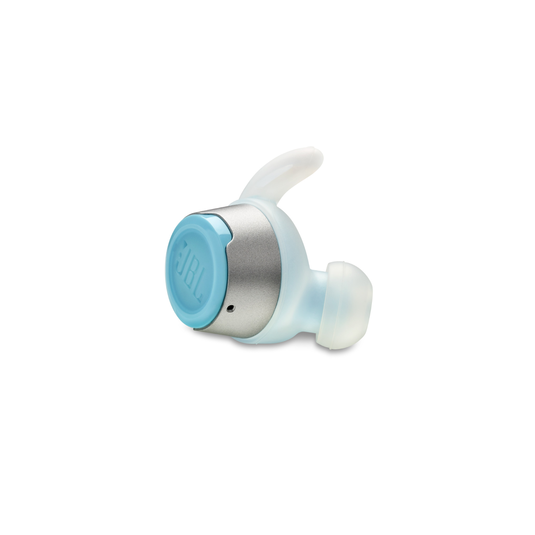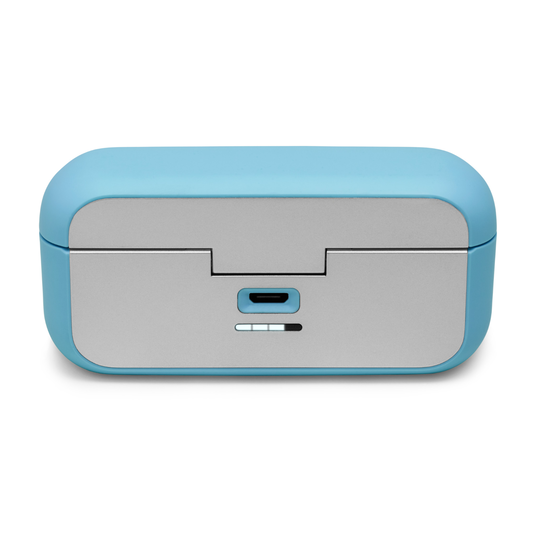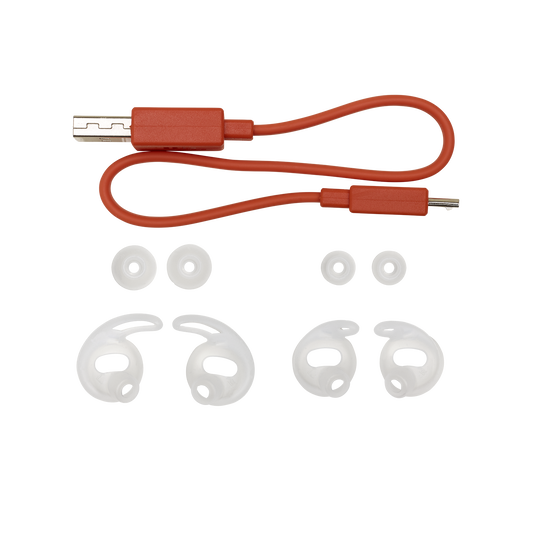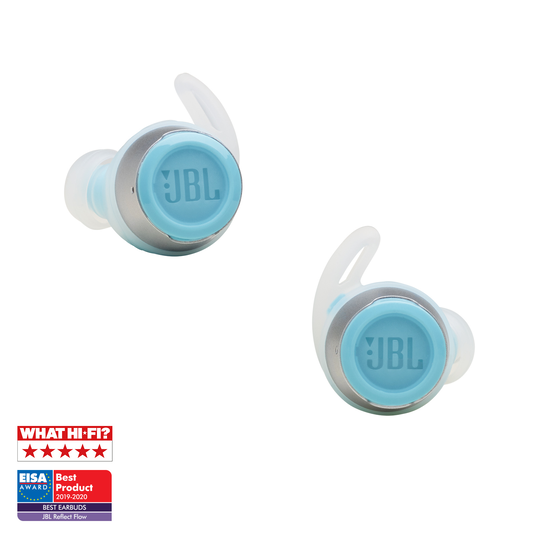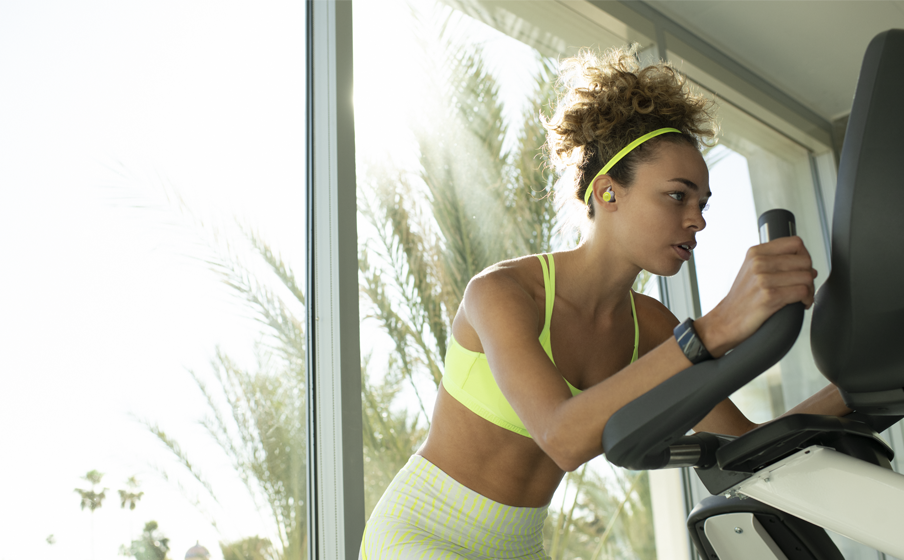 Up to 30 Hours Battery Life + Speed Charge
Powers a week's worth of workouts or a full day of fun with up to 10 hours in the earbuds plus an additional 20 (max) in the charging case. A 10 min rapid charge gets you back in the game for up to another full hour.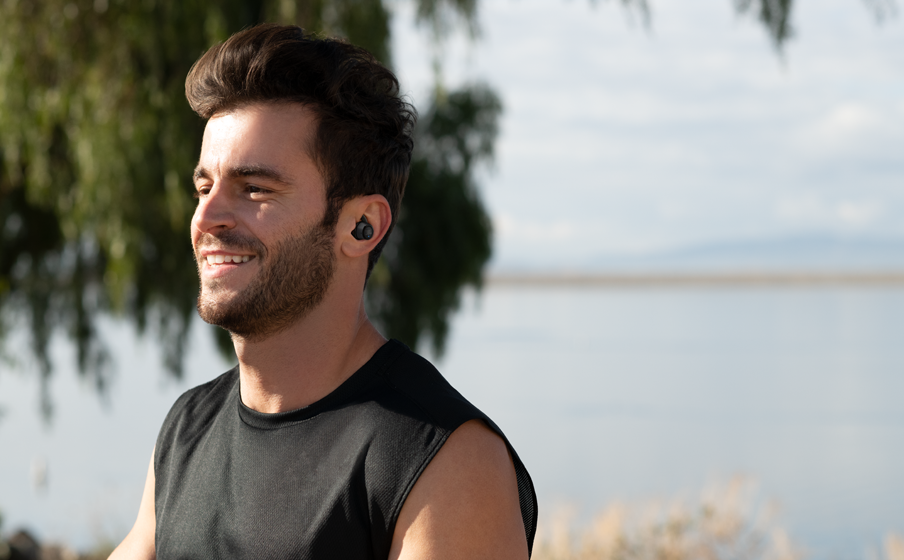 Ergonomic Fit
Better comfort and customization with ergonomic silicone tips and patented Freebit™ enhancers, available in 3 sizes.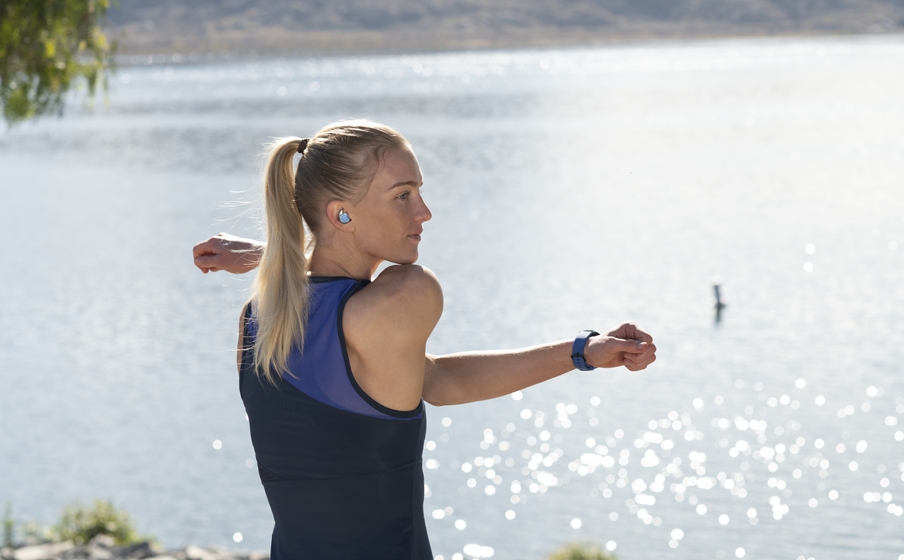 Waterproof and dustproof
The IP67 waterproof and dustproof rating means durability and support through the toughest workout in any weather and conditions.
Features

Ambient Aware and TalkThru
Equipped with Ambient Aware for additional awareness in outdoor environments and TalkThru for easy conversation without taking out the earphones.

JBL Signature Sound
The 5.8mm driver featuring JBL Signature Sound provides a powerful punch to all your playlists.

Hands-free stereo calls with easy access to your voice assistant
Manage music and calls with ease or get info from your voice assistant at the touch of a button.

Truly Wireless
Discover the freedom of a wireless lifestyle while on the go. Work out, listen to music, and manage your calls without the fear of tangled wires interrupting your groove.
Specs & Downloads
Item# JBLREFFLOWTELAM
Description
Designed for movement. Defined by you.

Enjoy the freedom to go further with JBL Reflect Flow headphones. Whether you're in the gym training or outside on the go, the JBL Reflect Flow headphones are truly wireless to compliment your active lifestyle. In addition to the ability to change tracks, manage calls hands-free and access your voice assistant, the Reflect Flow headphones are IPX7 water and sweat proof providing up to 10 hours of continuous playtime with up to 20 additional hours in the charging case. You'll also enjoy the Ambient Aware feature that enables you to hear what's happening around you while still enjoying your music. Additionally, the TalkThru feature allows you to have a conversation without taking off the headphones. Comfortable and secure thanks to customizable ear-tips and Freebit enhancers, the Reflect Flow headphones delivers powerful JBL Signature Sound designed for movement.
General Specifications
Driver size (mm)

5.8

IP Code

IP67
Audio Specifications
Driver sensitivity at 1kHz/1mW (dB)

102 dB SPL

Dynamic frequency response range (Hz)

20Hz - 20kHz

Impedance (ohms)

14

Number of drivers per ear

1
Dimensions
Charging Case Weight (oz)

2.5

Earpiece Weight (oz)

0.7

Charging Case Weight (g)

70

Earpiece Weight (g)

19
Control and Connection Specifications
Bluetooth profiles

A2DP 1.3 AVRCP 1.5 HFP 1.6

Bluetooth frequency

2.402 GHz – 2.480 GHz

Bluetooth transmitted modulation

GFSK, π/4DQPSK, 8DPSK

Bluetooth transmitter power

0 - 12.5dbm

Bluetooth version

5.0
Battery
Charging time (hours from empty)

2

Charging case battery life (max hours)

20

Maximum play time (hours)

10
Features
Charging cable

Yes

Ambient Aware

Yes

TalkThru

Yes

Voice Assistant integration

Yes

Built-in Microphone

Yes

Google Assistant

Yes

Hands Free Call

Yes

JBL Signature Sound

Yes

Sweat Proof

Yes

True Wireless

Yes

Wireless

Yes

Waterproof

Yes

Charging case

Yes

Speed charge

Yes

Rechargable battery

Yes

Remote control on ear cups?

Yes

Bluetooth

Yes
What's in The Box?
1 x JBL Reflect Flow
1 x Charging cable
3 x Sizes of ear tips
3 x Sizes Freebit
1 x Charging case
1 x Quick start guide / Safety Sheet (S/i)
1 x Warranty / Warning (W/!)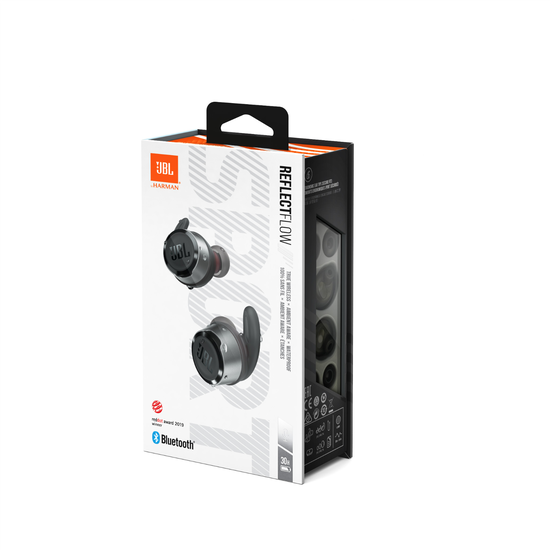 Documents & Downloads
Customer Reviews
Rated

5

out of

5
by
Fitterbro76
from
These things are the best buds yet!
Forget getting all detailed I'll just say this, when I workout I like to rock out and my rap has to slap!! I get so upset at all these ear buds advertising good sound! Forget good sound I want good "loud" sound and for some ear buds these JBL's finally do that!! Well worth the money I spent. I only bought them because my Awsome JBL's that cover the ear started to stink from absorbing my sweat which I didn't realize what was happening before it was too late. So I recommend JBL make those ear pads water proof or make them replaceable. Replaceable would be cool because you could have different color ones. Some people like to match their workout clothes. Lol
Date published: 2019-12-27
Rated

1

out of

5
by
DidsapointedPotato
from
Great headphones with terrible charging issues.
I am writing this to voice my displeasure. I've had these for 6 months, and since the beginning these have always had issues charging. It's a dice roll whether these will charge for me or not. Most the time they're fine, but when you need them the most, you charge them up overnight in the case only for them to die instantly. It's as if the box is not charging the headphones. I give you an example. Right now, the box is on 4 bars (full apparently) left them in the box charging for over an hour, put them back in my ears as they havent charged at all! Super frustrating. I expect better quality service for the price. The whole point of going wireless is convenience which this is the last thing to. Now here I am on a nightshift writing a 1 star review frustrated. Stay away! Other than this issue these are exactly what I need which is why I'm really disappointed as I really wanted to love these. The build quality great, finish amazing , sound is great but it's all a shame when they have huge quality control issues.
Date published: 2020-02-15
Rated

3

out of

5
by
Aleksandr_Fuze
from
Not recommended...
The first experience was good: well durability, good music quality for this price. But in a while, I got a problem with enabling headphones, it can not be enabled on uses enable button only if right headphone put in the box and extract (sometimes). Then, I got one more issue only with the right headphone after putting in the box and closing that, the headphone was enabling and not charge in (required a lot of trying to charge it). Microphone: all my interlocutors complained that they don't hear me or hear very bad. After a few seconds of silence, my headphones eating a few seconds of my conversation... I was trying to find a way to update the firmware but to no avail (the mobile application "JBL headphones" doesn't support this model).
Date published: 2020-07-06
Rated

5

out of

5
by
Mrfultons
from
Best I've used
These are brilliant tbh, exactly what I needed. Sound is brilliant with good bass and even good mids and lows, I do wish they could connect to the jbl app for more personal preference EQ. The charger has 20 hours in it and the ear buds hold 10 so 30 hours without charging will last me the week with spare. The packing is high quality they come with spare tips at different sizes for all ear sizes. They are comfy to wear and if I shake my head running or working out they dont budge. The only downside I have really is they are too slippy in the case, because it doesnt open fully its hard for chubby fingers to grip them. Otherwise a great value for money
Date published: 2019-09-09
Rated

5

out of

5
by
HayoN
from
Amazing!
You are able to pre-order them through Apple pay and they will ship right away, as that is what I did. I got free 2 day shipping and have had them for a couple days now. The sound quality is impressive. Crystal clear audio with great punchy bass. They are also amazingly comfortable and will not fall out of your ears at all. I work a desk job all day and have been using them since I got them at work. The battery life is the best I have ever had out of any wireless earbuds. They claim 10 hours of battery life, however I was able to work for 8.5 hours listening to music and a couple podcasts nonstop (except for maybe 15 minutes of them charging in the case during lunch), and at the end of my shift, They barely even made it down to 50%!!! And on top of all of that, it has Bluetooth 5.0. Connection with them has been amazing and have been able to walk around my house with little interference (even through some walls). The delay is something I was worried about, however I was also surprised with the delay (the lag between audio and video on your phone). The delay is quite low. There is some delay, but I honestly don't think it could be better than what it is right now. Maybe 100-200 ms of delay? Which makes watching videos completely watchable with no problems. Overall I highly, Highly, HIGHLY, recommend!
Date published: 2019-08-01
Rated

4

out of

5
by
Dasagu23
from
Great True Wireless Headphones
I really love these headphones. They not only look good but are also very comfortable, the fit is very snug and secure. I use these for running and high intensity training without a problem, and I don't need to be worrying about the sweat because these are IPX7 certified. I also like that the headphones bind really well to my ears not allowing outdoor noise, this also helps with sound quality and bass. The sound quality is really good, they have a very clear and neutral sound, perfect bass and treble balance in my opinion. They can also get really loud without distortion I think my favorite part of these headphones is the ambient aware feature. You press the button on the left headphone and this activates the built-in microphones to let you hear outside noise without having to take the headphones off. The battery life is great! Around 10 hours on a single charge without putting them back on the charging case. The case gives you 3 full charges so that's around 30 hours of battery. The only reasons why I'm not giving them 5 stars is because the charging cable is Micro USB and not USB C. The buttons on the headphones are not so easy to press, I would have preferred touch sensitive ones. And finally that there is no Smartphone app to equalize them. In conclusion these are the best true wireless headphones that I've tried, even at higher price points.
Date published: 2019-08-28
Rated

1

out of

5
by
William 34
from
Worst investment I've ever made
I bought these right before deployment and within a month they started having issues. The left ear will randomly turn off and you will have to stop your workout or run and reset them every time you use them. Additionally, they will experience static and poor connectivity even if your phone is literally right next to you. These are the worst headphones I have ever used. Save yourself a lot of money and buy some 20.00 headphones on Amazon, they will work a million times better. I contacted customer service after my deployment and they informed me I was outside of the return window even though I was in a combat zone. Absolute horrible customer service, almost as bad as the product.
Date published: 2020-12-20
Rated

5

out of

5
by
Jake5862
from
Great product but some improvents are possible
I have had this product for about 2 weeks now and used them for about 35-40 hours in total, Firstly I thought it was quite an easy setup to connect the headphones and immediately heard the sound quality was a 10/10 for me. Later that day I took them out and found that the case took up a lot of room in my pocket and was quite annoying to take in and out of my pocket. I was also a bit disappointed to find out that up can't listen with one ear bud in ear and the other in the case. I have taken the ear buds running and training multiple times and have found that they do not fall out easily and are very comfortable and light to wear and have in your ear.
Date published: 2019-09-03
Rated

1

out of

5
by
Neil49
from
What a Disappointment
I wish I never bought them. The first pair I had disconnected for a few seconds when I listened to them. This unit got replaced as they did not allow refunds but the scond does the same. This product is useless, here is why: - No volume control, only a button to press to talk to other (physical button, not touch) - Cannot listen to the left one stand alone (Sony can) - Uncomfortable fit. If you think of wearing them for longer than 30mins, they will start hurting - Battery life is not 10 hours - Soft sound, no bass at all. At full blast I can barely cancel out the surroundings. Total waste of my money. tldr; Don't buy, useless sound, uncomfortable fit, unthoughtful tech
Date published: 2020-01-08
Rated

2

out of

5
by
Jon21L
from
Bluetooth connection
I first had an issue with left ear charging but was about to fix that issue. However I have a Samsung s10+ and a fitbit ionic that I have music on, if the line of site is blocked between you phone it watch to the earbuds the music is cut out. The Bluetooth does not connect but the music cuts out. I also have the jbl charge 3 and clip 3 that don't have this problem. I have also had another set of wireless headphones that didn't have this issue. Jbl should supply a firmware update to fix this and also instructions on how to update firmware as there isn't anything about firmware on the reflect flow
Date published: 2020-06-14
Rated

4

out of

5
by
BoBeau70
from
Great sound
I just used these for a couple of bike rides. The fit is perfect. I didn't even feel them being in my ears. The sound was terrific as expected from JBL. I do not notice that much of a difference between the settings for "ambient aware" setting and the regular setting. I haven't used them for phone calls so I don't know how good the mic is for that. The case charged up the buds quickly. It was a little tricky to pair the ear buds to my phone. The directions JBL gives you are pictures instead of words. I can read. Just print the directions. I had to get online to find a video of how to pair them. Once I got them paired, they rock.
Date published: 2020-06-01
Rated

1

out of

5
by
Aaron333
from
Waste of money
My right ear bud completely stop taking charge after two weeks of use. Never dropped then or got them wet.
Date published: 2020-02-13
Rated

5

out of

5
by
tioma7
from
Yet, the best one
I'm Gym addicted person. And used to have some intense workouts 6days a week for 2 hours a days. Yet, I have be already had a problem with earbuds. Some were uncomfortable. Some were sound awfully. These past 2 year I've tried almost every high end sport earbuds under 350. THESE last JBL reflect flow was the best one yet. My last earbuds was JBL wireless flash. I used to have sounding issues with that ones. And some connectivity issues. With reflect flow Im more than happy! This sound gorgeous. The fit is perfect! There is no other earbuds with the same great fit(have just returned another newly released sport earbuds that costs 179.99 right now: only this can be compared if so. Though JBL is better). I could tune the sound using my oneplus 7pro EQ. No. Connectivity issues at all,! Moreover. The buttons are perfect for sport earbuds. The touch sensitivity buttons can cause trouble with accidental touches! With that said this last reflect flows are the best right now.. If. You are one like me. Who enjoys going GYM. And listening heavy bass music. With rock solid connectivity you have no other choice! P. S. Sorry for my English. I wrote this review as I was truly satisfied that could finally find the right earbuds for me,!
Date published: 2019-09-06
Rated

1

out of

5
by
Ladelle
from
Poor sound, not worth the $
Have a JBL speaker, so thought these would be too. Headphones had poor sound quality, didn't fit well (even with alternating the buds.) I definitely wouldn't feel comfortable running or working out in these. They stick out your ears a lot, so they're not as low profile as they appeared online. Overall, very disappointed. Considering the price, expected a lot more. Returned.
Date published: 2020-05-05
Rated

5

out of

5
by
RoSid97
from
Brilliant pair of headphones
These headphones are absolutely brilliant! I have owned JBL headphones in the past and after trying these, these headphones truly do have the JBL signature sound. High on the low and the mids and highs are mediocre and I love it. These have a great design also, in my morning jog and gym sessions, these refused to drop out of my ear. They are comfortable to wear on long sessions and THE BATTERY LIFE IS AMAZING, 30 HOURS! The only con that I found was that they use micro-usb instead of usb c which means carrying an extra cable but the battery life makes up for it as I never needed to charge these up even after the longest day of use. These are priced just right and for the money these are definitely worth it!
Date published: 2019-09-04
Rated

5

out of

5
by
Kmparks60
from
I'm never taking them out
Overall 9.5/10 Sound 10/10 Ease of pairing 7/10 Ease of use 9.5/10 Sound- Bass slaps, like I can feel it in my eardrums. Noise cancelling is amazing. I couldn't hear my skateboard wheels rolling on pavement it works so well. I found the treble is slightlyyyy lacking but can be corrected by using your phones built in EQ. Listening to songs I know by heart I'm hearing parts I've never heard before the sound quality is so good. Ease of pairing- It honestly took me 4+ minutes to pair them. Kinda difficult, but once paired they connect to your phone with ease. Just figured I'd mention so some people know its eventually possible lol. Ease of use- Each earbud has different functions and once you get used to them(took me 2 minutes) it's like riding a bike. Charging case is easy to use, and they are easy to get to charge. It has built in siri/ok google/bixby and it picks up what you're saying very well. Only reason I didn't give it a 10/10 is it takes a minute to find the right pairing of sizes to fit your ears(comes with 3 different sizes) and it takes a few times to learn how they're supposed to fit(fits very snug). So snug they passed the Pantera head banging test and never fell out after an hour of intense skateboarding. In summation... just buy them. They're cheaper than AirPods and Bose counterparts. Sound better than both, and I'm a Bose fanatic. The bass SLAPS, and they're waterproof.
Date published: 2020-07-31
Rated

3

out of

5
by
BurbRunner
from
Great until they quit charging :(
I accepted these as a replacement for one of the more expensive JBL units that quit charging (same issue - if the right one doesn't charge, the set will no longer be able to function once it's out if battery life). While they worked, they were comfortable, had good sound quality for running, and were easy to travel with (only one small cable to pack, thought usually didn't need it b/c the charge lasted through many runs). Hopefully the charging issues will be addressed. Waiting to hear whether JBL will replace this second lair. Both failed in under six months. :(
Date published: 2020-05-04
Rated

5

out of

5
by
Ioan Ward
from
Amazing Sound
I have had this product for over 6 months ago and I was skeptical at first but now I love them. Their sound is amazing and I love the bass that these bring. My only issue was that they don't fit my ears the best but for you it will fit as we have different shaped ears .If you want a good pair of wireless earbuds these are the choice for you
Date published: 2019-11-01
Rated

5

out of

5
by
Steph507677
from
Love them
I I bought these about 2 months ago and I love them. I had had a cheaper set of wireless headphones and I accidently let them go through the wash and lost one so I needed new ones. We have had good luck with JBL speakers so I decided to try the headphones, these had the best reviews and were the price range I wanted so I went for it. I am so glad I did because they are a lot better than my old ones they fit comfortably in my ears using the small size pieces provided and I get a much better range away from my cell phone. Sound is great too I have no complaints.
Date published: 2020-07-27
Rated

2

out of

5
by
JonesPerson
from
Not great
Bought these and returned them after 3 days of trying them out. They connected fine to my Apple Watch, and as far as I can tell functioned as intended. Fit: Perhaps this style works for some folks, but the suction created by the inside rubber ear piece was irritating and made me constantly feel like I needed to pop my ears. This was the case with all three of the swappable sizes they provide. Music: The sound quality was acceptable, but not not nearly as good as you'd assume these big ear pieces would be, especially from JBL. Calls: the poor quality of the mic when making calls was what ultimately killed these for me. Everyone I spoke to on them said I sounded like I was on a CB radio.
Date published: 2020-08-02
Rated

5

out of

5
by
Sparty92
from
Very comfortable
I tried Bose and Beats and the JBL are by far the best and cheaper. They are the most comfortable and the sound is great. The talk through feature is great for listening at work.
Date published: 2019-11-20
Rated

5

out of

5
by
mwf5888
from
Loaded with features!
I bought these a few weeks ago because I started riding bike after 15 years and needed something that would fit in my ears and under a full face cover during Fall/Winter rides. These work through me riding gloves and have great sound for music and calls. I love the ambient aware and talk through!
Date published: 2019-10-29
Rated

2

out of

5
by
AlgisIsMad
from
Charging is so broken
Sometimes it charges, sometimes it doesn't. You put them into charger, and it turns them on instead of charging. Have to charge one at the time.
Date published: 2020-04-16
Rated

5

out of

5
by
jlfb
from
Excellent sound quality, excellent battery capacity.
Date published: 2020-01-09
Rated

5

out of

5
by
Key13
from
Question
When on voice/video call do the earbuds have their own setting as in, do they automatically switch up to be able to use the microphone or is that something you need the enable them to do.
Date published: 2020-01-14
Rated

1

out of

5
by
Lee53
from
Terrible Quality Control
I got my first pair and immediately the left earbud was defective. It was at a weird angle when compared to the right earbud and sounded muffled. I got a replacement which fixed the problem and gave a new one. Now my earbuds won't charge. Out of the box the case showed 3/4 charge but was dead. I charged it for a few hours then tried again and the buds still won't charge. After wiggling them around I found out that they will only charge if you hold them at a specific angle. That also means they won't turn on when pulled out of the case.
Date published: 2020-08-05
Rated

2

out of

5
by
Andy04
from
Awesome if you can charge em'
I bought these about a month ago and they workED great. Problem is about a couple weeks they started to not get a good charge. Now it's a struggle to charge them a little.
Date published: 2019-11-21
Rated

4

out of

5
by
Anonymous
from
Signal interruptions
The sound quality is great. It fits really good and firm, so no need to check them every n seconds. Waterproof feature is amazing. When I finish my morning workout I can go directly to shower. Automatic pairing works perfectly. What is not so great is the connection. At least from my experience. I've tried to use them with my Xiaomi Mi 9 phone and also with my laptop, but the signal gets interrupted very frequently what I found disturbing and not appropriate for this price category. This is something what should be improved.
Date published: 2019-12-15
Rated

5

out of

5
by
PatelJ
from
Killer Bass Earbuds
After such a long time I finally found a pair of earbuds that actually fit and stay secure in my dodgy ears. No more stopping to pick up or reinsert back in to the ear whilst running on the treadmill. The Bass is staggeringly loud and compliments the rest of the music really well, but with the press of the hidden button on the side of the earbud you can instigate the ambient aware mode. This allows you to hear the outside noise like traffic or talk to someone without taking out the buds. Each bud has a microphone so it will not impede the sound quality when talking on the phone. Had no complaints when taking calls of my voice breaking or any muffling. Overall good clean sound quality in par with high end on the ear headphones; with the Bass adding to the sound experience. The Bluetooth was seamless to pair with many devices and reconnected very quickly. The buds lasted for around 8 hours of playtime and managed to fully recharge back with the reserve power in the case leaving me some more charge for later. Coming to the case it has a clean metallic finish with a rubber/silicon like outer casing probably to buffer the case and contents in case it is dropped. The lid locks securely preventing the buds from falling out. At the back of the case underneath the charging port there is a 4 light indicator for the charging status. Slightly disappointed that the latest USB C port and cable was not replaced for the micro USB. Overall not a bad deal with the long battery life, quality of sound, the secure fit in the ears and the waterproof features which I still need to discover.
Date published: 2019-09-03
Rated

5

out of

5
by
Jimmyk7769
from
Very comfortable, Best Wireless Earbuds
Sound is great, good bass n treble notes! And had a range of about 50-60 feet
Date published: 2020-10-11
bvseo_sdk, dw_cartridge, 18.2.0, p_sdk_3.2.0
CLOUD, getReviews, 5ms
reviews, product
Product Q&A
My left earbud keeps turning on, then after 2 seconds just turns off and will not turn back. It's extremely annoying and i am extremely unsatisfied with product. How does this get fixed? It's charged
Thank you for your question. I'm sorry to read you are having issues with the left earbud of your Reflect Flow. Based on the information provided, I would recommend trying the following: 1. Make sure that both ear buds are charging in the box. 2. Now press the button on the main/right bud for more than 5 seconds. 3. Your headphone is now restored to default settings. 4. Before attempting to pair with the headphone after the reset, make sure you have forgotten the device from the Bluetooth menu on your smart phone/tablet. If this advice does not help you to solve the problem, we invite you to contact the Harman Customer Support team by telephone, email or chat in order to receive direct assistance. Please see https://uk.harmanaudio.com/support-contact.html#n for further details. Thank you.
Date published: 2021-06-06
are these usb type c charging or micro? It's very hidden if it is micro USB charging
Thank you for your question. The JBL Reflect Flow com e with Micro USB charging input. If you are looking for USB-C charging headphones, we would recommend to check out JBL LIVE 300TWS, however, these are not designed as Sport Headphones. Should you wish to receive further support, you may contact the Harman Customer Support team by telephone, email or chat in order to receive direct assistance. Please see https://uk.harmanaudio.com/support-contact.html#ns for further details. Thank you.
Date published: 2021-06-06
Can I use the right or the left to talk on the phone 
You can use both earpieces of our JBL Reflect Flow to answer/make phone calls. However, you need to use the right earpiece to answer/hang-up calls and mute/unmute the microphone as the left is to turn on/off the Talkthru and Ambient Aware features. Check out our JBL Reflect Flow Quick Start Guide for more information through this link: https://bit.ly/34jlM82.
Date published: 2021-06-06
are the earbuds interchangeable and can 1 ear bud be in case while using the other earbud
The earbuds of our JBL Reflect Flow isn't interchangeable since the earbuds are designed to be fit on either left or right ear. Also, the right bud can only be used independently since it's the main bud for the pair.
Date published: 2021-06-06
Can it be paired with 2 different devices (not in the same time but without the need to delete the other)?
Yes, you can. Just be aware to not enable the Bluetooth of the device that won't be used as the current source to avoid interference.
Date published: 2021-06-06
What is the difference in the JBL reflect flow and the JBL LIVE 300TWS?
Aside from the ear tip designs. The main difference of our JBL Reflect Flow and our JBL Live 300 TWS is that our JBL Live 300 TWS can take calls and hear them on both earbuds compared to our other True wireless earbuds that can only receive calls on the right earbud. If you have more questions, please contact us here: https://bit.ly/2zwFkYM
Date published: 2021-06-06
Left earbud wouldn't connect out of the box, and after 3 days, doesn't charge at all. Any troubleshooting tips, or do I need to return?
We would like to get more information to help you out, please contact us so we can assist you:https://bit.ly/2zwFkYM
Date published: 2021-06-06
Can I turn off ambient aware function when I need?
Absolutely! When everything is disabled, press the JBL button once on the left bud to enable Talkthru, press once again to enable Ambient Aware, if you press it once again it will turn off the Ambient aware. For your reference, you may check the Quickstart Guide here: https://bit.ly/333ZPZV
Date published: 2021-06-06
Do these have a noise reduction rating (NRR)
Unfortunately, our JBL Reflect Flow doesn't have a Noise Reduction Rating,
Date published: 2021-06-06
Is Aceton good for cleaning the case and the earphone connectors?
No, it's safer to use rubbing alcohol and cotton swabs to clean the connectors.
Date published: 2021-06-06
My reflect flow headphone case has only one blinking light on even though I have charged it for numerous hours. And it stays blinking constantly-never turns off. Don't know if it's charging. Is this normal ?
The LED indicator for our JBL Reflect Flow should stop blinking once fully charge. Please ensure that both earpieces are securely connected to the metal pins. You should hear a light snapping sound and the LED indicator should be solid red. If the issue still persist, please contact our customer support at: https://www.jbl.com/support-contact.html
Date published: 2021-06-06
The volume is very low. Not set on ambient mode. Is there anyway to turn the volume up?
Our JBL Reflect Flow doesn't have any volume controls on the earbud and can only be adjusted through the source device. If you have more questions, please contact us here. https://bit.ly/2zwFkYM
Date published: 2021-06-06
Can the buds be washed quickly if they get dirty?
Hi there. Kindly refer to the link for cleaning instructions for your the earbuds of your JBL REFLECT FLOW. Cleaning instructions: https://bit.ly/3FQXiq8
Date published: 2022-05-16
Hi, sometimes the buds turn on in the case while they are charging. Is there any recommend procedure to avoid that?
Please make sure that our JBL Reflect Flow is turned off before charging by pressing and holding the power button for 5 seconds. If you need more help, please contact us so we can help you. https://bit.ly/2XPQRNZ
Date published: 2021-06-06
what is the use of keeping the bluetooth power constant (and high) ????? how can i reduce the level sar of jbl reflect flow ??
All wireless devices sold in the US such as our Reflect Flow go through the standard FCC approval process to ensure that they do not exceed the maximum allowable SAR level when operating at the device's highest possible power level. There is no way to lower the SAR level on our headphones.
Date published: 2021-06-06
Is there any plan to get that product out with a touch button and charging type c?
We don't have news to share about our JBL Reflect Flow having touch-button feature or Type-C charging option. But we're always looking for ways to improve so we'll make sure to submit your feedback to the right department.
Date published: 2021-06-06
Is there an app that can control the functions of the Reflect Flow? None of the apps in the Play store show support for it.
Our JBL Reflect Flow doesn't have an app that can control its functions. To check on the headphone's manual controls, please check out page 1 Manual Controls section of our Quick Start Guide. https://bit.ly/39s7eps
Date published: 2021-06-06
Why my left piece doesn't work while the right one's charging in the case?
We would like to work with you directly to troubleshoot the issues you've been experiencing with our JBL Feflect Flow. We would also like to get more information from you so we can check your options. Please contact our customer service at.HARMAN MIDDLE EAST - Email: info@harmanme.com / servicecentre@harmanme.com Contact form: http://www.harmanhouse.com/index.php?route=information/contact ;
Date published: 2021-09-02
Hi I have my headphones but lost the charging box and was wondering how I go about getting a replacement one 
Thank you for your question. Our Live Agents will be more than happy to direct you to our service centre in order to purchase the spare you need, please contact the Harman Customer Support team by telephone, email or chat in order to receive direct assistance. Please see https://uk.harmanaudio.com/support-contact.html#ns for further details. Thank you.
Date published: 2021-06-06
Does Ambient Aware remain on if you put the left earbud back in the case and use only the right earbud?
Hi there, that is correct. Our JBL Reflect Flow's Ambient Aware would remain if you put the left earbud back, at the same time, you'll need to take it out of the charging case if you want to turn the Ambient Aware off. If you need more help, please submit a case request so we can assist you: https://support.jbl.com/us/en/customer-service/contact.html
Date published: 2021-06-06
How discreet is the loop on each of the ear buds when they are in your ears? Want the longer batt. life than 4 hours that comes with JBL 120 but need them discreet for work 
Our JBL Reflect Flow has included three sizes of ear tips and Freebits (S, M, L) for a more secure fit. The loop/ wing will help the buds have a more stable hold on your ears while using it for physical activities. You can have up to 10 hours of playtime although this may vary depending on volume and music content. Page 3 of our Quick Start Guide shows "How to Wear" the headphones, check it out here: http://bit.ly/2QFgOOC
Date published: 2021-06-06
what class of bluetooth have the jbl reflect flow??? Have this device dect tecnology??? The sar level decreases if the phone is near to the earbuds??? Thanks
Our JBL Reflect Flow has Bluetooth version 5.0 but can also connect to devices with lower Bluetooth versions as well. It also features our Ambient Aware for more awareness in outdoor environments and TalkThru technology for easier voice calls without having to take off the earphones. Check out our JBL Reflect Flow quick start guide for more information: https://bit.ly/2B8o2Sp
Date published: 2021-06-06
anybody has a charging case issue? when I charge the case, it starts to charge with only one bar is only the second bar is blinking and for 10 sec later it directly goes to full 4 light on. is it something wrong???
We'd like to work with you directly about your JBL Reflect Flow. Please reach out to our Customer Support so we could try some troubleshooting steps. https://www.jbl.com/support-contact.html
Date published: 2021-06-06
Would these be comfortable enough for sleeping? Need the long battery life to use to fight tinnitus.
JBL Reflect Flow has three included ear tips and three Freebit enhancers, allowing comfort and customization for a better fit. We wouldn't recommend wearing the earbuds while you're sleeping to avoid accidents or discomfort with your rest.
Date published: 2021-06-06
I've tried all combinations of all the attachments and none securely fit -they fall out after a few seconds (they fit all the other members of my family but not me) are there any tips or advice? 
Thank you for your question, TWS Headphones are just like shoes, sometimes they just do not fit to your ear. Maybe a smaller product like the Live Free NC+.
Date published: 2021-06-06
Do the earbuds charge while the case is charging?? And, how do you know the charge level/percentage?? Or, is there a warning when earbuds are low??
Yes, the earbuds do charge when the case is also charging until it's full. The battery percentage would depend if your phone supports to show the battery status of each connected BT device to it. The earbuds will have a flashing red light when on low battery.
Date published: 2021-06-06
Can you use like the ~mono play~ with this devise or no 
Our JBL Reflect Flow is not capable of switching from stereo to mono as both earbuds are needed for great sound output.
Date published: 2021-10-27
What class of bluetooth are the jbl reflect flow?? The sar level decreases if the phone is near tho the earbuds??? This earbuds supporta deck tecnology( or the bluetooth power decreases if the phone is close) ??? Thank for the answer
Thanks for the question. Our JBL Reflect Flow are truly wireless to compliment your active lifestyle, It's Bluetooth v4.2 for stable connection and comes with a charging case. Bluetooth power is constant even if the phone is close. If interested, please check out your local dealer below. Kenwood Electronics Italia S.p.A. +39 02 204 821 info@it.jvckenwood.com
Date published: 2021-06-06
Do they have noise cancelling option?. Thanks for the answer.
Our JBL Reflect Flow doesn't have noise cancelling.
Date published: 2021-06-06
One of my earbuds charge and the other doesn't and they both are in their charging case
We'd like to know more about the charging issue with your JBL Reflect Flow. Please contact our Support Team through this link, https://bit.ly/2OFzICx, and one of our representatives will reach out to you within 24-48 hours.
Date published: 2021-06-06
bvseo_sdk, dw_cartridge, 18.2.0, p_sdk_3.2.0
CLOUD, getContent, 131ms
questions, product
Support
Register your JBL product
Do you own this product? Register it here in case you need to claim warranty
Register Now
Can't find what you're looking for?
Are you looking for product support, documentation, how-tos or older products?
JBL Support