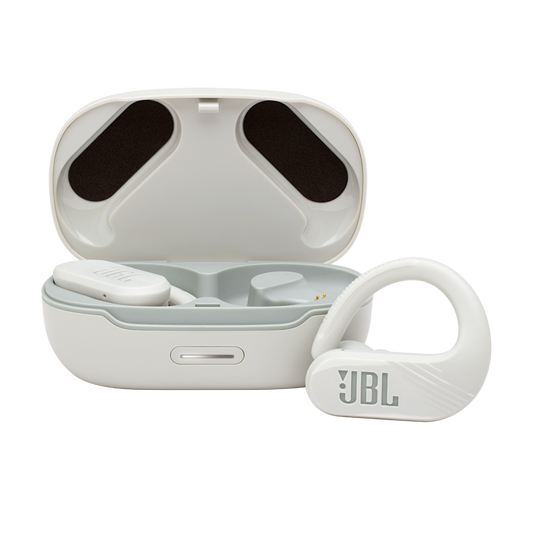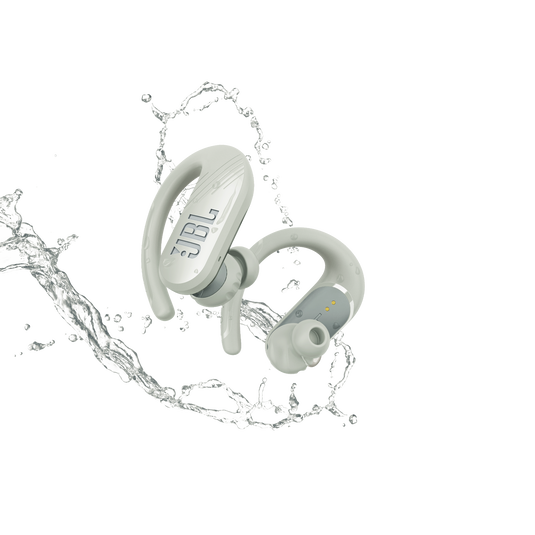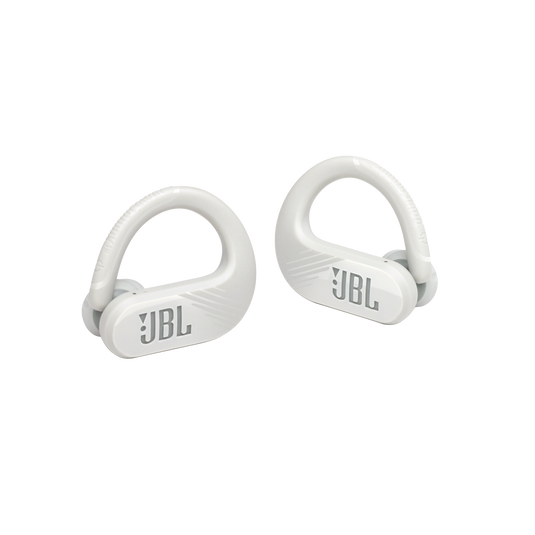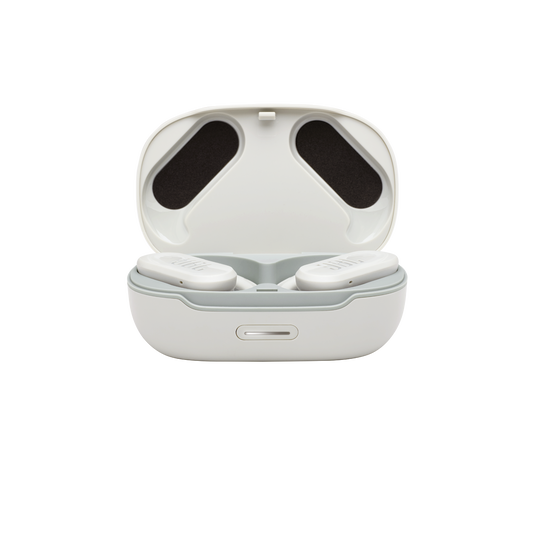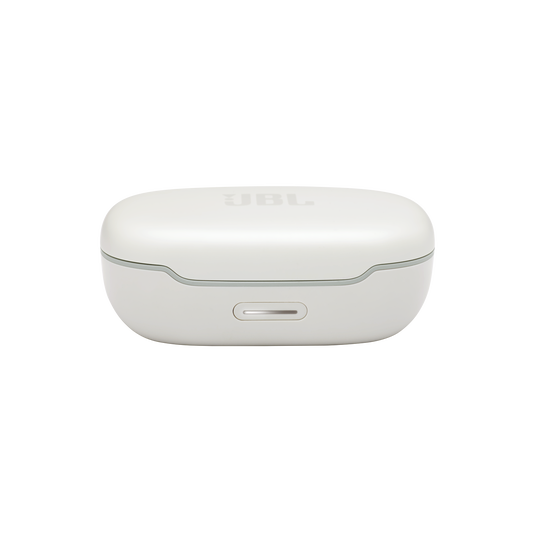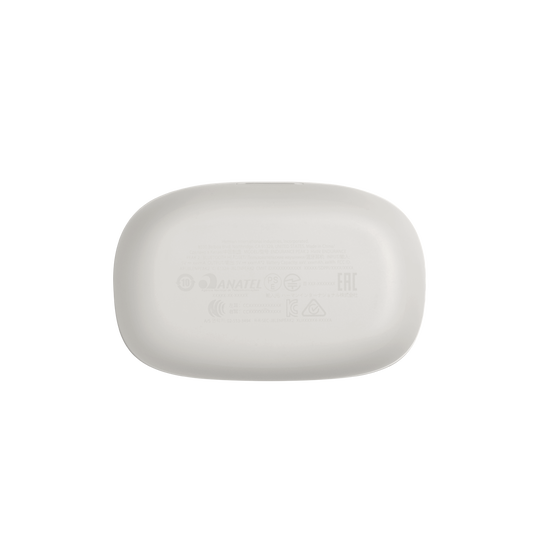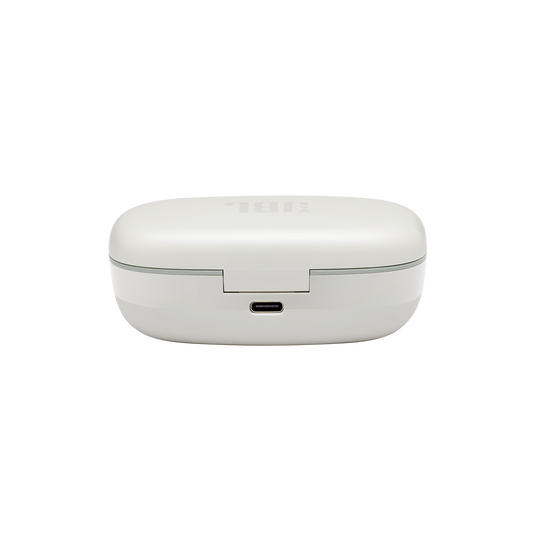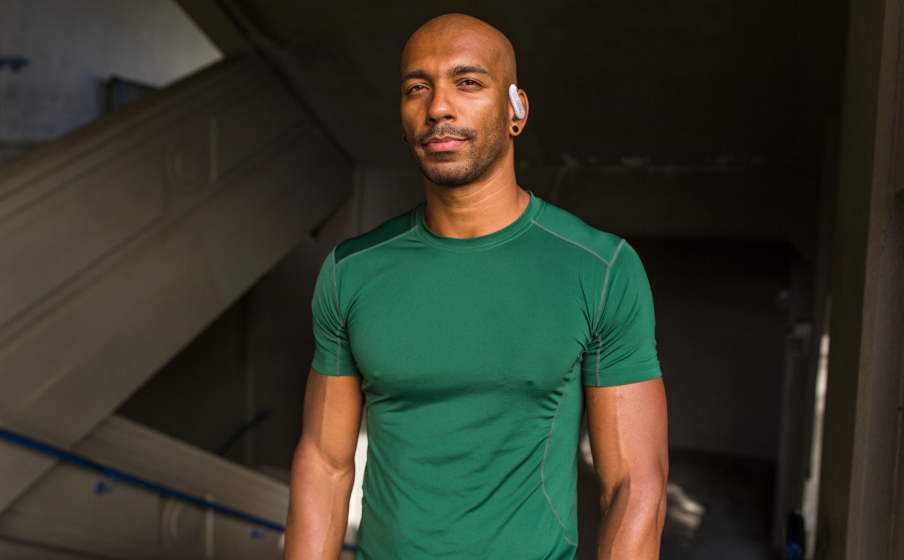 JBL Pure Bass Sound
Get enough bass to give your whole body a boost and get that extra push right when you need it the most.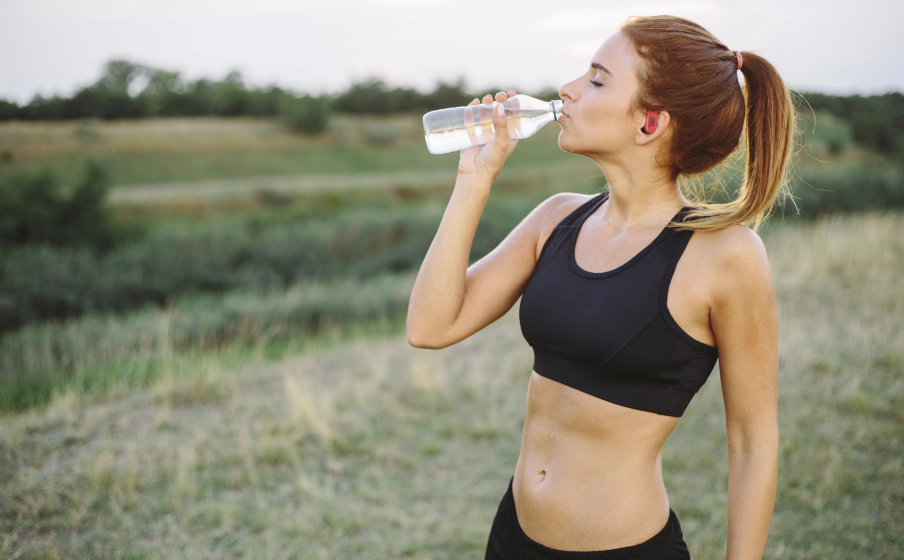 Up to 30 Hours of Playback (6 Hours in Buds/24 hours in Case)
With a battery that lasts as long as you can, you've got the extra inspiration it takes to make you go that extra mile.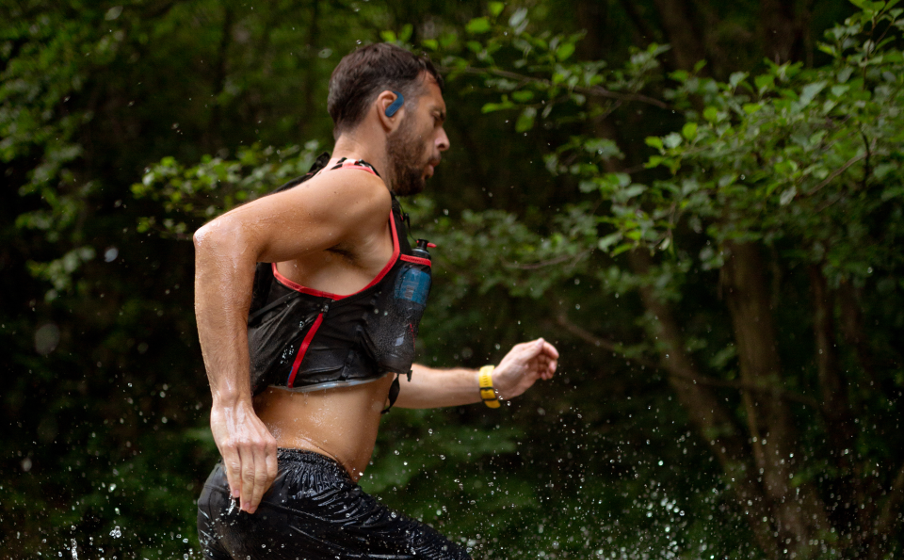 Powerhook™ Design for Ergonomic Fit and easy control
The Endurance PEAK II adjusts to you, not the other way around. The bendable wire on the ear hook lets you adjust the headphone to your size and comfort level. Also, you can stay focused on the task at hand with music that starts and stops when you do and controls intuitive enough to almost read your mind make it easy to stay in the groove.
Features

Dual Connect
It doesn't matter which headphone you take out of the case first. You can take calls, adjust volume, or use your voice assistant on either ear, so you can stay flexible and never mess with your momentum.

Hands-Free Stereo Calls & Voice Assistant Access
Keep in contact with your people and stay in control of your playback without ever interrupting the flow of your workout.

Resistant and durable
Go ahead. Get as wet as you want. Whether it's rain or pure, honest sweat, no worries for the Endurance Peak II, as they are sweat/waterproof. Ready to go as far as you go, the IP67 rating makes these headphones extremely durable against any elements.
Specs & Downloads
Item# JBLENDURPEAKIIWTAM
Description
Never hurt, never fall out

A serious workout deserves serious gear. JBL Endurance Peak II true wireless headphones deliver JBL Pure Bass sound to fuel your workout, while providing comfort and connectivity to keep you going strong. Get next-level motivation with 30 hours of combined battery life, starting from the moment you wear them, thanks to the Powerhook™. Intuitive touch controls allow you to take hands-free calls and access your voice assistant, while dual connect ensures you'll always be in control as the earbuds work independently. Their ergonomic fit and sweatproof/waterproof design let you exercise longer and harder, wherever your workout takes you.
General Specifications
Driver size (mm)

10

IP Code

IP67
Audio Specifications
Driver sensitivity at 1kHz/1mW (dB)

95

Dynamic frequency response range (Hz)

20 Hz - 20 kHz

Impedance (ohms)

16

Number of drivers per ear

1
Dimensions
Charging Case Weight (oz)

2.7

Earpiece Weight (oz)

0.9

Charging Case Weight (g)

77

Earpiece Weight (g)

26
Control and Connection Specifications
Bluetooth profiles

A2DP 1.3 AVRCP 1.5 HFP 1.7

Bluetooth frequency

2.4 GHz – 2.4835 GHz

Bluetooth transmitted modulation

GFSK, π/4DQPSK, 8DPSK

Bluetooth transmitter power

0 - 13dbm

Bluetooth version

5.0
Battery
Charging time (hours from empty)

2

Charging case battery life (max hours)

24

Maximum play time (hours)

6
Features
Voice Assistant integration

Yes

Built-in Microphone

Yes

Hands Free Call

Yes

JBL Pure Bass Sound

Yes

Powerhook

Yes

Sweat Proof

Yes

True Wireless

Yes

Wireless

Yes

Touch Control

Yes

Waterproof

Yes

Charging case

Yes

Rechargable battery

Yes

Bluetooth

Yes
What's in The Box?
1 x JBL Endurance Peak II
1 x Charging Cable type-C
3 x Sizes of ear tips
1 x Enhancer
1 x Charging Case
1 x Quick start guide / Safety Sheet
1 x Warranty / Warning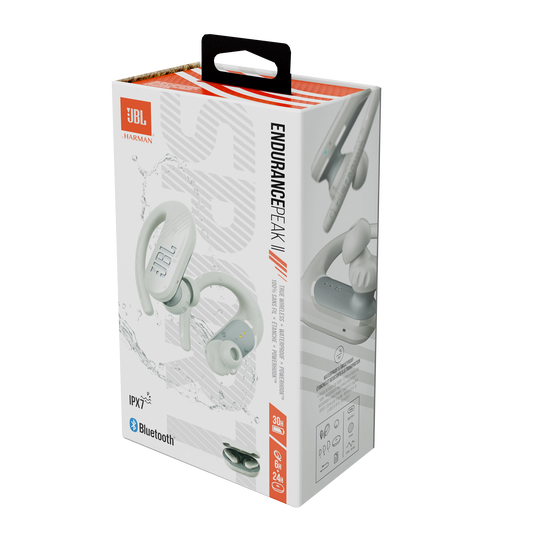 Documents & Downloads
Customer Reviews
Rated

3

out of

5
by
Angie79
from
Improvements needed
I've been using these for over a week whilst walking to and from work and whilst using my treadmill. The good points are that they fit very securely, are comfortable to wear and work well in rain. Unfortunately, I find the sound quality not so good. When listening to music or taking phone calls, even with the volume on full, I can still hear outside noise, such as traffic, a lot. So much so that it drowns out the music or whoever I am talking to on the phone sometimes. I also found the instructions quite difficult to understand at first and they can be quite glitchy at times taking a few attempts to go to next song etc.
Date published: 2020-12-08
Rated

5

out of

5
by
Mech009
from
No hidden sounds
Impressed with the value and technology. Although the what is referred to as twist technology might be a simple idea. The result is a better sound, comfort and overall experience. Had to change the settings to my phone to truly experience the quality of JBL earbuds. Running about 8 miles per run, sweat has ruined many other ear buds. I'm confident that because of the design (buttonless) and structure (no charging port), these will last more than the usual 6 months. Although, design and structure are high points of these earbuds, as a long distance runner, sun tan lotion has always made any earbud I've used lose its grip around my ears, but do to it's twist technology, it took a few more miles to do so. I'm a very happy runner. "Run Happy"
Date published: 2020-12-02
Rated

1

out of

5
by
Dave177777
from
Terrible
Used once and worked fine. Battery died so I charged them in charging dock overnight. Next day I pair them up and only one side works. When I go to settings it shows two different speakers. Also the instructions are totally worthless and the support on website is as well. I own their Bluetooth extreme speaker and absolutely love it but their ear buds, terrible. Returning and looking elsewhere sadly.
Date published: 2021-01-07
Rated

2

out of

5
by
joeWantsABitMore
from
Wish the product was more durable
I bought this a year ago. And for the time it worked, I loved the product. JBL has been an excellent company to me, and in most cases, I have loved their products. But in this case, they seemed to have missed the mark. The right earbud will no longer charge. No amount of cleaning or resetting appears to kick it into gear. Even the left earbud is finicky in the charging case, and you need to be very careful when seating it. But with only the use of half the product, I have to give it a 2 star review. If you are ok with only a year out of this product. Although it sounds like some folks even got less time when they ran into this same problem.
Date published: 2022-08-27
Rated

1

out of

5
by
TinymanMcgee
from
Disappointment.
I bought these a month ago and they were okay at first, a little hit or miss on connection, sound quality was okay, and they were super comfortable and good for workouts. So I tried to stick it out and keep using them and maybe they would work eventually but it has just gotten worse. You have to re-pair the headphones to Bluetooth EVERY SINGLE time you wanna use them so be prepared to set aside 10-15 minutes for that. Even if they DO connect they most likely won't pair together so you are stuck with one headphone. All in all, very frustrating and very disappointed because I love JBL products usually.
Date published: 2022-07-05
Rated

4

out of

5
by
Nick Cappy
from
Great function, small issue
These are my first wireless ear buds, I am very impressed and very happy with them. I wanted work out and walking around buds and these are perfect for that. They don't fall out of my ears and even works with my glasses! When walking around you can hear small amounts of background noise but overall great experience. The only snag is the instructions are not straight forward but after a day or two I got the hang of it. The controls seem slightly more sensitive and I sometimes had to tap to play because my music paused randomly. Small snag but nothing too serious. I would recommend these for great minimal design and comfortable wear.
Date published: 2020-11-14
Rated

1

out of

5
by
BenIsGoingBackToBose
from
NOT USABLE WITH MOST DEVICES DUE TO PIN REQUEST
Bought these cause I wanted headphones that wouldn't fall out. I got that, they are comfortable to wear although sound quality leaves a lot to be desired. The real issue is that with a majority of the devices I have tried to pair it with require a pin from the earbuds. This pin is not listed anywhere in the manual and I have not been able to find a solution anywhere online although multiple others have inquired about it. I would stay away from these headphones until JBL gets proper customer/product support for these earbuds.
Date published: 2021-01-25
Rated

5

out of

5
by
Jorgeivan1090
from
Most amazing headsets
I would like to take the time to review this item anf I hope it is helpful for the person who reads it. I'm going to start with the sound quality. In terms of volume, just amazing, just enough is not enough. I was surprised cause I thought they were not that powerful, WRONG. I would like to say that comparing this little ones to JBL Club One, they are very similar, of course the Club one has other features, nevertheless I was looking for an alternative for running and sports. Pure bass, perfect bass. Just as I like it. At first I had to get used to fitting them behind my ears, then I read the instructions. Nothing complicated. If you are looking for a great headset with long durability, THIS IS IT. look no more. This product is perfect for you.
Date published: 2020-11-30
Rated

3

out of

5
by
WinterSeeker
from
Semi Comfortable and medium audio quality
I recently received the JBL Endurance Peak II bluetooth earbuds and found them a little uncomfortable to wear. A little difficult at first to fit onto my ear and didn't feel good after 10min of wearing. Audio quality was acceptable for phone calls and such but mediocre for music. Very easy to connect with phone for bluetooth. Charging case is very sleek and holds both earbuds simultaneously for a quick even charge. Short charging cable with no adapter for 110v plug in. Light on front button shows charge strength.
Date published: 2020-11-20
Rated

5

out of

5
by
Deemannn
from
So far so good
I've had these for about a week and have run in them 3 times for a total of about 4 hours so far. These replaced my old JBL endurance jump that suddenly quit charging. They fit very similar to those and I like that it has the hook to go around your ear. Tiny earbuds never stay in my ears but these definitely do not budge so I hope they keep making this type. Sound is good and battery life good as well. I don't expect some sort of amazing sound quality from running headphones but these are decent. The biggest pro for me is that they are waterproof as I sweat a lot. Initial set up out of the box with Google was instant and they have yet to lose signal yet. Overall very happy and would recommend.
Date published: 2021-05-31
Rated

2

out of

5
by
MattM49
from
Poor Sound Quality
I've tried these earbuds and I can't get myself to reliably listen to them. As someone who listens to music a lot, the JBL Endurance Peak II don't have the sound quality I was expecting from JBL. On these earbuds, the high is way too sharp and quite honestly hurts my ear. I am admittedly a little spoiled from using other extremely high end earbuds but these in my opinion aren't worth the pricetag. While they might not also sound the best, they also feel very cheaply made and don't have the kind of quality I would've hoped for. To whoever might be reading this, please spend the extra money and find another pair elsewhere.
Date published: 2020-11-23
Rated

5

out of

5
by
Dude and Wife
from
Compared against Jabra 75t Elite Active
I bought a pair of JBL Endurance Peak II and Jabra Elite Active 75ts a set of each for my wife and I to decide which ones we wanted for cycling and around the house. We went through all the features compared mics, sound on different songs from different genres. I had already decided after doing the research that the Jabra's were better. To my surprise both of us agreed the Endurance Peak II's the blow Jabra 75t out of the water. The Jabra's sounded hollow and the mic really sounded tinny as well. Both of us were quite surprised with how comfortable they were and also fit will with sunglasses and helmet with no bother so glasses folk be free to purchase these. The only things the Jabra did better in our opinion was the lag time when skipping or pausing tapping the ear buds and Jabra's have a cool app that you can customize the sound signature as well as the passive hearing mode. There was no question which ones either of us were keeping despite not having quite as many bells and whistles as the Jabra. Great job JBL!!
Date published: 2020-12-05
Rated

4

out of

5
by
Moli
from
Great for Exercise!
These headphones are exactly as advertised - they are perfect for working out! When I run with them, I have no concern whatsoever that they are going to fall out. The ear hook locks them in place but can get uncomfortable on my ears if I wear them for a long time. Everyone's ears are different, so take that with a grain of salt… The sound quality is pretty awesome for true wireless earbuds. Surprisingly crisp and very respectable bass. My only real complaint is that the touch controls are a bit finicky. Overall, I like these headphones but don't recommend them if you plan to wear them for very long periods of time.
Date published: 2020-11-15
Rated

4

out of

5
by
Wayloud
from
Don't fall out-Waterproof-Sound Good
EndurancePeak II Sport Earbuds When JBL asked me to try out their new "sport" earbuds I naturally agreed but with some trepidation. I am not what you would call, athletic. I don't participate in any sports games or belong to a gym nor do I ever freeclimb mountains like the guy on the box. After a few moments of reflection, I thought, "I have watched sports on TV and I do enjoy a leisurely trail walk…close enough." For my review lets call them activity earbuds. To start, the packaging is nice, a bit overdone but the items in the box were secure and protected. (I will leave my fancy box speech for another time.) For my fingers, the buds themselves were a little difficult to remove from the package. Once the buds were safely removed out came the charger case, a set of larger and smaller ear tips and a charging cable. The charging case is pretty nifty. Fits nicely into a pocket, has a pleasant tactile feel. The provided USB to USB C cable is just like all orange JBL charger cables, TOO SHORT! A 275 mm cable? I used one of my own. The unit arrived with about a 40% charge; one hour later it was fully charged. The charge lasted about 2.5 hours before sound degradation. Connecting to my devices was not as simple as with other JBL items. I paired with an android tablet, an android phone and my TV. They all eventually paired but it took several tries on each item before delighting in the sweet sound of pairing success. The controls on the buds themselves were a little touchy and unpredictable. I might get used to them later but initially, more annoying than useful. I took them for a walk outdoors. The sound is JBL, clear and precise. Bass response is good. You can feel the bass…it's kinda cool. With my test devices the buds were not very loud. Adequate, for sure, just not what Wayloud calls, loud. To that point though, the earbuds fit snuggly into one's ears blocking out a great deal of ambient noise. With them in one can easily revel in the music completely blocking out one's surroundings. Fantastic during workouts, or on a closed trail but could be hazardous biking or jogging near the street. Won't Hurt/Won't Fall out…I used them during my work day. Moving in and out of scaffolding and equipment, bending, lifting they stayed in place without exception. Something I can not say about any other earbud I have tried. Yes, they are comfortable soooo no, they did not hurt. Again, with the not athletic thing! I pondered a way to test the water/sweat proof claim. I am not going to sweat for this so I thought of a "sport" I was pretty good at in elementary school; bobbing for apples. Check out the video. They get submerged along with my head in a tank of apples and water. All the while I am listening to music. Very surrealistic! The buds played while submerged and suffered no harm. So yes, they are waterproof. Should I exercise more? Maybe with these earbuds motivating me?…probably not but overall, these are a set of "active wear" earbuds worth owning.
Date published: 2020-11-23
Rated

4

out of

5
by
littlebethie25
from
Stellar sound!
As usual, amazing sound quality from this JBL product! They don't wiggle, and feel secure during the entire time I wear them. When using for a phone call, both callers have very clear sound. The only thing that I don't love is HOW sensitive the control is-I kept pausing my music unintentionally! The moisture resistance is a big plus, too!! Overall, superior quality from a brand I trust!!
Date published: 2020-11-12
Rated

4

out of

5
by
Metion
from
Great battery life, terrible in the cold.
Over all an improvement from the previous generation: the battery life is longer, the sound clearer (I'm no audio file, but it is noticeable) and the ability to connect either earphone to your phone is great (as opposed to the previous generation that had to have the right earbud connected). I use these primarily for running and cycling; the fit is great and very comfortable even over 6+ hours. HOWEVER, I have noticed that when it is cold (anywhere around 5 degrees celcius) or less and I am on the bike they will often shut off. I assume the extra windchill takes them below working temperature. This is a big downer as I was hoping to use them skiing in the future..
Date published: 2021-01-02
Rated

5

out of

5
by
josh408
from
Great Sound and Very Comfortable!
I have been looking for a pair of headphones that are great for when I am working out that not only stay on my ear but also have great sound and are comfortable for longer periods of time. These headphones are definitely that. The headphones have the perfect amount of bass and do a great job blocking external noises. Whether I am lifting weights or running they stay put on my ear and I don't have to worry about them falling off. The charging case has a very sleek design and is so nice to store the headphones in. I was also amazed at how long the battery lasts! I can work out multiple times before connecting to a power source is necessary. Overall these are the best headphones that I have tried for endurance activities.
Date published: 2020-11-15
Rated

2

out of

5
by
Toki 1
from
Disappointed
I purchased these about 6 months ago and I'm very disappointed. The left ear bud just never seems to hold a charge. Not sure if it's the charging case or the ear bud itself but I almost always only hear music in my right ear. When you put the ear piece in to the case and if the ear bud doesn't make the connection to the charging prongs, then when I go to the gym I never have music in my left earpiece. Very frustrating and annoying, especially when you think that you have fully charged the earpiece. Maybe the case has to be on a solid flat surface, the stars have to be aligned and a Full moon has to occur for the earpiece to charge. Unfortunately, I feel that I have wasted $100.
Date published: 2021-02-10
Rated

4

out of

5
by
DivaDee
from
Fits like a slipper
I've had these headphones for just over a week and have been putting them to work. My first impression was shock, I've never been able to find in ear headphones that stay in my ears, but these fit perfectly and even when I'm running on the treadmill they stay put 100%. The sound quality is good so long as you don't turn them to full as they're lacking that full bass, but so far I'm loving them. There easy to use and I was able to use them straight out the box without using the instructions and they paired with my phone with no issues.
Date published: 2020-12-08
Rated

4

out of

5
by
urtechiegeek
from
great for woring out
So i got this a few days ago and have not tested any sports earbuds with hooks before .I only used in earbuds or headphones before. The downside to these are they either fallout or there big for workouts. Due to covid-19 I've been working out more. I've tested them out and the best thing about these are how they stay in the ear because of the hooks. I had to downsize the ear tips as i have small ears . They never slipped out. The sound quality is amazing and the battery life you get is amazing too. The thing about this is when I unboxed it and took it out I was like that really big and it has big case and earbuds. And the case mechanism was a really old push a button mechanism. so i first was doubtful but no I'm actually pleased after a few days.
Date published: 2020-12-09
Rated

3

out of

5
by
funky66
from
Solid but very confusing
So far so good, they work ok and fit comfortably. The bluetooth is strong enough to leave my phone in the other room. But the instruction sheet is a puzzle: can't you at least write down the basic function in language, not weird symbols? I need to know: * How to tell the exact battery level of each earphone. I rarely use both at once (another nice feature: you don't have to). * How to set the earphone in pairing mode. * How to turn the earphone off to save batteries. * How to tell how much charge there is in the case (not the earphones themselves) * How to turn music up or softer * How to skip to the next track, previous track, ff and rwd. Can I wear them in the shower? I used to do this with my JLabs (which I lost, miss them). Thanks.
Date published: 2020-12-02
Rated

2

out of

5
by
Vortac
from
I hoped for better.
I bought these yesterday. I'm exchanging them today. Cons: Design is hard to put on for me. Non-intuitive controls--no buttons and the touch system is hard for me to use. I can get used to it. Pros: Good price. Good dynamic range, bass and good sound. Presumably won't fall off during my bike rides in the wind--most earbuds eventually do. I'm returning them fort exchange. I'm returning them because of an irritating white noise in the right earbud only. If the replacement does the same, I will return for a refund.
Date published: 2021-01-10
Rated

1

out of

5
by
chuckielove
from
Stay away.
Received as a gift. after only a hand-full of uses realized one earbud was not charging at all. took me a few uses to realize this bc when you power both earbuds on the battery life shown is of the higher powered earbud. SO long story even longer, contacted jbl, they gave me the typical song and dance, try alcohol, use a pencil, clean after every use blah blah. after multiple online conversations they agreed to send me a new pair but with the warranty of the original. (bc they know its a defective product) so got my new ones and its the same issue weeks later...life is too short for this nonsense, between the online 'help', sending back the original and attempting to clean this junk. stay away.
Date published: 2022-05-09
Rated

4

out of

5
by
DatGuy_Shawnaay
from
Waterproof, but with a catch.
I've been using these earphones for a month and I think that the sound quality is pretty good. The earphones have a decent amount of bass which can be felt and a good amount of clarity in the vocals. I didn't notice any distortions when placing the earphones on max if you so choose to do that but there is no need to since they have really good passive noise cancellation. The earphones fit really nicely in my ears. I use the small ear tips and they don't get uncomfortable after prolonged uses. Speaking of prolonged uses, the earphones never really died on me at any time of use - probably cause I mostly use them for outdoor activities. While jogging, the earphones are tightly secured and don't shake at all so, they are excellent for jogging. I do wish there was a way to allow you to listen to your surrounding (like an ambient mode) since they do block a good amount of environmental noise. Since these are waterproof, I obviously had to test their resistance and since we're still in a pandemic, I couldn't get access to a swimming pool so I decided to use these earphones while in a shower. Here's where it gets tricky. Yes, the earphones are really waterproof. However, I wish there was an app that blocked touches because there were so many accidental touches from the water that it really bothered me. So, while you can take them swimming, just be wary that there is no app to prevent accidental touches. That's one thing that brought the rating of the earphones down. It lacked proper control for the earphones. Other things to note was that when you power the earphones on, they sound like any other JBL startup sound. I love how you can swipe up and down on the right earpiece to control the volume, but sadly you cannot control the media with such methods on the left side of the earphones (Triple tapping to rewind partially works). It would've been a lovely touch. These earphones pair with my Pixel 2 XL seamlessly when I take them out of the case and work really well when I use one side too. They are pretty good at connectivity with each other and when you're a couple of metres/feet away in another room - Bluetooth 5.0 makes a huge difference. The charging case is massive so it'll be awkward to keep in your pocket, but it does hive the earphones 2-4 extra charges, enough for a full day of use. The last thing to mention is that it has USB Type-C. I love that this is up-to-date with industry standards. Overall, I would recommend these for active users. It's incredible, especially if you sweat a lot! Pros: -Great passive noise isolation -Good sound, some bass -Waterproof -Great Connectivity -Great for workouts Cons: -No app (The difference between 4 & 5 stars) -Accidental touches -Enormous case (I'm being picky here) -Left ear has no swipe feature
Date published: 2020-12-08
Rated

2

out of

5
by
Dez D
from
A disappointing purchase
I had really high expectations for these headphones after doing a ton of research on them. It seemed like they would give me everything I was looking for - convenience, affordability, style and sound quality. In reality they were sub-par at best. They look good and feel decent in your ear, but the right headphone gave me issues almost as soon as I got them out of the box and the sound quality (bass, tone) was quite poor. Plus the microphone was incredibly quiet when I'd talk to someone on the phone. I sent them back after about 10 days - definitely not all they're marketed to be.
Date published: 2021-07-10
Rated

1

out of

5
by
Sara24344
from
Constantly Disconnect & Turn off while in use
These are garbage, do not waste your money. I had the original endurance peaks and LOVED them - they functioned properly, always connected, and I never had any issues. I lost one of the earbuds and so figured I would replace them with the updated version and i regret it every time i use them. The bluetooth consistently disconnects AND while i'm wearing them they randomly power on and off as if they are being closed into the case, extremely frustrating when my calls hang up because the headphone decides to randomly turn off. Save your money and get airpods that actually function.
Date published: 2023-03-08
Rated

5

out of

5
by
Mr James
from
PERFECT!!!
I want to start off by saying, as of today, these are the best wireless headphones we have ever owned. These sport headphones work flawlessly and fit the ear perfectly. When the JBL Endurance Peak II headphones arrived, they were well packaged, simple start up instructions, and were fully charged ready to use. The case to hold the headphones fit in my pocket and easily in my wife's small purse and even in her work out tights. Once you put these in our ears we quickly noticed how snug and comfortable they fit. The ear hook portion keeps them in place,. Whether we chose to wear the Peak II while jogging, using the stair master, or sharing each headphone while practicing pickleball, each earbud stays securely in place without hurting any part of the ear. Properly fitted, these drowned out all external noise which allows you to hear the incredible crisp sound...seriously, very crisp with good bass!!! The sound quality really is incredible. The slight touch of the ear piece pauses the music or advances the song. If you are sweating like we do when we are out jogging, sound is not impaired. We live in the Pacific Northwest where it rains quite a bit, I assure you these are waterproof!!! These are perfect....so much so we bought another set so we didn't have to share.
Date published: 2020-11-15
Rated

5

out of

5
by
RonBoback
from
Best Active Ear Buds Ever!
These are by far the best active buds I've used, and I've used plenty. The sound quality is great, could use a little more volume but that's okay. The fit is fantastic, and comes with a few different tips for different sized ears. The charging case is great in looks and function. All around I have zero complaints about these buds!
Date published: 2020-11-25
Rated

4

out of

5
by
Joshuamez66
from
Stays in and sounds great!
Using these earbuds for workouts and running and they are the only earbuds that'll undoubtedly stay in my ears. I have slightly large ears and they're very comfortable for extended workouts. I usually like using over ear headphones for casual listening because of the better sound quality but would rather have earbuds for workouts. I always enjoy JBL signature sound but the only thing I would like is a tad more bass. I feel like a little extra punch from the low end helps get me going more. But besides that the sound is really good very clear and great highs mids and lows!
Date published: 2020-11-28
Rated

5

out of

5
by
Bmanbill55
from
Great for workouts
Best thing about these headphones are how secure they fit and stay in the ear. I run and workout in the gym and they never slipped out. The sound quality is what you expect from JBL. Great highs and lows, bass, and loudness. Battery life is decent too. These are great for any activity and are a solid choice for earphones.
Date published: 2020-11-30
bvseo_sdk, dw_cartridge, 18.2.0, p_sdk_3.2.0
CLOUD, getReviews, 6ms
reviews, product
Product Q&A
Do these have passive noise isolation? 
Our JBL Endurance Peak II does not have passive noise isolation. We recommend the JBL Live Pro+ TWS which has Adaptive Noise Cancelling with Smart Ambient.
Date published: 2021-12-28
What does the Phone icon with the slash through it mean in the quick guide manual? I can't adjust the volume with the left side on mono mode but I can with the right. Can I adjust the volume on just the left side when the right side is not used?
Thanks for your inquiry on our JBL Endurance Peak II. The icon you're referring to in the Quick Start Guide is the Reject Call by pressing the button twice. It's not possible to adjust the volume on the left side when in mono mode. Because the right earbud is the primary earbud, it is the only one with the ability to adjust the volume.
Date published: 2022-12-01
My right head phone keeps disconnecting. I thought it might have something to do with water but that shouldn't be the case. I completely disconnected the headphones and reconnected but I'm still having issues. Any suggestions?
Place both ear pods in the charging box, while the charging box is plugged into a power source. Press and hold the button on the Right pod for about 5 seconds. The LED on the pod will turn off and then turn back on again.This restores to factory defaults. (Please note that charging must take place for reset to work.) It also may be necessary to remove or forget the earbuds from the list of paired Bluetooth devices in order to pair again. If the problem still persist, you may contact our customer support team if you have other questions and/or concerns about our products. Here's the link. https://bit.ly/2WocMfi
Date published: 2021-08-24
I'm a bald, heavy sweater at gym and sweat/sweaty towel touching ear buds has them constantly pausing, restarting or skipping tracks. VERY ANNOYING! How can I disable touch sensative controls?
The touch controls of our JBL Endurance Peak II can't be turned off or locked. If you have any questions or concerns about your device, please contact our customer support service via our official website or toll-free hotline.
Date published: 2022-09-01
Am I allowed to have the earpieces in the case while the case is also charging? Or will that fry the batteries out?
It's completely safe to charge the case while the earpieces are placed in the case.
Date published: 2021-06-06
Does the Endurance Peak II have "Stereo & Mono" mode like the original Endurance Peak had or do phone calls now come through both ears?
Our Endurance Peak II has the Dual Connect feature which makes the earphones take calls, adjust the volume, or use the voice assistant on either ear.
Date published: 2021-06-06
Can the touch controls be turned off?  When they get wet they skip songs.  Should advertise waterproof if not functional
Thank you for taking the time to provide us with your feedback. The touch controls of our JBL Endurance Peak II can't be turned off or locked. It should be functional even if it gets wet since our JBL Endurance Peak II is sweat and waterproof IPX7-rated headphones. We'd like to work with you directly and troubleshoot the issue you're experiencing with our JBL Endurance Peak II. Please reach out to our JBL Customer Support for assistance. We're here to help.
Date published: 2022-07-12
Can these be used with glasses? 
Our JBL Endurance Peak II should be worn using the hooks on the earpiece for a secure fit. Using it while wearing glasses may compromise the fit on your ear. Comfortability would also depend on how the temples of your glasses are designed.
Date published: 2022-07-24
Can I just use the left headphone by itself, and not use the right at all?
Yes, you could use just the left earbud by itself since our JBL Endurance Peak II has a Dual Connect feature. You can take calls, adjust volume, or use your voice assistant on either ear.
Date published: 2022-07-23
Can one earpiece be used?
Our JBL Endurance Peak II has Dual Connect Sync technology. They can pair with your device when the case is opened, and each earbud connects immediately and independently, allowing you to listen to music or take calls which either side and assign unique functions to left and right.
Date published: 2021-10-31
Right earbud stopped working is flashing red and blue please help b4 I return them
Thank you for bringing this to our attention. The right earbud is in pairing mode when the light indicator is flashing red and Blue. You may try a factory reset. First, remove or forget the earbuds from the list of paired Bluetooth devices. Place both ear pods in the charging box, while the charging box is plugged into a power source. Press and hold the button on the Right pod for about 5 seconds. The LED on the pod will turn off and then turn back on again. This restores your earbuds in default settings.
Date published: 2023-03-08
DO MY ENDURANCE EARBUDS SUPPORT WIRELESS CHARGING
Our JBL Endurance Peak II isn't Qi-compatible for wireless charging. It can only charge by placing both earbuds inside the charging case.
Date published: 2022-12-21
Can these be charged using a wireless charging pad?
Thanks for your question. Our JBL Endurance Peak II doesn't support wireless charging. You could only charge the charging case using a USB Type-C charging cable. For more details about the unit, you may click the link here: https://bit.ly/3HtzQOV
Date published: 2022-02-27
Why does the right earbud blink red and blue continuously even though the left earbud is paired to my iPhone? It seems to be stuck in pairing mode. Any ideas?
We'd like to work with you directly to fix the issue you're having with your Endurance Peak II. Please get in touch with us through http://bit.ly/3nLlAIr
Date published: 2021-06-13
When will the blue version of the endurance peak 2 come out?
We don't have news to share when JBL Endurance Peak II will be restocked. Please sign up for our newsletter for updates about product releases and promotions here: https://www.jbl.com/subscribe.html
Date published: 2021-06-06
can you charge the case without the headphones?
Thanks for your inquiry. You can charge the JBL Endurance Peak II case without the earbuds.
Date published: 2022-04-10
can i connect these to multiple devices simultaneously (multipoint)?
Thanks for your question, our JBL Endurance Peak II does not support Multipoint Connectivity which means that it can only be connected to one Bluetooth device at a time.
Date published: 2022-05-03
Thinking about purchasing these for myself at work.. But I'm curious. Can I use one earphone and then when the battery dies can I swap for the other one without worrying about it being dead? So I basically have 12 hrs of use using each one separately? TIA
Yes, that's correct. You can one of the earbuds while the other one is charging. Our JBL Endurance Peak II has Dual connect feature, either which headphone you take out of the case first, you can take calls, adjust volume, or use your voice assistant on either earbuds.
Date published: 2022-01-03
My Left earbud will not come on (no blue light to pair with the right earbud), What can I do?
We'd like to know more information about what issues you're having with our JBL Endurance Peak II. Please try the troubleshooting steps on our support page article about Battery and Charging to isolate the issue with your unit here: https://support.jbl.com/us/en/
Date published: 2021-06-06
The left earbud has no blue light and no signal, despite hours of charging. Is there a trick to re-activate it or do I have a dud? Inpurchased these less than 2 mos ago.
We'd like to work with you directly so we could try some troubleshooting with your JBL Endurance Peak II. Please reach out to our Customer Support at https://support.jbl.com/us/en/
Date published: 2022-06-20
I find the description of run time deceptive. What does it even mean "24 hours in case"? How do you listen to ear buds in a case? I only saw 30 hours maximum play time. Now I see it is only 6?
The "24 hours in a case" is the cumulative charge inside the charging case. Once the JBL Endurance Peak runs out of battery, you fully charge it in the case to get another 6 hours, until it's used up the 24 hours time inside the case. To put it simply, on a fully charged charging case, you can fully charge the headphones 4 times.
Date published: 2021-06-06
Is it possible to 'over charge' your headphones in the case or over charge your case to cause either to no longer hold a charge in the future?
There is no harm in leaving your JBL Endurance Peak II connected to electricity at all times. You can simply pick it up, unplug it from the charger and be on your way, knowing that you have a full charge. The battery will not overcharge. However, if you'd like to conserve electrical energy, disconnect from charging.
Date published: 2022-02-02
My set keeps hanging up my calls. How can I fix this?
Thank you for your question. As there could be different causes for your problem, as well as solutions, we would like you to contact us directly at the following address: https://support.jbl.com/de/de/customer-service/contact.html
Date published: 2021-06-06
Where can I find the full users manual for this earphones?
Thanks for your inquiry. Here's a quick start guide for our JBL Endurance Peak II, which you can find here: https://www.jbl.com/on/demandware.static/-/Sites-masterCatalog_Harman/default/dwff3f57e6/pdfs/JBL_Endurance%20Peak%20II_QSG_Multilingual.pdf
Date published: 2023-01-09
Can the headphones be worn in the sauna or steam room
It would be safe to use the JBL Endurance Peak II as long as it's within the recommended working temperature between 5 and 35 degrees Celsius. (41 to 95 Fahrenheit).
Date published: 2022-05-29
Does it has Active Noise Cancellation?
Our JBL Endurance Peak II doesn't have a noise-canceling feature. You might want to check our JBL Tune 230NC TWS, JBL Live Pro+ TWS, or JBL Club Pro+ TWS which has this feature.
Date published: 2023-03-07
The right ear of my JBL Endurance Peak II is barely audible all of a sudden and they are less than 6 months old. I've heard there is a factory reset that may fix problem? If that does not work, what should I do?
We appreciate the feedback you've provided to us. If you are experiencing volume or balance issues with our JBL Endurance Peak II, always check for wax and dirt in and around the earbud and driver and complete cleaning of the earbuds as described above. If the issue persists, there may be earwax/dirt stuck in the small holes in the grille in front of the driver, preventing sound output. To resolve the issue try dipping the affected earbud tip into a solution of lukewarm tap water and a small amount of dish soap. The earbud tip should be put into the liquid up to a maximum depth of 1-2 mm only (see images below). Immersing the earbuds in water or putting the earbuds in water at a larger depth than this could damage your product and void your warranty. Keep the earbud tip in the water for about 2-3 minutes, then wipe/clean the grille with a small brush, such as a toothbrush. That should remove the wax and resolve the volume/balance issues. If you need assistance from us, you may contact our customer support.
Date published: 2022-09-04
Can these ear buds be used for swimming
Our JBL Endurance Peak II has a rating of IPX7 which means that it is waterproof but it is not recommended for swimming since Bluetooth signal doesn't pass through water. We suggest the JBL Endurance Dive for swimming activities as it has an MP3 Function where you can copy music files into it.
Date published: 2022-12-30
It requires a PIN to pair with my phone. I tried restarting but with no result. Please, give me some advice.
Thank you for your question, as there could be different causes for your problem, as well as solutions, we would like you to contact us directly at the following address: https://support.jbl.com/de/de/customer-service/contact.html Kind regards
Date published: 2022-04-08
Is the sound quality is good as other JBL products?
Our JBL Endurance Peak II has a frequency range of 20hrtz to 20Khz which means that it has the maximum output for bass and treble.
Date published: 2021-06-07
bvseo_sdk, dw_cartridge, 18.2.0, p_sdk_3.2.0
CLOUD, getContent, 110ms
questions, product
Support
Register your JBL product
Do you own this product? Register it here in case you need to claim warranty
Register Now
Can't find what you're looking for?
Are you looking for product support, documentation, how-tos or older products?
JBL Support