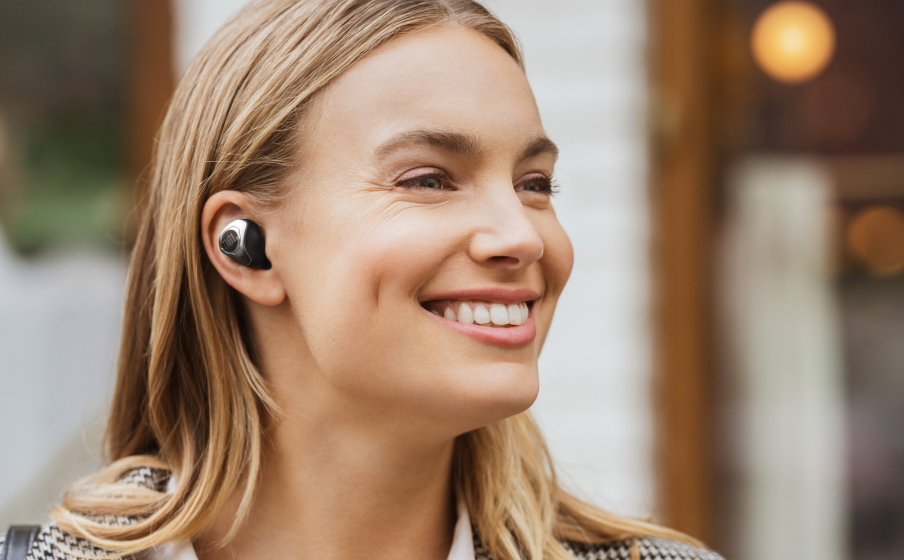 Legendary JBL Pro Sound
Your workday playlist sounds even more inspiring with full, immersive JBL Pro Sound. Use the JBL My Headphones app to customize the sound to your liking or choose presets from STAGE+ created by the world's top DJs.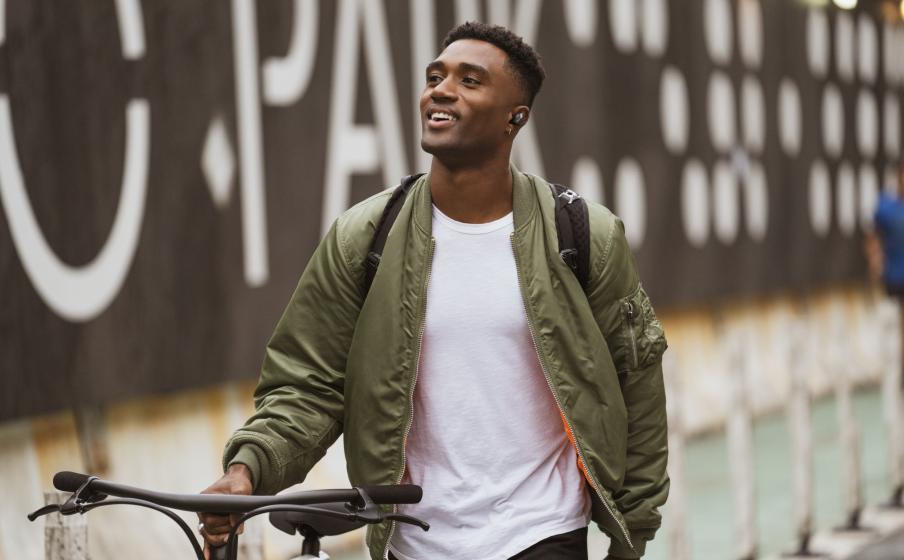 Adaptive Noise Cancelling with Smart Ambient
In a crowded coffee shop trying to drown out the loud conversation at the next table? Activate the noise cancelling technology and stay focused. Walking in a busy street? Let in the surrounding sounds and keep walking safely. Need to have a quick chat with your coworkers? TalkThru makes it easy to do it keeping your headphones on.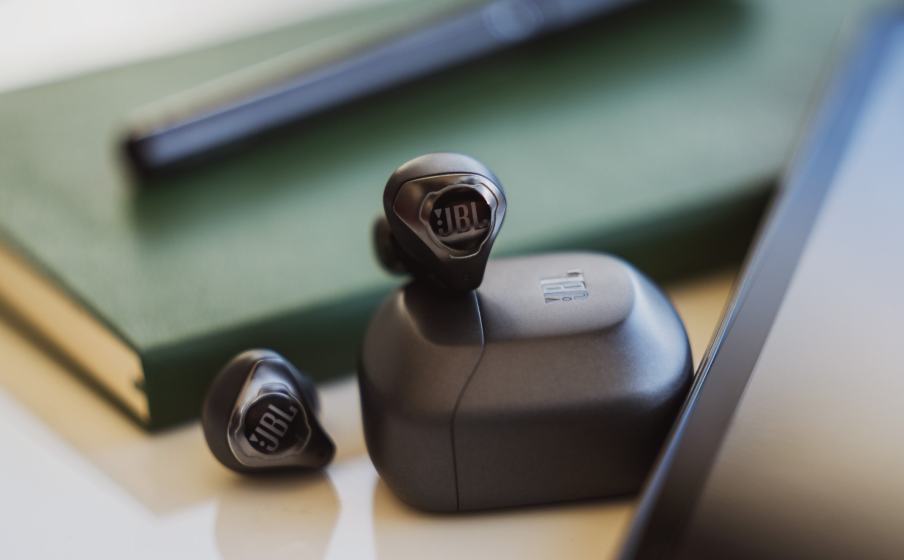 Zero Hassle Connectivity
Your JBL CLUB PRO+ TWS pair seamlessly to your device as soon as you flip open the case, thanks to Dual Connect + Sync technology. And no need to remember which one to grab first, because you can do all the things with either earbud, whether you're using both or just one.
Features

Even More Voice Clarity in Perfect Stereo Sound
Have no fear about taking a call outside on a breezy day. 6-mic beamforming technology delivers crystal clear calls with all the sound you want, while eliminating the background noise you don't.

All-Day Wireless Power
Make it all the way through your workday with an 8-hour charge and 3 times more from the case (24 hours). If you need a little extra juice, just 10 minutes in the charging case will get you another hour's use. The stylish, ergonomic charging case supports both totally wireless Qi charging and Type-C connectors.

Tap To Talk
Just tap the iconic JBL logo either to talk to Google or to activate Amazon Alexa. Three sensitive mics mean your digital assistant won't have any trouble hearing or understanding you.

Comfort You Can Feel, Fit You Can Check
The unibody design inspired by professional in-ear monitors offers all-day comfort. The first time you use them, the downloaded JBL app walks you through an easy Seal Check to make sure you're getting the best fit from the three ear tip sizes included.

My JBL Headphones
GET EVEN MORE CONTROL AND PERSONALIZATION OF YOUR LISTENING EXPERIENCE WITH THIS FREE APP.
Specs & Downloads
Item# JBLCLUBPROPTWSBAM
Description
All the Sound You Want, None You Don't

You're always on. Shouldn't your headphones be? From the subway to your desk to the gym, music powers your day. JBL CLUB PRO+ TWS earbuds give you the ultimate in true wireless performance. Connect seamlessly, no matter which earbud you grab out of the case first. Change how much of the outside world you want to let in, based on where you are and what you're doing. When you take a call, three microphones let you talk without distracting noise. All-day comfort, plus effortless nothing-to-plug-in wireless charging—and, naturally, legendary JBL Pro Sound—take true wireless to the next level.
General Specifications
Driver size (mm)

6.8

Number of Microphones

6

IP Code

IPX4
Audio Specifications
Driver sensitivity at 1kHz/1mW (dB)

102

Dynamic frequency response range (Hz)

10 Hz – 20 kHz

Impedance (ohms)

16

Number of drivers per ear

1
Dimensions
Charging Case Weight (oz)

2

Earpiece Weight (oz)

0.5

Charging Case Weight (g)

55.4

Earpiece Weight (g)

13.7
Control and Connection Specifications
Bluetooth profiles

A2DP V1.3, AVRCP V1.6, HFP V1.7

Bluetooth frequency

2.4 GHz – 2.4835 GHz

Bluetooth transmitted modulation

GFSK, π/4DQPSK, 8DPSK

Bluetooth transmitter power

0 - 9.5dbm

Bluetooth version

5.1
Battery
Charging time (hours from empty)

2

Maximum music play time with ANC off (hours)

8

Maximum music play time with ANC on (hours)

6

Maximum play time (hours)

8
Features
Bluetooth

Yes

Voice Assistant integration

Yes

3-Button Remote/ Mic

Yes

Adaptive Noise Cancelling

Yes

Built-in Microphone

Yes

Charging case

Yes

Hands Free Call

Yes

Rechargable battery

Yes

True Wireless

Yes

Wireless

Yes
What's in The Box?
1 x JBL Club Pro+ TWS
1 x Type-C USB charging cable
3 x Sizes of eartips (S, M, L)
1 x Charging case
1 x Quick Start Guide / Safety Sheet (S / i)
1 x Warranty / Warning (W / !)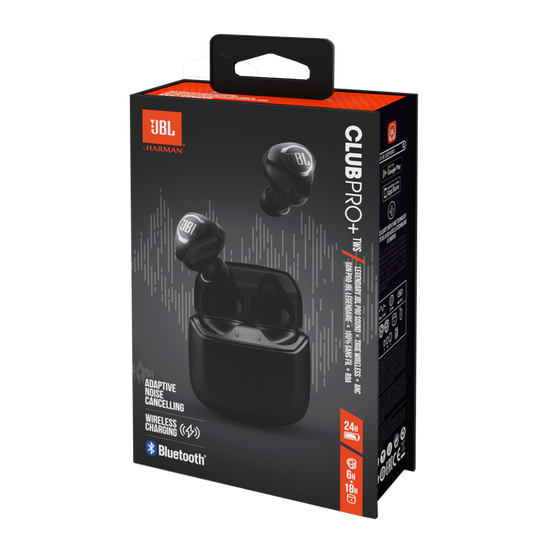 Documents & Downloads
Customer Reviews
Rated 5 out of 5
by
golfcat
from
ClubPro+ TWS Are Amazing
The ClubPro TWS+ earbuds are a great example of improved technology over generations. These earbuds not only provide a terrific range of sound, but the added Active Noise Cancelling (ANC) is a welcome addition when using them in public. General: The fit, feel and quality of the earbuds is great. The out-of-the-box appeal is very aesthetically pleasing, and the upgrade to USB-C charging (cable included) is a nice touch to add faster, more reliable charging to the package. Sound: Anywhere from solo vocals to deep bass, these earbuds seem to perform up to expectations. Listening to "The Girl is Mine" by Michael Jackson, the earbuds capture the highs of the vocals and seamlessly mix the baritone drum in the background. On the other hand, "TECHNO" by Yellow Claw had more than enough bass throughout the song without losing the treble of the higher-range sounds or distort the vocals in any way. Fit: While these would be perfectly fine to use in the gym, or on a run, I tend to prefer having some sort of "fin" accompany the earbud to secure it in place. Having said that, I did not seem to have any issue with adjusting the buds to keep them in place (which is more than I can say for most earbuds these days). Summary: Overall, I would recommend these earbuds to anyone looking for great sound throughout the listening experience, as well as a fast pairing/charging process, great fit, a customizable app to tailor the sound according to the user, and outstanding overall features.
Date published: 2020-11-10
Rated 4 out of 5
by
Leo88
from
Great sound quality
I have been using these daily for a few weeks now and I have to say I am pretty impressed. I use them whilst weight lifting and generally working out, they are excellent while jogging too. They are extremely comfortably to wear, they're are straightforward to set up and use and once they're in they don't need to be adjusted at all, they stay in place perfectly! I enjoy music really loud in my ears and although they do go up to a decent volume, they are just not quite loud enough for my liking. I would still definitely recommend though as that is not enough to put me off buying them.
Date published: 2020-12-31
Rated 5 out of 5
by
EUHe
from
Go to for work from home
The Club Pro have become my go to work working from home. The initial pairing with my laptop took a moment as my iphone was already paired and changing the connection took a moment to figure out. However, now it defaults perfectly to the laptop and the call quality is fantastic. The noise canceling even makes a loud truck going by outside disappear. I can walk around the house (across levels) and still keep a solid connection. The App helped with setting more sound options and features; definitely helpful. Would like to see even longer battery life on NC in the future and initial multi-device connect ease of use.
Date published: 2021-06-09
Rated 5 out of 5
by
nick173
from
great sound great app
After trying Apple AirPods Pro Sennheiser momentum 2 and jbl reflect mini nc these club pro+ are amazing. The sound is very good after playing with the equalizer on the app. They were also the loudest out of the earbuds that were previously listed and definitely bass heavy if you want. The app itself is awesome and there are plenty of features and configurations with these earbuds. The club pro+ also fit nice in my ear. I use them for commuting and the gym. Once I put them in there is no need to touch them again but that's just me. They are definitely worth the money. Two little complaints I have is the noise cancelation is not the best and on a windy day I hear it in the earbuds maybe its just me. But they are still amazing. On a side note jbl customer service is amazing. I had purchased these and unfortunately lost the charging case. They told me since it was bought within the month they will replace the product. I just had to send the earbuds back.
Date published: 2021-02-26
Rated 3 out of 5
by
Heroes
from
Not that great actually
Hi I'm not disappointed but not satisfied they way to quiet the noise reduction is fine but it's making a strange noise in background. Way to sensitive even small try of removing one of them from ear will end up stoping track can be really frustrating… same with restarting truck with iphones the headphones will start call some one lol. Wven with off coice comands in settings in phone. So i recommended them to gym or lone runs. Sound quality perfect same bass side bit quiet witch is making noise reduction weaker. Sorry but nit recommend product maded properly box looks nice design nice waaaay to sensitive
Date published: 2021-12-17
Rated 4 out of 5
by
LH92
from
High Quality Earphones
I've been using these earphones for almost a month. As soon as you take them out of he box you can tell they are a high quality product, with a nice, sleek, matte black finish and a weighty feel to them. They connected very quickly to my phone and along with the app boast a number of additional features that allow you to customise them to be suit your experience. From turning off ambient noise to changing the touch button actions on each earphone itself. A slight issue I found was that on occasion they would disconnect from my phone before immediately reconnecting, causing a momentarily pause to my listening. Overall sound quality is very good, a nice, crisp sound with a good level of bass, aided by the earphones noise cancelling qualities.
Date published: 2020-12-29
Rated 1 out of 5
by
BGoff
from
Terrible buds!
Brand new out of the box and they are constantly going into Mono mode. I have to reset them in the case and reinsert them and most of the time that works. No solution or response from them. I guess I'm gonna have to eat the $200 on these. JBL is not the company they used to be. I would have given them Zero stars if I could.
Date published: 2021-01-24
Rated 4 out of 5
by
Rumplestilskin
from
Great functionality, but not outstanding sound.
Club Pro+ TWS Wireless headphones. Pros Comfort and fit. 10/10 Excellent noise cancelling.10/10 Excellent functionality re making and receiving phone calls whilst in use. 8/10 Cons Sound quality is not discernible different from less expensive earphones. 7/10 Quick Start Guide could be clearer, especially Button Command, but this may simply require practise. Further explanation re benefits of linking the headphones to the App would be helpful. The font in all of the documentation is extremely small. 6/10
Date published: 2020-12-23
Rated 4 out of 5
by
Funkichica
from
Excellent sound and phone quality
I got these a couple of weeks ago as I was looking to update my previous headphones. These are really great, the sound is excellent and crystal clear. When making a phone call using them, my hubby even commented that I was coming through more clearly to him. The controls are simple and easy to remember and the charge lasts ages. My only gripe is that I have really tiny ear canals and these only kinda fitted with the smallest inserts. So if you could make even smaller ones next time, that would be great.
Date published: 2020-12-21
Rated 5 out of 5
by
Guerrero123
from
Bass
Got these in the mail about 3 and a half weeks ago. They sound phenomenal bass is great battery life is awesome. I think the best features in my opinion is the talk thru option when I'm talking to someone and not having to take the headphones out, and second is the wireless charging. Since I my Truck has a built in wireless charger I just get off work/gym etc and hop in my truck and just effortlessly put them down on the wireless charging pad, ands done , and continue driving your commute.
Date published: 2020-11-18
Rated 5 out of 5
by
Jwolford
from
I stand corrected
I received the Pro+ last week and I must admit, I judged them before they showed up. As a long-time Airpod Pro user, I knew what I wanted and I didn't think I could get it from anyone else. I stand corrected, the JBL Club Pro+ is my go-to work out/music headphones. they would be my everything but here are the cons of them. 1. connection with Windows is not great, but I blame windows as I haven't found a single wireless earbud that works. 2. the microphone is too good. I share a home office with my wife and normally we can both host calls without interfering with one another. Not with the JBL, the microphone is so good, it picks her up equally as it does me... from 10 feet away. Now that we have the only two cons out of the way... let's dig into the meat of why these things are a musical beast! First, download the app... complete control is a must and it's only done with the app. Once you have the app, you can control how your music hits your ears and it is something everyone should experience. The bass is full, the highs are clear and the mids just plain work. As for comfort, fit them to your ears... again, use the app and wear them as long as you like. I wear mine under a hat, a gator, with a mask and without... they are comfortable and really made me think twice about staying with my AirPods. The case keeps them charged for a long time... so far, a week of full volume 90s hip hop 1-hour workouts and I am sitting at 60%! As always... JBL knows how to deliver sound into your ear holes!
Date published: 2020-11-17
Rated 1 out of 5
by
ZExion03
from
Constantly Pairing inside Case
So, for context, I'm using these with a Samsung Note 10+ and my previous earbuds were JBL Reflect Flow Wireless Pros: The app is an alright addition to be able to customize the sound profile and controls. Cons: -These buds are unlivable for everyday use. To clarify, when not in use, they will be constantly pairing with my phone and forcing the audio and notification sounds to the buds that are firmly in the case and should be turned off. This happens consistently through the day, and usually the case itself will die within a day or two, then the earbuds will no longer have this problem. So, obviously there is an issue with how the case is made that causes these earbuds to constantly turn on and drain their batteries. -The audio is quiet. On the old earbuds previuosly mentioned, I would turn the audio to about 75% on the phone, right before the red line for the audio volume warning and they would be fine. On these at max volume, I still find them to be below that comfortable volume.
Date published: 2021-01-16
Rated 5 out of 5
by
Poserskater94
from
Better then the rest!
I've been using these for a week now and wow. The sound is amazing and everything JBL is all about. I've been using JBL reflect mini for last couple years so from that to this is awesome. The battery life lasts long and having charging pod case is cool feature as well. The JBL app connects from your phone to your earpods. The bass and sound is truly amazing. If you lose one or both earpods There's feature to help you locate them back. Overall 10/10 good purchase and this definitely sounds and looks better then the competition. Thanks JBL
Date published: 2020-11-17
Rated 3 out of 5
by
J4B97
from
Connectivity Problems
The club pros are built to connect/disconnect upon opening/closing their case. So many times these headphones have not connected when opening the case or will almost never disconnect after putting them in the case and closing it. Very disappointing for $220 headphones lacking in what is basic functionality.
Date published: 2021-04-21
Rated 5 out of 5
by
aidan12
from
Perfect for what you would expect
I've had these for about a week and that they have worked perfectly for everything I do. I exercise and rock climb a lot every week and needed a pair of ear buds that had no wire, easy controls, and sound that is worth listening to. These ear buds do all of that and actually stay in your ears for more than five minutes. The only thing I would say against them is that the controls are kind of strange but probably as simple as they can be. So far, I really like everything about these ear buds and would definitely recommend them.
Date published: 2020-11-17
Rated 5 out of 5
by
Happy_dad
from
Finally, the earphones that do everything!
I've owned UA Flash earphones for almost two years now, so I'll be comparing the Club Pros to them. Flash earphones have a great sound and nice battery life. However, they are difficult to use: very long button presses, and bad charging case contact. Club Pros pair without a problem, and Android owners can plug into Google infrastructure, using the digital assistant and whatnot. The Club Pros have a smart case that knows when the lid is open, and immediately the earphones reconnect to your phone. They pop into and out of the case effortlessly, and don't have any issues charging. The case can be charged wirelessly (Qi). The sound of these earphones is great! Bass is not overwhelming, treble and mids are great. I could hear everything in these that I normally hear in my audiophile-on-a-budget open-back Philips headphones. All tracks that I normally listen to (chillstep, P.O.S., a bit of pop and hip-hop) sounded pleasant, with no audible drawbacks. The earphones themselves have the indicator LEDs on the inside, right next to the infrared proximity sensor. The sensor is nice, as it pauses the audio when you take the earphones out of your ears, and resumes music when you put it back in. I installed the JBL app, and chose one of the European DJ's equalizer presets, and that made the sound even better (I like slightly more bass than flat). I liked Nicky Romero's preset (never heard of him) the most, but Armin van Buuren's preset disappointed me. Ryan Marciano's is also nice. Also in the app you can switch ambient sound settings, including the active mode (changes noise canceling for activities) and talk through. Talk through works seamlessly, without any perceptible delay. You can also switch smart audio modes (normal, for music listening, which ups the quality a bit, and for video, which reduces the delay between audio and video), but I only tried each mode once, and stuck with normal. You can configure the touch controls for each headphones in the app, as well. The touch controls work decently, but don't register every touch, for some reason. Maybe my skin is too dry, not sure. There are a few more settings in the app, some are useful, some not so much. Overall, I love these. I use them all the time, and love the ease of use, seamless audio
Date published: 2020-11-13
Rated 5 out of 5
by
RON J
from
I LOVE THE EQ
GREAT SOUND and great eq, and good fit. and great price
Date published: 2021-02-08
Rated 5 out of 5
by
kitkatt611
from
Great, but require some learning
These are by far my most advanced headphones! The features are 100/10. There's a little bit of a learning curve, so be patient and take the time to set them up how you like them. I love how customizable they are, especially since they have as many functions as more advanced over-ear headphones. I have tiny ears, but the small bud size still fits me quite well without feeling like they'll fall out. Also the battery life is pretty awesome, and the case retains a charge for a long time.
Date published: 2020-11-11
Rated 1 out of 5
by
LoverofAudio04
from
Kept falling out... AGAIN. NEED XL EARTIPS
I'm not even sure how many pairs of true wireless earbuds I have tested out at this point. All I know is that I've tried JBL, Sony, and Jabra, and ALL of them kept falling out of my ears. I can tell you that these were my second pair of JBL TWS that I've tested and I had really high hopes for them. However, once again, the eartips were not big enough. And yes, I tried large ones... After all of the different consumers who say that the earbuds keep falling out of their ears, you would think that companies would catch on by now, but they haven't. All companies make are S, M, and L eartips. For a lot of people, like me, that's not enough! I am literally an XL size eartip away from having the earbuds fit. So companies, MAKE XL EARTIPS! Not everyone has small to normal size ears!
Date published: 2020-12-27
Rated 3 out of 5
by
cynthiaa21
from
so disappointed!
we bought these headphones back in march, and sadly recently they just stopped connecting, charging? i don't know honestly, because they were soo expensive too not even last! we don't have the receipt because it past the 30 days. my husband loved them but we can't find the box soo we're just left helpless looking for new headphones!
Date published: 2021-08-15
Rated 5 out of 5
by
M30pec
from
Stylish
I bought these around a month ago and I am impressed with the sound quality of these. They can feel a bit bulky at first but once you position them that suit you they are comfortable. It connects easily to your devices too.
Date published: 2021-01-02
Rated 5 out of 5
by
Koool
from
JBL CLUB PRO+ TWS
The JBL CLUB PRO+ TWS is outstanding. Right out of the box, its sleek design is eye catching. The set up was a breeze w/ the JBL My Headphones app you can customize the sound. Charging is quick and can last all day. I found the sound to be of a superior quality, along w/ the useful noise cancelling technology made them very versatile. The tap to talk feature worked seamlessly and w/ 3 mics, calls were effortless. I would absolutely recommend the JBL CLUB PRO+ TWS for anyone.
Date published: 2020-11-12
Rated 4 out of 5
by
LLEVERYDAY
from
Great Customizable Sound!
The Club Pro+ TWS provide all around great sound! With the Edit EQ feature in the JBL Headphones app you can fully customize the sound! That is if one of the amazing presets isn't to your liking. You can hear the clear highs and the rumble of the low bass when listening to any genre of music. When watching movies on my mobile phone or tablet I get that surround sound feel. Call clarity is excellent. I work from home taking calls all day. I can hear my customers with perfect clarity and vice versa. The battery provides me with plenty of talk time and the on screen battery percentage level is great for letting me know when its getting time to put them in the charging case for a quick boost which is very important! The only negative I can say about the ear buds is the lack of responsiveness upon initial contact with the bud and my finger when I attempt to use one of the gestures. Usually (but not always) my first contact with the bud goes unrecognized. I sometimes have to focus on what I'm attempting to do in order to get it done when I attempt to change a song or increase/decrease the volume for example. Overall this is a great product that i would recommend.
Date published: 2020-11-19
Rated 3 out of 5
by
Anonymous
from
Love the sound battery life is shorter than expect
Bought these because i love jbls and harmon kardon. Expected more than 2 hour battery life tho. Great sound.
Date published: 2021-08-12
Rated 5 out of 5
by
Gonzalo G
from
Great battery time!
I've had these new wireless earbuds since they came out and have had no issues. The battery life with case is what really stands out. I also love how you can customize your hearing experience with the equalizer and how they have a selection of different dj equalizer setting on the app. Overall some of the best truly wireless earbuds out there. Would recommend!
Date published: 2020-12-09
Rated 3 out of 5
by
Snakeeyes
from
Too big!
Ok so I received this item and package looked great ... then I opened it straight away I don't like! Way to big! Generally sound pretty good and easy to use, so far they are just not for me
Date published: 2020-12-21
Rated 2 out of 5
by
Bos8
from
Great sound, poor connection :(
Unfortunately connectivity issues let these earphones down massively. They stop streaming calls and music spontaneously while connected to a phone in your pocket, something I have never experienced with any other JBL product (I have a lot of them!). JBL customer service was good, they sent me a new pair but the problem is still exactly the same. It's such a shame as the sound quality is seriously good, and the bass is some of the best I've experienced at this price point for wireless earbuds. You'll need to create your own EQ in the App to get the best out of them, the preset settings and DJ sound settings don't do them justice. If you are going to use them in the office while your phone is on your desk, go ahead. You'll love them. If you're going to use them on the move maybe consider something else in the range, they become practically unusable at times due to disconnecting. Great battery life as advertised, good for flights and work.
Date published: 2022-07-25
Rated 5 out of 5
by
Francis Ta
from
This is the best earbuds I've never heard before with an excellent sound quality!
Date published: 2020-12-12
Rated 5 out of 5
by
MMafia09
from
Amazing sound with Deep bass and Really good highs
I have the Samsung buds + and they were my daily driver till i bought these, The base and sound quailty on these compared to the samsung buds + is night and day, They make the samsung buds sound cheap and plasticy. Really well done JBL this was high quality for the price. Ear comfort is nice and case is very nice as well.
Date published: 2020-11-11
Rated 5 out of 5
by
Baynes
from
Excellent Ear Buds
Just got these ear buds and could not be more pleased with the sound quality. I am really enjoying the noise cancellation feature. They fit great for short as well as long term wearing. These ear buds compare to any headphones with noise cancellation on the market currently.
Date published: 2020-11-18
bvseo_sdk, dw_cartridge, 18.2.0, p_sdk_3.2.0
CLOUD, getReviews, 8ms
reviews, product
Product Q&A
What are the dimensions of the charging case? I want to know how big these would be in my pocket.
The dimensions of the portable charging case for our JBL Pro + TWS is, 6.5 x 3.8 x 2.1 inches and weighs 55.4g/0.12 lbs. You can also check this products features and other specifications via this link. https://bit.ly/3qEGdaP
Date published: 2021-06-06
What jbl app do I use these with.
Thank you for your question. The app is called "JBL Headphones". Kind regards
Date published: 2021-06-06
Do these support aac?
Yes, our JBL Club Pro+TWS supports AAC and SBC.
Date published: 2021-06-06
Do these have the same Harman curve frequency response tuning like other Harman affiliated brand TWS sets have, such as the Galaxy buds or the AKG N400?
We would like to get more information to help you out, please contact us so we can assist you:https://bit.ly/2zwFkYM
Date published: 2021-06-06
Came from floss Carter btw through his review. But my big question is when will the release date teaser be announced at least? Before Christmas right?
Our JBL Club Pro+ TWS is up on our website but we currently have no news to share regarding its release date. You may sign up for our newsletter so you can get notified once this gets released.
Date published: 2021-06-06
Do these work with iPhone 11?
Yes, it both works with Android and iOS devices.
Date published: 2021-06-06
Hello everyone. I have an issue with my JBL Club Pro Plus, I would close the lid with the earbuds in & sometimes it would connect to my phone randomly with the earbuds still in the case. Any idea what causes it & what's the fix?
We appreciate the feedback you've provided. You can manually turn off the JBL Club Pro+ TWS by putting the earbuds back into the charging case and close the lid. 2. Press and hold the buttons on both the left and right earbuds for more than 2 seconds. Alternatively, only press and hold one of the buttons to turn off the left or right earbud as required. 3. Use the Auto-off function via the JBL Headphone app (Only applicable for headphones supported in our JBL Headphone app). If you need help, our customer support could help you with checking your options. We're here to help: https://bit.ly/36JTBlN
Date published: 2021-06-16
Will these stay in when running?
Make sure you have the right bud size so it perfectly fits to avoid it from falling off.
Date published: 2021-06-06
Are these earbuds compatible to connect bluetooth using an Apple Watch?
Thanks for reaching out. Our JBL Club Pro+ TWS is designed for smartphones and tablets. We can't guarantee that it will work with an Apple Watch. We suggest contacting Apple to get more information on the product.
Date published: 2021-10-22
Hello JBL How do i Factory reset this earbuds ? and also, how do i repair them ?
Here's how to reset JBL Club Pro + TWS. Place the earbuds back to the charging case and close the lid. Use the Auto-off function via the JBL Headphone app. Double-tap on your right or left side of the earbud and long press 5 seconds until you hear a ring tone. It will power-off your headphone and factory reset it. If you need more help, please reach out to our Customer Support in Israel, Newpan LTD, so they could try some troubleshooting steps. You may call them at +972 (3) 943 5555, or send an email to info@newpan.co.il
Date published: 2021-06-06
I dropped my charging case and it has a large crack in the lid. Is there any way to purchase a replacement case?
We're sorry to hear about what happened. Please contact us, so we can assist you in checking your options: https://support.jbl.com/us/en/#call
Date published: 2021-07-21
I love these headphones but for some reason the gesture controls won't work when I try to pause or skip a song. It does work when I want to increase or lower the volume though. Am I doing something wrong?
We'd like to work with you directly so we could try some troubleshooting with your JBL CLUB PRO+ TWS. Please reach out to our Customer Support at https://support.jbl.com/us/en/
Date published: 2021-06-06
I fly on a helicopter for work. I am looking for something to wear under my helmet that will cancel noise, but also not block voice communication. Will these work in this manner?
Our JBL CLUB PRO+ TWS has the Adaptive Noise Cancelling with Smart Ambient feature with TalkThru which actively mixes some of the outside noise but still focuses on the sounds coming from the JBL CLUB PRO+ TWS.
Date published: 2021-06-06
Do they support Google Fast Pair?
Thank you for your question. The Club PRO+ TWS can be used for your Google Assistant or Alexa but they do not include Google Fast Pair I am afraid. We apologise for any inconvenience.
Date published: 2021-06-06
Can I use the feature ' Personi-Fi' with these Club Pro + ? 
Thanks for your question. This feature isn't available with our JBL Club Pro+. Also, we don't have a specific date when Personi-Fi will be available in the US. For more information, you may sign up for our newsletter here: https://www.jbl.com/
Date published: 2021-06-06
Will these charge while the case is closed?
Closing the case while charging our JBL Club Pro+ TWS ensures you that both earbuds are completely switched off while charging. Access the link provided to get more information about this product. https://bit.ly/3qEGdaP
Date published: 2021-06-06
I sweat a lot, like.. a lot, will these work m for me or should I bought the reflect flow instead
We would like to get more information to help you out, please contact us so we can assist you:https://bit.ly/2zwFkYM
Date published: 2021-06-06
Is the club pro plus superior in terms of sound quality to the tour pro plus as the tour was dedicated for travel and functionalities? Both seem nice, but which is the choice for the audiophile selection, I wouldn't like to make a return after a purchase.
Thanks for your interest in our products. Our JBL Club Pro+ has a little more bass than our Tour Pro+. You could also use our JBL My Headphones app to customize the sound to your liking or choose presets from STAGE+.
Date published: 2021-09-16
bvseo_sdk, dw_cartridge, 18.2.0, p_sdk_3.2.0
CLOUD, getContent, 95ms
questions, product
Support
Register your JBL product
Do you own this product? Register it here in case you need to claim warranty
Register Now
Can't find what you're looking for?
Are you looking for product support, documentation, how-tos or older products?
JBL Support