JBL QuantumSURROUND
Feel like you're stepping inside the game with JBL QuantumSURROUND* for immersive and accurate sound all around you. *JBL QuantumSURROUND is only available on PC in combination with JBL QuantumENGINE software. Check the connectivity guide for compatibility.
Low latency wireless connection
Establish low latency 2.4GHz connection to compatible devices with the included USB-C dongle that fits snugly in the charging case. The JBL Quantum TWS earbuds are compatible with all Bluetooth enabled devices, such as smartphones and tablets.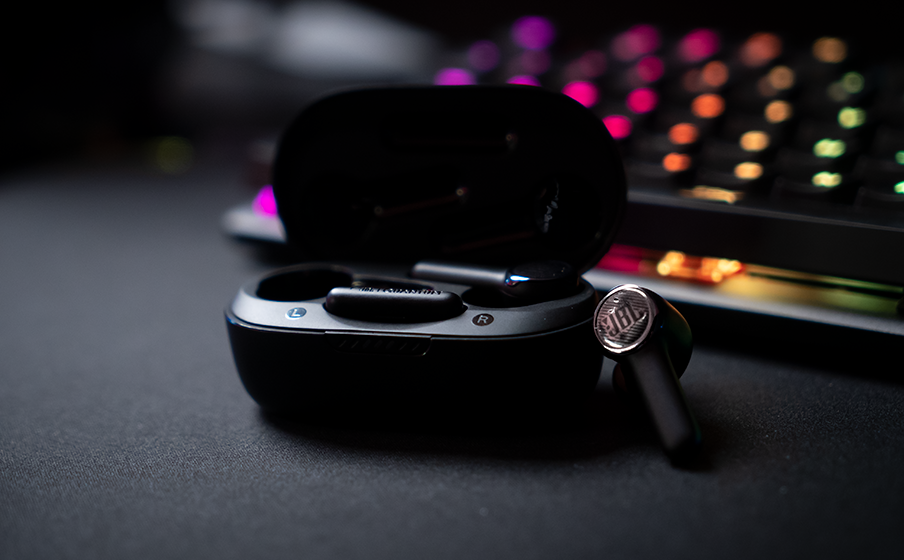 Fast Pair and JBL Dual Source
Never miss a call while defending the galaxy. After connecting via 2.4GHz lossless wireless to a compatible device, you can easily pick up an incoming call via Bluetooth and afterwards go back to your 2.4Ghz lossless wireless connection with JBL Dual Source.
Features

True Adaptive Noise Cancelling & Ambient Aware
Keep your head in the game with auto-calibration of JBL's True Adaptive Noise Cancelling. Or keep an ear on your real-world surroundings with Ambient Aware.

Be heard with beamforming microphones
Whether you're calling out commands or calling friends for a game, your voice will always come through loud and clear thanks to the 6 mics call quality with integrated beamforming technology.

Designed for effortless gaming on the go
Get your game on whenever you get the chance, day or night, rain or shine, with 8 hours of battery life and 16 in the case, plus a durable, lightweight, IPX4 water resistant design for comfort and safety on the go.

Multi AI Support
Need a real-world assist? Tap to talk when you're connected to your mobile device and get help from Hey Google and Alexa with Multi AI support.

JBL QuantumENGINE & JBL Headphones Compatible
Enjoy full control of your True Wireless Stereo sound anywhere. The JBL Quantum TWS is compatible with proprietary JBL Quantum PC software and JBL Headphones App, allowing you to adjust your EQ, microphone, and surround sound settings for a perfect gaming environment.
Specs & Downloads
Item# JBLQUANTUMTWSBLKAM
Description
Sound is survival

Play anywhere and hear everything with JBL Quantum TWS. True Adaptive Noise Cancelling limits distractions as you immerse yourself in accurate surround sound. Or, if you need to jump back into the real world, JBL Dual Source lets you switch from game audio to incoming calls quickly and easily, while Ambient Aware keeps you alert to your surroundings. Compatible with all Bluetooth sources, transitioning between devices is seamless wherever your adventures lead. Easily Fast Pair with Bluetooth smartphones and establish low latency 2.4GHz connections to compatible devices with the included USB-C dongle in a charging case that adds 16 hours of power to the 8 in your earbuds.
General Specifications
Audio Specifications
Active Frequency Response

20 Hz – 20 kHz

Driver sensitivity at 1kHz/1mW (dB)

106

Dynamic frequency response range (Hz)

20 Hz - 20 kHz

Impedance (ohms)

16
Dimensions
Charging Case Weight (oz)

1.5

Earpiece Weight (oz)

0.4

Charging Case Weight (g)

42.4

Earpiece Weight (g)

11
Control and Connection Specifications
Bluetooth version

5.2

Bluetooth profiles

A2DP V1.3, AVRCP V1.6, HFP V1.8

Bluetooth frequency

2.4 GHz - 2.4835 GHz

Bluetooth transmitted modulation

GFSK, π/4 QPSK, 8DPSK

Bluetooth transmitter power

<12 dBm EIRP
Battery
Maximum talk time (hours)

4

Charging case battery life (max hours)

16

Charging time (hours from empty)

2

Maximum music play time with ANC off (hours)

8

Maximum music play time with ANC on (hours)

5

Maximum play time (hours)

16
Features
Hands Free Call

Yes

True Wireless

Yes

Charging case

Yes

IP Code

IPX4

Charging cable

Yes

Ambient Aware

Yes

Built-in Microphone

Yes

Wireless

Yes

Adaptive Noise Cancelling

Yes

Rechargable battery

Yes

Bluetooth

Yes
What's in The Box?
1 x JBL Quantum TWS earbuds
1 x Type-C Wireless dongle
1 x Charging case
1 x 3 sizes of ear tips
1 x Type-C USB charging cable
1 x Warranty / Warning (W / !)
1 x product Quick Start Guide / Safety Sheet (S / i)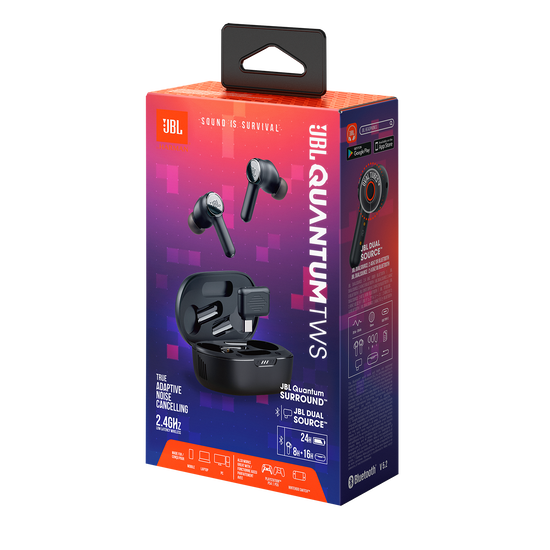 Documents & Downloads
Customer Reviews
Rated

5

out of

5
by
Mikey Mike
from
Great earbuds
The earbuds are great! Good sound, base, and separation. The 10mm drivers are what stand out. They are the best earbuds I have used for gaming. They work well with the software, and they are very comfortable for earbuds. I just prefer the comfort of headphones for longer sessions of gaming. If you are in the market for something that will fulfill both gaming and normal earbud use this would be the first choice hands down of anything out there. Well done JBL.
Date published: 2022-06-05
Rated

4

out of

5
by
NawafZ06
from
Great Headphone for Gaming PC
Never thought it's gonna be that good, really like the headphone. My only Con for it, it's battery life. To be honest i connected it to my PC through Dongle & used 7.1 Audio it's great experience BUT it'll drain the battery life. It game almost 4hours from full. But because i really like the experience i will use it as the same setting. If it's little cheap i will buy another one for swapping the headphone when playing long hours.
Date published: 2022-08-08
Rated

5

out of

5
by
Lanonobreizhusa
from
Great Product
This is a great product ! It's really perfect for anything, from wearing for phone calls then taking to the gym. The noise cancellation is a great feature as well. The overall quality of these headphones are great. The sound quality is awesome. They are great for listening to music !. They fit well in your ears and do not fall out when you are doing some sport ! This allows for a multitude of activities including phone calls, working out, listening to music, watching movies, etc. The battery life is incredibIe as well. I really love these headphones.
Date published: 2022-08-18
Rated

5

out of

5
by
Cyrilio
from
Great earbuds - amazing for sport and gaming
First of all : Earbuds are comfortable, well designed and easy to use (app is very simple and clear, and bluetooth connection is fast). Sound quality is very good - good bass, noise cancelling is impressive (and you can adjust it via the app). Ergonomy is really good as well: you can control sound, change songs only by clicking on the Earbuds right or left... you can keep your phone in your pocket and control everything. It's also very cool for gaming : plug the dongle into your laptop or Steam Deck and play without delay..
Date published: 2022-08-24
Rated

4

out of

5
by
wador666
from
Excellent hearphone almost perfect
Overall I'm very satisfied with these headphone. The sound quality is excellent, I love the fact that you can use either Earpiece completly freely it's really convenient. The ambient aware function works very well but I don't see the difference with just turning off the ambient aware mode and turning on the noise cancelling function. I appreciate how easy it is to connect to a computer thanks to the dongle. The battery life is excellent has well (it's been 2 weeks since I have them and I've charged it only 3 time using them every day!) The hearpieces seats well in the hear and doesn't fall when I cycle to and from work. The reason I'm giving only 4 stars (I would give it 4.5 star really) is, taking the hearpiece out of the case to put in your hear is not user friendly at all. I was expecting the take it with my left hand to put it in my left hear, but that's very difficult. I think the intended use is to use your right hand to put the hear piece in your left hear. and it disturbs me every time!
Date published: 2022-08-23
Rated

4

out of

5
by
MNKY
from
Exceptional sound
The sound of these earbuds is absolutely phenomenal. The features to block out other noise is great if you are in a noisy environment. The earbuds fit well and don't fall out after extended use. After a couple hours of use they do begin to hurt being in the ear. The charge time is great. The battery lasts the perfect amount of time. Also great that these can be hooked up to a gaming system. The case is a bit awkward in shape for travel but is small enough to fit in pockets of bags.
Date published: 2022-05-30
Rated

5

out of

5
by
Danthaman92
from
JBL tws
The earbuds are amazing they fit well they have a long battery life and have that deep JBL sound you expect to them ! Overall I'm very impressed And satisfied with them ! You can use them over Bluetooth or on PlayStation and Xbox or pc they are great ! They charge quick and last a long time and I have had no problems with them conncecting or people hearing me when used with my phone ! The value is great for what you get and when you get home these you will be happy
Date published: 2022-06-01
Rated

5

out of

5
by
Jcuevas
from
Amazing dual purpose headset
The Jbl Quantum TWS headset is one of the most innovative headsets. The headphones were packed in a sturdy box showcasing the pencil style buds. Upon opening the box I was surprised to see that the charging case came fully charged as well as the headphones. Multiple sized ear tips were included with a usb-c charging cable. Warranty card and instructions were also included. Being fully charged these were ready to pair and go. Pairing was quick and simple. Once paired I immediately played one of my favorite songs which has a tremendous audio range. I label myself to be a true headphone Connoisseur. I never seem to truly go for this style headphone for overall sonic clarity and precision. I will say this is the first headphone of this style that I consider to be ear candy. Extreme lows that are not bloated but are precise. Crisp highs and plenty of midrange frequencies. All out of the box with no tweaking or looking for the proper ear tips. These just fit perfect out of the box and sound amazing. I went though almost my entire library for days listening to my favorite tracks on these headphones. They brought new life to old tracks and sound perfect for all Genres of music. The 10mm drivers really do deliver. Inside the charging case was an included 2.4ghz dongle to hook to a pc or a gaming console via usb-c. I first tried it on my ps4 pro. 3 taps to the left ear bud switch the headphones from Bluetooth to the dongle. When connecting the dongle the connection is instant. Speaking of connecting. Once you take these out of the case, they are connected by the time they hit your ears. They stop playing when they are removed from your ears. Utilizing the headphones via the dongle gives you faster transmission rates and better clarity while using these headphone for their intended use as a gaming headset. I know allot of avid gamers who utilize some serious cans for their gaming experience. I asked them what they dislike about their current sets. The typical answers are that tradition headphones feel heavy at times. They are cumbersome because they have wires. They have a lack of features and poor sound. The Quantum TWS solves all of those issues. They are lightweight and completely wireless. They have superb sound, especially when utilizing them on a pc with the quantum surround feature enabled. These are quantum engine compatible offering a huge range of customizable features from equalization to surround settings. I can't say enough about the sound of these. They are truly amazing. My gaming friends had the opportunity to use these and stated these would be their go to headphones moving forward. When using these as traditional headphones, you can download the JBL headphone app on your phone to complete the setup process and have access to adjustable sound settings. You can adjust the noise cancelling feature, equalizer, and the ambient awareness. The headphones will take measurement of the overall seal of them while inside your ear canal to offer the best noise cancelling experience. They also measure ambient noise around you to properly adjust the amount of noise cancelling needed. This is done by a series of microphones located on the ear tips. 4 mics assist with the True Adaptive Noise Canceling feature while 6 mics are used during calls to make the reception perfect. With the noise cancelling on you get reduced battery life but not by much. A total of 24 hours of battery life while using the case when they run low. This figure drops a bit if your using them via the dongle as opposed to Bluetooth. The build quality is solid. They feel sturdy a well built and are water resistant. They have a secure fit but I wouldn't go jogging with these on. I did some yard work while wearing them and they stayed put. These are truly very innovative being the first of its kind to be a TWS gaming headset with all the customizable features. Having an assistant on hand such as Google and Alexa is extra helpful. Being able to play games for hours without the annoyance of heavy over the ear headphones and protruding microphones is definitely a plus. I'm surely not knocking that style because they do have their place in this market. I just don't know any that I would prefer over this style. My gamer friends agree. These are the way to go. Dual source is an amazing feature to have. Adaptive noise canceling and the JBL Quantum surround sound truly give defining sound characteristics to this set. I highly recommend these to anyone who enjoys great sounding ear buds and to avid gamers who use gaming headsets.
Date published: 2022-06-03
Rated

5

out of

5
by
SdfR
from
you will want to wear them all the time
Earbuds are solid. These fit and stay in the ear much better. put in and twist the bar to the down position and they stay. They need to fix the instruction booklet, It is totally useless because the print is too small and light grey which is totally unreadable. But its easy to figure out without it. Easy pair and connection. Various sound modes available with a tap on left ear bud. Pause on the right. Simple. Use and enjoy.
Date published: 2022-06-02
Rated

5

out of

5
by
Eddie32
from
Lightning Quick Dongle Connecting!
Super easy console hookup! I was listening to the videogame as quickly as I plugged in the dongle and hit the button. I didn't even have to run the setup through the app first. I definitely recommend connecting to the app first and being able to make the sound adjustments. Overall these were amazing during game play and better after running the ANC setup. I loved the immersive surround sound.
Date published: 2022-06-03
Rated

5

out of

5
by
Johanna87r
from
The best!
These are my favorite earbuds. The sound is awesome. The Bluetooth connection is almost instant. The battery life of the case last a whole week, with regular all day use. They are super comfortable. I'm still learning how to use it. The setup is so simple it connected to my phone, because they are linked to my email. There's a step by step setup wizard. This is foolproof.
Date published: 2022-06-09
Rated

5

out of

5
by
RockyKarthik
from
Terrific To Say The Least
Can't put in words how much I'm impressed by these pair of earphones. Quantum technology in an earbuds is something I've never expected but JBL made it possible. It's flawless for office/personal calls. Better Base than many other JBL top class earphones. Music, Games, Work, you can use it for anything and get the best experience.
Date published: 2022-06-01
Rated

5

out of

5
by
Byron_1985
from
All around quality
Absolutely love these headphones. Easiest set up from any JBL headphones I've ever had, follow steps and they will guide you to the best sound experience. Extremely clear sound and deep bass, easy to adjust the level on the JBL application if you want to make them your own. Hands down the best bang for your buck for headphones.
Date published: 2022-05-31
Rated

5

out of

5
by
jlee89
from
Fantastic Sound
Got this for both gaming and just listening to music on a daily basis. The noise cancelling is fantastic and it really helps me focus on my games also. I like that it's completely wireless so I don't have to wear bulky headphones entire time.
Date published: 2022-07-27
Rated

5

out of

5
by
Gerald M
from
Clean and Clear Sound!!!
Great product. Sound quality is extremely clear. Easy to contact with all devices. Works great when gaming, listening to music and making phone call. On the other hand anyone on the other end of my conversations can hear me clearly!
Date published: 2022-06-07
Rated

5

out of

5
by
Mattys21
from
Quantum TWS for the win!
Very comfortable, light, and hardly noticeable when wearing. Sound is crisp and clear…the shape is perfectly contoured to my inner ear as well. Easy to pair with your device! I would highly recommend this product.
Date published: 2022-05-31
Rated

5

out of

5
by
VictorV
from
Premium gaming earphones!
Able to connect to two devices at once, was able to toggle between my cellphone and Switch. Noise cancelling does a excellent job filtering out unwanted loud noises. Loaded with features, a must hear to believe!
Date published: 2022-05-31
Rated

5

out of

5
by
Mr No English
from
Easy as it gets with JBL :-) no brainer with these
I like the out-the-box connectivity! No need to struggle trying to pair devices here. Very easy on the ear canals and lightweight. I like the find my device option for misplaced buds, definite plus!
Date published: 2022-06-01
Rated

1

out of

5
by
Merino80
from
Quantum TWS
They sound good but the battery life is absolutely horrible. I get about 2-3 hours of battery life with a full charge. Disappointed with JBL on these headphones. Would not recommend.
Date published: 2023-05-01
Rated

4

out of

5
by
Leslie7942
from
Excellent produit
frankly I was surprised at the quality of the headphones they do not hurt the ear easy to use very practical box fast charging I really recommend this product but really satisfied
Date published: 2022-08-18
Rated

5

out of

5
by
KevinFBH
from
What an awesome surprise !!
Honestly, i always loved JBL sound. I have a link 10 for a few years and use it every day. However, i didn't think i would like that much the Quantum TWS. The sound is really good ! I'm listening mainly house music and soundtracks and i was not disappointed ! Clear and heavy, the sound is really good. Another thing i really liked about these earphones are the personalization of the sound through the app. Like i said, i'm listening to House music and to soundtrack mostly and these type of sound need different settings and the app on is powerful and user friendly so we can go from one setting to another really smoothly. But the thing i like the most with the Quantum TWS, is the connexion through the dongle provide in the box. I'm a PS5, Switch and Xbox Series player and the dongle is recognized right away. It's as simple as that. You connect it, you put the earphones (or one of them) in you ears and that's it ! It's really simple and a real game changer. There's even a "game mode" in the app to have a better sound when playing. To sum up these earphones are one of the bests i tried and for the price, i'm truly impressed by the quality of sound and fabric. The dongle and the quality of the app are making the Quatum TWS the best earphones for gamers and music lovers. I highly recommend them !
Date published: 2022-08-22
Rated

5

out of

5
by
Minisushi1212
from
JBL is Always the Best!
With so many different companies developing earbuds and headphones to improve sound quality and user experience, JBL never fails. The Quantum TWS exceeded my expectations and more in terms of usability, flexibility and overall experience. I've always used JBL for many applications from gaming to working out on the daily. I've also used other brands such as Bose, Beats, and Apple AirPods. In my opinion, it's a very close competition, however, these JBL earbuds have the best value out of all the competitors in this price range. Here are some pros and cons: The sound is amazing right out of the box! The equalizer in the JBL app lets me customize sound tuning to my likening, however, is not necessary for a great listening experience. There is plenty of bass, good mids, and highs also. They are comfortable to wear for a couple hours or longer with the right sized tips without my ears getting tired. The call quality is great and I love the tap to talk feature. The battery life is solid as well. I spent around 2 hours gaming with my friends and only lost around 10% battery life. The bluetooth connectivity range is great as well. I can walk about 30 feet and go upstairs and have music or a call still connecting without breakage. Now the cons (theres only 1!): The active noise canceling on these earbuds are quite weak when compared to the AirPods Pro. The quantum TWS does a great job switching between the 3 options, however, it is lacking in this department.
Date published: 2022-06-03
Rated

4

out of

5
by
cetheridge30
from
I desperately want to give these earbuds 5 stars!
I will start with the good, then do the "ok" and then the bad. The good: These are, by far, the best sounding ear buds I have used so far. I am a sound engineer and regularly run expensive systems and I have used all of the major brands of ear buds and nothing to me comes close. They are tonally balanced from the low mid range all the way up to the upper range, and the low end has a ton of punch but doesn't sound like its too much. I played a multitude of of genres and I never heard anything I didn't love. These buds have a ton of features and customizations. If you want to tweak the EQ, it is really easy to do, but I didn't need to change much to suit my tastes. As I said, they are really well balanced. The "ok": So the noise cancelling is decent. It works. It is not the best I have used, but it does compensate for your ear canal and that seems to balance the ear pressure issue that noise cancelling seems to cause. The ambient aware feature is just "ok". I have other JBL headphones that have EXCELLENT ambient aware and these just don't seem to pick up enough or just don't seem to get loud enough to hear what is going on around you. The bad: These jokers hurt! I assume it is because of the fit and the shape of my ears, but I have tried to wear them for about a week now and every time, about 20 minutes in, I get a pain around the bottom side of my ear. Not inside the ear canal but where the body of the buds rest. It is quite painful to the point where I can no longer wear them. Huge disappointment because the sound of these buds are worth attempting trying to get used to them and maybe they won't hurt after I get used to them, but so far it gets to the point where I can't stand it. I am not knocking a star off for that because it is probably just my ears, but I have not found another bud that hurts.
Date published: 2022-05-31
Rated

4

out of

5
by
Josh502
from
A "Game" Changer Headphone
The JBL Quantum TWS Headphones are a must have for your active gamer (PC or otherwise), workout enthusiast, or just anyone who enjoys great sound. Sound : The JBL Quantum TWS Headphones are designed to submerge you deep into the life of your game. However, they do pretty well at connecting you with your favorite action movie or music jam. The very first thing I noticed about the sound was the deep bass. For as small as these headphones were the bass was not lacking. A rap/hip-hop song can rattle your eardrums if you want it too. Rock is clear and crisp with every instrument heard. Playing Classical music will have you feeling as if you're in the auditorium itself. JBL did not hold much back when developing these headphones. On a side note I will say you have to turn the volume up most of the way to get a desired sound I feel. Design : The JBL Quantum TWS Headphones come in a compact, small, pill-shaped charging case that magnetically holds your earbuds. The case is made out of what seems to be cheaper plastic and could break on a single drop so be careful. The earbuds are well designed. The shape fits my ear snugly and allows for no sound to escape. The JBL logo on the back end of the drivers is metallic looking and adds a sense of exclusivity to these earbuds. They have added a USB-C dongle to the case as well to be used when gaming however this piece just snaps in (no magnetic attachment)…which disappointed me. The elongated stem on the ear buds make it easy to put your earbuds in and out and even adjust. Overall, JBL did a great job when designing these headphones. Technology : The JBL Quantum TWS Headphones don't come with out their own features. These bad boys carry ANC, ambient aware (that adjust to the sound around you as needed), duel Bluetooth connection (thanks to the dongle), and up 6 hours of playing time with ANC on (8 hours with it off). You can connect to your favorite AI assistant to assist you when needed. With 4 booming front microphones you never have to worry about anyone hearing you as well. Conclusion : If you're looking for a pair of amazingly great sounding headphones to take you gaming to the next level than this is your set! You will not be disappointed with the feel, sound, or ability of these for your next tournament.
Date published: 2022-06-03
Rated

4

out of

5
by
KjmBaleo
from
Great Android option for Gaming, Music and Sports
Recently I had purchased a competitive product to these earbuds but since I have an Android device the full functionality and information about battery, etc.. was very limited. Although I was pleased with the functionality of those "pods" it was very hard to manage without this extra information available through the vendor specific application. Fortunately, JBL have released a very competitive product, the Quantum TWS, to those earbuds and I had the opportunity to do a side by side comparison on a recent trip abroad. As I mentioned, the primary difference for me is the fully integrated environment with Android devices which allow me to use the JBL app on my phone to interact and adjust settings to customize the buds to my liking. In addition, the information on charge status for both the case and buds is essential for using as a work headset. The app provides many equalizer options and the ability to choose how the touch gestures on each ear bud function with respect to calls, music, etc. There are different gesture modes-single touch, double tap, and sustained touch. My only complaint in this area is that the app does not allow me to adjust sensitivity for those gestures. They are very sensitive and I often found myself inadvertently triggering functions while inserting the ear buds into my ears. A minor nit but would be a good future enhancement in the app. Another huge difference I like is the addition of 2.4Ghz USB dongle so I can use it with devices that do not have native bluetooth like a lot of desktop PC's. The devices themselves deliver great sound for both listening and utilizing as a headset for conference calls. They offer multiple sound canceling modes-active noise cancellation, ambient aware and talk through all accessible through gestures. Also I have taken advantage of the Google assistant integration and at the touch of a bud get access to schedule, news, and other google assistant functionality. Form and fit are good as well. I use them while doing my favorite activity-Disc Golf which have caused other buds to fall out at times. This sit well in my ears and have I have not had any issues with having them shift. Overall I really like the Quantum TWS buds and have gifted my other "pods" to a family member that lives in the non Android world. I highly recommend this product for Android users and gamers that want a wireless option.
Date published: 2022-06-06
Rated

4

out of

5
by
yjax
from
Very impressed with these earbuds!!
These Quantum TWS earbuds sound fantastic...and they're just what the doctor ordered, as it pertains to my needs and preferences in higher sound quality earbuds. They are relatively light in weight, sharp looking, and both fit and stay in place exceptionally while in my ears. Furthermore, they're jam-packed with numerous advanced sound/noise cancelling/gesture control/fast charging/etc features. Though I can't claim to be a huge gamer, I very much enjoy the advances in 3D VR technology, and watching movies that take advantage of high-end sound formats such as Dolby Digital, DTS, Dolby Atmos, etc. Additionally, finding and listening to 3D spatial music soundtracks, and even the occasional binaural YouTube videos, I must admit I was pretty skeptical earbuds would provide the kind of immersive 3D surround sound that I was hoping for. However, I will admit I was totally wrong in that assumption. The gamers will be more than impressed with these earbuds. Another big win for me with these earbuds is how quickly and easily these earbuds connect and/or switch between my work phone and computer. This is especially true when situations such being on an important work-related conference call and our dog is letting me know he REALLY needs to go out. Previously, I had to excuse myself from the room, or remove my wired or wireless headset and attempt to reconnect to the meeting as I moved too far from my computer. The device switching with these earbuds has been so quick I no longer miss what's being discussed while reconnecting. There are only a couple of relatively minor reasons I couldn't give the Quantum TWS Earbuds a full five out of five stars in this review. Having said that, if given the option I would have rated them a 4.5 out of 5 rating. Anyway, here's what my concerns were. The overall build quality and appearance of the earbuds are fantastic, in my opinion, but I can't say the same for the charging case. They charge quickly, and the earbuds quickly pull themselves into place to be charged, but it's not the quality plastic material I've come to expect for such quality earbuds. I also wasn't overly impressed with the included on-paper directions that came with the earbuds. The directions weren't as clear-cut and straight-forward as I would have liked them to have been, and the font/print was so small it was very difficult to read them clearly. To close, even though there are a couple of things that I felt could be made better, I would highly recommend these earbuds to gamers and those who truly enjoy immersive 3D sound experiences...in a very minimalistic package!!!
Date published: 2022-06-15
bvseo_sdk, dw_cartridge, 18.2.0, p_sdk_3.2.0
CLOUD, getReviews, 7ms
reviews, product
Product Q&A
Can these airbuds be used with Nintendo OLED or Oculus Quest 2 ?
Our JBL Quantum TWS will work with your Nintendo OLED using the Type-C Wireless dongle that comes with the earbuds. As for the Oculus Quest 2, we recommend checking if it's capable of sending audio using the USB-C charging port directly with the manufacturer.
Date published: 2022-12-01
Are these compatible with Xbox series X?
Our JBL Quantum TWS is not compatible with the Xbox series X.
Date published: 2022-11-29
Is it possible to buy additional USB dongles?
Can I connect the 3.5mm jack to USB C? I want to use it as a wireless in-ear monitor.
Does the mic work when connected to PC via the USB dongle? (Some headphones restrict this because of bandwidth constraints) and does the audio quality drop when enabling the mic? (like in older generation bluetooth)
bvseo_sdk, dw_cartridge, 18.2.0, p_sdk_3.2.0
CLOUD, getContent, 151ms
questions, product
Support
Register your JBL product
Do you own this product? Register it here in case you need to claim warranty
Register Now
Can't find what you're looking for?
Are you looking for product support, documentation, how-tos or older products?
JBL Support