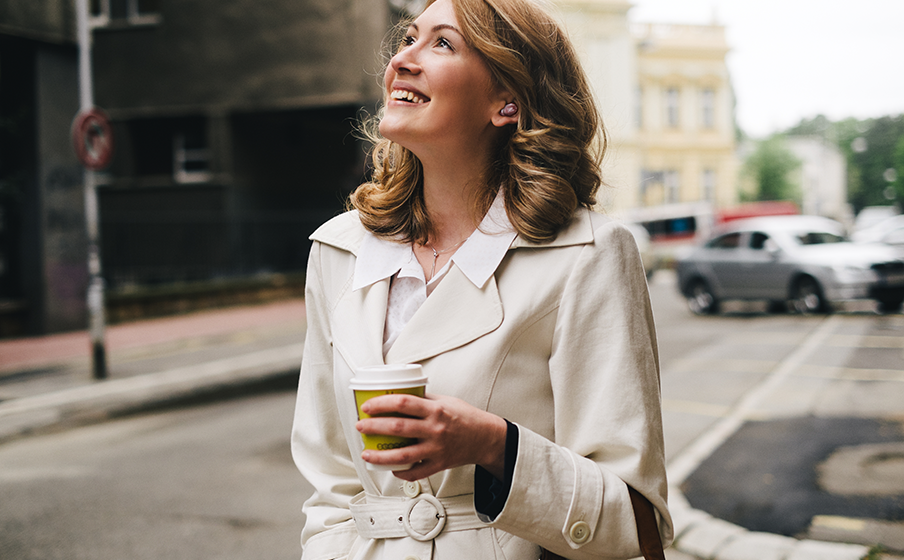 JBL Signature Sound
Nothing beats incredibly clear music and calls from 11mm dynamic drivers powered by JBL Signature Sound.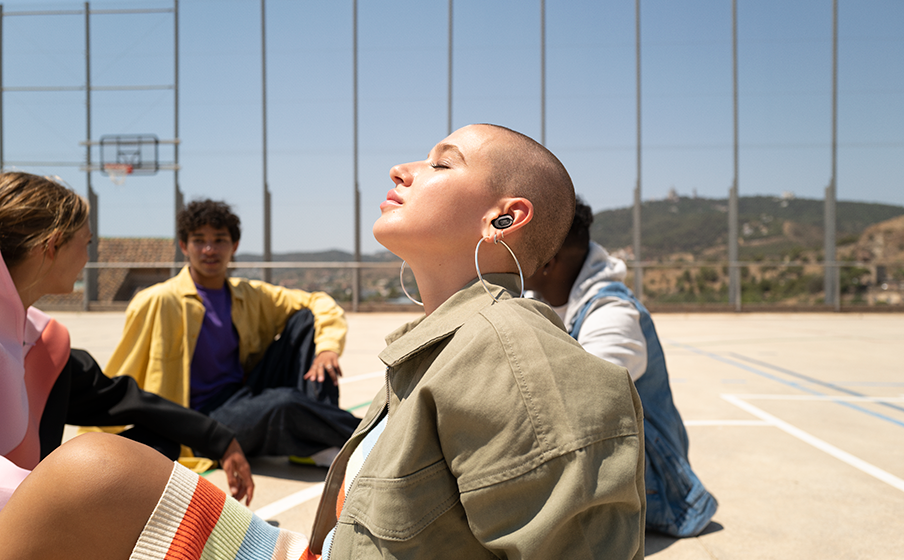 True Adaptive Noise Cancelling with Smart Ambient
True Adaptive Noise Cancelling automatically adjusts to your surroundings, eliminating distractions for better sound wherever you are. Or use Smart Ambient when you need to focus on your environment, all without removing your earbuds.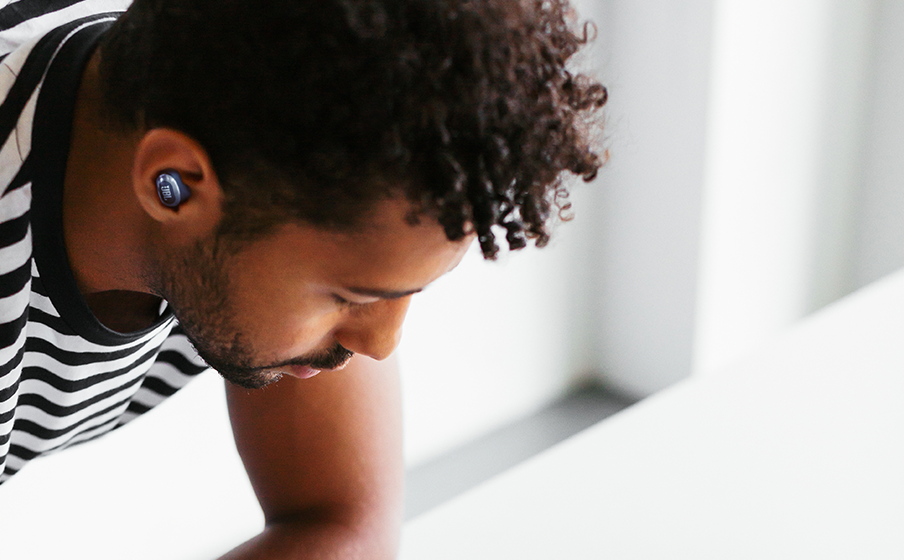 35 (7+28) hours of playback with wireless charging
Never miss a moment with 35 hours of Qi-compatible battery life (including 7 hours in the earbuds + 28 hours in the case). Need a boost? Just 15 minutes of Speed Charge gives you another four hours of playtime - fast.
Features

6 mics for perfect calls with zero noise
Six beamforming microphones reduce wind and noise interference so your words always come through loud and clear. And with VoiceAware, you can choose how much of your own voice to hear by controlling the amount of mic input routed back into your earbuds.

Oval Tubes for better comfort, isolation, and bass
Better shape, better sound. That's why JBL designed these headphones with oval tubes, oval silicon tips, and a slim pill shape design for a perfectly snug fit, even for smaller ears - ensuring better noise cancellation and enhanced audio quality.

Dual Connect & Sync with multi-point connection
Phone call in the middle of your favorite show? No problem. With multi-point connection, you can quickly and easily switch your headphone input from one Bluetooth device to another. You'll also enjoy quick, effortless pairing with any Android device as you shift between mono and stereo and your left, right, or both earbuds.

Touch & voice control
Activate the JBL Live Free 2's features with the ease of touch control. Or simply speak up to activate your Hey Google (*) or Alexa (**). (*) Only supported on Android (**) Android 6.0 or higher is required for full access to Alexa features when using this device.

IPX5 waterproof
Whether you're hitting the gym or caught in the rain, you won't have to worry. IPX5 certification means JBL Live Free 2 headphones are waterproof.

JBL Headphones App
The dedicated app lets you select listening modes, adjust ANC or smart ambient levels, customize controls, and maximize comfort and audio quality—so you can always listen your way. You can also optimize the EQ curve while voice prompts in your own language help you to navigate through the features.
Specs & Downloads
Item# JBLLIVEFREE2TWSUAM
Description
True wireless Noise Cancelling earbuds

Stay in the groove all day long with stylish companions for work and play. JBL Live Free 2 earbuds deliver up to 35 hours of incredible JBL Signature Sound (with 7 hours in the earbuds + 28 hours in the case), speed charging, and Qi-compatible wireless charging for when your batteries need a boost. True Adaptive Noise Cancelling eliminates distractions to give you totally immersive audio, while Smart Ambient keeps you alert to your surroundings. Oval tubes and a slim, pill shape design provide a perfectly snug fit, even for smaller ears—ensuring better isolation from noise and enhanced audio quality. Got something to say? Make clear, perfect calls with six beamforming mics or access your preferred voice assistant for seamless, hands-free control and connection wherever life's adventures take you.
General Specifications
Audio Specifications
Driver sensitivity at 1kHz/1mW (dB)

102

Dynamic frequency response range (Hz)

20 Hz - 20 kHz

Impedance (ohms)

32
Dimensions
Earbud

4.9 g per pc (9.8 g combined)/0.01 lbs per pc (0.02 lbs combined)

Charging case

43.7 g/ 0.094 lbs
Control and Connection Specifications
Bluetooth profiles

A2DP V1.3, AVRCP V1.6, HFP V1.8

Bluetooth frequency

2.4 GHz - 2.4835 GHz

Bluetooth transmitted modulation

GFSK, π/4 QPSK, 8DPSK

Bluetooth transmitter power

< 9 dBm EIRP

Bluetooth version

5.2
Battery
Charging time (hours from empty)

2

Maximum play time (hours)

7
Features
Charging cable

Yes

Voice Assistant integration

Yes

Ambient Aware

Yes

Built-in Microphone

Yes

Hands Free Call

Yes

JBL Signature Sound

Yes

Multi-Point Connection

Yes

Touch Control

Yes

True Wireless

Yes

Wireless

Yes

Waterproof

Yes

Adaptive Noise Cancelling

Yes

Charging case

Yes

Rechargable battery

Yes

Bluetooth

Yes
What's in The Box?
1 x JBL Live Free 2 earbuds
1 x 3 sizes of ear tips
1 x Type-C USB charging cable
1 x Charging case
1 x Product Quick Start Guide / Safety Sheet (S / i)
1 x Warranty / Warning (W / !)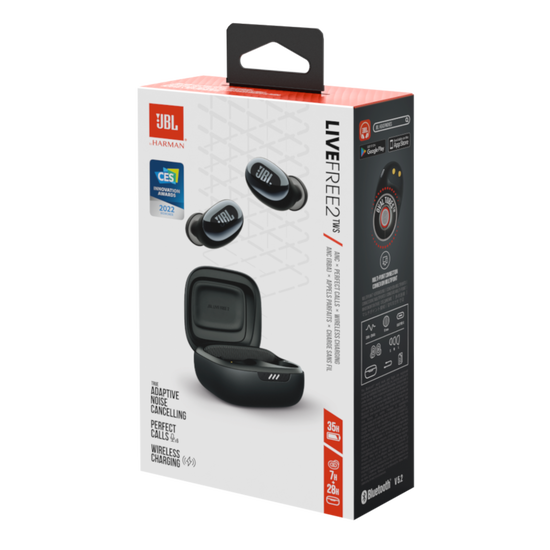 Documents & Downloads
Customer Reviews
Rated

5

out of

5
by
Andis73
from
JBL LIVE FREE2 tws
The JBL LIVEFREE2 tws is one of the best earbuds I have ever owned. They are perfect for rigorous activities, phone calls, music, videos and more. The noise canceling, wireless charging, and the ability to switch between devices make them worth the cost. The Fast-charging feature is great, 15 minutes of charge give about 4 hours of play time. The bass is perfect, smooth and can be loud without distorting the quality of the sound. In my experiences the JBL LIVEFREE2 Plays all genres of music crystal clear. There's also the JBL APP that is great for controlling the sound level and several other functions. For one, you can even create your own custom EQ settings. Overall the JBL LIVE FREE2 tws is a great earbuds that offer great comfort and sound quality.
Date published: 2022-06-10
Rated

3

out of

5
by
iOSmkim
from
A couple of touch-ups are needed in the future
While this is a great product mainly for dance-oriented music using the "Club" Equalizer in the JBL Headphones App, you almost ALWAYS have to fiddle around with the preset equalizer settings by selecting one of the approximate 7 presets depending on what kind of music you are listening to. Furthermore, the Ambient Noise Cancellation feature doesn't always work unless you have a good ear seal. A couple of ear hooks would be nice, but in future generations, I would prefer a tighter ear canal seal so this way you wouldn't have to fiddle too much with the JBL Headphones app. There's still much work for Harman to do. :/
Date published: 2022-12-31
Rated

5

out of

5
by
Nick Cappy
from
A very well rounded oval
When I saw these, I wasn't exactly sure what to expect from them physically. I have struggled with JBL earbuds falling out in the past, like the Tour Pro+ TWS, and haven't had a good fit since the FREE X I have from a while back. The pill shape on these is exactly what my ears require! Perfect fit, and snug ANC. Absolutely love the sound on them, a little boost on the bass compared to a lot of others I have, which isn't bad. I prefer a flat response, but these don't hurt my ears and they are very wearable for extended periods. I really love the oval shape of the earbud itself as it fits my ears a lot better than the circular. I often find myself having to sort through tip sizes just to find a good fit, but these worked right out of the box. The sound is solid! I'm on quite a few streaming services and I play local files as well. They are only SBC/AAC so don't expect any HiFi sound, but the CD quality is beautifully balanced. Expansive sound for little dudes, check out EPROM 'The Cat' or Lane 8 'Reviver' or Four Tet 'Insect Near Piha Beach'. Very happy, will use until they're dead!
Date published: 2022-06-13
Rated

4

out of

5
by
dcardona
from
Nice product, good sound quality and sleek looking
Overall, I like the earbuds. They provide good quality sound and they look really nice! The pairing experience with my phone was pretty smooth and while I am usually against downloading extra apps to use things, the companion app for this earbuds provided great value. I was able to control the noise cancellation, gestures and equalizer at very precise levels. I personally loved being able to switch between equalizers depending on the type of music I was listening to, to get the most out of the sound. As far as the earbuds goes, it did take me a couple of minutes to actually figure out the right orientation. My first attempt at putting them in I just thought they were not going to fit and I even tried changing the ear tip size without realizing I was actually wearing them the wrong way. Another thing that is a bit cumbersome is that every time I put them on, the gestures are activated. It is hard to put the earbuds in without touching the gesture panels since they cover most of the surface area, so while I put them on anything from pausing the music and changing the noise cancellation levels gets activated. While I still wish the sound was slightly crispier, I do think it is still good quality.
Date published: 2022-06-10
Rated

4

out of

5
by
Riverninja21
from
Truely next level sound quality and battery life!
The JBL Live Free are hands down the best ear bud style headphones Ive ever had. I can work around machinary and not hear a thing. Even tried them out while using a 6hp shop vac and shampooed 3 cars with them on. Never heard the vac once. Bluetooth calls are next level quality, just wow. Impressive battery life, they dont fall out while moving around alot and bending over. You can also listen to a coworker or friend with the talk through feature. Very nice set of ear buds. Going to be very hard to top these.
Date published: 2022-06-10
Rated

5

out of

5
by
Yaz1975
from
These check all the boxes, simply incredible.
OK, I can admit that I am a bluetooth earbud addict. I've tried many brands and styles. This set is the best sounding ear buds that I've had in a VERY long time. First off, I love how easy this was to pair with my phone (Android). Didn't have to do anything besides tap the prompt when they appeared on my screen. Also, this set finally uses the JBL headphone app the way I have wanted it to for a long time. You can tweak the EQ, change up the functions/taps on each ear bud, and the tap motion to use those functions is light and responsive. LOVE the noise cancelling feature, and the ability to be aware of surroundings. Having that flexibility is worth a ton to me. Super comfortable, comes with the usual Small/medium/large ear pads to custom fit, and they sit very comfortably in the ear without fatigue or pain. Phone calls were clear and everyone said I sounded like I was in the room. Super compact charger case as well. I really have no complaints at and again, the sound is exceptional. HIGHLY recommend.
Date published: 2022-06-18
Rated

5

out of

5
by
jduun2
from
My favorite buds ever - they rock!!
I am overly impressed with these new ear buds!! I've had them for approximately two weeks and they have been fantastic. The noise canceling on these are equal if not better than my over the ear headphones, even when mowing my yard. They have all day comfort while wearing them in my office. The sound (like all JBL products) is incredible with crystal clear highs and impressive bass. And the power usage is unbelievable. With a fully charged case and buds, i an confident that i could get seven full days of eight hour usage. I've provided screen shots of the power usage. First morning shows the case at 60% and buds at 100%. Second screen shot shows after a day at work with case still at 60% and the buds at about 20% each. I put the buds in the case and tossed them in my backpack. Next morning, (third screen shot) buds at 100% and the case only down to 50%. THAT IS AWESOME!!!! I hate being tethered by power cords, and the case and buds only need a couple hours to fully charge when needed. Fantastic job JBL!!!
Date published: 2022-06-22
Rated

3

out of

5
by
ShawnA1267
from
JBL Extreme 2
We bought this an over a year ago and used it under 5 times. It just stopped holding a charge. We even bought a new charger. Still didn't work. They did offer us 35% discount - not worth another one.
Date published: 2022-10-19
Rated

5

out of

5
by
Jart
from
I love these earbuds!
I love these earbuds! They are the most comfortable, best sounding, and feature-packed I've ever used. The oval tube design and 3 different size silicone tips help fit your ear canal perfectly. They're also lightweight and don't get hot with use like other earbuds. The tight fit with your ear canal also helps the sound quality. When noise canceling is turned on, it's almost like wearing earplugs. Ambient Aware takes a little getting used to since the earbud is passing ambient sound through, but it works well. Talk Through is the best way to converse with someone while wearing these earbuds. Unfortunately, the audio they were playing becomes silent and continues playing. I wish the JBL Headphone app had settings allowing you to adjust the amount of audio to hear in the background while Talk Through is activated. Nevertheless, the sound these little earbuds produce is fantastic. Podcasts are crisp and clear. Songs heavy in bass rattle your spine. The clarity of the high highs and low lows are impressive. These earbuds are also extremely loud. I have never turned them up past 50% volume and usually listen to them at around 10% volume. I really like the control features of these earbuds. Being able to pause/play, skip, turn on and off Noise Canceling/Ambient Aware, and use your favorite digital assistant all through tapping or holding the left or right earbud is intuitive. All of this can be done without using the JBL Headphone app. If you choose to install the app, you can update the earbud firmware, check the fit of the earbuds, and analyze your ear canal for optimal noise cancelation. I would not hesitate to buy these earbuds; they're incredible!
Date published: 2022-06-11
Rated

4

out of

5
by
DreDay
from
JBL Live Free 2 TWS
The JBL Live Free 2 TWS are nice! They fit in my ear perfectly! The noise cancellation is excellent. I was able to customize the earbuds with the JBL app for the sound that's for me. I love that's it waterproof so it doesn't get damaged from me sweating. The touch and voice commands took me a bit to get. But they work fine. The only issue I have is when I'm on a call the caller sounds very low. Hard to hear.
Date published: 2022-07-01
Rated

5

out of

5
by
StillGrindin87
from
My favorite earbuds
I have used these for 3 days and love them. Listening to music has been incredible and they do a great job at shutting out surrounding noise. These are smaller than others but thats a positive for me as they fit in my ears better than any other product. I've used them outside while doing yard work and on the track with no issues.
Date published: 2022-06-14
Rated

4

out of

5
by
RDeal
from
JBL LiveFree2
These ear buds sound really good. They produce JBL's well known low end while keeping the highs and mids crisp and clean. The buds are extremely lightweight, but once properly fit into your ear, the buds are very comfortable. I also tried moving my head around vigorously to check out possible to dislodge but it never came out.
Date published: 2022-06-09
Rated

2

out of

5
by
unhappywiththeseearbuds
from
Lots of crackles and pops. Find something better.
I have had these for for about a week and regret buying the,. I get a crackling and popping that is quite annoying. I never had that problem with the buds that I bought these to replace. I don't recommend buying them, even if they are discounted. There are definitely better earbuds out there.
Date published: 2022-10-20
Rated

5

out of

5
by
Daileyfix
from
Great wireless earbuds with google assist
I used this product while working around the house. The noise cancelling worked great while mowing. The bass and clarity is amazing for any music from rock to R&B. I was pleasantly surprised by the wireless charging but it's rarely needed with LONG battery time. Very pleased.
Date published: 2022-06-11
Rated

5

out of

5
by
claritydnb
from
Feature rich light weight headphones!
These are excellent little headphones! The sound is typical for JBL with deep bass and crisp highs. They are very very light, which I like a lot. They are comfortable to wear. I really like the integration with the JBL Headphones app. This model has a feature that measures the fit of the headphones by playing some music and using the microphone to see if it hears it. I learned that one of my ear canals needs a smaller end than the other! These have ANC which works very well. I used it in presence of my loud motorcycle and it removed all of the harsh sound, but not all of the sound. I really like that these are able to sense when they are in my ear. They will stop playing when not in the ear. That definitely helps when I am listening to an audio book and have to take my headphone(s) out to chat with someone. It will pick back up as soon as I put it back in my ear. I do wish the case had some texture on the outside, because it is slick and I have dropped it a couple times. All in all, I would definitely recommend these to a friend!
Date published: 2022-06-15
Rated

5

out of

5
by
Byron_1985
from
New favorite headphones.
Easy set up, great audio quality in a small package. JBL app makes it easy to customize these headphones for the best audio quality. Great battery life, no need to worry about not being able to listen to your favorite music.
Date published: 2022-06-14
Rated

5

out of

5
by
Juanarba2312
from
AMAZING
Awesome product, excelente sound quality color amazing and the best look all from JBL they look amazing they sound amazing. Definitely I will buy them again for my mom. Definitely a must. Love to jog with them.
Date published: 2022-06-12
Rated

5

out of

5
by
jo12
from
AMAZING
I got these for Christmas and I'm addicted to them. They work so well and the noise canceling is AMAZING!!! I recommend these to people that hate over-the-head headphones.
Date published: 2022-12-28
Rated

5

out of

5
by
NY2SC
from
I'm feeling them.
I bought these last week or so and I love them. I honestly have no complaints yet and I don't think I will. I hope I won't at any rate. I'm happy with them.
Date published: 2022-11-10
Rated

5

out of

5
by
Vicky
from
Really nice upgrade
I've been using happily using premium wireless earbuds for a few years now, so I was hesitant to believe these would be worth upgrading to. But after about a week's worth of use, I'm a firm believer. First of all, these earbuds are much lighter. I didn't think my previous earbuds were heavy at all, but these are significantly lighter, and thus more comfortable. I attended a Zoom conference for several hours and didn't even notice I was wearing them. The JBL app interface is also improved, another pleasant surprise. Within the app you can turn on/off noise cancellation, adjust the bass/treble, customize the controls, and test the fit of the earbuds. A cool new feature I noticed is "voice aware" which lets you control the amount of audio feedback you hear. I didn't think I would need this feature, but I played around with it during my Zoom conference calls, and it's a game changer. I also love that I have the option of voice prompts for turning features on/off. Again, this wasn't a feature I ever knew I needed, but especially when toggling between noise cancellation, talk-through and ambient aware, I found that I really loved having verbal feedback instead of just a sound or beep. My final comment is on the shape because I had conflicted feelings about it. At first I didn't really like it, my first thought is that they were super slippery jelly beans. I had a hard time getting them quickly out of the case and into my ears. And trying to adjust them in my ears would set off the gestures. But after a day or two, I realized I just needed to get used to them. The slight curve in the shape is actually designed for holding them (duh). And the small shape actually mean that they fit really nicely inside my ear. They don't stick out like crazy. I wore them on a long flight and was able to rest my head comfortably on a pillow without jabbing the earbuds into my head. I was very happy! In conclusion, a really really nice set of premium earbuds. The amazing JBL sound is what you would expect. But it also adds a few thoughtful features that really impressed me and make them worth upgrading to.
Date published: 2022-06-16
Rated

5

out of

5
by
RC90
from
Versatile earbuds in sustainable packaging
The earbuds are great but wanted to start the review by complementing the packaging. I've dinged product ratings in the past for including unnecessary single-use plastic packaging, so was very excited to open the box and find almost no plastic in the packaging at all! Big step in the right direction for JBL which I definitely appreciated. The only parts of the packaging that weren't paper/compostable were a 3"x2"x1" foam cube that the buds were secured in, the plastic tab on top of the outer box used to hang in retail stores, a small cloth pull tab to help get the inner box out of the outer box, and a small plastic window in the inner box to be able to see the earbuds themselves without opening the box. All of these seem unnecessary to me, so here's to hoping JBL finds a way to eliminate them too, but big kudos for eliminating all the previously included plastic dunnage. As for the earbuds themselves, I've really enjoyed using them. I switched the soft tips to the smallest ones that were included since the default/medium ones kept popping out of my ears - no fit issues since then. They even remain in my ears when wearing them on runs, and so far I haven't had any issues from sweat (water resistance rated IPX5). I love the form factor of the earbuds as well as how compact the case is. The noise-cancelling is pretty solid for in-ear buds, and I like the gentle tap interface on them for play/pause/next/etc. Previous buds I've owned (including ones from JBL) have required a more forceful push/click which often caused discomfort by shoving the buds deeper into my ears, but not the case with these. I have received a few complaints of poor/quiet mic audio quality when using these on calls, but typically only gotten the feedback when the office/setting had louder background noises. I've also experienced the Bluetooth connection drop randomly a few times, though not very frequently at all. Last quick warning to the fidgeters like me out there: I have a habit of holding the case in my hand and clicking the lid open and shut like some castanets. Whenever I do this while my phone is connected to my over-ear headphones, the LiveFree earbuds will override the Bluetooth connection, and I'll have to quickly switch it back to the over-ear ones. This is actually probably a good feature (earbuds connecting automatically when case is opened), and the pet peeve is obviously my fault/specific to my fidgeting situation, but thought it would be worth calling out in case designers can add in a two or three seconds delay for future versions. Overall great set of earbuds.
Date published: 2022-08-09
Rated

5

out of

5
by
Jcuevas
from
Amazing set of ear buds!
I had the opportunity to put these buds to the test. Once removed from the package I placed them into the case which activated the buds. From there I was able to pair and then download the JBL headphone app. Initial impressions were that these sound superb. Perfect fit and very balanced sound. In the app your able to tweak the sound to your liking as well as adjust the noise canceling and talk through features. These headphones also test for proper fitment to give the best listening experience. You can select your favorite assistant from Google, Alexa, and Siri. The buds themselves are touch sensitive. Within the app you can select what each bud will do when you touch them. This past weekend I decided to put these to a full test while detailing my car on a windy day. I had noise canceling on and the volume all the way up. I was playing an album with mixed tracks. After a little over two hours the battery life dropped to 20 percent from fully charged. I was constantly moving and never really felt that the buds would fall out. I did have to readjust them every once in a while to squeeze them tightly into my ear canal. I didn't get any interference from the 20mph winds or hear the buffer over my music. I experienced non stop interference free listening. I truly enjoyed listening to these and was so happy to have had them while working. After a while I forgot they were in my ears since they were so comfortable. I did adjust the sound more to my liking and was so pleased with the sound. Distortion free at full volume. I had taken a break for about 30 minutes and placed the buds back into the case. Fully charged and ready for a few more hours of hardcore listening. The Live Free 2 TWS have 11mm drivers making the sound very full and lively. The active noise canceling keeps unwanted sound out and the adjustable talk through feature allows the right amount of sound through the buds. Phone calls sound super clear on both ends. The water resistant feature means I can wash and detail cars with these on. You can get 7 hours play time at moderate volume and another 28 hours utilizing the case for a total of 35 hours of play time. The buds are comfortable having oval tubes allowing less fatigue while having them in my ears. These are my go to buds for everyday listening. Ear buds have come a long way over the years and I was a fan of over the ear style headphones previously. These buds offer better sound and immersion than all of my over the ear headphones. Better features and they don't compress or weigh down on my head. I am truly enjoying these ear buds. These are great!!!
Date published: 2022-06-22
Rated

5

out of

5
by
Dogsnif
from
JBL LIVE Free2 TWS earphone review
Over the last 2 weeks or so, I have used the JBL LIVE Free2 TWS earphones every day sitting around relaxing, out on walks, working around the house and even mowing the grass. First off, these are great-looking headphones – they remind me of shiny jelly beans! The case is easy to carry around and supports wireless charging. When I first opened the box the case showed two bars so I plugged them in using the USB-C cable and charging completed in about 30 minutes. With wireless charging, it takes about 4 hours from empty to full charge, twice as long as charging with a cable. The battery life of the LIVE Free2's is very good getting between 5.5 to 6 hours of continuous playback medium volume. The earphones have LEDs to indicate charging and connection status. The power connection pins in the case are magnetic and hold the earphones well. The LIVE Free2's come with three pairs of ear tips for the best fit. As I said, I use earphones frequently while working around the house and yard, but my ears are small so finding earphones with a comfortable challenging. To aid with that, the JBL Live Free 2's design adopts an oval shape and feel light while in my ears. There was no pressure so I did not feel any pain in your ears even after wearing them for a long time. The JBL Live Free 2 supports multi-point connectivity that allows you to stay connected to two devices at the same time. For example, if you connect to a work smartphone and and a private smartphones at the same time, you can receive a call on the work phone and still listening to music on the private phone. When you answer the phone, the music stops automatically, and when you hang up the phone, the music starts again automatically. The earphones can each be used independently for single-ear use. Controlling the earphones involves tapping of the left or right earphone. The buttons don't have tactile feedback, but there is a pleasant beep and a voice announcement of each function as it is being selected. The listening experience was excellent from a variety of streaming services such as YouTube, Spotify and Audible. I used several playlists that ranged from classical, jazz, classic rock to spoken voice. Selections included Chopin, Mozart, Miles Davis, Led Zepplin, Allman Brothers, Pink Floyd and sundry podcasts just to name a few. The LIVE Free2's provided a good balance between mid and low frequencies. The bass is solid and powerful while the highs were smooth and airy. JBL's Live Free 2 earphones also feature Active Noise Cancelling (ANC) technology. The technology listens to ambient noise and produces an opposing soundwave. This noticeably reduces the extraneous sounds the wearer hears. For example, with ANC turned on, I could not hear my ceiling fan running on high even without music playing. Mowing the grass with the ANC active greatly reduced the sound of mower's engine. The LIVE Free2's also have "Ambient Aware" and "Talkthrough" features. Ambient Aware lets you hear ambient sounds while leaving the volume of the playback levels as is. The Talkthrough feature is a conversation-oriented function where playback levels are decreased by about 20% and speech is amplified. Usually, I remove my earphones when I'm talking to someone, but with the Talkthrough feature, there's no need. For me, the JBL Live Free 2 wireless earphones are an excellent choice that provide very good sound quality, call quality, and ANC performance.
Date published: 2022-06-25
bvseo_sdk, dw_cartridge, 18.2.0, p_sdk_3.2.0
CLOUD, getReviews, 7ms
reviews, product
Product Q&A
If you were to lose one specific thing like the case or just one earbud could you buy a replacement for just that specific thing?
Please be advised that your product comes with one year warranty. The warranty excludes damage resulting from abuse, accidents, modifications or other causes that are not defects in materials and workmanship (loss or theft).
Date published: 2023-02-23
Does this have dual sync? Like being able to use only one or both earbuds at the same time? Also does this connect as soon as I open the case?
Our JBL Live Free 2 TWS has a Dual Connect feature where you can use either the left or right earbud while the other is on the case. Your earbuds will automatically connect to your phone as soon as you open the case.
Date published: 2022-12-26
What is the size of the earbud canal that houses the ear tips? The silicon ear tips keep ripping and want to see other alternatives.
Thanks for your inquiry. The ear tip of the Live Free 2 TWS is oblong shaped and has a measurement of 7mm x 5mm.
Date published: 2023-02-08
bvseo_sdk, dw_cartridge, 18.2.0, p_sdk_3.2.0
CLOUD, getContent, 146ms
questions, product
Support
Register your JBL product
Do you own this product? Register it here in case you need to claim warranty
Register Now
Can't find what you're looking for?
Are you looking for product support, documentation, how-tos or older products?
JBL Support