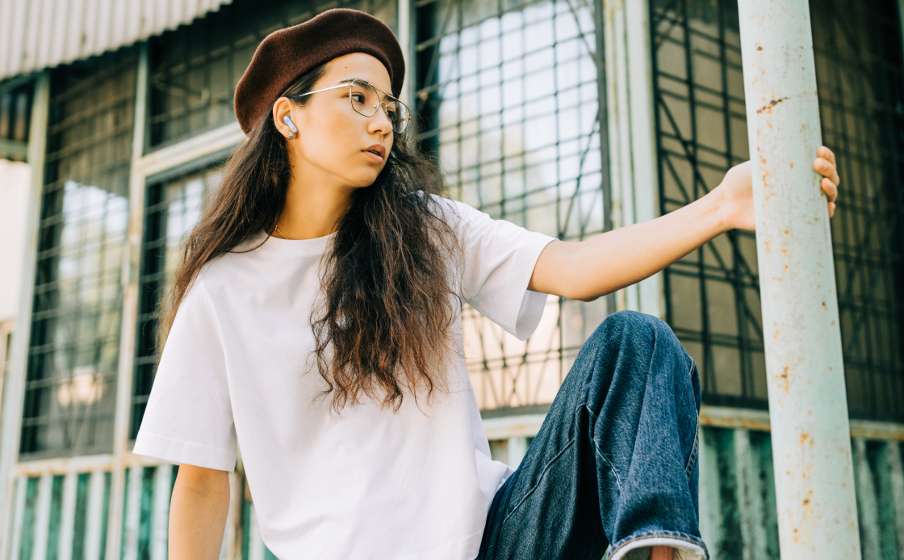 JBL Deep Bass Sound
A hefty 12mm driver delivers JBL Deep Bass sound so you don't just hear the music, you feel it.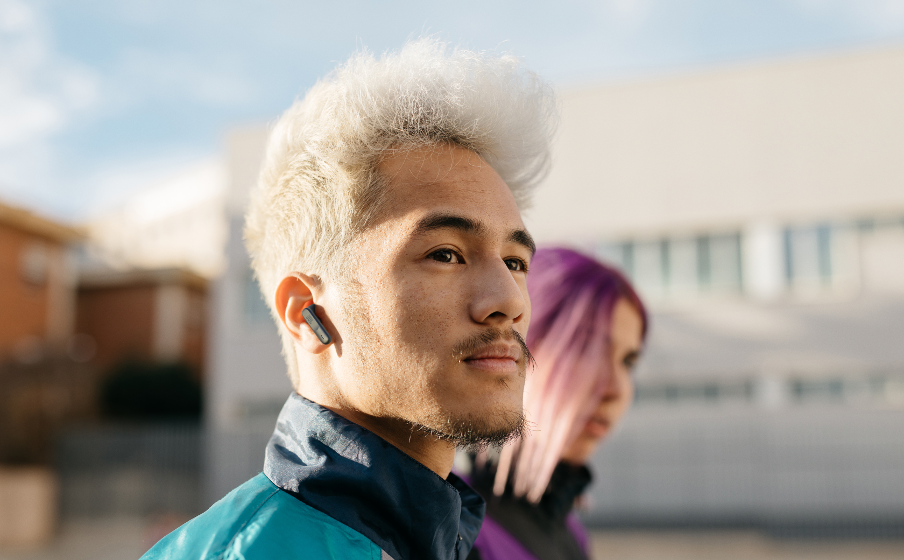 Comfortable fit with open-ear design
The ergonomic fit stays snug and secure to keep you comfortable and connected all day while the open-ear design enhances your ambient awareness of your surroundings.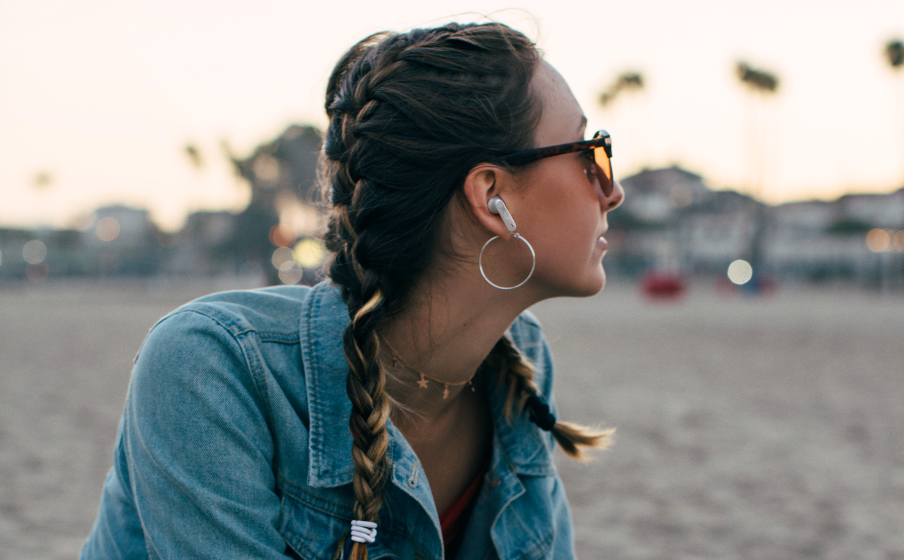 Up to 6 hours of playback plus 20 in the case with speed charge
Never miss a beat with 26 hours of combined playtime (and 6 hours in the earbuds). Or, when you need a quick power-up, you can Speed Charge another hour of battery life in just 15 minutes and for 2 hours for a full charge.
Features

Hands-free stereo calls
The single-mic Vibe 300TWS earbuds eliminate background noise so you can enjoy stereo quality calls on- the-go. Easily manage sound and calls hands-free, directly from the earbuds!

Dual Connect
Easily shift between mono and stereo at any time in your left, right, or both earbuds while making calls, enjoying music, or talking with your voice assistant.

Action ready
The convenient, rain-resistant IPX2-certified design of the JBL Vibe 300 TWS earbuds means you enjoy your music anytime—rain or shine.

Touch control and voice assistant supported
Convenience at your fingertips. Activate all of your JBL Vibe 300TWS's audio functions with the ease of touch control and access your device's voice assistant directly from your earbuds.
Specs & Downloads
Item# JBLV300TWSWHTAM
Description
True wireless earbuds

Keep on top of your world. JBL Vibe 300TWS earbuds bring you your music while staying in touch with your surroundings with no wires holding you back. Enjoy 26 hours of powerful sound enriched by JBL Deep Bass. Stay in touch on the-go with stereo calls and no annoying background noise. Manage audio and handle calls hands-free from either earbud or both, thanks to convenient touch controls. Ergonomically designed, their "stick design" fit snugly and discreetly in your ears to keep you comfortable and connected all day long, so you'll never miss a beat—or a conversation.
General Specifications
Audio Specifications
Number of drivers per ear

1

Driver sensitivity at 1kHz/1mW (dB)

105

Dynamic frequency response range (Hz)

20 Hz – 20 kHz

Impedance (ohms)

32
Dimensions
Weight (g)

7.7

Weight (oz)

.27
Control and Connection Specifications
Bluetooth version

5.2

Bluetooth profiles

A2DP V1.3 AVRCP V1.6 HFP V1.7

Bluetooth frequency

2.4 GHz - 2.4835 GHz

Bluetooth transmitted modulation

GFSK, π/4–DQPSK, 8–DPSK

Bluetooth transmitter power

<12 dBm
Battery
Charging case battery life (max hours)

20

Charging time (hours from empty)

2

Maximum play time (hours)

6
Features
Hands Free Call

Yes

Sweat Proof

Yes

Touch Control

Yes

True Wireless

Yes

Charging case

Yes

IP Code

IPX2

Charging cable

Yes

Voice Assistant integration

Yes

Built-in Microphone

Yes

Wireless

Yes

Speed charge

Yes

Rechargable battery

Yes

Bluetooth

Yes
What's in The Box?
1 x JBL Vibe 300TWS headphones
1 x USB Type-C charging cable
1 x Charging case
1 x Quick Start Guide / Safety Sheet (S / i)
1 x Warranty / Warning (W / !)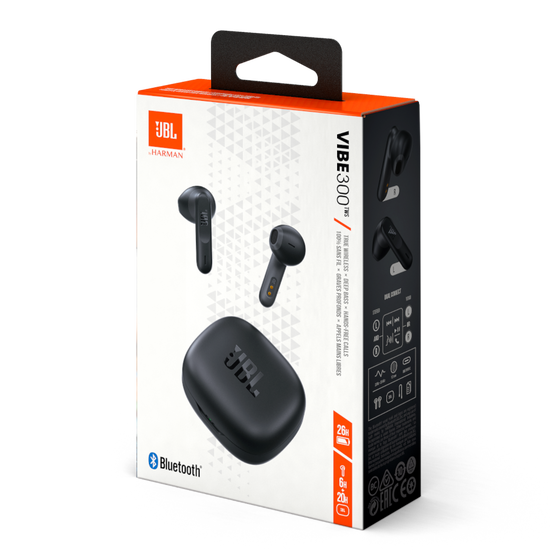 Documents & Downloads
Customer Reviews
Rated

5

out of

5
by
Christina
from
Lots of bass for your buck
Definitely comparable to the original airpods for a much better price! Between the two, the bass in my opinion is noticeably better with the JBL Vibe 300. There are no cables or buttons, but there are a ton of gesture/control options depending on the way you tap each side - it's all explained easily in the quick start guide. I like how it doesn't take up much space, fits comfortably in small ears (buds that go in-ear don't usually work for me), and is LOUD. Usually, I'm disappointed in headphones when they hit their volume capacity and it's not high enough but even at 60% volume I'm happy. Def recommend.
Date published: 2021-11-01
Rated

5

out of

5
by
Mazz
from
JBL Vibe 300TWS
The sound is well balanced. I like this style of earbud since the other styles jam in your ear hole.
Date published: 2021-12-07
Rated

5

out of

5
by
Ivan
from
Amazing everyday use Earphones
After a three week evaluation, I throughly enjoyed these earphones for two main reasons. First, the battery's longevity is phenomenal, even as an avid music listener. Without a problem, I was able to go 2-3 whole days without charging these earphones, and when I did charge them, they quickly charged. I'm addition, another aspect I enjoyed was their lightweight and comfort. With these earphones in my ear during a workout, I was certain they were never going to fall, and they also required very little readjustment. For these reasons I give these earphones a 5 star rating because they amazed me.
Date published: 2021-11-13
Rated

4

out of

5
by
Big boots
from
Great price, great value
One or both head phones, control: pause, play, ff, rw, answer call, hang up call. It does not allow you to control volume from the head phone though.
Date published: 2021-10-01
Rated

4

out of

5
by
Andrea91
from
Good bang for your buck
Good enough, cost matches quality. The sound isnt as great as apples airpods but they get the job done and they don't cost an arm and a leg. Probably better fory ears anyway. I have the newest Pixel and the airbuds don't always link right away, but it could be my phone. Overall, I'd buy them again. I really like how gently I can tap a bud to change a song, a solid plus. The battery life is great too. I have other jbl products and they've always stood the test of time and how hard I am on them.
Date published: 2022-03-14
Rated

3

out of

5
by
Rick45
from
Great product but no app for volume control
Love the fit and the sound quality. I'm a JBL fan and trust their products. The earbuds have a nice sleek look and the sound quality is top notch. My main concern is no supported app for volume controls. I'm unable to create a low volume sound and sometimes can't fully turn volume down. I like to connect my earbuds to my Roku app on phone but since I can't control the volume, I am unable to use them comfortably since iPhone volume controls won't play nice. The lowest volume sometimes is too loud and earbuds should be enjoyed at the lowest possible setting. That's why I'd only give 3 stars in spite of the beauty and reputation that JBL has of building great products, their software development needs to match its hardware. The price point does make it less painful to deal with the products limitations. These are still a great product if you use them on the go since you won't need low volume settings but for quiet night next to a sleeping partner or yoga/meditation/podcasts you may want to think twice.
Date published: 2022-08-10
Rated

4

out of

5
by
noelrosa
from
good purchase but no software
got them today from Walmart as i saw them sitting at the register and decided to get a new pair and so far i am not disappointed with them, although i do wish i could use the JBL Headphone app with this model but it isnt supported for some odd reason.
Date published: 2022-12-24
Rated

5

out of

5
by
jt818
from
I love JBL
bought them for my wife since shes a huge JBL fan ! she loves the bass and the long battery life ! A+
Date published: 2021-12-06
Rated

5

out of

5
by
Juan Sr
from
Great sound, great fit, great ear buds!!
Love these new ear buds. The sound and bass are impressive for the size of these ear phones. The simple touch sensors make it easy to pause/play music and answer/release phone calls. They were easy to set up via Bluetooth and the charging case helps your carry them, protect them and keep them charged at all times. I like that you can either use them both or use the Mono Mode to use one individually when needed. They fit great and I love that I don't have to keep adjusting them to make sure they don't fall out. Great job JBL!
Date published: 2021-11-04
Rated

3

out of

5
by
Teddy Mac
from
Excellent form factor and connectivity!
Excellent form factor and connectivity. Unfortunately I may have received a defective unit, as one earphone is significantly quieter than the other. Sound quality seems good from the fully functioning earphone. Love the touch function instead of the buttons found on other models. Also volume level seems to go much higher than expected.
Date published: 2021-11-05
Rated

4

out of

5
by
Anonymous
from
Surprisingly good!
My initial thoughts about these earphones were, "they're more affordable so there's gonna be a lot of compromises". But I was actually surprised at how battery life held up, calls were pretty clear, and music sounded great. They're not like the earbuds I usually use (no kind of noise cancellation with these at all), but they weren't designed that way. They're perfect for wanting some background noise but still being aware of your surroundings. I wear mine all day for work and they don't fall out at all (constantly moving and ducking underneath things. The only cons in my opinion (FOR WHAT YOU'RE PAYING FOR) - occasionally they glitch like the Bluetooth connection is acting up - when in a call and opening earphone case to switch to handsfree they sometimes wouldn't connect
Date published: 2021-11-03
Rated

5

out of

5
by
powers99
from
Great for Small ear and Great sound for the price
I have a small and sensitive ear. I have a problem with fitting issue of all tws. Only thing comforatable wear is Airpod gen2 shape. so I looked for alternative. I bought Tune 225TWS 2years ago. it was very comfy and can wear for long hours. Due to battery issue and eartip broke, I decided to buy this.
Date published: 2022-01-27
Rated

4

out of

5
by
MKUNI
from
nice sound
I bought this Vibe300TWS($60) and JBL TUNE225($90), both are good. Comfortable to my ear physically and sound warm especially when I watch Amazon Videos, as if the actors are next to you speaking. TUNE225 is louder than Vibe, but not that much different.
Date published: 2022-04-17
Rated

5

out of

5
by
Jay97
from
Best earbuds
I bought these earbuds from Sam's club. Best purchase I ever made. The fit is perfect for my ears. The bass is great. The sleek and compact design is the best. Get the vibe 300TWS. You won't regret it.
Date published: 2022-02-07
Rated

4

out of

5
by
djclarity
from
Awesome for phone calls and low noise listening!
These headphones are rather comfortable to wear since they don't go into the ear canal. Because of that, they don't seal out all of the ambient noise, which in some ways is beneficial. I like wearing them at work when I need to be able to hear what is going on around me while listening to music. These work very well for phone calls. I asked a few people I was on the phone with if they could hear me well and all reported excellent results. For music quality, the bass is lacking since there isn't a solid seal to block out ambient noise and keep headphone audio in. Also, the touch button on each headphone is very responsive and easy to use! The headphones paired quickly with my phone as well. For me, these are excellent headphones for me to keep at work. I look forward to them seeing a lot of use there!
Date published: 2021-10-27
Rated

4

out of

5
by
Garrett
from
Great for everyday listening!
I really like to use the JBL Vibe 300TWS at the office. They are very intuitive and easy to use, have surprisingly great sound quality, and most importantly - have a long battery life that lasts all day. They simply pair with my phone and can transition between music and calls seamlessly. I will say that they are not the most comfortable earbuds I have used, but they are not bad. Overall the Vibe 300TWS is a great set, and currently my favorite wireless earbuds to use on the go.
Date published: 2021-11-16
Rated

4

out of

5
by
SouthButteSlim
from
Great value and features
I have used these just a few times though overall I am impressed with the sound quality, comfort and ease of use. I primarily use these for working out and have yet to have one fall out. My only knock is that they don't seal or sit in my ear well enough. I feel like if they did fit better the sound quality would increase. I am continually trying to reseat them in my ears and it can be somewhat of a distraction. At this price point I would highly recommend these headphones.
Date published: 2022-01-06
Rated

4

out of

5
by
Scotty G
from
Small but Mighty
This is quite the bud. It packs a hell of a punch for a tiny speaker but I wish it had a bit of rubber to keep it in place more. Pros would be the size, the bass, treble quality. Cons would be not having some rubber around it to keep in place, if you adjust the fitment you pause or skip the songs, and their isn't a volume adjust so you have to use your phone. All and all they're worth the money for such a quality sound and they do a decent job at blocking outside sounds.
Date published: 2021-11-01
Rated

5

out of

5
by
kiki021
from
loud
Bought these for my bf. They're very lightweight and super loud!
Date published: 2021-11-01
Rated

5

out of

5
by
Hobet_81
from
Nice
They sound clear and loud and are comfortable to wear
Date published: 2022-03-14
Rated

5

out of

5
by
Evan
from
Ultra-Portable Headphones
These headphones are a great! The earbuds and the case have a very nice feel. Really the whole package was well put together. The earbuds have magnets and fall into place perfectly every time. Also, the case opens and closes with a satisfying "snap." Because they're so small, I'm using them as my travel headphones. They're perfect to keep in a backpack or a pocket. Just be aware that what they lack in size, they also lack in sound quality. When considering how tiny they are, they actually sound pretty darn good! But when (unfairly) compared to less portable over-ear headphones, they definitely fall short. My only real complaint is that they can't pair to multiple devices at the same time. I wish I could use them to watch a movie on my laptop, and then seamlessly answer a call on my phone... Not having that feature is a big disappointment.
Date published: 2021-12-07
Rated

4

out of

5
by
Heidi L
from
Decent earbuds for the price
I waited for about two months to receive the products. As I work in the supply chain industry , I know exactly what's happening from manufactures to consumers . After using them for a while I would say they are Decent earbuds for the price . Battery doesn't last too long but sound quality is good to me. Easy charger case and slick design . I would recommend them to friends. I use them to listen to audio book while cooking , super !
Date published: 2021-11-17
Rated

5

out of

5
by
jay150
from
Exceeded Expectations
I have owned two other pairs of TWS from JBL. Both were really great, of course. However, they had a tendency to fall out. These are a great choice to stay in place. I was a little weary on buying a new product with no reviews, but I decided to chance it. It was a gamble worth the risk! Noise canceling abilities, along with bass you can tell that is there is definitely worth the money. AirPods have some stiff competition.
Date published: 2021-09-24
Rated

5

out of

5
by
Anonymous
from
Good review from a picky listener
I've been using the Vibe 300's for a couple weeks now and so far have been pretty impressed. The sound is great. I typically use membrane-fit earbuds to cut down background noise, which is great for outdoor activities. They aren't so great in an office environment where I need to hear what's going on around me, or if I need to use a headset in the car and still hear other cars. I've tried a few different hard-shell earbuds but had problems with them fitting comfortably. They were either comfortable and had poor audio quality, or sounded good and felt terrible in my ear. These sound good, with audio quality on par with my better quality membrane earbuds. (Minus the sound deadening) What I really enjoy about them is that I can have the volume set to minimum and still get balanced audio. In a lot of hard-shell earbuds (especially bluetooth ones I've used), get tinny when the volume is high and muddy when the volume is low. These stay balanced at all volumes. (And they can get REALLY loud.) Pairing to my phone was simple, and I haven't had a single issue with connectivity. Pairing them to computers has been a lot harder and I'm not sure if the average user would be able to get them working on a laptop or desktop. I also really dig how small the case is. It's something you can throw in your pocket and not notice it too much. My ONLY complaint about them so far is the volume of the "Power On" notification sound. It's a bit loud...not ear splitting, but if you put them in your ears before they've powered on the volume can be a bit surprising. Other than that, they're a great addition with awesome audio quality.
Date published: 2021-11-05
Rated

5

out of

5
by
Andru613
from
Decent wireless earbuds that get the job done
Great earbuds for their value. Has decent bass and sound. Connects to the phone Bluetooth very well. I had no issue setting up these earbuds out of the box. Very comfortable in the ear. No noise cancelling but does have natural noise cancelling when in the ears. Battery life is decent very portable. Fits easily in my pocket not too bulky. Overall great value and highly recommended for the buyer.
Date published: 2021-11-05
Rated

4

out of

5
by
Mattiematt
from
Happily surprised over here
When I first got these earbuds, I was a bit skeptical about the quality as the plastic case felt significantly lighter and cheaper than my other wireless earbud charging case. However, after putting them on, it became apparent that they wouldn't fall out of my ears no matter what. I generally find the majority of earbuds to be too large, and as a consequence they end up falling out of my ears every 20 seconds, but the Vibes fit perfectly. I've run, skied, climbed, and done yoga without having to reposition them at all. I've even grown to appreciate the smaller charging case for its simplicity and low profile. I was immediately taken away by how rich the sound quality was for a pair of less expensive earbuds. While you definitely shouldn't expect any noise canceling, don't be surprised when you spend all day listening to music through your Vibes and then forget to take them off after you hit pause.
Date published: 2021-11-08
Rated

5

out of

5
by
Berserk312
from
Best sound for the money
AirWhat? This is the real deal for audiophiles in the making. Great sound quality at a fair price and they have a great fit. You'd be making a mistake settling for other options when this one is the best in this price range. The only downside is that they dont have silicone tips to make the fit even more secure but the matte finish helps them stay in your ear while out running.
Date published: 2021-11-12
Rated

5

out of

5
by
Dom20
from
Airpods Competitor
Looks exactly as pictured. Magnets hold headphones in super well. Battery life is fantastic. Sound is great especially for price range. I love that they turn on and pair to my phone as soon as they are removed from the case. There is seamless switching from one or both in use. only complaint is I wish the case opened further than 90 degrees. Overall solid purchase.
Date published: 2021-12-27
Rated

4

out of

5
by
Vick
from
Good pair of earbuds
Average pair of wireless earbuds. Sound lacks a bit of bass and fit is a bit lose, I had to really push them into the ear to get a good fit. No issues pairing with iPhone, Android Tablet or Nintendo Switch. Charging case is nice and I was able to get at least 20 hours of listening time. Audio quality for calls is good.
Date published: 2021-10-29
Rated

5

out of

5
by
GabbezRawr
from
Great bass!!
typically really just bought these and I am love the best bass I have ever experienced, and I would totally be amazed at anything could be tease because for what I have gone through headphones and what this is the best one so far thank you jbl love you guys!
Date published: 2022-12-18
bvseo_sdk, dw_cartridge, 18.2.0, p_sdk_3.2.0
CLOUD, getReviews, 7ms
reviews, product
Product Q&A
Can these connect to my galaxy s10 plus and my galaxy tab 7 lite at the same time?
Our JBL Vibe 300TWS headphones can be connected to different source devices such as a PC, smartphone, etc., but not at the same time. Please visit our website if you need more information about this product. Here's the link. https://bit.ly/3BTNusJ
Date published: 2021-10-18
Is there a trick or tip to connecting them from my cellphone to my MacBook? I disconnect/forget this device on my cell and it still won't connect. It connected once and never again. 
Thanks for reaching out. Our JBL Vibe 300 TWS only connects to one device at a time. This pair of earbuds doesn't have a multi-point connection that allows you to seamlessly switch between connected devices. When pairing, make sure there is no other source device connected, and ensure your source device is in pairing mode.
Date published: 2022-11-21
Does the case charge wirelessly, or only through the USB-C cable?
Thanks for reaching out. Our JBL Vibe 300TWS Headphones only use the included USB Type-C cable to charge the unit.
Date published: 2022-06-13
How do you switch between devices? For instance, how do I go from having the earbuds connect from my phone to my car?
Our JBL Vibe 300TWS will connect to the first device that has the Bluetooth turned on. If the other devices are paired to the earbuds, you could try to play something through it and see if it will take priority of the connection.
Date published: 2021-12-23
Does this work with any of the JBL apps and if so which one?
Thank you for your inquiry, our JBL Vibe 300 TWS is not compatible with any of our Apps.
Date published: 2022-12-28
How do I get the unit to charge? I have it plugged in and it will blink green for about a minute then stop, no lights.
Our JBL Vibe 300 TWL LED light indicator will blink Green when that battery is fully charged.
Date published: 2022-11-29
when using them to watch tv how do you increase the volume
There are no volume controls on the earbuds of our JBL Vibe 300TWS Headphones. You'll need to use the device you've connected to, to adjust the volume.
Date published: 2022-01-05
In search of a replacement charge case for these buds, and have not been able to find one.
For our JBL Vibe 300TWS Charging Case, the Part number is 19900171 (BLK) $35.53 before taxes and shipping. please reach out to our Customer Support at (800) 336-4525 from Mon - Fri: 9:00 am - 11:00 pm (EST) to Sat-Sun: 9:00 am - 5:00 pm (EST).
Date published: 2023-02-12
Why is this model without app support?
Our JBL Vibe 300 TWS is not supported by the JBL Headphones App because these are entry-level earbuds that do not support the features that are configurable in the app.
Date published: 2023-01-20
Are they waterproof?
Our JBL Vibe 300TWS has an IPX2 rating which means that it's resistant to rain and a small amount of sweat. Please check out our website to get more information about this product. https://bit.ly/3BTNusJ
Date published: 2021-10-28
excuse me, how long is the warranty of the earbuds?
Thank you for reaching out. Our JBL Vibe 300TWS headphones come with a 1 Year Limited Warranty. You can request an exchange during the warranty period here: https://bit.ly/3ntzyxi
Date published: 2021-11-05
Are these flat earbuds?
Yes, our JBL Vibe 300TWS has a flat design that fits snugly and discreetly in your ears to keep you comfortable.
Date published: 2022-09-11
bvseo_sdk, dw_cartridge, 18.2.0, p_sdk_3.2.0
CLOUD, getContent, 24ms
questions, product
Support
Register your JBL product
Do you own this product? Register it here in case you need to claim warranty
Register Now
Can't find what you're looking for?
Are you looking for product support, documentation, how-tos or older products?
JBL Support