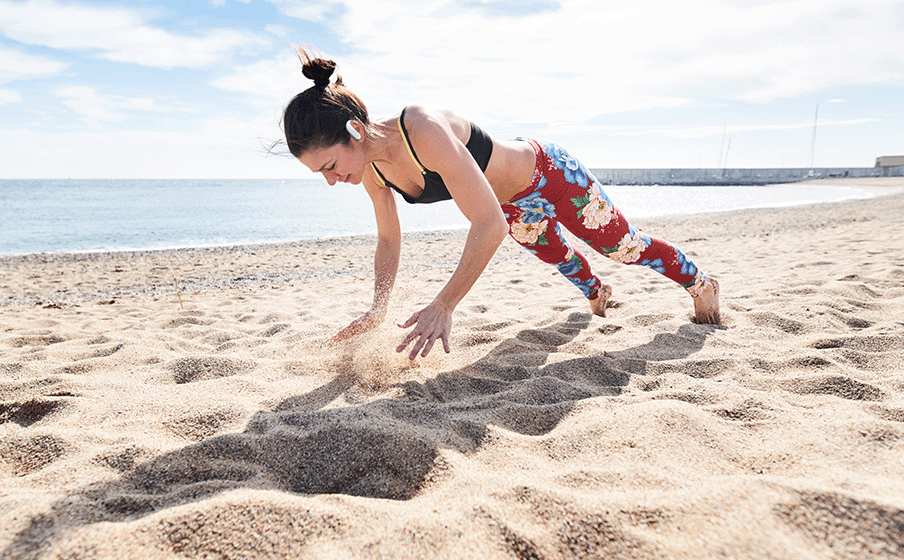 JBL Pure Bass Sound
Get the most out of your favorite workout playlist with rich bass from a 10mm dynamic driver that delivers bold sound when you need it most.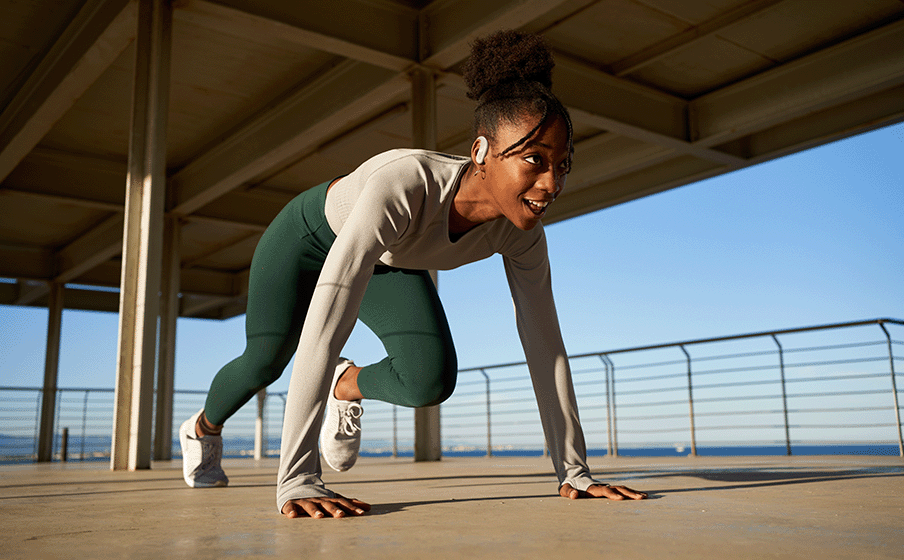 Up to 50 total hours of playback with speed charge
Whether you measure your energy output in miles, pounds, or minutes, the JBL Endurance Peak 3 can match you beat for beat, with up to 10 hours of battery power in the earbuds and 40 in the case. And when you need a boost, speed charge up to an hour of playtime in just 10 minutes.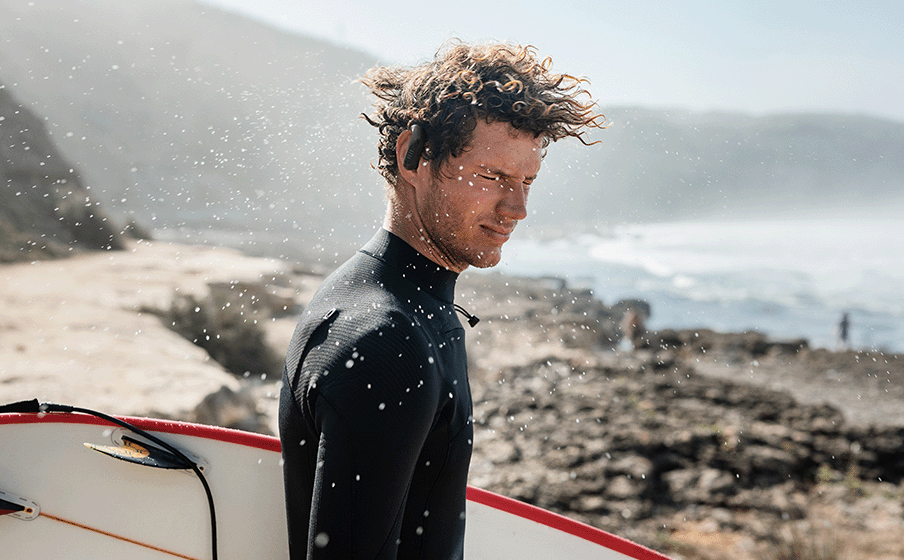 IP68 dust and water proof
An IP68 rating means the JBL Endurance Peak 3 earbuds are ready for your most active adventures, rain or shine. And they'll endure for 30 minutes at depths up to 1.5 meters of salt or fresh water. So you can surf with your earbuds, or rinse them after a workout, all without missing a beat.
Features

Ambient Aware & Talk Thru
Whether you're out for a run or in the zone at the gym, TalkThru makes it easy to make and hear calls anywhere. And with Ambient Aware, you can stay alert to your surroundings without removing your headphones.

4-Mic Crisp, Clear Calls
Even on a windy bike trail, your voice will be heard thanks to dual beamforming mics in each ear help to ensure clear communication. And with VoiceAware, you can choose how much of your own voice to hear by controlling the amount of mic input routed back into your earbuds.

Powerhook™ design for an ergonomic fit
The JBL Endurance Peak 3 adjusts to fit comfortably with a bendable TwistLock™ ear hook enhancer that ensures your headphones won't fall out—even during your most active moments. And when you take them off, the earbuds will automatically switch off even if you don't put them back in the charging case.

JBL Headphones App
Work out your way. Personalize your headphones' settings to suit your needs with the dedicated JBL app.
Product comparison
ENDURANCE-PEAK-3
ENDURANCE-RACE-
REFLECT-AERO
LIVE-PRO-2-TWS-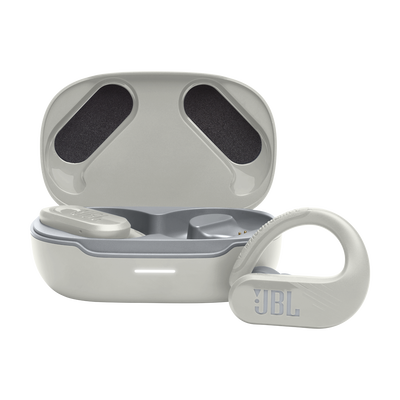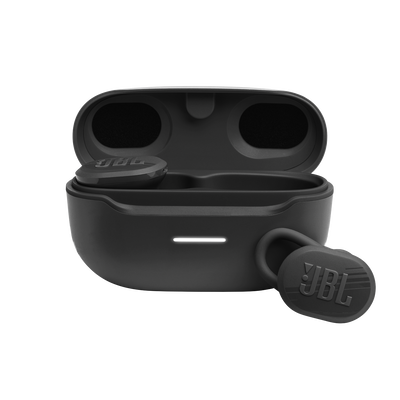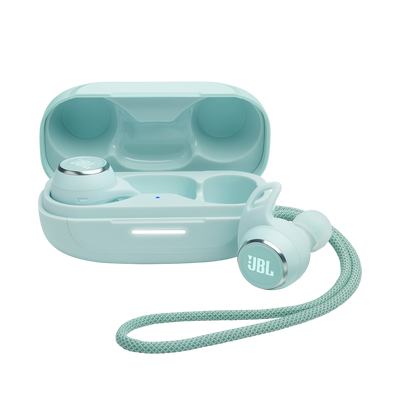 Battery
Maximum play time (hours)
50
Maximum play time (hours)
30
Maximum play time (hours)
24
Maximum play time (hours)
40
Features
True Adaptive Noise Cancelling
True Adaptive Noise Cancelling
True Adaptive Noise Cancelling
True Adaptive Noise Cancelling
Voice Assistant integration
Voice Assistant integration
Voice Assistant integration
Voice Assistant integration
Specs & Downloads
Item# JBLENDURPEAK3BLKAM
Description
Never hurts, never falls out

Your lifestyle is active—you need wireless earbuds that can keep up. The Endurance Peak 3 is the perfect training partner, pumping your motivational playlists to you with up to 50 hours of playback and rich JBL Pure Bass Sound you can feel in your muscles. The durable IP68 dust and water proof design can handle the dustiest mountain trail and the sweatiest gym session, while a bendable TwistLock™ ear hook enhancer ensures a secure, comfortable fit that stays in no matter how you move your body. And with the ability to make crystal clear calls from anywhere and stay aware of your surroundings, you'll stay connected to the world no matter where your workout takes you.
General Specifications
Driver size (mm)

10

Number of Microphones

4
Audio Specifications
Driver sensitivity at 1kHz/1mW (dB)

102 dB SPL@1 kHz

Dynamic frequency response range (Hz)

20 Hz - 20 kHz

Impedance (ohms)

16
Dimensions
Charging Case Weight (oz)

2.7

Earpiece Weight (oz)

0.9

Charging Case Weight (g)

76

Earpiece Weight (g)

25
Control and Connection Specifications
Bluetooth version

5.2

Bluetooth profiles

A2DP V1.3, AVRCP V1.6, HFP V1.7

Bluetooth frequency

2.400 GHz - 2.4835 GHz

Bluetooth transmitted modulation

GFSK, π/4 QPSK, 8DPSK

Bluetooth transmitter power

< 14 dBm
Battery
Maximum talk time (hours)

5.5

Charging case battery life (max hours)

40

Charging time (hours from empty)

2

Maximum play time (hours)

50
Features
Hands Free Call

Yes

Powerhook

Yes

Sweat Proof

Yes

Twistlock

Yes

Waterproof

Yes

Charging case

Yes

IP Code

IP68

Charging cable

Yes

Ambient Aware

Yes

Built-in Microphone

Yes

JBL Pure Bass Sound

Yes

TalkThru

Yes

Wireless

Yes

Speed charge

Yes

Rechargable battery

Yes

Bluetooth

Yes
Documents & Downloads
Customer Reviews
Rated

1

out of

5
by
Kathy1000
from
Not white. Look like a hearing aid
I bought the white pair but they are not white at all. They are 100% grey. And they look like a hearing aid. Noise cancelling is non existent. I can hear the low gym music above my own earphones. Wouldn't recommend at all
Date published: 2022-10-27
Rated

3

out of

5
by
LMig
from
Average Headphones
The JBL Endurance Peak 3 are fixed well within the ear and is perfect for sport and outdoor activities. Sadly you'll realize quickly that the noise cancelling (ANC) isn't doing it's job since you can still hear your surroundings. The Ambient Aware fiction on the other hand works pretty good since you can hear quite foices loud and clearly. The sound quality while listening to music is worse than with other JBL devices. Furthermore the max. volume is way worse than other headphones in that price segment. The battery of the JBL Endurance Peak 3 holds even longer than stated by JBL. The headphones can be operated intuitively and the settings can be changed within the app. The microphone isn't very good, you have to talk really loud for persons to hear you when making a phone call with them.
Date published: 2022-11-03
Rated

5

out of

5
by
JBL party house
from
Bass house in ears
Amazing bass and clear sounds, are very comfortable with the twistlock in the ears with ambient sound control from the app. I love the dual connect, has a really beautiful design with JBL on the sides of each ear. The case is a little big but would fit pretty easily in pouch or book bag for when you are on the go. Each earphone has rugged outta layer of protection in case they fall it won't get destroyed. Also love that they can hold a charge for hours, so i was able to work out in them with no problems.
Date published: 2023-01-21
Rated

1

out of

5
by
Arsenal0328
from
Horrible volume control
They removed the swipe up and down to control volume function in this newest version for some reason. If you want to be able to control volume you have to download the app and then switch one of the headphones to one tap for volume increase and two taps to decrease. There is no way to quickly change volume on these and the tap is in poor spots that make it difficult to use when running. One use and I will be returning these. Horrible decision to remove volume control.
Date published: 2023-02-28
Rated

5

out of

5
by
Dabri3007
from
Super headphones
JBL Endurance Peak 3 I have owned the headphones for some time now and have loved them from day one. But from the beginning, when the in-ear headphones arrived, I had to try them out immediately. They were already pre-charged, so I didn't have to charge them before I could enjoy testing them. Point one - they are wireless, no more annoying cords. Point two - off into the ears, a bit complicated on the first try, but on the second I got the hang of screwing them in. Provided you pull the earpiece over your ears, the headphones go on by pulling to connect. With my Samsung Galaxy S21 Ultra, the headphones connected immediately without any problems. I then downloaded the JBL Headphones app from the Play store to fully set up and use the headphones. The app recognizes the headphones immediately and I could make various settings in the app, but this is not about the app, but about the headphones. First Impression: Seem a bit clunky at first, but after you have them in your ears, I find them just right, they fit the ears really well. There are 3 different sized earplug attachments included. I opted for the smallest one. Everyone has different sized earpieces. After everything was set up, on my part, I finally let the music play to test for sound and ambient noise. So off to the outside and go hiking. Music on - world off. The sound, after I had configured myself the in the app, was JBL faithful very good, neat bass without overdriven to sound. Clear clean sounds even in high volume mode absolutely top. My expectation was high and was not disappointed. The battery of the headphones has held without further pre-charging. Ambient noise I could not perceive in the mode. So super sound the whole hike away. Phone calls: While using the headphones, I got a call in, immediately the music went off and I could take the call. I could clearly understand the person I was talking to. My conversation partner also understood me wonderfully. Wonderful to have such a clear conversation without having an annoying cell phone to my ear. Waterproof? Unfortunately, I can't say much about this topic. So far, I've only used the headphones in dry conditions. Sweat makes the headphones nothing, I can say that with certainty, because I already sweat a lot, especially with a lot of movement. Storage: Included is a quite compact charging tray, in which the headphones are placed. So just disappear into the pocket is rather bad, but it is quite large. I know it from other JBL in-ear headphones already a lot more compact. Personally, this does not really bother me. Wearing comfort: Permanently wear the headphones for several hours no problem, slight pain I gladly accept, with the good sound. Conclusion to date: For me, the JBL Endurance Peak 3 are absolutely top, and I hereby express a clear recommendation for the headphones. Price-performance is in order. Even if the headphones her stands in the high segment of prices, it is always justified. From 25 € headphones I can of course not expect as much as from almost 100 € headphones. The price of the JBL Endurance Peak 3 is between 90 € and 100 €. JBL has not disappointed me, and I like the Endurance Peak 3 very much. Thumbs up!
Date published: 2022-11-06
Rated

5

out of

5
by
RonBoback
from
Fantastic sport buds!
As an owner of Peak 2's I was excited to see the Peak 3 come out! These buds have small, but also significant upgrades. The touch response on the buds themselves have definitely improved. Sound quality is a bit better than before, but was never bad to start. I feel like using these with the app is the best way to go. You can make so many adjustments and changes you would shorting yourself otherwise. They come with the usual three sizes of ear inserts and a charging cable, but its very short. The only thing that almost made me go down to four stars is the case. The Peak 2 had an actual lock button to open it. This one has no lock button, but also nowhere to grip the clamshell to open it. While a slight inconvenience, its still something that I dislike.
Date published: 2023-02-16
Rated

5

out of

5
by
fayhope
from
Big Bass! Great Sound! Long battery life!
The JBL Endurance Peak 3 headphones are amazing! Listening to music, the sound is just perfect. The bass is amazing. When answering calls everything is perfectly clear. The headphones will stay charged all day, but if you forget to charge them, you can get a full hour in 10 minutes. They are comfortable and very secure! Love the power hook design. I am a runner so it's important to have headphones that stay don't get loose. They are also waterproof, which is so important. I really love these. Sound and comfort mean so much.
Date published: 2023-01-24
Rated

5

out of

5
by
Bmanbill55
from
Great pair of earphones for active lifestyle
Quality set of wireless earphones. Great for working out or running since they have the ear wrap piece. Charging case is a huge plus giving you an extra 40 hours of listening time and works great as a storage container. Love that they automatically turn off once you take them out and the talk through and ambient aware features are must haves. Sound quality is excellent and having the ability to customize through the JBL app is just cherry on top. Definitely a great set of earphones, would recommend.
Date published: 2023-02-12
Rated

4

out of

5
by
brian163
from
Very good earbuds for use doing physical activity
SOUND QUALITY: good. FIT: Right side earbud is a little heavier. It's good they provide different sized ear tips, not a perfect fit to my ear but I got more used to them overtime. Very good for physical activity as designed (no movement). PROS: App to adjust settings and control earbuds; good bluetooth range for phone calls and it is helpful to have a built in mic; charger port is easy to use (has charging indicator light), easy to use side controls (there was some overlap in the buttons for volume and other controls but I think I might be able to change it in the app? I have to investigate further). CONS: Slightly difficult to get on and off; some sound delay between the two earbuds when on the phone; noise cancelling isn't particularly strong so wouldn't be good for loud environments
Date published: 2023-01-31
Rated

5

out of

5
by
danielmbirnbaum
from
JBL Outruns the Competition with Endurance Peak 3
This is no doubt the most active inspired headset offered by JBL. They're solid - almost a bit challenging to deploy with just one hand, but once they're set, they will not go anywhere. The Endurance Peak 3 has top sound quality. Call quality is great too and ambient noise isolation almost feels like noise cancelling. Now that I have these, I actually feel way more motivated to put my running shoes on and just GO! These will not disappoint. Many different bud sizes included.
Date published: 2023-01-31
Rated

4

out of

5
by
Nenni1919
from
easy to use
First off - My last pair of headphones were the typical rickety parts of a walkman. Who would have thought 20 years ago that such high-tech devices would develop from this! Electronics are constantly on the decline. If you are immediately addicted to something, buy recommendation! At Stiftung, good places were occupied. Everything works. great bass Music stops when you take it out. All settings can be individually assigned and adjusted via the JBL app. If there is strong wind or road noise, simply change the setting and you won't hear anything from the environment! Or you leave it and drive through traffic more safely. Easy to use. Charging works great with the box. The color is great. After 4 weeks of testing I have nothing to complain about. I can highly recommend it. I'm missing something that you can change the size of the head.
Date published: 2022-11-17
Rated

5

out of

5
by
Heath23
from
Perfect for long calls, excercising & hiking
I started using the Endurance Peak 3 headphones for work outs & physical therapy. They fir so snug in my ears. Zero fear about 1 or both falling out of my ears! While using for music listening, I received a phone call & they are wonderful! I prefer to use these headphones for phone calls instead of holding phone to my ear! Sound quality is nice & once my call was over, I resumed my music listening without any issues. Super easy to switch modes.
Date published: 2023-02-10
Rated

5

out of

5
by
Maitestar
from
Good for jogging
I've been using the JBL for a few weeks now. I am very satisfied with these Bluetooth headphones. They are a loyal companion to me when jogging, working and just listening to music. They stick well in the ear. Thanks to the included plugs, the headphones can be used in any ear. They held up very well while jogging. The diversity of the headphones convinced me. The associated application is self-explanatory and easy to use.
Date published: 2022-11-18
Rated

2

out of

5
by
sumrise
from
Great idea, but please use tactile buttons.
The headphones are pretty a-ok. Controls could be customized better. (e.g. for configuration only left, only right, both instead of just separate controls, no matter what side is used) Biggest problem: The capacitive buttons get triggered by water. Which is a small problem for headphones that are supposed to be - you know - waterproof. So they're basically unusable with rain, showers, or swimming.
Date published: 2023-03-19
Rated

5

out of

5
by
boudreaux
from
Bass that wows and comfort fit!
The JBL headphones are amazing. The sound quality is perfect and that bass wows! The JBL Endurance Peak 3 seem to run forever, but they charge very quickly if you need to charge them. They are waterproof which is a must while at the gym. They are so comfortable and they do not fall out. If you are like me and have lost lots of pairs of headphones, get these. They will stay secure all day!!
Date published: 2023-01-27
Rated

5

out of

5
by
DRAKSA
from
Perfect exercise head phones!
If you're looking for a great set of headphones to use while exercising look no further. These work really well during high-intensity exercise sessions they never fall out! I can sprint or even jump rope with them in and they never fall out. They are solid. I also really love the "ambient aware" and "talk-through" modules on the app which allow you to still hear and pay attention to your surroundings. You have the option of toggling them on and off. The JBL app also allows you to modify the touch functions on the headphones for your specific needs. The syncing to my phone was a breeze, and I didn't even need to use the instruction manual. Simply take them out of the case, put them on, turn on Bluetooth, and you're set to go. You will have to download the app if you want to take advantage of all the additional settings. They are splash proof so you can also wear in the shower if desired. I would highly recommend them.
Date published: 2023-01-31
Rated

5

out of

5
by
Pina
from
Endurance at peak
The ear phone fits nicely over the ear. You would never think it could fall off. Ambient aware feature is pretty useful if you want to use this in a public surrounding or when you are out in the wilderness. As expected the sound quality is remarkable. The bluetooth pairing is easy too. Pretty good battery life. Will tryout the dust proof capability soon.
Date published: 2023-02-07
Rated

4

out of

5
by
FriendlyAudioGuy
from
Great Headphones that sound and fit great
These earbuds are great. I have some of the other style earbuds without the ear loops and those over time can fall out. With these they hold in very well and sound amazing. I really enjoy the fact that the buds turn off when the magnet engages. The charging case is a bit bulky but understandably so. Charging time is too bad either.
Date published: 2023-01-29
Rated

5

out of

5
by
Elimel
from
A well rounded workout bud
These earbuds are terrific the sound quality is superb, they stay snug in your ear even when they are moist from sweat. They are stylish they work well and are easy to pair with most phones and devices. The battery lasts for about infinity. All in all a great product and a must buy for any serious fitness fanatic. FIVE STARS
Date published: 2023-01-22
Rated

5

out of

5
by
Max1978
from
Great product!
With all headphones I have used so far, I had the problem that they fell out when I moved a little. With the JBL Endurance Peak 3, I found headphones that have a great sound and, for their size, have very good ambient suppression and are really great for sports activities. They are very easy to use and pair great!
Date published: 2022-10-31
Rated

4

out of

5
by
IbrahimBoran
from
Great sound, battery life and customizability.
**Sound**: Incredible. I would say that one of the best features of this pair is the sound quality. The box does not state that they have JBL Signature Sound, but they produce very high quality, JBL Pure Bass sound. The bass is strong, punchy, and bouncy (very impressive and addictive), both mids and highs are very clear. I also didn't feel a disturbing sound distortion at the highest volume levels. As for the Ambient Sound Control options in the JBL Headphones App, TalkThru feels like an unnecessary feature for me. This applies to all JBL earbuds. It pretty much enables Ambient Aware and lowers your music to around 10%. So, it makes it easy to hold a conversation and still hear some audio. However, the volume is too low that the audio just gets lost if you are talking in public. On the other hand, Ambient Aware is a great feature, allowing the user to hear their surroundings while still clearly hearing the music. This is useful in public transportation or for street runs, and public workouts in the city to avoid dangerous situations. One aspect I noticed is that when there's no music playing and there are no noises around you, the earbuds play this white noise that gets annoying after a while. Although it is subtle, I hear the white noise even when an audio is playing as well. However, considering that these earbuds are designed to be used with audio and they do not interrupt the listening experience at an insane level, this is not a huge issue; but it was worth pointing out. The JBL Headphones app provides a 16k equalizer that works wonderfully with the earbuds, allowing users to fully customize their sound experience. There are many presets to choose from and users can create their own audio presets as well which can be applied to all JBL earbuds that connect to the app. Many aspects are adjustable from the app and they work smoothly. Overall, I would definitely recommend this pair for the sound quality. ________ **Microphone**: The microphone gets the job done. I didn't hear any complaints and it sounds good to the other side on calls. VoiceAware is a very useful feature that I enjoy on JBL earbuds. It is adjustable in the app, and it enables the user to control how much of their own voice they hear during calls. When I pick up a call, my selected setting via the app gets turned on automatically. This is a great feature because I tend to talk loud with earbuds in and this allows me to judge my own voice and adjust it accordingly to not bother anyone in public. ________ **Charging Case**: This case is extremely thick, big, and hard to fit anywhere. I understand that it has to be this way due to the earbud's ear hooks, but I do not like the case at all. It also feels cheaper compared to the build quality of the earbuds. It is plasticky and noisy to the touch meanwhile the flap feels loose, and the hinge is squeaky. At least the battery life is good so you do not need to carry the case with you that often. There is a way of getting around not carrying the case which I will explain in the fit section below. ________ **Battery Life**: They never actually died on me, and they charge quite fast. I like that the battery percentage of both earpieces are visible in the app, in case you only use one for specific occasions (independent earbud use). Although the charging case has a LED battery level indicator, I could not get the case's exact battery percentage to show up in the app. I can confidently say that I am satisfied with the battery performance of this pair. Side note: The orange USB Type-C charging cable that comes in the box is very short. ________ **On-earbud Control Buttons**: I like that they are customizable in the JBL Headphones app as usual. The touch control area is near the "B" on the JBL logo on the earbuds. The sides of the earbuds have a big surface area so operating the touch control smoothly takes a little bit to get used to. The JBL logo has a different texture, and it sticks out compared to the design it is surrounded by. So, it is not very hard to get used to and you can feel where to press which makes it easier. ________ **Fit**: This pair was not made to be used/worn with glasses. Although my glasses are very thin and lightweight, placing them near the ear hooks applies a very noticeable and painful pressure on the ears. You can also hear scratching noises when the glasses move and come in constant contact with the earbuds which is very annoying. Moving on, the ear hooks are very flexible and soft to the touch. The end of the ear hooks have magnets that act as a power switch with the body of the earbuds. This is why the ear hooks are called the "Powerhook"s. Therefore, technically, the earbuds can be carried and used without the huge charging case it comes with. Since the battery lasts ten hours and there is an on/off option on the earbuds, I found myself leaving the charging case at home. In addition, the earbuds are not ideal for constant putting on/off movements (e.g., taking off one of the earbuds often for quick talks). The ear hooks snap right into place with magnets when you take them off your ears which means that 80% of the time when you take off your earbuds, you are powering them off accidentally. The Twistlock technology works great. I used them previously in the JBL Inspire 700 earbuds which are a few years old and discontinued now but it is a good feature. It locks the earbuds right into place, stays in the ear well, and is quite comfortable as well. The earbud tips are also soft and create nice isolation. ________ Overall, I would recommend this pair for the sound quality, battery life, ear hooks (if you are not wearing glasses), and the customizability in the app.
Date published: 2023-01-30
Rated

5

out of

5
by
claritydnb
from
great for music when active. not awesome for calls
These headphones are comfortable, even after wearing them for a while! They don't come off during activities like exercise. They have excellent sound as expected. the only thing I don't like is when making phone calls, they are quite quiet. The microphones work excellent though.
Date published: 2023-02-14
Rated

5

out of

5
by
RockyKarthik
from
JBL's Trademark Quality Product
This is a JBL trademark quality product. The build quality is amazing and sound quality is excellent. They stick perfectly to the ear and doesn't fall out no matter what. I wish they had active noise canceling which is the only thing I'm missing in them.
Date published: 2023-01-24
Rated

5

out of

5
by
Juanarba2312
from
Excellence
This headphones are fantastic to do exercise, such as jogging or do some weights in the gym. The fit is amazing and they attach really good to the ear so you can feel confident running with them you know they wont fall. Awesome product.
Date published: 2023-01-30
Rated

5

out of

5
by
StillGrindin87
from
Great sound and comfort
I have used the product for a few days and love them. The sound is great and they are comfortable on my ears. I like that they have the part that wraps around your ear for extra stability. I can't wait to see the full functionality.
Date published: 2023-01-25
Rated

5

out of

5
by
Baynes
from
Great workout headphones
These Endurance Peak 3 are great! They fit great when I run or do a HIIT workout. The JBL Pure Bass has super sound. Almost 50 hours of playback is almost too much time. The Powerhook really keeps them in place during any activity.
Date published: 2023-02-07
Rated

5

out of

5
by
Top_Gear_Fanboy
from
Great headphones for working out
These headphones are an amazing pair for working out. I really enjoyed using them but the case was a bit big. Overall, I really liked them though and I would recommend them for running and weight lifting.
Date published: 2023-02-04
Rated

1

out of

5
by
Brock1
from
These are so annoying, I'll be cleaning or walking around, one slight movement causes the bud to pause. While working out they beep and pause all the time.
Date published: 2023-05-19
Rated

5

out of

5
by
eb52
from
SOLID COMFORTABLE SOUND
The JBL Endurance Peak3 wireless earphones really live up to the comfort and sound that they are famous for. With the Powerhook feature and Twistlock combination, they fit comfortably and stay put in my ears with no fear of them falling out. They are definitely the most comfortable earphones I have ever owned. I have no problem wearing them on an extended off road. bicycle ride even when it gets wet. There are too many features to list here so I will tell you about my favorites. I love the way they both connect to each other and my source automatically. I can also connect either one by itself so I can wear just one. They connect very quickly to my Bluetooth source and stay connected until I turn them off. The JBL Headphone app, that can be downloaded to your phone, gives me more control of my earphones than ever before. The app allows me to control the Ambient Aware feature, it has an equalizer, and I can set up Voice Assistant to control the earphones with my voice, just to name a few of the app features. I can also control all the basic functions by pressing the buttons on either earphone, as well. Not only great JBL sound but crystal clear phone calls along with many extra features are what you get with these very comfortable Endurance Peak3 wireless earphones. I highly recommend these earphones to anyone looking for great sounding comfortable wireless earphones that are packed with extra features you just can't get anywhere else.
Date published: 2023-02-17
Rated

4

out of

5
by
StephaneCru
from
My first wireless headphones: Great model!
I love these JBL Endurance Peak 3 - they're my first wireless, waterproof headphones and I'm thrilled with them! I work out a lot and sweat a lot. It was important to me that the headphones fit well in my ears (compared to Apple for example) but also that they were sweat/water resistant. I run/swim about 3 times a week and these headphones fit really well - I didn't have to put them back on even after 2 hours of sports. I also tried any of the silicon parts furnished with the headphones. Also, I tried a friend's headphone before and the battery didn't last long. With these headphones I was able to do about 40 hours of sports/activities without recharging them - it's really great! I have the impression that the case also allows you to recharge them very quickly. The "Ambient Aware On/OFF" system acts as a noise canceling device and therefore allows you to isolate yourself from external noise. I live in a bustling street and cars noise was almost non-existent with this mode. The microphone also seems to work very well because my friends and family could hear me perfectly. I am not used to using wireless phones and was therefore prejudiced about this. A few flaws though: - Wearing earplugs and a FFP2/covid mask is not very pleasant, even annoying. The same is true with headphones and sunglasses. - I did not find the function to manage the volume or change music directly from the headphones which was not practical - especially while running for instance. - I don't know if it comes from the phone or from the headphones but I had the impression that my battery is much less efficient if the headphones are connected.
Date published: 2022-10-31
bvseo_sdk, dw_cartridge, 18.2.0, p_sdk_3.2.0
CLOUD, getReviews, 7ms
reviews, product
Product Q&A
Do they work with Google assistant
Thank you for your question. No, the JBL Endurance Peak 3 are not compatible with Google Assistance. Should you wish to receive further support, you may contact the Harman Customer Support team by telephone, email or chat in order to receive direct assistance. Please see https://uk.harmanaudio.com/support-contact.html#ns for further details. Thank you.
Date published: 2023-03-03
Are they noise reduction
Our JBL Endurance Peak 3 has the Ambient aware feature. It minimizes unwanted noises and keeps you aware of your surroundings.
Date published: 2023-03-24
Can you still use either or both earpieces at a time, or do you have to use both to get all the functions (play/pause, skip/back, answer/hang up, volume up/down)? Also, can these be noise cancelling?
Thank you for your question. The JBL Endurance Peak 3 are Dual Connect, therefore, you can use one or both pods and all functions can be controlled in mono or stereo mode. This model does not have noise cancelling function. Should you wish to receive further support, you may contact the Harman Customer Support team by telephone, email or chat in order to receive direct assistance. Please see https://uk.harmanaudio.com/support-contact.html#ns for further details. Thank you.
Date published: 2022-10-19
Is there a manual other than the quick start guide which is very cryptic?
bvseo_sdk, dw_cartridge, 18.2.0, p_sdk_3.2.0
CLOUD, getContent, 124ms
questions, product
Support
Register your JBL product
Do you own this product? Register it here in case you need to claim warranty
Register Now
Can't find what you're looking for?
Are you looking for product support, documentation, how-tos or older products?
JBL Support