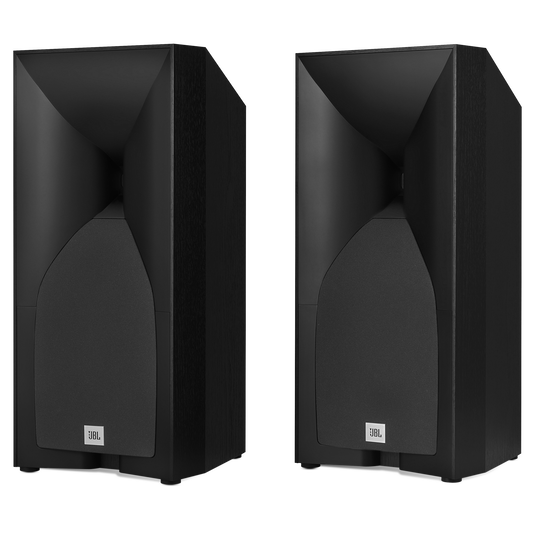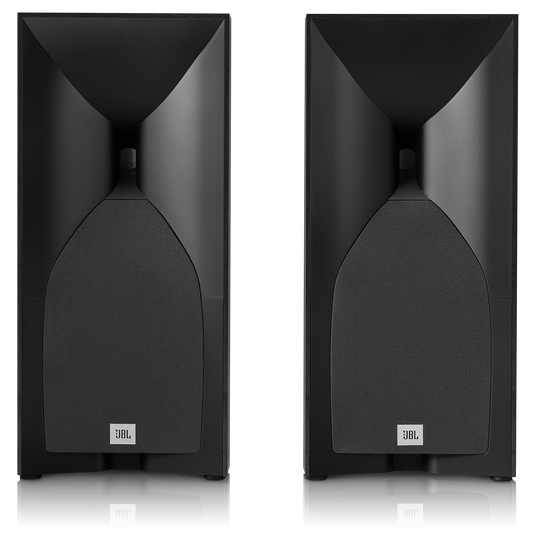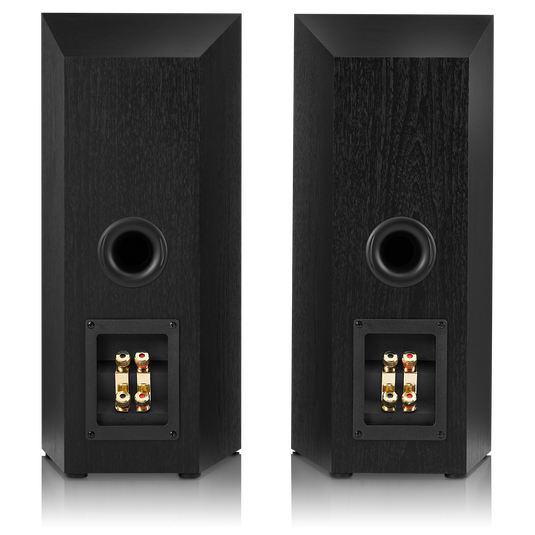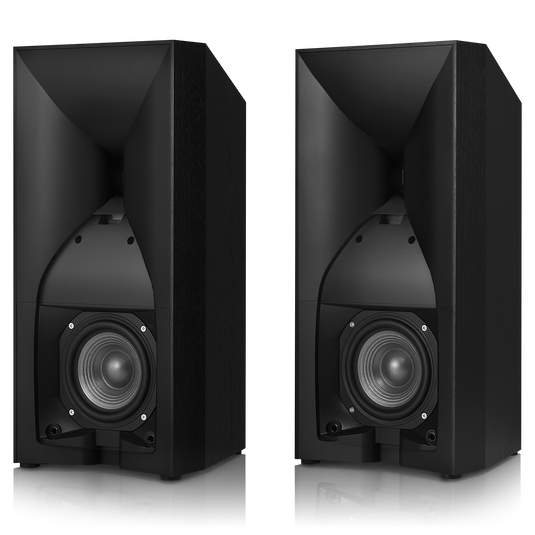 Features
25 – 125 watts suggested amplifier power range
JBL engineers have designed the Studio 530 bookshelf loudspeaker to deliver robust sound from a compatible AVR (audio/video receiver) or 25- to 125-watt power amplifier, whether you are using it as a stand-alone unit or as part of a surround-sound system.
5-1/4" (130mm) ribbed PolyPlas woofer cone
Powerful bass affects more than just your ears. It resonates through your entire body, creating a soundscape that you can feel as well as hear. The JBL Studio 530 bookshelf loudspeaker delivers accurate low-frequency sounds from a 4-inch (100-millimeter) ribbed PolyPlas woofer. The ribs improve strength, while reducing distortion. The result is rich, articulate bass.
Symmetrical Field Geometry (SFG) magnet assembly
Thanks to a heavy-duty Symmetrical Field Geometry (SFG) magnet assembly, the Studio 530 bookshelf loudspeaker's low-frequency woofer delivers highly focused bass. The result is pristine, articulate sound.
1" (25mm) high-frequency compression driver
The JBL Studio 530 bookshelf loudspeaker's high-frequency compression driver lowers distortion and provides a wider dynamic range than is possible from conventional high-frequency and midrange drivers. The tweeter comprises a one-piece Teonex® diaphragm/surround assembly fitted with a 1-inch (25-millimeter) voice coil that can deliver enhanced vocal articulation.
Glass-filled ABS Bi-Radial high-frequency horn
Horn-shaped loudspeaker designs optimize high-frequency output by directing the sound to the listener with pinpoint accuracy, thereby eliminating reverberations, sound reflections off walls, and other artifacts. The Studio 530 bookshelf loudspeaker features a glass-filled ABS Bi-Radial high-frequency horn that delivers professional-level sound to your home.
Low-loss, two-way crossover network
The Studio 530 bookshelf loudspeaker's low-loss, two-way crossover network ensures a clean transition for sound coming from individual low- and high-frequency drivers, thereby reducing distortion while improving clarity.
Bi-wire capability
The Studio 530 bookshelf loudspeaker will work with multiple power amplifiers or connection setups – or both – for single-wire or bi-wire operation. The result is enhanced versatility in the way you can use the Studio 530 speaker.
Sturdy 3/4" (19mm) MDF enclosure
The Studio 530 bookshelf loudspeaker's cabinet is built with the same attention-to-sound-perfection as every other component. Rigid, heavily braced materials prevent unwanted resonance, while non-parallel surfaces eliminate sound interference.
Exclusive design
The same attention to detail that went into the Studio 530 bookshelf loudspeaker's technical design was paid to creating a powerful, sophisticated look that will fit within even the most discerning householder's décor. The Studio 530 is available in a black or cherry finish.
Frequently Bought Together
Specs & Downloads
Item# STUDIO 530BK
Description
Professional technology in a bookshelf loudspeaker.

The JBL® Studio 530 bookshelf loudspeaker brings professional-quality sound to the home experience. The Studio 530 takes the technology that JBL engineers developed for pro-audio loudspeakers and uses it to deliver accurate and powerful sound to your living room. And it's versatile: the Studio 530 can replay a left-channel signal, a right-channel signal or surround-sound channels. The Studio 530 features a 1-inch (25-millimeter) tweeter mounted on a glass-filled Bi-Radial® horn – the technology that JBL concert-sound systems use – to deliver concise, sustained high frequencies. A 5-1/4-inch (130-millimeter) PolyPlas™ cone with a Symmetrical Field Geometry™ (SFG) magnet assembly handles low frequencies.
General Specifications
Finish

Black

Type

Two-way bookshelf
Audio Specifications
Nominal Impedance

6 ohms

Frequency Response

(-6dB) 45Hz-40kHz

Sensitivity

(2.83V@1m) 86dB

Crossover Frequencies

1.5kHz
Dimensions
Depth (in)

8-3/4

Weight (lb)

17

Width ( in)

8-7/16

Depth (mm)

222

Height (in)

18-3/8

Width (mm)

214

Height (mm)

467

Weight (kg)

7.7
Control and Connection Specifications
Connector Type

Dual gold-plated binding posts (bi-wire capable)
Documents & Downloads
Customer Reviews
Rated

5

out of

5
by
Mystykman
from
Simply amazing!!!
I bought this for Christmas and I just got a chance to hook them up. I am extremely happy with the sound quality. I am by no means an audiophile but I know what good music should sounds like....and these fit the bill. A friend who IS and audiophile recommended JBL and I will thank him profusely. Totally satisfied.
Date published: 2019-12-30
Rated

5

out of

5
by
avanta
from
Unbelievable Value on Sale
I bought these on sale for $240 and I honestly don't think there is a better deal in audio at that price. If someone from JBL emailed me tomorrow and said I had to pay them another $200 to keep them I honestly don't think I could part with them. The imaging, detail, and immersion of these speakers is unmatched under $1000 and has me going through all my favorite songs again and again. These are definitely a bit power hungry and I would recommend at least 80W per channel to make these sound their best. The build is solid and while in my opinion, the woofers and their surrounds are ugly as sin, with the mesh cover these speakers really are quite pretty. A definite buy even if you can't get them at the full sale price.
Date published: 2022-03-25
Rated

5

out of

5
by
Builder
from
Very neutral sound
Received the Studio 530's a few weeks ago,and they are not sufficiently burned in yet. That being said I really like what I am hearing so far. The highs are natural not harsh, the mids are smooth, and the bottom is quite good for a 5" cone. Sound stage is getting larger each time I play them.
Date published: 2019-12-14
Rated

5

out of

5
by
Dave P
from
They ended my extensive search for speakers
I am not an audiophile, but I am picky about what my music should sound like. I won't talk about long listening sessions and break in and other non-sense because there is plenty of material on YouTube. I will focus on my particular setup because it is unusual. All decent speakers, including these ones, have requirements in order to sound good: this many inches away from the wall, this far apart, toed in this much ... I did not want to reconfigure my living room space in order to have quality sound and these speakers made that happen. I have them on the TV stand only 55 inches apart on the left and right side of the TV, 6 inches away from the back wall and 9 inches away from other furniture on each side of the TV stand. I plugged the ports with the provided foam, and I have the speakers connected to a Marantz PM5005. I am using 12-gauge cables but nothing fancy, I have cheap interconnects, and I don't even use a DAC to "clean" the sound input. I use the output for headphones from my TV and control the volume from the TV remote, which is a sin in the audiophile world, but I couldn't care less because they sound great. The driver integration is superb, details sublime, soundstage is wide and tall, instrument separation and location are well defined, they have a wide sweet spot and there is no need to use the amplifier's EQ. These are a wonderful product for a great price.
Date published: 2020-01-04
Rated

5

out of

5
by
Tin N
from
Excellent speakers
Just the right blend of low end and clarity without crossing the line into harshness. I think I'm done with my bookshelf speaker search (it's been a long run of MANY sets and an angry wife). I'm running these with a HSU VTF2 MK5 and Denon 4200w AVR crossovered at 80hz.
Date published: 2019-06-19
Rated

5

out of

5
by
03FLTRI
from
Strong Performers
530's at sale price are an absolute steal. These boxes rock. Currently driving them with an early 90's Onkyo 60w... they are clear & spacious all while generating serious bottom-end. Get these while you can!! They are performers well above their price-point.
Date published: 2022-04-19
Rated

4

out of

5
by
Ctiger
from
Punchy bass and airy highs.
I was moved to buy this speaker when they came on deep discount and I had read many outstanding reviews. I currently have a pair of NHT Superone 2.1's and while I think they are outstanding for 90% of the music I listen to, I was looking for a speaker that was a little better with female vocals. The JBL's arrived quickly and in good condition. My initial impression was that they had a very punchy bass, but seemed lean elsewhere. I listened to them interchangeably with the NHT's and decided the JBL's had two deficiencies. First the midrange seemed too lean without body, and second the soundstage did not seem as wide and deep as the NHT's. while the JBL's are a good speaker they did not meet my needs and I decided to return them.
Date published: 2021-07-14
Rated

5

out of

5
by
XPystchrisX
from
Excellent sound
I've had these speakers for approximately two weeks. I'm not at audiophile levels of expectations, but I do appreciate higher quality sound. The only downside of this speaker is that the box is larger than most would probably be comfortable with. My wife wasn't happy to see the physical dimensions and commented on it. However in the larger room that we have these do a much better job of filling in the high to mid level sound. I also understand what a lot of other reviewers are talking about when they say that these speakers produce sound as if you're listening to the performance, not a set of speakers playing the performance. It's a subtle difference but once you've got your system calibrated correctly it's certainly there.
Date published: 2022-04-04
Rated

5

out of

5
by
Bwalt90
from
All around fantastic!!!
Bought these and can't say enough good things. The mid bass from these is amazing. I have had many bookshelf speakers but this is my favorite by far. Absolutely love these speakers!!!
Date published: 2019-12-29
Rated

5

out of

5
by
JackCT
from
A Perfect Balance of Clarity, Dynamics and Staging
I have owned all types of speaker constructions, but this is my first pair of JBLs and my first horn compression driver speaker; I have owned Magneplanars, silk and metal dome tweeter bookshelfs, and different types of concentric driver designs. The JBLs rival all the others in clarity and dyanmics, and most importantly, the JBL do not introduce fatigue or sharpness with their clarity. While some concentric of ribbon designs can create more of a 3d soundstage, the JBLs are always better at reproducing the timing and the dynamic range of the music.
Date published: 2021-02-28
Rated

5

out of

5
by
Wayner
from
AWESOME!
2nd pair of these. IMO, they are one of the best bookshelf speakers Very detailed high end, surprising bass. Perfect for my smaller vinyl room.
Date published: 2019-11-09
Rated

5

out of

5
by
Scottinwa
from
Greatest sound for the least money...ever.
I read reviews from multiple sources over the years. The vast majority said the same thing. Essentially, transparent, articulate and detailed high end sound without fatigue. Most of them said, if they cost a grand a pair, it would still be a sale. I purchased a pair in jan of 2020- 50% off at $299 a pair. A STEAL!!!! Things you might compare between $250 and $3000 a pair. - Elac debut 6, Klipsch RP600M, NHT c3, SVS ultra bookshelf, dynaudio, ATC SCM-12, Buchart Except for the elac, I've owned all the rest. The JBL's equal the best they do, and beat them in many areas. None of them can compare under a grand. The JBL Studio 530 are more detailed, transparent and dynamic. They have non-fatiguing and balanced playback of Burchart, NHT and svs. They have the slam of Klipsch. They have the transparency of more costly Dynaudio and Buchart, along with the articulation and detail. I have top notch uncompressed sources and electronics. These will reveal a bad recording and make a great recording shine. While they are WELL worth more than the standard retail price, the $299 a pair sale is like someone handing you a Porsche 911 for $5,000. These are a triumph of proper audio engineering. And yes, they are superior to older JBL like the L-series. The polyester tweeter is superior to any titanium or aluminum that I've heard to date. Get some.
Date published: 2020-01-09
Rated

5

out of

5
by
cjfontaine
from
Incredible soundstage and clarity
I upgraded to these from a pair of JBL LSR305 powered monitors, and these are the first passive speakers I've ever heard that match the soundstage and imaging on those. On top of that they have superior clarity and, to my ears, slightly better bass. I'm powering them using a SMSL SA-50 and I was surprised by how loud they got, as I understood them to be fairly hard-to-drive speakers.
Date published: 2020-05-09
Rated

5

out of

5
by
Larry Lawrence
from
Great impact and soundstage
Very pleased with my new JBL Studio 530 speakers. Still experimenting with placement and tuning with my subwoofer, but the 530s have what I would call, a nice impact. Nice sparkly highs and tight mid-bass that really gives you that chest hit if you turn up the volume. Not fatiguing at all when listening for long stretches, and they also sound strong at lower volume levels where I mainly listen. Great soundstage too, with sounds seemingly emitting wider and deeper than the speakers are placed. The looks are unique and classic JBL.
Date published: 2022-03-07
Rated

5

out of

5
by
RoyD
from
BIG SPEAKERS BIG SOUND
I got these to upgrade from my micca mb42x and at first I was a little skeptical they would be that much of an upgrade but as soon as I hooked them to my PC and SMSL AD18 amp I realized the difference and clarity right away. Before i would only listen to a few songs at a time likely from fatigue now when i sit down i cant leave because I enjoy hearing album after album. I can hear more details and the music is much more immersive. Never have I been less than impressed with jbl but now I want to buy the towers eventually too.
Date published: 2020-03-15
Rated

5

out of

5
by
JSobel9
from
Excellent sound
Even before being fully broken in, these speakers have absolutely excellent sound that is very accurate with little to no added "branded-style" like other speakers and manufacturers have (i.e. warmer, more bass, higher tones, etc.). I'm looking forward to hearing these open up even more as I continue to break them in.
Date published: 2019-06-19
Rated

5

out of

5
by
GHman1952
from
Excellent Speakers
I caught these on sale for 299.00 a pair and I don't think you would go wrong at 600 a pair. Great sounding and surprising lows with the 5 1/4 inch woofer. I own the studio 580's and they sound amazing also. I have the 580's on channel A and the 530's on channel B. and they sound incredible together.
Date published: 2020-03-30
Rated

5

out of

5
by
Anonymous
from
MY GOODNESS!
Arrived on front porch this morning and am enjoying them 8hrs later! Absolutely AMAZING! They don't play quite as loud as my nhtc3 or polk lsim703, however the sound is just as enthralling. For the price of these refurbished speakers, nothing can touch them. Thank you JBL!
Date published: 2020-04-22
Rated

5

out of

5
by
Big ears
from
Superb sound
Looking for the last speakers I would buy and these are the ticket. I have only one (1) bone to pick: Not available to U.S. buyers in a Cherry veneer. Otherwise, I can say these are, in nearly 50 years of audiophiling, the most well-rounded speakers I've owned.
Date published: 2019-06-19
Rated

5

out of

5
by
Luvnewgear
from
Amazing!
I'm a speaker junkie and have owned dozens. B&W 685 S2, Kef Q100, Polk LSIM703, Def Tech SM55, and many more. These JBL 530's are my favorite out of all of them. Perfectly balanced, huge soundstage, crystal clear, and great bass! I love them!
Date published: 2020-06-12
Rated

5

out of

5
by
Ajkev
from
Phenomenal for the price
We bought the pair when it went on sale...every online reviewers are correct. Sound stage feels like you are there and the sound fills our living room and some to the kitchen without drop off. Very happy with the purchase.
Date published: 2019-12-12
Rated

5

out of

5
by
jandiman14
from
Fantastic sound
Bought these in early March and have been enjoying them daily. The horn loaded compression mid/tweeter provides a presence absent in speakers in this price range. Vocals, strings, brass, cymbals, etc. all feel like they are in the room. I do use, and would recommend, a subwoofer if you like deeper and heavier base but have to compliment the 5.25 speaker for it's powerful mid-bass. Snare drums and similar have a great punch. Overall, an excellent sound in a very attractive cabinet.
Date published: 2020-03-22
Rated

1

out of

5
by
Robert
from
Disappointed
I purchased them a few months ago and returned them the following week afterwards. They were not as I remember how other JBL speakers sounded in the 80's. The horn drivers seemed dull and not as lively as other horns, I have heard. Sorry...
Date published: 2014-04-17
Rated

5

out of

5
by
CDR AdV
from
Very Impressed
For a budget monitor it is very well engineered. Voicing is excellent with good midbass response. These are great monitors, especially for the price. Currently using for stereo listing.
Date published: 2019-12-18
Rated

5

out of

5
by
Floby
from
Surprising!
I've always had speakers with soft dome tweeters, whether I purchased the completed speaker or assembled them myself. I'm not used to a horn tweeter! What I'm trying to say is that I am delighted to have found such a fine sounding loudspeaker for such a low price! I hear things from my cd's now that I have heard before but only through expensive Headphones! So, the JBL Studio 530's are some of the best sounding speakers I have heard , Period! Surprising, and I am lucky to have them!
Date published: 2022-02-22
Rated

4

out of

5
by
Scottie
from
Still burning in- quite nice
I'm about 20 hours of playback on these, and they seem to need less burn in than many others. I'm A/B testing with some likely familiar options- Klipsch, KEF, Wharfedale, and Polk. These 530's are maybe the most neutral/flat of the group. I feel as though they're a bit reduced in the higher end- like ~10khz and above (that's a spitball guess- I haven't actually measured). That's a little surprising given the wave guide, but it's not pronounced enough to be a shortcoming. Fit, finish, and materials are all very good. In my tests so far, the 530's definitely image better than the Wharfdale Diamond 11.2. I've not thrown heaps of wattage at them yet. Presently using an IOTAVX amp that gives 40wpc and the 530's seem happily driven. I'll go to 100wpc with other amps, though I'm not sure that it'll matter much.
Date published: 2021-03-27
Rated

5

out of

5
by
Tim77
from
Great Speakers!!!
Amazing sound!!! JBL among the leaders! Amazing clarity, amazing highs, amazing bass! Best in its class!
Date published: 2019-12-18
Rated

5

out of

5
by
Ro1974
from
Fantastic!!!!
If you like dynamic and detailed sound at an affordable price point these are the speaker's for you!!!
Date published: 2019-12-17
Rated

5

out of

5
by
ctripp2448
from
Great speaker
Great speakers for the price. One of the best sounding bookshelf speaker.
Date published: 2019-06-19
Rated

1

out of

5
by
jpro1
from
Where are they?
52 Days in, no product, no response from 4+ emails and chats
Date published: 2020-06-11
bvseo_sdk, dw_cartridge, 18.2.0, p_sdk_3.2.0
CLOUD, getReviews, 5ms
reviews, product
Product Q&A
I bought 590 and 530 in 2019. I have a strong preference to listen with "treble" at a relatively high setting. Highs from 590 are superb. Why 530 highs are not as nearly bright & crisp as 590 despite same frequency response? I use the same amplifier.
The sizes of the drivers of the JBL Studio 530 and Studio 590 are completely different. This explains the difference between the sound reproduction these units have.
Date published: 2021-06-06
are these speakers new? or are they refurbs of the original run?
Hi there, with regards to the stocks, they're new. You'll notice if the items are refurbished on the description. i.e. "Studio 530 refurbished"
Date published: 2021-06-06
Would the JBL Studio 530's be a step up from the Infinity Reference 152's or are they about equal? 
JBL Studio 530 and Infinity Reference 152 specifications size and recommended amplifier power is alike. Their main difference is their material, and that JBL Studio 530 has a 2-way crossover network. It also has a bigger range of frequency response from 45Hz – 40kHz, than R152 which has 60Hz –22kHz
Date published: 2021-06-06
Will the JBL Studio 530 bookshelf speakers work with a McIntosh 1700 receiver? (Or wao
Our JBL Studio 530 can handle between 25W-125W at 6 ohms which your McIntosh 1700 drives 40W per speaker at 8 ohms.This means that your McIntosh 1700 is compatible with our JBL Studio 530. If you need more help, please contact us here. https://bit.ly/2QPkhul
Date published: 2021-06-06
I just ordered JBL Studio 530 speakers but worry if my McIntosh 1700 (and/or) my Harmon Kardon AVR25 receiver will work with these speakers? (I'm a senior and are currently using JBL Flip speakers I bought in 1968 and they STILL WORK - but I want new JBLs
Our JBL Studio 530 can handle between 25W-125W at 6 ohms which your Harman Kardon AVR25 drives 75W per speaker at 8 ohms.This means that your AVR 25 is compatible with our JBL Studio 530. If you need more help, please contact us here. https://bit.ly/2QPkhul
Date published: 2021-06-06
I just purchased the Studio 530s and plan to power them with my Onkyo A-9110 amp, which can be run in 4-ohm or 8-ohm mode. Please examine the specs of this amp and advise me on: Whether it will safely power the 530s AND which ohm setting I should select.
Our JBL Studio 530 is compatible with an amplifier that is rated at 125 watts AT 6 ohms. If the amplifier supports this rating, then it should work well with this unit. For more information about setting up and other recommendations, please reach out to our Customer Support. https://support.jbl.com/us/en/
Date published: 2022-02-09
Huge JBL fan. I was thinking of hooking these uo to my laptop for lectures/videos. Do I need another power source? Could you recommend an affordable option if needed?
Our Studio 530 is handled by our Professional Division. Please contact them for assistance: email: hprotechsupportusa@harman.com. You may also reach us at our website at https://pro.harman.com/service
Date published: 2021-12-29
Can I reserve a pair at the promo code price for when they come back in stock? Thanks
Well I thought I was asking the question to support - but I guess not. So I am going to answer my own question...... Sure Mike you can just order them on the non refurb section and put in the promo code and we will ship you brand new ones at the promo code price - thanks for being a loyal Harman Audio customer !!!
Date published: 2021-06-06
What height speaker stand is ideal for these for a typical couch listening position?
Thank you for your question. Any stand will work as long as it will hold the weight and dimensions of the speaker. As long as you place the speakers 6 – 10 feet (1.8m – 3m) apart and the speakers will produce the most accurate stereo soundstage when the angle between the listener and the speakers is between 40 and 60 degrees.
Date published: 2022-04-26
Can these be mounted on a wall?
Yes, it can be wall-mounted. But since our JBL Studio 530 doesn't have mounting bracket holes, you'll need to use 3rd party universal wall mounting brackets that use clamps and can support 17lbs and above.
Date published: 2022-01-13
Can the JBL 530 speakers be used in garage in SW Florida?
Placing our JBL Studio 530 in a garage would be fine as long as it is well protected from the elements.
Date published: 2022-08-18
Will this work with a 75 amp Denon receiver. Denon s760h ?  Will it clip at the high end ? 
Our JBL Studio 530 has a recommended amplifier power or 125 Watts. It is not recommended to use an amplifier which is under-powered as it may cause clipping or a damaged amplifier when played in higher volumes.
Date published: 2022-09-28
Can Denon AVR-S540BT Receiver work with 530?
Yes, our JBL Studio 530 can handle up to 125W of power and is rated at 6 ohms. Your Denon AVR-S540BT should be able to work with it.
Date published: 2021-07-26
price per pair?
Thank you for reaching out to Harman. Our Studio 530 retails for $599.95 per pair.
Date published: 2022-06-03
How are these 530 rated over the 230 jbl
Our Studio 5 series are a step better than our Studio 2 series. The JBL Studio 530 is rated at 25W- 125W at 6 ohms while our Studio 230 is rated at 25W-150W. If you have more questions, please contact us here. https://bit.ly/2QPkhul
Date published: 2021-06-06
I read the recommended power to drive these Studio 530's is 125W. I have a Yamaha RX-V683 avr. Will it be enough?
I have a Denon AVR-X2600H receiver. Are these compatible to use as left/right front channels?
bvseo_sdk, dw_cartridge, 18.2.0, p_sdk_3.2.0
CLOUD, getContent, 5ms
questions, product
Support
Register your JBL product
Do you own this product? Register it here in case you need to claim warranty
Register Now
Can't find what you're looking for?
Are you looking for product support, documentation, how-tos or older products?
JBL Support