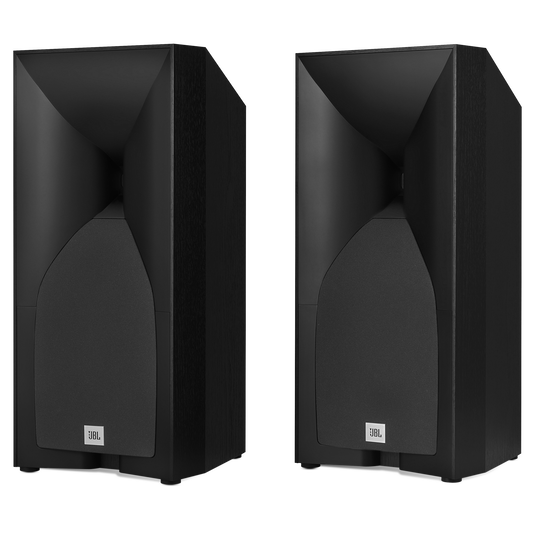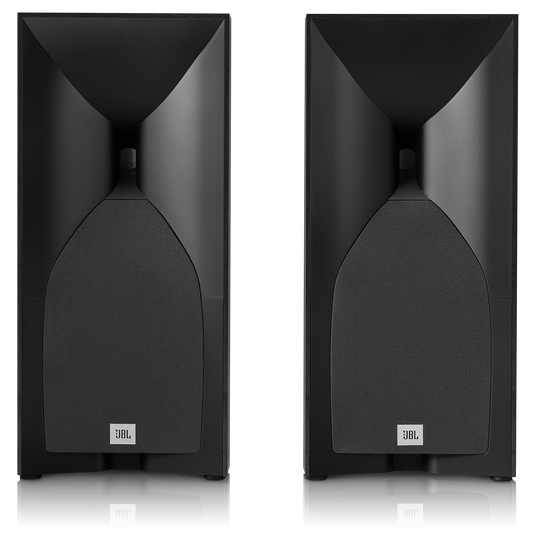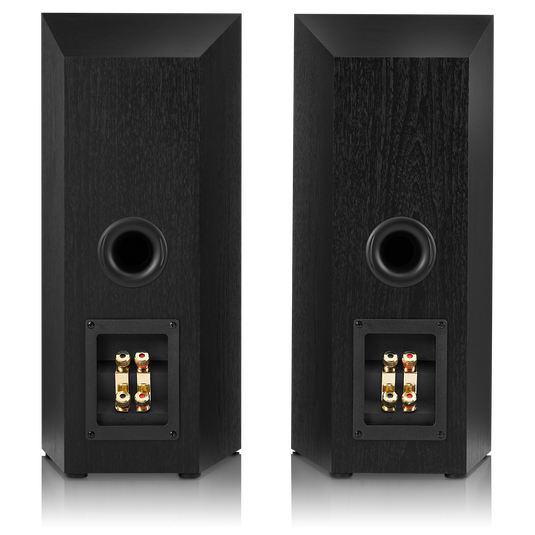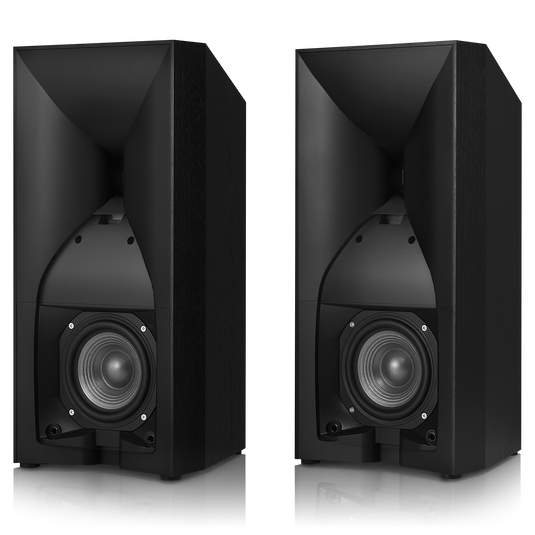 Features
25 – 125 watts suggested amplifier power range
JBL engineers have designed the Studio 530 bookshelf loudspeaker to deliver robust sound from a compatible AVR (audio/video receiver) or 25- to 125-watt power amplifier, whether you are using it as a stand-alone unit or as part of a surround-sound system.
5-1/4" (130mm) ribbed PolyPlas woofer cone
Powerful bass affects more than just your ears. It resonates through your entire body, creating a soundscape that you can feel as well as hear. The JBL Studio 530 bookshelf loudspeaker delivers accurate low-frequency sounds from a 4-inch (100-millimeter) ribbed PolyPlas woofer. The ribs improve strength, while reducing distortion. The result is rich, articulate bass.
Symmetrical Field Geometry (SFG) magnet assembly
Thanks to a heavy-duty Symmetrical Field Geometry (SFG) magnet assembly, the Studio 530 bookshelf loudspeaker's low-frequency woofer delivers highly focused bass. The result is pristine, articulate sound.
1" (25mm) high-frequency compression driver
The JBL Studio 530 bookshelf loudspeaker's high-frequency compression driver lowers distortion and provides a wider dynamic range than is possible from conventional high-frequency and midrange drivers. The tweeter comprises a one-piece Teonex® diaphragm/surround assembly fitted with a 1-inch (25-millimeter) voice coil that can deliver enhanced vocal articulation.
Glass-filled ABS Bi-Radial high-frequency horn
Horn-shaped loudspeaker designs optimize high-frequency output by directing the sound to the listener with pinpoint accuracy, thereby eliminating reverberations, sound reflections off walls, and other artifacts. The Studio 530 bookshelf loudspeaker features a glass-filled ABS Bi-Radial high-frequency horn that delivers professional-level sound to your home.
Low-loss, two-way crossover network
The Studio 530 bookshelf loudspeaker's low-loss, two-way crossover network ensures a clean transition for sound coming from individual low- and high-frequency drivers, thereby reducing distortion while improving clarity.
Bi-wire capability
The Studio 530 bookshelf loudspeaker will work with multiple power amplifiers or connection setups – or both – for single-wire or bi-wire operation. The result is enhanced versatility in the way you can use the Studio 530 speaker.
Sturdy 3/4" (19mm) MDF enclosure
The Studio 530 bookshelf loudspeaker's cabinet is built with the same attention-to-sound-perfection as every other component. Rigid, heavily braced materials prevent unwanted resonance, while non-parallel surfaces eliminate sound interference.
Exclusive design
The same attention to detail that went into the Studio 530 bookshelf loudspeaker's technical design was paid to creating a powerful, sophisticated look that will fit within even the most discerning householder's décor. The Studio 530 is available in a black or cherry finish.
Frequently Bought Together
Specs & Downloads
Item# STUDIO 530BK
Description
Professional technology in a bookshelf loudspeaker.

The JBL® Studio 530 bookshelf loudspeaker brings professional-quality sound to the home experience. The Studio 530 takes the technology that JBL engineers developed for pro-audio loudspeakers and uses it to deliver accurate and powerful sound to your living room. And it's versatile: the Studio 530 can replay a left-channel signal, a right-channel signal or surround-sound channels. The Studio 530 features a 1-inch (25-millimeter) tweeter mounted on a glass-filled Bi-Radial® horn – the technology that JBL concert-sound systems use – to deliver concise, sustained high frequencies. A 5-1/4-inch (130-millimeter) PolyPlas™ cone with a Symmetrical Field Geometry™ (SFG) magnet assembly handles low frequencies.
General Specifications
Finish

Black

Type

Two-way bookshelf
Audio Specifications
Nominal Impedance

6 ohms

Frequency Response

(-6dB) 45Hz-40kHz

Sensitivity

(2.83V@1m) 86dB

Crossover Frequencies

1.5kHz
Speaker Specifications
Low-Frequency Transducer

5-1/4" (130mm) PolyPlas cone with Symmetrical Field Geometry magnet structure, cast frame and rubber surround, magnetically shielded

High-Frequncy Transducer

1" (25mm) compression driver with neodyminium magnet and one-piece Teonex diaphragm on a glass-filled ABS Bi-Radial horn, magnetically shielded
Dimensions
Depth (in)

8-3/4

Weight (lb)

17

Width ( in)

8-7/16

Depth (mm)

222

Height (in)

18-3/8

Width (mm)

214

Height (mm)

467

Weight (kg)

7.7
Control and Connection Specifications
Connector Type

Dual gold-plated binding posts (bi-wire capable)
Documents & Downloads
Customer Reviews
Rated

5

out of

5
by
Overdubn
from
First Great Sounding small speakers
These are the best I have heard. Highs are not harsh, with a good amp there is detail, smooth extended highs, even though it is a 5" woofer there is "punch" in the bottom. I have been in pro audio for over 30 years and JBL at one point took a few hits with the reputation of "harsh mid and highs" this is not the case with the 530's as they are great in every respect.
Date published: 2014-10-09
Rated

5

out of

5
by
Jambax
from
Outstanding clarity and dynamics
I bought 4 months ago to replace wharfedales Emeralds 97. These are much more lively and still refined. I have a 14 by 12 room for music only. I run JRiver Media Center, Windows 10 with a Synology DS218 NAS through a Topping D50S DAC to an older Yamaha DSP-A1 receiver. I also have a Dayton Audio DS1000 10" sub.crossed in at 70 Hz. I installed the bass plugs that came with the speakers as I don't need their reinforement and their 1 ft from the wall. This combination is amazing. These speakers work well for all kinds of music. I'm mainly fusion jazz and 70s rock.
Date published: 2020-03-24
Rated

5

out of

5
by
AdamP
from
Amazing speakers....
Replaced my pioneer fs52 Andrew Jones tower speakers with a pair of these and the sound is night and day. These things have full, rich and very detailed sound which was something my pioneers were lacking. They are very suprising despite being only 1 5.25" driver and the bass is very nice, although im using a SVS PB-1000 anyways....highly recommended.
Date published: 2014-02-17
Rated

5

out of

5
by
DJ Cool C
from
So professional speaker system
I got it now for a year,and I am very satisfied period
Date published: 2017-01-22
Rated

5

out of

5
by
Arttemis
from
Amazing clarity, killer looks!
I've had these speakers set up for about a week now, and they're just blowing me away! Coming from a Home Theater in a Box to a pair of 530s and a 520C, plus recycled subwoofer, I am very happy I went with these speakers. Initially, in my search for new home theater audio, I was hoping to buy a set of white loud speakers to match the decor, but the menacing style on display now is just too cool! I abandoned that search altogether after researching these. My wife agrees they look stunning and even commented on how much clearer and higher quality our new speakers sound. I can't wait to hear these speakers with a new receiver that I'm ordering!
Date published: 2022-01-30
Rated

5

out of

5
by
Anonymous
from
Not what you might expect
From the photos I expected low bass output and excessive highs, I was very wrong. These have outstanding bass and very relaxed highs. These are replacing my Klipsch bookshelf speakers which I found to have harsh and fatiguing highs. With the Klipsch I would crank the volume when the music was good and found myself quickly lowering the volume due to harshness. These JBL 530 are smooth all the way up. They are very enjoyable and pleasing. More than enough bass for music without a subwoofer. I only wish they had a bit more output as I am afraid to drive them too hard. I will likely pick up one of the bigger tower models during the next sale.
Date published: 2022-03-16
Rated

5

out of

5
by
Pawel G
from
After a year of KEF q I went back to JBL 530
They are just superior over lower priced KEF, I had JBL 530 few years back and sold them in favor of KEF q150. For music KEF are great particularly for low volume listening, bump up the vol and bass falls apart becoming boomy/hollow and treble becomes a bit too metallic sounding - they are still fantastic. JBL is the winner across the board, best speaker for the money when on sale especially if you will use these as TV speakers. Bass is more defined and tight, it has more sparkle up top and human voices when used as front TV speakers are clear as a whistle, unlike KEF q150. I also picked these over another crowd favorite Klipsch RP-600m which are nice just not a winner for me.
Date published: 2021-12-11
Rated

5

out of

5
by
Lloydy
from
Fantastic sounding bookshelf speaker
As you guessed I am a real JBL fan, and theses speakers after having bing run in are full of surprises. I've got them on wall mounts and the sound is so precise you won't believe. You don't need to drive them to get impeccable sound, and the design can't be copied, even the wife likes it They sound far better than my old XTi's and I never believed that could happen. So if you want to have a smile back on you're face then there's only one thing to do. Buy the Studio 530's
Date published: 2012-09-17
Rated

5

out of

5
by
rexy514
from
Phenominal Life Like Sound !!!!!!!!
I have a pair of JBL lsr-305's which are powered for my bedroom,so familiar with jbl's. Was looking for upgrade for main system heard fabulous reviews and then purchased these studio 530's . These speakers are just better and different possibly than any speaker ! Crystal clear and smooth as silk midrange, wonderful happy highs, and very good bottom end,almost not need a sub woofer! I love mostly jazz and fusion and I am tellin ya,if your looking for a pair of speakers in a small cabinet these will blow you away !!! i got these on sale at jbl.com and are a great bargain! Even at 600 retail i think are worth more ! Thank You JBL!!!
Date published: 2020-06-10
Rated

5

out of

5
by
Steve
from
Best speakers I've ever owned!
I just received these last Wednesday, and they are taking up all of my free time. I simply cannot quit listening to them. I've been interested in the Studio 5 Series since I first saw pictures online, I'm guessing around 2 years ago or so, but never dug deep enough into them to really learn that much about them until recently. JBL didn't seem to have effective marketing for these and it's a shame because they are trule excellent speakers. I've owned close to 20 pairs of speaker, and most have come and gone. I was always searching for that accurate high end sound, but didn't really want to spend several thousands of dollars to get there. At last, I didn't need to...these are it. The midrange clarity is beyond anything I've heard in my own house, and the bi-radial horn and compression driver is spot on. Never shrill, but always extremely detailed, and the imaging is so focused, I'm guessing because of the bi-radial horn, and it's limited side wall reflections that most all convention designs with dome tweeters suffer from. Bass response is respectable especially being just a 5.25". The speakers overall tonal balance is nearly perfect. Although this speaker is larger in person than it seems in pictures, and also even better looking, it's still not a large speaker, but the sense of scale to music is so much larger than their size would suggest, very big and life like. I've found some degree of fault with every speaker I've ever owned, and I have to say, so far, I find none with the Studio 530, and they easily fill my 13x19 foot listening space. I do however also use 3 subwoofers, but I have for years, not for pounding bass, but the reponse in the room is much smoother and the response much more even throughout the room. It's not because the 530's are deficient in the bass. The ONLY downside, is I really wanted a set in the cherry finish, but couldn't find any. These speakers already have a somewhat vintage look to them, but the cherry finish even more so, and would have looked a bit better in my mid-century themed listening area. Oh well, the black still looks quite nice too. I cannot recommend these enough, even if your budget is 3 times the asking price, you owe yourself at least a listen, and who knows, you may even end up saving money, these really are that good. The best consumer priced line JBL has done since at least the later 90's L series, and these may even be better than those. I do know these are quite a bit better than my JBL L80T's. Yes, the JBL name has been watered down over the years with many of their lower cost, big box store type speakers, but these are something entirely different. JBL is BACK!
Date published: 2014-06-09
Rated

5

out of

5
by
Lito
from
Surprisingly good bass for a small speaker!
I love this speaker. You can turn it up loud and your ear doesn't get irritated.
Date published: 2015-12-19
Rated

4

out of

5
by
Zeedad
from
Sound great but maybe shipping issue or referb
I bought these from the general high regard. They perform amazingly well. Don't regret my purchase however, when I received them and handling one I herd something shaking in it. tried grabbing it out with my hand and was nothing I could grab.still works fine with no audio issue. Not sure if this was from shipping or jbl. Asked customer service to swap me out a different one and they just wanted me to open it to find what it was my self.might do this in the future as they said it would not void the warranty but I just want to enjoy the speakers. Thats why no 5 stars. Other then that nab these on a sale and your value for dollar will stretch no further.
Date published: 2020-05-07
Rated

5

out of

5
by
Rhys90
from
Great Sound
I bought these speakers a few months ago and they are fantastic! They are a great place to start building your audio setup and I have been sold on the studio 5 speakers simply because of the quality of sound coming from these speakers.
Date published: 2016-01-28
Rated

5

out of

5
by
stiviri
from
amazing just incredible sound
I got these guys with a harman avr1700 it is incredible how rich and clear these speakers are so many details in songs i haven't played them loud but even at low sound it is amazing the quality from these speakers, bass and treble combination are perfect they never tire you out...if you love an enjoy music get a pair you wont regret it...
Date published: 2014-04-27
Rated

5

out of

5
by
Anonymous
from
Best speakers for my room
My first JBL's in years and my first speakers with a horn loaded tweeter. In the past I have listened to other brands of speakers with horn loaded drivers and to my ears the JBL Studio 530's have none of the issues I hear with other speakers using horns. Just smooth and detailed treble that I enjoy. In my small room which is 12 x 15 with the speakers in front of the 12 foot wall the controlled directivity is a plus. My other speakers have such wide dispersion that early reflections can smear and confuse the soundstage. Playing a recording of violin and piano and that is what the Studio 530's gives you. My other more expensive speakers make the recording sound like there is more going on which I find a distortion. Violins sound sweet and the detail of the hammer hitting the piano string is very lifelike and natural. Vocalists both male and female sound natural. Vocal clarity is always good. My favorite counter tenor, Andreas Scholl, when he sings in his falsetto Is easier to follow with the 530's. Listening to harmonies it is easier to hear the individual voices. The Studio 530's have probably the most texture in the bass range of any speaker I own. The woofer is fast and light and along with good bass the speed of the driver reproduces drums with all the snap and transients you could want. I am not sure if the lack of early reflections or the timing of the speakers are why complicated music is easier to enjoy. Jazz and classical music seem to really benefit from these speakers. Of course Godsmack "Live and Inspired" can fill a room with music. Yes I like the Studio 530's and they are a great fit for my room. I was shopping for speakers in the $1,500 to $2,500 when I learned about the new Studio 5 series. I ordered the 530's out of curiosity and not expecting to keep them. My other two pairs of speakers the Monitor Audio RS6's and Mobile Fidelity OML 1's are in the closet waiting to be sold. There are still great bargains in audio and the Studio 530's is one of them. Great job JBL.
Date published: 2013-01-06
Rated

5

out of

5
by
R2D2
from
Horns give Life to any kind of music
Hi, I just installed a pair of Studio 530 and I am browsing my iTunes library for 7 hours now ! Rock, solo violin, choirs, acoustic guitar, opera singers, everything is a joy to listen to ! Long ago I had a pair oF JBL L15, then modest Mission 731i; but these 530 are amazing. For one year, I have been listening music in my office with a pair of Adam AX7 with a Dynaudio BM14s sub, but the 530 are much faster than the ART ribbon; transients are absolutely amazing and gives a huge sense of realism. In order to extend basses, I added a BM14s sub, and then I get a huge and wide scene. I played "das Lied von der Erde" of Malher and I was surprised, when the singer raises his voice at the end of his breath, to litteraly hear the tension of his neck´s muscles. Rite of spring oF Stravinsky becomes organic with the 530. For jazz, you are sitting in the Club. Bob Florence' serendipity results in a huge stage, horns are blowing. The piano of Nathalie Loriers is authoritative as it must be. In classic, Vengerov's violin is very realistic, Harpsichord (Leonhardt) is outstanding. And all voices are so detailed, the specificities of each are respected (Bobby Mc Ferrin, Franck Zappa, Joni Mitchell, Marisa Monte). Dynaudio BM14s is sufficiently fast and tight to smoothly blend with the 530. The 3 double-bass tune "Splanky" of Christian Mc Bride is a delight and each of the 3 bassists is clearly located and fully heard during his solo. These 530 are a bargain, and their horns are unbelievably giving life to digital music. To find these horns on such relatively cheap speakers is a Luck of one's life. Compare with similar price Klipsch and you will admit that JBLs are infinitely superior.
Date published: 2013-09-10
Rated

5

out of

5
by
Mr President
from
Amazing!
Purchased these as surrounds to a Studio 5 series 5.1 set up paired with a L8400P sub. These actually hade a noticeable difference compared to the Studio 220s they replaced. Amazing crystal clear sound that matches perfectly with the 590s and a 520C center channel. Crisp natural highs, and amazing deep bass for a smaller speaker. Once in place the surround experience is completely open, and sounds flows so smoothly between channels! These are hands down the best bookshelf speakers for the price point (even out perform MUCH more expensive speakers) and I will not hesitate to recommend these to anyone looking for these for surrounds or for any other application. Buy these while they are available, because you will regret not buying them if they are taken off the market again. I waited 2 years for these to be made again and it was worth the wait!
Date published: 2019-12-14
Rated

4

out of

5
by
Vinman
from
Nice Speakers
I have had a chance to listen and enjoy the Studio 530's for a couple of weeks now. Over all I like the speakers. Good bass and great midrange and highs. The speakers take a lot of power to get them to perform, because of a 86dB sensitivity rating. When they take off, they take off. Give them some wattage and they start to put out some major sound. I have them in a 12' x 16' room and they fill the quite well. The 530's need room to breath so keep them off the wall at least a foot or more, due to rear porting. If you can get them on the JBL 50% off sale go for it. At full price I would have to do more speaker comparisons.
Date published: 2021-03-05
Rated

5

out of

5
by
hhhh
from
Some of the greatest sounding audio I have ever heard.
Date published: 2016-07-28
Rated

5

out of

5
by
Bontz
from
Surprised
I happened to have Chartwell LS3/5A 15 Ohm and ESS Amt1a at the same time to perform a comparison of masterpieces. And I decided to keep STUDIO 530. LS3/5A kept me from getting another pair of speakers to replace them. Amt1a just happened to enter my place at the same time when I got STUDIO 530. The legendary LS3/5A still has a bit sweeter sound and I considered that an overkill, beautifully inaccurate. Amt1a sounds very much like LS3/5A with stronger bass. But when it comes STUDIO 530, the clearer and more accurate sound outperforms both ancient masterpieces. Amt1a still have more filled field. Sorry for my poor English. I hope you understand. But they cannot locate instruments like 530. 530's bass is as good as Amt1a. All my friends who are in this field did not believe JBL can do this good job. Iam very happy with them. I hope they last as long as my other two pairs.
Date published: 2016-05-05
Rated

5

out of

5
by
Big Foot 123456
from
JBL Studio 530
Thought they quit making this model. Glad they didn't. Great dynamic speaker, but too powerful for near field, like on a computer desk. Sounds best 5 to 6 feet apart, on stands, in small to moderate sized room.
Date published: 2019-06-20
Rated

4

out of

5
by
TheRonbo
from
Great bookshelf speakers.
I received these a few weeks ago. I've been able to listen to them in some different configurations. I use them for music & home theatre. They are lacking in base. I have them in parallel with old JBL tower G500, which have nice bass but muddled mid & upper. $100 on letgo. The 530's provide luscious warm precise sound. The sound simply fills the room & doesn't appear to come from the speakers. I have them connected to Marrantz NR1403 50W channel. AvR. I've increased my listening time & added playlists since acquiring these speakers.
Date published: 2020-02-11
Rated

5

out of

5
by
Xuli1
from
Amazing speakers!
I had purchased these about 8 months ago and thought they were great. However, I felt I could do better by spending more on speakers that had great professional reviews. I did spend 3X more for well reviewed speakers. They did not come close, IMHO, so here I am again with my 2nd purchase of these speakers. These are not going anywhere. They just do everything right. I like all genres of music, from Rock, Jazz, Zydeco to the Classics. The 530's work their magic will all of them. I was a bit skeptical because of the size of the woofer, but the designers made it work. I have the treble with no brightness or harshness, the bass that can stand alone, and all of it together works for me. My system consists of Marantz 6013, Crown XLS1502 Amp. They work perfect for me. These speakers are very efficient, but sound really good and natural with the Crown amp. In closing, I will just say, "I LOVE THESE SPEAKERS!"
Date published: 2020-05-10
Rated

5

out of

5
by
Anonymous
from
Surrounded by music!
Took a while to break in, but wow! Listening To Queen in stereo and music is everywhere it's almost like wearing headphones. The sound stage is stupid wide. Sounds are coming from 4ft to the left and right of the speakers And everywhere in between. The only downside is they make my cheap subwoofer sound bad. I'm sure I'm not missing any details.
Date published: 2019-12-12
Rated

5

out of

5
by
Wally Guy
from
OH...MY...GOODNESS!
I was unhappy with my Elac B6's and ordered these on sale in January for $299 based upon reviews and research. I also ordered a pair of KEF LS50's also on sale but fully 4 times the price of the JBL's. To my absolute surprise I LOVE the JBL's and could listen for hours while the KEF's caused fatigue after a really short time. While testing both (with and without a sub) I was always relaxed but involved with the JBL's and the KEF's felt too bright for me and were hard to listen to. I found that after testing that I would put the JBL's on and listen for hours. The LS150's are packed back into their box and are being returned. I paired these speakers with my brand new Denon integrated amp PMA-600NE and Denon Cd player DCD-600NE. The amp and LS150 combo was recently praised by a well known audiophile so I had really high hopes. In my opinion, for my room and for my listening style, the JBL's didn't only beat the KEF's, they trounced them and for $299 bucks no less! Rich, full, enveloping and they get loud. Your mileage, room and listing style will vary. For me, I simply love these and will stop looking further. I rarely write reviews, least of all long ones and I could still go on about these speakers. Bravo JBL!
Date published: 2020-01-13
Rated

5

out of

5
by
Templetom
from
Great pair of speakers
Bought these babies a month back, currently using them as front speakers for my 7.2 homethaetre set up. The speakers are out of the world, they are solidly made and the set up was a breeze. They are really big and strong for a bookshelves but that's the reason why they are that good. You will not be able to mount them they are super heavy. You could place them on a speaker stand or any furniture. I am a big fan of JBL and would buy these on a heartbeat again. Super buy at 239 a pair. Just get them without thinking.
Date published: 2021-12-26
Rated

5

out of

5
by
KB73
from
Thank you JBL!
I've been trying several brands of bookshelf speakers lately to settle in my new setup. To be honest, I haven't been a fan of the older versions (L100, L112 and 4312). I went out on whim based on all the rave reviews and was shocked how great they sounded! The horns/waveguide worried me since the competition has a harsh horn but these are just right! Great engineering! My ears thank you!
Date published: 2021-08-10
Rated

5

out of

5
by
ssdude
from
Superb Rear Speakers
Exceptional performance and build quality.Bought these along with the great Studio 580,Studio Sub, and Center to complete a 5.1 setup.
Date published: 2014-02-17
Rated

5

out of

5
by
Smk86
from
Amazing speakers, love the jbl 5 series speakers! Thesee speakers can play loud without distortion great for home theater use!
Date published: 2019-06-20
Rated

5

out of

5
by
Kipdrordy
from
Excellent speakers
Just check out the reviews online. These speakers didn't disappoint. Incredible highs and just enough on the low end.
Date published: 2019-06-20
bvseo_sdk, dw_cartridge, 18.2.0, p_sdk_3.2.0
CLOUD, getReviews, 9ms
reviews, product
Product Q&A
I have a Sony STR-DG710 Receiver that is pretty old at this point. Is there anything I should be concerned about running the 530's and a 520c as a center for a 3 speaker set up and a SVS PB12-NSD sub?
Our JBL Studio 530 is compatible with your Sony receiver so there aren't any concerns aside from making sure it's connected properly. If you need more help, please contact us here. https://bit.ly/2zwFkYM
Date published: 2021-06-06
Hi I was thinking about buying these speakers but I wanted to make sure they work with my receiver. My receiver is a Pioneer Elite VSX-92THX. 
The STUDIO 530 speakers can handle up to 125 watts of RMS power. Your receiver can put out up to 130 watts of RMS power. The difference of 5 watts will not be enough to make a difference. As long as you don't crank you receiver to the max, causing it to send distortion to the speakers, you will not have any problem.
Date published: 2021-06-06
Howdy,  Would there be any negatives in in installing these horizontally?  (such as goofy dispersion patterns?) 
While it is true that a horn can and will drastically effect the dispersion of the sound, these horns are designed to give even dispersion all the way around. So there will be no harm in doing a horizontal install. They will sound great.
Date published: 2021-06-06
The Studio 530 is backordered until April 2016...will I be charged now or when the speakers ship?
Hello, Thank you for your inquiry. When the order ships. Best Regards.
Date published: 2021-06-06
I'm thinking about purchasing these. I was curious if my Denon DRA-635R would power these properly?
Hi, the old Denon has 80watts/channel according to a quick google. Will they work? Sure. But.....that these speaker are very inefficient. This is helped by a slightly lower impendance of 6 Ohm which is a tad friendlier for your amp. For background listening it is fine, but when hosting a party beware - you will want to crank up the volume more than the receiver can handle. That means the amplifier will go 'clipping' and these will generally fry your tweeters. Also for the other amp related questions: In contrary to the JBL advice, I suggest you will use a heavier amplifier than the speaker rating. Why? A couple of reasons. 1. Clipping caused by a too weak amp will damage your speakers more than overpowering your speakers from an amp delivering too much power (shortly that is). You cannot hear clipping until it is too late, but you can hear the distortion when you crank up your speakers too far and you'll be rushing to the volume knob to lower the volume before much harm is done. 2. Depending on the construction of your amplifier, most of them will have lower distortion when they're not being pushed to the max. I recommend twice the amount of power (in this case a 250w/ch amp would be fine. 3. Some speakers are hard to drive. These speakers benefit from a good solid amp. In short, these are amazing speakers for the price, but given the low sensitivity, do not use them on weak amps. If you listen at reasonable levels (also mind the neighbors) a bigger amp is no issue. It is not a party speaker, it is hifi - and hold it's ground through a lot of seriously priced high-end speakers. A bargain if you can find them.
Date published: 2021-06-06
Hey guys, are these good for nearfield listening? I need something that will still image well, and produce it's intended frequency range within the confines of a small studio setting (desktop). I will only be about 3 ft from them. Please advise, thanks!
Yes, the STUDIO 530 speakers are perfect for a near field situation. Being that you will be 3 feet from them, the speakers should be 3 feet apart for proper stereo imaging.
Date published: 2021-06-06
Hi, it's possible make it work the Studio 530 like stereo set with a yamaha receiver RX-v373 5.1? Thanks.
If you are looking to set-up a 5.1 system, you can use the STUDIO 530 as part of that 5.1 system but if you are only looking to set-up a stereo system, then you can use just a pair of STUDIO 530's as your stereo speakers.
Date published: 2021-06-06
I have a vintage H/K 330C rated at 8 ohms and 25 watts. I would love to pair them with these speakers in a near field configuration. Volume would never really be cranked bc of the location to me. Once connected, will they be ok and not damage each other? 
Absolutely!! The STUDIO 530 speakers will sound great with the HK330C. This is a great match.
Date published: 2021-06-06
I use a Sony str dn 1080 receiver which delivers 100w max into a 6 ohm load. I have an Atmos setup with two subs. Could my amp power the 530's properly? I want them as my new front speakers.
Hi there, thanks for your interest in our product. Our Studio 530 will work as it should along with your Sony receiver since both units are loaded 6 ohms.
Date published: 2021-06-06
It appears as though an 8ohm rated receiver will power these efficiently Am I right? I see they are 6ohm rated and I dont want to have any power issues. I am using Denon AVR X2200. Want them for L/R front speakers for movies.
Yes, the STUDIO 530 speaker would work perfectly fine with your DENON AVR X2200. The STUDIO 530 can handle 125W at 6 Ohms. While your DENON AVR X2200 will provide 125W L/R at 6 or 8 Ohms.
Date published: 2021-06-06
Whats the max watts you can safely put through these speakers is it actually 120watt?
This speaker has a maximum recommended amplifier power rating of 125 watts of RMS power per channel. We cannot recommend that you exceed that rating.
Date published: 2021-06-06
Will these work well as surrounds with a pair of L112's? I recently purchased the Studio 520C and am considering these for the rear. The 520C is a great addition and am loving it. Just need rear speakers to finally have surround sound in my house.
Our JBL Studio 530 would work with your JBL L112's since they sound good with the JBL Studio 520C and they would compliment each other. If you need more help, please contact us. https://bit.ly/2zwFkYM
Date published: 2021-06-06
Are these sold individually or in pairs?
Thank you for your inquiry. Our Studio 530 are sold in pairs.
Date published: 2022-06-04
I have a Marantz PM6005 amplifier and want to get these speakers. Will I have enough power for these speakers?
The speakers can handle up to 125W RMS so if you would like to have loud audio without risking blowing the speakers, i highly suggest that you use an amp which has at least 100-110 W RMS output. The amp that you mentioned has an output of 40W/60W(8ohms/4ohms) so it would be a little under powered for the speakers.
Date published: 2021-06-06
Hello, I just purchased the studio 530...1) what sub woofer do you recommend i pair it with? 2) is the Yamaha AS701 good pair for amplifier? Please let me know!
Your Yamaha receiver can put out up to 100 watts of RMS power per channel while these speakers can handle up to 125 watts. The STUDIO 530 speakers will be able to handle the power of your receiver without any issue.  On the other hand, the general rule when selecting a sub is to make sure it has at least twice the per channel wattage rating of the receiver. The STUDIO SUB 250P which has 200 watts of RMS power handling is a perfect choice. That being said, if you're looking for a home theater system to match your Yamaha receiver, here are the general rules to picking out speakers for your system. 1. Make sure the receiver can handle the impedance/ohms of the speakers. Typical impedance and 8 ohms is almost never a problem. 2. Make sure that the speakers you choose can handle the power rating of your receiver. If you have a 100 watt per channel receiver, be sure the speakers you choose have a wattage rating of 100 watts or higher. 3. Stick with the same series of speaker, so that all of the speakers have the same sonic tonal quality, giving you a seamless transition when sound travels from one speaker to another. For example, if you select the STUDIO 580 floor standing speakers for your front speakers, be sure to select the STUDIO series center and bookshelf speakers for your rears.
Date published: 2021-06-06
Karaoke?
No.
Date published: 2021-06-06
Do I change the impendence to 6 on my receiver and is 90watts an channel enough power 
If your receiver gives you the ability to switch to 6 ohms, you should certainly do it. If it does not have a switch, you should contact your receiver manufacturer to find out if the receiver can handle a pair of 6 ohm speakers. As for wattage, 90 watts is more than enough to drive these speakers. As long as 90 watts is loud enough to accommodate your listening taste, it will definitely be fine with these speakers.
Date published: 2021-06-06
What is the actual length and width of these ? Thanks
Here are the actual dimensions of the speaker: Dimensions (H x W x D): 18-3/8" x 8-7/16" x 8-3/4" (467mm x 214mm x 222mm)
Date published: 2021-06-06
I have a small to medium room. How do the 530's and 520c together preform for home theater?
Our JBL Studio 530 and 520C work best together for a home theater set up since it's designed to have a balanced tone quality. You can get these and test it. If you're not satisfied with it, you can enjoy our 30 day refund period from the date of purchase.
Date published: 2021-06-06
I am way over my head with this purchase. What do I need to connect these to my audio-technical turntable. It only has an analog out port.
Thanks for reaching out. It is possible to connect your audio-technical turntable to the AUX input of the AVR (Audio/Video Receiver) that the JBL Studio 530 is connected to. Depending on the turntables output specifications, a phono-preamplifier will in most cases be necessary to connect in-between. You may reach out to our Customer Service Team If you need further assistance.
Date published: 2022-04-01
What is the dispersion of the horn?
When our JBL Studio 530 is set at 10kHz, the tweeter has a 100-degree dispersion. This narrows as you go higher in frequencies. At 20kHz, it is down to 40 degrees.
Date published: 2021-06-06
I am so impressed listening to my friends pair of JBL 530 speakers. I am wondering if JBL will consider making more of them. I was pleasantly surprised by these and would desperately love to own a pair of them. I have been a fan of JBL for many years.
So far we haven't discussed anything yet about creating these speakers again as we have the Studio 2 series that is our current home audio system and would deliver better high frequency versatility, thanks to the pivoting and level adjusting feature for the tweeter. The pivoting feature allows you to position/direct the tweeter toward the listening area. Definitely providing a good audio quality.
Date published: 2021-06-06
Can you please put these back on sale I would buy them in a heartbeat?
Thanks for your interest. Our JBL Studio 530 currently retails at $599.95. We don't have news to share about when it will be back on sale. However, you could sign up for the JBL Newsletter or continue following us for news and updates. www.jbl.com
Date published: 2022-05-05
Will the JBL Studio 530 bookshelf speakers work with a McIntosh 1700 receiver? (I also have a Harmon Kardon AVR25 receiver - but I don't know which receiver will work with the JBL Studio 530 speakers - THANK YOU FOR YOUR HELP!
Our JBL Studio 530 can handle between 25W-125W at 6 ohms which your Harman Kardon AVR25 drives 75W per speaker at 8 ohms.This means that your AVR 25 is compatible with our JBL Studio 530. If you need more help, please contact us here. https://bit.ly/2QPkhul
Date published: 2021-06-06
I have a Technics SA-500 receiver and was wondering if the JBL Studio 530 is compatible?
Our JBL Studio 530 is powered by an amplifier rated at 6 ohms and capable of handling up to 125W of power. Our speaker should be compatible with your Technics SA-500 receiver.
Date published: 2022-06-12
Where is the cherry finish?
Unfortunately we will not be getting any more of these speakers in, in the cherry finish. They are now only available in Black.
Date published: 2021-06-06
I need good speakers I can mount horizontally from the ceiling for Auro 3D so can someone tell me if they are bottom heavy or top heavy or equal balanced in middle
These speakers are fairly evenly balanced. The woofer side might be a tad heavier, but likely not enough to really matter, if using proper ceiling mounting hardware.
Date published: 2021-06-06
I'd love to buy the studio 530 speakers, but I'm in Ireland. Does jbl Europe sell them?
Please reach out to our Customer Support in Ireland, MultiCare Electronics, for the pricing and availability of JBL Studio 530 speakers. You may call them at +44 113 279 1255 or send an email to info@multicare.org.uk. Monday to Friday from 9 am to 5 pm GMT.
Date published: 2021-06-06
I bought 590 and 530 in 2019. I have a strong preference to listen with "treble" at a relatively high setting. Highs from 590 are superb. Why 530 highs are not as nearly bright & crisp as 590 despite same frequency response? I use the same amplifier.
The sizes of the drivers of the JBL Studio 530 and Studio 590 are completely different. This explains the difference between the sound reproduction these units have.
Date published: 2021-06-06
are these speakers new? or are they refurbs of the original run?
Hi there, with regards to the stocks, they're new. You'll notice if the items are refurbished on the description. i.e. "Studio 530 refurbished"
Date published: 2021-06-06
bvseo_sdk, dw_cartridge, 18.2.0, p_sdk_3.2.0
CLOUD, getContent, 41ms
questions, product
Register your JBL product
Do you own this product? Register it here in case you need to claim warranty
Register Now
Can't find what you're looking for?
Are you looking for product support, documentation, how-tos or older products?
JBL Support