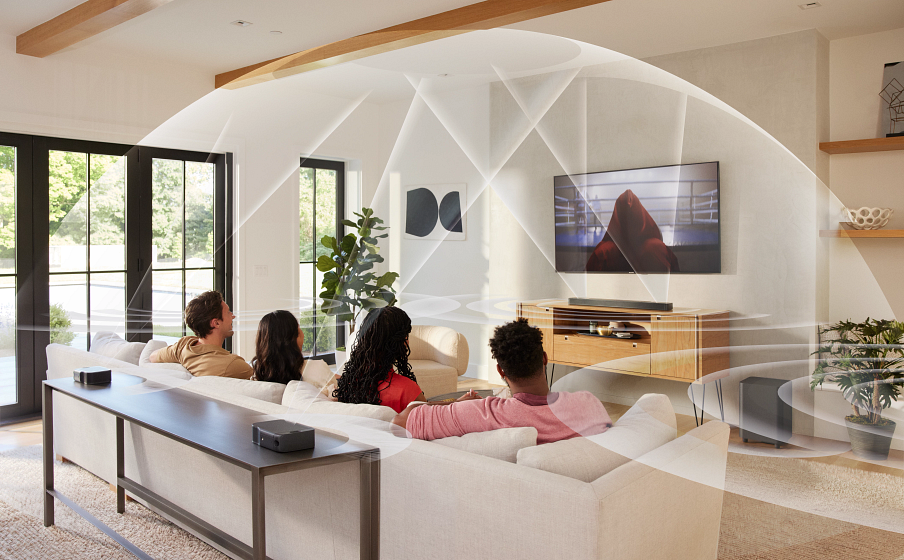 True Dolby Atmos®, DTS:X, and MultiBeam™ Surround Sound
Immerse yourself in theater-quality 3D sound. With two up-firing drivers in the main bar and two more in the detachable speakers, the JBL Bar 1000 delivers true Dolby Atmos® and DTS:X together with MultiBeam™ for an enhanced 3D surround sound experience.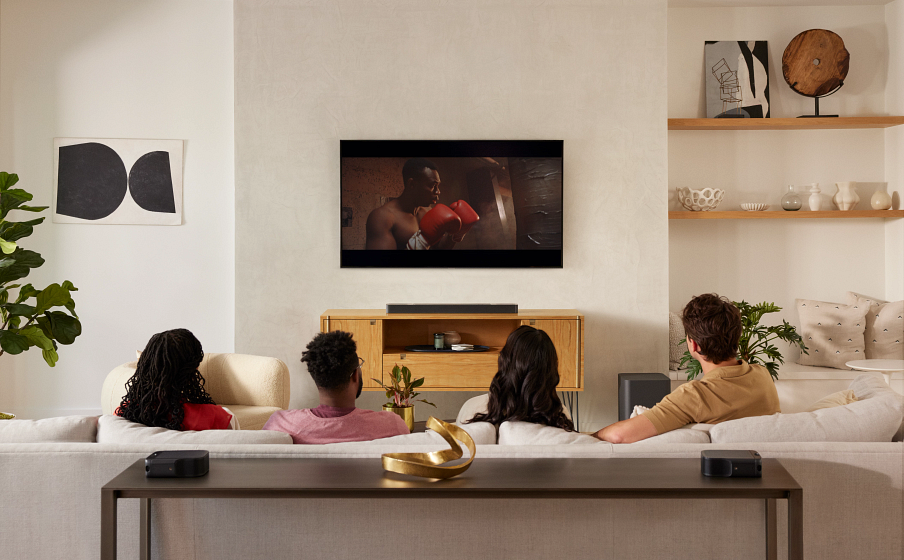 Real surround sound with detachable surround speakers
Enjoy real surround sound without the hassle of extra wires and power connections. Just place the two detachable battery-powered surround speakers behind you and get swept away in amazing audio.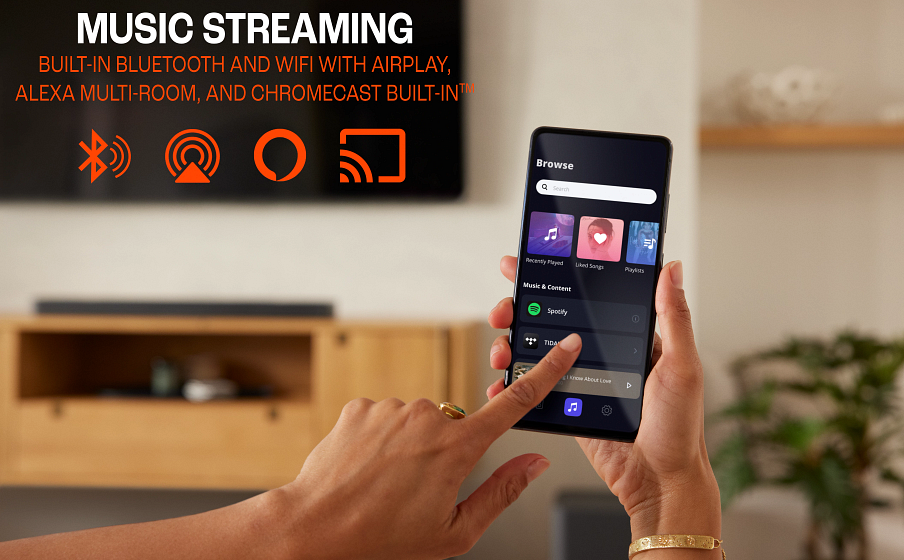 Built-In Wi-Fi with AirPlay, Alexa Multi-Room Music and Chromecast built-in™
Get ready to explore. Access over 300 online music streaming services through AirPlay, Alexa MRM and Chromecast built-in™. Enjoy all of your favorite audio content, Internet radio, and podcasts in high definition. The Wi-Fi connection also allows automatic software updates, so you can always enjoy the latest features.
Features

880W output power
With 880 watts of total system power the JBL Bar 1000 transforms your movies, music and games into immersive sound experiences and pulls you into the middle of the action.

10" Wireless subwoofer
Thrilling, precise bass from a mighty 10" wireless subwoofer brings the excitement to your action movies and the emotion to your music.

PureVoice Dialogue Enhancement Technology
PureVoice technology uses our unique algorithm to optimize voice clarity to ensure you never miss a word of dialogue, even when the surround effects are at their peak.

HDMI eARC with 4K Dolby Vision passthrough
Enjoy uncompressed Dolby Atmos surround sound through a single HDMI cable thanks to the HDMI eARC connection. The three HDMI input connections also offers 4K video quality from a compatible video player or gaming console.

JBL One App
Customize EQ and control all of your compatible speakers with a single convenient app. The JBL One app helps you easily set up the soundbar, personalize settings, and browse the integrated music services to find your new favorite song.

Easy sound calibration
Every room is different. Our calibration feature ensures that the JBL Bar 1000 delivers the best 3D surround effects for any interior and room layout.

Works with voice assistant-enabled speakers
Simply link the JBL Bar 1000 with your voice assistant-enabled device and you can instantly ask Alexa, Google Assistant, or Siri to stream all your favorite music to the soundbar.
Specs & Downloads
Item# JBLBAR1000PROBLKAM
Description
Experience movies, music and games with sound that puts you right in the middle of the action, thanks to 880W of total output power and thunderous bass from the 10" subwoofer. The JBL Bar 1000 has MultiBeam™ and four up-firing drivers—two in the bar and two in the detachable battery-powered surround speakers—to envelop you in a sphere of Dolby Atmos® and DTS:X 3D surround sound with a wide, spacious soundstage with no need to draw extra cables. You'll never miss a word with our PureVoice technology, which makes sure the dialogue is clear even when other sounds are at their loudest. When you're ready for some music, stream your favorite playlist from AirPlay, Alexa MRM, and Chromecast built-in™ and it'll feel like the band is right there. Have a great night out without leaving your living room.
General Specifications
Model

BAR 1000

Sound system

7.1.4 channel

Power supply

100 - 240V AC, ~ 50/60Hz

Networked standby power

< 2.0W

Operating temperature

0°C - 45°C
Audio Specifications
Total speaker power output (Max @THD 1%)

880W

Soundbar output power (Max @THD 1%)

440W

Surround speaker output power (Max @THD 1%)

2x 70W

Subwoofer output power (Max. @THD 1%)

300 W

Soundbar transducer

5x (46x90)mm racetrack drivers, 3x 0.75" (20mm) tweeters, 2x 2.75" (70mm) up-firing full-range drivers

Surround speaker transducer

0.75" (20mm) tweeters, 2.75" (70mm) up-firing full-range drivers

Subwoofer transducer

10" (260mm)

Frequency response

33Hz - 20kHz (-6dB)

Audio inputs

1 Optical, Bluetooth, USB (USB playback is available in US version. For other versions, USB is for Service only.)
Dimensions
Total soundbar dimensions (W x H x D)

1194 x 56 x 125mm / 47" x 2.2" x 4.9"

Main soundbar dimensions (W x H x D)

884 x 56 x 125 mm / 34.8" x 2.2" x 4.9"

Detachable surround speaker dimensions (each) (W x H x D)

155 x 56 x 125 mm / 6.1" x 2.2" x 4.9"

Subwoofer dimensions (W x H x D)

305 x 440.4 x 305 mm / 12" x 17.3" x 12"

Soundbar weight

3.7 kg / 8.2 lbs

Detachable surround speaker weight (each)

1.4kg / 3.1 lbs

Subwoofer weight

10 kg / 22 lbs

Packaging dimensions (W x H x D)

1000 x 375 x 475 mm/ 39.4" x 14.8" x 18.7"

Packaging Weight

19.4 kg / 42.7 lbs
Control and Connection Specifications
USB port

Type A

USB rating

5V DC, 0.5A

Supporting file format

MP3

MP3 codec

MPEG 1 Layer 2/3, MPEG 2 Layer 3, MPEG 2.5 Layer 3

MP3 sampling rate

16 - 48 kHz

MP3 bitrate

80 - 320 kpbs

Bluetooth version

5.0

Bluetooth profile

A2DP 1.2, AVRCP 1.5

Bluetooth transmitter frequency range

2400MHz – 2483.5MHz

Bluetooth transmitter power

<15dBm (EIRP)

Wi-Fi network

IEEE 802.11 a/b/g/n/ac/ax (2.4GHz/5GHz)

2.4G Wi-Fi transmitter frequency range

2412 - 2472MHz (2.4GHz ISM Band, USA 11 Channels, Europe and others 13 channels)

2.4G Wi-Fi transmitter power

< 20dBm (EIRP)

5G Wi-Fi transmitter frequency range

5.15 - 5.35GHz, 5.470-5.725GHz, 5.725 - 5.825GHz

5G Wi-Fi transmitter power

5.15-5.25GHz <23dBm, 5.25-5.35GHz & 5.47-5.725GHz <20dBm, 5.725-5.825GHz <14dBm (EIRP)

2.4G wireless frequency range

2406 - 2474MHz

2.4G wireless power

<10dBm (EIRP)
Battery
Lithium battery

3.635V, 3283mAh
What's in The Box?
1x Main soundbar
2x Detachable wireless surround speakers
1x Wireless subwoofer
Remote control with 2 x batteries
Power cords (up to 8pcs depending on region SKUs)
1 x HDMI cable
2 x L-shape wall-mount bracket (main bar) + 2 x U-shape wall-mount bracket (for surround speakers) kit with screws
4 x Side caps
Quick start guide
Safety instruction and Warranty card
Wall mount template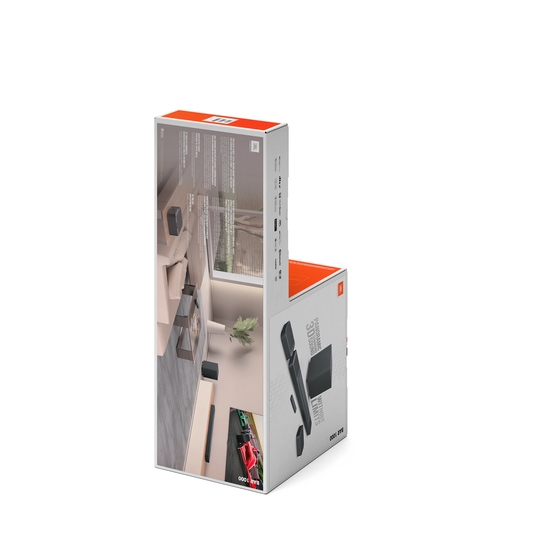 Documents & Downloads
Customer Reviews
Rated

4

out of

5
by
brewwdi
from
Absolutely Stunning!
Ive been using it now for a few weeks but Im absolutely impressed by its audio performance. But first of all Id quickly like to point out the build quality overall of this product - wow! If its regarding the shields to protect the contacts of the soundbar when the rear speaker apart or the buttons on the soundbar or remote. The biggest pro of this product is the detachable soundbar, its such a big win to set your audio system the way and where you want. I like it to have a whole soundbar with best quality and also to expand it with the rear speakers. When it comes to the audio part Im not really sure where I could really begin... Dolby Atmos - absolutely amazing, never had heard such an amazing sound feeling, when a leaf begans to fall it appears in the front, in the left, in the right and boom the windy sounds, the crackling - dont know where to stop here. Its absolutely curious how this is possible. Stereo itself is not a big deal, but dolby surround 5.1 is also amazing. What I dont like about the soundbar is the JBL own Smart Mode, it will upmix the front sounds and the quality is not exactly how I understand of a good mixing. It should be also possible to permanently turn it off. The App is ok, it has a very good interface but I would love to see a lot more, like the feature of the Smart Mode or Pro Voice to deactivate or activate. Also in my opinion the solution of the Alexa MRM is not the greatest thing, Id love to see the whole Alexa functionality on this bar with a microphone (because it has one). Overall a very good Soundbar with a few weaks of the functionalities which I can recommend to everyone who is searching for the nicest sound that it possible. Pros: Sound Quality Build Quality Negatives: more an Alexa compromise app could get a bit more functionality
Date published: 2022-12-12
Rated

5

out of

5
by
wHiTeCaP
from
sophisticated sound bar
Delivery was funny. My wife asked if we get new chairs. All parts are well packed so there were no scratches on the parts. All necessary power cables and an HDMI cable are included. The quality of the cables is sufficient for the purpose. Wall brackets for the soundbar and the satellites are of good quality. In addition, there are covers for the soundbar and satellites, so that the setup is also visually attractive in the surround setup. The soundbar itself is not too large. But with the satellites attached it looks very bulky compared to the 55" OLED. The subwoofer is huge but because it is wireless you can place it where you want - and where the WAF works well ;) After unpacking and installing all the parts I downloaded my third(!) JBL app. I already own a few JBL Flip and two JBL headphones. The Flip has its own app. The headphones need their own app. And the soundbar has its own app - JBL One. The app itself looks good and doesn't need any help on usage. I started calibration of the soundsystem through the JBL One app. The sounds were beeping through the whole room and the necessary steps where shown in the app. After the whole calibration was done we started watching some sample movies. You can setup BASS, SURROUND and AMBIANCE/EFFECT. BASS is especially the subwoofer. SURROUND is for the rear satellites. And AMBIANCE/EFFECT is for the Atmos effect - the sound being reflected by the ceiling. The calibration did a perfect job. After some testing with different movies all of us were very excited. The sound was good. Not too much surround, too much ambiance, too much bass. Well balanced for a quick setup. We have a classic 5.1 setup in our basement "cinema". It is much more powerful, yes. But it is hard to setup, doesn't look well in a small living room and is at least a lot more expensive. For us the JBL Bar 1000 is the perfect soundbar for our living room. After a few more days with testing movies and music I am very happy to own this system. It fits well for the TV size of 55". It works well in a room with nearly 40sqm. The satellites are handy and have their own USB-C charging port (not recommended to stay connected to USB-C while watching movies!). Its a little creepy when I need another app for another JBL product. This should be improved. And at least the app should contain some extra features like shortcuts to some "hidden" functions. The app itself can be more than just a copy of the remote control.
Date published: 2022-12-27
Rated

5

out of

5
by
GoodPizzaPie
from
Has You Floating In The Sound - AMAZING!!!
I installed the sound bar system in the family room. SUPER EASY setup. The instructions are crystal clear, but almost unnecessary. This product is plug and play. I connected the television via HDMI and iPhone via Bluetooth, and also installed the JBL app and connected the unit to our Wifi. All of this took less than 15 minutes to complete. We have high-end audio throughout the house, so I did not have high expectations of being hugely impressed by the sound quality of this system. I WAS WRONG! Upon turning on the television and Top Gun Maverick as a test, it was as if I was physically IN THE SOUND. Crisp and impressively immersive. I walked in and out of the room a few times just to enjoy the experience. The bar itself operates as a single unit, or you can click off the left and right end speakers and place them behind you for a full surround sound experience. When detached, each speaker had a little cap that keeps the unit looking premium and neat. Complementing and completing the forward and up-firing bar speakers is the separate woofer unit - and it is pure magic!! The bass is subtle and nonintrusive, yet deep and immersive. The woofer connects wirelessly and can be placed anywhere in the room. To ensure the best audio experience, the remote control offers all necessary adjustments to accommodate preferences (e.g. bass, Dolby level, rear speaker output, and complete audio calibration between speakers). Entirely unexpected, but the Bar 1000 really makes viewing and listening experiences more fun!!!
Date published: 2023-02-05
Rated

5

out of

5
by
Tedschaumburg
from
High End Sound and Features
The setup is so easy, no need to worry about pairing rear speakers or subwoofer and there are no wires. Just connect to your TV's ARC out using the included HDMI cable, and everything syncs all by itself. The directions are very clear and simple. There are covers for the sound bar and satellites to hide where they connect to charge, so that the setup is visually appealing. The sound bar automatically sets the best surround mode based on the input signal it receives from your movie, show or music and displays for example Dolby Atmos on the screen when the movie starts. There is a remote and a phone app to download that allows you to set the 3 band graphic equalizer, and calibrate the speakers based on your room's acoustic attributes and speaker location that will maximize the sound quality and surround effect. It has built in Amazon music and I heart radio, and you can add other services that it access directly from your home internet, so there is no need to tie up your phone or turn on the TV to stream music. The sound rivals a high end stereo setup, with high definition and it lets you set a favorite station through the phone app, assign an amount of time for auto shutoff and you can hit the heart button on your remote anytime to start the music stream that shuts off automatically. I love feature, use it when I am getting ready for work, just so convenient and did I mention it sounds amazing! The highs are crisp and clear while the bass strong and penetrating and voice dialog is easy to understand even at low volumes. I replaced another sound bar with the JBL and really didn't realize how bad my old sound bar was until I heard this one. I am very happy to have this product in my home!
Date published: 2023-02-07
Rated

5

out of

5
by
Krogg1804
from
Love it!!
Just got the Bar 1000 yesterday and love it. Compared to the 9.1 it has much better clarity, pure voice greatly enhances the voices and is awesome. Music sounds amazing, can hear every instrument all around you. Action movies are great, you feel totally emerged. 100% recommend.
Date published: 2023-02-25
Rated

5

out of

5
by
Bill B
from
Stunned
I am very impressed with the Bar 1000. I installed home theater systems for many years and this has amazing sound. It worked right out of the box using ARC. Tried it without calibration and thought it was good, then I calibrated and was stunned. This system fills up the room with different levels of tight, thick sound. I was able to turn down the sub, it was a little too much for my room. With the rears docked you still get a great tv watching experience, then detach for movie time. I highly recommend.
Date published: 2023-01-27
Rated

5

out of

5
by
Jcuevas
from
A truly immersive sound experience from the Jbl!
So I am a true audio buff. I have multiple rooms in my home with home theater style setups. I am a person who enjoys a good clean powerful sounding setup with truly immersive effects. I have a professional 5.1.2 setup in my living room which includes bi-amped tower speakers, powerful subwoofer, and overhead speakers in which I flush mounted into my ceiling. This type of setup took about half a day to run wires into walls, under floors and through my basement and up into my attic to run the ceiling speakers. Not an easy task for the average person. From there is the tuning and fine adjustments of each and every speaker. In the end this is an amazing setup. When I was given the opportunity to try the Jbl Bar 1000 which is a 7.1.4 setup, I was very curious. How can a sound bar and subwoofer package emulate a true home theater setup similar to my current setup? The Bar 1000 has a claim max output of 880 watts. 440 is from the sound bar itself. 70 watts for each detachable surround speaker and 300 for the 10" subwoofer. All very respectable numbers. The Jbl Bar 1000 came nicely packaged with hardware to mount the sound bar and the surround speakers. Hdmi cable and remote are also included along side some documentation. Let me just say, after unboxing everything i again wondered how such a simple concept would compare to my current more sophisticated setup. Installation of the Jbl Bar 1000 was a breeze. I simply plugged the included hdmi cable from my EARC port of my television to the same of the sound bar. I plugged in the power cord to the sound bar and also one for the subwoofer. At this point I realized, this subwoofer doesn't require any patch cables. No rca wires! It gets its signal via a wireless signal from the main bar. No wires to run! I can put this subwoofer any where. Same for the detachable surround speakers. This was a 3 minute install since I wasn't mounting any speakers. It was an effortless and painless install. Once I connected the device to power I downloaded the app for the unit. Further setup was done here such as calibration. Calibration is usually very tricky and time consuming with traditional home theater setups. My home theater receivers have software to auto tune the speakers for a flat sound curve and adjust time alignment so sound reaches the listener at the opportune times. The calibration setup for the Bar 1000 was a million times easier than what I'm use to and does the same setup as my current home theater receiver. The Jbl Bar 1000 sends audible tones from the speakers to test their distance and room acoustics. This process took roughly a few seconds. This was again much quicker than what I'm use to. I figured I'd have to do some fine adjustments later on. After calibration, the unit did a software update which did take some time. Once the update was completed the unit played a pre programmed sound showing how good the setup is. I have to say, I was truly amazed at this setup and sound. The sound was rich and full. It came from all directions. The overhead sound was present and the rear fill was on point. The auto calibration did a perfect job of balancing the sound and adjusting the sound delay of all of the speakers. The technology involved in this small setup to put out such an immersive and breathtaking sound was amazing to me. Never in my life did I think I could get results like this from a sound bar style setup. If I knew what I know now I would not have gone the route of purchasing separate speakers and a home theater receiver for my home. The Jbl Bar 1000 is the way to go. I did allot of testing over the weekend. I listened to a bunch of atmos enabled movies to see how much of a difference there was between my current setup and the Jbl Bar 1000. Still can't beat the Jbl Bar 1000 for what it is. It really gives you the home theater experience. The subwoofer is very powerful. There are 5 levels of adjustment for the subwoofer directly on the remote which is very convenient. You can also adjust the rear speaker level and the atmos level. Sound moves perfectly overhead and all around you while watching movies. Listening to music is also a pleasurable experience. I feel like there is no need for any further adjustments from the initial calibration. Music is clear and easy to stream from my phone via airplay and Bluetooth. I never thought listening to music on a sound bar would be so enjoyable. The Jbl bar 1000 has a ton of features. It reproduces Dolby atmos and Dts-x sound from movies. It has multiple streaming services that can be utilized for music. It supports Bluetooth version 5.0 and retains a seamless connection when streaming to the sound bar. Has Dolby vision and HDR 10 pass through. A series of HDMI ports for hooking up multiple devices. A usb port for supported music files. It has the option of wifi and cat 5 connections so it can be hardwired or stay wireless to your network. It also has optical cable hookup. Subwoofer and rear surround speakers are completely wireless. The rear surround speakers can be charged via a usb c cable or by attaching them to the sides of the sound bar. I charged them once which was very quick. They have an advertised charge time of 3.5 hours. I haven't had to charge them yet and I have used them well over 10 hours at moderate to high volume. As I mentioned before this setup is very powerful. The 10" subwoofer gives room filling and earth shattering bass from a 300 max watt amplifier. The sound bar itself has 440 watts max output, 5 46x90 racetrack style transducers and 3 .75" tweeters. Two 2.75" drivers are located on top of the bar for replicating the height channels. These are full range drivers. The surround speakers also have the same 2.75" full range up firing drivers. The rear surrounds again output 70 watts max each speaker. To summarize I am in love with this setup. The Jbl Bar 1000 delivers. It has a great amount of power and shakes my entire house. It gets very loud. It is super simple to hookup and calibrate by a touch of one button. The app again offers more setup capabilities such as an equalizer. I think leaving the sound flat as it was calibrated is the best setting. Watching movies and hearing the immersive sound is candy for my ears. Hooking up to it via airplay from my phone to listen to music is another great experience. For the money and the performance you get from this simple setup, it's hard to even think of a typical home theater setup. The Jbl bar 1000 is all that and then some. If what you want is the simplicity and the experience of a home theater setup then I highly recommend the Jbl Bar 1000. Lastly I want to add, this setup is in a 22 foot long by 16 foot wide room with 11' ceiling and it fills the entire room! I find that very impressive!
Date published: 2023-02-02
Rated

5

out of

5
by
Roadie81051
from
Amazing Cinema Surround Sound!
The JBL Bar 1000 Surround 7.1.4 speaker system is nothing short of breathtaking by producing strong cinema like sound from such a compact and efficient package! Packaged in the 42lb odd L shaped box you will find a center channel SLIM speaker, 2 smaller slim satellite WIRELESS (rechargeable) speakers, a 10" powered subwoofer, remote control, various matched endcaps (to use satellite speakers attached or independently of sound bar), as well as cables (2 power, 1 HDMI) and wall mounting hardware for the satellite speakers. Packaging is secure and looks to be able to withstand even the most harsh carrier abuse. Upon removing and setting up the units, the middle sound bar is very slim and fits nicely below controls of most TV's but also has mounting brackets to mount to a wall hung TV or setup. The satellite speakers are compact and can either mount to each end of the middle sound bar to produce an eye popping 880W total in your face sound extravaganza or independently to produce a full room SURROUND effect that is second to none. The full system is controlled via top controls on main sound bar OR through the JBL ONE app which handles further adjustments to sound quality as well as vital software updates and sound equalization. Speaker calibration adjustments are also handled thru the app thru a series of tones and built in microphones to determine the best sound quality in relation to room speaker placement. The satellite speakers are rechargeable and have a running battery time of around 10 hours on a full charge. The satellite speakers do have USB-C type connectors so that they may be charged (3-4 hours to fully charge) or powered independently of the main sound bar. The satellites can also be attached (built in magnetics) to the main sound bar and recharge which is most convenient. I was wondering why a USB-C cable is not included but the attachment to main sound bar made perfect sense. Upon hooking the sound bar to the TV thru the supplied HDMI cable (or Optical Out), the unit will update via the web/app and the 880W sound experience begins! The main sound bar supplies 440W of sound while the satellites produce 70W each and the 10" bass driver supplies 300W. A unique front scrolling LED type display alerts system messages and volume levels, etc. A nice touch! Settings can be adjusted thru the JBL ONE app which acts as a virtual remote (should you not want to use the supplied sleek remote control) and acts to connect services such as Spotify, Chromecast, Apple Music, etc. via Bluetooth. Of course these services can also be run thru apps on your Smart TV which enhances your sound experience! Middle (Main) sound bar contains 3 HDMI 2.1 Ports (4k 120hz passthroughs) as well as an Ethernet port, power port, USB port, HDMI ARC OUT, or Optical OUT to hook to TV or input many different devices. So onto the sound.. AMAZING! The highs and mids are spot on and crisp and while the bass is very strong! The sub unit only drops to around the 33hz range which is enough to rattle door frames etc at the higher volumes but I was looking for a little lower bass response for a unit with this pricetag. The width and depth of the soundstage is top notch. The unit offers full Dolby Atmos, DTS:X, and MultiBeam Surround Sound. The PureVoice technology is also supported to accentuate spoken dialogue and voices in movies and songs to produce a sound treat to even the most detail oriented listener. The system also supports built-in Wi-Fi with Airplay, Alexa Multi-Room Music, Spotify Connect, and ChromeCast Built-In which all work really well and supply infinite hours of sound entertainment! In closing, I preferred using the satellite speakers as rear satellites rather than having the speakers attached and running from the front sound bar. The sound experience was much cleaner and more refined using them in this capacity. The rear satellites can be wall mounted with supplied hardware or strategically set at various listening angles throughout the room. I was thoroughly impressed with the Bar 1000 setup! There are units that are more expensive and units that are less expensive on the market but in this case you truly get what you pay for. The JBL system with its reputation for quality of workmanship and sound is truly a WIN WIN in so many categories and will provide an amazing sound experience for years to come for me and my family!
Date published: 2023-02-06
Rated

5

out of

5
by
ACJ253
from
Great sound bar upgrade
I swapped out an old sound bar in my living room with this system. I've notice that I'm actually able to control volume with my phone when I'm watching tv, which is nice (a feature I was missing with my other sound bar). It was real easy to setup, as in all I had to do was plug it in. The end caps that come with to use when you separate the small speakers are quite nice. Overall sounds and looks fantastic!
Date published: 2023-02-11
Rated

5

out of

5
by
Bamaboy81
from
Bar 1000
This surround sound has the beat sound of any brand ice used in the past before. Ive used Bose Surround Sound,and even a Sony Surround Souns,among other ones. This is by far the best sounding one. Its teally loud and clear sounding. And the base is also clear sounding. I would recommend this Surround System over any other brands or kinds. Very nice and defiantly worth the price.
Date published: 2023-03-04
Rated

5

out of

5
by
Lacey
from
Got a lot of boom in my bedroom
We love this sound bar. It took a bit to figure out how to set it up as the directions were not super helpful and youtube didn't have too much either but we did end up figuring it out. The sound quality is great and easy to use. The volume can be adjusted with the remote for the sound system, the tv remote, or your phone through the JBL One app. The app is very handy to adjust the equalizer manually it was fun to play around with it while listing to music. You can calibrate it to the room you have it in for best quality which we did and it sounds amazing. It sounds like a theater. The sound bar itself is sleek and the wireless speakers and be plugged into it to charge if need be or place around the room which we prefer. The bass speaker does require to be plugged in but it connects through bluetooth to the sound bar so that is a huge plus compared to our older unit. Would totally recommend this to a friend.
Date published: 2023-01-31
Rated

4

out of

5
by
Daileyfix
from
Dynamic Surround Sound With Punchy Bass
This soundbar far exceeded my expectations. You can leave the rear speakers hooked up to the soundbar, (via magnets, no extra cords needed), to recharge it and for simplicity was such a great idea. The sound is crisp with great treble and punchy bass. The surround sound is immersive. I love it and can't wait to mount the rear speakers when I get a chance.
Date published: 2023-02-07
Rated

5

out of

5
by
Davidb775
from
Overall best soundbar i have owned
This sound bar is truly amazing! From the subwoofer, to the detachable surround sound speakers, it truly feels like you are in a movie theater while sitting on your couch. The setup was extremely easy and simple, and it also comes with some brackets if you want to mount the soundbar and the surround sound speakers on the wall. 100% recommend.
Date published: 2023-01-26
Rated

5

out of

5
by
Robocop
from
Crisp and easy set up
Sound is extremely crisp and it was so easy to set up. I really liked how the surround sound speakers are detachable and can just charge on the main speaker. i have owned a bose sound system in the past and jbl is definitely comparable or even better. Great job on these speakers and would definitely recommend to a friend.
Date published: 2023-02-04
Rated

5

out of

5
by
WorldZacAttack
from
Man Cave Changer!
WOW i am blow away by the qualityof the sounds coming out of this JBL speaker! this is the best i would recommend this to anyone looking to upgrade their man cave! I put this in the basement of my man cave and made all the diffence in my play and sounds on my xbox
Date published: 2023-02-08
Rated

5

out of

5
by
JonB1961
from
Awesome Items Aggressive Toward Future Innovations
I am really pleased with latest innovation . You have went beyond just sound and have also made comfort appear upon this project. I am very surprised with this and back This 1 ..All In!! Thank you JBL
Date published: 2023-01-29
Rated

5

out of

5
by
BlondeAzn
from
AMAZING!!
Wow!!!!! This is my very first surround sound system and I'm beyond satisfied. When I received it, I absolutely couldn't wait to set it up. I was worried that it was going to be complicated to set up but it was the easiest thing ever. I plugged the bar to the tv and it connected to my instantly. The sound of the speakers are so clean and crisp I can hear everything I normally wouldn't hear on the regular tv speakers. The option to adjust the volume of the subwoofer and the rear speakers is a great feature. When watching movies, it will adjust to a "film" setting, another awesome feature. I think the best feature is the detachable rear speakers. I was worried i have to plug them in somewhere to charge but they attach to the bar and charge from there!! How innovative is that? It's boothtooth compatible so I can hook it up to my phone and stream music without having to plug anything in. Another cool feature is, once I turn my tv off, the sound system also turns off so i don't have to worry if i forget to turn it off. Overall this sound system really enhanced my tv experience and I couldn't be happier.
Date published: 2023-01-28
Rated

4

out of

5
by
GmanBam
from
Supreme Surround Sound in A Box-WOW
This system is a supreme surround sound system in a box. Very nice from the moment we opened the box. Very easy set up almost intuitive. Subwoofer has a presence that can be tucked away and hidden because of the system's wireless configuration. Like the way the wireless rear speakers can be charged connect to main sound bar. Calibration was easy one button approach. Very simple to follow instructions included. After set up went through calibration then sound testing. Only limiting factor is the ability manually adjust the surround speakers to fine tune after calibration. Movies known for Dolby Atmos were played to test immersion. It was nice. My room is approximately 16'x20' and it sounded good but maybe a little underpowered for this size room. The surround sound is good and subwoofer adds the necessary depth for movies. Tested my favorite war beach scene and the immersion was great, same with my favorite war jet movie. Regular tv was okay it played amplified sound better than just tv speakers. I believe this system would be great for people with smaller spaces and prefer the convenience of wireless installation. I would recommend this over other boxed systems I have heard.
Date published: 2023-01-24
Rated

5

out of

5
by
Whiskerswoman
from
JBL 1000 Amazing Sound
JBL 1000 Arrived boxed/packaged like a chair !! How clever. Very easy set up. I had to purchase an optical cord, which was very reasonable. If I had a newer version television, I wouldn't have needed the other cord. I hooked up as soon as I returned with optical cable. The JBL 1000 has amazed me, and is so easy to hook up , and the sound is amazing. I have had several friends over, and they all would love to purchase one. Which I showed them how. TV sound will never be the same. So crystal clear. I wouldn't expect anything less from JBL. Truly amazing sound. I recommend to my friends and family. I'm so impressed how easy the 1000 was to hook up. I watched the NFL championship games I was able to hear the crowd chants crystal clear. Watching movies is just like sitting in a theater. Being placed in a fairly large room , JBL 1000 has perfect sound. I would love to purchase another for our second home. JBL you took watching to TV to whole new level. If your looking to purchase a sound bar, check this one first. Good price point for the qualities of this item. Thanks JBL for always impressing me with your awesome items. You take listening to a whole new level. I'm hooked at your products.
Date published: 2023-01-30
Rated

5

out of

5
by
prjio307
from
Wow! An excellent Dolby Surround bar system!
This sound bar really took me by surprise! This sound bar is an excellent choice for someone looking for a flexible system with lots of choice for setup and superb sound quality. Let's hit all of the different categories: Setup: The setup process was extremely straightforward using the included app. It was very intuitive. The sound bar also comes with all of the hardware you need to permanently or temporarily place/mount the rear speakers. Flexibility: Being able to move, remove, or attach the "rear speakers" back into the main sound bar magnetically is pretty incredible. It really lets us decide what kind of experience we need for the content we are watching or playing at home. Sound quality: As usual for JBL, sound quality is top notch. The sound signature is also easily adjustable using the included app's equalizer. Awesome stuff! The 10" subwoofer absolutely KICKS and the bar and rear speakers work together, whether attached or detached, and to create an incredibly immersive sound that is balanced, with voices coming through clear. Dolby content is absolutely incredible. Connectivity: Again, absolutely top notch. The sound bar has plenty of inputs, including several HDMI ports, which makes it really easy to integrate into your setup. I'm ridiculously happy with this sound bar. It's improved my home entertainment setup one hundred-fold.
Date published: 2023-01-27
Rated

5

out of

5
by
TdotCdot
from
Beautiful sound. Sleek design. Ease of install.
To say the listening experience is otherworldly would be one part hyperbole and another part completely factual. After receiving one of the most oddly shaped boxes I've ever gotten, I was excited to see what awaited me inside. A large subwoofer, two speakers, and a sound bar. Hooking it up was very easy. Being familiar with audio/visual products, I looked them over and knew exactly what to do and where I wanted it. I picked a location near my couch for the subwoofer, to maximize the feel when I listen to music or watch a movie. I placed the left and right wireless speaker on either side of the couch and the sound bar went on the tv stand. Now I was ready to experience sound. I immediately turned on some Earth, Wind, and Fire to see how the sound performed with their signature complex instrumentation. WOW! The sound completely blew me away. The clarity of the treble from the sound bar and the wireless speakers blew me away. The deep sound of the bass shook my walls and the discreet yet noticeable sounds from the wireless speakers were a cherry on top. Since installation, my tv, movie, music experience has been elevated. My favorite part of the sound system are the wireless Bluetooth speakers. The ability to charge them on the sound bar is amazing! They pop right in and start charging OR you can plug them in with a charger. Such a nice/convenient touch. The sound bar also lets you know when the battery is low to prompt you to charge. I've had the ability to be entertained by many a sound system over the course of the sound bar era and I say, without a doubt and confidently, that the JBL Sound Bar 1000 is amongst the best on the market.
Date published: 2023-01-31
Rated

5

out of

5
by
Jim C
from
The JBL 1000 bar is incredible!
JBL 1000 bar I just want to say, This sound bar is incredible! I'm not going to bore you with frequencies and ratios this can be seen on the JBL website. Just a personal review of what I, as a consumer will give to let you know you can't go wrong with this theatre sound system. I was looking to upgrade my sound bar system as I owned a nice sound bar but it was lacking the power and clarity that is now available. I checked around quite a bit and I have to say without a doubt the quality of the JBL 1000 bar is by far the best sound I have found for theatre sound. The way the speakers are placed and angled in its design, gives that true theatre sound feeling. With detachable speakers that can be placed any where you want them, makes it easy and convenient to use in any room you choose to have a theatre surround sound at your finger tips. The detachable speakers run on rechargeable batteries that last about 10 1/2 hrs and simply recharge by re- attaching them back to the sound bar, usually taking around 3 1/2 hrs to fully charge once completely drained. The system has a phenomenal 10" subwoofer in an attractive cabinet that delivers a deep thunderous bass for those action movies and music videos that you want to enjoy. I placed my subwoofer back by my couch to get the rumble effect. Since bass is Omni directional it can be heard anywhere in the room. But what a feeling when the bass starts to rumble behind you. I really like how the detachable speakers come together in the sound bar itself. Hold them to the edge of the sound bar, and the magnets ease the speakers into place so simple and yet elegant as the speakers come with covers to place on the speakers when detached and also on the sound bar to give it a finished look when the speakers are in the rear or any where else you use them. No wires to run to the speakers. The sound bar pairs all speakers up. Now that is awesome! Very smart idea by the JBL team. You have the option of HDMI, Optical, or Bluetooth setup. The hook up is so simple with HDMI cables, just connect your Apple TV, Roku box or any other internet receiver you use to the HDMI input, and run a HDMI cable back to your ARC or eARC input of your tv, and your done. Through your streaming service offering Dolby atmos sound, the JBL 1000 bar does the rest. You are getting top notch sound with a click of your remote. Three HDMI inputs on the this attractive looking sound bar, makes it so easy to link up your dvd player for great theatre sound or other devices in a flash with no hassle. Very simple and enjoyable anyone can set this system up. The face of the sound bar has a lighted display to see what the sound bar is doing and a easy to understand remote so you can calibrate your system to your room for optimal sound. You can also download the JBL one app to your device to have even more control of your personal sound preference. JBL has hit a home run with their new line of sound bar systems. Especially the JBL 1000 bar. I was amazed with the 7.1 sound on a movie like Avatar, it was like being in a Dolby sound theatre. You can hear everything so crystal clear you can't believe what you've missed from a plain sound bar system. Even regular TV, is a pleasure watching because you can hear what is being said and still have bottom end to the sound. Unlike TV's now a days where you think you're loosing your hearing because the sound quality is so poor. The system comes with brackets to mount the sound bar and speakers to a wall if you want and the cable you need to hook up to your TV and of course the power cables for the sound bar and subwoofer. All beautifully packaged for easy unpacking and installing. If you want a great sound system for theatre viewing at an affordable price, I highly recommend the JBL 1000 bar. You won't be disappointed!!
Date published: 2023-02-01
Rated

4

out of

5
by
Mr James
from
Almost Perfection
Overall impression is great... almost amazing. The sound is crisp with a lot of bass, some mid sound (not quite enough), and it does have good highs. This sound bar beats any we have owned in the last 15 years. The one thing we have been searching for is satellite surround sound without wires. In fact, having no wires in the surround sound detachable speakers was very high on our list. Now for all the nitty gritty details from unpacking to the sound bar listening experience. Packaging: Outstanding protection, well packed, included every accessory and nothing was missing. All accessories were nicely wrapped in protective foam paper. The one thing I scratched my head over was the lack of a user manual. You will get a quick start up guide and product registration. No specifications sheet. Set up: It was truly very easy and I know why you get a quick reference guide...it is quick to set up. It took me more time to unpack the system than it did to set up. Sound testing was simple as well. Detach the surround sound speakers, press the calibration button and in seconds it's done. Too easy Connections (Inputs/Outputs): The sounds bar is lacking in this department. One HDMI in and one out, with one USB, one ethernet, and one fiber optic in. If I wanted to connect more to the sound bar I can't. LED Read out: I really like how the LED screen is not visible when not casting words since the readout is behind the front bar screen. It is elegant and looks high quality with scrolling letters. Sound Bar Outer Material: I like how the color doesn't reflect light. It is sort of matte finish and very sleek. The sound bar controls (Power Button, volume, and bluetooth) are recessed and can't be seen unless you're right on top of the bar. Sound Bar Size: Perfect! It is not too high blocking any TV remotes from working, the length isn't too long as it compliments the size of our TV (70"), and it's very sturdy with nice rubberized feet to keep it from moving. Sub Woofer Size: Heavy and LARGE! But it sure does pack a punch and it should for it's size. There is no way to discretely place this anywhere in our living room. The good thing is... I am not trying to hide it and I like the way it looks. Detachable Speakers: I LOVE IT!!! We put them about 12 feet from the sound bar itself and the detachable speakers sound decent. At low volumes it's hard to tell they are on. When watching a movie and wanting the theater sound, at a volume around 18, they sound amazing. Exactly what we wanted in surround sound wireless speakers. When reattaching the speakers there is a strong magnet that holds them in place. When detached the covers for the charging end of the speakers also has a strong magnet to hold the covers in place. Excellent little touch having strong magnets. Equalizer: You don't get one per say. You are able to adjust the bass from 1 to 5 and that's it. With the bass at 1 or 2 it lacks that full range of sound. With the bass at 3 or 4, it's perfect. 5 is too much and over powers the rest of the sound. The bass feels awesome. When listening to a movie I love to feel the bass....with this system you will feel it at a volume of 18. No way to adjust mids or highs. Worthy to note: this system still does an EXCELLENT job without an equalizer. The Remote Control: I dislike that it is not backlit. At night all you see is buttons. All the lights have to be turned on to see the symbols on the button. Not sure why such a high quality system wouldn't provide back lighting to the remote. OVERALL IMPRESSION: 4 out of 5 Stars. Having wireless detachable speakers has always been high on our list...these performed and met all our expectations. The sound quality in this sound bar is the best we have ever had. We are extremely happy and although there are a few things this system could improve upon, it does an outstanding job with the Dolby and theater like sound. A must have as I can assure you it will change your in home TV/Sound system experience.
Date published: 2023-01-25
Rated

5

out of

5
by
Dogsnif
from
JBL Bar 1000 Black Review
We moved into a new house in 2020 that would no longer support my old surround sound system that consisted of all wired components. There also is a lack of strategically located electrical outlets in the new house, and there was no interest in contending with wires running across the viewing room. Thankfully the new JBL Bar 1000 surround sound system is a solution to my new circumstances. The JBL Bar 1000 is a wireless solution that consists of a soundbar, two detachable, battery-powered wireless speakers and a 10-inch wireless subwoofer. An important draw for this system is that cables are kept to a minimum. The soundbar and subwoofer are the only items that need to be plugged in. The Bar 1000 surround sound system is a 7.1.4 system with five medium surround speakers installed on the front side of the soundbar, together with a central tweeter with a fabric dome and two more tweeters facing laterally and mounted acoustically. In addition, there are four Dolby Atmos (up firing) speakers - two in the soundbar and one in each detachable speaker. The two detachable speaker enclosures are recharged by attaching them to the ends of the soundbar via built-in magnets. These speakers can last around 10 hours detached when fully charged. The detachable surrounds also have a micro-USB port providing an alternate means for recharging. The JBL Bar 1000 has slightly beveled corners with curved ends in an anthracite gray microperforated metal acoustic mesh. The mesh conceals a scrolling LED display on the front of the soundbar. The display provides useful information, such as volume, input selection, power status as well as the battery status of the wireless speakers. The display cannot be seen unless something is being displayed. There are four manual buttons on the top of the soundbar for power, volume and input source. JBL includes several accessories, including side covers for the sound bar and surround enclosures, L-shaped wall fasteners for the sound bar and U-shaped wall fasteners for the surround enclosures, and an HDMI cable. The soundbar's rear connectors include a power port, a USB Type-A port, an optical port, a RJ-45 Ethernet jack, a HDMI OUT with TV eARC, and three HDMI IN ports. The USB port is provided to play MP3 songs from an external storage drive. Most users would probably use a music streaming service (Apple TV, Amazon Fire TV Stick, Google Chromecast) for playing music through the soundbar. A Blu-ray player or a video gaming console, can be connected The JBL Bar 1000 was fairly easy to set up. In my situation, I placed the soundbar below my 65" LED TV as I have an electrical outlet and a cable chase directly behind the TV. I placed the subwoofer next to the wall about 5 feet from the right of soundbar to accommodate an electrical outlet. One detachable surround speaker was placed on a table behind a sofa in the middle of the room. The second detachable speaker was placed on a small bookshelf at the same distance as its mate from the seating area. I followed the quick setup instructions and plugged the provided HDMI cable into the HDMI (ARC) port on my TV and into the HDMI OUT (TV ARC) on the soundbar. I did not have any other devices (e.g., Blu-ray player or game console) plugged into my TV's HDMI(ARC) port so I didn't need to relocate any other cables. The remote control is small and thin and provides buttons for power, TV and Bluetooth input, Atmos intensity, volume up/down, mute, and bass and rear surround adjustment. Following the placement of the system components, I ran the calibration routine using the built-in sound test via the remote control. Once the system as calibrated, I tested the soundbar with Dolby Atmos videos and movies. Everything played sounded very good and the Dolby Atmos effect was fantastic. The primary sources for the videos and movies were YouTube and Netflix. All of the sound channels seemed to be accurately represented based on the information being broadcast from the videos. Overall, if you're looking for a truly wireless surround sound solution and want to upgrade to a Dolby Atmos system that's easy to set up and sounds great, the JBL Bar 1000 is an excellent choice.
Date published: 2023-02-08
Rated

5

out of

5
by
efasted
from
Take your home theater experience to a new level!
Let me first state that although I'm a relatively tech-oriented person, I am by no means an "audiophile". If you are looking for an in-depth technical review, this one perhaps isn't going to give you what you are looking for. Instead, this review is based from a common user's perspective. Although I'm no audiophile, I have always wanted a home theater sound experience that makes me feel like I'm at the movies. I just never wanted (or had the time) to get all into the science of how to make my home theater experience that immersive. I have to say, the JBL Bar 1000 is literally mind blowing and a true game-changer for me. Without a doubt, I give it five stars. I plugged it in, downloaded the app, performed a simple and well-guided calibration process, and was completely shocked by how this system sounds and how easy it was to set up. I use it in a home theater setup I have in my basement with a 75" TV I treated myself to. I used to love going to the movies but got tired of the crowds. Now, thanks to the additional experience I get with this system, I don't miss the movie theater at all! This quote from my wife, "I have always hated surround sound systems! They are obnoxious and the sounds are distracting. However, I have to say, this is the nicest sound I think I have ever heard." Let me tell you, this says a lot. Within minutes of setting this thing up, my whole family came down and we all got started watching a movie together. It seriously was like we were in the theater but in our sweat pants and in the comfort of our own home. Ok, so let me try to give you a little more detail. I wound up doing a little more research since I didn't have to mess with much at all to get this thing going. I was pretty interested in learning a little more of the capabilities. I have had this system for a few weeks now and it continues to impress. Ultimately, I give it five stars which I base on overall sound (of course), versatility, simplicity, and quality. Sound. You have to hear it to believe it. However, the JBL Bar 1000 is a 7.1.4 channel, Dolby Atmos and DTS:X 3D surround sound capable system. What is Dolby Atmos and DTS:X? Without getting into the weeds, they are two different approaches to surround sound. They are basically two standards that compete against each other. Dolby Atmos is the more traditional movie theater surround approach and DTS:X throws sound in other ways that, according to some, can make for a more immersive experience. Dolby Atmos seems to have the market cornered as most streaming platforms, and the films/shows on them, are more likely Dolby Atmos-enabled content. Either way, it is great this system is capable of both. I watched several movies in Dolby Atmos. It was like a whole new experience watching new and old movies. Sound was coming from everywhere. Unlike other soundbars I've had, this system balances the sounds just right. I do not have to constantly adjust the volume to hear soft voice or crank it down during loud scenes. This is why my wife likes it so much as she doesn't like being blasted out of her seat one minute, and not being able to hear people talking the other. However, she admits the deep sounds this system throws out makes the experience pretty amazing. Me however, I want to be blown away. So, when It's me and my son watching…game on. We crank up the bass, put the surround sound range on high, detach the speakers, and its go time. The wireless 10" subwoofer, doesn't skip a beat. I have yet to experience it losing a connection and the range is pretty far. I have it about 12-ft away and under a chair to hide it out of the way. It just does its thing and does it well! Overall, it sounds truly amazing. I have to note there is absolutely no sound delay either. Compared to other systems I have had that required non-stop adjusting of the audio delay to get the voice lined up with the video, the JBL Bar 1000 is spot on. Versatility. One really cool thing about the JLB Bar 1000, in my opinion, is the magnetically detachable wireless speakers. You have the option to keep the sound bar connected or remove the left and right detachable (and rechargeable) speakers to get the true surround sound experience. With the bar fully attached, it packs a deep rich sound with amazing acoustics. Spoken voice is clear and it balances the loud sounds extremely well. Now, with the speakers detached, it was even better. It is definitely like being at the movies. The versatility allows you to take things to the next level depending on what you are watching. It comes with several detachable cover plates so you can mount or locate your detachable speakers in a more semi-permanent setup if desired. Essentially, you can cap off the magnetic areas and connection points to give everything a finished look. Further, although wireless and rechargeable, you have the option to plug power into the USB-C connectors on the back of the speakers if you prefer the more semi-permanent setup. The detachable speakers have a solid range and do not loose connection or have any audio delays. The charge of the detachable speakers lasts a while. JBL claims about 10 hours of use and four hours to charge up which is pretty accurate based on testing the battery life over a few days. However, I mostly just detach mine when I want to watch a movie and leave them attached to the main unit for regular shows. Using it this way, I never have to pay attention to the battery life. They just work! There are three HDMI ports on the unit which is awesome. I was able to remove several in-wall (long) HDMI cables I had running from different components to the TV. I now run my most used components right to the back of the JBL Bar 1000 and from there (one cable) to the eArch connection on my TV. Less cables and smaller lengths = less problems! Simplicity. Take it out of the box, download the app, calibrate, and you're off. The only thing I did play with for a bit was making sure my TV was set to AnyNet (eArch) to switch from the optical audio (my previous connection) to HDMI (eArch). The HDMI connection through (eArch) sounds better in my opinion. Plus, the TV remote now controls my soundbar given enhanced communication features with connected devices via HDMI vs. optical. The JBL One mobile app is easy to use and allows all the features of the remote control and more. You can adjust the range of the base, EQ settings, detachable speaker volume (when detached), create personalized settings, along with several additional settings. It also has a nice and simple clean look. It blends right into my setup and the led display remains hidden into the mesh of the sound bar. No obnoxious distractions whatsoever! Quality. The JBL Bar 1000 is well-made in typical JBL fashion. The soundbar is roughly 47"x 5"x2" with the speakers attached and about 35"x5"x2" or so with the speakers detached. The sizes vary slightly if you use the included caps for the connection points. The subwoofer measures around 17.25"x12"x12" and the detachable speakers are about 6"x5"x2" which are quite compact considering their sound. In my opinion, if you are looking for high-end sound bar with a movie theater-like experience, the JBL Bar 1000 is something you'll definitely want to consider. It's simple to set up and has all the features that count to give you a truly immersive experience without being complicated in any way. I'm a huge fan of JBL and have been for a while. I have had many other brands and JBL always seems to deliver on performance, quality, and design. The JBL Bar 1000 is no exception!
Date published: 2023-02-01
bvseo_sdk, dw_cartridge, 18.2.0, p_sdk_3.2.0
CLOUD, getReviews, 26ms
reviews, product
Product Q&A
can i use the sub from my jbl 9 withis this. And can i buy the 1000 without the sub if so.
Thank you for your question. Unfortunately, the sub for your JBL Bar 9 will not work with the JBL Bar 1000, also, you cannot buy the bar without the sub. Should you wish to receive further support, you may contact the Harman Customer Support team by telephone, email or chat in order to receive direct assistance. Please see https://uk.harmanaudio.com/support-contact.html#ns for further details. Thank you.
Date published: 2022-10-17
Several "exploded view" photos of this soundbar are on the Web. They show an "extra" woofer on the far left side of the main soundbar. Your other soundbars use pairs of speakers for left and right channel. So what specifically does this extra one do?
Our JBL Bar 1000 soundbar doesn't have a woofer located on the far left side of the main bar. There are only five racetrack drivers and a tweeter on the soundbar front center, while there are additional two tweeters located on each side of the bar with horns for side speaker projection and another couple of upward-firing speakers for the Front Atmos effect.
Date published: 2023-04-26
Does JBL BAR 1000 support 4K / 120Hz pass-through with HDR or Dolby Visoin ?
bvseo_sdk, dw_cartridge, 18.2.0, p_sdk_3.2.0
CLOUD, getContent, 151ms
questions, product
Support
Register your JBL product
Do you own this product? Register it here in case you need to claim warranty
Register Now
Can't find what you're looking for?
Are you looking for product support, documentation, how-tos or older products?
JBL Support