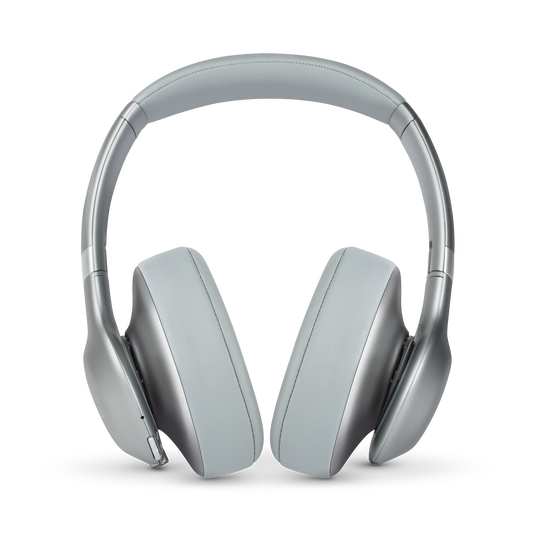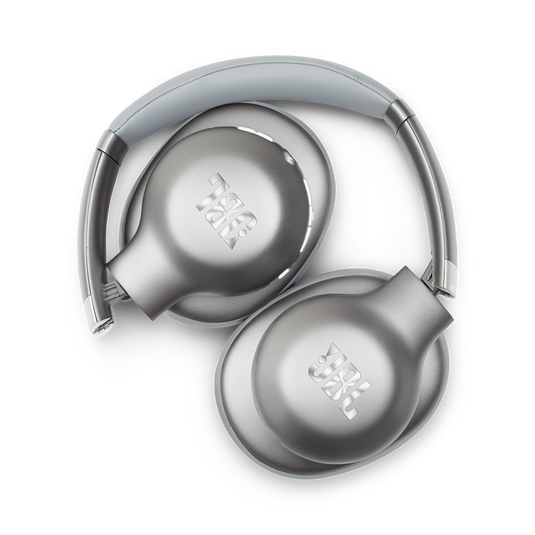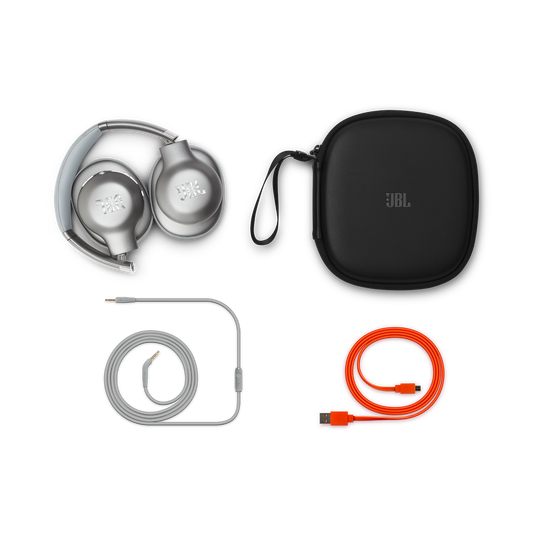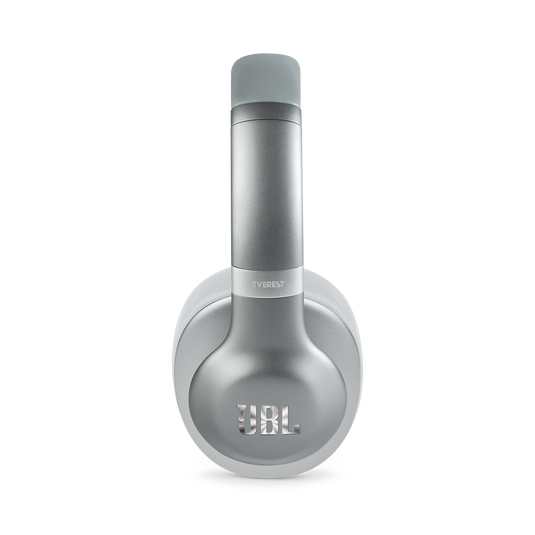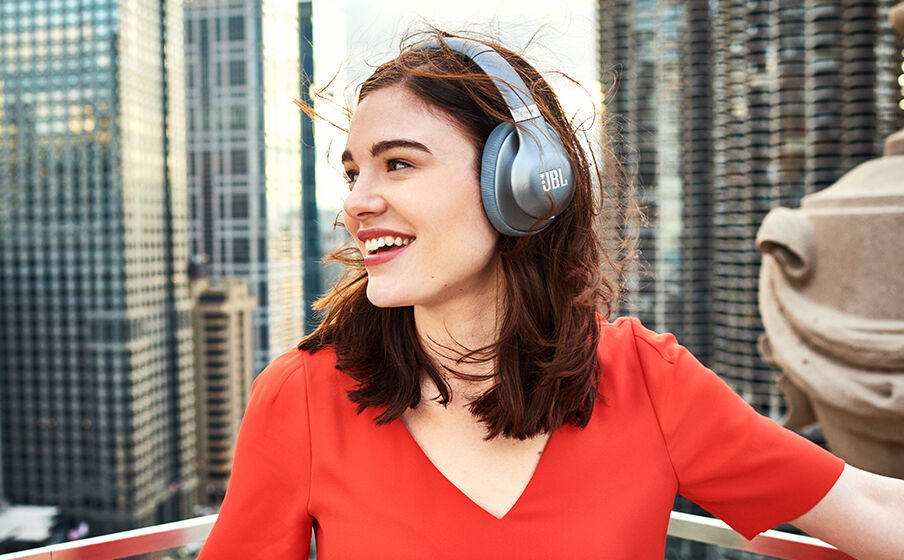 Bluetooth Connectivity
Wirelessly enjoy all your music.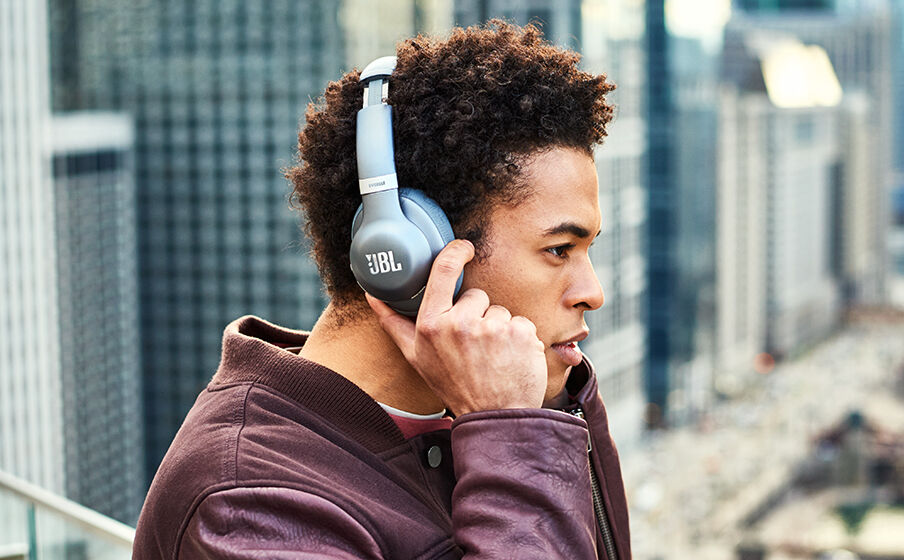 Legendary JBL Pro Audio Sound
Experience the same elevated experience and incredible sound JBL has been delivering to concert halls, studios and living rooms for 70 years.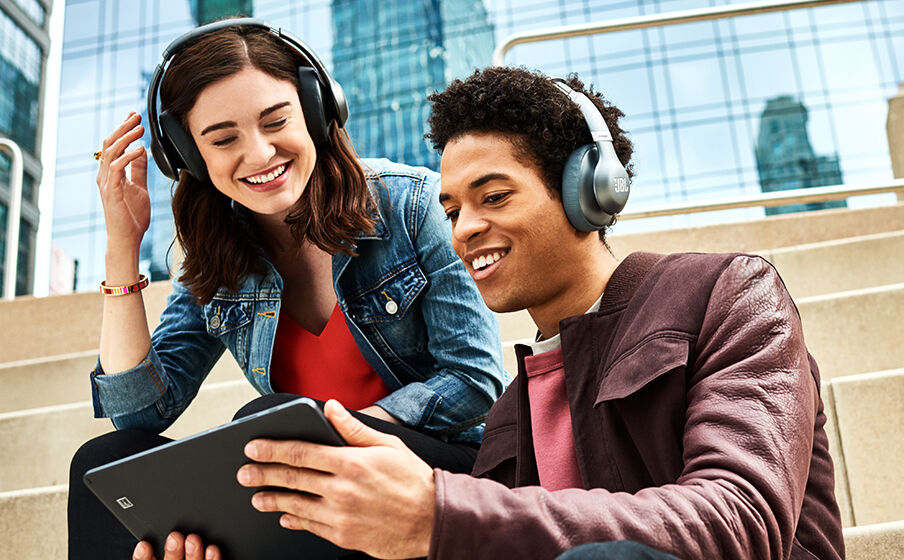 Connect and Share
With ShareMe 2.0 technology, now you can pair your headphones with other Bluetooth headphones to share your music, videos, and games across any brand – wirelessly.
Features

Up to 25-hour battery, quick recharge in 2 hours
Micro USB charging built in battery provides up to 25 hours of playing time, with quick recharge in just 2 hours

Echo cancelling microphone
Built in microphone with echo cancellation technology for crystal clear, hands-free calls.

Comfort fit
Headphones are ergonomically designed to fit the unique contour of listeners' ears. Listeners experience unprecedented comfort—allowing a longer, more enjoyable experience.

Fold and carry
A sleek flat-fold design and a premium, hard carrying case allow maximum portability and protection
Specs & Downloads
Item# JBLV710BTSILAM
Description
Freedom from wires. Freedom to share.

Slip on the JBL Everest 710 and you'll experience up to 25 hours of wireless freedom, the thrill of mind blowing, Legendary JBL Pro Audio sound and the ergonomic comfort offered by premium material finishes and a snug fit. Share Me 2.0 technology allows you to connect and share your music with friends, via Bluetooth. A quick 2-hour recharge, a sleek flat-fold design and a compact hard carrying case make these headphones the perfect companion for your busy lifestyle. A built in microphone facilitates crystal clear hands-free calls, and easy controls on the ear cup let you take charge of your music. Available in metallic finishes, these headphones put your passion and life, front and center. Dare to listen.
General Specifications
Audio Specifications
Driver sensitivity at 1kHz/1mW (dB)

96dB

Dynamic frequency response range (Hz)

10Hz-22kHz

Impedance (ohms)

32.0

Number of drivers per ear

1.0
Dimensions
Control and Connection Specifications
Bluetooth profiles

HFP v1.7, HSP v1.2, A2DP v1.3, AVRCP v1.6

Bluetooth frequency

2.402GHz-2.48GHz

Bluetooth transmitted modulation

GFSK,π/4DQPSK, 8DPSK

Bluetooth transmitter power

0-4 dbm

Bluetooth version

4.1
Battery
Charging time (hours from empty)

2.0

Maximum music play time with ANC off (hours)

25.0

Maximum play time (hours)

25.0

Maximum talk time (hours)

25.0
Features
Built-in Microphone

Yes

Carrying case

Yes

Detachable Cable

Yes

Flat-fold design

Yes

Hands Free Call

Yes

JBL Legendary Pro Audio Sound

Yes

Leather headband

Yes

Over-ear

Yes

Rechargable battery

Yes

Remote control on ear cups?

Yes

ShareMe 2.0

Yes

Speed charge

No

Wireless

Yes
What's in The Box?
1 x Headphones
1 x Detachable remote cable
1 x Charging cable
1 x Carrying case
1 x Quick start guide
1 x Warning card
1 x Warranty card
1 x Safety sheet
Documents & Downloads
Customer Reviews
Rated

5

out of

5
by
Adam13
from
Fantastic over-the-ear headphones!
I bought the Everest 700 headphones a year ago, and received the Everest 710's as part of the Backstage Pass program. The 700's are great, but the 710's are even better! Their ability to fold nicely into the case, the superior sound quality, the battery life at 25 hours, and the Bluetooth are some of my favorite features. The range is great on them as I walked about 30 feet away from my phone and still had crystal clear sound with no interference. They also hook up to my tv very easily and work great for watching tv or movies. They feel great and you can wear them for hours and hours without any discomfort. The only downside I see is that you can't turn them up louder. The max volume is fine, but I just wish they could go a little bit louder. I highly recommend these headphones for their superior sound quality, comfort, and fantastic features.
Date published: 2017-07-04
Rated

4

out of

5
by
Noamgot1234
from
Everest 710
Got the Headphones 4 days ago. The sound is great althogh the Bass could be better. The headphones sit good on the and do not get heated over time. Took the Headphones for a run and they held up good. Battery life is amazing and charged Very Fast. Sound is Fair and could be Higher. A bit pricy for what you get.
Date published: 2017-07-02
Rated

4

out of

5
by
Swany
from
Sound is UNBEATABLE..!!
Upon un-boxing the headphones, toffee weight of them is very noticeable. I didn't want to form an opinion before actually listening to music with them on. Then are really light weight, but I noticed that the hinges were screwed in and that have me a little piece of mind. I used these headphones corded and un-corded(bluetooth). There were no variations in the quality of sound. I listen to mostly hip-hop, soul, slow-jams, and shine of everything else. I heard instruments in music I listen to all the time with other headphones and without that I couldn't believe were in there. The headphone feel really good on my ears and they don't heat up, nor fatigue. I have not had an opportunity to test the 25hr listening time once fully charged, but I have used them on and off without the cord for a few days now and they have not died on me. The cushion material is soft on the ears(the reason for no ear fatigue) so I can use them for quite a long time. The quick 2hr charge is just like advertised. The one con about them for me is I wished when you are getting the right length for your head, there would be a click/lock for every notch you open the headband. My other JBL's, (SB400bt), had this feature so one side doesn't feel like it's longer than the other. I like them very much and they will get heavy use from me. There are other features about this headphone like 'share me', I have not used yet, or plan to use so I didn't were about it.
Date published: 2017-07-05
Rated

5

out of

5
by
TheLarryLegend
from
All I can say is wow!!!!
This is an excellent product the sound quality is on point with much more expensive headphones. The features and connectivity is above par. You most def get you're money's with for this product. The fact that I got a ridiculous deal because of a sale doesn't hurt either. I will def purchase this again and won't mind paying full price now that I know the quality of this product.
Date published: 2019-04-15
Rated

5

out of

5
by
iNRC
from
Quality, Comfort, Clarity, and Design
Right after I opened the package I knew I was in for a treat, and I was not disappointed! Full over-ear coverage, even with my 5/8ths stone gauges in, which is impressive. They sit perfectly on the sides of my head with no right pressure, which is great because I have always struggled with finding headphones that were comfortable over long periods of time. I listen to music for about 8 hours a day at work, so this is pretty important to me. Even the head strap is perfectly cushioned and does not press against the top of my head like most do, which can be maddening. The parining was a simple turn on and select the headphones, took me less than a minute to get them hooked up to my phone. I'm a big instruction manual person, so of course, I took a look through it, which I always loved JBL for making minimal and straight to the point. Now to the sound! I immediately thought of testing these out with Pink Floyd's 'Dark Side of the Moon' which is my go-to test because of the wide frequency of stereo and panned sounds. Absolute beauty! My other pair of bluetooth headphones are the JBL E50BT Synchros, which have since been re-designed, so I already had a good feel for the JBL's sound quality, however I was not prepared for the depth of clarity that these headphones supplied, or the overall balance. The 40mm drivers, pushing a 10HZ-22kHZ frequency response, really shine through in the Everest 710. The difference is amazing, and I am amazed at the quality of the Highs/Mids and Lows pushing out of these. I then tested the bass on Bassnectars 'Ulimited' album, which really shows how well rounded these headphones are. They aren't pushing out boosted bass, they stay true to the engineered sound, and the balance is wonderful. I then tested them out on an ambient sound album by Visible Cloaks called 'Reassemblage' which I can only describe as an experience. Their organic sounds really shine in this headset, every sound is beautifully translated into my ears. Purely awe-inspiring! Did I mention these are also completely Noise Canceling? I can put them on full blast (I do not suggest that, btw) and pop them on and my girlfriend sitting next to me won't hear a thing! It's awesome since I work in an office setting and require these to be quiet to those sitting around me. I have had no complaints since I brought them to work, which is new because my older pair I always had to turn down. I also cannot hear anything around me, which is wonderful, because I don't want to! Also, I now can use the Share 2.0 with my other pair of JBL E50BT, so my girlfriend and I can listen to music together without having to sync up when we play. It's awesome, and truly a shareable experience! All around amazing headphones, I have no complaints! Comfortable, Beautiful to look at, they sound AMAZING, and they last forever (on day 3 at work without having to charge yet). Definitely worth checking out!
Date published: 2017-06-30
Rated

2

out of

5
by
Liv T
from
LOVED these until the left side stopped working
I bought these about 10 months ago and as soon as I put them on and played the first song I knew that these were by far the best headphones I have ever worn on my head. They were awesome up until the moment that the left headphone stopped working as sound goes in and out of the headphone
Date published: 2018-11-12
Rated

4

out of

5
by
Nelly_Nel
from
Good Quality
These headphones have crisp sound quality and are get comfortable over the ear. Very easy to use. I like that I can can connect the Bluetooth to another device, that's a huge plus. My only con is that they don't have enough bass for me. Other than this. The headphones are great !
Date published: 2017-07-05
Rated

2

out of

5
by
MTTL
from
Disapointment
I got these headphones, thinking they would be good the drivers seem to have an issue because i get bass more then one side its annoying. I read alot of qustions on the JBL website it seems some buyers have issues major let down seems like im not the only person to have issues.
Date published: 2017-11-16
Rated

5

out of

5
by
Actionjackson
from
Very light and comfortable over ear wireless
To my surprise these appear lighter and More comfortable than the beats2 wireless headphones we have. I love the over ear feature, the sound quality is very clear concise, this is a very quality set of headphones.
Date published: 2017-07-02
Rated

5

out of

5
by
Vineet
from
Amazing headphones
I got this a week ago, and I love it so far. Share me feature is amazing, me and my girlfriend can listen to same song in headphones that's super. Amazing beats. Amazingly comfortable. Amazing fit. I love it.
Date published: 2017-07-03
Rated

4

out of

5
by
Ray W
from
JBL Everest 710
I have had this product for nearly a week. I own several JBL products from home speakers, a couple of BT Charge speakers and another wireless headset (S400BT Syncros). This Everest 710 has very good sound. It is clear and crisp, the headset is very comfortable and it is lightweight. I charged it fully and didnt run out the batteries and i have used it for around 15 hours (they are rated for 25 hours). They connected to all my devices and BT speakers really fast and the share feature worked well. The case in comes in i like better because of the space where the cables go as they are more secure. In getting this i was hoping for a bit more while getting better comfort with the bigger ear opening than the S400BT Syncros . To a bit of disapointment, i didnt get that. As it does sound very good, it lacks bass that my S400 has which was a surprise to me and it isn't quite as loud, though it is loud enough. If having big bass isnt that important to you then this would work just fine. That is the only thing that bothered me about them. If it had a little bit better bass, it would be a homerun for me.
Date published: 2017-07-02
Rated

2

out of

5
by
rxralm
from
Good sound and fit on head ears. Lacks app integra
I like them from sound quality and comfort. the major problem is that all other headsets can connect with Android or iOS apps except these ones. I will retur them. Very disappointed.
Date published: 2019-04-19
Rated

5

out of

5
by
Boost
from
Great value, solid sound
Bought this "renewd", basically new, without the box, for very cheap.they sound great, wish it was louder. Overall very happy with the sound. Not a purist, but they're great!
Date published: 2019-05-07
Rated

5

out of

5
by
Dj 24k
from
Healthy Headphones
I received these as a gift in the mail. The packaging was safe and secure. After unpacking I plugged in headphones with the included charging cable. After running errands (approximately 2 hrs) I returned home to find headphones fully charged. Powered on and connected to my Android phone's Bluetooth with the touch of a button. I can't read the microscopic quick start guide so I played with buttons and learned to operate within 2 minutes. The sound is clear with headphones volume adjusted to maximum. I played an extended playlist throughout the night and the charge was still going. I connected headphones to my LG tablet via Bluetooth and another playlist headphones still playing after lunch. Finally the next night recharging is necessary. The comfort level is great. Cons for me...lack of ability to skip songs without touching phone. Terry cloth covers would be a great option for perspiration during workouts. An added bonus my wife was talking to me while wearing these and if I didn't see her mouth moving I would not have known she was speaking. Something to consider while wearing in traffic. Overall home run from JBL.
Date published: 2017-07-07
Rated

5

out of

5
by
Mdu_veer
from
Awesome!!
The sound is really good. Lightweight and good quality. The case is classy. Battery life is longggg. Just been close to a month but loving it totally.
Date published: 2019-03-15
Rated

1

out of

5
by
Xsagx
from
Overpriced
Not enough bass. Don't stay on your head very well. If I were to buy headphones I would probably never buy jbl unless I got to test them out first
Date published: 2017-12-16
Rated

5

out of

5
by
RhianGT
from
Design
I am a little disappointed in the volume that can be attained but I am likely slightly deaf from some of the larger speakers JBL has produced.
Date published: 2018-07-09
Rated

5

out of

5
by
Holly day
from
Sexy and comfortable
I received this headphone as a gift. Works great with my phone. I have only used at home so far. It is comfortable to lie down with it.
Date published: 2017-07-03
Rated

4

out of

5
by
Zachb33
from
Great headphones for the price
Bought these a few weeks ago, great sound but very weak bass. Battery life is stellar, and functionality is superb.
Date published: 2019-04-15
Rated

3

out of

5
by
Anonymous
from
Great sound, so so battery
The battery seems to be weak, not sure if it is because it's refurbished or not but, I hope this is just a fluke.
Date published: 2019-05-07
Rated

5

out of

5
by
Ngelbct
from
Good quality ! great price!
Very impress about the product. Great sound! Will definitely but another wireless jbl product
Date published: 2019-04-11
Rated

2

out of

5
by
marfor
from
Price was right
The price was a good price but the ear phones pads were a little to frayed and worn
Date published: 2019-01-07
Rated

1

out of

5
by
ADha
from
Very low battery life
Very low battery life, I need to keep charging my JBL (maybe my piece is defective)
Date published: 2019-04-14
Rated

5

out of

5
by
Henk01
from
Awesome
Bought the JBL Everest 701 last month. Awesome sound and great design.
Date published: 2019-03-19
Rated

4

out of

5
by
JayKoz
from
Not as loud but really good bass line and noise cancelling !!
Date published: 2019-01-07
Rated

4

out of

5
by
mg64
from
Great sound!
Bought these because JBL's engineering is always top notch!
Date published: 2019-04-18
Rated

5

out of

5
by
Eurotrucker999
from
Amazing sound!!!
I got this on from my dad and i love it and i love the bass
Date published: 2019-01-19
Rated

5

out of

5
by
Jdon
from
Easy to use & great sound
Have only had it for a short time. But so far I like it.
Date published: 2019-05-09
Rated

5

out of

5
by
Fsotoboza
from
Great product
Best Bluetooth headphones ever! Great quality and sound
Date published: 2019-05-07
Rated

4

out of

5
by
Chtistopher
from
Quality headphones
Great sounding headphones. Very comfortable as well.
Date published: 2019-04-15
bvseo_sdk, dw_cartridge, 18.2.0, p_sdk_3.2.0
CLOUD, getReviews, 5ms
reviews, product
Product Q&A
bvseo_sdk, dw_cartridge, 18.2.0, p_sdk_3.2.0
CLOUD, getContent, 155ms
questions, product
bvseo-msg: Unsuccessful GET. status = 'ERROR', msg = 'Not Found.';
Support
Register your JBL product
Do you own this product? Register it here in case you need to claim warranty
Register Now
Can't find what you're looking for?
Are you looking for product support, documentation, how-tos or older products?
JBL Support