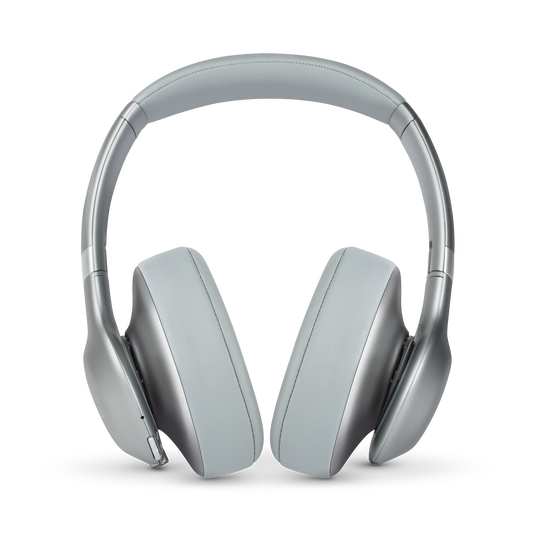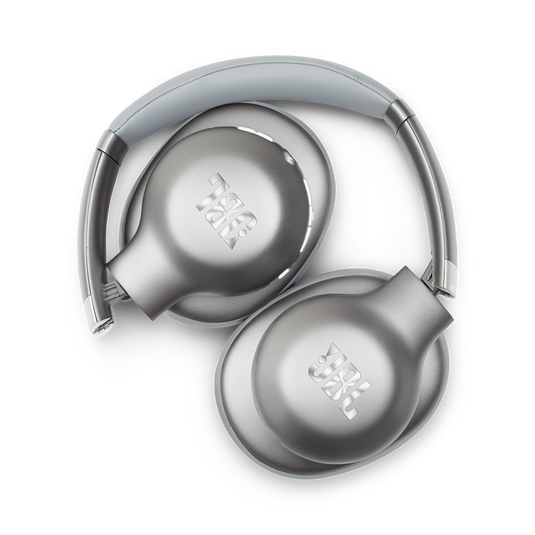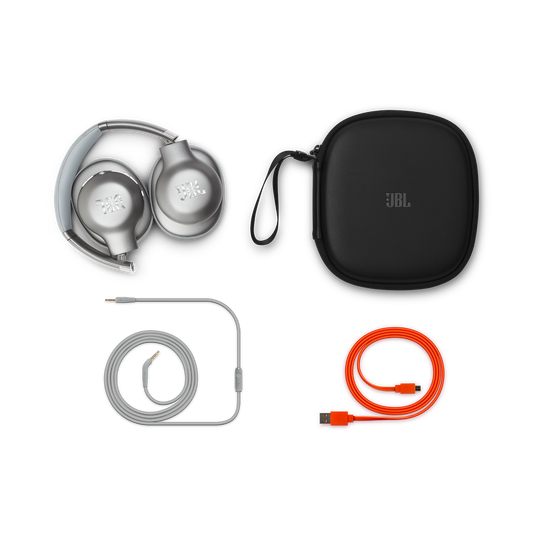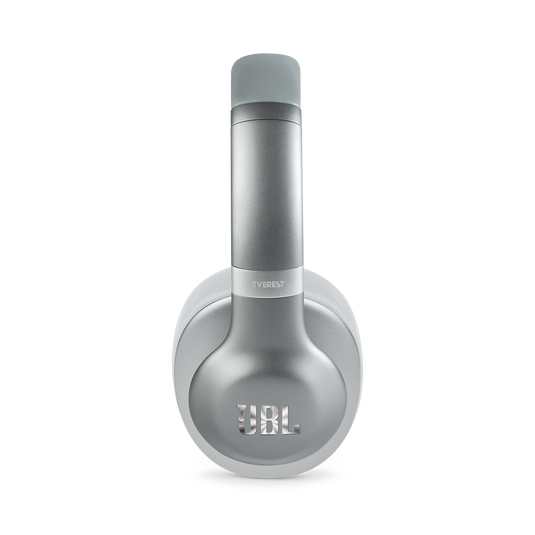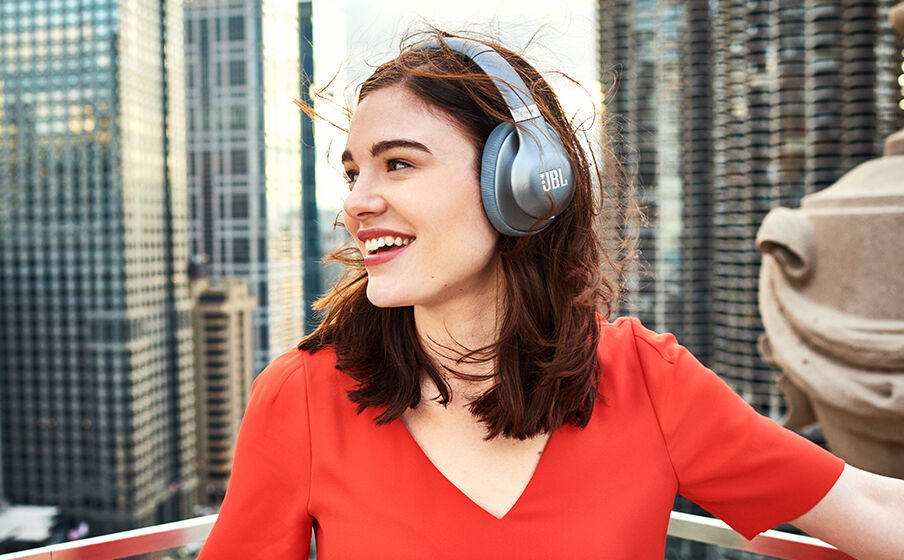 Bluetooth Connectivity
Wirelessly enjoy all your music.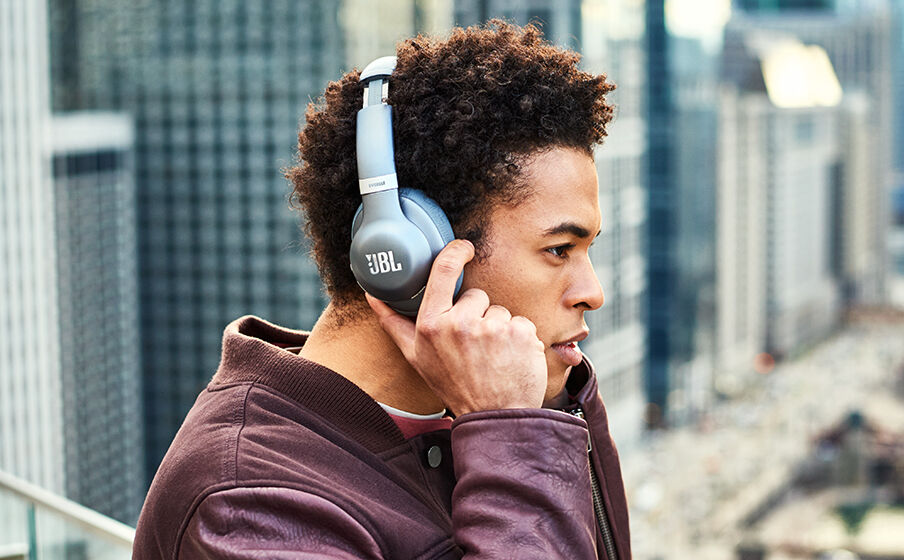 Legendary JBL Pro Audio Sound
Experience the same elevated experience and incredible sound JBL has been delivering to concert halls, studios and living rooms for 70 years.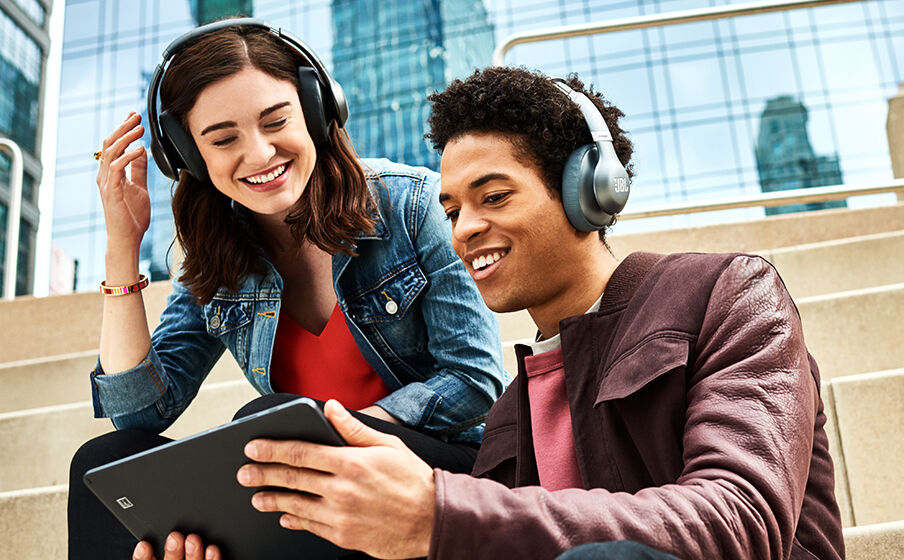 Connect and Share
With ShareMe 2.0 technology, now you can pair your headphones with other Bluetooth headphones to share your music, videos, and games across any brand – wirelessly.
Features

Up to 25-hour battery, quick recharge in 2 hours
Micro USB charging built in battery provides up to 25 hours of playing time, with quick recharge in just 2 hours

Echo cancelling microphone
Built in microphone with echo cancellation technology for crystal clear, hands-free calls.

Comfort fit
Headphones are ergonomically designed to fit the unique contour of listeners' ears. Listeners experience unprecedented comfort—allowing a longer, more enjoyable experience.

Fold and carry
A sleek flat-fold design and a premium, hard carrying case allow maximum portability and protection
Specs & Downloads
Item# JBLV710BTSILAM
Description
Freedom from wires. Freedom to share.

Slip on the JBL Everest 710 and you'll experience up to 25 hours of wireless freedom, the thrill of mind blowing, Legendary JBL Pro Audio sound and the ergonomic comfort offered by premium material finishes and a snug fit. Share Me 2.0 technology allows you to connect and share your music with friends, via Bluetooth. A quick 2-hour recharge, a sleek flat-fold design and a compact hard carrying case make these headphones the perfect companion for your busy lifestyle. A built in microphone facilitates crystal clear hands-free calls, and easy controls on the ear cup let you take charge of your music. Available in metallic finishes, these headphones put your passion and life, front and center. Dare to listen.
General Specifications
Audio Specifications
Driver sensitivity at 1kHz/1mW (dB)

96dB

Dynamic frequency response range (Hz)

10Hz-22kHz

Impedance (ohms)

32.0

Number of drivers per ear

1.0
Dimensions
Control and Connection Specifications
Bluetooth profiles

HFP v1.7, HSP v1.2, A2DP v1.3, AVRCP v1.6

Bluetooth frequency

2.402GHz-2.48GHz

Bluetooth transmitted modulation

GFSK,π/4DQPSK, 8DPSK

Bluetooth transmitter power

0-4 dbm

Bluetooth version

4.1
Battery
Charging time (hours from empty)

2.0

Maximum music play time with ANC off (hours)

25.0

Maximum play time (hours)

25.0

Maximum talk time (hours)

25.0
Features
Built-in Microphone

Yes

Carrying case

Yes

Detachable Cable

Yes

Flat-fold design

Yes

Hands Free Call

Yes

JBL Legendary Pro Audio Sound

Yes

Leather headband

Yes

Over-ear

Yes

Rechargable battery

Yes

Remote control on ear cups?

Yes

ShareMe 2.0

Yes

Speed charge

No

Wireless

Yes
What's in The Box?
1 x Headphones
1 x Detachable remote cable
1 x Charging cable
1 x Carrying case
1 x Quick start guide
1 x Warning card
1 x Warranty card
1 x Safety sheet
Documents & Downloads
Customer Reviews
Rated

5

out of

5
by
RavidGecko
from
Excellent sound quality
I received the Everest 710 as a gift and am so glad for it. I never considered JBL while looking for a pair of over the ear Bluetooth headphones and received these as a gift. When I used them for the first time they blew me away. I don't like a heavy bass sound so these were perfect.
Date published: 2018-03-12
Rated

5

out of

5
by
ChickenFried66
from
Comfort, Ease of Use, and Great Sound!
I've only had these about a month and have been delighted since I first paired them with my iPhone and started listening. Over-the-ear headphones are almost always comfortable, at least at first, but these are almost perfect. I am able to wear them while exercising on the elliptical and they stay firmly in place but do not do so with too much pressure so they remain a joy to wear even after several hours of continual use. I have a great audio system on my iMac and always love sitting in front of it and listening to music but these Everest 710 headphones rival the sound and I enjoy listening to them as much or more. The controls are a bit small but there really isn't much room on a headset for a lot of controls and more importantly, once you become familiar with their placement you have no problem operating them by feel alone. While I like the feature that allows you to share your bluetooth connection with another bluetooth device I have not used it yet but the instructions look simple enough. The phone function is a nice added feature as it is always great to not be interrupted by having to remove your headset to talk to someone. I cannot attest to the durability of these headphones with only one month's use but if they are anything like the other JBL products I've bought myself, I feel I'll enjoy many hours of use.
Date published: 2017-07-14
Rated

5

out of

5
by
prjio307
from
Balanced Sound and Very Comfortable
The JBL Everest 710 are a great all-around headphone for those on the market for a good around-ear headphone. This review will be broken up into categories in case you are looking for a headphone that excels in a particular area. Sound Quality: First and foremost, let's talk about sound quality. These are NOT for the basshead. If you are on the market looking for the headphone with the most bass possible, these are plain and simply not for you. If you however are looking for a headphone with a very well-balanced sound, then these are absolutely worth considering. Bass is punchy when it needs to be, but not heavy by any stretch of the mind. The bass will never blow you away here, but it hits when it needs to. Mids are crystal clear, with vocals coming through strong. I found myself picking up backing vocals in tracks that sound drowned out in other headphones. Highs are also crisp and clear and do not become harsh or sharp, even at louder volumes. Very balanced sound overall that sounds great across all musical genres, at least in my use! Even in very busy electronic or pop songs, all instruments came through clear and crisp without overpowering the vocals. Isolation is decent, but not as isolating as I typically prefer. These are great for an office or home setting, however on a train or airplane, these might not isolate sound well enough for some people. That said, they do NOT leak sound very much at all. In my testing, I had to pump the volume up to nearly 85% before my wife could hear any sound leakage in a quiet room. Comfort: When I first pulled these out of the box and their case, my first thought was "wow, these are super light!". While that can lead to a kneejerk reaction that they feel "cheap" (more on this later), the light weight of these headphones makes them a joy to wear for extended periods of time. The earcups are padded well with a faux leather and the headband is also padded well. I did not experience any fatigue or "hot spots" from the headband or earcups after extended use (8 hour work day). There are a lot of moving parts here: the headband extends as most headphones do, but the earcups also have the ability to move as well. The earcups also swivel, which allows you to get the best fit for your head. *One important thing to note* - I wear glasses (thick plastic frames) and these were still quite comfortable! Build Quality: Here is where these headphones ALMOST lost a star. The all-plastic construction has a slightly cheap feel to it due to how light it is. This may be a personal preference, but I prefer my headphones to be a tad bit heavier than these are and padded more to compensate. Maybe I'm just crazy, but that seems to give them a more premium feel. There are a lot of moving parts here, so expect a small amount of microphonics as parts of the headphone move while on your head, ESPECIALLY if you wear glasses as I do. This is minimal compared to other headphones I have used though and was easy to get used to and eventually ignore. Other than these nitpicky issues, the headphones appear to be built well and I have every confidence that they will last the test of time. Features/Misc.: - Battery Life is as advertised, or better honestly... After about a week and a half of heavy use (8 hour work days), they finally died on me. - Battery charges very quickly. 0-40% in about 25 minutes. That's theoretically about 10 hours of battery life from a 25 minute charge. Talk about a quick fuel-up! - The case these come with is excellent and easy to use. It's a hard case, not a soft case. - Controls on the headphone are a bit hard to get used to. Not super intuitive, but I don't really find myself using controls on headphones anyway as I use my iPhone or source device to control playback. I'd imagine you'd get used to the controls over time. - Siri is tricky to trigger. Rather than holding the play/pause button (as on most headphones), you actually have to double tap the play/pause button. Just one of those things you'll have to get used to. - JBL sharing works great! One thing to note, the volume of the headphones that you are sharing TO is controlled independent of the headphones that you are sharing FROM. - Calls sound great on my end through the headphones. Callers reported that I sounded crisp and clear, however background noise can be heard if you are in a noisy area. The mics pick up voices REALLY well, so people speaking in the background can be heard by the person on the other end - almost as if you had them on speaker. Bluetooth calls work great if you're in a pinch, but I wouldn't buy these specifically for use as a headset. I hope that this review helps you make a decision as to whether or not to purchase these! Overall they are a great headphone and I highly recommend them to anyone looking for a well-balanced headphone with a super comfy fit for all-day wearing.
Date published: 2017-07-10
Rated

5

out of

5
by
chrisprance
from
Love these!! Great update to the series!
I purchased a pair of Everest 700's and loved them. However they didn't come with a case and they were hard to store in a bag without worrying about damage. With the 710's this is solved with the way they fold up easily and they come with a case! The build feels sturdy yet lightweight. I use them all day long for music and phone calls at work and absolutely love them, no discomfort after almost 8 hours of straight use. I also have noticed that they pair much better and suffer from less disconnections where I have to re-sync the bluetooth again. Sound quality is amazing, battery life is outstanding. I look forward to these being my main headphones that I use with all of my devices. Now only if you could add a W1 Chip. :)
Date published: 2017-07-11
Rated

3

out of

5
by
Coooach
from
The mids, highs, and lows are balanced pretty well, so it's not heavy on base but hits deep tones perfectly fine. When using the headphones for over an hour there's BT drop offs every time. Expect 2-3 dropps in 2 hours, they're about 5-10 seconds long. They're one of the most comfy out there vs bose, sony, skullcandy, marshall, beats and vmoda. The BT performance on phone calls is the best, except for when 2 devices are connected. Then it's as poor as the others... which is horrible. Overall their worth the $79.99 refurbished price but not much more.
Date published: 2019-04-04
Rated

5

out of

5
by
HunterTarman
from
Balanced sound & Easy to use
When listening to music at the gym, in the library, or even on a run, I sometimes fantasize about being able to share my music as it plays with others via Bluetooth. The Everest 710 headphones are a pioneer in this ability to share music with others through JBL's new ShareMe 2.0. Although you can only share your music with one other set of headphones, it sets a great precedent for what's to come. I found the pairing process to be simple but have to admit it took some time to get the separate pair of headphones to connect to the Everest 710 headphones. Right out of the package these wireless headphones were easy to connect to my phone. Some past headphones of mine have had trouble connecting to my device the first go around and even sometimes after the initial connection, but not these. They easily adjust to my head and the headphones themselves flip outward which makes for easy storage. I have been able to wear these headphones for long periods of time and have not had the ear aches I am used to with other headphones. This makes them great for long flights or car rides. However, I can't turn them up too loud or the sound will leak out and be heard by others, especially in a quiet place like the library. In loud areas, these headphones work well in canceling out the surrounding noise. The sound itself is impressive although I wish I could turn the volume up louder than it goes. Although I find myself yearning for more bass with these headphones, the sound quality is still exceptional and very well balanced. I find sounds in songs that I haven't picked up before and this happens with almost every other song I listen to. You can expect distant ocean waves, faint maraca rattling, and background echos and whispers to be heard clear and crisp. What really sets these headphones apart is the battery life of basically a day which is definitely a feature that leads the current market. Again, these headphones are reliable for long traveling and even if they do run out of battery, you always have the cord that comes with as a back-up. I recommend these headphones to anyone who deeply enjoys music and is willing to invest in quality.
Date published: 2017-06-23
Rated

5

out of

5
by
michaelp
from
Amazing headphones in a comfortable package!
I am astonished by these headphones. They are VERY comfortable- I can wear them for hours without any slight discomfort, unlike its predecessor. The band fits my head perfectly and feels perfectly cushioned, and the ear-cushions even feel more breathable. The headphones look great, and I really appreciate them coming with a case. Charging them is fast enough, and the battery life is unbelievable for its weight. The multi-headphones audio sharing is intuitive, not very hard to use, and will be great for watching movies with my friends. The buttons don't get triggered accidentally, but the volume buttons are a tad difficult to locate with my fingers. Pairing the headphones was snappy. I found no noticeable audio lag with my iPad, or when wired, but noticed youtube videos on my GS7E to have a very slight lag- The audio seemed to come about 0.1 second later than people's mouths moved. These headphones can handle some sweat OK, but I still wouldn't run more than 2 miles in them. Overall, I love these headphones, and will probably use them for hours everyday.
Date published: 2017-07-08
Rated

3

out of

5
by
Anthony434
from
I love the wireless feature!
Being an audio files type guy, I'm a little bit harder on the quality and sound of the product. I felt the volume was a little Limited and the highs and the lows weren't what I would like, it like detailed Clarity and bass. I loved the Wireless feature and the comfort of the headphones. I also enjoyed the case that came in and the accessories. I also wouldn't put the power button so close to the volume buttons.
Date published: 2017-07-11
Rated

5

out of

5
by
AshishMahi0322
from
A Premium product packed with Great Features
Another amazing Noice cancelling Bluetooth headphones from JBL with excellent comfort level over your ears, I received this product few days ago and I am loving the output it produces. JBL has taken care in including all the necessary and premium features that are required to make this product best in its class.The material quality & design makes its very much durable and looks elegant over your ears. The Adjustment Parfait provides much comfort for your ears so that you wont feel any discomfort even wearing these for longer duration. Bluetooth pairing is so quick, you just need to power on the device and need to pair for the first time and from the next time the moment the device is powered on it gets connected to the paired devices instantly. I have paired it to my laptop and mobile at the same time and it works great!!! The Dynamic audio driver takes care of the sound quality and the battery life is as promised by the JBL. A 3.5 mm aux cable is provided so that you can plug it and use it when you ran out of battery life and the sound is same as it is on wireless mode. Charging is also quick, it gives you more than 10 hr battery backup for a quick 1 hr charge. You no need to buy a carrying case for the product, JBL took care of protecting the product by providing well cushioned case that is portable to carry. I have been using this product while watching movies on my PC, while playing games, music and I really loved it!!! JBL - J-ust B-uy it and you will L-ove it.
Date published: 2017-07-02
Rated

3

out of

5
by
VanArch
from
I bought my headphones 50% off and still think its only a fair product for the price. They are great for some genres, but as some one who switches between classical, jazz, and rap often it doesn't do everything well. If all you want it clarity, these are for you, but I have found they lose a lot of what makes some songs great with the lack of low end and bass. I know this is a problem due to my tastes but beware if you are someone who listens to anything with even a little bass. not for you
Date published: 2017-12-10
Rated

5

out of

5
by
Nick Cappy
from
Hands down one of the best reference on the market
My standby over ear headphones, I'm actually surprised I forgot to review these because they are my absolute favorite! So much so that I have gifted the to 3 family members so they can experience music in a better way! Absolutely fantastic sound, comfortable for hours, and killer battery life. Love love love these forever!
Date published: 2021-08-18
Rated

5

out of

5
by
Davs12
from
Comfortable High End Head phones
Being an JBL EVEREST Elite 700 owner, the design on these headphones was very refreshing. From the head cushion to the ear pad cushions. I like that the speakers adjust sideways for better confort. The battery lasted about a full 24-hr day of playing music. The sound was all you can expect from a Harman product, true highs and it handles low frequencies very well. Even though these don't come equipped with active noise canceling, the over the ear cushions provide a very confortable isolation. Almost to the point where you forget where you are. The music sharing was great, though at times a little distorted, but I'm pretty sure that is something that can be fixed with a firmware update. Overall great music experience.
Date published: 2017-07-08
Rated

5

out of

5
by
Otown Baller
from
Awesome balance of sound quality and functionality
Like a lot of folks I am a headphone nerd. I've had many different pairs over the years and am constantly looking for the latest and greatest. I'm huge on sound quality and these headphones do a wonderful job of balancing frequencies to give a nice, spacious sound. They aren't over-bassy like some of their competition but they definitely do favor a stronger bass position. Mids and highs are solid and deliver super clear notes. The battery life is outstanding. It is likely more than they advertise. They are all-day comfy and very light on the dome. The carrying case is great for us road warriors who will be carrying them in their case through airports and the like. All in all very happy and satisfied with the purchase. Value was great with the recent sales going on. I would definitely recommend these to anyone looking at higher end headphones.
Date published: 2017-12-10
Rated

4

out of

5
by
Shanbs
from
Hoping the new one works
Bought a 710 few weeks ago and after a day of use, bluetooth stopped working. Good thing was that the customer support was super helpful. They processed my return request fast and got my refund too. Then I bought again after few days and waiting for my product to arrive. Hope I won't have the bluetooth or any other tech trouble this time. What made me give JBL another shot is their customer support and willingness to help customers.
Date published: 2018-03-30
Rated

5

out of

5
by
jblx
from
Wonderful product for the price! You won't be disappointed!
Date published: 2018-03-09
Rated

5

out of

5
by
Dan Dan
from
Really Good Headphones
I've been using the JBL Everest 710 for about a week and really like them. They are so much more comfortable than the JBL Everest 700 and out perform them in mic and sound capabilities. The buttons are easy to use and all are located on one side which is very convenient. The JBL Everest 710 comes with a hard case with a pocket to store the cords so they won't get tangled. These headphones are really good and worth the extra money if you can afford it. I highly recommend.
Date published: 2017-07-05
Rated

5

out of

5
by
Gerald M
from
All You Want In Wireless Over-Ear Headphones
I love my Everest 710 over the ear headphones. It comes with a very sturdy case to protect the headphones. They are design, to fold up and fit nicely in the carrying case. The headset fits over the ears very comfortably and is very easy to pair or plug in with to your source with the hard cable. Also you can shear your music through the Connect & Share Shareeme 2.0 Technologically. Most import is the sound quality is Excellent. You can clearly hear the separation in sound. I would recommend you get one for you and a friend.
Date published: 2017-07-07
Rated

1

out of

5
by
Ernet
from
Shame on you JBL Where are the basic BT standards
A bit late entry but archaic BT codecs are a complete disqualification of these ( and others JBL's headphones ) headphones. Where are aptX and aptX HD codecs, which are also not the latest but they are standards in good ( other brands ) headphones! I will not mention LDAC anymore, but these are probably reserved for SONY headphones.
Date published: 2019-03-17
Rated

4

out of

5
by
alison_530
from
Outstanding range, quality product overall.
I own several JBL products & each of them are of the highest quality, built to last & are worthy of me spending my hard earned money on. All important to me when deciding on which brand I should choose. When it comes to the Everest 710 wireless headphones, they did not disappoint. They met all my basic headphone needs and more. The case provided to store them in was attractive and provided adequate protection. It was a little bulkier than expected but not a problem. Although there was a diagram printed inside the case, showing you which way to properly place them, I still found it slightly time consuming getting them in there according to the picture. There aren't too many function buttons (volume, etc.) on the each ear but I always find myself accidentally pressing the wrong one, no matter what headphones I'm using. However I feel over time I could become familiar with the placement of each button & what action it performed. I had no issues with pairing/connecting the headphones for the first time out of the box. I was pleasantly surprised at how quickly this process took was no doubt it was successful because a woman's voice announced this immediately. Something I was seriously impressed with was how far I could was able to walk away from the device I was connected to before the my phone after to cut out. At the end of the day my only major complaint is the loudness. When I was listening to music, I found myself attempting to increase the volume. Only to be disappointed after realizing I'd reached the maximum. That being said, I wore them while vacuuming & was unable to hear the vacuum, only the song I listening to. So despite having an issue with volume control, I think they made up for it when it came to noise cancellation.
Date published: 2017-07-20
Rated

4

out of

5
by
Joe1972
from
Incredible sound
I been enjoying my jbl 710 for a little over a week now. I can honestly say one of the best wireless headphones I've ever own. I own a couple of over the head wireless. This one really stands out far more than the other one I own. I own a Beats wireless which on the same price range of jbl 710. But the 710 is way better sound. I do like the design of the Beats. The expose button controls makes the 710 a little cheap looking. But don't let that fool you again the sound of 710 is amazingly clear.
Date published: 2017-07-05
Rated

5

out of

5
by
Jake MTB
from
State-of-the-Art Bluetooth Pro Audio
With this latest iteration of the Everest 7xx series, JBL has raised the bar for wireless over-ear headphones. Out of the box, it's difficult to overlook the hard case storage pouch embossed with the JBL logo and tethering strap. That's an obvious advantage over my Everest Elite 700s, which came with a soft case. The contrast inlays of the JBL logos, as well as the cup padding materials, convey the image of professional grade headphones. So, as far as aesthetics go, they're an impressive set right from the start. Putting them to use is an intuitive process for anyone familiar with Bluetooth functionality. There were no issues synching them up any of the numerous b/t-enabled devices I have at my disposal. As a collector of audiophile-grade wired and wireless headsets, I was ready to draw comparisons to this pair and other pairs that I've spent considerable time using. An obvious advantage that these have from the start is adequate power. That's a must when considering that they are wireless and thus not reliant on a source output. There is no need for an external headphone amp to make these sing. I didn't need to turn the volume up much at all to crank plenty of clean, accurate bass and midrange through these headphones. Speaking of midrange, I found these to be surprisingly balanced as far as tonality goes. My ears were not fatigued after hours of cycling through various genres from Miles Davis to Roger Waters. Instruments were well differentiated and detailed. Staging was transparent and at times came very close to mimicking that of open-back headphones. Rarely did sounds seem localized to the exact physical location of the cups. Their sound is spacious and multi-dimensional. They're extremely light-weight--much lighter than the Everest Elites. The cups are also very comfortable. I take these out for long walks with the dogs and I don't even notice that I'm wearing them. Others have said these are noise-cancelling. That is not true. This particular pair is sound isolating, and it does a great job of that. I've worn these on the freeway and around other loud noises, which these seem to block pretty well. I wouldn't recommend them for use on an airplane, and these weren't designed for that anyway. They were great for phone calls and sharing with another set of b/t headphones, but surprisingly they don't have track switching controls. Overall, I have no regrets about the Everest 710s. If anything, I'm impressed. The sound quality surpasses any expectations for wireless headphones, and their feature-packed design should send the competition back to the drawing board.
Date published: 2017-07-04
Rated

1

out of

5
by
mrworldwide
from
doesnt worth buying
except there is no bass one side is much louder than the other and this is very annoying. the qaulity is okay but not worth the money for sure. 10/10 would not buy JBL ever again.
Date published: 2018-06-22
Rated

5

out of

5
by
Athan
from
Incredible sound
I ordered these to get by while my Hesh 3 replacement came in the mail (which are insanely comfortable to wear) and at first found them to be less comfortable. I don't know whether it is because 'I broke them in', but my Everest headphones are now my primary set and I only fall back to the Hesh 3 if I forget to charge my JBL set and need something in the meantime. Would still like the cushions to be a bit larger in diameter, but overall these are my favourite headphones ever.
Date published: 2020-05-02
Rated

5

out of

5
by
Madpoet
from
unbelievable quality
Review title says it all. You'll hear things you've never noticed in your favourite song before. The clarity is amazing.
Date published: 2019-06-13
Rated

5

out of

5
by
Ethan222_
from
Great sound and comfort
I overall liked this product, the ear muffs are really comfortable and didn't seem to get too hot if you wear them for an extended period of time. They're very easy to fold up and put into the case to use on the go. The charging time is only two hours and that seems really good for the use you get out of them. My phone battery would usually die before the headphones do (on bluetooth). I wore them for about 3-4 hours and they didn't become uncomfortable and they fit very well, especially being they can adjust to fit you. They have pretty good bass and are very loud, I didn't turn it up to full volume being it was plenty loud. It overall sounds crystal clear. The case and cords seem pretty durable and protects it well. I really like these headphones overall for the sound, compact size, perfect fit and battery life.
Date published: 2017-07-02
Rated

5

out of

5
by
MoneySign_FresH
from
Great products listening to songs on it you can hear the whispers...ready to start using it on my condensed mic. Artist follow me MoneySign_FresH social media, YouTube check me out
Date published: 2017-12-10
Rated

5

out of

5
by
lurocks1970
from
well designed, great spund
I purchased this for my wife and she loves it, uses it to workout and battery life is great.
Date published: 2019-05-08
Rated

2

out of

5
by
Avinash
from
Build quality not worth the price
Bought this three months ago, sound is very good but not much bass. If you are looking for good bass then stay away from this. My main disappointment with this is the build quality. Earcups are made of very thin faux leather and easily prone to tears. Dropped headphones once from desk and it made a centimeter cut on the side of ear cups. For the price I expected better quality n design. Now i have to use them as super fragile object. Also the fit is not so firm.
Date published: 2018-03-11
Rated

5

out of

5
by
Anuj
from
One of the best in the market
I just got the product few days ago and I have using it since for 4-5 hours everyday and as of now I didn't have to charge the battery. The sound quality is just amazing as the sound is clear and loud. It fits the ear perfectly and feels really comfortable, along with that physically it feels really strong. The only thing which is missing is noise cancellation and color options. I would definitely recommend the products to all my friends and family.
Date published: 2017-07-05
Rated

4

out of

5
by
acura9927
from
Just one thing about it I don't like
I use to have the older Everest 700 and think the 710 is an improvement in many areas. The sound is a bit more precise and well rounded in the mids and treble and the bass is a bit less pronounced. Its lighter and the on and off button is 100% better in simply how it turns on and off which is taken for granted on these things. Now the bad part, its less comfortable on the ears for me, the earcups are smaller and my ears get sore after say 1.5 hrs with them on. On the older 700s I did not get a fatigue feeling with them. That says the 710s have come excellent qualities that are way better than other bluetooth headphones. They connect in a NY minute to my smartphone! very much appreciated. Now its almost perfect but no cigar. Other reviewers have said its very comfortable with no ear issues, maybe its just me. As other say YMMV.
Date published: 2018-10-20
bvseo_sdk, dw_cartridge, 18.2.0, p_sdk_3.2.0
CLOUD, getReviews, 38ms
reviews, product
Product Q&A
Hello, Is there any app that lets me know how many batteries my headset has (EVEREST™ 710)?
There is not an app that can work with the JBL Everest 710, however the battery you can enjoy music playback through Bluetooth for up to 25 hours, per 2 hours charging time.
Date published: 2021-06-06
What is better. More bass without noise cancellation or less bass with noise cancellation?
I tried both non anc and with anc, ill be honest there isnt really anything diffrent the anc makes it a little lighter sound in the background but i dont think its worth the extra $50 because they block out the noise one is just a little bit better not a big diffrence
Date published: 2021-06-06
What series is the best? The Everest Series or the Synchros Series.
Hi! Both headphones deliver superior sound quality and comfort. Please visit our website: https://www.jbl.com/headphones/ for information on their specs, battery life, etc. Depending on what you are looking for in a headphone, you may prefer one to the other, thank you!
Date published: 2021-06-06
Can I use the headphones while playing basketball?
The JBL Everest 710 is not a sweat proof headphone and are not designed for rigorous workouts. Over exposure to sweat can compromise the controls and ear pads. We recommend looking at our available athletic headphone models at http://www.jbl.com/sport-headphones/
Date published: 2021-06-06
Does these headphones have echo cancellation?
Yes. The built-in microphone on the EVEREST 710 headphones comes with integrated echo-cancellation.
Date published: 2021-06-06
Hello i would like to know the difference between jbl everest 310 and 710? And which one do you guys reccomend.
The JBL Everest 310 is an On-ear headphones while the JBL Everest 710 is an Over-ear headphones. They have the same feature and their only difference is the design. If you prefer to have headphones on your ears then the 310 would be your choice, If you prefer the headphones over your ears then the Everest 710 would be the perfect fit for you.
Date published: 2021-06-06
The ear pads and the upside part of the headphone are made of genuine leather or synthetic?
Our Everest series headphones are made with synthetic protein non-animal leather.
Date published: 2021-06-06
How do I power on without a wireless connection. I just want to plug the Everest 710 into my CD player with the jack supplied with the Everest 710.
No need to turn it on, Simply plug in the jack to both ends of the JBL Everest 710 and the Cd player and it should work.
Date published: 2021-06-06
What are the specs on the detachable cable as my last one broke.
The detachable is a 2.5mm to 3.5mm control cable that we have available over the phone. Have your credit/debit card ready and call our toll-free number at 1-800-336-4525 and our representatives would be more than happy to assist you with obtaining a new one.
Date published: 2021-06-06
My headphones automatically power down after several minutes of inactivity which means I have to re-pair each time I want to listen to something. Is it possible to just keep them powered on and paired so that I don't have to re-pairing them at each use?
All of our Bluetooth capable headphones feature a power saving mode which will automatically turn the headphones off within 5-10 minutes without any audio signal. This is to conserve the battery life. And no-there is no option to disable this feature. Our sincerest apology for the inconvenience.
Date published: 2021-07-25
What kind of charger should I use for this? 5V-1A or 5V-2A? Which will have the two hours' charging time? I don't find which kind of charger is recommended on the instruction of this product.
Thank you for your question. The standard power adapter of the USB Power adapter is 5 Volts 1A.
Date published: 2021-06-06
Which is better? Everest 710 or E 65 BTNC. A comparison of the sound quality, ergonomics and properties of each of the headphones. Is it possible to answer calls while wireless? In both headsets?
In terms of sound quality, you will definitely get more out of the Everest 710 headphones because it has a wider frequency response ranging from 10Hz to 22kHz. It also has the ShareMe feature, which allows 2 of these headphones to play one media coming from one source. The E65BTNC on the other hand, while having a frequency response ranging from 20Hz to 20kHz, has Active Noise Cancelling feature hat cuts out all background noises from the outside when listening to music. In terms of operating the headphones, they function the same way and have the same charging time of 2 hours. In terms of music play time, generally speaking the E65BT plays for 24 hours with BT on and ANC off and the Everest 710 at 25 hours with BT. And yes, calls can be answered, rejected, ended wirelessly for both headphones. If you have further inquiries about these headphones, please refer to the webpage or submit a case request at https://www.jbl.com/support-contact.html and the Customer Service Team will be more than happy to assist you.
Date published: 2021-06-06
what is the deal with 700 Everest not charging or turning on
We would like to work with you directly to help you with your issue. Please submit a case request at https://www.jbl.com/support-contact.html and the Customer Service Team will be more than happy to assist you.
Date published: 2021-06-06
Will my JBL Everest 710's work on the JBL headphones app? It doesn't seem to pick up my device when it's connected to my Bluetooth. Pls help
We would like to work with you directly to help you with your issue. Please submit a case request at https://www.jbl.com/support-contact.html and the Customer Service Team will be more than happy to assist you.
Date published: 2021-06-06
What is the difference between echo cancellation and noise cancellation?
Echo cancellation is mainly used for calls so that there would be little to no Echoing when speaker over the phone. Noise cancellation on the other hand blocks the ambient noise when listening to music so you can further immerse yourself in your playlist.
Date published: 2021-06-06
Is it normal that left side has more bass rather then the right? I finally got the JBL everst 710 but one side has more base then the other
What you are experiencing is not normal. Please submit a case request at https://www.jbl.com/support-contact.html and the Customer Service Team will be more than happy to assist you.
Date published: 2021-06-06
Hey, When I am connecting my JBL 710 through bluetooth to my Mac, the sounds is bad and I when I connect it with the wire it's great. What should I do? where should I configure the sounds for it on Mac? Thx
Thanks for reaching out, we would like to work with you directly. Please submit a case request at https://www.jbl.com/support-contact.html and the Customer Service Team will be more than happy to assist you.
Date published: 2021-06-06
Does these headphones have adaptive noise cancellation technology?
Hi! The EVEREST 700 doesn't have a Noise Cancelling feature. If you're looking for headphones that feature this, our EVEREST ELITE series are worth checking.
Date published: 2021-06-06
Which is better. The Everest 750nc or the Everest 710?
It would depend on the matter of preference, If you want to have noise cancelling then the Everest 750NC would be good for you, If you just want to have a longer playtime then the Everest 710 would be your choice.In terms of sound quality they are almost the same , if you have the noise cancelling feature activated you will hear the details you've missed without it so the Everest 750NC would win in that field.
Date published: 2021-06-06
When I plug the headphones up to charge them, the light remains lit for a second, then turns off.  They don't charge and now I can't turn them on at all.  Please help. 
We would like to work with you directly to help you with your issue. Please submit a case request at https://www.harmanaudio.com/support-contact.html and the Customer Service Team will be more than happy to assist you.
Date published: 2021-06-06
Can I use the 710's on XBOX one?
What materials are used for this pair of headphones?
My Everest 710GA are paired to my Avantree transmitter. Every time I turn them on, about 30 secs connecting to it they say "JBL Everest is ready to pair, go to the pairing menu on your device" even though they are connected.
bvseo_sdk, dw_cartridge, 18.2.0, p_sdk_3.2.0
CLOUD, getContent, 23ms
questions, product
Support
Register your JBL product
Do you own this product? Register it here in case you need to claim warranty
Register Now
Can't find what you're looking for?
Are you looking for product support, documentation, how-tos or older products?
JBL Support