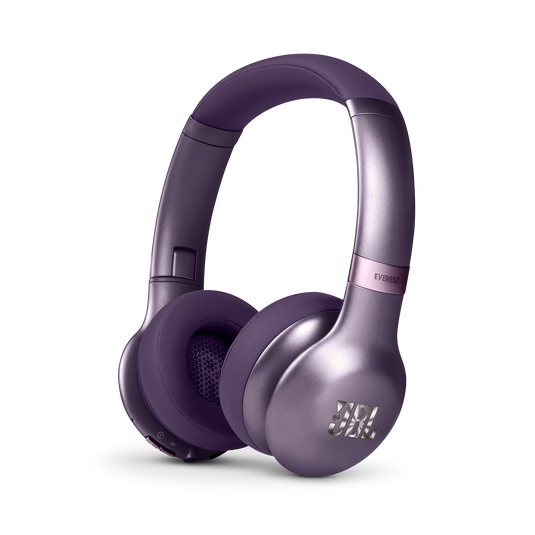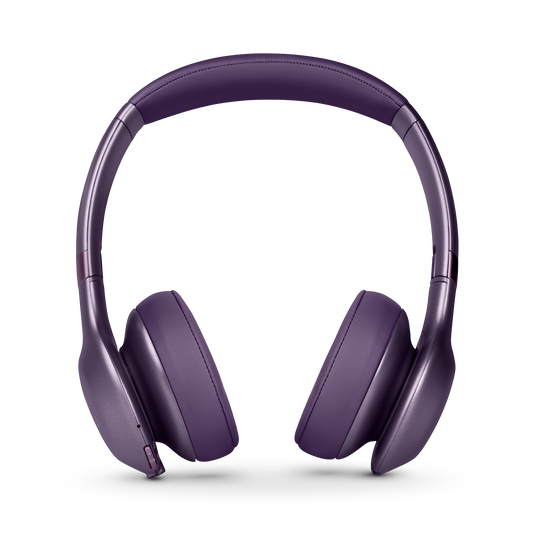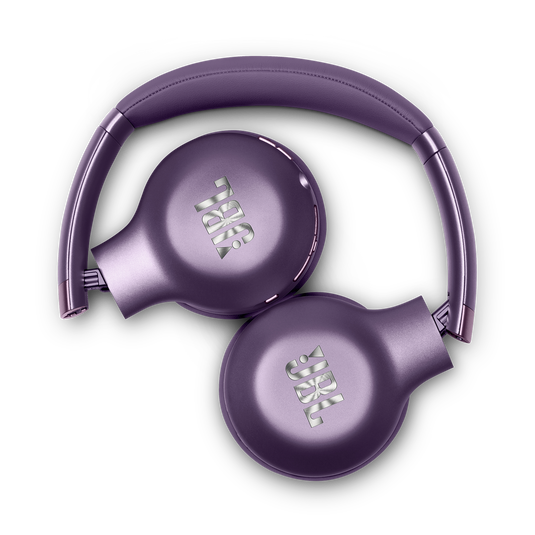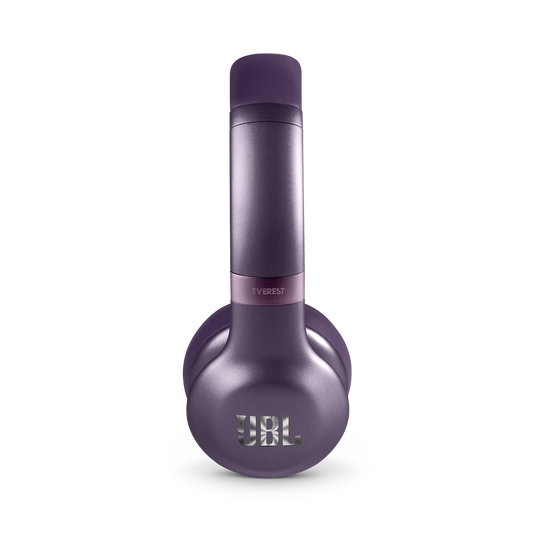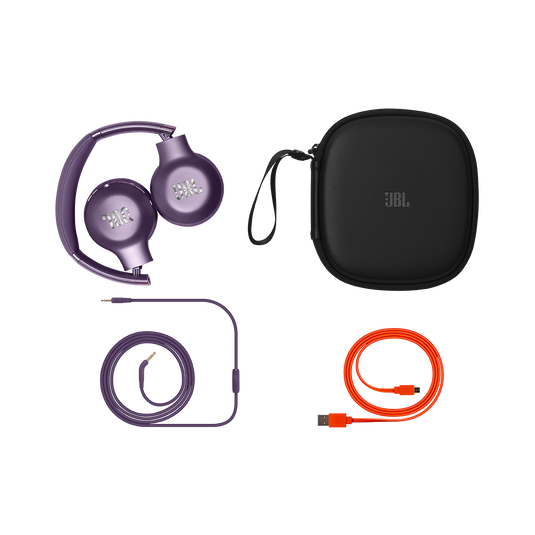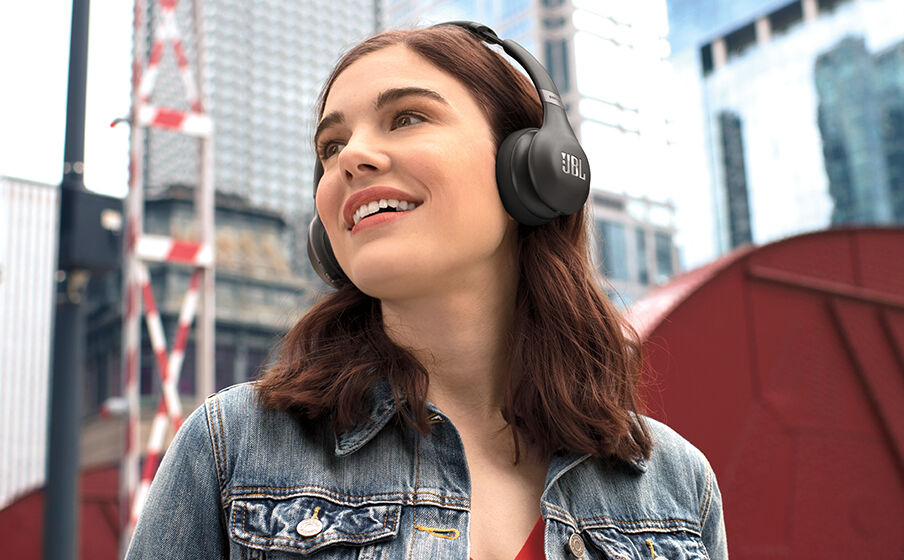 Bluetooth Connectivity
Wirelessly enjoy all your music.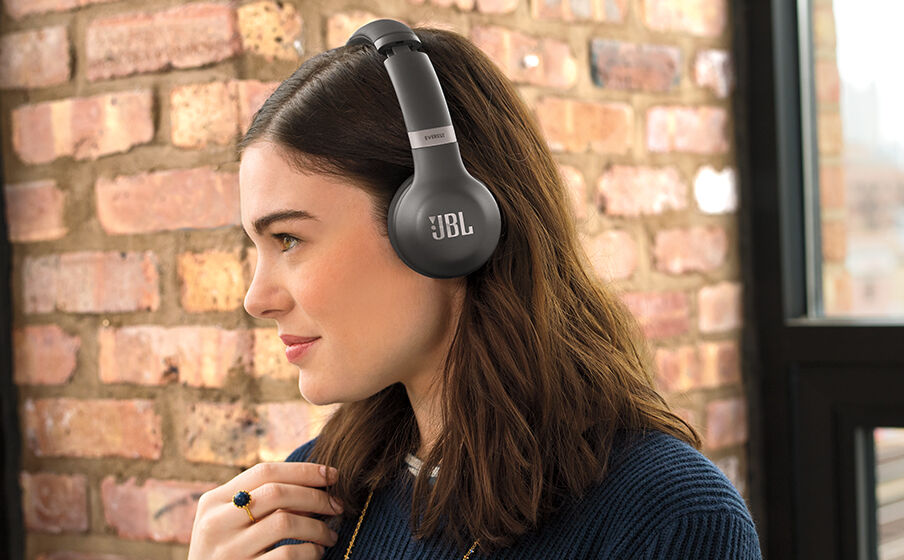 Legendary JBL Pro Audio Sound
Experience the same elevated experience and incredible sound JBL has been delivering to concert halls, studios and living rooms for 70 years.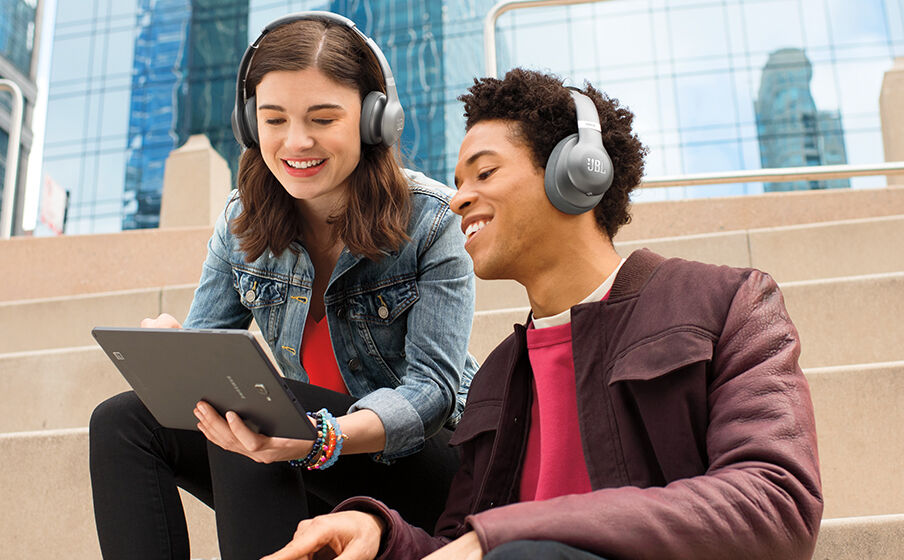 Connect and Share
With ShareMe 2.0 technology, now you can pair your headphones with other Bluetooth headphones to share your music, videos, and games across any brand – wirelessly.
Features

Up to 20 hour battery, quick recharge in 2 hours
Micro USB charging built in battery provides up to 20 hours of playing time, with quick recharge in just 2 hours

Echo cancelling microphone
Built in microphone with echo cancellation technology for crystal clear, hands-free calls.

Comfort fit
Headphones are ergonomically designed to fit the unique contour of listeners' ears. Listeners experience unprecedented comfort—allowing a longer, more enjoyable experience.

Fold and carry
A sleek flat-fold design and a premium, hard carrying case allow maximum portability and protection
Specs & Downloads
Item# JBLV310BTPURAM
Description
Music connects us. Not wires.

Slip on the JBL Everest 310 and you'll experience up to 20 hours of wireless freedom, the thrill of mind blowing, Legendary JBL Pro Audio sound and the ergonomic comfort offered by premium material finishes and a snug fit. Share Me 2.0 technology allows you to connect and share your music with friends, via Bluetooth. A quick 2-hour recharge, a sleek flat-fold design and a compact hard carrying case make these headphones the perfect companion for your busy lifestyle. A built in microphone facilitates crystal clear hands-free calls, and easy controls on the ear cup let you take charge of your music. Available in four metallic finishes, these headphones put your passion and life, front and center. Dare to listen.
General Specifications
Audio Specifications
Driver sensitivity at 1kHz/1mW (dB)

96dB

Dynamic frequency response range (Hz)

10Hz-22kHz

Impedance (ohms)

32.0

Number of drivers per ear

1.0
Dimensions
Control and Connection Specifications
Bluetooth profiles

HFP v1.7, HSP v1.2, A2DP v1.3, AVRCP v1.6

Bluetooth frequency

2.402GHz-2.48GHz

Bluetooth transmitted modulation

GFSK,π/4DQPSK, 8DPSK

Bluetooth transmitter power

0-4 dbm

Bluetooth version

4.1
Battery
Charging time (hours from empty)

2.0

Maximum music play time with ANC off (hours)

20.0

Maximum play time (hours)

20.0

Maximum talk time (hours)

20.0
Features
Built-in Microphone

Yes

Carrying case

Yes

Detachable Cable

Yes

Flat-fold design

Yes

Hands Free Call

Yes

JBL Legendary Pro Audio Sound

Yes

Leather headband

Yes

On-ear

Yes

Rechargable battery

Yes

Remote control on ear cups?

Yes

ShareMe 2.0

Yes

Speed charge

No

Wireless

Yes
What's in The Box?
1 x Headphones
1 x Detachable remote cable
1 x Charging cable
1 x Carrying case
1 x Quick start guide
1 x Warning card
1 x Warranty card
1 x Safety sheet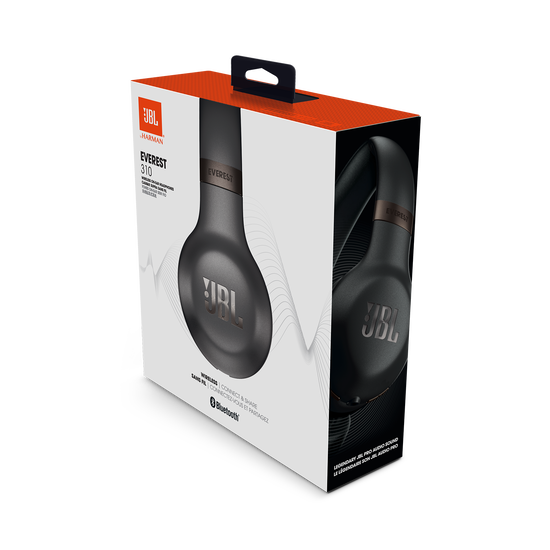 Documents & Downloads
Customer Reviews
Rated

5

out of

5
by
Mossreport
from
Great headphones
They are comfortable and easy to work with. I bought two more pairs for friends and family.
Date published: 2017-12-15
Rated

5

out of

5
by
TootsMatt
from
Impressive Headphones
I got them a couple weeks ago and I was surprised at how comfortable they were. Plus the controls on the headphones are much easier to use than the 300 Everest. And the sound is what you'd expect from JBL - top quality.
Date published: 2017-07-14
Rated

5

out of

5
by
ani89
from
Great headphones!
I've been searching for a great pair of over ear Bluetooth headphones for a while now and decided to give JBL a try. I am not disappointed!!! I'm so glad I bought these - they're comfortable, have great sound, and are noise canceling, perfect for the gym. The only thing I don't like is when I lay back, the headphones fall a bit ): but it's not a big enough complaint where I would return these or rate them any less.
Date published: 2017-12-07
Rated

5

out of

5
by
RaulSanchez
from
Happy
I'm very satisfied with the headphones I got from JBL. It's re new thing now and underrated. Best quality ever had. THANK YOU
Date published: 2018-07-20
Rated

5

out of

5
by
DonH
from
Huge sound
I've only had these headphones for about a week but I can tell I'm going to be happy with them for a long time. Visually they have a look of quality you'd expect from JBL. They fit snug but not too tight. They're solid but not too heavy. They're efficient design makes them compact but the buttons are still easy to get to. The Bluetooth feature eliminates the need for wires but it comes with a wire you can plug in if there's no Bluetooth source. There's also a feature called ShareMe that allows other Bluetooth headphones to connect to my headphones for sharing music. Aside from all of this the best quality of these headphones is definitely the sound. The treble bright and crisp, the midrange is pure and the bass is deep and smooth. This was one of by best investments.
Date published: 2017-07-02
Rated

5

out of

5
by
Josey395
from
Awesome Sound ..
I am in constant pursuit of "The Headphones". I may have found them. I listen to music all day, every day as I navigate our newest landscape projects. Headphones on in the early morning and I'm out the door. JBL EVEREST 310 are really excellent. My devices pair instantly and stay paired. They are snug and stay in place which is very important to me. The range is very impressive as is the charge life. I feel the music through the quality of sound rather than outrageous volume. Tilt features in the construction are important to me. I can completely tune out competing sounds or I can tilt them enough to have a conversation. Or anything in between. I am very happy with JBL EVEREST 310. I have enjoyed JBL products, for many years. These are the best headphones that I have experienced. Thank you, BACKSTAGE PASS!! .... Steve Wales.
Date published: 2017-07-06
Rated

5

out of

5
by
Bambino1242
from
Superior Sound Quality.
From the opening of the box you could tell this product would be top notch! The ease of connecting to any bluetooth capable device was a breath of fresh air. I paired them with both my phone and my laptop and connection couldn't of been easier. Now it was time to hit play on my library of music. I was blown away by the clarity of the sound. The bass was shocking from such a small and compact headphone. Next I watched a few movies on my laptop with the 310's on. You heard every high crystal clear, and felt every low. Even though these are not noise cancelling headphones, you cannot hear anything outside of what is going on in theses headphones. I was very impressed by this product, and I would recommend anyone who is looking for a superior sound!
Date published: 2017-07-04
Rated

5

out of

5
by
E_san
from
Great quality sound
I am in love with these new headphones the sound quality is great very clear and crisp sound, love how they came with a nice case that they fold easily into not flimsy at all great quality headphones fit and adjust very well very comfortable. The added cord for wired use is very convenient to have as well although I use the headphones wirelessly good to know it is wired capable as well. Battery life on these are awesome haven't had to charge them yet. Very happy with all the jbl products I have so far. I highly recommend these headphones not only do they look nice they sound great.
Date published: 2017-07-02
Rated

5

out of

5
by
Tuan
from
Great value
I bought this during the black friday sale for 50% off and it is the best headphone I have ever had.
Date published: 2017-12-13
Rated

5

out of

5
by
RDeal
from
Awesome updates
I currently own a set of Everest 300s. An outstanding set of enclosed headphones. I recently received a set Everest 310. Wow. Many new features. Let's start with comfort. I wear glasses so when I am wearing the 300s, it does pinch a little on the ears. The 310 have a bit softer ear cushion as well as the memory metal that pressures the head phones to stay in position comfortably. The 310 charges quicker or maybe it's just me but it seems faster. The 310 also offers better storage. Both sets fold up, but the Everest 310 not only folds, but the ear pieces turn flat so that they fit easily into its protective case to prevent any damage. Now to the best part. Now the Everest 300 sounds great, nice low end an tonal quality that one would expect from JBL. The Everest 310, has really enhanced the sound quality. The low end has a nice rich tone and not over bearing ,Ike some headsets. The midst a day high end tones blend extremely well with the low end date making your audio experience truly enjoyingredients. I for one would suggest these to anyone for their personal use, gift or if you are an audiophile such as I. Thank you for reading!
Date published: 2017-07-05
Rated

5

out of

5
by
Angel E
from
Absolutely Outstanding Sounds
I received this item and since then do not want to take them off. The sound and phone features is absolutely useful and the sound quality in both the phone and music is nice , crisp and clear. The flexibility it has also in putting it away in the case provided is also smart. Definitely worth it.
Date published: 2017-07-01
Rated

5

out of

5
by
Pedro14169Yes
from
Great product
Great sound best jbl headphones Great battery life 20hr Legendary....
Date published: 2017-06-30
Rated

5

out of

5
by
JulyF16
from
Foldable Headphones with Awesome Sound and Battery
I've had these headphones for a couple of days now. These headphones connect to Bluetooth pretty quickly, but they also come with an 3.5mm headset cable with an inline mic for wired use. There is an audible alert that lets you know when the power is on, the device is paired, ready to pair, or powering off. They come with a carrying case and fold for a more compact design. The battery life is incredible. I used them quite a bit over the course of a couple of days before I had to charge them. The actual charge time was also very fast. They were back in use within 2 hours. The actual sound quality is definitely the selling point of the headphones and is quite balanced. The bass is adequate, but in my opinion could be a little more present without disturbing the over-all balance. They are not the loudest headphones I've ever used, but the volume is definitely more than adequate. The headphones physical controls include the power slider, volume buttons, play/pause button (which can be used to answer incoming calls), a bluetooth pair button, and a ShareMe button. The ShareMe feature allows you to pair an additional bluetooth headset (regardless of brand) to the headphones and listen on both devices. In my experience it works very well. Overall, these headphones are definitely versatile, offering Bluetooth and wired options. They are easy to use thanks to the quick power-on, power-off, pairing, and the various physical controls. The battery life and carrying case definitely emphasize portability in these foldable headphones. The sound leaves no doubt to it's name as a JBL product. While ShareMe adds an unexpected bonus.
Date published: 2017-07-05
Rated

4

out of

5
by
mydoglouie
from
Excellent on ear headphones, wonderful sound !
Purchased these headphones due to the blutooth feature and sharing capabilities. These are very comfortable to wear, and the sound is excellent. Good bass !! These work pretty good answering phone calls as well. Clarity is good. I do like the sharing of two different Bluetooth headphones, Kinda cool when you have a friend who can listen to the same music. Also you can switch between two music sources via Bluetooth. Nice feature as well. Overall, great sound, good product that fits comfortably and looks cool. Would recommend !!
Date published: 2017-07-04
Rated

5

out of

5
by
Bamaboy81
from
Great sound and storage bag.
I received these two days ago and have had to fight my son for them ever since. I am really impressed with the way they were packed. The sound was very clear and the bass sounds awesome. The battery stayed charged as advertised. I have a big head and it's hard to find headphones that fit. But these fit great. Thanks for another great product.
Date published: 2017-06-28
Rated

4

out of

5
by
Whatareview
from
They have earned a spot at the table!!
These JBL Everest 310 headphones have earned their spot. Usually I want to think of purchasing these headphones but glad I did. These headphones are a great alternative to its competitors. Several things I like about these headphones quality of the sound. I played several different types of music and the headphones were able to reproduce the sounds very well. Very low frequencies sounded awesome. Headphones seem to have been created durable. The earpieces on the Everest are created much better than the Beats headphones. The sound quality on the mic when on a voice call is clear with minimal issues for the other party to hear you. Bluetooth worked very well and walked around well over 40 ft away from the source with doors and walls in the way. I only have one thing to say negative about him is the size of the ear pieces for larger ears they won't fit as comfortable as with smaller ears. Overall these headphones are a great option and some of the best I've tried recently.
Date published: 2017-07-03
Rated

5

out of

5
by
LoganJ
from
Best Headphones I ever owned
I got these as a gift in sixth grade and wore them everyday thru middle school. They lasted through all my tough times and I got amazing mileage out of them. Sadly, today they bit the dust. So I decided to give my honest review of these amazing headphones. The sound quality is brilliant. It was always clean and never got duller over the three years I wore them. They are a comfortable fit for my head and felt nice when I wore them around my neck when I wasn't listening to them. They have a very convenient way of storage and a nice carrying case. The charge lasted all day and then some and the sound never got worse as the battery drained. Overall, these were the greatest headphones I've ever had the privlages of wearing abd I'd buy them again if I had the money. Great product. 10/10.
Date published: 2020-07-16
Rated

5

out of

5
by
josh408
from
Sleek Design with Outstanding Sound Qualty
Design: The design of this product is nice. I don't like when the ear parts are so big that it looks funny, these are a perfect size. I have the gunmetal ones and they are a cool universal color for men and women. The headphones do fold up to fit in a carrying case but it would be nice if they could fold up a little more. The added cushioning at the top of the headphones and the ears allow a comfortable feel when wearing them for a long time. I wore these on a flight for 5 hours and could wear them for another 5 hours no problem! Sound: The sound quality on these speakers is really good. One can easily go out and spend $600 on a pair of over the ear headphones but there is really no need because these at $200 is a great deal and they have a really clear sound to them. There is a good amount of bass which is nice and I listen to every type of music from hip-hop to country and all genres sound great. When it comes to other people hearing the music while the headphones are on, at full volume in a quiet atmosphere it is possible to hear the music but at about 3/4 max volume those around the individual wearing the headphones cannot hear the music. Durability: I have only had the headphones for 3 days so I can't say much about the durability in the long run but when it comes to normal everyday use they seem like they will hold up good. Only thing that I can see being a potential issue is when the headphones are in their folded state and put under pressure. However, anything that has a swivel should be handled with care and put in the case. Features: First off, the bluetooth is very quick to connect and does show the battery life when connected to my iPhone. One can change the volume, change the song, and pause the song all from the headphones. If the battery dies it does come with a aux chord that can be used instead of the bluetooth. It does have the sharing option to share the music with other bluetooth devices which is a really cool feature. The Battery life lasts just as advertised, I had it on at the airport and the plane and the light wasn't red yet until the next day after I used them throughout the day and went to the gym (Yes I have been wearing these a lot in the last few days since I got them haha) Overall great product, I would recommend these 100% if one is looking for headphones that won't break the bank but still want that comfortable quality music experience.
Date published: 2017-07-01
Rated

5

out of

5
by
Pelon91
from
Everest 310 quality and comfort
The Everest 310 head phones are great!! Right out of the box the packaging was excellent. The leather cushioning around the ear lobes is very comfortable used them for the better part of the day with no discomfort. I also like the fact that you have the option of switching between a corded and cordless experience. The only complaint I have is that the bass wasn't what I expected but with a little tweaking to the equalizer (on my phone) fixed that problem. All in all great headphones.
Date published: 2017-07-01
Rated

5

out of

5
by
Matt2470
from
Soft ear covers great sounds amazing battery life
I have had these headphones for a few days now and I'm in live with them
Date published: 2017-07-01
Rated

1

out of

5
by
Aton
from
The worst quality I have ever had.
No comments just look at the pictures. The sound is good but quality...
Date published: 2021-03-29
Rated

5

out of

5
by
Tomsters
from
Great sounding headphones!!
These are some really awesome sounding headphones by JBL. I have a few pairs by top brands and I can say these Everest 310's are easily the best sounding of all of them. They have a great deep bass and everything else sounds in balance. I haven't even burned these in properly and they already sound really good and rich. I can hear a lot of detail and depth that is just not there in the same way in my usual favorite headphones. The bluetooth sounds really good - I don't see much difference between that and wired. I love being able to walk around the apartment listening to them. The headphones come packaged in a nice carrying case with a charging cable that you can plug into the headphones and then into a laptop via usb port and an audio cable so you can listen to them wired if you want. The instructions are in a separate slim cardboard box. I appreciate that the instructions are a little easier to read this time but really this is simple device to use. Just turn it on and turn on the bluetooth on your device and connection is a breeze. The headphones fit really well to the ears and block out sound pretty good. The earpieces can bend upwards and to the side and I suppose this helps with it fitting so well in addition to making them more compact if necessary like if storing them. At the end of the day though, if they don't sound good, then nothing else really matters. These sound excellent and are another great JBL product. Thanks JBL!
Date published: 2017-06-30
Rated

5

out of

5
by
shadow_hawk
from
Unboxing the Everest 310
I was glad to be invited to the JBL Backstage Pass, and I'm so happy now that I can sit down to review my first product. I have to start with the color choices. Mine is just stunning (Gun Metal), and really every shade to choose from is a unique color, not just the standard 'silver' or 'purple' or 'black.' This is the best wireless audio product I've ever used in regards to volume, since usually wireless products don't get very loud, but these do, especially for music/YouTube. It's not advertised anywhere that they're noise-cancelling, but there is a nice level of that. There is the option to use them with the battery wirelessly, or to plug them in with the provided cable (without using the battery) and use them regularly. There are buttons right on the headphones for volume, play/pause, to pick up calls and ShareMe. What's really amazing about that is I've never had earphones/headphones before that allow me to use the button to play/pause while listening to music in iTunes on my PC, and these do - which I was just ecstatic about. They charge fast and then the battery lasts seemingly forever. It powers up and cuts off instantly without a long wait time, and it comes with its own special case. It works with my iPhone, iPad, and PC. Wireless is great, and plugged in with the cable even better. The sound quality is typical of JBL (fantastic). All in all, I'm very happy with these headphones from how they look to how they feel to how they perform.
Date published: 2017-07-03
Rated

5

out of

5
by
Sinuhe_0123
from
Great sound for a great price!
Have been using the Everest 310 headphones for about the past week and have become my favorite pair of head phones! Out of the box, the head phones come in a hard case with an inside pocket to keep the charging USB cable and the wired mic cable, this is a nice feature to keep everything together. The headphones are comfortable and have a premium look to them even if the headphones are plastic. The head band is comfortable and very flexible, I was able to stretch out the headband without worrying about breaking the headphones. Great build quality! I own a pair of Beats Studio 2.0 Wireless and a pair of Sony MDR-XB950BT and I can say that the sound on the JBL Everest 310 is very clean and well balanced. The bass is not as overwhelming as the Sony XB950BT with Bass Boost ON, I do want to say that the bass it is more noticeable than the Beats Studio. The vocals are really clear and I was able to hear new beats/instruments that I was not able to hear with other headphones in the past, one time I got scared because it sounded like someone was banging on the window when in reality it was part of the song. When used at the same volume level, the Everest 310 are almost as loud as the Beats Studio, I doubt anyone will be listing at full volume, this was not a concern, I just though to bring it up. Using the Everest 310 to talk on the phone is not an issue when using bluetooth or the wired mic. The ShareMe 2.0 feature worked great and was easy to pair the 2nd pair of headphones to the Everest 310 thanks to the voice prompts that let you know when the pairing was successful. I was not able to find any delay on the audio for the second pair of headphones. Overall, I am extremely happy with the Everest 310 in sound and build quality, features and comfort! For $199.99 you CAN'T GO WRONG with this pair of headphones! The Everest 310 is half the cost of the Beats Studio Wireless and the same cost as the Sony XB950BT, you get new features and a well balanced sound that I am sure anyone can enjoy!
Date published: 2017-07-02
Rated

4

out of

5
by
Julian88
from
4.5
I had received this a couple of days ago and I can say that these headphones are really comfortable and have really great sound quality. The one thing that does need the slightest bit of work is the volume level. These don't get very low for those people that like to blast their eardrums out, but overall these are probably one of the best on-ear headphones I've ever set on my ears!
Date published: 2017-07-01
Rated

5

out of

5
by
Tikarobe
from
Best ever
I bought 2 of these during the Earth day sale. I couldn't believe the price. They were refurbished but because I had already purchased the 300 for my daughter I trusted the brand. These are amazing and come in a really nice case. It has excellent sound quality. No complaints. These are easy to pair and long battery life. These stay in my purse. Stop reading and buy now. Lol
Date published: 2019-05-08
Rated

4

out of

5
by
JR1124
from
Sleek Design
Very cool looking, sleek design. I like how they fold up and adjust. The case is nice and handy. The controls and ease of use at top notch. The headphones are very comfortable on your head and ears. The only negatives I have are they don't have enough volume and the sound quality could be better, especially the bass when compared to other similar JBL headphones I have used.
Date published: 2017-07-06
Rated

2

out of

5
by
Kar33miamKareem
from
Not durable at all
I bought these headphones 2 months ago haven't dropped them once and the button to put up the volume is broken on the headphones so now it's has no volume not extremely comfortable, and I don't recommend buying these headphones or any jbl headphones (I have read many reviews online and they are saying the sane thing that happened to me happened to them)
Date published: 2018-12-19
Rated

4

out of

5
by
OldHardwareTech
from
Decent headphones for non audiophiles
We've had these 2 months and they have lived up to expectations. I bought these for my wife, who uses them for TV (roku) and Pandora. She loves'em, for me the audio quality I want simply isn't there but I'm an audiophile who listens to SACDs or Qobuz. For 99% of people the sound quality is more than adequate. They are comfortable and I use them when mowing the grass and they work as advertised using both bluetooth and wired connections. Pairing to android is reasonably straightforward and controls on the headset work properly with my Samsung S8. You do need to use a high power source for charging, 1 amp or better is best. We first tried a 500 ma wall adapter and we ended up with a rapidly flashing red led which is apparently an error though the manual doesn't mention it. Build quality is sturdy enough, typical JBL. Overall I would recommend these to anyone who listens to Pandora or other low resolution music sources, but audiophiles should look elsewhere.
Date published: 2019-05-02
Rated

4

out of

5
by
lexy
from
no blutooth
SOmeone bought these as a gift for me and i love them but the bluetooth feature is completely unavailable to me. I suspect the battery is shot because it doesnt appear to be charging at all and non of the buttons on the headphones function. no LED or anything happening. i love them but this is so disappointing
Date published: 2018-09-28
bvseo_sdk, dw_cartridge, 18.2.0, p_sdk_3.2.0
CLOUD, getReviews, 17ms
reviews, product
Product Q&A
Is there a way to replace the one the ear headphones with an over the ear headphone?
We would like to work with you directly. Please submit a case request at https://www.jbl.com/support-contact.html and the Customer Service Team will be more than happy to assist you
Date published: 2021-06-06
Does the My JBL Headphones app work with the Everest 310? I can't seem to get the app to work.
Unfortunately, the JBL Everest 310 is not compatible with the JBL Headphones app. Only our Everest ELITE models and the Reflect Aware are compatible with our JBL app.
Date published: 2021-06-06
Is the JBL Everest 310 sweatproof. Can they be used for running/going to the gym etc.
Hi! Unfortunately, the JBL Everest 310 does not have an IPX rating and we would not recommend using it during physical activities.
Date published: 2021-06-06
only one side of my jbl everest 310 is working the left is not working
Please try to check if it also does the same using the 3.5mm audio cable. For more help, please reach out to our local distributor at https://bit.ly/3dXrt0f
Date published: 2021-06-06
Is the microphone on the 3.5mm cable only? ... If so, and I am using the headphones with Bluetooth, is it the case when a call comes in I will need to plug in the cable or remove the headphones and talk on the phone? ... Thank you for your help.
The JBL EVEREST 310 has a built-in microphone that has a sensitivity of @1kHz dB v/pa: -42 with echo cancellation technology for crystal clear, hands-free calls so you do NOT have to connect an audio cable to heard.
Date published: 2021-06-06
Hi! I´m using the the headset with windows 10 via bluetooth... when I turn on the mic the sound quality changes and is terrible? is there a solution for this issue? or is this how it works?
 We would like to work with you directly to help you with your issue. Please submit a case request at https://www.jbl.com/support-contact.html and the Customer Service Team will be more than happy to assist you.
Date published: 2021-06-06
I can listen to recordings through my bluetooth connection using a Windows 10 platform. How do I record voice in Windows, using the Everest 310 and a Bluetooth connection?
Unfortunately, the microphone for our JBL EVEREST™ 310, and for most of our Bluetooth headphones with microphones, is only for phone calls. It does not have the capability to do voice recordings though a Windows application. It is not like for computer headsets wherein it is supported by the built-in drivers in the Windows OS, including its microphone.
Date published: 2021-06-06
There are no instructions, online or in the box, on how to connect the Everest 310's mic to a Windows 10 computer for use to record or chat via FB. Where can I find the instructions?
There's no need for instructions. Once you connect the bluetooth or Aux cable to your PC, you should be able to utilize the mic. You may need to check on your audio settings to activate the mic on your windows PC.
Date published: 2021-06-06
This headset turns off every ten minutes when connected to a Windows computer. It does not do this when connected to a phone. Any way to change this?
We would like to work with you directly to help you with your issue. Please submit a case request at https://www.jbl.com/support-contact.html and the Customer Service Team will be more than happy to assist you.
Date published: 2021-06-06
hi, will these work with TV? 
The everest 310 is designed to process audio signals and could not process video, so it may work when watching TV programs but there is a possibility that it could encounter a delay due to the video signals being sent out by the source.
Date published: 2021-06-06
i am deaf in one ear. it seems that the sound goes from right to left ears. when it only goes to the right ear i hear nothing. is there a way to make the headphones mono or same sounds in both ears? this is happening with my tv when i am watching a movie.
We would like to work with you directly to help you with your issue. Please submit a case request at https://www.jbl.com/support-contact.html and the Customer Service Team will be more than happy to assist you.
Date published: 2021-06-06
I recently purchased the jbl 310. I was surprised to find the jbl headphones phone app does not support the 310s. Is there intention to add 310 support?
There hasn't been any announcement of this yet but we'll make sure to submit your feedback to the appropriate department in hopes of improving our current and future product line. If you have questions, please feel free to contact us directly by submitting a case request at https://www.jbl.com/support-contact.html and the Customer Service Team will be more than happy to assist you.
Date published: 2021-06-06
Is there a sound quality difference between the jbl e45bt and the jbl 310 everest? Is the bass more powerful? Going from jbl e45bt is it worth upgrading? 
Hello, the difference is that the Everest 310BT uses better, sturdier materials in its construction and has a better sound quality. Also the JBL Everest 310 lasts up to 20 hours while the E45BT lasts up to 16hrs.
Date published: 2021-06-06
After fully charging my JBL 310 & insuring the headphones are turned off, I have to recharge the phones again not having used them after one day. Is this normal?
We would like to work with you directly to help you with your issue. Please submit a case request at https://www.jbl.com/support-contact.html and the Customer Service Team will be more than happy to assist you.
Date published: 2021-06-06
What are the differences between the regular Everest 300 and the Everest 310 apart from the extra $50 and a carrying case?
The difference between the two is that the Everest 310 has new color variations. Other than that, both have the same specifications.
Date published: 2021-06-06
Would it be possible to connect 2 pairs simultaneously to a Samsung UN65MU8500 television?
The Everest 310 has a ShareMe button, which is marked with an S in a circle. Click it briefly. Do not keep the button pressed. It may go wrong if not done correctly. Please make sure that you have the second Everest 310 turned off. Then, press AND HOLD the on/off button for about 15 seconds. The LED must switch to white/red blinking to indicate that it is actually in BT pairing mode. Now simply wait until the two headphones have communicated with each other, and established the BT connection. The white led below the S buttons will light constantly on both headphones when the ShareMe connection is ready. Now you can begin music play on the source, and both headphones will play.
Date published: 2021-06-06
Is it possible to use the JBL app with the JBL Everest 310?
No, the app works with the ELITE models only. These are the ones that feature Active Noise Cancelling.
Date published: 2021-06-06
Is there anyway to adjust the Sound EQ on these headphones? The sound is poor. Very little bass. 
The JBL Everest 310 BT does not have have a companion app to customize EQ settings.
Date published: 2021-06-06
Hi. I really want to buy these headphones but i want to know if is confortable if i use glasses... I have a skullcandy one and is unconfortable if i use glasses. thankkssss
Hi, These JBL Everest 310 can be used and will be comfortable as you use glasses since these are On-ear headphones and doesn't hit your glasses directly. You can adjust the fit of the headphones to make the perfect fit when wearing your glasses.
Date published: 2021-06-06
Is the microphone noise cancelling?
No, the Everest 310 has no noise-cancelling features.
Date published: 2021-06-06
when the battery runs out will it worked when wired?
bvseo_sdk, dw_cartridge, 18.2.0, p_sdk_3.2.0
CLOUD, getContent, 132ms
questions, product
Support
Register your JBL product
Do you own this product? Register it here in case you need to claim warranty
Register Now
Can't find what you're looking for?
Are you looking for product support, documentation, how-tos or older products?
JBL Support