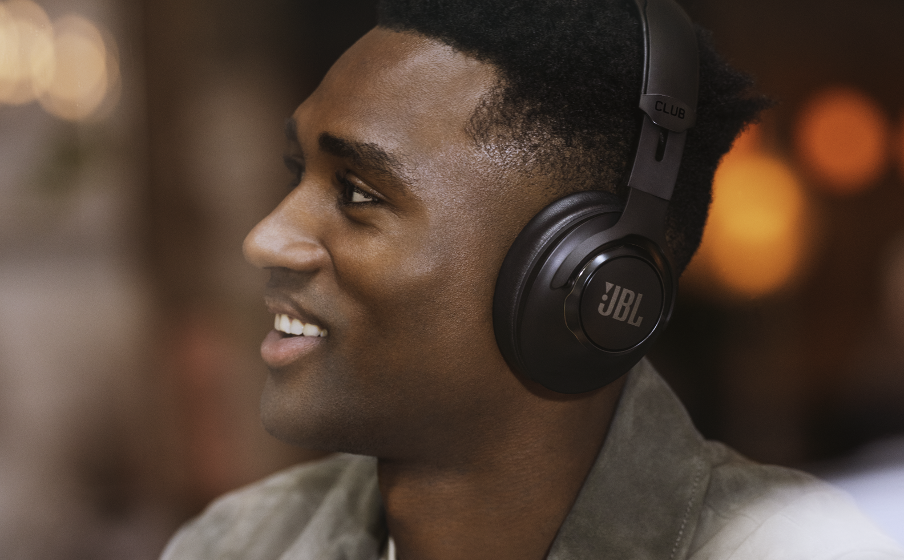 Get lost in your music
Put JBL CLUB 950NC headphones over your ears and bring the stage to you. Legendary JBL Pro Sound and Hi-Res audio gives you a wide range of detail and clarity for the ultimate listening experience.
Adaptive Noise Cancelling
Craving a calm ride to work? Distraction-free studying? We have you. Tune out the world around you and tune into your favorite music. Just press and hold the Smart Ambient button for a few seconds to get to your happy place.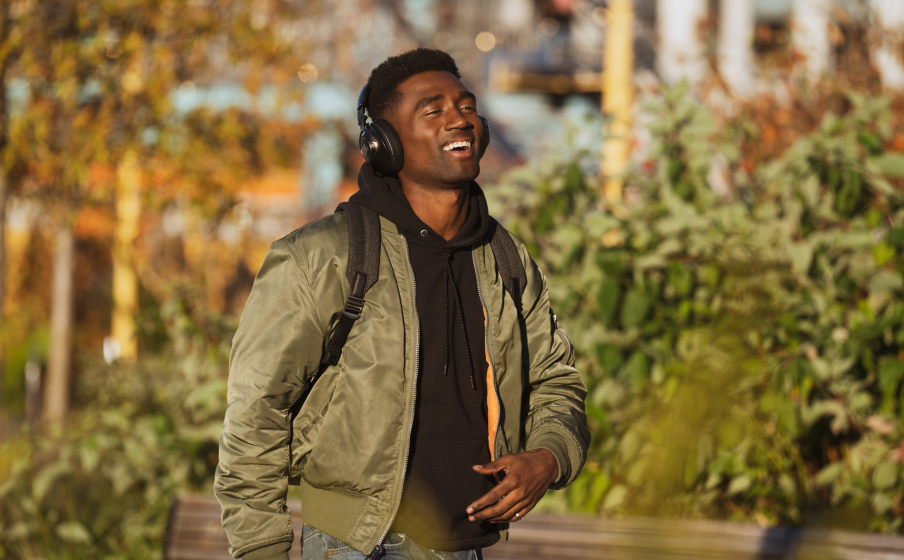 All-day wear
The best headphones are the ones you forget you have on. JBL CLUB 950NC headphones fit comfortably over your ears, with cushioned, oval earcups. And they offer the premium design factor to match, made with high quality materials including metal hinges and an accent bezel.
Features

High power, high impact
With 2,000 mW input power, these headphones won't let you down at critical moments — the specially designed driver coil and magnet have a higher resistance to power surges. Need a bass boost? You don't have to go far. Tap the bass boost button right on your earcup for the sound you want without missing a beat.

Get help from Hey Google & Amazon Alexa
Whether you prefer Hey Google (*) or Amazon Alexa (**), your JBL CLUB 950NC headphones have you covered. Just use the My JBL Headphones app to set up your Voice Assistant, and tap on your left earcup to send texts, play your favorite music, check the weather, and more. (*) Only supported on Android. (**) Android 6.0 or higher is required for full access to Alexa features when using this device.

Get the sound booth experience
Tap the STAGE+ button in your My JBL Headphones app to be instantly transported to the DJ sound booth. JBL teamed up some of the world's best DJs to capture the sound of their personal recording studios, so you can listen the way the pros do.

Up to 55 hours of audio
Your all-night listening sessions can easily stretch into the next day, no worries — you'll get up to 55 hours of wireless connectivity (and up to 22 hours with ANC on) before you need to recharge.

Perfect Calls with Dual-Mic Technology
No more searching for peace and quiet to take a call. The dual-mic technology on the JBL CLUB 950NC cancels out ambient noise when you are on a call, so you can make calls anywhere. From wire-free music, seamlessly connected thanks to Bluetooth 5.0, to hands-free calls, they keep up while you keep moving.

Sound that adjusts to your needs
Need to stay aware of your surroundings? A shorter press of the Smart Ambient button activates Ambient Aware without pausing your music. Have a quick chat with people around you without removing your headphones; TalkThru drops the music level down and amplifies external voices.

Travel-friendly
Take your headphones on your next trip, big or small. The ball foldable design makes them easy to bring anywhere, while the slim, hard carrying case keeps them protected in your bag or pocket.

Sound made for you
You know how you like your music. And so does JBL. JBL Club 950NC headphones feature Personi-Fi. In just few steps, Personi-Fi allows you to tailor your sound profile based on your gender, age, preferences to give you the best possible listening experience. Find Personi-Fi in the latest version of the My JBL Headphones App, free to download.
Specs & Downloads
Item# CLUB950NCBLKAM-Z
Description
Get lost in the music with Adaptive noise cancelling headphones

Transport yourself to the front row. Inspired by music industry pros and featuring Legendary JBL Pro Sound and Hi-Res audio, the sleek JBL CLUB 950NC headphones make it easy to leave the world behind for up to 55 hours of wireless play time, thanks to Adaptive Noise Cancelling, comfy over-earcups and a foldable, portable design. Meanwhile, EQ personalization and bass boost at the touch of a button ensures every crystal-clear note sounds like it's being played just for you.
General Specifications
Audio Specifications
Driver sensitivity at 1kHz/1mW (dB)

91

Dynamic frequency response range (Hz)

16 Hz - 22 kHz
Dimensions
Weight (g)

372

Weight (oz)

13.12

Charging Cable Length (m)

1

Charging Cable Length (ft)

3.3

Ear Cup External Height (in)

3.7

Ear Cup External Width (in)

3.1

Ear Cup Internal Height (in)

2.4

Ear Cup Internal Width (in)

1.8

Ear Cup Depth (in)

0.8

Ear Cup External Height (cm)

9.3

Ear Cup External Width (cm)

7.9

Ear Cup Internal Height (cm)

6

Ear Cup Internal Width (cm)

4.6

Ear Cup Depth (cm)

2.1

Audio Cable Length (ft)

3.9

Audio Cable Length (m)

1.2
Control and Connection Specifications
Bluetooth profiles

A2DP 1.3, AVRCP 1.5, HFP 1.6

Bluetooth frequency

2.402 GHz - 2.480 GHz

Bluetooth transmitted modulation

GFSK, _x001F_/4 DQPSK, 8DPSK

Bluetooth transmitter power

<6 dBm

Bluetooth version

5.0
Battery
Charging time (hours from empty)

2

Maximum music play time with ANC on (hours)

30

Maximum play time (hours)

55
Features
Voice Assistant integration

Yes

Ambient Aware

Yes

Built-in Microphone

Yes

TalkThru

Yes

Wireless

Yes

Adaptive Noise Cancelling

Yes

Over-ear

Yes

Rechargable battery

Yes

Bluetooth

Yes
What's in The Box?
1 x JBL Club 950NC
1 x USB Type-C charging cable
1 x Aux-in cable with remote & mic
1 x Hard Case
1 x Warranty / Warning / Quick Start Guide / Safety Sheet / Google QSR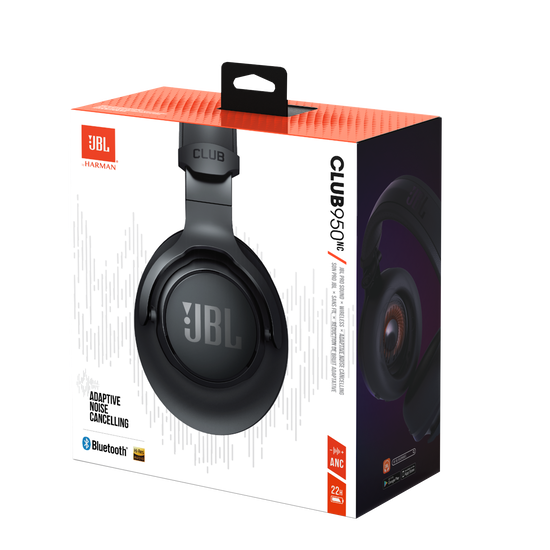 Documents & Downloads
Customer Reviews
Rated 5 out of 5
by
ARK1990
from
Great Sound, Breathable.
I recieved these about a month ago, and I absolutely love the sound, crisp, clear, decent bass. GREAT Noise Cancelling system. The buttons are intuitive, for the most part, I do notice that if I lay my head down, I press the "Assistant" button located on the left ear and accidentally call up Alexa when I didn't mean to, but not taking stars away from that. Charging is easy, and the app pairs well with it.
Date published: 2020-09-06
Rated 5 out of 5
by
Jay Jay
from
Awesome
I recently got a pair of JBL CLUB 950NC. All I can say is excellent work JBL Harman. I have a pair of Elite 750NC and along with the app updates these 950NC will rival any competition in this weight class. I'm talking crystal clear sound with the ability to hear easily without taking the headphones off As a DJ I'm very impressed with their performance. All I can say is keep doing your thing JBL
Date published: 2020-08-23
Rated 5 out of 5
by
genemazzanti
from
Killer sound and massive battery life
As soon as I took the Club 952's out of the case I knew these were serious headphones. Everything on these headphones feels like quality materials. They are not lightweight, but they aren't overly heavy either. The fit is so comfortable they almost disappear. Almost, but as I said these are substantial headphones and they are meant for long term use. The sound is nothing short of perfect. Great bass but not booming, Clean is the best way to describe it. The mid-tones and highs are crisp and very present. The noise cancellation by itself is worth the price of admission. I will use these just to tune out the world and zen out. Really great battery life too, they charged from zero to full in about 1:45 minutes and after two days of use they are still going strong. I think the 25 hour battery life estimate is probably conservative. These look, feel and sound like headphones costing twice as much.
Date published: 2020-08-15
Rated 2 out of 5
by
Rodoze
from
Noise canceling does not work
The noise canceling does not work. If you blast it then you can't hear anything but if you are just listening to things at an acceptable level you can hear everything and I do mean everything. I have the cups tight on my ears and the talk through turned off. The app is on my phone and noise canceling is on. Basically, it's an expensive feature that doesn't work.
Date published: 2022-02-21
Rated 1 out of 5
by
Mason2020
from
Broke in a week
The right side went out in a week. Now being told I have to mail them back over the holiday, wait for them to process them, and then wait for them to mail a replacement pair. Probably taking 3 - 4 weeks with the holiday. I was a fan of JBL before this and have 5 pairs of their headphones and several of their speakers but after this I will never buy again
Date published: 2021-12-23
Rated 5 out of 5
by
Joe Q
from
Outstanding sound.
Just got these cans a couple of days ago, first impression was "very clear" but hardly any bass, once i connected them to the JBL app i said,"oh! There it is". I love them. Sound very good. Too bad they don't come with their own stand just like the jbl live 650 did. As a headphone collector, that matters. One more thing i love the weight they have.
Date published: 2022-02-04
Rated 5 out of 5
by
vengence87
from
Versital, great sound, a little hard head band.
I got these through a discount code for $99. For that price they are a 5/5 no matter the nit picking I can do. My main issues are they have a hard head band that can be fixed with a pad on amazon. Otherwise, better sound then my M50s, Bluetooth and ANC are solid, construction is great, and battery is stellar. They are still worth over $200 easy.
Date published: 2020-10-24
Rated 5 out of 5
by
Davidb775
from
Technologically advanced headphones
Not only do the noise canceling headphones provide great sound, JBL also did a great job on the technology aspect. They have a bass booster setting, a talk through option so you dont have to pause the music and take off the headphones to hear someone talk, along with a lot of cool other features. Easily the best set of headphones ive ever owned.
Date published: 2020-08-17
Rated 1 out of 5
by
Nickmass79215
from
Horrible
I've had jbl headphones for years now and they are amazing. The head band snapped so I bought another pair of jbls. The jbl 950nc to be exact. They suck. Sounds is horrible compared to my old pair. They don't stay on my head when I work out which is the only time I ever wear them. Just trying to sell them on ebay now because they suck so bad.
Date published: 2022-01-01
Rated 4 out of 5
by
MooseDrawsAlot
from
Decent sound
I bought this to replace my older JBL headset. I mostly plan to use this headset for discord, gaming, music and movies. Sound quality is decent: clear and smooth. The overall make of the headset is a little wonky. Hard to return it back to its original shape and fit it back into the case. Seems brittle and easy to snap if not careful.
Date published: 2022-01-27
Rated 5 out of 5
by
DaveCoul
from
Excellent Headphones - Incredible Value
Better than other available headphones in this price bracket (including. QC35): + customisable EQ (audio balancing) sets these appart from other headphones + incredible audio quality + noise cancelling is on par with other brands + comfortable (even for prolonged use) + battery life similar to QC35 (2-3days of signifcant use) and charging is rapid + microphone qaulity significantly better than other brands - the one slight negative the headband (the top joining part of the headphones) is reasonable rigid and there is a slight pressure when wearing (maybe i have a large head) not uncomfortable but you know you are wearing headphones When I first got these headphones I didn't want to like them, but after a couple weeks of use they are become my go to headphones. I have owned a pair of Bose QC35 II for a few years now and hold them as the gold standard. But these headphone have edge them out, with a lower cost and better audio customisation.
Date published: 2020-05-03
Rated 3 out of 5
by
Nick90
from
First I got a pair of 500 wireless headphones and I liked them but they just weren't real loud. Working in heavy equipment I need something to drown the noise. So I went and got a pair of the 950s and they sound great and I like they noise canceling but their still not much louder. Overall I wish they were louder.
Date published: 2021-11-03
Rated 2 out of 5
by
Josue14
from
Not enough volume
I really wanted this headphones to be good they are comfortable anc is ok but the sound isn't that great for a 200+ dllr headphone, call me shipper but for that price I expect them to sound really good and loud and although the sound is kind of ok the volume isn't that loud specially for a head phone this size
Date published: 2021-07-06
Rated 1 out of 5
by
Jblusedtobegood
from
Crap headphones
I've owned a pair of JBL headphones for about 6 years. Most amazing headphones I've ever had. A while back they stopped charging so I bought some jvc and those sucked. I couldn't find the exact jbl headphones anymore so I put them on the charger and after 3 days they started charging again. Worked great ever since. Until about a week ago when the plastic that goes of the head snapped. Now I can't wear them anymore. Leanring from my jvc mistake I decided to stick with jbl. Looked at reviews and decided to go with the 950 club. Well these things suck. No where near as loud and the quality 9f the sound doesn't even come close. They also don't stay on my head when I'm working out which is the only time I wear them. The bass on the old ones was so great you could feel the vibration. The bass on these thing suck. Of course I no longer have the original packaging so I can't return them. So I'm gonna take a loss by selling them on ebay and hopefully I can find a used set like I used to have.
Date published: 2021-12-28
Rated 4 out of 5
by
KrishT
from
Amazing sound quality!
Testing out these headphones and WOW! The sound quality and noise cancelling works fantastically. Even in a busy and loud environment like the gym or on the train, these work so well. My only issue is that they are slightly too large for my pea head, but I'm sure they would fit others just fine!
Date published: 2020-03-20
Rated 5 out of 5
by
nightstalker
from
Xcellent sound but
These have an excellent sound. The build quality is good. They are comfortable. Everything is great except the blue tooth seems to drop off when only a short distance from the source app. 12-15 feet. I did want to use them when sitting across the room. Other than this I highly recommend these.
Date published: 2020-10-28
Rated 4 out of 5
by
RonnieBear
from
Great features, outstanding build quality but not
These are a great pair of headphones. The noise cancelling works well and the build and sound quality are excellent - unfortunately they're just a little too quiet. Not a deal breaker for me as this was a known issue before I bought them but for the price I paid I'd still recommend them
Date published: 2022-08-24
Rated 4 out of 5
by
H3C6K5Y
from
Wonderful sound. Full with plenty of detail
I have never been overly impressed with NC headphones. These are a cut above from my experience. At full retail I would be less enthused, but with the massive discount JBL is currently offering, these are an incredible value with noteworthy performance across the spectrum.
Date published: 2022-02-19
Rated 5 out of 5
by
CiprianV
from
Perfect (over the ear) headphones
Pluses: Very good sound, very happy with playing time (been using them for almost a week and never charged them), lots of features (including a hearing check - impressive). Minuses: Headphones are a bit heavy, and if I wear them for hours, I feel them pretty hard.
Date published: 2021-12-21
Rated 4 out of 5
by
HenryPC
from
Clever Design Great Sound
Just got these headphones to add to my collection. They sound great! Connecting them to a bluetooth device was a snap. Only problem: their weight and they seem a little flimsy their architectural structure is of thin plastic. Formed aluminum would be much better
Date published: 2022-02-08
Rated 1 out of 5
by
Unsatisfied Client
from
Worthless, don't buy!
Battery would not recharge after only three months. Customer Service is unresponsive, don't waste your time or money.
Date published: 2020-07-20
Rated 5 out of 5
by
Popsx
from
Christmas gift winner!
I bought a pair for each of my teenage kids for Christmas as they Argus over the only pair in the house. They are both mad about them, stating they are the best gift they received this year. Noise cancelling, quality sound to match apple etc
Date published: 2021-12-29
Rated 5 out of 5
by
Bill B
from
Great Headphones
These are well built and very comfortable. They came with a hard case and connected automatically with my phone. Natural sound with a decent range of bass while listening to 320kbps mp3s. Feel like I'm listening to speakers, not headphones.
Date published: 2020-08-18
Rated 4 out of 5
by
Changazi
from
Like it
I bought it week before, so far comparing mangoes with oranges is like I am comparing the sony Bass edition with JBL, I like the built quality is awesome, but make it heavy, good for traveling, sharp sound but lack of bass compare to sony.
Date published: 2021-12-23
Rated 3 out of 5
by
GC 2018
from
Not loud enough
First, I love JBL. I have a pair of e-series ive had for years that I've dropped a few (many) times, rolled over on in bed (oops) and broke, glued back together and they just will not quit, Id say confidently 1000+ hours. Anyway, the build quality of these 950's is outstanding, you can feel the weight and quality in your hand, but I like my music loud, and hey, if I want to annihilate my eardrums with good music that should be my choice, not Harman's . At max volume these deliver great sound, impressive, but what happened to enough volume at 50 % like back when you plug your dad's Koss into the receiver and almost blow the magnets off, then hope he doesn't find out? The Harman system in my Grand Cherokee does this without breaking a sweat (apples/oranges, I know ....I know). Point is, JBL is not alone, headphones across the spectrum now "limit" volume for user safety and it just doesn't work for me, and I know I'm not alone. Disappointed, but I'll never trash the name , too many good products to date...I'll probably order a different pair...
Date published: 2021-12-11
Rated 5 out of 5
by
Chucklez
from
Awesome Quality!
When putting these headphones on they are so comfortable and provide superior sound and bass levels. I love that they can block out the noise around me so I can focus on what I am listening too. I would highly recommend these to anyone
Date published: 2020-08-13
Rated 1 out of 5
by
Skidmark warrior
from
Malfunctioning right out of the box.
Can't properly pair to bluetooth on Android device, JBL Headphones app will not connect to them, and sometimes they get stuck powered on and won't turn off, but not properly connected/paired, so I can't even use them when stuck on.
Date published: 2022-01-06
Rated 5 out of 5
by
knucklehead1709
from
One of the best sets I've owned.
I picked up a pair of jbl club 950nc for 89.99 full price is much higher and almost justifiable to pay for such quality. Only a few days if use still perfecting the EQ BUT , I'm going to buy a back up pair cuz these are Dope A/F
Date published: 2022-02-03
Rated 3 out of 5
by
Carmandan
from
Really nothing special
I bought these because they have Bluetooth 5G. Nothing special as far as sound quality. I believe that my JBL Everest Elite 750NC provide a far superior sound. The Club 950's will be given to one of my young grandsons.
Date published: 2021-12-11
Rated 2 out of 5
by
asterix66
from
not versatile
Bought these so I can use when watching TV, I've 10% hearing loss so wear around the house and in bed. Biggest issue is they have no "timeout", previous sets have all had an automatic turn off after a period of time.
Date published: 2020-12-22
bvseo_sdk, dw_cartridge, 18.2.0, p_sdk_3.2.0
CLOUD, getReviews, 7ms
reviews, product
Product Q&A
bvseo_sdk, dw_cartridge, 18.2.0, p_sdk_3.2.0
CLOUD, getContent, 4ms
questions, product
bvseo-msg: Unsuccessful GET. status = 'ERROR', msg = 'Not Found.';
Support
Register your JBL product
Do you own this product? Register it here in case you need to claim warranty
Register Now
Can't find what you're looking for?
Are you looking for product support, documentation, how-tos or older products?
JBL Support