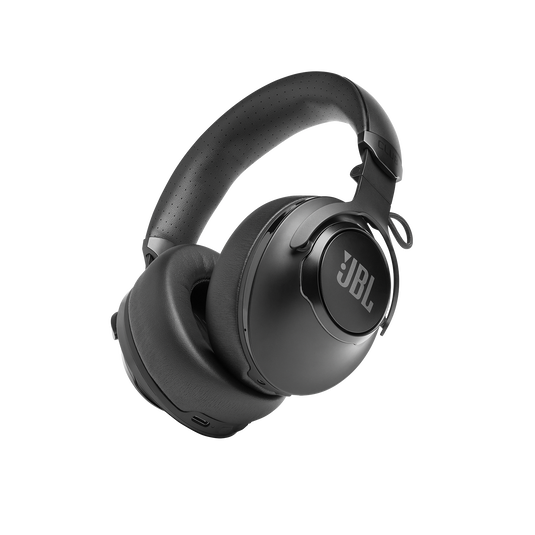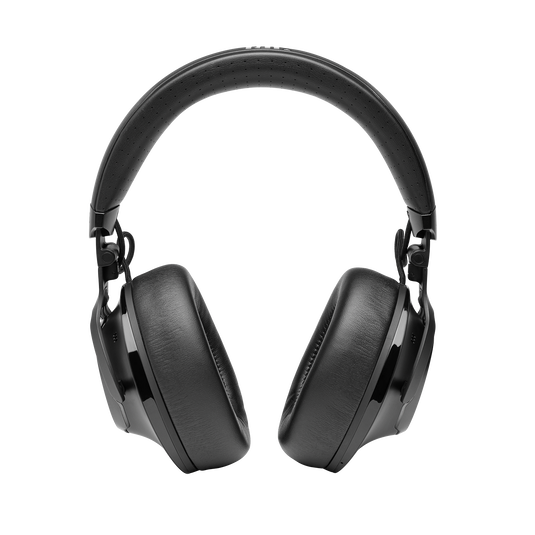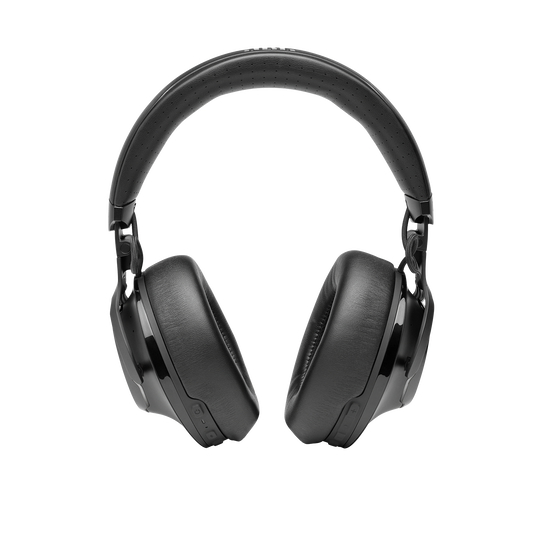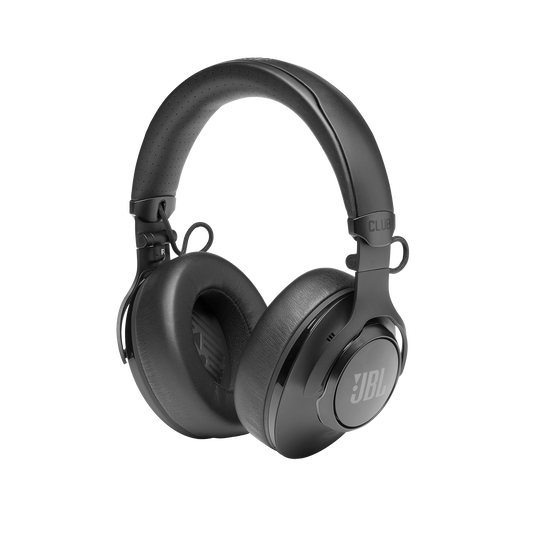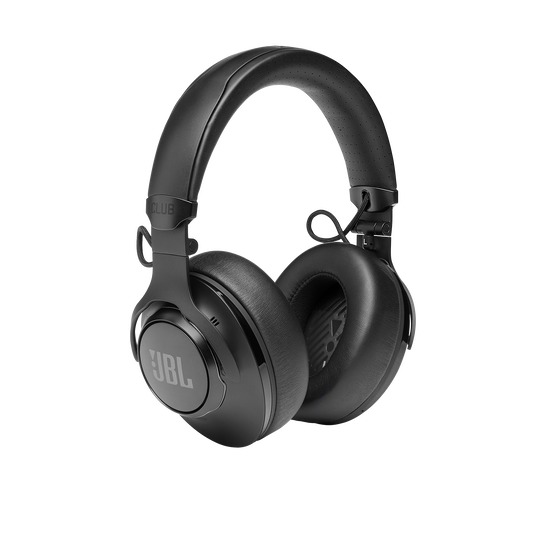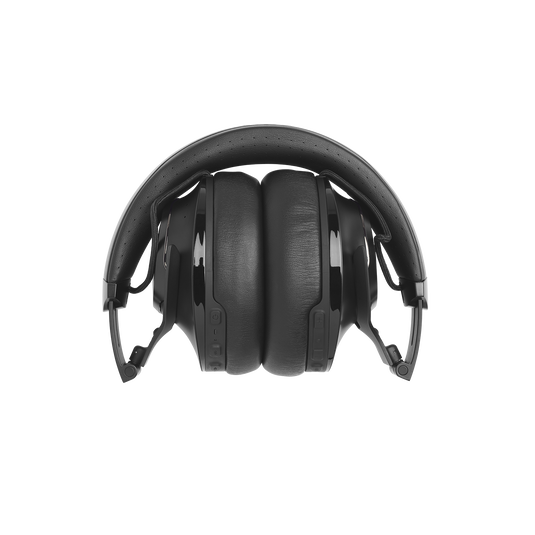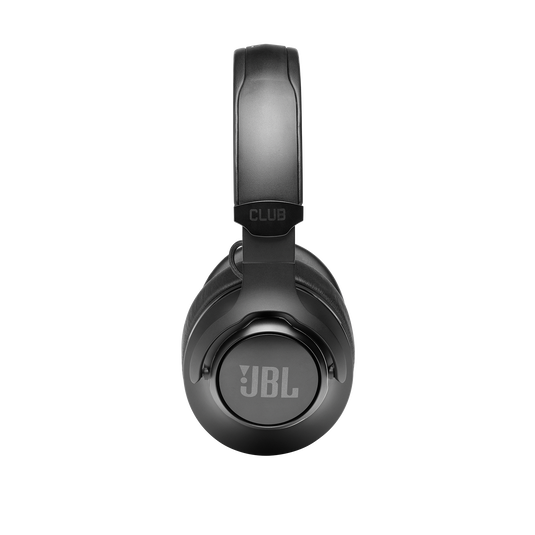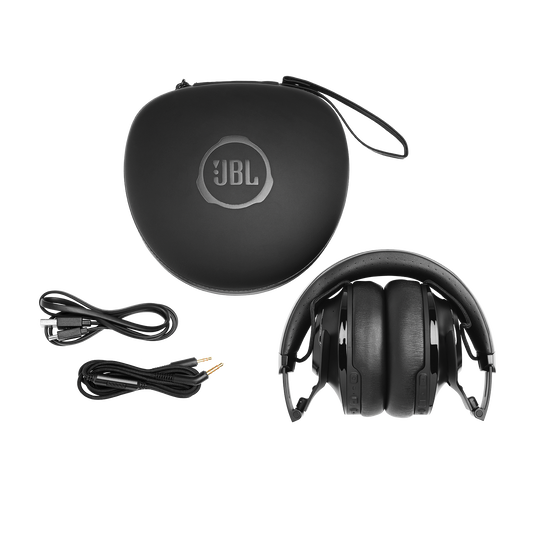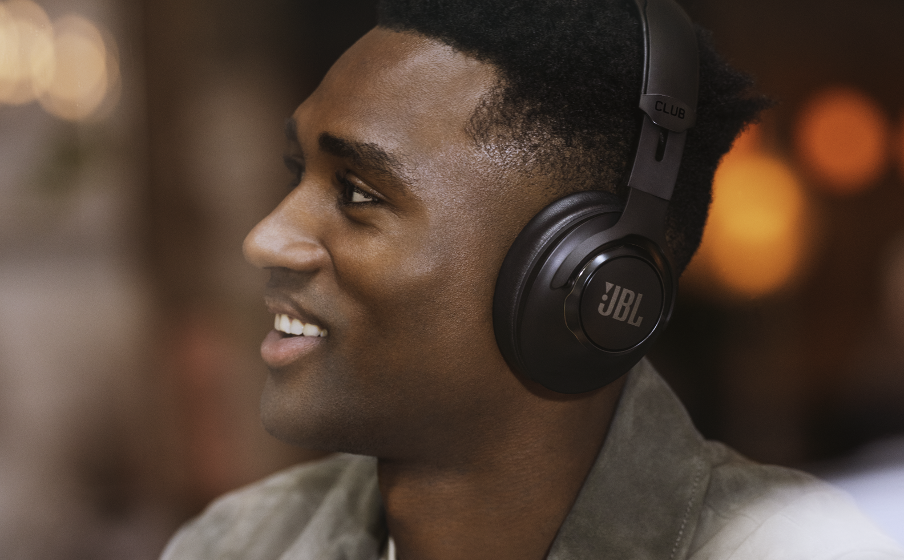 Get lost in your music
Put JBL CLUB 950NC headphones over your ears and bring the stage to you. Legendary JBL Pro Sound and Hi-Res audio gives you a wide range of detail and clarity for the ultimate listening experience.
Adaptive Noise Cancelling
Craving a calm ride to work? Distraction-free studying? We have you. Tune out the world around you and tune into your favorite music. Just press and hold the Smart Ambient button for a few seconds to get to your happy place.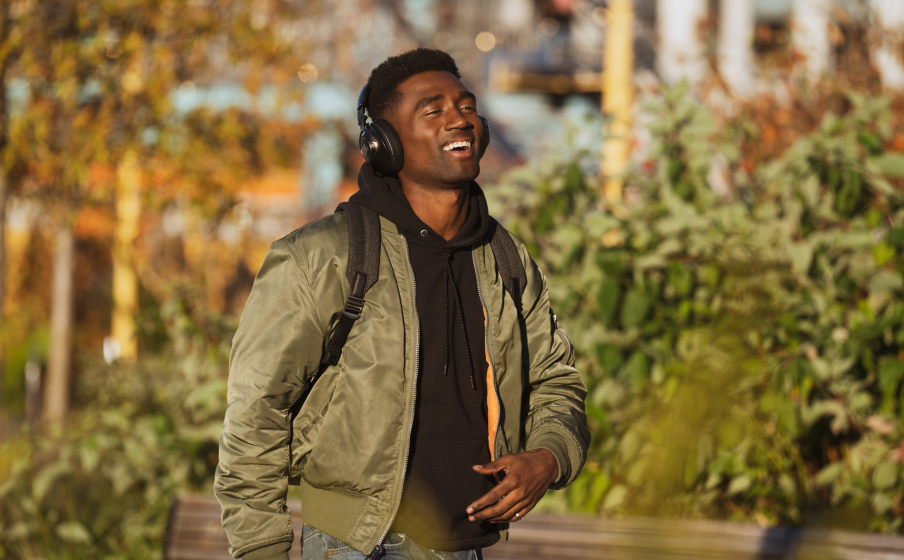 All-day wear
The best headphones are the ones you forget you have on. JBL CLUB 950NC headphones fit comfortably over your ears, with cushioned, oval earcups. And they offer the premium design factor to match, made with high quality materials including metal hinges and an accent bezel.
Features

High power, high impact
With 2,000 mW input power, these headphones won't let you down at critical moments — the specially designed driver coil and magnet have a higher resistance to power surges. Need a bass boost? You don't have to go far. Tap the bass boost button right on your earcup for the sound you want without missing a beat.

Get help from Hey Google & Amazon Alexa
Whether you prefer Hey Google (*) or Amazon Alexa (**), your JBL CLUB 950NC headphones have you covered. Just use the My JBL Headphones app to set up your Voice Assistant, and tap on your left earcup to send texts, play your favorite music, check the weather, and more. (*) Only supported on Android. (**) Android 6.0 or higher is required for full access to Alexa features when using this device.

Get the sound booth experience
Tap the STAGE+ button in your My JBL Headphones app to be instantly transported to the DJ sound booth. JBL teamed up some of the world's best DJs to capture the sound of their personal recording studios, so you can listen the way the pros do.

Up to 55 hours of audio
Your all-night listening sessions can easily stretch into the next day, no worries — you'll get up to 55 hours of wireless connectivity (and up to 22 hours with ANC on) before you need to recharge.

Perfect Calls with Dual-Mic Technology
No more searching for peace and quiet to take a call. The dual-mic technology on the JBL CLUB 950NC cancels out ambient noise when you are on a call, so you can make calls anywhere. From wire-free music, seamlessly connected thanks to Bluetooth 5.0, to hands-free calls, they keep up while you keep moving.

Sound that adjusts to your needs
Need to stay aware of your surroundings? A shorter press of the Smart Ambient button activates Ambient Aware without pausing your music. Have a quick chat with people around you without removing your headphones; TalkThru drops the music level down and amplifies external voices.

Travel-friendly
Take your headphones on your next trip, big or small. The ball foldable design makes them easy to bring anywhere, while the slim, hard carrying case keeps them protected in your bag or pocket.

Sound made for you
You know how you like your music. And so does JBL. JBL Club 950NC headphones feature Personi-Fi. In just few steps, Personi-Fi allows you to tailor your sound profile based on your gender, age, preferences to give you the best possible listening experience. Find Personi-Fi in the latest version of the My JBL Headphones App, free to download.
Specs & Downloads
Item# CLUB950NCBLKAM-Z
Description
Get lost in the music with Adaptive noise cancelling headphones

Transport yourself to the front row. Inspired by music industry pros and featuring Legendary JBL Pro Sound and Hi-Res audio, the sleek JBL CLUB 950NC headphones make it easy to leave the world behind for up to 55 hours of wireless play time, thanks to Adaptive Noise Cancelling, comfy over-earcups and a foldable, portable design. Meanwhile, EQ personalization and bass boost at the touch of a button ensures every crystal-clear note sounds like it's being played just for you.
General Specifications
Audio Specifications
Driver sensitivity at 1kHz/1mW (dB)

91

Dynamic frequency response range (Hz)

16 Hz - 22 kHz
Dimensions
Weight (g)

372

Weight (oz)

13.12

Charging Cable Length (m)

1

Charging Cable Length (ft)

3.3

Ear Cup External Height (in)

3.7

Ear Cup External Width (in)

3.1

Ear Cup Internal Height (in)

2.4

Ear Cup Internal Width (in)

1.8

Ear Cup Depth (in)

0.8

Ear Cup External Height (cm)

9.3

Ear Cup External Width (cm)

7.9

Ear Cup Internal Height (cm)

6

Ear Cup Internal Width (cm)

4.6

Ear Cup Depth (cm)

2.1

Audio Cable Length (ft)

3.9

Audio Cable Length (m)

1.2
Control and Connection Specifications
Bluetooth profiles

A2DP 1.3, AVRCP 1.5, HFP 1.6

Bluetooth frequency

2.402 GHz - 2.480 GHz

Bluetooth transmitted modulation

GFSK, _x001F_/4 DQPSK, 8DPSK

Bluetooth transmitter power

<6 dBm

Bluetooth version

5.0
Battery
Charging time (hours from empty)

2

Maximum music play time with ANC on (hours)

30

Maximum play time (hours)

55
Features
Bluetooth

Yes

Voice Assistant integration

Yes

Adaptive Noise Cancelling

Yes

Ambient Aware

Yes

Built-in Microphone

Yes

Over-ear

Yes

Rechargable battery

Yes

TalkThru

Yes

Wireless

Yes
What's in The Box?
1 x JBL Club 950NC
1 x USB Type-C charging cable
1 x Aux-in cable with remote & mic
1 x Hard Case
1 x Warranty / Warning / Quick Start Guide / Safety Sheet / Google QSR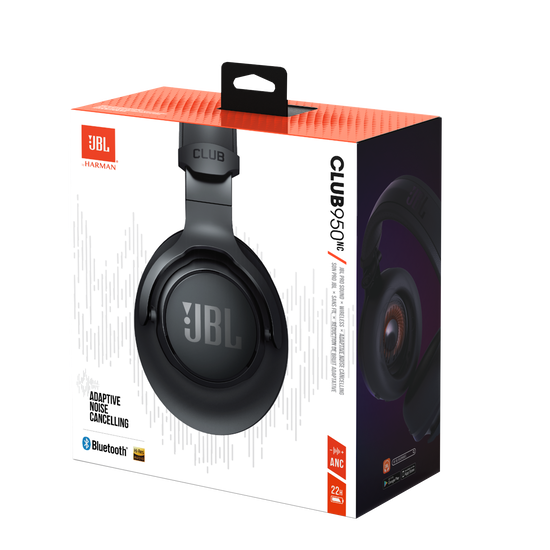 Documents & Downloads
Customer Reviews
Rated 5 out of 5
by
RetiredArmyMedic
from
Excellent Noise Cancelling Headphones
Bought these headphones during holiday specials and have no regrets. Not only are the sounds crisp and clear but the noise canceling aspects are outstanding. This 70 year old can clearly hear the music and speech despite some old age hearing loss. Headphones are well padded and comfortable for extended listening. Headphones easily hooked up to my Samsung phone. Placement of buttons are good and took little time to get used to them. Must confess that I am having trouble getting the ap to work but working on it. Very happy with these JBL 950 headphones!
Date published: 2021-12-27
Rated 5 out of 5
by
hagaynor
from
Bangin' sound love em
These headphones have superior sound quality and very well made unlike some whose frames are made of plastic. These work perfect for blocking out background sounds while I am studying.
Date published: 2020-08-15
Rated 4 out of 5
by
MeganK
from
Perfect Quality!
I have been using these for a couple of weeks now and I am loving them so far! They are really comfortable to wear, the sound quality is amazing. I have been listing to podcasts for University and also others and not been able to hear anything else with the noise cancelling. I use them before I go to sleep at night to listen to relaxing music or do some mediation to help me sleep and my partner has not been able to hear it. Only downside is the case, I feel it maybe should have been slightly bigger as I'm worried the zip will go soon. Apart from that I'm loving them so far! :)
Date published: 2020-03-23
Rated 2 out of 5
by
RussMaf101
from
Great sound all else needs work
This is a decent sounding set with lots of options and features. However there are critical problems with comfort, usability, and durability. There is lots to love here but in the end there are some things that make it hard to recommend. Starting off with sound this is the best part of these headphones. I love the signature JBL sound and this pair does not disappoint with nice deep bass that punches clean and tight, full mids letting all those vocals really shine, and lastly great detail in the highs without showing any fatigue. Also if you ever do not like the sound or just prefer a little tweak there is the JBL headphone app with a full EQ letting you change up the headphones in any way you feel. Lastly there it the bass boost button, and this is one thing that I would suggest people stay away from. Go ahead and give it a try but you will quickly see that this was not a great implementation. The boost seems to go to a certain frequency and quickly fall off not allowing for any proper blend into the mids. Along with this the bass boost is much too high, so much so that it will actually clip on certain songs of mine and ruins that tight punch you get from the original tuning. Next the ANC, talk-thru and ambient aware options. Make sure and update the firmware when you first get the headphones as the ANC and other options have significant fixes with this firmware. I still think that they need some work especially the talk-thru but it is much better. The talk-thru makes everything sound like people are talking through a mic in an empty hall with all sounds being amplified and having lots of echo. Plus the option takes much too long to actually turn on making it quite useless in my opinion it is easier to just move a cup off your ear. Lastly the ANC has a hiss to it and actually creates a pressure feeling on your ears. I tend to keep all ANC options off to listen to these headphones. Now on to the build and this is another high point in these headphones with everything being made of quality metals that seem that they will last a lifetime. The only flaw I see is the connection to the cups has a wire that can actually be pulled on when unfolding the headphones or just turning the cups. I can easily see this wire coming loose and losing connection to the cups. Other than this small problem the rest is built and overbuilt with great quality. Now on to comfort and this is where this pair of headphones loses me. The band on top has nearly no padding and with these being built with such high quality materials makes it heavy and that band needs some padding to keep from digging into the top of your head. After only 20-30 minutes of use the top of my head is in serious discomfort and in pain after an hour. This needs to be changed. Next because of the weight the clamp is quite intense as well. Thirdly I love that the pads are so easy to remove but being such a abnormal shape it will be impossible to change out with any aftermarket pads and almost makes this feature useless. So in all I love the sound and the build, however everything else needs serious work and redesign. I do not recommend these to anyone just because of how bad the comfort is.
Date published: 2020-08-26
Rated 5 out of 5
by
peters43
from
Very comfortable; ideal sound quality
I haven't had headphones for ages, but with a new laptop decided it was time. I found these JBL 950 NC 'phones on the JBL website at an attractive price and decided they would work for me. I listen to a good deal of live performances by musician friends, as well as other sources, mainly organ and choral works which are notoriously difficult to reproduce authentically. These JBL 'phones have set a high standard for my listening and are notable for capturing the acoustics of performance spaces accurately.
Date published: 2022-01-08
Rated 5 out of 5
by
mradonis
from
THOUGHT I HAD A FAV PAIR OF HEADPHONES... TIL NOW!
This pair of headphones just arrived to me today. Upon unboxing and giving them a first and second listen, I can truly say this has made my day as well as the anticipation I've had during its shipping stage well worthwhile. I could start anywhere, but let's just start at the beginning. It came packaged securely in a disposable box with the actual headphones box inside. I think even if the carrier had mishandled the shipping package that the box inside containing the headphones them-self would have still been fine. Once unboxed, the first thing you see is a secure, hard material leather carrying case with a convenient carrying strap for holding and a zipper on it that's finely tucked and appealing to the eye (unlike your average zippers). The case with the headphones inside is light-weight, yet it's strong and durable so much that I believe the headphones would be alright if I were to accidentally drop it on the floor (don't worry - I won't be). At first glance once removed from their protective case, you see 6 visible buttons, yet I soon discovered that there's a 7th button on the side). From the design and appearance, I was pleased. I tried them on and let me tell you - these are super comfortable. So comfortable that you could keep these on for a while, maybe even hours without the feel or weight of them annoying you like some other style headphones. They've got a deep-socket space for your ears that are enclosed in a suction-like manner and honestly it felt really good to me, especially in comparison to a pair I've for years that I've considered a favorite. Though these headphones support Bluetooth, I chose to go with the aux cord for my first listen. I was quite impressed - these aren't my first JBL headphones, yet every new pair I get is better and better both sound-wise and comfort-wise. Once on, they pretty much cancel a lot of outside noise, but not so much that you can't hear anything, but they do a really good job at letting you hear your signal. I like my music loud and these did not disappoint. I was able to crank the volume up and to my satisfaction there was no limit to the volume or clarity. The Sound: Pristine if you ask me. I listen to several genres, but for my first listen I enjoyed a mixture of a bit of today's Rap and R&B top-charting songs. I went for songs that I know well and how they sound in a variety of headphones and speakers (I'm an Audio Engineer and Musician, so paying attention when listening for detail is critical for me). My first thought was that these have really good mid-range. Bass-wise, most songs that I listened to (that were professionally mixed) offered a nice knock to the kick-drums with a nice warmth for low-end bass-lines and 808 rings. They weren't too heavy on the low-end like other headphones I've heard that boost the bass giving you a false sense of bottom. These also were very high in clarity to me with nice, cutting tonality and great stereo width. I spent roughly 45 minutes listening to different songs and artists to get a good picture painting of these bad boys and at the end of my first listen, I felt impressed. After that, I took a while to refresh my ears so that I could go back and listen through Bluetooth. THIS is where the magic happened. So if you're listening through the aux, you're getting the straight-forward raw sound. But through Bluetooth, it takes it a step further as there is a button to enable bass-boost that you don't get when listening through aux. Once I turned that on, I was even happier (I love me some bass). When enabled, the perceived overall volume does feel like it's cut a bit, but that's pretty normal as it's boosting one area that it would give the impression that it's lower (but by no means does it sound low - just lower than before you enabled the boost). If you press the button again to disable the bass boost, the volume feels like it increases as the bass cuts back to normal. When it's enabled, I like how deep the bass gets, but it does seem to overpower the high end a bit and inch away from the clarity (but not like in a muffled way). It connects to Bluetooth very easily (took me 10 seconds tops) and you can use the volume buttons to skip songs forward (or back). One button enables the "talkthru" function which when pressed (only on Bluetooth) decreases the signal volume so that you can hear what's going on outside of your headphones without having to take them off. My guess is that this was intended for when someone speaks to you while you're jamming so that you don't physically have to remove your headphones off of your ears. A feature that I was excited to learn about was that there's a side button that you can use in connection with your Google Home Mini or Alexa (and it works to activate Siri for iPhone users, too). I've got a Google Home Mini, but I haven't used it in connection with it yet. I'll be setting it up later, along with downloading the official JBL Headphones app which there's a booklet that came inside the box that indicates that you may get more additional features with the use of their app. Inside your box, you also get a USB to USB-C charging cable to be able to charge them for the Bluetooth use (but no charge is necessary for aux-use). I haven't hooked them to the charger just yet as it came fully charged when delivered. It has an LED light to indicate how much of a charge the battery has and to indicate when it's low. Overall, I give these a 9.8 out of 10, and that's just because I'm a nit-picker for certain details, but please believe me when I say that this is truly a great pair of headphones to own. I'm very impressed as JBL has done it once again! So glad I have these. Thank you JBL for continuing to create and release great quality products!
Date published: 2020-08-18
Rated 5 out of 5
by
JenIzzo
from
Awesome sound and lightweight!
After trying out my JBL CLUB 950 NC headphones for a couple weeks, I am totally amazed at the quality! They come in a hard material little black case with a carrying strap which is convenient for on-the-go and travel. They are lightweight and I have worn for hours without any complaints. I listened mostly through Bluetooth, which synced nearly immediately. The sound is crystal clear and when you need a little extra bass, all you do is push the Bass Boost and its like your at the club. I've downloaded the app to customize my sound and listening preferences, which is an added bonus. Going back to work next month so can't wait to try out the NC feature. These are great quality headphones and I definitely would recommend, they will not disappoint you!!
Date published: 2020-09-08
Rated 5 out of 5
by
MRreview10
from
you better JBeLieve it
By far the best feature is the noise cancelling. It means I can finally immerse myself in the music I am listening to. Then when I need to, I can switch to hear what is going on around me and it alomst amplifies the sound which I couldn't quite believe. The bluetooth aspect works great when in exercise classes etc so you don't have to be very close to your phone which has been a problem for some I have had in the past. Sound quality is brilliant, there are some lyrics I have been getting wrong all this time but no longer! Lastly, making calls is made so much easier as the sound quality BOTH sides is good so you don't have to keep taking the headphones on/off throughout the day whilst also not having to muck about with the bluetooth settings everytime.
Date published: 2020-03-25
Rated 5 out of 5
by
MJavier
from
Excellent sound, fastest bluetooth connection
I received these headphones about two months ago. I admit I didn't submit my review earlier because I wanted to test specifically the noise canceling function on a flight --which I completed just a week ago. I was most impressed with the speed to connect devices using the Bluetooth function; the fastest I've experienced among similar products I have used. The quality of the sound while in flight was very good. The bothering noise of turbines was completely isolated while I could still listen to people's voices. The headphones are very comfortable to wear and cause no fatigue over an extended period of time (my flight was 3.5 hours). The bass boost button comes in handy if you love this function. However, if you're into acoustic recordings you may need some adjustments using equalization to achieve a more realistic/natural bass sound. If I have to mention a con it will be the case. It is a bit bulky and too small to fit the headphones, the charging cable, and the audio cable that comes included with the package. In short, a very good noise-canceling headphone for the price!
Date published: 2020-10-20
Rated 2 out of 5
by
nickname already used
from
Less than Average
- Very Uncomfortable for the first few months. - The BlueTooth keeps disconnecting on it's own volition if there is no audio playing. - I do not like the press and hold buttons for the on/off of the headphones, bluetooth and noisecanceling. I feel like it should just be a simple quick press. - Not really noisecancelling by nature. They just add a background noise when you turn it on. I can put on some audio with the same effect. - I do not like how the noise cancelling is automatically on after turning on my headphones. - The sound quality and battery life is good.
Date published: 2021-12-09
Rated 5 out of 5
by
aston
from
JBL CLUB 950NC
These headphones are fantastic they connect to your phone via Bluetooth and Google assistant and Alexa built in really easy to use. i used them as hands-free handset I left my phone upstairs and was stood at my front door the headphones was still connected it was clear as day Bluetooth quality is really outstanding and basically you do not need to take your phone out your pocket you can use everything off the headphones Google assistant is really fantastic even reads your notifications to you by a press button on the side of headphone . long lasting battery life . all you do is download the app and you can try DJ sound quality or you can pick your own totally up to you . highly recommend downloading this for your full experience. Noise cancellation feature is really good comes with a matching hand carrier case what looks really smart easy to carry around with you. overall great purchase would definitely recommend to buy them .
Date published: 2020-05-03
Rated 5 out of 5
by
Johann225
from
Out of this World!!!!
Sensational Pro Audio Sound & Built Like A Tank! Exceptional Quality & Comfort! Add In The Flexibility of My JBL APP to Customize the EQ to Your Own Personal Subjective Preferences! Makes For A Truly Magnificent Pair of Wired or Bluetooth Wireless Headphones!!! On Top of That The Outstanding "Black Friday" Sale Price & Free Shipping Made This The Deal of the Season! It was so good, that I am glad to say I bought 2 pair!!! Thanks JBL Season's Greetings, Merry Christmas & Happy Hanukkah To All!
Date published: 2021-12-03
Rated 5 out of 5
by
B Dallah
from
Very comfortable , sounds great
Great set of Bluetooth head phones , they sound clean and have good over all bass. The mids and highs are very clean
Date published: 2020-08-12
Rated 5 out of 5
by
MHPB
from
Spot on!
Got these as an upgrade to more entry level JBL on-ears I'd had for a couple of years (and still loved). I was excited to receive the Clubs and hadn't really tested any over-ears, so wasn't fully sure what to expect. I wasn't disappointed in any aspect. They look & feel quality, and sound amazing. Great power and nice to be able to customise the levels with the equaliser on the app. Only been a few weeks but no regrets and loving how JBL do things even more!
Date published: 2022-02-15
Rated 5 out of 5
by
LUIS V
from
Beautiful design
I am impressed with sound quality and how comfortable it is this Jbl club 950 the materials are very good quality and easy to connect and very happy with my new Headphones
Date published: 2020-08-17
Rated 5 out of 5
by
vbstargazer
from
Excellent Bass - clear as a bell
WOW, I have had many pairs of earphones, but these are in a class by themselves. Starting with the hard case, fast charging system, very well built, easy set up and the noise cancelling made "only music" come thru, even while other are watching TV all I hear is music. This is the sound I have come to enjoy with JBL's Deep Bass. I'll use these as my #1 pair for listening. Recommend these to anyone looking for the best.
Date published: 2020-08-17
Rated 5 out of 5
by
Matt29
from
Great headphones for the price.
I bought this a week ago very good Bluetooth range and sound quality.
Date published: 2020-10-29
Rated 5 out of 5
by
joanadhbfjfnf
from
Amazing sound
In the first days of using it I was so excited and amazed I literally loved them. The fit over ear is miles better than the on ear. Unfortunately after 3 days the left side started to make an unnatural noise. I believe that is related to the fact that there is the google assistant button, which may be the cause. Manufacturing issue and they could be fixed, but also the design team have to think that placing a google assistant large button on one of the sides of a pair of headphones with a bass amplifier is not easy to avoid any fault. One thing that I didn't like is that after hours of wearing i felt a pain on top of my head because they are quite heavy. Overall the quality of the material is of good quality and they give a premium impression.
Date published: 2022-03-03
Rated 3 out of 5
by
Adam1776
from
Nice quality build, not the sound I was expecting
I just received my 950nc and was so excited....the unboxing awesome....the presentation and quality of the product build was outstanding...but when plugged in a played it was a little disappointing compared to what I was expecting and hoping for...not that it was horrible just not top notch experience I had with almost every other JBL product I have purchased....highs were slightly popping and cracking at only about 75% volume and bass was a little distorted as well.... not horrible sound just not the quality of JBL I was expecting....
Date published: 2021-12-31
Rated 4 out of 5
by
shadow_hawk
from
Good noise-cancelling wireless headphones
These are definitely good noise-cancelling wireless headphones. There are a few little things that I personally don't like, but I'll leave that to the end. First, the good stuff - starting with the box it comes in. Once you slide off the JBL packaging, the headphones are inside a perfect, matte black box. I've already reused it as a gift box it's so nice. The headphones are inside a zippered leather case, of course, which is surprisingly compact. There are buttons on the left and right sides to control volume, play/pause, Bluetooth, power on/off, voice assistant, plus this specifically awesome button that allows you to turn up the bass if you so desire. The sound quality is the usual JBL excellent quality, wireless & with the AUX cord plugged in. If you download the app, you're able to turn on/off the noise-cancelling quality as well as ambient sound. I've never had a pair of headphones that allowed me to still have them on and listen to someone speaking to me, which is what ambient sound means. If I put them on, I don't hear the A/C running or even the tap, but I can still hear if my boyfriend says something. The button to increase the bass is also neat, it makes rock music with drums or dance music with a drop even cooler. I haven't had to charge them since I got them, so I know the battery life is really long. Just to quickly go over the little things that I don't like - the voice assistant button is on the left side and is very easy to touch without meaning to especially if I'm just trying to adjust the headphones. Also, they aren't the best for physical work. I was vacuuming the house and they kept sliding down because the cushion isn't as protective as it could be. That's not to say it isn't comfortable though, because it is. The aforementioned button that increases bass is great, however you have to be listening to music with high quality, otherwise the sound of the song gets kind of washed out. Which is why being able to turn the button on and off is a great option. Another thing is that the headphones fit snugly into their case - if you can manage to figure out how to put them back in correctly, but I guess that wouldn't be a problem for everyone. All in all, it's a good pair of headphones.
Date published: 2020-09-03
Rated 3 out of 5
by
Mr_Owens
from
Disappointing
I bought these a couple of weeks ago, I needed a new set of wireless headphones as my old ones were past their best and after buying the quantum 810 gaming headset and being more than happy with them I decided to give these a try. The build quality of these looks and feels really good and although they are a reasonably heavy set of headphones you don't notice it when they're on, but I did notice the heat that the ear ups and headband caused and within a few minutes I was getting rather hot. Also the volume of these headphones is rather quiet, even with the app being used and the equaliser at its highest settings I still found these quieter than my older cheap wireless headphones and the fact that I will only ever use these wireless I was left with no option but to return them.
Date published: 2022-08-23
Rated 5 out of 5
by
SilverNomad
from
Trustworthy Advisor Recommendation
Only had a few days but am extremely happy with these. My primary use is with a Samsung Smart TV, followed closely by an i-Phone. I tried other brands but with disappointing results resulting in muffled sound and/or poor connectivity. I was prepared to spend more than my budget as I had a previous JBL headset that worked admirably with said TV. These Club 950's didn't disappoint. Excellent sound on the TV for both speech and music, crystal clear, so if like me you want to use with a TV I can highly recommend. Only one very minor niggle is the control for Alexa/Google is on the casing of the left earpiece and can sometimes be accidentally activated, with the result that content playing can have minor split second "misses". I'm still not sure how I know if that feature is on or off! (No LED).
Date published: 2020-07-13
Rated 4 out of 5
by
RogerB23
from
Great headphones for fit and sound
I bought these in December and decided to try them out a while. The sound quality is amazing and I truly love the fit. Set up is easy and the ear padding is comfortable. Got it on a sale and definitely worth the price.
Date published: 2021-01-22
Rated 5 out of 5
by
Anonymous
from
REGRET!
REGRET! I can't believe I didn't see this before I bought a Bose over the ear Soundlink II. I used to have few JBLs before, but lately I was looking for a ANC headphone, but nothing that I could afford with good quality. I even thought to get a Live BT650NC, but after go over some reviews I gave up the plan then I got a Bose a week ago. I mean, I'm satisfied, but I feel like this Club 950NC was exactly what I was looking for.
Date published: 2020-09-01
Rated 4 out of 5
by
Joe1010
from
Nice Headphones
Only complaint would be the Noise Cancelling does not work as well as I had expected.
Date published: 2021-12-16
Rated 2 out of 5
by
Anonymous
from
Unfortunately not enough volume
Noise cancellation is good but not nearly enough volume with Bluetooth
Date published: 2020-10-31
Rated 1 out of 5
by
Anonymous
from
Software/Hardware issues
Hi there. I received my new JBL 950NC this afternoon. I connected them to my phone to see if they work. All good until to try to connect to my second phone to use them for work. Now I'm looking at 2 led lights that don't want to shut down. Also I cannot connect through Bluetooth... I tried to reset them using - and + buttons. No effect.
Date published: 2021-11-25
Rated 2 out of 5
by
RicardoHealthyLiving
from
Definitely not a workout device.
I got my Club 950NC two weeks ago, it was delivered on time. It was pretty easy to pair with my Iphone, but some of its features do not work with Apple, they only work with other OSs, and some times it does not pair immediately, I have to go settings, Bluetooth and manually pair it, I found it to be very disappointing. When working out it does not stay put, and I am not talking about jumping or running , it's just simply doing bench presses with the head still and the head phones keep falling... When on phone calls at least I can communicate well. Sound quality is good! The case looks cool but it is way too tight. Well the sale price seemed a steal but with all these issues it is not worth the regular price of $250, $99 is okayish... I would not recommend it. I'm sorry JBL I had the brand on my highest standards but these head phones are disappointing.
Date published: 2022-01-12
Rated 1 out of 5
by
badger146
from
shockingly bad headphones
shockingly bad headphones, poor sound with bt and cord, would not give a tenner for these, priced at 130 dont know how to justify this, also priced 220. very disapointed with these. one star as cant give zero
Date published: 2021-04-14
Rated 4 out of 5
by
Chuck H
from
Everything as promised - but a little heavy.
This unit is perfect in every way. I have no complaint whatsoever about comfort, sound quality, the noise cancellation. However, my gripe - it's heavy. For noise cancellation to work effectively, it really needs to be tight on the head and it has a solid set of electronics. But this unit weighs a bit too much for me to wear comfortably long-term because it's tight/heavy. Going back on my search for ear buds.
Date published: 2020-10-28
bvseo_sdk, dw_cartridge, 18.2.0, p_sdk_3.2.0
CLOUD, getReviews, 6ms
reviews, product
Product Q&A
How do i reset the earphones ?
With the headphones switched ON, press and hold the Volume + and Volume - buttons for more than 5 seconds. The LED blinks two colors, and now you have reset to factory settings.
Date published: 2021-06-06
Are the JBL Club 950NC headphones water resistant at all? For example, could I wear them in the rain?
Thank you for your question. The JBL Club 950NC are not waterproof as they are not IP rated. The headphones come provided with hard shell case for travelling. Should you wish to receive further support, you may contact the Harman Customer Support team by telephone, email or chat in order to receive direct assistance. Please see https://uk.harmanaudio.com/support-contact.html#ns for further details. Thank you.
Date published: 2021-08-27
Codec only sbc?
Our JBL Club 950NC supports both AAC & SBC. If you need more help, please contact us here. https://bit.ly/2zwFkYM
Date published: 2021-06-06
Does it have build in mic so I can use it with iphone to make calls too? Or just can listen to music on them?
Yes it does.
Date published: 2021-06-06
Doesn't Hi Res require LDAC? So via wired, or BTcodec firmware upgrade following purchase? This was part of my iFi Zen Blue Receiver DAC (for home audio) package, and it would be great to Stream Tidal Hi Fi /Masters Quality files directly to Club 950s.
We'd like to know more information about your inquiry with our JBL Club 950NC headphones. Please reach out to our Customer Support, and our representatives will reply within 24-48 hours. https://www.jbl.com/support-contact.html
Date published: 2021-06-06
Do the 950 nc have multi device pairing ?
Yes it does, our JBL Club 950NC has a multi-pairing feature for 2 devices at max. You can check our more details on our Quickstart guide here: https://bit.ly/2Chdlkq
Date published: 2021-06-06
Are these available for pre-order?
Currently, our JBL Club 950NC isn't available yet to be ordered. This product is set to release this Spring. Keep posted on our social media channels or sign up for our newsletter for updates.
Date published: 2021-06-06
Do they have aptX-HD?
Thank you for your question. Please be advised that the JBL CLUB 950NC do not have aptX-HD. Should you wish to receive further support, you may contact the Harman Customer Support team by telephone, email or chat in order to receive direct assistance. Please see https://uk.harmanaudio.com/support-contact.html#ns for further details.  Thank you.
Date published: 2021-06-06
What is the dynamic range of these headphones?
Hello, In regards to the Dynamic range of this model. Be aware that this established by the source in which your music that is being played from. It can vary greatly from song to song and the sample rate/bit depth of the audio file. It's not determined by these headphones. Though for more details on the output of the audio drivers of the Club 950 check the following below; Frequency response (Passive): 16Hz – 40kHz Frequency response (Active): 16Hz – 22kHz Sensitivity: 91dB SPL @ 1kHz/1mW Maximum SPL: 105dB Maximum input power (Passive): 2000mW
Date published: 2021-06-06
Curious as to how well these headphones hold up when it comes to working out.  Should I stray away from wearing them at the gym as they may deal with sweat?
Our JBL Club 950NC does not have an IPX rating which means it is not sweatproof and waterproof. Sweat can penetrate the internal components of the headphones creating moisture that could damage the electronics of the unit.
Date published: 2022-02-27
How many devices can be connected at once?
Our JBL Club 950BTNC has a multi-point connection feature which allows you to connect 2 devices at the same time, you can check out more details on our quick start guide here:https://bit.ly/3gthocb
Date published: 2021-06-06
Just got the club 950NC but it won't connect to the jbl headphone app. I tried to reset them and still can't be found on the app.
Thanks for reaching out. You can try to uninstall and install the JBL Headphones app and forget/remove all the JBL Club 950NC listed in your phone's Bluetooth menu, before pairing and connecting it again and ensure that you have the latest firmware installed on yourIf the issue persists, you can reach us out at https://support.jbl.com/us/en/
Date published: 2021-12-03
Hi, i have jbl club 950 headphones and now i can't turn them off, can't connect to any bluetooth device. Is there any solution to this problem?
Thank you for your question. As your request requires troubleshooting by our product specialists, please contact Harman Customer Service by phone, email or chat to assist you with the issue: https://de.harmanaudio.com/support-contact.html#ns. Kind regards
Date published: 2021-06-06
why with blue tooth My right side of ear phone not working. With wire its working
We would like to get more information to help you out. Please contact our local support in India for assistance: https://support.jbl.com/in/en/#call
Date published: 2022-04-14
Same problem as Rajuprasad, Margette, similar to Semi1979: "My JBL club 950nc doesn't get switched off...anc light and power on light doesn't go off..can't connect bluetooth to any mobile...but wired one does work...any help ???" => Is there a solution?
We would like to get more information to help you out, please contact us so we can assist you:https://bit.ly/3hH8oBR
Date published: 2021-06-06
Can you use both bluetooth and wired simultaneously ? (wired on pc while bluetooth connected to a smartphone)
It isn't possible to use both wired and Bluetooth at the same time. It should be one source at a time.
Date published: 2021-06-06
hi can i inprove sound on my jbl club 950
Thanks for reaching out. You can download and use 3rd party equalizer apps from Google Play or Apple Store.
Date published: 2022-09-27
I haven't been able to update the firmware on my JBL club 950 NC through your app JBL headphones it always says code 23 or code 22. the equalizer doesn't actually work from the JBL headphones app as well. how should I go about this??
Thank you for taking the time to provide us with your feedback. We would like to discuss directly with you, the battery issue you're experiencing with the left bud our JBL CLUB 950NC and find a solution for you. Please reach out to JBL Customer Service for technical support and assistance.
Date published: 2022-04-19
How can I get this from Hong Kong, any official sellers?
We would like to get more information to help you out, please contact us so we can assist you:https://bit.ly/2zwFkYM
Date published: 2021-06-06
Can I purchase an additional year on the warranty?
Our warranty is only limited for 1 year from the date of purchase and cannot be extended.
Date published: 2021-06-06
How do I connect club950nc's to use for mixing in a home recording studio, or are these not designed for that?
You could use the 3.5mm audio cable that comes with the JBL Club 950NC and get an adapter if your mixer has no 3.5mm output.
Date published: 2021-06-06
What kind of magnets do these use and what's the main use of graphene for in these headsets?
Are the JBL Club One headphones water resistant at all? For example, could I wear them in the rain?
I've read these headphones have Alexa Built In, does that mean they can be used on an iPhone? I want to have the ability to ask Alexa questions through the headphones while they are connected to my iPhone. Thanks
bvseo_sdk, dw_cartridge, 18.2.0, p_sdk_3.2.0
CLOUD, getContent, 123ms
questions, product
Support
Register your JBL product
Do you own this product? Register it here in case you need to claim warranty
Register Now
Can't find what you're looking for?
Are you looking for product support, documentation, how-tos or older products?
JBL Support