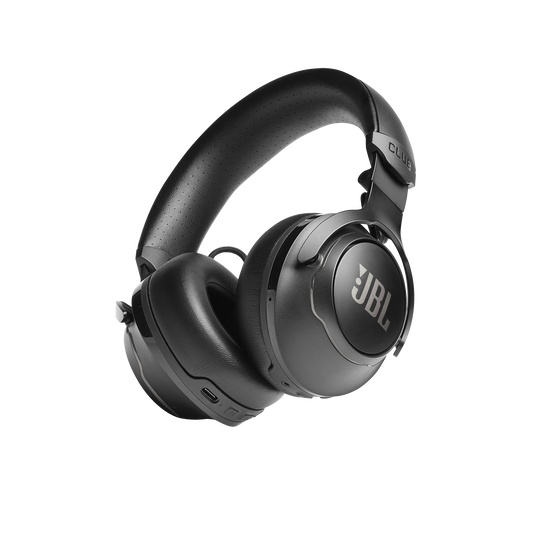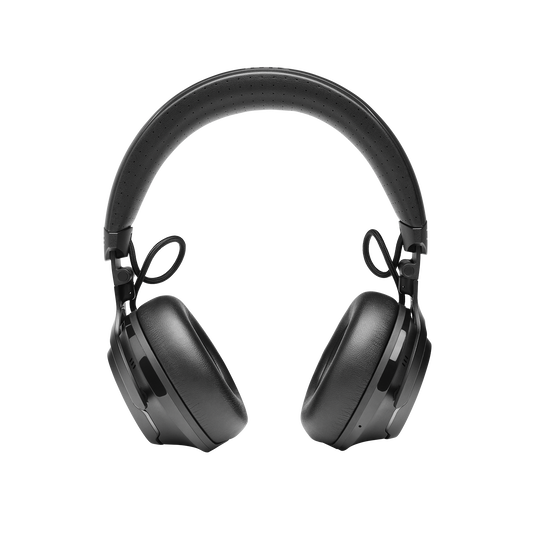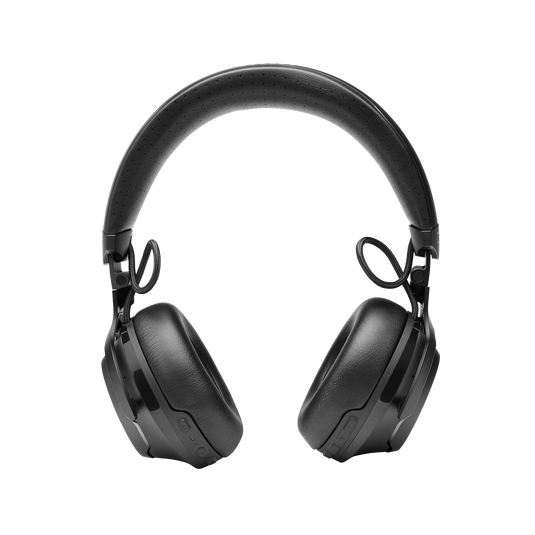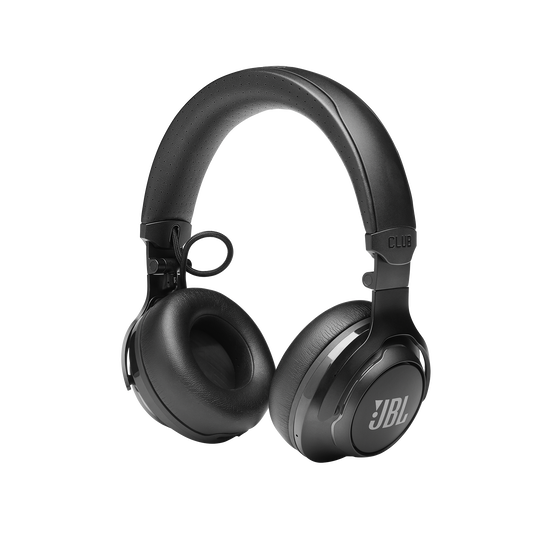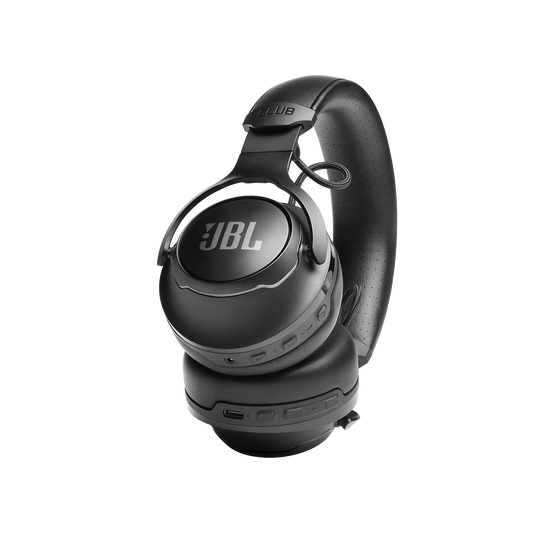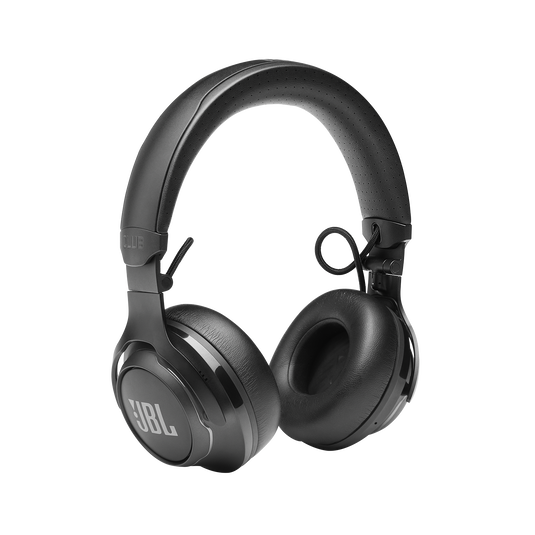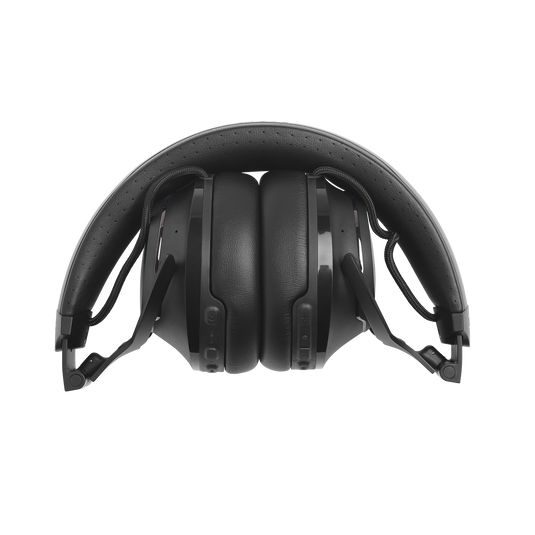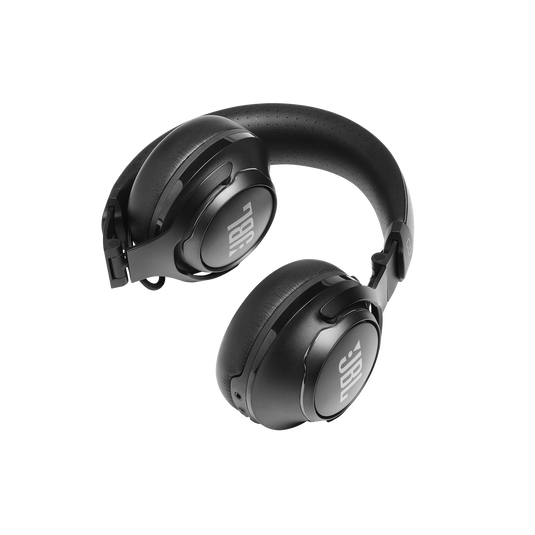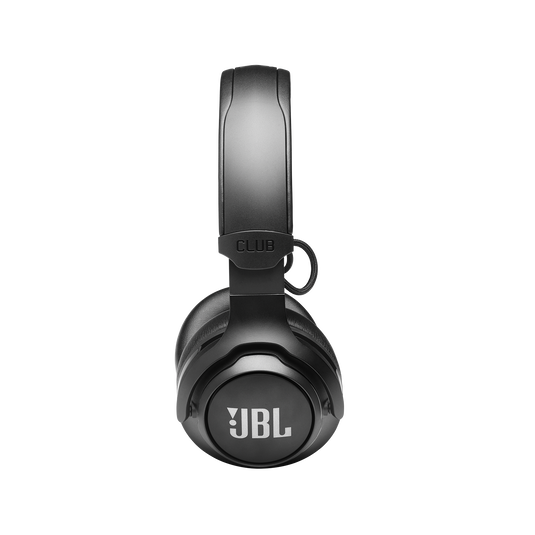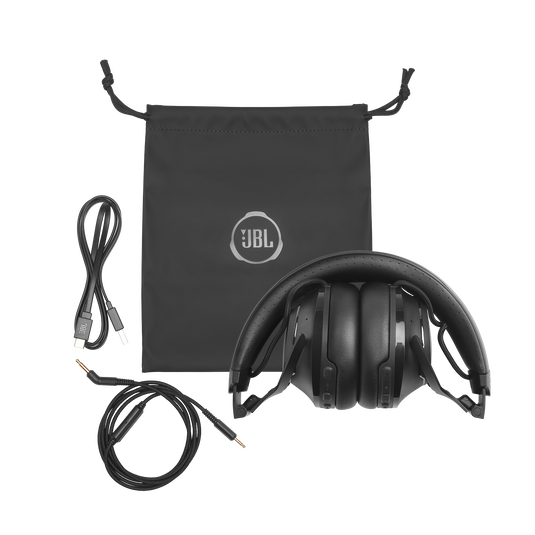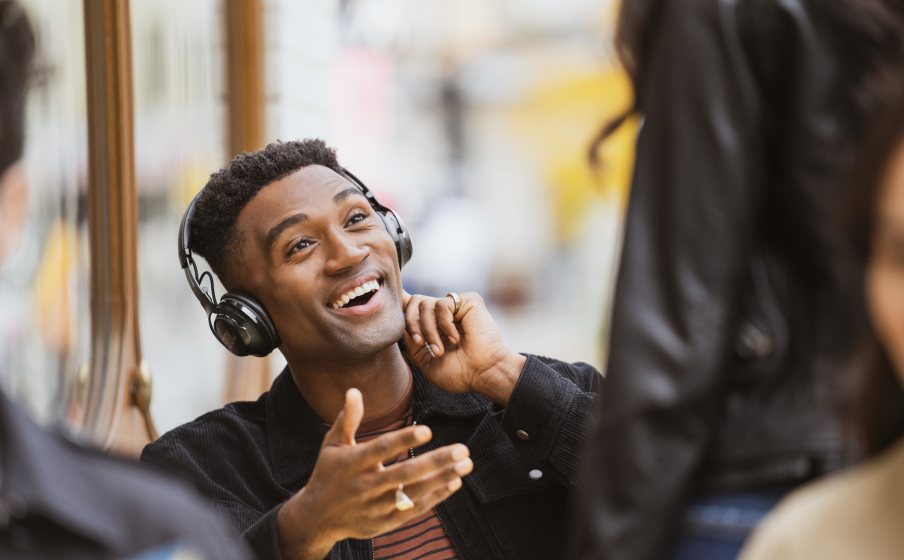 Get in the middle of the action
You don't need a front-row ticket to get the front-row listening experience. Hi-Res audio and Legendary JBL Pro Sound give you a wide range of detail and clarity. Immerse yourself in the music just as your favorite artists intended.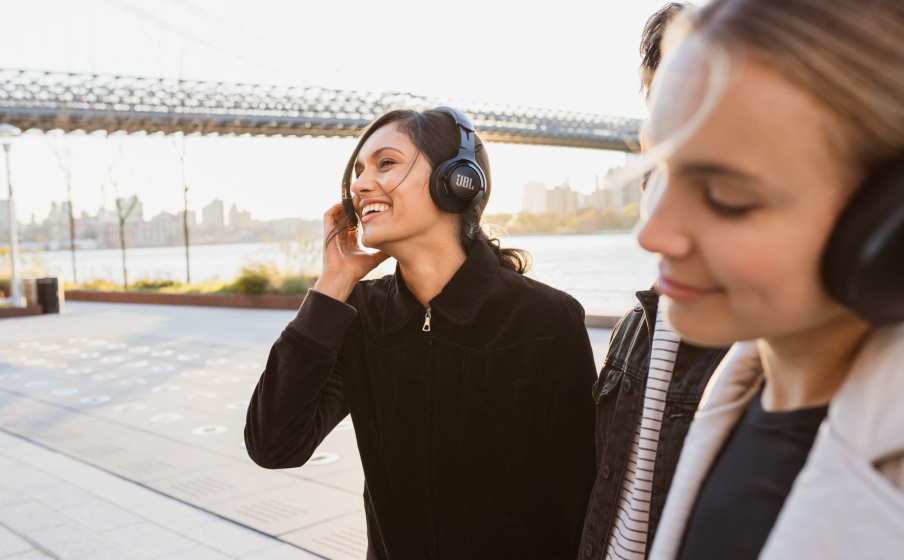 Pump up the bass instantly
No fiddling around to get the sound just right. Just press the dedicated button on the right earcup for an instant bass boost and stay in the zone.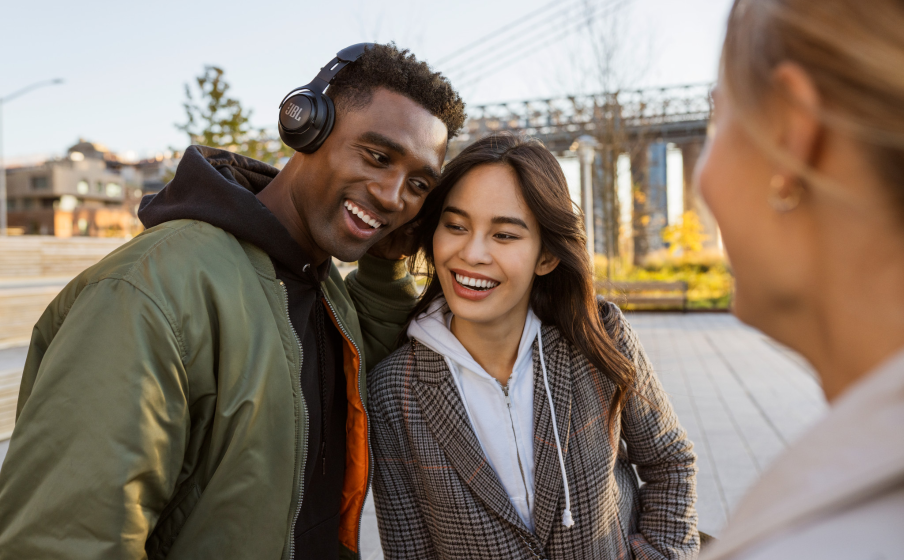 Comfortable on-ear fit
JBL CLUB 700BT headphones are designed to let you get lost in the music, with cushioned earcups that feel like they are barely there.
Features

Up to 50 hours of non-stop fun
Don't worry about recharging for a while. With up to 50 hours of wireless play time, you'll need a rest before these headphones do.

Control your environment
Allow outside sounds in. With Ambient Aware and TalkThru you are in control. Stay safe in the city and have a chat without removing your headphones.

Music that goes wherever you do
Take your JBL CLUB 700BT headphones everywhere. Foldable and portable, they keep up with you wherever your day (or night) takes you, fitting neatly into your bag.

Perfect Calls with Dual-Mic Technology
No more searching for peace and quiet to take a call. The dual-mic technology on the JBL CLUB 700BT cancels out ambient noise when you are on a call, so you can make calls anywhere. From wire-free music, seamlessly connected thanks to Bluetooth 5.0, to hands-free calls, they keep up while you keep moving.

Get help from Hey Google & Amazon Alexa
Send a text message, play your favorite playlist, or check the weather, all without ever touching your phone. Choose Hey Google (*) or Amazon Alexa (**) through the My JBL Headphones app, and your Voice Assistant can handle all of the above and then some. It's as simple as tapping on the left earcup. (*) Only supported on Android. (**) Android 6.0 or higher is required for full access to Alexa features when using this device.

Hear it like your favorite DJs do
JBL teamed up some of the world's best DJs to capture the sound of their personal recording studios, so you can hear your favorite songs like they do. Simply tap the STAGE+ button in your My JBL Headphones app to choose from the DJ presets.

Sound made for you
You know how you like your music. And so does JBL. JBL Club 700BT headphones feature Personi-Fi. In just few steps, Personi-Fi allows you to tailor your sound profile based on your gender, age, preferences to give you the best possible listening experience. Find Personi-Fi in the latest version of the My JBL Headphones App, free to download.
Specs & Downloads
Item# JBLCLUB700BTBLKAM
Description
On-ear Bluetooth headphones that delivers pro-quality sound and performance

Rich details, so you don't miss a beat. Thumping, feel-it-in-your-toes bass at the touch of a button. DJ presets that put you right in their sound booths. Inspired by pro performers, the JBL CLUB 700BT headphones deliver Hi-Res sound that puts you right in the room with your favorite musicians. With a super comfy on-ear design, Ambient Aware and TalkThru features plus compatibility with The Google Assistant and Alexa built-in it's easy to keep the party going.
General Specifications
Audio Specifications
Driver sensitivity at 1kHz/1mW (dB)

100

Dynamic frequency response range (Hz)

16 Hz - 22 kHz

Impedance (ohms)

32
Dimensions
Weight (g)

283

Weight (oz)

9.98

Charging Cable Length (m)

1

Charging Cable Length (ft)

3.3

Ear Cup External Height (in)

3

Ear Cup External Width (in)

3

Ear Cup Internal Height (in)

1.5

Ear Cup Internal Width (in)

1.5

Ear Cup Depth (in)

0.6

Ear Cup External Height (cm)

7.5

Ear Cup External Width (cm)

7.5

Ear Cup Internal Height (cm)

3.9

Ear Cup Internal Width (cm)

3.9

Ear Cup Depth (cm)

1.5

Audio Cable Length (ft)

3.9

Audio Cable Length (m)

1.2
Control and Connection Specifications
Bluetooth profiles

A2DP 1.3, AVRCP 1.5, HFP 1.6

Bluetooth frequency

2.402 GHz - 2.480 GHz

Bluetooth transmitted modulation

GFSK, _x001F_/4 DQPSK, 8DPSK

Bluetooth transmitter power

<4 dbm

Bluetooth version

5.0
Battery
Charging time (hours from empty)

2

Maximum play time (hours)

50
Features
On-ear

Yes

Voice Assistant integration

Yes

Ambient Aware

Yes

Built-in Microphone

Yes

Carrying pouch

Yes

Hands Free Call

Yes

TalkThru

Yes

Wireless

Yes

Rechargable battery

Yes

Bluetooth

Yes
What's in The Box?
1 x Club 700BT
1 x Aux-in cable with remote & mic
1 x USB Type-C charging cable
1 x Pouch
1 x Warranty / Warning/ Quick Start Guide / Safety Sheet / Google QSR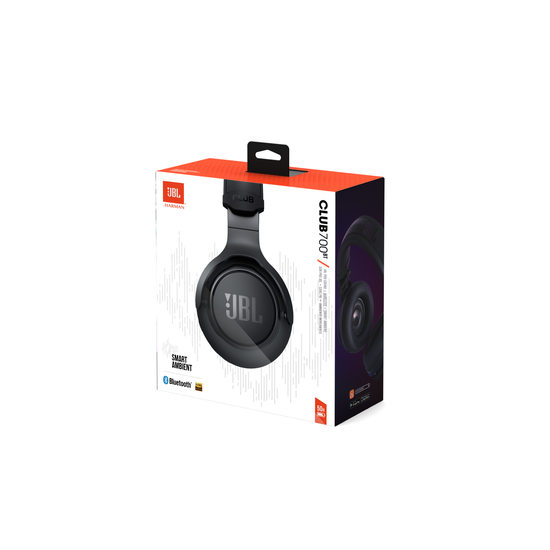 Documents & Downloads
Customer Reviews
Rated 3 out of 5
by
Shika
from
They are ok....
Just ok.. I'm able to hear things clearly and with a decent amount of noise cancelation, but when I make a call using these, the other person says I sound muffled. As if I'm in a closet of some sort. I like the appearance of these headphones. Sleek, not bulky! Not a fan of the wires that sticks out on both sides tho. I like that they can be adjusted to fit me. They fit comfortably, compared to some other bluetooth over-the-ear headphones that I have. Not too tight on my ears, which I love! They stay charge for along time. Never timed it to see if it'll actually last for a full 15 hours as advertised.
Date published: 2020-08-06
Rated 4 out of 5
by
AZJuice
from
Club 700BT - Next Level
I have been using these for about a week now and I am enjoying all the new features that these have. The Bass Boost, Ambient Aware/TalkThru and Assistant enabled. Let me tell you that the TalkThru feature and this device being Google/Alexa enabled are my favorite features. Being able to wear these at the gym and not having to take them off is awesome with the TalkThru feature. The bluetooth pairing was seamless and the call audio quality is on point. Callers can hear me with out a lot of background noise being brought in to the call. If you want that favorite track to have that bass that you feel, the bassboost button is where it is at to get your motivate and moving. These are light weigh and comfortable enough to wear them for hours of enjoyment and the 50 hour of battery life will let you get there. The only negetive I have on this headset are the material that the ear cups are made out of. They feel soft and comfortable but they did not wear well. They started to split after the 2nd day of use. Don't know if this was just my pair or a QC issue. Audio quality and comfort wise I would still recommend this.
Date published: 2020-08-10
Rated 5 out of 5
by
HardyToyota
from
HOME RUN!!
Straight out of the Box these things sound Awesome!!! They fit over my ears and are Very Comfortable. When I pause the music it's like they are noise canceling headphones !! Bass is Great and Highs are clear. Works with Siri just tap the left side twice and talk. I LOVE JBL!!
Date published: 2020-08-06
Rated 5 out of 5
by
REsuper7
from
Amazing Deal for a Set of Quality Cans!
Found a deal for these headphones through slickdeals and am really glad i jumped on it because these the quality of these headphones are worth every penny, both in build and and sound quality. I tend to prefer a punchier bass and these definitely deliver on that front. Bluetooth connects seamlessly and i really like the USB-C charging port as opposed to micro-usb ports that come on most rechargeable headphones. As others have mentioned, it can be slightly tight over the ears, especially if you wear glasses, but i can still listen to a few hours of music before i need a break. Overall I'm very pleased with these and would highly recommend them to anyone looking for some quality Bluetooth headphones.
Date published: 2021-09-27
Rated 5 out of 5
by
Greh
from
Great sound plus all the extras!
There is no sound like over-the-earphones, and these guys certainly do not disappoint in this area! The sound is crisp and clear, and EQ fully adjustable. They have several presets for the EQ, and you can customize your own. What really impressed me was the smart ambient feature. You can use this feature while listening to music and still hear sounds around you. When you pause your music while using this feature, you can hear crystal clear. Even the crickets chirping seemed louder when my music was off and headphones on! There is a noticeable difference when this feature is disabled. While these are not completely noise canceling, I was quite able to mow my lawn and hear the music clearly at a low volume. With earbuds I always had to turn the volume all the way up. The google assistant is really cool too. I have many google smart home devices and I can control all of them. It makes it quite easy to navigate my music, news, podcasts, and such. With these you barely have to touch your phone at all. The ear pads are super soft and comfortable, and fit me well. They do go on top of my earlobe, so they tend to get hot for me after prolonged use. I have several JBL devices all for different uses, and they always work and sound great, and last. I am going to enjoy these very much, and if my experience serves me right, for a long time
Date published: 2020-08-11
Rated 3 out of 5
by
Cook
from
JBL club 700BT headphone Review
Out of the box I was very impressed. Great build quality, but I have two criticisms with theses headphone .1 They're just not loud enough. I find myself pressing the volume button all the time and it's already at its limit. I think the sound is very good. They have nice presentation of sound, nothing overwhelming. It's an enjoyable listening experience, but honestly if I had paid full price, I would have sent them back, due to the volume issue.2 found them heavy at first but I've become accustomed to them now. I watched a good few reviews and a couple commented on these issue.
Date published: 2022-03-12
Rated 5 out of 5
by
NateJay
from
Great sound but extremely gimmicky
Well, I'm not gonna lie. Right out of the box, these cans sound extremely muffled, nothing clear about them. The highs are absolutely dulled, mids unclear, and all you're left with is a boomy bass mess. BUT, you can fix that with the app. I found selecting the DJ signature can clean up the bass while adding that open clarity high end listeners enjoy. The problem with this is that you cannot replicate their sound signature with the EQ next to it. You can only use the DJ's. And if that was not bad enough, the DJ signature sort of "wears off" after some time. You frequently have to go back into the app and hit their icon again...and again. Very pointless and annoying to have that great sound just disappear at the start of a new song. Anyway, great sound. Just please fix that app and let the DJ signature be permanately stored into the headphone to save us some hassle of having to select it over and over.
Date published: 2020-05-20
Rated 5 out of 5
by
the11
from
JBL sound in a solid package
As always, impressed by JBL's success at implementing their trademark sound across a wide product line. The 700BT is no exception. This product appears to be well constructed with quality materials, and controls work the way you would expect. Impressed with the quick start flyer (improved from previous JBL products) included in the box. Using the JBL app on my iPhone, was able to connect and create a custom EQ profile, which is the basic requirement for me. Like the multipoint connection feature and the bass-boost button...very handy! The only concern I have is the compact form factor required a little more adjustment out of the box to fit on my large head (I'm one of those people who had an issue finding a cap that fits!). Nevertheless, was able to find suitable positioning to hear all the sound comfortably.
Date published: 2020-08-10
Rated 5 out of 5
by
ProlDJ
from
Sound quality!
I finally got to try these out while working. The sound quality is exactly what you would expect from JBL products. They are a little heavier than many other headphones but personally I don't mind. I'm not running or working out in these, I'm DJing. The Google Assistant feature was a little confusing to set up but I think my phone was the issue, not the headphones. Overall these headphones appear to be very durable, have excellent sound quality, and look sharp!
Date published: 2020-08-18
Rated 5 out of 5
by
Ratman79
from
Man these things are AMAZING!
Man these JBL Headphones are amazing!!! The Bluetooth connects seamlessly and without any issues. The Bass Boost features is really nice and you can really tell once you turn it on. These have so many really neat features, between the Bass Boost, the Ambient Noise feature, Volume, Power and Bluetooth buttons are perfectly placed! One of the neatest features is no doubt by pressing on the exterior of the headphone to verbally control your phone. This is a really sleek feature, and the block out all of the background noise, so you literally feel like you are inside a sound booth or studio. The are my new go to headphones...especially when I'm going to jump on the lawnmower. The are the best on-ear headphones that i have ever owned. Thanks JBL for another great Product! Over the many years that I relied on you guys, you have never let me down!!!
Date published: 2020-08-11
Rated 5 out of 5
by
andyg7879
from
Great base sound!
I received my new JBL Club 700bt Bluetooth ear phones today. They look and fit great with its slick design and heavy padded ear phones. The sound is definitely premium & the base is sensational, you can listen to pretty much any kind of music and the sound is great. After a while I did noticed my ears felt a little tired as they are not the lightest. The volume feature could be improved. I listened at full volume and felt there was room for more. Over all I really enjoyed my new ear phones today. more. Overall they're great, I really enjoyed them today.
Date published: 2020-08-05
Rated 5 out of 5
by
mpatte6740
from
Great Sound
I purchased these headphones several weeks ago. I am so pleased with this purchase because of the sound alone. I feel I am sitting right there with the artist in my own personal concert.
Date published: 2020-10-24
Rated 2 out of 5
by
Konopa 466
from
JBL CLUB 700BT
I couldn't wait to receive these Headphones But they were defective. After changing them They would not even turn on bummer.
Date published: 2020-10-20
Rated 5 out of 5
by
Mark 227
from
Great JBL sound and very comfortable!
Have owned lots of headphones over the years, but now these are my go to ones. Sound, comfort, plus Bluetooth or wired. AAA+++
Date published: 2020-08-11
Rated 5 out of 5
by
ICE555
from
Best Headphones I've Ever Owned
I just received these today in the mail. I am VERY satisfied! The earpads are super soft and plushy, and so is the headband cushion. The clamping force is non-existent (I am known to have a "peanut head" so keep that in mind). These are SUPER COMFORTABLE, and my ears heat up slightly but not to the point of being uncomfortable. The sound quality is AMAZING, the bass thumps right out of the box! The treble and mids are balanced so there is no "tinny" sound. These also sound great if not slightly better when wired. The app that pairs to these headphones is amazing as well and the customization is awesome. For people saying these don't get loud, they must be using crappy phones, are partially deaf, or using poor audio files because these get LOUD. I listen to hard rock, pop, r&b, and hip hop. SAVE SOME MONEY AND BUY THESE!! WON'T BE DISAPPOINTED! Best headphones I've ever owned!
Date published: 2022-10-05
Rated 4 out of 5
by
G Unit
from
The JBL Club 700BTs are solid headphones that offer a great audio. They are very comfortable and feel like a quality product not a cheap throwaway set. Battery life is rated at 50hrs I haven't tested that. I love the bass boost. You also get the option of using them wired which has a little better sound quality. The Alexa-integration is nice, the controls are well positioned and they are easy to use.
Date published: 2020-09-26
Rated 5 out of 5
by
Top_Gear_Fanboy
from
Great Product for on the go listening
I really do enjoy this product. I had never used on ear headphones and it took some getting used too at first but eventually i did end up getting used to them. The sound quality was great and the battery easily lasts through a week of use for me. They're easy to collapse and do a great job of being really portable. The talk through feature is interesting and seems to work fine but i still found it a bit awkward to use. Overall though i really did enjoy the product and would definitely recommend it if you are looking for on ear headphones.
Date published: 2020-08-06
Rated 3 out of 5
by
Sam7105
from
Great sound, but uncomfortable
I stumbled upon a fantastic discount code on a deal site that was too good to pass up. With that in mind these are very good for the price that I paid, I would definitely be returning these if I had paid full price. They look great with a very quality feel to them, they also sound fantastic. They are however very uncomfortable for even a short period of time due to the combination of weight and the on ear fit. If you are getting these at a discount go for it, otherwise for the same price the club 950nc are a way better choice.
Date published: 2020-10-19
Rated 1 out of 5
by
Wiley22
from
Hope they are better than the 950s
I got the Club 950s as a Christmas gift last year, evidently they are so bad JBL no longer has them on their site, at least that I can find. They constantly drop connection, if I'm watching a video on YouTube then switch to another app like Hulu, the connection between my phone or tablet is lost with my headphones. Was a huge fan of JBL before these.
Date published: 2022-10-30
Rated 1 out of 5
by
selemd
from
terrible microphones
I bought these a year ago. I thought it should be good for not only listening to music but also to talk to people on the phone. When I use it for regular phone conversations, people on the other end of the line cannot understand me. My sound is muffled and incomprehensible. first I thought this was a temporary issue that would go away but it has been a year now and anytime that I wish to talk to someone, I have to take the headphones off and use the phone so that other people can understand me
Date published: 2022-12-02
Rated 3 out of 5
by
PostalCW
from
Not bad but...
These sound good, I wasn't blown away like I thought I would be. I love bass probably more than most but I must say that the bass boost makes the sound a tiny bit distorted. The main reason for my rating is the design and I have a concern about durability, I don't like the wire that hangs from each side, it seems like an accident waiting to happen. My personal preference is a larger over the ear headphone. I do enjoy the Google feature, all in all a good headphone but for me not great.
Date published: 2020-10-12
Rated 1 out of 5
by
hardyhar99
from
Terrible user interface
Terrible interface. Unable to connect. Cannot connect through bluetooth connection (have to go through app) - still cannot connect. Customer service is non-existent.
Date published: 2020-10-17
Rated 5 out of 5
by
LKK23
from
Great sound!!
I love my headphones! It has an amazing sound quality, charges super fast, and the battery last a long time. Loving it!
Date published: 2020-10-23
Rated 2 out of 5
by
Jesse777
from
New in box! Doesn't work!
When I received it brand new in box the left side didnt work when using Bluetooth. I've tried a million things including downloading the app, resetting the headphones, resetting my phone, syncing, deleting connection, nothing works. However they work if theyre plugged in with the aux chord and sound good hence 3 stars. But I'm pretty disappointed though, these were the first nice headphones I've ever bought and they dont work lol. Waste your money somewhere else.
Date published: 2022-03-04
Rated 5 out of 5
by
mark p
from
First set of "real " headphones
JBL hasn't failed to impress me yet, so I decided to try out their new Bluetooth headphones, club 700bt. On arrival I was(and always have been) very impressed with the packaging. Charged and ready to go out of the box I had a bit of a hard time seeing the symbols on the buttons so I had to refer to the quick start guide. After I get used to this I won't need to see the buttons, so no big deal. Fit and feel are spot on amazing. All day type comfort. Now to the sound, JBL has never failed to impress me and that stands. I would put these up against any other brand out there, and I'm sure they would hold their own. Crisp, clean, and oh so deep. Only drawback I noticed was they seemed slightly on the heavy side, but I feel that's the cost of going wireless. As always, I highly recommend this product to anyone at any level of audio experience.
Date published: 2020-08-06
Rated 5 out of 5
by
Gonzalo G
from
Amazing sound quality.
I have dad these headphones for about 3 weeks and honestly, one of thew best headsets I have had so far. The sound quality is really good, better than most of other high end headphones i own. My favorite part about the speakers is when watching videos on my phone the audio is in sync, im able to watch videos without delayed audio. Comfort wise they did seem uncomfortable at first, but after a coupe of minutes they adjusted. Would buy again.
Date published: 2020-08-09
Rated 5 out of 5
by
Keljasmine
from
Awesome headphones
I bought these for my husband he can never find any that are comfortable and don't hurt his ears. He loves theses said they feel so amazing on his ears he is very pleased I found these. They have also have great features about them that he loves about them that his others did not. All I can say if I knew they were going to be this amazing I would have ordered me a pair also. You definitely can't wrong with these have great sound.
Date published: 2020-10-17
Rated 2 out of 5
by
Mikael Mello
from
Not what expected
Nearly a month purchase, I can mention some flaws of the product Small ear cups, really uncomfortable to use for over than 30 minutes. The bass system on my seems not to work or the difference on both settings is not very different. Not to mention the Bluetooth disconnecting itself from my laptop, making really inconvenient during meetings. Other than that, the battery life is really good.
Date published: 2022-02-09
Rated 2 out of 5
by
George2
from
nice headphones BUT my box arrived with no cables
nice, brand new box, opened box, nice headphones, nice quality but there are NO cables, no charging or connector cables inside. Nice little vinyl carrying bag, nice headphones but all accessories are missing.
Date published: 2020-11-24
Rated 2 out of 5
by
KL2fm
from
We give it a low rating because the directions are awful!! Unable to read or understand. Font is too small to read without a magnifier, and for those who are most well acquainted with using technologically advanced headphones, it is very difficult learning to use them optimally.
Date published: 2020-10-17
bvseo_sdk, dw_cartridge, 18.2.0, p_sdk_3.2.0
CLOUD, getReviews, 18ms
reviews, product
Product Q&A
Will there be a pc app anytime soon?
Thanks for the suggestion. We'll cascade this to the proper department for it to be taken into consideration for future product developments. As of the moment, we only have our JBL Headphones App for mobile to use with your JBL Club 700BT.
Date published: 2021-06-06
How's the performance when connected with wire?
Our JBL Club 700BT works the same was when used via the 3.5 mm aux cable.
Date published: 2021-06-06
Are these available in uae- dubai? 
Here's the official website of our dealer in UAE, Harman House. Please click on the link to check for the availability and pricing of our products here: https://harmanhouse.com/
Date published: 2021-06-06
My Club 700bt headphones currently have the 1.7.0 firmware version. It looks like there's a new firmware version 2.6.0 released on January 2021. How can I update the firmware to the latest version? I couldn't find any apps or any information about it. Thx
You can check the software updates of our JBL Club 700BT using the My JBL Headphones app which is available in the Play Store for Android devices and App Store for IOS Devices.
Date published: 2021-12-25
Does it have a Multi-Point Connection?
Yes, our JBL CLUB 700BT has Multi-point connectivity, talk-thru, and ambient aware.
Date published: 2023-03-28
Hi, Can someone share with me a good EQ program? Ineed to have more Bass & TREBLE. The Default BASS & Treble are not good enough
Thanks for reaching out. Our JBL Club 700BT has an equalization setting via the JBL Headphones App that suits your unique preferences. You can download this app from the Google Play Store for Android or from the Apple App Store for iOS.
Date published: 2022-08-09
bvseo_sdk, dw_cartridge, 18.2.0, p_sdk_3.2.0
CLOUD, getContent, 157ms
questions, product
Support
Register your JBL product
Do you own this product? Register it here in case you need to claim warranty
Register Now
Can't find what you're looking for?
Are you looking for product support, documentation, how-tos or older products?
JBL Support