HARMAN Luxury Audio's JBL Conceal Series Delivers High Quality Sound with Cutting-Edge Invisible Design
New Series Install Like a Drywall Patch, Sound Like a High-Performance Loudspeaker And Can Be Placed Anywhere In The Home.
NORTHRIDGE, California — Not seeing is believing with HARMAN Luxury Audio's new JBL Conceal Series invisible loudspeakers, now available for shipping.
The new JBL Conceal Series loudspeakers combine patented invisible loudspeaker innovations with industry-leading JBL acoustic design to be the most advanced, highest performing invisible loudspeakers available on the market today. JBL Conceal Series are paintable and installed in-wall or in-ceiling to be seamless with drywall — enabling greater positioning freedom and eliminating wall/ceiling blemishes inherent with traditional architectural loudspeakers.
"The new JBL Conceal Series empower custom integrators to provide their customers with the very best of both worlds — category-leading acoustic performance coupled with aesthetic license to place loudspeakers where they will deliver the optimal listening experience", said Jim Garrett, Senior Director, Product Strategy and Planning, HARMAN Luxury Audio. "The JBL Conceal Series will be a welcome addition to the design palate of integrators, interior designers and homebuilders serving customers with exacting design ideas but who also require exceptional sound."
The JBL Conceal Series loudspeakers feature a rigid compression molded baffle that is skinned with patented Fidelity Glass™ acoustic panels. A cone woofer is affixed to the baffle and acoustically couples to the Fidelity Glass panel by virtue of a patented acoustic lever design. The Fidelity Glass moves as a unit, providing greater surface area for realistic dynamics and low frequency extension. The midrange and high-frequency transducers attach directly to the fidelity glass, and together, these acoustic elements create a near 180-degree dispersion pattern, ideal for an invisible in-wall or in-ceiling speaker. The design yields loudspeakers that install like a drywall patch, sound like a high-performance loudspeaker and can be placed in any room of the house, including bathrooms and even under the eave outside. The surface can be painted to match the wall, or custom finished for blending into any creative decor.
The JBL Conceal Series offers three full-range loudspeakers and a subwoofer. The flagship C86 model features a dual panel, six-element design with a 1-inch HF transducer, 4 x 1.2-inch MF transducers, and an 8- inch woofer with 1.5-inch voice coil. The dual panel configuration of the C86 separates the critical mid- and high-frequencies onto their own dedicated panel to optimize acoustic performance.
The C83 is a three-element design that features a 1-inch HF transducer, a 1.2-inch MF transducer, and an 8- inch woofer with 1.5-inch voice coil. The smallest of the full-range models, the C62 two-element design loudspeaker includes a 1.2-inch HF transducer and 6.5-inch woofer with 1-inch voice coil. The C82W passive subwoofer is a single panel with 2 x 8-inch woofers with 1.5-inch voice coils. The C82W is intended to be used in pairs and is packaged as such. For the JBL Conceal Series, the C82W is designed to be paired with the Crown CDi 2|300 DriveCore™ amplifier as a complete subwoofer system solution.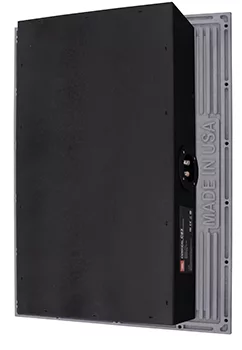 The JBL Conceal Series models feature JBL premium acoustic crossover networks, gold-plated spring-loaded binding post terminals, self-resetting protection circuitry on all drivers, integrated wooden back box enclosures, and a 180 X 180-degree ultra-wide dispersion pattern.
The flagship dual-panel 6-element C86 has a retail price of $2,000.00/each, the single panel 3-element C83 has a retail price of $1,000.00/each, the single panel 2-element C62 has a retail price of $600.00/each, and the C82W passive subwoofer has a retail price of $1,300.00/pair. To complete the C82W subwoofer system, the Crown CDi 2|300 DriveCore power amplifier has a retail price of $1,224.00/each. The JBL Conceal Series will start shipping in July 2020.
"This loudspeaker series is a peace-maker," Garrett continued. "Nobody — audio enthusiast, design fan, builder, integrator, designer — need compromise on what they believe creates a perfect room environment."
ABOUT HARMAN
HARMAN (harman.com) designs and engineers connected products and solutions for automakers, consumers, and enterprises worldwide, including connected car systems, audio and visual products, enterprise automation solutions; and services supporting the Internet of Things. With leading brands including AKG®, Harman Kardon®, Infinity®, JBL®, Lexicon®, Mark Levinson® and Revel®, HARMAN is admired by audiophiles, musicians and the entertainment venues where they perform around the world. More than 50 million automobiles on the road today are equipped with HARMAN audio and connected car systems. Our software services power billions of mobile devices and systems that are connected, integrated and secure across all platforms, from work and home to car and mobile. HARMAN has a workforce of approximately 30,000 people across the Americas, Europe, and Asia. In March 2017, HARMAN became a wholly-owned subsidiary of Samsung Electronics Co., Ltd.
For more information contact:
Eva Murphy Ryan
Brand Definition
eva@brand-definition.com
+1 503-412-9985
Caroline Bresler
Brand Definition
carolineb@brand-defintition.com
+1 503-688-3662