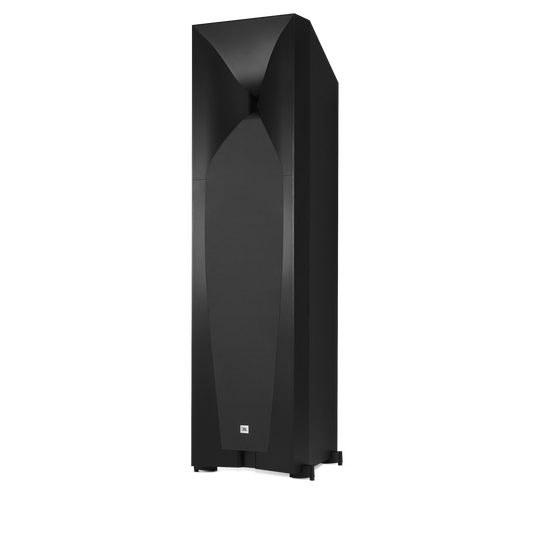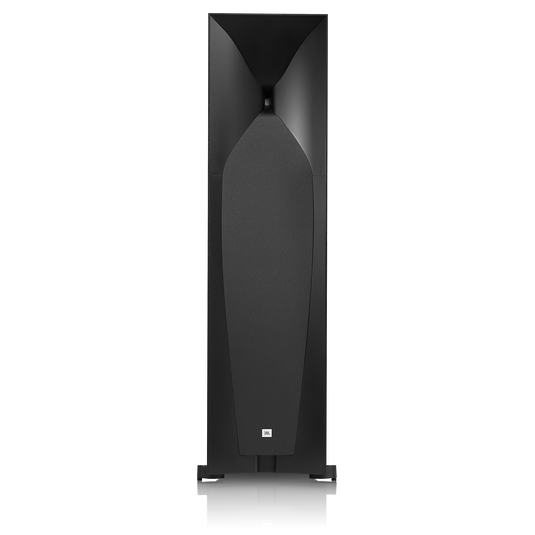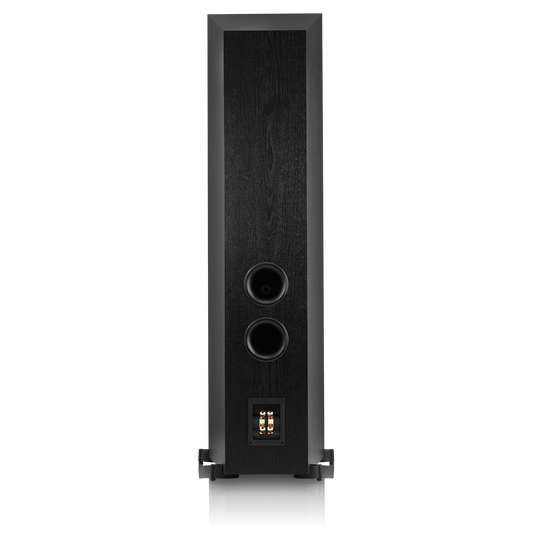 Features
25 – 250 watts suggested amplifier power range
JBL engineers designed the Studio 590 floorstanding loudspeaker to deliver enhanced, room-filling sound from a compatible AVR (audio/video receiver) or 25- to 250-watt power amplifier, whether you are using the Studio 590 as a stand-alone unit or as part of a surround-sound system.
Dual 8" (200mm) ribbed PolyPlas woofer cones
Powerful bass affects more than just your ears. It resonates through your entire body, creating a soundscape that you can feel as well as hear. The JBL Studio 590 floorstanding loudspeaker delivers accurate low-frequency sounds from a pair of 8-inch (200-millimetre) ribbed PolyPlas woofers. The ribs improve strength while reducing distortion. The result is rich, powerful, articulate bass.
Symmetrical Field Geometry (SFG) magnet assembly
Thanks to a heavy-duty Symmetrical Field Geometry (SFG) magnet assembly, the Studio 590 floorstanding loudspeaker's pair of low-frequency woofers delivers highly focused bass. The result is pristine, articulate sound.
1" (25mm) high-frequency compression driver
The JBL Studio 590 floorstanding loudspeaker's high-frequency compression driver lowers distortion and provides a wider dynamic range than is possible from conventional high-frequency and midrange drivers. The tweeter comprises a one-piece Teonex® diaphragm/surround assembly fitted with a 1-inch (25-millimetre) voice coil that can deliver enhanced vocal articulation.
Glass-filled ABS Bi-Radial high-frequency horn
Horn-shaped loudspeaker designs optimize high-frequency output by directing the sound to the listener with pinpoint accuracy, thereby eliminating reverberation, reflections off walls, and other artefacts. The Studio 590 floorstanding loudspeaker features a glass-filled ABS Bi-Radial high-frequency horn that delivers professional-level sound to your home.
Low-loss, 2-1/2-way crossover network
The Studio 590 floorstanding loudspeaker's low-loss, 2-1/2-way crossover network ensures a clean transition for sound coming from individual low-frequency and high-frequency drivers, thereby reducing distortion while improving clarity.
Bi-wire capability
The Studio 590 floorstanding loudspeaker will work with multiple power amplifiers or connection setups – or both – for single-wire or bi-wire operation. The result is enhanced versatility in the ways you can use the Studio 590 speaker.
Sturdy 3/4" (19mm) MDF enclosure
The Studio 590 floorstanding loudspeaker's cabinet is built with the same attention to perfection as every other component. Rigid, heavily braced materials prevent unwanted resonances, while non-parallel surfaces eliminate sound interference.
Exclusive design
The same attention to detail that went into the Studio 590 floorstanding loudspeaker's technical design was paid to creating a powerful, sophisticated look that will fit within even the most discerning householder's décor. The Studio 590 is available in a black or cherry finish.
Frequently Bought Together
Specs & Downloads
Item# STUDIO 590BK
Description
Professional-level technology in a floorstanding loudspeaker.

The JBL® Studio 590 floorstanding loudspeaker brings professional-quality sound to the home experience. The Studio 590 uses the technology that JBL engineers developed for pro-audio loudspeakers to deliver accurate, powerful sound to your living room. The Studio 590 floorstanding speaker is a perfect complement to other members of the Studio 5 Series, including the Studio 530 bookshelf and the Studio 520C centre-channel loudspeakers. The Studio 590 features a 1-inch (25-millimetre) tweeter mounted on a glass-filled Bi-Radial® horn – the same technology used in JBL concert sound systems – to deliver concise, sustained high frequencies. A pair of 8-inch (200-millimetre) PolyPlas™ cones with Symmetrical Field Geometry™ (SFG) magnet assemblies handle low frequencies.
General Specifications
Type

2-1/2-way dual-woofer, floorstanding

Finish

Black
Audio Specifications
Nominal Impedance

6 ohms

Crossover Frequencies

1.5kHz

Sensitivity

(2.83V@1m) 92dB

Frequency Response

35Hz-40kHz
Dimensions
Width (in)

12-11/16

Weight (lb)

69.5

Width (mm)

322

Depth (in)

16-1/4

Weight (kg)

31.5

Depth (mm)

413

Height (mm)

1263

Height (in)

49-3/4
Control and Connection Specifications
Connector Type

Dual gold-plated binding posts (bi-wire capable)
Documents & Downloads
Customer Reviews
Rated

5

out of

5
by
gecka78
from
The best speaker I ever Owned. Unbelievable sound
For about 7-8 years, I had the famous JBL studio L speakers (7.3 Floor Standing system). I was always listening and comparing other speakers and couldn't find anything better , for the last couple of years I was reading about studio 5 series, and I finally decided to order a pair of studio 530's, I was shocked at how much better, cleaner, and more open they sounded, more open than my L890's, After a few days of listening to music and watching movies I ordered the center speaker and finally ordered pair of these monsters along with a pair of 560p subs. I have had them for about a week now and cannot get enough of listening to them. These speakers are the best I ever heard...Ever! The bass is so tight , clean and deep. Highs are just unbelievable clean, open and smooth. I listen music and watch HD quality movies a lot and I cannot believe how much I was missing before. If you can afford it, just get them. I think this is the best investment you can make and you will be extremely happy with them.
Date published: 2015-12-19
Rated

5

out of

5
by
Mr President
from
You need these.
Amazing open sound with great depth. These are paired with the Studio 520C, L8400P sub, and some JBL bookshelf's for rears for a superb 5.1 experience. Beautiful imaging in stereo with extremely accurate sound. Highly recommended!
Date published: 2017-10-11
Rated

5

out of

5
by
Bleu Jean
from
These speakers bring the recording into the room
I have the Studio 230 bookshelf speakers and love those, but I had my eye on a floor standing model. The only other floor standing model I can compare with are a set of Boston Acoustics--not sure of the model. The soundstage is mesmerizing. Currently, I am listening to Simon and Garfunkle The Concert in Central Park album and WOW. I feel as though I am there. Dave Brubeck Live in Carnegie Hall is another great album which the speakers can take you into the recording. These have a large footprint, but are impressive in performance.
Date published: 2017-05-06
Rated

5

out of

5
by
soccerdrub
from
Amazing sound, great price!!!
I am so happy I bought 4 of these when they were on sale for 50% off as they are the BEST speakers I have ever had!!! Top notch quality and such clarity, even when blasting super loud!!!
Date published: 2017-05-06
Rated

5

out of

5
by
Earl Dumarest
from
Great speakers
Incredible speakers. Would be nice if the woofers were a little bigger.
Date published: 2016-06-28
Rated

5

out of

5
by
Anonymous
from
Best home JBL speaker available
This is plain and simple the best JBL speaker out there - available for the home. You can see how their pro knowledge has seeped into their home line. I will probably also augment these with a pair of JBL STX 828 speakers for more low end, but, if, in the future, JBL added two 15 inch speakers to the L590 cabinet, it would have the best home speaker in the entire space time continuum.
Date published: 2013-02-26
Rated

5

out of

5
by
Duckydog
from
Blew me away. Bye-bye Genesis
So I don't know what happened to my original review. It never made it to the website. So after a 2 week wait, (thanks Estes), I went to Fontana and picked up the speakers because I didn't want any more delays. Came home, unpacked them, hooked them up and wow!...jaws dropped, teeth fell out, the whole deal. Got them for half price straight from JBL. The soundstage is enormous in my system: wide, high and deep. And they go deep too in the bass. What impressed me the most were the highs. Simply breathtaking. Strong, but delicate. Like others have said, almost 3-D. Beat the tar out of my old Genesis APM-1s at one tenth the price! So yeah, highly recommended. But caution, they like power. I used my NAD 150 watt integrated and my D-Sonic 580 watt amp. No contest. D-Sonic won. They love big power. Enjoy! I'm still rediscovering all my music that I thought I knew so well. Cheers.
Date published: 2019-11-07
Rated

5

out of

5
by
THE_ONE
from
Amazing speakers
I bought these refurbished and they look brand new, not a scratch on them. They definitely deliver concert like sound and the imaging is out of this world! These speakers could definitely light up 5 acres with music. I can't get them above -3db volume on my pioneer sc-lx701 receiver. To much for my livingroom lol.
Date published: 2018-04-29
Rated

5

out of

5
by
RussM87
from
Excellent soundstage
I bought these speakers two months ago and wanted to live with them for a while before commenting. The 590s are simply the best bang for the buck speakers I have ever owned. I am not a tech nerd, just a guy who appreciates great sounding speakers for all types of musical genres. They have the clarity and imaging of my KEFs but with the added grittiness and tight bass you'd expect from JBL. I recommend a minimum of 100 WPC for maximum dynamic range and richness and have found they enjoy a lift of at least six inches off the floor. These speakers will satisfy even the pickiest audiophiles. Well done JBL!
Date published: 2020-12-18
Rated

5

out of

5
by
Benie
from
Outstanding!
The first pair of JBL speakers I bought where a pair of JBL L100T which I still own and use. The last pair of JBL speakers I bought was in the 90's, they are a pair SVA 1600's along with 4 SVA 1500's and the SVA center channel and JBL Sub. I also bought a pair of JBL SVA 1800's later on. They are awesome. These Studio 590's are one of the best, by JBL that I have heard in a long, long time. Very efficient , outstanding. They are paired up with my Harman Kardon Citation Series 21, 22 and 23.
Date published: 2017-06-29
Rated

5

out of

5
by
Mugiwara91
from
What I ALWAYS wanted
I've been vying for replacing my 190's with the 590's ever since I got the 190's back in 2014. Not that the 190's were bad, no, I have been very happy with them. I was on a budget. But now these... I am so blown away by the sheer amazement these two speakers deliver. I could turn everything else off in my 7.1 set up and just leave these two 590's up front and not be able to tell. In fact I had issues telling surround on or off in my tiny 18 x 12 home theater room. The sound stage these bring is just awesome. They have so much base and so much range. I paired them with the 520c too, replacing my previous 120c. Glad I made the buy.
Date published: 2022-03-31
Rated

5

out of

5
by
Mindmaster
from
A wall of sound
I bought 2 on sale a month ago without ever demoing. I was nervous ordering something so expensive with out trying them out.They blew me away how clear they are at high and low volumes when maxing out my system you can feel the sound hitting you like sack of bricks and I only have a 75 watt receiver. Shipping could have been more clear it said delivered but it was just delivered to the hub in my area and was out for delivery.
Date published: 2019-06-26
Rated

5

out of

5
by
Tadpole
from
That JBL sound!
Let me start by saying that I purchased a pair of JBL studio monitors back in the early eighties and used them as my "reference speakers" for over thirty years. I finally retired them last year - still in perfect working order. The next thing I would like to disclose, is that I am a speaker junkie. I love music. I love the sound of music. I have been on a quest for the perfect speaker all of my life, and have owned virtually every speaker you could think of. I have missed my JBL's ever since I sold them. No matter what other speaker phase that I have gone through over the years (and there have been many), I always came back to the JBL's. No other speaker that I have found could do everything so "right". I am pleased to say that the same is true for the new JBL Studio 590's. Now, let me warn you, these things are BIG. No matter what you expect, they are bigger than that! But the payoff is massive sound, or "solid walls of sound" as Elton John put it so many years ago. Yet with their huge walls of sound, they can be delicate and light as a feather when the music passage calls for it. And the best thing to me is that they have that "JBL sound" that I have been missing. It's hard to put into words, but kind of a natural and organic sound and feel. I have owned other brands that were technically more precise, but that, in the end, was the problem - they sounded "technical". These JBL's sound "musical". These speakers are enjoyable to listen to for hours on end. They are a very rich sounding speaker. My only caution would be the size, and that you had better have a pretty robust amp for them (like all JBL's). I am using a Peachtree pushing about 250 watts to them and that seems about right, but I think that 300 - 500 watts might be even better. My advice would be to buy a pair, get your favorite music, and settle in... for the rest of your life!
Date published: 2014-07-09
Rated

5

out of

5
by
Cshann
from
Expansive sound, without sounding forced
I remember when I sold horn speakers in the 80's and 90's. While they were usually efficient and loud, I really didn't consider them a type of speaker that would coax the intricacies and details out of great recordings. Fast forward to 2019....I'm amazed at the advances in horn/speaker technology. Yes I know, I've been out of the industry for a while. Let me just say upfront that the sound of these speakers are amazing. They completely caught me by surprise. The 590s present a large sound/soundstage, but at the same time, they don't sound "forced". Moreover, I feel that there is so much "air" that I can hear in the soundstage, that I'm actually listening to music...not just speakers. The detail, precision, and fullness is more than impressive. Before I hooked up the Studio 590s, I thought I might have to add a sub-woofer in order to get the deep bass that I usually appreciate. However, on the first listen, that thought was quickly abandoned. The lower end is full, but not tubby or plodding. Just a quick, definitive bass. So far, I've listened to Jazz, Classical, Rock, Chillout, various Popular Music, stuff from the Rat Pack era, etc....these speakers can handle it all. A couple of things that did surprise me: - Older recordings seemed to be rejuvenated...they really held up well. - As well as, I was able to hear new details in other recordings that I was very familiar with. Again, a pleasant surprise. Overall, I would highly recommend these speakers to someone looking to upgrade their system. From casual listener to hard core Audiophile you won't be disappointed.
Date published: 2019-04-16
Rated

5

out of

5
by
ORP4
from
Proud owner
Truly amazing! And after six months I'm still blown away every time I listen..I have heard speakers costing tens of thousand of dollars that didn't sound as good! Best money i have ever spent..Btw I have heard people say to get a sub woofer..IDK where they get that? The bass is deep and powerful as if a sub was on! Depending on you're amp don't waste money on a sub in my opinion it would be over kill!
Date published: 2018-11-11
Rated

5

out of

5
by
Vince D
from
Noice
Noice, for the price. I wanted a good Floorstanding speaker but most of the good one is just too expensive. I couldn't resist the sale on this speaker. They do sound phenomenal. The bass on this speaker is amazing, even without Subwoofer.
Date published: 2017-04-26
Rated

5

out of

5
by
DooBDruB
from
Amazing sound!!!
I bought 4 of these tower speakers around a month ago and they are amazing!!! They rock the whole house if I even turn up my amp half way, its insane how powerful yet clean sounding these things are, very impressed!!!
Date published: 2017-04-17
Rated

5

out of

5
by
BBQ audiophile
from
Don't buy a pair of these ... buy 5!
Yes, that's right. I'm suggesting you buy 5 of these bad boys, particularly if you find them on sale (sometimes half off.) The Studio 6 series is being introduced on the Japanese version of the JBL site, so it's likely the days of these Studio 5 series are numbered, which may be why they sometimes run amazing deals on them from time to time. Now, if you're a stereo listener only, then of course you only need two. I recommend getting a subwoofer with these even for music only, though a pair sound shockingly good without the benefit of a sub. Though the woofers are only 8", the ports allow these to dig pretty darn deep. But a powerful sub will fill in the missing bit of super low notes and provide a listening experience that is incredibly tough to beat without spending a LOT more money. But if you want movies with remarkable surround sound, I recommend getting at least 3, and preferably 5 of these towers. A number of people on certain AV forums (hint hint) have found that the 590 makes for an incredible center. The 520C center channel speaker in this series sounds good up to about 75 to 80 dB, but over that, it starts showing its limitations. The 590 towers can go LOUD without any distortion. Some people place one 590 on its side in the standard center channel position. I tried that and thought it looked dumb. But I put one behind my 65" flat screen TV (a Samsung Q80) and it sounds shockingly good. You would think it would sound muffled, but it really doesn't. I loved the 590's so much, I bought another pair for surround duty. If you can get the Studio 530 bookshelf speakers (rarely sold anymore), particularly on any kind of sale, then those make amazing surrounds. I have a pair that I use for rear speakers, and they are remarkable in that capacity. But 5 exactly matching tower speakers provides a quality that you just have to experience to believe. I place my side surrounds at +/- 80 degrees, meaning they are almost out to my sides, but a little forward of that. That position is recommended by Dolby if you're going to also include rear surrounds (in a 7.1 setup). It's also good for multi-channel stereo, which you can achieve with receivers like Marantz or Denon. In fact, a great book called "Sound Reproduction" by Floyd Toole (the retired chief of audio engineering at Harman, the parent company of JBL) shares a tremendous amount of research, including a section showing that this arrangement (a center, plus main left/right speakers at +/- 30 degrees, and surrounds at +/- 80 degrees) is among the best for a sense of immersion in music listening. Throw on some good classical music, and be prepared to be amazed. But even something as "pedestrian" as rock will benefit from the 5-channel "umpixing" from multichannel stereo. The instruments and vocals will seem life-size in your listening room. No, you do not need a very powerful receiver or amp to power these, though you will eek out a little more quality if you give them the full 250 watts at the top of JBL's recommended range. Just remember, though, that these are 6 ohm speakers, so you won't want to exceed a 200 watt rating at 8 ohms (which translates to very close to 250 watts at 6 ohms.) But even a very basic receiver can produce VERY loud sound out of these sensitive speakers. I've seen reviews talking about blowing out the neighbors with nothing but a little 50 watt amp. (Strangely, smaller speakers are typically less sensitive, meaning that the same number of watts power from an amp or receiver will deliver a lot less volume than when fed to these towers.) These speakers have a fantastic combo of compression driver and waveguide. Look at JBL's super expensive Synthesis line, and you'll see that's what they use for those. In fact, these 590 towers are considered the low end of the Synthesis line (audiophile quality that you can't normally buy from a JBL website.) "Transients" in music (sounds with abrupt starts and stops) really benefit from a compression driver. Snare drums, for instance, will take on a very life-like quality. Okay, I've gushed on and on about these speakers. If you want to get to audiophile level of quality without breaking the bank, pray that these go on one of those half-off sales, and get 2 to 5. If you find you don't like them? No worries. JBL has free returns, including free shipping both ways. (I had to do that once with a lesser pair of towers, and JBL made the process very easy.) The only complaints I have: 1) the feet on these can break pretty easily, so make sure yours are ok at delivery, and insist on replacement speakers if broken; and 2) the shipping process. They tell you free two-day shipping. I have received my 5 towers through 3 different shipments. One shipment was just two days, but the others were more. And I wouldn't mind the shipping taking longer, but their communication was terrible, leading me to take off work to receive them on the promised date, only to have that pushed out a few days with no warning, and having to take off work again. Not my favorite way to use my precious vacation days. Again, I really don't think these speakers can be beat when on sale. At regular price, you may find speakers that are better for your tastes, but none that experts will universally agree are better all around. But at half price, nothing can touch them.
Date published: 2019-09-26
Rated

5

out of

5
by
Zionia
from
Gentle Acoustic Giants
These speakers are big, heavy, and impressive. Like a spaceship these speakers will take you to other worlds. I upgraded from some much older JBL stadium speakers and it was like night and day in playback quality. My music and movies became much more clear, crisp and focused. I've not been moved to tears by speakers in a long time, but playing back my favorite tracks over these sent chills down my spine. These speakers contain tech found in more expensive speakers and punch well above their cost. Make sure to power them with at least 100 watts, though they play really load even at low levels. They will crush your space at well below their rated max, and they sound darn good doing it. I matched them with the center channel, a must if you want a consistent sound, don't worry the center channel keeps up with no issues and also sounds very good as well. If you setup your room correctly, I recommend checking out Z-reviews video about these speakers for more detail. These speakers benefit from sitting higher in most rooms, I sit mine on my duel 12" subs in the front and angle them in toward my seats. It makes the imaging just that much better, making for a nearly perfect center without the center channel. And yes do yourself a favor and listen to these speakers in stereo mode if your amp\receiver supports 2 channel with sub. Turn off surround and focus the sound to these for music and you will understand. Switch between surround and stereo for contrast, again everyone has different gear and spaces but these speakers are incredible by themselves. The sound reproduction is just something that you need to hear to understand. Let these spaceships take your ears to the stars!
Date published: 2019-04-13
Rated

5

out of

5
by
Manish Rana
from
Love the 590's
Studio 590's are ear bleeding loud yet cristal clear and good mid bass. I am running them with a onkyo Amp 250 rms each speaker.
Date published: 2018-07-11
Rated

5

out of

5
by
Scottinwa
from
Power, grace and transparency
I got tired of the "me too" Klipsch reference and the harsh shout they have. The JBL do everything the Klipsch should, and things klipsch does not. The 590 are dynamic and bold. They use better drivers and better crossovers (superior engineering) to the equivalent Klipsch. These speaker (unlike Klipsch) are a successful larger version of the superb Studio 530. They are like a coherent, transparent and detailed bookshelf, on a larger scale. They have truly prodigious bass. In the past. I've heard $4000-$7000 floorstanders that were in this vicinity of performance. I got these 50% off and they are worth more than double full retail. Make sure you feed them proper high current and a good source, they are very revealing. I have zero regrets and there is nothing else under $6000 a pair that impresses me more.
Date published: 2020-05-05
Rated

5

out of

5
by
DeltaBravo
from
The Studio 590 does not fail to impress...
The Studio 590 is a great representation of Greg Timber's ear for design. The vertically mounted horn is one of the great design features. If there was any concern in the design, it would be placing the grill in the lower half of the horn section. These monitors bring a new appreciation for the music I so enjoy.
Date published: 2018-07-28
Rated

5

out of

5
by
HTFan
from
Best JBL Tower Speaker!
I am in sticker shock! $499 ea. for these Studio 590's is unreal. No tower speaker, I mean NO tower speaker under $3k a pair can top these. Anyone that's into JBL or even SVS for that matter knows that this tower speaker is the BEST ever made by JBL. My litmus test is playback of 2 specific sonic items.. 1. Piano 2. Gunshot If a speaker can reproduce the 2 items above? Then you gotta winner! 1. The Studio 590's can reproduce the piano so effectively, that you will think the piano is in the room. (provided the recording is accurate) 2. At the proper volume level, the 590 will fool your ears into thinking a pistol just went off in your room. From the SPL to the room kickback of the gunshot, your brain will believe it heard a gunshot. (provided the recorded material is captured accurate) Imagine watching the films.. Appaloosa 3:10 to Yuma Open Range Lone Survivor where the gunfire is the real deal captured accurately on disc. The 590's will take your movie night from just watching the movie to experiencing it. No BS! If you're luck enough to own the Studio 590's or 580's? You've achieved audio nirvana in your home. Example: Put 3 of these 590's or even 580's across the front, in the Left, Center and Right speaker positions under your projection screen, you'll never ever need to upgrade because you've assembled the perfect front sound stage in home theater system. Fill in the 2, 4 or 8 surround positions with any of the JBL surround or bookshelf line and you're finished for life. Your room space will dictate what size speaker you can use for surrounds. Since surrounds are mainly FX speakers, you can use the Arena 120 line for the side, rear and ceiling surrounds.(just saying). As long as the surround speakers can keep up in SPL with the front speakers you'll be good to go. Most commercial Cinemas use simple JBL 2 way sats placed onwall above the viewing position. I use the Arena B15's for surrounds in my 7.1 system, driven by a Yamaha RX-V467 AVR at 105 wpc. The Arena's are beyond adequate, trust me. Easier on the wallet too, considering the cash you plunked down for the front 3 speakers. I said to use 3 of the 590 or 580's up front because that lineup will be far superior to using a Studio center speaker. Considering the bombastic demands put upon a center channel in a surround sound system, it's always smart to use 3 matching speakers across the front in concert with 1 or 2 subwoofers. There ya' go! A review of the 590's from a veteran Recording Artist who knows what he's talking about. Concerning the JBL's anyway. LoL! ~ peace
Date published: 2018-05-18
Rated

5

out of

5
by
The Building Chairman
from
Best ever
The sound is unbelievable might be the best speakers ever made in the history of mankind perfection doesn't sound as good WOW!!!!!
Date published: 2018-12-20
Rated

5

out of

5
by
Reikoshea
from
Awesome for music.
I have had these for a little over 3 years now, and they still get daily use. For the music we listen to in my house (Rap, EDM, Thrash) they have been fantastic. At -20db on a Yamaha RX-A840 is where they start hitting their stride and at -10db, we'll just sit on the couch for an hour and enjoy ourselves. The tweeter is incredibly detailed and you get awesome imaging. The bass doesn't really start hitting until you turn it up, but once you do, you'll start investing in command strips for any art on your walls. For HT we paired these with a studio 520c, and have no complaints for our 3.0 setup for TV. But they probably only get about 2-3 hours a week of use for HT, so I'll let someone else give you details on that. The only negatives I have, is the wave guide is a like a bullseye for little fingers. It's been an interesting couple years training the fingers away from the that amazing tweeter. Also when we turn on metal the mids need a bit of an EQ boost to really present themselves, but for Rap and EDM they're great out of the box. Since I caught these on sale, I'm giving them 5 stars for value, but at full price, it might be a 4/5. Still worth it, but it's harder to recommend.
Date published: 2019-08-13
Rated

5

out of

5
by
MTH71
from
World-class loudspeakers
Truly exceptional...there is an immediacy and impact--both sonic and emotional--with the 590's that is absent from all but perhaps the top 2% of most 'real world' speakers. Off-the-charts price-to-performance, legitimately world-class...well done, JBL.
Date published: 2019-03-09
Rated

5

out of

5
by
JBLBOB
from
Every since I heard and was blown away by my JBL Decade 36 speakers some 40 years ago I've had JBL on my mind and these JBL STUDIO 590 Speakers are totally AWESOME every time I Listen I'm totally BLOWN AWAY JBL will be on my mind forever.
Date published: 2018-06-20
Rated

5

out of

5
by
Anddrew
from
Amazing so far.
Luckily I was able to snag these while they were on sale. But even at full price these speakers would be a steal. Out of the box they sound great and get better with each listening. Growing up in the mid 90s I was all about bass so when I saw it only had 8 in woofers(even though there are two) I was slightly concerned that they would lack in bass. Well they don't. In face they have a lot of bass. To tell you how much I love these speakers, every Preamp or receiver/speaker combo I've owned, I've have the loudness on. For these there is no need. These speakers play everything well, rock, rap, country. What I'm using to power them is a Crown XLI 800 amp and vintage Marantz 3600 Preamp. Best part was I live close to a ware house to it only took 2 days to get to me via freight shipping. Again I can't think of better deal than these speakers if your on the fence wait for a sale. But again I'd have no issues paying retail.
Date published: 2018-12-28
Rated

5

out of

5
by
Montyoldboy22
from
Great Speakers but need good equipment upstream
I share the positive sentiments that others have. JBL makes speakers that cost as much as a condominium and can't imagine how great they must sound to command those prices. These were apparently designed by Greg Timbers who designed some of these statement speaker designs and sadly let go by JBL recently, sigh. These as any speaker deserve something better than a big box home theater receiver I'm my very humble opinion. Running mine with an Ayre AX7-e integrated with a Sony Hi-Res player where I have some 700 discs on the hard drive. Have had more expensive systems in the past but with the sensitivity of these speakers and the Sony Hi-Res player feeding the Ayre integrated balanced inputs the sound is quite magical. Do have to complain about the delivery process with JBL and Estes as it was horrible with poor communication from the beginning to the end with repeated missed delivery promises but in the end am happy with the speakers even though hi-fi snobs may snear about these relatively inexpensive JBL towers. They are big and the 2001 Space Odyssey monolith look may not appeal to everyone but if you have the room and can be patient these may be all the speaker you need but again don't feed it low fidelity sources to get the most out of them, again just my 2 cents.
Date published: 2018-11-14
Rated

5

out of

5
by
Sticks
from
Switched out my good old E90s for these and couldn't be happier. They fit like a glove in my 9 channel home theater. Outstanding sound and great price!
Date published: 2017-10-09
bvseo_sdk, dw_cartridge, 18.2.0, p_sdk_3.2.0
CLOUD, getReviews, 20ms
reviews, product
Product Q&A
bvseo_sdk, dw_cartridge, 18.2.0, p_sdk_3.2.0
CLOUD, getContent, 134ms
questions, product
bvseo-msg: Unsuccessful GET. status = 'ERROR', msg = 'Not Found.';
Support
Register your JBL product
Do you own this product? Register it here in case you need to claim warranty
Register Now
Can't find what you're looking for?
Are you looking for product support, documentation, how-tos or older products?
JBL Support