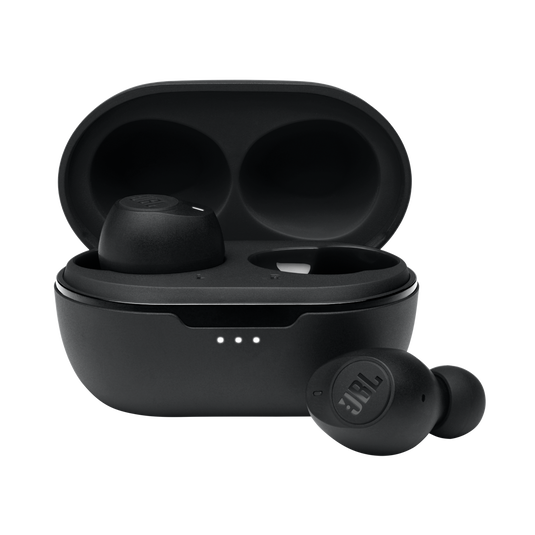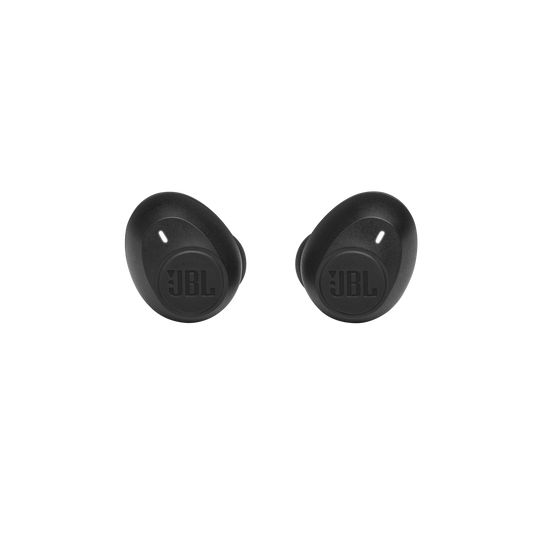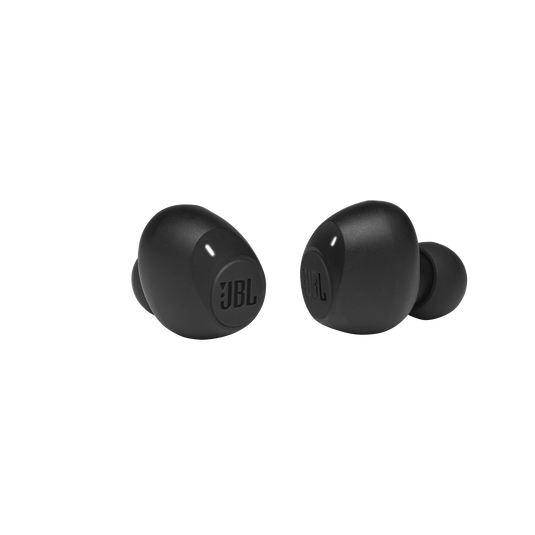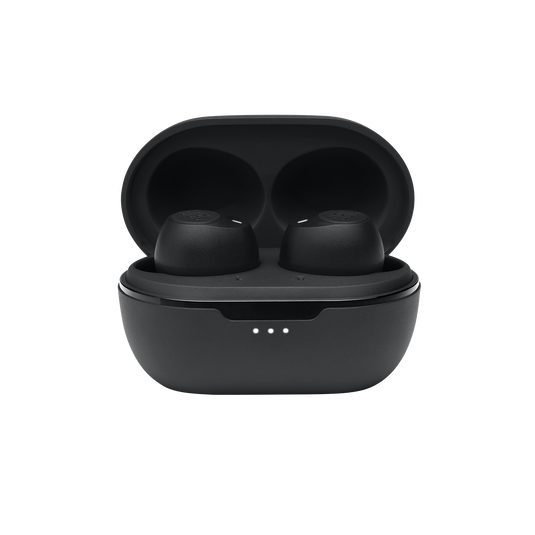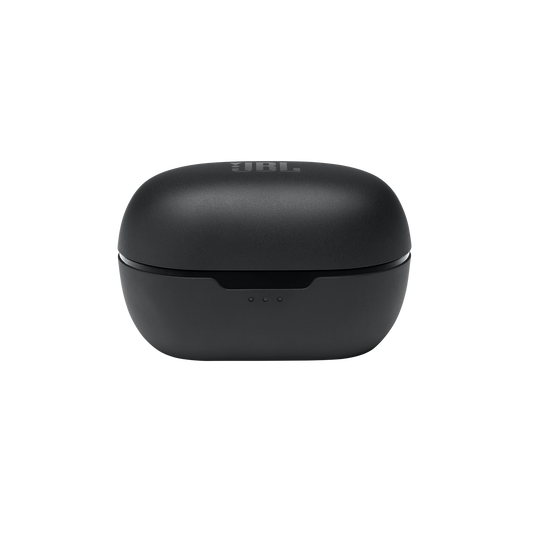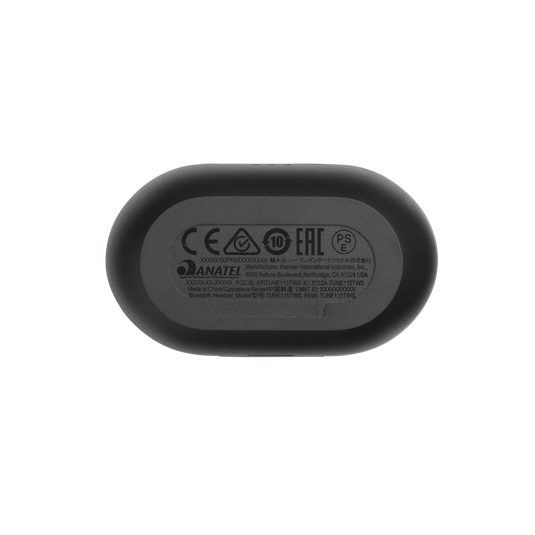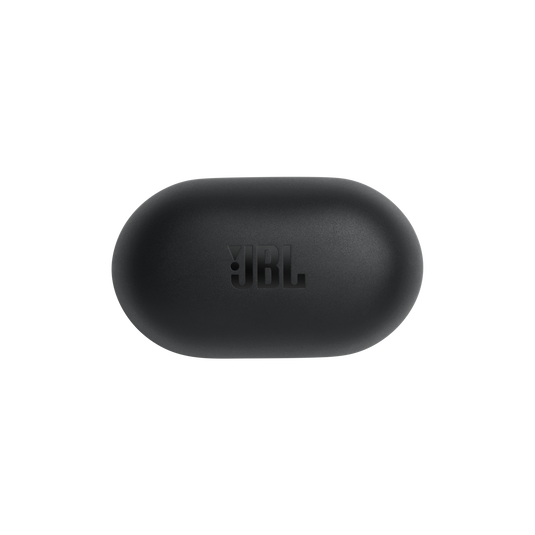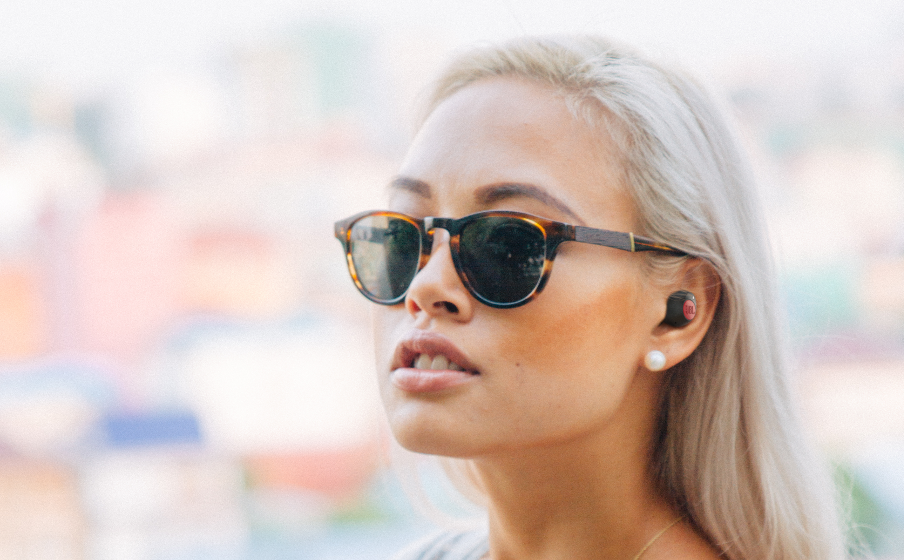 Feel The Bass
JBL has powered festivals and concerts around the world for decades. Now let JBL bring your own world to life with incredible Pure Bass sound.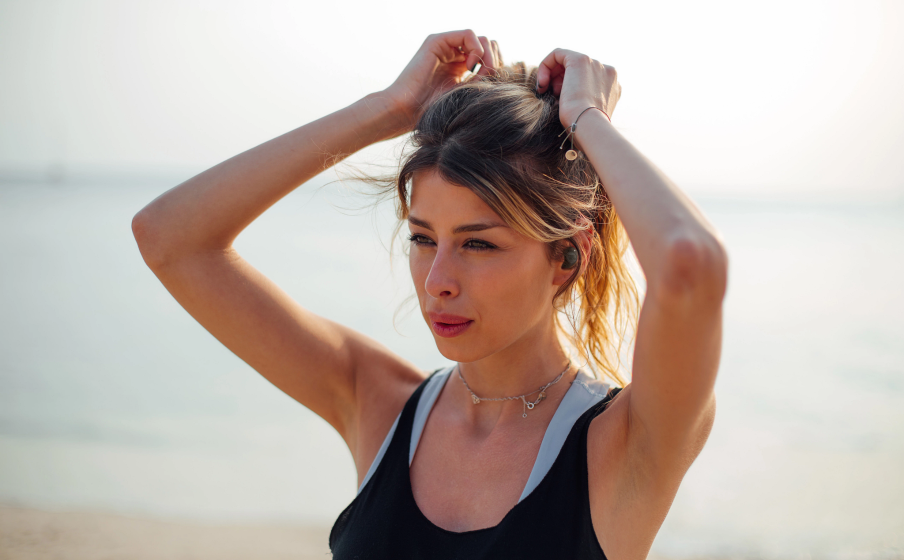 Listen For Longer
With up to 21 hours of battery life (6 hours from earbud and 15 hours from the case), you can listen all day and all night and get a top up with just 15-minute charge. Keep your own private concert going for as long as you can keep up.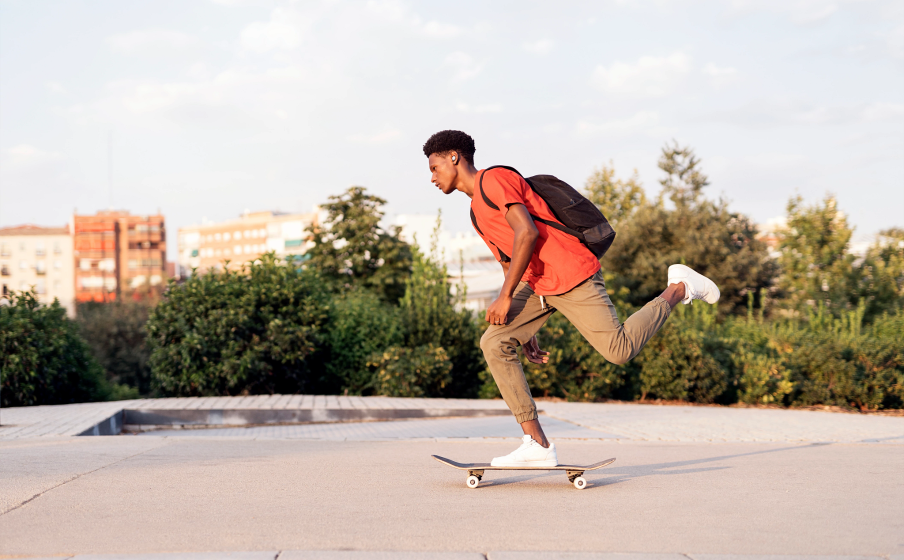 Either Ear, Or Both
Left ear, right ear, both ears? The power of Dual Connect gives you the choice to seamlessly enjoy music or make calls with either one or both buds. And the battery life keeps up with you , as you can keep one earbud charging, while using the other one.
Features

Comfort-fit
Experience total freedom with the True Wireless JBL TUNE 115TWS earbuds but in full comfort. Snug-fitting they come with 3 sizes of eartips to fit your size.

Hands-free calls and access to Voice Assistant
Take and end calls or talk to your voice assistant using just a finger. Simple as that!
Specs & Downloads
Item# JBLT115TWSBLKAM
Description
Pure Bass. Zero Cables.

Immerse yourself in your world. Whether you're tuned into music or taking calls, you've got no cords to hold you back. Dual Connect lets you use either earbud, or both, anytime you want, in stereo or mono mode. Your favorite artists sound incredible with JBL Pure Bass. With up to 21 hours of battery life and a comfortable fit, you can keep the fun going all day and night. And if you miss the world, you can take and end calls or talk to your voice assistant using just a finger. Simple as that!
General Specifications
Audio Specifications
Driver sensitivity at 1kHz/1mW (dB)

108

Dynamic frequency response range (Hz)

20 Hz – 20 kHz

Impedance (ohms)

14

Number of drivers per ear

1
Dimensions
Charging Case Weight (oz)

1.5

Earpiece Weight (oz)

0.4

Charging Case Weight (g)

41.5

Earpiece Weight (g)

10.3
Control and Connection Specifications
Bluetooth profiles

A2DP 1.3, AVRCP 1.5, HFP V1.7

Bluetooth frequency

2.4 GHz – 2.4835 GHz

Bluetooth transmitted modulation

GFSK, π/4DQPSK, 8DPSK

Bluetooth transmitter power

0 - 12dbm

Bluetooth version

5.0
Battery
Charging time (hours from empty)

2

Charging case battery life (max hours)

15

Maximum play time (hours)

6
Features
Voice Assistant integration

Yes

Built-in Microphone

Yes

Hands Free Call

Yes

JBL Pure Bass Sound

Yes

True Wireless

Yes

Wireless

Yes

Charging case

Yes

Rechargable battery

Yes

Bluetooth

Yes
What's in The Box?
1 x JBL Tune 115TWS
1 x Type-C USB charging cable
3 x Sizes of eartips (S, M, L)
1 x Charging case
1 x Quick Start Guide / Safety Sheet (S / i)
1 x Warranty / Warning (W / !)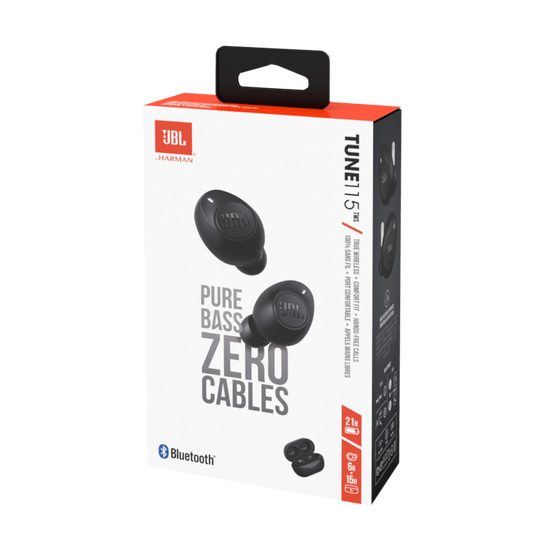 Documents & Downloads
Customer Reviews
Rated

1

out of

5
by
P Smitty
from
WILL NOT STAY IN PLACE
I bought these because I was happy with the TUNE 115 BT. These? Not so much. These will not be as loud as corded wireless headphones but the sound quality is decent. What I don't like is these things will not stay in place. I tried all three cups and none will stay in place. I've been at the desk ad these had just popped out. Even worse if I'm talking or chewing. I'm constantly pushing them back in. How am I possibly supposed to feel comfortable with these for exercise or bike riding? All Ican see is one these popping out and going underfoot or under the wheel. No faith in these at all.
Date published: 2021-12-17
Rated

2

out of

5
by
Alliemae09
from
Pure bass sound?? Fit?
I bought these today to replace my lost galaxy buds. A $76 after tax at Electronic Express. First impression: The case is a little bigger than I'm used to, but it looks sleek and well made. These earbuds may be very comfortable for someone with larger ears, but they hurt my ears, even after changing to the smaller tips. I read on the box that one of the features of these earbuds is "JBL Pure Bass Sound", out of curiosity, I played a song that has heavy bass, and it literally just sounded like if you were muffled rattling. There was no definition of bass. Maybe this pair has a defect or something, but it sounded like you were riding in the back of someone's car and they had a busted bass in the trunk. Overall, I believe there are better value headphones in this price range. If these were able to be returned, I would.
Date published: 2021-04-09
Rated

4

out of

5
by
Elise
from
Small but powerful
These ear buds small but powerful. They are easy to throw in your pocket right alongside your phone. The features are similar to other JBL products and nothing really sticks out about these. The sound quality of these are like other standard JBL ear buds and for some reason never are loud enough for my liking, probably to prevent hearing loss. The battery life is up to par and have not had to charge them since receiving them. The fit of the ear buds are on point. I can move around effortlessly and they stay in place. I would prefer the case had rubber on the bottom to prevent it from sliding when on a surface but others may not want it.
Date published: 2022-03-23
Rated

4

out of

5
by
Btotheryan64
from
Really good build quality
I've owned a handful of wireless earbuds and go through them pretty frequently. Not so much because of bad build quality but because of my line of work I'm constantly making calls, listening to podcasts, and moving around at a fast pace. These have been pretty good for all of that with a couple exceptions. I have to readjust them every now and then because of the shape of my ears and I noticed they're not as loud as other pairs that I've owned. That's the only reason I'm giving 4 stars. But everything else about them is great. The QuickStart guide is easy to understand and tells you everything you need to know to get started and the pairing was really simple. For the price these are definitely worth it.
Date published: 2020-11-11
Rated

2

out of

5
by
Hate them
from
Very poor sound
I already gave it to one of my 6 kids. The sound quality is terrible. It does work well to talk on but that's it. So if you want to listen to music with them buy something else
Date published: 2020-11-27
Rated

4

out of

5
by
Nofd27602760
from
Another great product
these JBL Tune 115TWS headphones are great. From first seeing them in their box to using immediately they were perfect. Easy to use and had exceptional sound quality which we all have come to expect from JBL! I was able to use right out of the box without charging, setup with Bluetooth was flawless. Very comfortable to wear. I loved listening to to music while I moved all around my house. Easy to charge all cables included. I would definitely recommend to anyone looking for high quality headphones.
Date published: 2020-11-17
Rated

5

out of

5
by
kingfish94
from
Smaller True Wireless In-Ear with Terrific Sound!
The JBL Tune 115 TWS is a remarkable set of In-Ear Headphones! Here's a quick run-down of their features. First off, they are a small (case too) peanut-sized ear pod that delivers incredible sound! Small, medium and large earpads (included) ensure a fit that's just right. There's lots of bass and the mid-range sounds really good. Top it off with sweet sounding highs. There's no hiss or static. Now I know what the inside of a recording studio sounds like :) Pairing is very easy. Use them in stereo mode, or one at a time (I often do this when listening to audio books) There are options for track back and track forward. The buttons on them are soft press. Volume is controlled easily by your phone. They are VERY comfortable – NO ear strain and, with a simple twist, they stay put. Battery life a crazy good, and off course the case (with its separate hidden magnets means you can't put them in the wrong way) yields several chargings before charging the whole case via the USB-to-C adaptor (included) Say goodbye to micro USB! Yes! I want to say 'Thank You' to JBL for making the JBL Tune 115 TWS with such QUALITY! I highly recommend these ear buds!!
Date published: 2020-11-17
Rated

1

out of

5
by
LittleEarsIGuess
from
Bad fit
I got these as a gift. They're awkwardly shaped and when they're not falling out of my ear, the rubber tip is coming off and getting stuck in my ear canal. They sound decent and the battery life is great but they're very uncomfortable and just about unusable because of the design and shape. I have tried three different sizes of rubber tips, but still can't get them to fit decently. Definitely try them out before you buy, cause they will not work if you have an ear like mine.
Date published: 2021-11-04
Rated

4

out of

5
by
Erin
from
Great Look & Convenient
The JBL Tune 115TWS ear pods are very convenient. It is nice that you have controls on your earbuds to skip a song, turn them up and down, and have access to Siri commands on your iPhone. They are also noise canceling and easy to have a conversation with. They also are good lookers! There are two issues standing between the 4 and 5 stars. First, no matter what size ear bud adaptor I use, they constantly fall out of my ears. Second, the sound isn't as great as other JBL products I've purchased or used in the past. I ABSOLUTELY love JBL sound, so I was a little disappointed in these. Don't get me wrong, they are still great and hold up to the competition! Will definitely continue to use these while mowing and gardening.
Date published: 2022-04-06
Rated

4

out of

5
by
Shea
from
Exactly what you need
These headphones work great. They connect fast and easy, they are clear and audible for phone calls and music sounds great. I've been impressed with the battery life and I love the little case they come in (easy to find in the bottom of my bag). Would recommend to anyone looking for wireless headphones that work great for music and for phone calls. The only issue for me is they don't always stay in my ears, but I have exceptionally small ears and have never found headphones like these that fit. As long as I wear a headband or beanie that keeps them in.
Date published: 2020-11-24
Rated

5

out of

5
by
Angel E
from
Deep Bass , Convenient Features Awesome
Finally received my JBL in-ear earbuds and was very truly impressed with the crisp clear sound and deep bass. Also has all your convenient features all at a tap of the earbud. So easy to pair that I didn't even need my manual. Which is tucked away in an envelope just behind your unit. You also have a digital assistant that you can choose- your preference. Love,love,love them. Stays nice and secure in your ears and works both stereo and mono. You really can't ask for more. Highly recommended.
Date published: 2020-11-11
Rated

5

out of

5
by
JesseJ4
from
A solid set of ear buds!
I've had this product for about two months now and I have grown to love them. I primarily use them for making phones call and dialing in to work conference calls. The sound quality is very clear on my end and I've been told I sound good on my recipient's end as well. I also use these headphones for listening to music and they have great sound. This headphones also do a great job of isolating the sound. Sometimes I get worried somebody is talking to me and I'm not hearing them because the noise around me is so muted. I love the compact design of the headphones and the case, it makes these easy to carry with me wherever I'm going. Battery life is solid and it is great to get a couple additional charges from the carrying case.
Date published: 2020-12-09
Rated

4

out of

5
by
JC920
from
Happy with the product
So i come from someone who owns JBL Reflect Pro's and Apple Airpod Pros. Receiving these JBL Tune 115tws air pods were a nice addition. There are a few flaws, so I'll start with that first, then I'll talk about the good. Flaws: No wireless charging...Im used to this now, and since Im an apple owner Im usually struggling to find my usb-c cord. Kind of a pain The Good. Superb sound - no complaints Small and compact Battery life lasts me all day You can recharge multiple times, i normally don't have to charge it until about the 7 day mark with listening 4-5 hours a day They fit well and dont fall out with multiple ear "pads" you can adjust to your liking Good Buy, thanks JBL!!!
Date published: 2022-04-06
Rated

3

out of

5
by
Julio A
from
It was good but....
I bought these a month ago and they were really good, I loved the audio and the case was very handy. However for some odd reason my right bud stopped working, it still charges and connects there is just no sound even when taking them out of the case when they made the pairing cue. There is nothing I can do since I got rid of the box. Maybe I just got unlucky but they were great until now.
Date published: 2021-01-19
Rated

5

out of

5
by
Scallywag
from
Incredible value!
These little earbuds really pack a punch. The soundstage is quite phenomenal in such a small form factor. Vocals and instruments are so distinct and clear. The bass is just where I like it -- noticeable, but not over the top. You know it's there and it adds a new depth to certain songs without that notorious drowning effect that too much bass tends to cause. These earbuds are also pretty comfortable ear. For my particular set of ears, they didn't bother me after long music sessions. These are great for chilling in the apartment or even a workout! The battery lasts a long time. I didn't have to charge it for over a week while using them at least a couple of hours daily. And my personal favorite feature is actually the charging case. Its small enough to put in pocket, and it doesn't really bulge out. Awesome work JBL!
Date published: 2020-11-16
Rated

3

out of

5
by
IbrahimB
from
Good enough but lacks important features
I'm in mixed emotions for these earbuds. Although there are pros, it definitely comes with cons as well. Sound: "JBL Pure Bass Sound" was stated on the box but these didn't sound anything "pure" or special. Was the sound quality bad? No. But it's definitely not at the same level as other JBL products. Price could be a factor in this downgrade but overall, the sound just didn't meet my expectations. The bass isn't that punchy, the mids and overall vocals didn't feel clear and the highs were kind of dry. It's hard to explain but it feels like has the potential to be clearer but the sound is being blocked. However, the earbuds are quite loud. You wouldn't hear a thing if you increased the volume all the way. Also, these cannot be connected to the JBL Headphones app to adjust the sound or customize the on-earbud buttons which was hard to get used to since all of my JBL products do connect and I developed a variety of presets for each genre to enhance the listening experience. [Microphone]: People said that I sound good during phone and video calls so they get the job done in the built-in microphone aspect. Charging case: It's a very solid and impressive case I must say. It's more compact and sturdier compared to my Live 300 TWS. It has a nice matt black finish and it looks sleek. Just like the rest of the earbuds I own; they have magnets as well. So as soon as you get close to their designated spots for charging, the magnets pull and automatically put earbuds to their place for charging. The magnets are very strong and I love that they place the earbuds correctly every time I drop them in. There are LED indicators on the charging case which I'll talk about in the next paragraph. Battery life: Meets JBL expectations. It charges fast, the battery lasts a long time and no problems regarding it. However, since the earbuds can't connect to the JBL Headphones app, you can't tell what's the percentage on each earbud or the case. You can keep one earbud in the case and use the other, which is a great feature but then how am I supposed to know the different battery levels on each earbud? The case has 3 LED indicators for the battery (could've been 4!!!) so you have some sort of idea on the battery. But other than that, you can't fully figure out the battery percentage. The iconic orange charging cable that came in the box is also very short. It's a USB C cable so a replacement is available everywhere but it's strange that the cable is quite short. It can leave the case hanging if the outlet is too far up which is not how I prefer to charge my earbuds. On-earbud control buttons: Not my favorite. Both on my Live 300 TWS and Reflect Mini NC, the controls are by touch. You get to control the earbuds with minimal effort and pressure. On these earbuds, you have to press. So, imagine a finger going into your ear each time you pause/play, go forward/back to tracks. Some people might absolutely be fine with that but it personally bothers me. The structure of the earbuds isn't comfortable enough to keep pressing. The outside area (where the JBL logo, battery, LED light are located) puts pressure against my outer ear and it's not pleasant. There also isn't an option to change the volume level on the earbuds. You have to increase it with the volume control buttons on your phone which is not very convenient. Fit: Although they are shaped differently, they don't fall out of my ears. They stay in their place quite well when I'm moving around. However, they're not the most comfortable earbuds I have tried. It could be because of the oval shape/structure of the earbuds. They are fine with 1-2 hour commutes but it hurts the ear after 4-5 hours but then you have to take them out to charge anyways so it's not a deal breaker. Overall, these earbuds would get the job done if you commute and/or work from home and need a pair to use every day. However, considering that there are more JBL alternatives at this price point, I would choose a different pair. Although the built-quality is very nice, the lack of features drives me away from these earbuds.
Date published: 2022-03-26
Rated

5

out of

5
by
elizvt
from
Love them! Esp. the seamless stereo/mono modes!
I've been buying JBL's bluetooth earbuds for years, but this was my first foray into truly wireless. I was hesitant as I was concerned about loosing them, but they fit tightly & comfortably & I don't have that concern when I'm wearing them! I love the seamless swap from stereo to mono depending upon which one(s) are in use is an A+ feature - especially for someone who often listens in only one ear at a time. The recharge & storage pod is small enough to fit in a pocket & durable enough to throw into my bag! And the fact that I can recharge one while I use the other is a real feature. I've never had to stop listening to something because my headphones need to charge! Definitely gonna suggest these and/or buy them as gifts for folks on my list!
Date published: 2021-11-28
Rated

5

out of

5
by
Jeff D
from
Great ear buds
These are very nice noise canceling ear buds. This is my first pair of wireless type buds (I usually prefer over the ear headphones) and I have to say I am truly impressed with the sound quality - especially the bass. I wasn't expecting the bass to be near as good as the over the ear phones, but it is pretty darn close. I guess I shouldn't be surprised by this since it is coming from JBL. The charging case takes minimal time to fully charge and can recharge the buds without being plugged in at least a couple of times. And I really like the magnetic pull that keeps the buds snug in the case.
Date published: 2022-04-08
Rated

3

out of

5
by
RICHY_RICH
from
Great bass!
JBL Tune 115TWS are a great sounding pair of earphones. There compact, easy to put on your ears. The sound is great and the bass is heavy. I mainly listen to hip-hop music, I think this where these earphones shine. Pairing with my phone was easy. The type c port for charging is a must for 2020. Something I disliked about the earphones was the charging case. It's a bit on the bulkier side for me, harder to fit in my pocket. The earbuds themselves are a bit bigger, with smaller ears they may look out of place when wearing them or may even have difficulty fitting them on. Another thing to get used to are the gesture controls. Each ear has a different set of controls for different functions. For example, touch the left bud button, you skip a track. Press the right bud button you pause the music. Not a deal-breaker but just something that is needed to adjust too.
Date published: 2020-11-12
Rated

1

out of

5
by
G Unit
from
Skip these
I can't even use these at all. No matter which tips I use they fall out of my ears. So I can really give any opinion on the sound quality because of this.
Date published: 2020-12-09
Rated

5

out of

5
by
Juvie805
from
AMAZED BY THESE NEW JBL EARPHONES,GREAT WORK JBL.
I LIKE THE JBL TUNE 115TWS MY BEST WAY TO DESCRIBE THEM IS THAT THEY WORK AMAZING I USE THEM TO TALK IN THE PHONE,THEY SYNC FAST,SOUND QUALITY IS GREAT. I USE THEM WHEN AM WORKING AND RELAXING,AND BEST OF ALL I ENJOY IT LISTENING MY FAVORITE MUSIC. THEY ARE COMFORTABLE TO USE FOR LONG PERIOD OF TIME,BATTERY LIFE IS PERFECT, THE PRICE IS RIGHT A LOT OF FEATURES FOR THE MONEY. THE SOUND IS VERY DETAIL, VERY AFFORDABLE AND FANCY EARPHONES. THE CASE BANK IS GREAT TO RECHARGE THE EARPHONES AND FAST CHARGE IS AMAZING.
Date published: 2022-03-23
Rated

1

out of

5
by
Anonymous
from
Not loud enough
It is a disappointment comparing to my other JBL devices. I bought it today with great expectations however it is not loud enough. Could it be an issue with the headphones? How can i check if this is a general issue or my product is erronous?
Date published: 2021-03-13
Rated

5

out of

5
by
Cheese92
from
Great earbuds
I was given these last year in December and still work like a charm! Great audio and durability, And provide great comfort, and they don't fall out!
Date published: 2021-02-23
Rated

5

out of

5
by
Raf L
from
Great quality and sound!
I prefer these more than my Airpods because they actually stick in my ear. The quality and sound are great and the battery lasts pretty long.
Date published: 2021-02-14
Rated

5

out of

5
by
Audio86
from
Small,comfortable and great sound!
I've had these earbuds for a while now and I'm very happy with them. They sound great for what they are. Good Bass, good mids and good treble. Everything is well balanced and the call quality is even good. These get fairly loud but not as loud as my JBL T215 earbuds. But I like the 115 due to their small size. These earbuds like the 215 have a wide sound stage and just overall are a pleasure to listen to. The button controls are extremely simple to use and understand, the buttons are also very easy to push so you don't get discomfort from using them. I also like the plastic JBL used for these. It's not that polished plastic nonsense that slips out of your fingers easily. These earbuds are easy to grip, they're easy to remove from the case and they fit in my ears just fine. The charging case is also well made with a lid that stays open and doesn't close when you don't want it to. So overall these earbuds are great for the money. They sound better then my $50 no name earbuds I got off of Amazon and they also have better BT range and audio quality. In a newer version of these it would be nice if JBL added touch controls though that's the only thing I can knock these for and maybe make these sweat resistant.
Date published: 2021-04-11
Rated

4

out of

5
by
digory79
from
Compact earbuds with great audio range
These aren't the loudest earbuds in JBL's Tune series but they provide an excellent dynamic range of sound, with solid bass, crisp upper register, and a round full middle. It transitions easily between media and phone features. The sound on the other end of the call was reported to be clear but a little on the quiet side. The combo carrying/charging case is smaller than others on the market, which is good for portability. Initial setup was a breeze. The fit is snug and secure, making exercise and other routine activities comfortable, without concern of them popping out. Battery life is super long, which means even if you forget to charge the carrying case once or twice, you'll still have plenty of listening time.
Date published: 2022-04-07
Rated

5

out of

5
by
NFalcon
from
Best earphones ever!
I don't do reviews really often, but this one really deserve it. I bought it not so long ago, was already impressed with the impeccable sound, great fit and amazing battery life, but today it fell from the twelfth floor and nothing happened, barely scratched and it's working perfectly as always! Really impressive quality
Date published: 2020-12-24
Rated

5

out of

5
by
Nikki087
from
Really impressed
Really impressed with these, yeh overall sound is really good, size and fit is perfect and the battery life is amazing. I found them really easy to use and much more comfortable than other brands I have tried in the past. I would highly recommend these, 5 star from me.
Date published: 2020-12-29
Rated

5

out of

5
by
HardyToyota
from
Compact Case!!!
These things are well designed and very well put together!! I love that they are so easy to connect to your phone. Once you've connected them the next time they connect automatically. The volume could be louder but I'm sure it's a Safety factor. But All in All 5 Stars!!!
Date published: 2020-11-12
Rated

1

out of

5
by
Pennstater
from
Worse headphones ever
I bought these headphones at Target and initially thought they were phenomenal. They worked one time. No matter how long they are charged, they always say "low battery, goodbye". I've tried everything to get them to work,, but nothing. I read options on-line, and nothing works. Waste of money.
Date published: 2021-10-03
bvseo_sdk, dw_cartridge, 18.2.0, p_sdk_3.2.0
CLOUD, getReviews, 7ms
reviews, product
Product Q&A
do these JBL Tune 115TWS have a snug fit
Experience total freedom with the True Wireless JBL Tune 115TWS earbuds but in full comfort. Snug-fitting they come with 3 sizes of ear tips to fit your size.
Date published: 2021-12-11
Are these easy to use? I'm an older person and get very confused with too many features. Are the touch button features only limited to skip and pause?
Thanks for reaching out. Our JBL Tune 115TWS Headphone is very easy to use. The touch button on both left and right earbuds can be used to manually power on/off the unit, pair your headphone to a source device via Bluetooth, take and end calls or talk to your voice assistant, and mute/unmute the microphone. Please visit our website to get more information about this product. https://bit.ly/3HhswH8
Date published: 2021-12-11
Can this model connect to more than one device? I just got it as a gift and it seems that I can only connect it to one device at a time. 
Our JBL Tune 115TWS doesn't support Multipoint connection. It can only connect to one device at a time.
Date published: 2022-03-28
My left earbud stopped producing audio after about a year. It still connects and the button works but no sound. 
We're here to help with your JBL Tune 115TWS. If the left earbuds are not producing any sound, please try the following troubleshooting steps: Clean the earbuds by removing dust and wax with a cotton swab and alcohol. Try dipping the affected earbud tip into a solution of lukewarm tap water and a small amount of dish soap. The earbud tip should be put into the liquid up to a maximum depth of 1-2 mm. 3. Keep the earbud tip in the water for about 2-3 minutes, then wipe down the grille with a small brush, such as a toothbrush. 4. Make sure that the volume is set at a level that can be adjusted through your source device. If you need further help, please contact our customer support.
Date published: 2023-02-06
Do you need to put your index finger behind the earbud in order to press the button with your thumb? or can you tap it but it gives feedback that you pressed it
We would recommend removing the earbuds from your ears if you'll be tapping them to manually sync with each other. For controls and manuals, please check the Quick Start Guide of your device to see other settings for controls. Thanks.
Date published: 2021-12-21
Do you sell replacement charging cases for the 115 tws earbuds 
Thanks for reaching out. We have an available charging case for our JBL Tune 115TWS, charging case in black: EP0-000180-0. For parts and availability, please reach out to our customer support.
Date published: 2022-11-18
I lost the right earbud can i buy only the one
Our JBL Tune 115TWS earbuds come in pairs. A single earbud purchase is not possible. Earbuds that are lost or stolen are not covered under warranty.
Date published: 2022-05-26
mine keep disconnecting from my chromebook. they connect for 5 seconds then disconnect every time. what can i do?
It could be that your Chromebook doesn't have the correct Bluetooth driver. Please make sure your Bluetooth driver is up to date. If the problem still persists, We'd like to work with you directly to address the issues you're experiencing with the JBL Tune 115 TWS. If needed, we'd also like to get more information so we can check your options. Please contact our customer support service via our official website or toll-free hotline.
Date published: 2022-07-27
Which earbud is easiest to control volumn?
Thanks for reaching out. Our JBL Tune 115TWS has no volume controls, it must be adjusted via the source device ex. (phone, tablet).
Date published: 2022-12-18
I lost my left earbud, can i buy only one?
Thank you for your question. We invite you to contact the Harman Customer Support team by telephone, email or chat in order to receive direct assistance. Please see https://uk.harmanaudio.com/support-contact.html#ns for further details. Thank you.
Date published: 2022-08-22
I'm looking for earbuds that enhance background noise(like hearing aids) when not listening to music/phone call. What is this feature called? What JBL earbuds have this feature?
Thanks for reaching out. The feature you're referring to is called AmbientAware. This feature delivers a more immersive music experience while increasing ambient sounds, providing the safety of hearing your surroundings. Our JBL Club Series Headphones particularly the JBL Pro+ TWS have this feature. Please visit our website to get more information about this product. https://bit.ly/3GLYla8
Date published: 2021-12-21
Does the JBL Warranty cover the true-wireless earbud or the true-wireless earbud's case?
Our JBL Tune 115TWS has a one-year manufacturer's warranty upon purchase both earbuds and case. Please note that this limited warranty does not cover physical and customer-induced damages, lost/missing. Furthermore, our earbuds are sold in pairs only; we do not sell individual earbuds.
Date published: 2022-10-30
Are replacement ear tips available?
The part number of our JBL Tune 115 TWS replacement ear tips is 1003042511B0005. To place an order, please reach out to our Customer Support team at (800) 336-4525.
Date published: 2023-01-23
Do these have a "skip" button on it for music?
You can skip forward by pressing the left ear button of our JBL Tune 115TWS once and press it twice if you want to go to the previous music. Please note that this can only be done in stereo mode and doesn't work on mono mode.
Date published: 2021-11-30
Are these supported by the headphones app?
Our JBL Tune 115TWS is not supported by the JBL Headphones App.
Date published: 2023-03-09
is there a working app that connects to these head phones to adjust background noise level
Our JBL Tune 115 TWS is not compatible with the JBL Headphones App. You may try and search of any 3rd party app that is compatible with the Tune 115 TWS.
Date published: 2023-01-21
Can I use the JBL tune115 TWS for working out?
Our JBL Tune 115TWS does not have any IPX rating and is not waterproof. Overexposure to water or moisture can result in irreversible damage to the headphones.
Date published: 2021-08-05
bvseo_sdk, dw_cartridge, 18.2.0, p_sdk_3.2.0
CLOUD, getContent, 17ms
questions, product
Support
Register your JBL product
Do you own this product? Register it here in case you need to claim warranty
Register Now
Can't find what you're looking for?
Are you looking for product support, documentation, how-tos or older products?
JBL Support