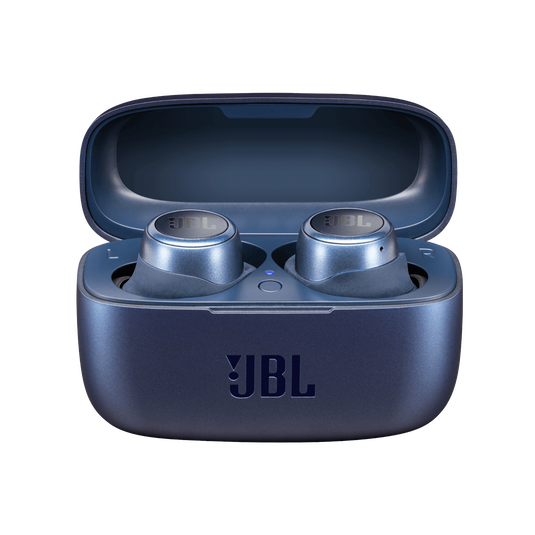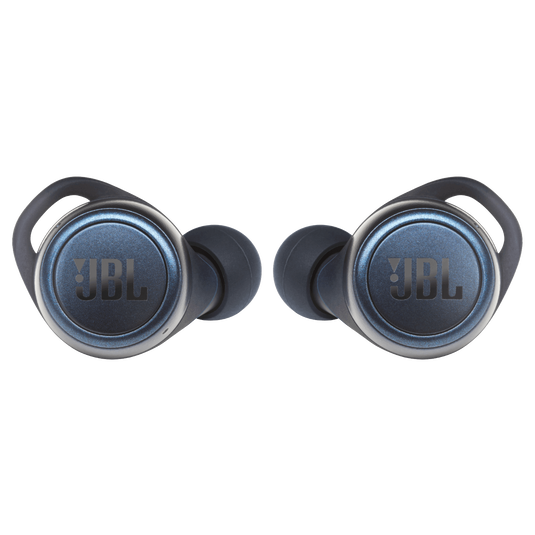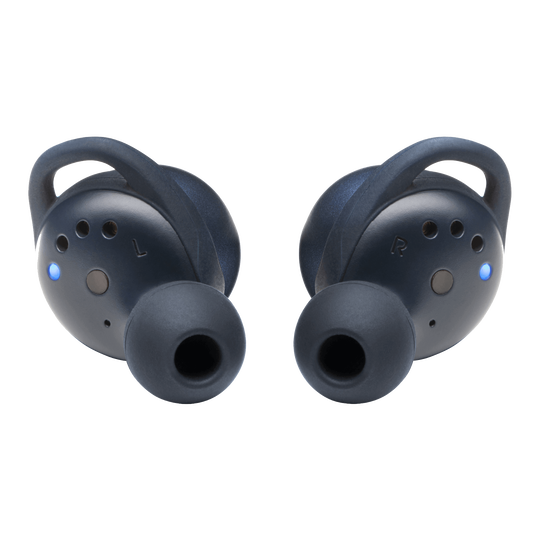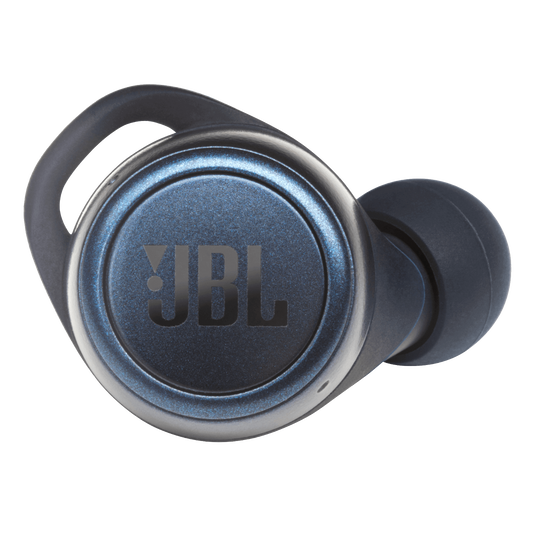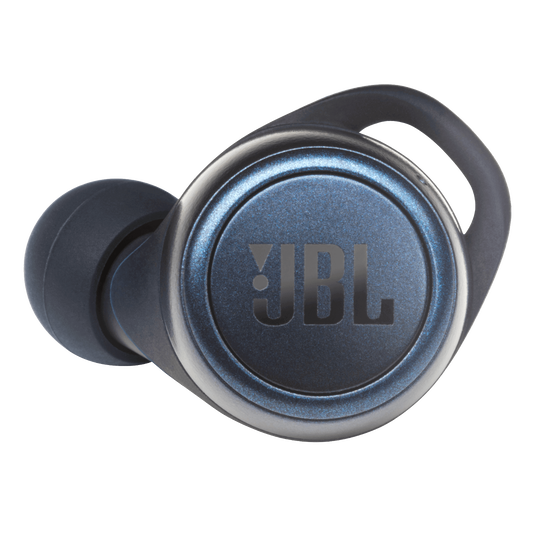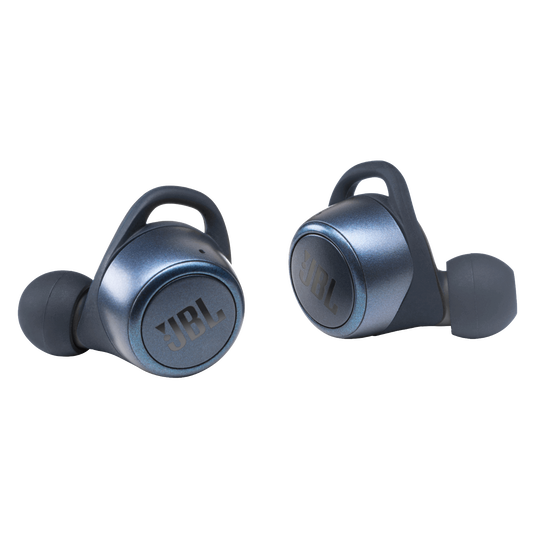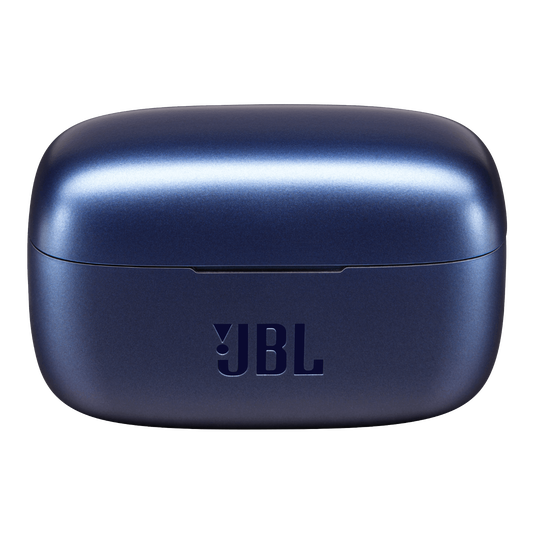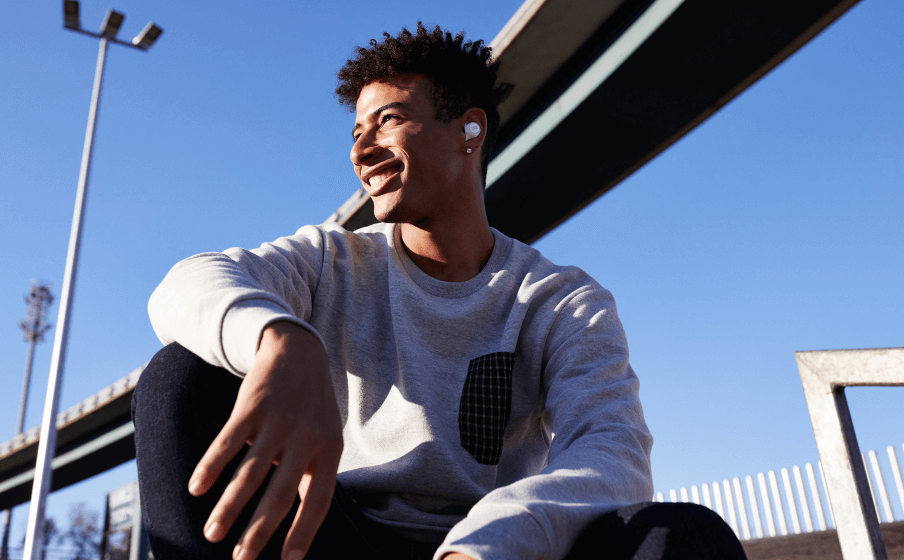 JBL Signature Sound
Small in size, but packing serious power, JBL LIVE 300TWS headphones deliver the audio you expect from JBL.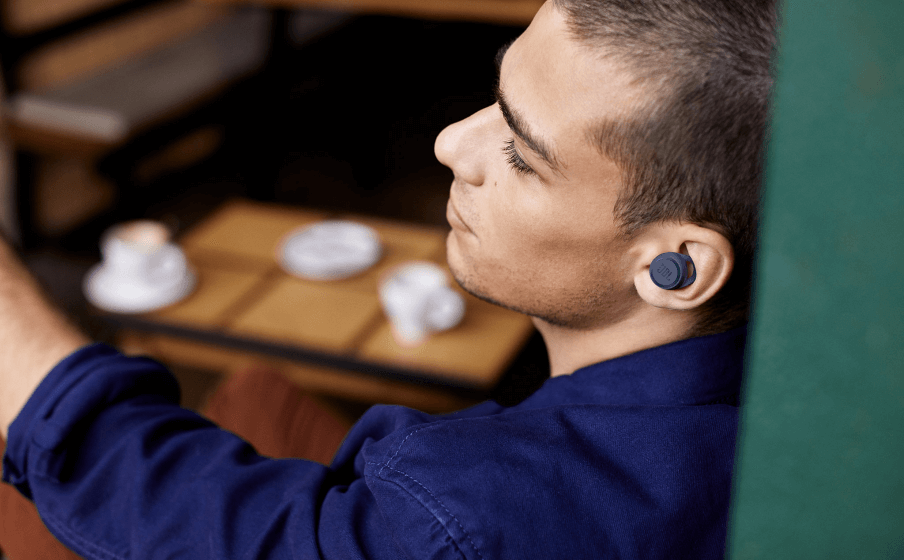 Ambient Aware and TalkThru technology
Control the world around you. Instantly move from absolute music immersion to focus on your surroundings with Ambient Aware. Chat with your friends without removing your headphones with TalkThru. Just swipe on the earbuds to activate them.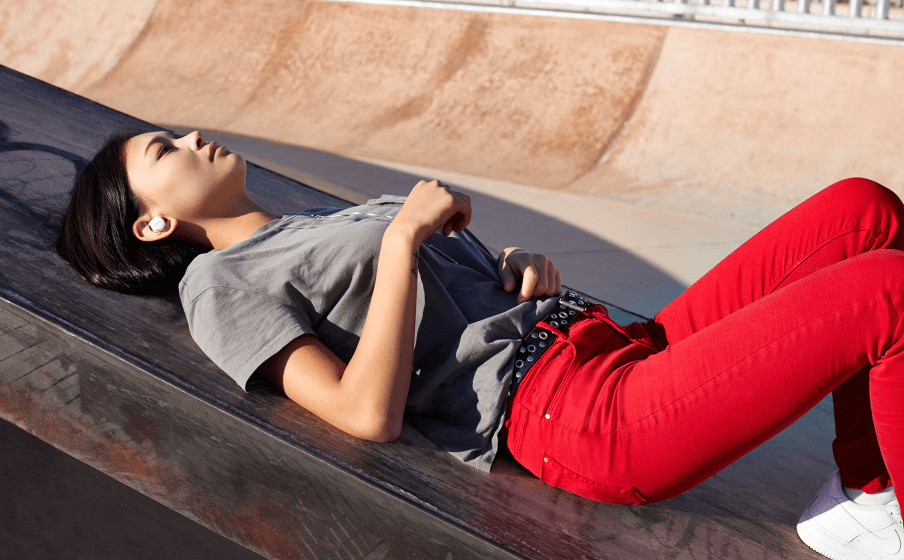 Up to 20 hours of combined playback: Never stop playing
Never be without your music. JBL LIVE 300TWS headphones give you up to 6 hours of playback on a single charge. Pop them into the charging case for an additional 14 hours (max) of listening. Get up to a one-hour boost in just 10 minutes.
Features

Be free with True Wireless
JBL LIVE 300TWS headphones are totally wireless, with nothing to hold you back or tie you down.

Hands-free stereo calls
Wherever you are in the world, and whatever you are doing, take your music along for the ride and stay connected with perfect, stereo clear calls with no background noise. Discover total listening freedom with hands-free functionality and no distractions with all-access touch control.

Instant access to Voice Assistants
Voice Assistant gives you the convenience of the Hey Google (*) and Alexa (**) in your ears, making it even easier to get what you want. Choose yours with the My JBL headphones app and you are all set. Just swipe on the earbuds to activate them. (*) Only supported on Android (**) Android 6.0 or higher is required for full access to Alexa features when using this device.

Good looking (also when off)
Pick the pair that suits you. JBL LIVE 300TWS headphones are super stylish, and come in a range of colors.

Comfort-secure fit
Listen all day in complete comfort. JBL LIVE 300TWS headphones have four available sizes of wing fin stabilizers.

Sweat and water resistant
Never let bad weather or a tough workout hold you back. JBL LIVE 300TWS headphones are sweat-proof and water-resistant with an IPX5 certification.

Fast Pairing
Thanks to Fast Pair enabled by Google, your JBL LIVE 300TWS are connected to your Android device the second you take them out of the case. You can also pair multiple devices just by tapping on the devices' screen.
Specs & Downloads
Item# JBLLIVE300TWSBLUAM
Description
Always connected to your music, and your world.

Own your space. Stay connected to your music and your world with JBL LIVE 300TWS in-ear headphones. True wireless and free from wires for ultimate freedom, with incredible JBL Signature Sound. Tune in or out with noise control, stay alert to your surroundings with Ambient Aware or use TalkThru to chat with friends, all without removing your headphones. Hey Google (*) and Alexa (**), hands-free calling, volume and noise control are all accessible via the touch controls for extra convenience. Speed charge gives you a boost fast, so you will never be without your music. Choose from a range of colors to find your perfect pair. Small in size, not power. (*) Only supported on Android (**) Android 6.0 or higher is required for full access to Alexa features when using this device.
General Specifications
Driver size (mm)

5.6

IP Code

IPX5
Audio Specifications
Driver sensitivity at 1kHz/1mW (dB)

95

Dynamic frequency response range (Hz)

20 Hz – 20 kHz

Impedance (ohms)

16

Number of drivers per ear

1
Dimensions
Charging Case Weight (oz)

1.9

Earpiece Weight (oz)

0.5

Charging Case Weight (g)

53.7

Earpiece Weight (g)

13.6
Control and Connection Specifications
Bluetooth profiles

A2DP 1.3, AVRCP 1.5, HFP 1.6

Bluetooth frequency

2.402 GHz – 2.480 GHz

Bluetooth transmitted modulation

GFSK, π/4DQPSK, 8DPSK

Bluetooth transmitter power

0 - 13dbm

Bluetooth version

5.0
Battery
Charging time (hours from empty)

2

Charging case battery life (max hours)

14

Maximum play time (hours)

6
Features
Charging cable

Yes

Ambient Aware

Yes

TalkThru

Yes

Voice Assistant integration

Yes

Built-in Microphone

Yes

Hands Free Call

Yes

JBL Signature Sound

Yes

Sweat Proof

Yes

True Wireless

Yes

Wireless

Yes

Touch Control

Yes

Charging case

Yes

Speed charge

Yes

Rechargable battery

Yes

Bluetooth

Yes
What's in The Box?
1 x JBL Live 300TWS earpieces
1 x USB-C charging cable
1 x S, M, L sized ear tips
1 x SS, S, M, L sized wingfin enhancers
1 x Charging case
1 x Quick Start Guide / Safety Sheet (S / i)
1 x Warranty / Warning (W / !)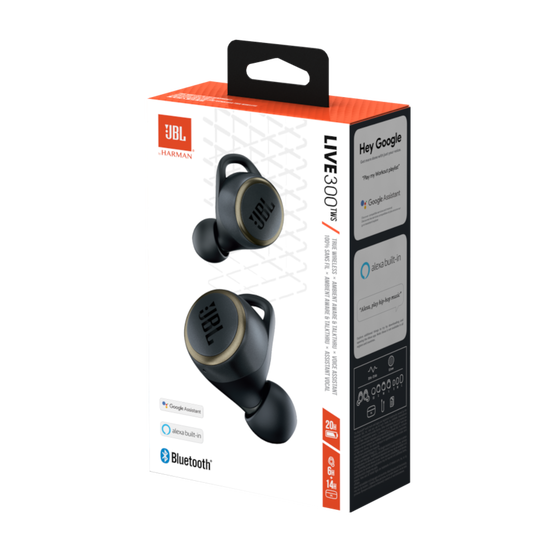 Documents & Downloads
Customer Reviews
Rated 3 out of 5
by
Skyline23
from
Hard to stay in my ear
I bought these because I liked those features, these are my first wireless earbuds. So I'm not sure if all brands have a very difficult fit in the ear. I have tried the other sizes and they seem to sometimes fall out. However I want to give it a few more tries. I really love the sound and the voice capabilities as well as the ambient voice!
Date published: 2020-04-11
Rated 5 out of 5
by
mmiera
from
Sleek, Advanced, Phenomenal!
I have continued to be impressed and blown away with the technology that JBL comes to the table with. First off, lets talk about comfort. Because at the end of the day, I was trying to find a ear bud that not only stays in my ears during a workout, but also is comfortable. Check! Next sound. Anyone who is looking for quality sound knows that JBL is a leader in the industry, but this product goes a step above. I highly recommend downloading the app so you can enjoy the full experience. What I found was great about this product is the app allows your customize the controls on the headphones, as well as lets you customize sound with your own equalizer, or preset equalizers. Game Changer! The bass and vocal sounds on these ear buds are truly excellent, and you will not be disappointed. Last, style and durability. Obviously you want to look good when you are wearing these, and you will. They are sleek, subtle, and stylish. Very impressed with the look and feel. They have just the perfect weight to them, so you know they are not cheaply made, and have some durability to them, but not to heavy that you feel like they are going to fall out of your ears. Perfect balance of weight and durability.
Date published: 2020-09-20
Rated 5 out of 5
by
EmmyRider
from
Girlfriend of the year!
I chose these ear buds over Apple Air Pods and I have no regrets! My boyfriend requested Apple Air Pods for his birthday last May, but I decided to wait until our anniversary in August to fulfill his wish. However, in the months between May and August, I spent a lot of time comparing the Apple products to similar products on the market. JBL had a better price point, outstanding reviews, a variety of colors, and more feature than the contenders. My boyfriend has been extremely happy with these ear buds since the moment he unwrapped his gift! I highly recommend this product to everyone. Young or old; these buds are easy to set-up, fit comfortably in your ears, and provide a clear, crisp sound.
Date published: 2020-08-21
Rated 1 out of 5
by
Jbl user123
from
Such a let down
1st pair got stolen before I really got a chance to test them. So i bought a new pair believing they would be a nice pair of headphones. They are constantly disconnecting from eachother or my phone. One minute listening to music and the next 1 headphone isn't synced or just straight up playing static. The battery life goes from %100 to 70% to 0% without any warning. The buttons on the headphones are useless, not really sure if the left one does anything, as it has never worked since day 1. Honestly I'm really disappointed, I use my headphones at work 6 to 8 hours a day and I was excited to upgrade. But it was a downgrade. If you're gunna spend money on headphones I would recommend skipping this pair
Date published: 2022-09-09
Rated 5 out of 5
by
That guy named Fred
from
Audiophile Quality
I love my new JBL live300 truwireless ear buds. Sounds so balanced
Date published: 2020-04-09
Rated 1 out of 5
by
Sadie92
from
Terrible Bluetooth connection
I got these as a Christmas present from my fiance after the right bud on my galaxy buds went out. So I assumed since Samsung owns jbl they should work just as well if not better right? WRONG. These headphones have horrible connectivity issues because apparently you can't pair them to 2 devices only one at a time and you have to completely delete the app and reinstall if you want to use them on a different device. Also for some reason you can't use the left ear bud solo unless the right bud is out of the case or in your ear never had that issue with the galaxy buds and don't get me started on the touch settings those are way too sensitive. They have great sound but because of all these issues I'm going back to using my broken galaxy buds and wish I could return these.
Date published: 2021-01-05
Rated 5 out of 5
by
wabz
from
Best sound ever
Before my purchase I was using galaxy buds from Samsung and thought they were impressive. However these blown these out of the water, the sound quality, the bass, and the talk thru feature made these worth every penny. Major go
Date published: 2020-07-28
Rated 3 out of 5
by
Camwalke17
from
Ups and downs
Hey told my girlfriend I've been eye balling these headphones specifically had read great reviews on Amazon. So she purchased them for me. Pros: great sound, can control your eq depending on what your listening too, multiple ear pieces to fit your ears. Cons: won't stay in my ears while cleaning the house all the time. Won't stay in once you get sweaty. It won't let me use just one and leave the other in the case as well. I wanted these for working out and stuff around the house. They are great if I'm sitting still, I've tried every combo I could to get the buds to stay in my ears. I have small ears but for the life of me I cannot get them to consistently stay in my ears when I'm walking, bending down, standing up. The sound is stellar for the time I can listen to music and podcasts
Date published: 2021-02-25
Rated 4 out of 5
by
SON89
from
Owned for 2 years
So I've had these headphone for close to 2 years now. To begin there great sounding. The feel nice in the ear no discomfort. I love them. But.. The life of there charge has changed. Which I knew would happen. I put these to work daily lol. Literally. I wear them everyday avg about 6 hours a day. Never played at high levels. 40-50% volume. Now a charge last about an hour and a half before needing to be put back and charge again. I wake up and open and close the case to charge them before work or recreational use. Otherwise they last about 45 mins. The sound is still great no problems at all except the battery life has changed significantly within the last 2 months. Will need to invest into another pair. Great for calls everything.
Date published: 2022-07-09
Rated 1 out of 5
by
Nick20
from
Junk battery that doesn't charge
I've gone through two sets of these earbuds because they apparently can't withstand a little earwax or charge properly, they've both only gone a few months each before starting to have issues. First set had a broken driver on one side within a year and second set has started to not charge after a few months. They are constantly letting me down at work and at the gym, I'll have them charging for the whole weekend only for them to still be dead when I go to use them. When they do work, they annoyingly stay on inside the case and I have to disconnect them from my phone manually. Not worth the hassle at this point at all, and at this point I'm done buying JBLs garbage, there are far better options out there at the same price-point or less.
Date published: 2022-08-10
Rated 5 out of 5
by
tv__
from
Good earbuds
I've avoided wireless earbuds because I'm afraid they won't stay in my ears (wired earbuds don't). But these do! And they sound great, are easy to use and are relatively inexpensive. I would recommend to anyone looking for a quality earbud that a reasonable price.
Date published: 2020-09-22
Rated 3 out of 5
by
Ellie13
from
Boo, update? More like down-grade
I have TWO pairs of the 125s (that's how much I love them) and was SO excited to try out the 300s, but am sad to say I was severely disappointed. The weight distribution on the newer pair is totally imbalanced and they fall out frequently. The sound has no noticeable improvement. And I HATE that they discontinued the feature that allows either the R or L earbud to be used independently. The controls for the 300s are touch based and I HATE that too. I am constantly having to readjust the buds and everytime it thinks I am trying to pause/skip a song.
Date published: 2022-08-20
Rated 3 out of 5
by
Kenny88
from
Good sound but....
Great sound but the touch gestures are more frustrating than my ex girlfriend
Date published: 2020-08-26
Rated 4 out of 5
by
leonieh99
from
Great sound, difficulty staying in pierced ear
Arrived 3 days ago, love the look/sound/features. But be wary of purchasing if you have in-ear piercings. I have my daith pierced and because of this, the bit that secures the earphone in place doesn't fit properly. Now I have to decide whether I want to take out my piercing or run the risk of the earphone constantly falling out. Other than that, all good! This is my third or fourth product from JBL and I have loved them all and will continue to support the brand.
Date published: 2020-11-05
Rated 5 out of 5
by
Miguel C
from
PUNCHY BASS AND SOUND BIGGER THAN THE SIZE!
These JBL Live 300TWS (Truewireless) have very punchy bass with balanced mids and highs. Just download the JBL app and personalize your own Equalizer to your music. The app also has smart ambient aware and TalkThru, which is very impressive. Phone calls are heard welI. I Love that they are water resistant too. While active workout, the ear buds are very comfortable to me with different size ear pieces and do not seem to fall out of my ear. The battery hours of playing music are excellent with a fast type "C" charging port. Led lights are bright and you also have support choice between voice Google assistant or Amazon Alexa. The touch control works, but a little bit finicky, so it takes some time getting used to. Overall I am very pleased with the sound quality and punchy bass. For the small size they actually sound to me like the equivalence of a bigger set of headphones. My own personal rating, I would rate these JBL Live 300TWS (Truewireless) a "9" (from a score 1-10).
Date published: 2020-09-16
Rated 1 out of 5
by
Still Looking
from
Very Disappointed
I thought these were supposed to have bass. Do yourself a favor, take the cheap earbuds that came with your IPhone and give them a listen. If you are looking to get at least this quality of sound or better, keep looking. These do not have it, especially in the bass department. JBL sent me a set of Live300tws to replace my Tune120tws because I thought they were faulty. They are just as bad. Downloaded the app and put the bass way up, still disappointing.
Date published: 2020-08-28
Rated 5 out of 5
by
javarican
from
Great sound at the office or at the gym
Right off the bat, these headbuds were provided by JBL for the purpose of review, however they are not paying me to write this review. With that out of the way, let me start with the fact that these headbuds look and feel like a premium product, the case is sturdy and they look very sharp. I got the black buds, which have brass accents. They look very nice and professional (not like q-tips hanging out). The case has an indicator light around the USB-C connector clearly letting you know if they are charging properly and tells you when they are done. The status LED inside the case also lets you know if they're seated properly when returning them to the case to charge. Another nice feature is the JBL App, which is nicer than most. It allows you to customize the tap/gesture controls, enabling Talk Thru/Ambient Awareness, how to launch your preferred phone assistant or changing EQ on the buds. Once set up, you can raise volume, pause/play tracks, skip and even launch your assistant with touch gestures. They do not feature active noise cancellation, but they do just fine with the passive noise isolation. They are also Bluetooth 5.0, which prevents that annoying lag when watching videos. In terms of performance... I primarily use these for running, so I have a heavy bias towards how electronics feel and perform under those conditions. The sound is absolutely amazing, bass is full and they can get REALLY loud, probably the loudest headphones I have. Something to consider if that's important to you. These also feature an Ambient Awareness mode, which lets me listen to my music or podcast while road running. I can't always tell where the sound is coming from, but I would rather be alerted of incoming traffic even if I have to look around to locate it. The touch controls were a little awkward at first, but after 2-3 runs I was having no problems navigating my music... and if I ever needed to make a call, all I had to do was launch my phone assistant. Didn't even need to pull my phone out of my pocket. In my case, these buds fit perectly right out of the box, they did not fall off or move while I was running, which is one of my big deciding factors. Another small thing that ended up being big in my book, is that the rubber wings that come with these earbuds have a small knob that fits in an indentation in the buds. This small feature prevents the wings from sliding around when you're sweaty during a run. It shows that these were thought through from a functional perspective. I only experienced a couple of negatives... First, you can only use the right earbud independently from the left. If you pop this bud in the case, the left will turn off. Something to consider if your a one bud guy or gal. The only other negative is that while they are super easy to connect to one device, switching from device to device can be quite cumbersome. Not necessarily comparing them to the fruity headphones here, which obviously have an edge on that department... but be aware that if you have to use 2-3 devices with your earbuds, these may not be the most user friendly... but that is it. If you are looking for a geat sounding pair of earbuds that will look good at the office AND perform at the gym or while running, you don't need to look anywhere else. I am certain that these will stand the test of time just like other JBL products I've owned over the years.
Date published: 2020-10-03
Rated 5 out of 5
by
Sen007
from
The sound are just unbelievable!
These just came today and I absolutely love them. Even by JBL standards, the sound is just amazing and exquisite. They look professional and definitely look like durable quality. Not all earphones all suit me and I really liked how JBL catered for people like me by including different size of buds in there. They're quite comfortable and at some point you would not realise they're still in your ears. Incredible BUY!!!!
Date published: 2020-11-25
Rated 5 out of 5
by
Garcia
from
Awesome!
So I've had these ear buds for a couple of days now but so far I'm pretty satisfied enough to give these a review. To make it direct they sound great, especially when you use the JBL app to control the EQ and the Ambient Awareness issue is solid. You can one earbud these if you want but it has to be the right earbud. The only actual issue to me is the battery life. Don't get discouraged on that factor though. The sound on these make up for that and honestly they're super comfortable to wear. Swipe features work great and overall I'd definitely say these are great pair to invest in.
Date published: 2020-06-01
Rated 3 out of 5
by
AJV85
from
Blue tooth connection keeps dropping
I like the sounds and how they fit in my ear but the only issues I'm having is connection keeps dropping when my phone is my pocket or set on the floor while working out. I don't have this problem with other jbl headphones. Anyone else having this issue. Kind of a pain in the butt when you're into the musing and $150 headphones can't keep a good connection while phone is in my pocket.
Date published: 2021-02-13
Rated 5 out of 5
by
Blane73
from
Excellent
I've purchased numerous headphones and ear buds and these are awesome. The noise canceling is so good I can barely hear the mower running. the sound quality and the bass is impressive as well.
Date published: 2020-10-24
Rated 5 out of 5
by
Carpcrazy
from
Jbl live 300tws
Well what is thisr left to say. Such an ease to set up didnt look at any leaflets. 1st. The sound on these ear buds is incredible and when I say that I own sennheiser momentum headphones and earphones and these surpass them easily. The bass is incredible and totally in check no distortion along with the mids and trebles. I like the myheadphones app altho that being said some improvements could be made. I like all types of music so id of liked a rock option too. I particular like that it shows you how much battery you have used so useful. 2nd. The fit was perfect I can feel they are in my ears but I kind of like that and its not causing pain. The buds fit my ear right out the box which was handy also. I've also done the headshake test and thier not going anyway. I've always sworn sennheiser but jbl you've got my mind changed. Keep up the good work. 3rd for the price they are worth every penny and will compete with other high profile brands out thier with ease. Just go and buy them. Im astounded JBL you've got a big thumbs up from me If anyone is reading this and thinking should
Date published: 2021-01-20
Rated 5 out of 5
by
Prism Hue
from
Best workout headphones with great sound.
I am always listening to music, even when I workout. So I decided to look for a set of wireless headphones and searched google for JBL. JBL has always been leading the way in audio. JBL speakers are known for excellent sound quality. So I had to get the best. I have an iPhone and they connected without any problems. Thanks JBL:)
Date published: 2020-08-02
Rated 5 out of 5
by
JaysonR74
from
Great sound and comfort
I not these almost 2 months a go and I have to say these are the best earbuds I've ever purchased. I own 5 JBL Bluetooth speakers, 2 JBL Charge 5's, 2 JBL Pulse 3's, and a JBL Extreme 3. JBL by far has that amazing sound quality and my JBL TWS 300 earbuds don't let me down. I usually purchase Samsung earbuds but read reviews that their earbuds were causing ear infections and decided to give these a chance. So glad I did because the bass and sound quality are much better than any Samsung earbuds I've owned. If your thinking about purchasing these, I would highly recommend this product. They fit very comfortable in my ears and I keep them on for 3 to 4 hours at a time before putting them back in there case to charge.
Date published: 2022-01-17
Rated 1 out of 5
by
Anonymous
from
Great sound quality .. Really bad quality control
I purchased 1 pair then 60 days later the left ear bud stopped working ,I loved the sound quality so much I purchased a second pair then 45 days later they started having connectivity and pairing issues. I went to the site and upgraded the software then upgraded software on my iphone and they have been an extreme disappointment . When they pair I get static and then one ear only works and now presently they don't even show up on any of my devices when bluetooth is scanning . It's like they just stopped working completely . JBL should be ashamed about their quality control because I will not purchase anything from jbl ever again . Hey JBL send me a free pair for my inconvienence and maybe my trust would be instilled to use and promote your products. Thanks for listening . Signed A very disappointed consumer
Date published: 2022-08-04
Rated 1 out of 5
by
BoRainier
from
Overprice and rarely work.
I bought this earbuds about 4 months ago and it has been nothing but trouble, they keep disconnecting from Bluetooth while I'm wearing them and no matter what I do, they won't connect back, which is really annoying when it happens while I'm outdoors walking or running, many times only one side plays (the right side). Makes no difference if they are fully charged, they just won't connect 75% of the time. I paid a lot for this and they are just a disaster.
Date published: 2022-07-06
Rated 1 out of 5
by
badfeaturesbuyairpods
from
Legitimately The Worst Product I Have Ever Owned
Plastic pieces of garbage that are 10x the size of the average human ear, i feel like Dumbo the elephant wearing these. You can't remove them from your ear without the music/podcast immediately stopping. The worst pairing technology ever, INDIVIDUAL pairing. Takes about 5-10 minutes on average just to connect them to a phone or computer. Uncomfortable. Huge regret. Probably causes eardrum cancer with the amount of unnecessary doohicky garbage JBL packed into these. Flashing lights that when in the dark make you go blind. If you put them in the case before you go to bed, make sure you put some duct tape over the charging port, cause the GENIUSES at JBL decided to put a flashing blue/red LED light, bright as a lighthouse, that lasts for at least an hour. Embarrassing...
Date published: 2021-09-10
Rated 5 out of 5
by
Rapandworkout
from
LOUD AND WITH LOT OF BASS!
Amazing sound quality. Crystal clear, ULTRA LOUD (If you`re into bass and loudness - go buy it now). They`re pretty, not too big, and most important - stick to your ears - no movement at all.
Date published: 2020-06-27
Rated 5 out of 5
by
Me so basso
from
Great deal at the sale price
I have used the ear buds for about 3 weeks. The work great have a better sound than my apple ear bud (second gen). So much so I'm giving them away fro Christmas. I highly recommend them at the sale price. I'm not sure I would pay full price. They sych very easy and seem to have plenty of staying power when fully charged. One quirky thing the charging lights flash for several minutes after they are turned off. It has made me interested in checking out the more expensive models when the goo on sale of course.
Date published: 2020-12-25
Rated 5 out of 5
by
Ariesluv1
from
Finally true wireless with some power
Just received these today and I was blown away once I got the eq set they could be more comfortable though I think they squeezed alot into these which is why they are tight in the ear
Date published: 2020-05-22
bvseo_sdk, dw_cartridge, 18.2.0, p_sdk_3.2.0
CLOUD, getReviews, 7ms
reviews, product
Product Q&A
Do these earbuds function separately, or do they use master/slave connectivity?  
Our JBL Live 300TWS use a primary/secondary connectivity.
Date published: 2021-06-06
Are there any protective cases out yet? I really dont want to damage the charging case :/
There is no protective case available.
Date published: 2021-06-06
Hello! Couple of weeks old JBL LIVE 300 earbuds and after pairing with Garmin Vivoactive 4 right ear bud crashes and won't start again. Could there be any system error? Not the first time issue :(
Try doing a reset on your JBL Live 300TWS to see if it helps. To reset, place the earbuds in the charging case, and hold down on the touchpad on the case for more than 5 secs or until the red LED lights up.
Date published: 2021-06-06
Can these ear buds be paired to a smartwatch? I would like to run without my phone.
It should be fine if your smartwatch can detect Bluetooth headphones and supports these following Bluetooth profiles: A2DP 1.3, AVRCP 1.5, HFP 1.6. Make sure to check your smart watch's spec sheet to confirm this.
Date published: 2021-06-06
Any tips on how to customize for people with unilateral hearing loss?
Our JBL Live 300 TWS does not have an EQ setting to the adjust the volume on each side of the headphones. You may try searching for a 3rd party equalizer app that could adjust the sound settings of the headphones to help people with unilateral hearing loss.
Date published: 2022-10-25
how do I turn off the earbuds?
The eardbuds will turn off once placed in the charging case with the lid closed.
Date published: 2022-11-30
when the jbl live 300tws are connected to the app, The battery indicator on the screen is that for the headphones, case, or case and headphones?? because it changes and stops
Thanks for your question. The battery indicator on the screen is for the headphones.
Date published: 2021-06-06
Can I activate Siri with these headphones?
Our JBL Live 300TWS doesn't support Siri because it features Google Assistant as well as Alexa.
Date published: 2022-04-28
Are they compatible with Apple products?
Hi, and thank you for your interest in our headphones! Yes, they will be compatible with iPhones. Apple Computers and tablet computers may not be compatible out of the box, but may need to have the necessary A2DP (stereo audio over Bluetooth) drivers installed, since these are often not present, and are necessary to listen to music. I hope this helps.
Date published: 2023-01-25
Hi, I have Huawei Mate 20 lite and want to know if this earbuds will function properly? Thanks
Our JBL Live 300TWS is compatible with mobile devices that have Bluetooth capability. (both Android and iOS).
Date published: 2021-06-06
Lost the charging case for JBL LIVE 300TWS.Where can I buy replacement?
Thank you for your question. I am sorry to hear that you have lost the charging case for your JBL LIVE 300 TWS. Would you be so kind as to contact our Customer Support on https://support.harmanaudio.com/gb/en/customer-service/contact.html as they will be able to advise where you can purchase a new charging case for your JBL LIVE 300TWS. Thank you.
Date published: 2022-01-12
Can earbuds pair with a computer?
Yes. Our JBL Live 300TWS can connect to any Bluetooth-enabled device. Please make sure to get the latest Bluetooth driver version available for your PC or laptop. To download the correct driver, please visit the manufacturer's website of your source device. They would have a "Support/Download" section where you could find the correct driver. Otherwise, please contact your PC's or laptop's support.
Date published: 2023-01-08
How is sound quality and bass response compared to the 220TWS?
We would like to get more information to help you out, please contact us so we can assist you: https://bit.ly/2zwFkYM
Date published: 2021-06-06
How are these headphones for phone calls in something like a convertible on the highway?
Our JBL Live 300TWS can be used for phone calls as it has a built-in microphone on the earbuds. Please make sure that the devices are within range and that it has a clear line of sight from the phone to avoid Bluetooth interruptions while using it. Bluetooth connectivity can go for 10-15 meters, this may vary depending on the surroundings and presence of other wireless connections (WiFi, other Bluetooth signals, etc. )
Date published: 2021-06-06
Would these be okay for using in a sauna?
It would be safe to use the JBL Live 300TWS as long as it's within the recommended working temperature between 5 and 35 degrees Celsius. (41 to 95 Fahrenheit).
Date published: 2021-06-06
can this earphone be connected to 2 devices at same time ? Does it have multi point connection ?
Thank you for your question. The Live 300TWS earphones have very many cool features, it does not have the Multi Point feature, however. Should you wish to receive further support, you may contact the Harman Customer Support team by telephone, email or chat in order to receive direct assistance. Please see https://uk.harmanaudio.com/support-contact.html for further details. Thank you.
Date published: 2021-06-06
Can the buds be connected to more than one Bluetooth device simultaneously?
It can pair to multiple devices but can only connect to one device at a time.
Date published: 2021-06-06
Is there an official release date for these in the US?
Our JBL Live 300TWS is now on pre-order. Stocks are expected to arrive by the month of May.
Date published: 2021-06-06
How do you perform a factory reset?
We'd like to know more information about what's happening with your JBL Live 300TWS. Please reach out to our Customer Support. We're here to help.
Date published: 2021-06-06
When will it be available?
JBL Live 300TWS will be released this Spring. Keep posted on our social media accounts, and sign up for our newsletter for updates.
Date published: 2021-06-06
What size of the case?
The dimensions of the charging case of our JBL Live 300TWS are 2" (H) x 2 ¾" (W) x 1 ¼" (D). For more information, check out the specifications here: http://bit.ly/36Oz1Pm
Date published: 2021-06-06
Hi , havebeen unsuccessful in reaching JBL support for a week. I have lost charging case for JBL live 300 tws . Is it possible to buy a replacement case. I couldn't find a replacement even on JBL website or anywhere on line .pls help
We'd like to work with you directly with your JBL 300TWS. We're here to help with parts availability and pricing. Thanks.
Date published: 2021-06-06
I just received my pair of Live300TWS. Is the case not capable of wireless charging?
Our JBL Live 300TWS does not support wireless charging. You may only charge the case using a USB-C charging cable.
Date published: 2022-03-05
Is there anyway to fix the audio lag I am experiencing on any video? This happens on both my phone and laptop. 
Our JBL Live 300TWS are mainly used for music and not used for TV. It may cause some audio/video delay when used.
Date published: 2022-05-08
Is it possible to order a set of the wingfin enhancers for these ear buds?
Yes, you can order a set of Wingfin Enhancers for your JBL Live 300 TWS. Kindly contact us through phone to place an order: (877) 871-6755. We're open Mon - Fri: 9:00 a.m. - 11:00 p.m. (ET) and Sat - Sun: 9:00 a.m. - 5:00 p.m. (ET).
Date published: 2021-06-06
i accidentally washed and lightly dried them, any chance they still wok
There's a chance that your JBL Live 300TWS will still work if it is not submerged in water. If you need more help, please reach out to our JBL Customer Support.
Date published: 2022-08-30
Can I order the charging case for the Live 300 earbuds?
We'd like to work with you directly to know more about what happened to your original charging case. Please reach out to us through this link: https://www.jbl.com/support-contact.html
Date published: 2021-06-06
Are these earbuds waterproof? If so are they IPX7 waterproof?
Hi Ben, The JBL LIVE 300TWS headphones are sweat-proof and water resistant (not waterproof) with an IPX5 certification. Please see the following link for a comparison of our IPX7 certified TWS headphones: https://uk.jbl.com/compare?cid=in-ear-headphones&pid1=JBLENDURPEAKBLK&pid2=UAJBLFLASHBLK&pid3=JBLREFFLOWTEL Many thanks, Reuben
Date published: 2021-06-06
HOw can i keep my ear buds from falling out of my ears
Please make sure you adjust the eartips that perfectly fit your ear to avoid it from falling out. If you need help in choosing which size is perfect for you, please contact us here: https://bit.ly/3hH8oBR
Date published: 2021-06-06
can the controls be customized and is there an app which works with the earbuds? Thanks
Thank you for your question. You can adjust some control settings in the My JBL Headphones app after connecting the earphones to the app.. Should you wish to receive further support, you may contact the Harman Customer Support team by telephone, email or chat in order to receive direct assistance. Please see https://uk.harmanaudio.com/support-contact.html for further details. Thank you.
Date published: 2021-06-06
bvseo_sdk, dw_cartridge, 18.2.0, p_sdk_3.2.0
CLOUD, getContent, 110ms
questions, product
Support
Register your JBL product
Do you own this product? Register it here in case you need to claim warranty
Register Now
Can't find what you're looking for?
Are you looking for product support, documentation, how-tos or older products?
JBL Support