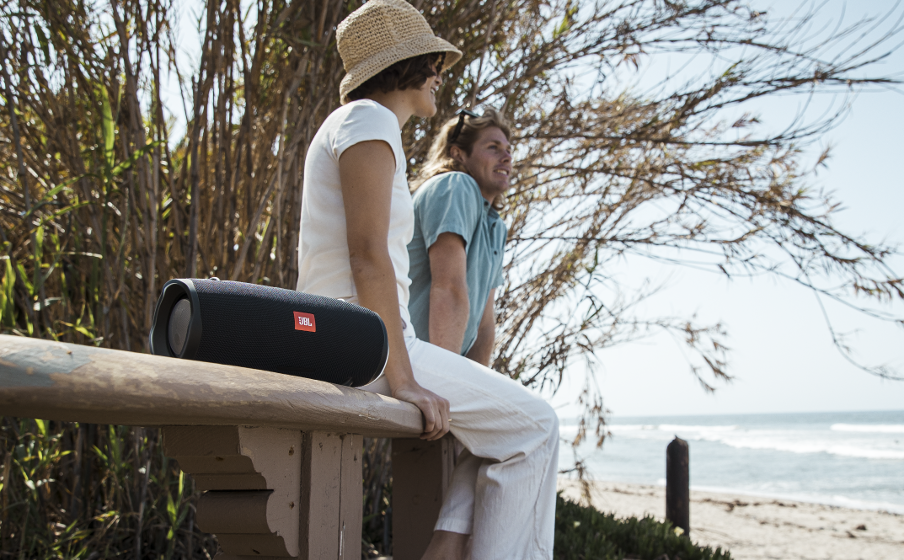 Wireless Bluetooth Streaming
Wirelessly connect up to 2 smartphones or tablets to the speaker and take turns enjoying immersive stereo sound.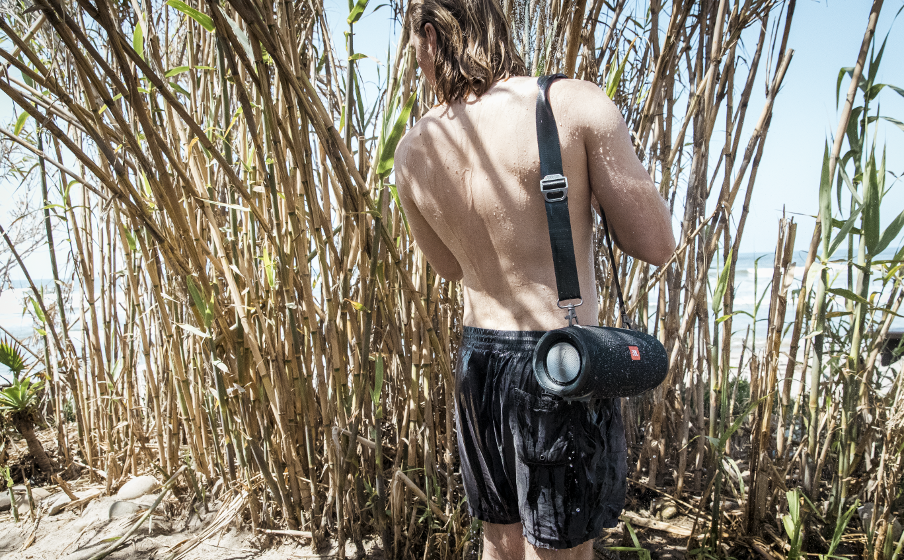 Up to 15 hours of playtime
The built-in rechargeable Li-ion battery supports up to 15 hours of playtime and effortlessly charges your device via an USB port.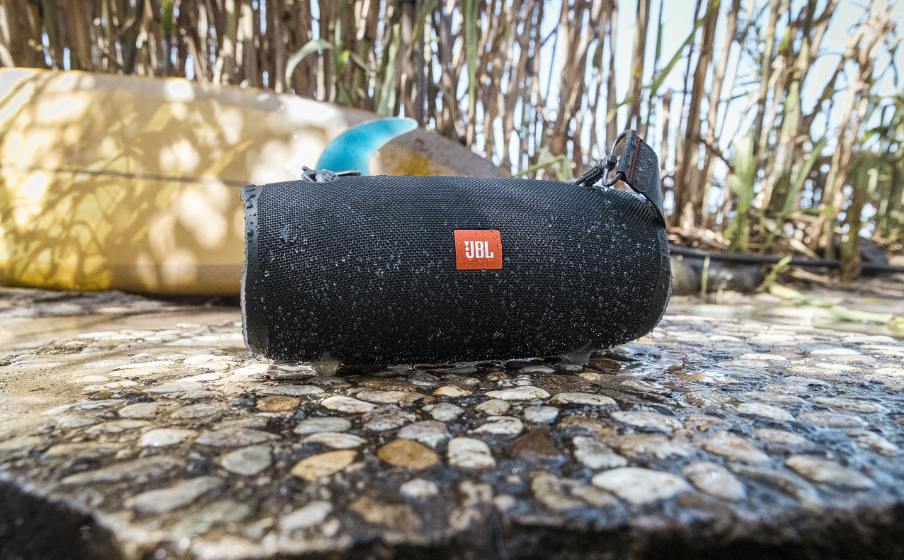 IPX7 waterproof
Take the Xtreme 2 to the beach or the pool without worrying about spills or even submersion in water.
Features

JBL Connect+
Amplify your listening experience to epic levels and rock the party perfectly by wirelessly connecting more than 100 JBL connect+ enabled speakers.

Speakerphone
Take crystal clear calls from your speaker with the touch of a button thanks to the noise and echo cancelling speakerphone.

Durable fabric and rugged material
The durable fabric material and rugged rubber housing allows your speaker to outlast all of your adventures.

JBL Bass Radiator
Dual passive radiators deliver powerful, ear catching JBL sound that resonates loud and clear.
POWERFUL
SOUND
A portable speaker that truly packs a punch — featuring upgraded drivers that offer big, bold sound.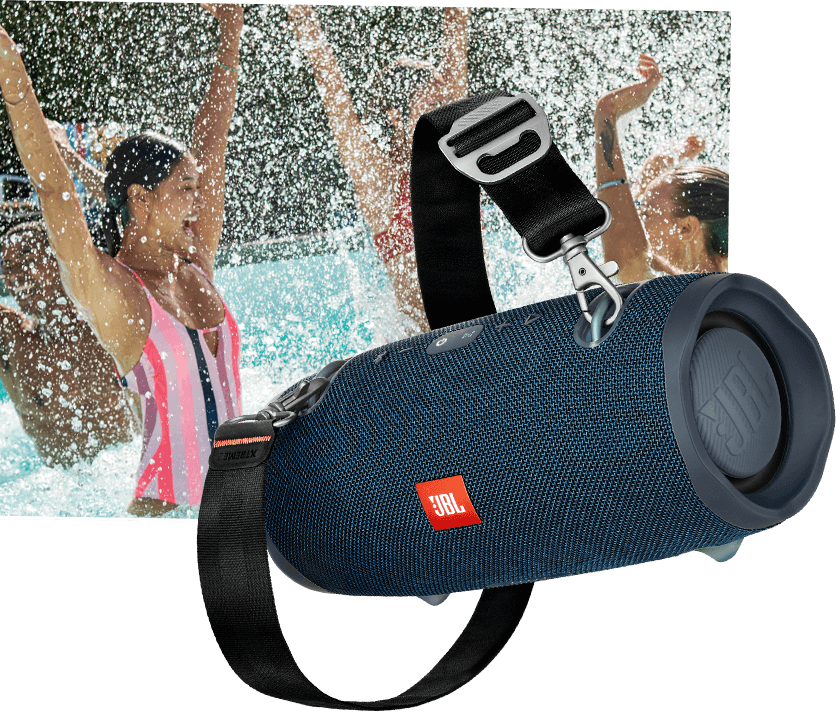 LIFE
PROOF
IPX7 waterproof design and durable fabric means this speaker is up for any adventure. Just like you.
15 HOURS
OF PLAY
This speaker starts the party and finishes it. Built with 15 hours of battery, because a full day should be full of sound.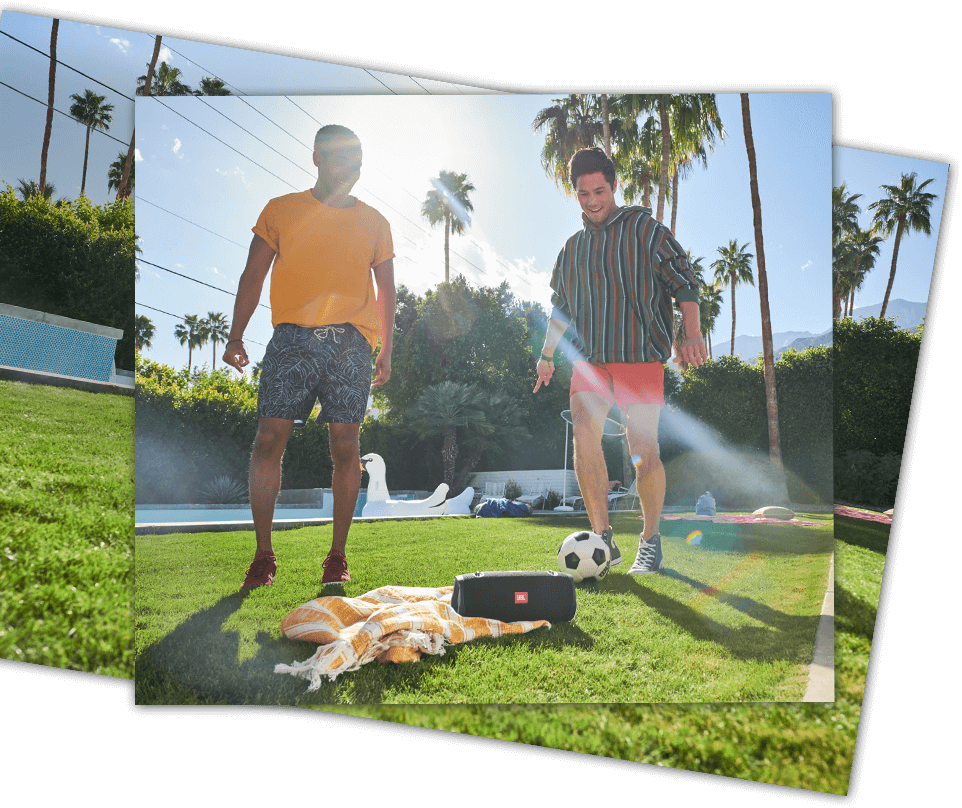 GRAB
AND GO
Harness the power of portable sound. Includes a carrying strap so you can bring it anywhere, and a bottle opener so you can celebrate when you get there.
Specs & Downloads
Item# JBLXTREME2BLKAM
Description
Unleash powerful sound everywhere

JBL Xtreme 2 is the ultimate portable Bluetooth speaker that effortlessly delivers dynamic and immersive stereo sound. The speaker is armed with four drivers, two JBL Bass Radiators, a rechargeable 10,000mAh Li-ion battery supporting up to 15 hours of playtime. On top of these, the speaker carries a convenient USB charge out. The speaker is IPX7 rated, featuring a waterproof design, with rugged fabric in exclusive colors complementing the Xtreme 2. Together with JBL Connect+ it can wirelessly link more than 100 JBL Connect+ enabled speakers to elevate your listening experience and making the party even bigger. The speaker carries integrated hooks, a durable metal base, and an added bottle opener to the carrying strap adding to the consumer convenience level whilst on the go. Not to forget it's just as well a perfect audio solution for any home. Whether in the living room, poolside, or tailgating for the big game, the JBL Xtreme 2 brings bold sound, wherever!
General Specifications
Maximum music playing time (hrs)

15

Output power (W)

2 x 20W RMS Bi-amp
Audio Specifications
Dynamic frequency response range (Hz)

55Hz–20kHz
Dimensions
Dimensions (cm)

28.7 x 13.7 x 10.7

Dimensions (in)

11.3 x 5.4 x 4.2

Weight (kgs)

2.39

Weight (lbs)

5.27
Control and Connection Specifications
Bluetooth profiles

A2DP V1.3, AVRCP V1.6, HFP V1.6, HSP V1.2

Bluetooth frequency

2.402 – 2.480GHz

Bluetooth transmitted modulation

GFSK, π/4 DQPSK, 8DPSK

Bluetooth transmitter power

0-12.5dBm

Bluetooth version

4.2
Battery
Features
3.5 mm audio cable Input

Yes

Bluetooth

Yes

Charging cable

Yes

JBL Connect+

Yes

Powerbank

Yes

Speakerphone

Yes

Wireless

Yes

Rechargable battery

Yes
What's in The Box?
1 x JBL XTREME 2
1 x Power adaptor
1 x Strap
1 x Quick-Start Guide
1 x Safety Sheet
1 x Warranty Card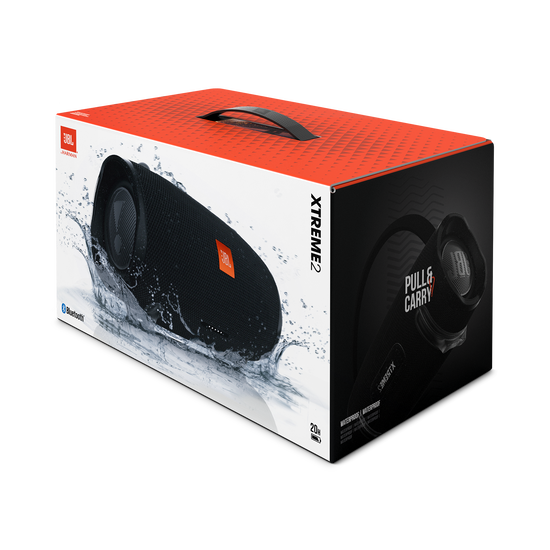 Documents & Downloads
Customer Reviews
Rated

5

out of

5
by
Robfenty
from
Amazing sound
I'm so in love with the quality of this speaker!!!
Date published: 2018-11-12
Rated

5

out of

5
by
Okiedad
from
Great Sound
Gift for my wife to listen to Christmas music from her ipod in the kitchen while cooking. Deep rich sounds.
Date published: 2020-01-01
Rated

2

out of

5
by
cmuz1048
from
Speaker was brilliant before update.
I was running firmware 1.6 and the sound was terrific, huge bass and punchy mids. I since updated to 1.9 and the update failed on the last few percent and my firmware went to 8.8.8. The speaker is now terrible. The bass is lacking badly and the mids seem to be muffled. The overall sound is now quite poor. I don't know what has happened but I am very unhappy with my speaker now. I just want 1.6 firmware back now, but there is no way of reverting to it. Buyer beware!
Date published: 2018-09-17
Rated

1

out of

5
by
DontbythisJR
from
Stay away from this speaker!!!
Bought this speaker a year ago and had it replaced once already (warranty). Now months later same issue. The battery stops charging..So now I got to return it again. Very disappointed in this product. Sounds great. but the battery is garbage. Stay away. The speaker will only give you nothing but aggravation. Not worth the dough !!!! Find a different alternative
Date published: 2021-03-18
Rated

1

out of

5
by
Kyle1112
from
Power button failure
After three months the power button has stopped working, on a full charge I can press the power button and see the jbl link button flash white for an instant, and when the power button is thus released, the jbl link button flashes again, but it does not power on. Do I need to update the software? Or is my 350$ speaker toast?
Date published: 2020-08-19
Rated

2

out of

5
by
kojoforever
from
Cant believe they pulled the 1.6 firmware!!!!
The speaker out of the box has a better all around sound than the 1st version but bigger heavier and not as loud! really disappointing!! Then there was a firmware update v1.6 that did a good job and made the volume louder a big improvement and there are multiple videos on YouTube confirming even giving measurements so I purchased one. Now the updates seems to be gone and JBL cant verify if it will come back and when!!! Why!!!! Probably going to return
Date published: 2018-08-08
Rated

5

out of

5
by
Anastasios Angelides
from
Ideal for my bike!
Excellent sound performance. Do not waste your money for Jbl charge 4. Jbl extreme 2 has obviously better sound performance, is more loud and is ideal for bicycling because of the magic strap. Very convenient to transfer anywhere on your neck with the strap. I believe it is the best on the market at this category and beyond. Definitely a gadget that anybody would have, highly recommended. I gonna buy also Jbl boombox for much pleasure.
Date published: 2020-03-07
Rated

4

out of

5
by
Anonymous
from
Good Quality, Bad Connection To Other JBL Speakers
I got this speaker for Christmas and I also have a JBL Flip 4 and Pulse 3, but I have trouble trying to connect them without them cutting out and they are all Jbl Connect Plus speakers, I want to connect them all together because they are all I have during these uncertain times. I wish I could get this fixed but I don't know how, is there a way that you all can help me out with this? Anyway the speaker sounds great by itself when I take it on the go with me, I would love to test out the new Jbl Boombox 2, the problem is that I don't have the money because I'm only 15. I would love to review it for you guys, so if you want to hook me up then that would be awesome.
Date published: 2020-03-28
Rated

4

out of

5
by
adrian423
from
Quality speaker!
I just love the way it sounds, i also have the Flip 4, it sounds loud and great too but is lack of bass in comparison with Xtreme 2, but the Flip 4 is 5 times smaller, but we can't have it all right ? Is not a very loud speaker, even if JBL claims that with battery there are 2 x 10 W and with AC 2 x 20, i tell you that is not a big difference between battery and AC ( actually very small difference ) I would like to see a power update at Xtreme 3, but smaller or atleast same size. I think 60 W RMS would be great. Don't get me wrong, for inside it's ok. but for outside i would recommend boombox.
Date published: 2018-06-23
Rated

3

out of

5
by
UserNr1
from
Better buy Boombox
Well, it's good but overall sound quality gets worse if you turn the volume above 80% (bass reduces seriously). Oh yeah, it's also not as loud as I expected. For indoor usage it's good but for pool party or something... just forget about it. I used it once at pool party (14 persons) and I was asked several times to increase the volume when speaker was already at 100%. Would I recommend it? For indoor usage yes.
Date published: 2018-08-19
Rated

5

out of

5
by
JimL
from
Great Sound. Stylish design.
I am not a sound engineer but i can appreciate a great sounding speaker. The Xtreme 2 is all that and much more. The highs, mid-range and especially the bass are impressive given the size. while it will not fill your entire backyard with sound, (although JBL makes products that will) the Xtreme 2 will rock your world in an average room, campsite,BBQ, boat or similar setting. Waterproof feature is awesome and my unit has already been tested and passed with an A+++ rating having been fully submerged. 15 hrs of play time is very nice too. could not be happier with this speaker!
Date published: 2020-09-14
Rated

3

out of

5
by
Tjsboy45
from
Wouldn't Recomend
I bought the JBL Xtreme 1 about 3 months ago and i've lived it and i've been a JBL fan for 5 years. I bought the JBL Xtreme 2 about 2 days ago and when i unboxed it i decided to do a comparison between the 2. the JBL Xtreme 2 only has 1 usb charging port unlike the 2 on the Xtreme 1, The Xtreme 2 doesn't get as loud as the Xtreme 1 unless its plugged into a wall, The Xtreme 2 also doesn't sound as popping outside as the Xtreme 1, And also the Xtreme 2 still has the same battery life as the Xtreme 1. My JBL Xtreme 2 also has a delay when using the aux which is crazy bc i thought there was supposed to be no latency with the aux which was rated 0 on the Xtreme 1. But maybe thats only with mine. But overall the sound quality on the Xtreme 2 is much better than the sound quality on the Xtreme 1 and if your using it indoors the Xtreme 2 has more bass then the Xtreme 1. Keep in ming that the JBL Xtreme is newer and its waterproof though unlike the water resistance on the Xtreme 1. Overall if your looking for a speaker for outdoors the i recommend the Xtreme 1 especially because its way cheaper now and you can get them for around 150$. I think that if JBL fixes the speakers loudness with some software update no matter if it effects the battery then the JBL Xtreme 2 would be better but for now the 3 year old Xtreme 1 is the winner.
Date published: 2018-06-24
Rated

1

out of

5
by
Empmanny
from
Good bass and the similar design is still good.
After having the charge 3 and flip 4, I went to purchase the xtreme 2 thinking it was better than de first xtreme. Well I'll be honest I am disapointed... It does have a good balanced sound, but it is not loud enough. Plugging it to the power will give you more volume and if you update the speaker apparently it will sound worse. I guess I'll just be sticking with the other speakers instead and return this one. Sorry Jbl but I really think the Xtreme 2 does not stand up to those $300
Date published: 2018-10-05
Rated

1

out of

5
by
Dheissenberg
from
Stay away from this company and these speakers
Stay away from this company and their defective speakers. I am beyond disappointed in this company and the quality of their speakers, every single one that I have purchased has broken right after the warranty expired. I have experienced countless troubles. They will try to get you to buy another one with a discount code like they did for me and the same thing will happen. This is the third and last time this has happened to me with this company. Save yourself the time and money, stay away from this company.
Date published: 2022-05-28
Rated

5

out of

5
by
hish jbl
from
worth the 300 i payed when it just come
this speaker has a vibe, compare to theres when there she this speaker for the first time there are all amazed but after when there see it again there know what gonna happened. the only disadvantage of the speaker if the lack of technologies. The app jbl need to get more option like Admin'' controle who can connecte'' can switch off/on from the phone, and equalizer availability for mor fun '' more bass less bass ect ect '' otherwise this speaker one of the best or even the best. you can bring it everywhere
Date published: 2020-03-22
Rated

5

out of

5
by
gvargas80
from
Excellent Extreme
I bought that speaker it's perfect sound for the beach... park, yard..
Date published: 2019-10-21
Rated

3

out of

5
by
Adelin
from
Great speaker, but..
I'm impressed how convenient and easy to use and move around this device is, the USB outport it's a huge plus in my opinion! It easily fills up a room, the base it's punchy and overall quality of the sound it's impressive. It's not perfect though! Outside performance it's average, base noticeably less pronounced, not as loud as it's competitors but still good mids and highs. I updated to 1.9.0.0 and it's like I ended up with a different device!! Do not update to this firmware, better stick with 1.6.0.0!! The sound it's now muffled and distortion appear above 60% volume. Huge difference between on-battery and AC mode! You're not supposed to keep this speaker on an office desk. If JBL solves the firmware problem it may be a decent speaker, until then, I wouldn't recommend it. The performance it's colse to my friend's Charge 3 at half the size!
Date published: 2018-09-07
Rated

5

out of

5
by
Strange
from
Excellent
Is very good. I think it has no rival in its size.
Date published: 2019-08-01
Rated

5

out of

5
by
AlivingPerson
from
Excellent But..
I bought it a month ago, it is good. cheap good sounding, but there are problems too, first the input lag sucks, it feels like 1 second of input, but that's fine because I use it for music and out door use only, very durable and its nice that it can stand up and that's its easy to carry around. it is sad that you cannot EQ it thru the app but I just downloaded an EQ app. So the Xtreme 2 rating is 4.6 starts (Amazing)
Date published: 2021-10-05
Rated

5

out of

5
by
MtDewnSLAYER
from
JBL has me hooked!!!
I have a 4 year old Flip 3 for hotel travel and wanted something with more 'oompf' for outside on my deck. I have only owned this Flip 3. Honestly, I defected thinking I'd try something different, I Iike to try new and different - and was let down. I went to return it and they were out of my 'plan B' pick, when the sales folks pointed out an amazing closeout deal on the Extreme 2. I thought, that's what I get for defecting, I was meant to own another JBL. I gotta say I'm blown away. Rather than go into depth, I will say I'm an audiophile and am picky. JBL has earned a customer for life with this one!!
Date published: 2021-07-17
Rated

5

out of

5
by
MarceloW
from
Great sound.
Sound quality is amazing, it is very clear and has good bass. The built quality follows JBS high standards and the volume is higher than I will ever need inside any room. I bought the refurbished version so the value/money was really good. My only comment is that this speaker is not very portable, or not as much as the Charge and the Flip. If you plan on walking around with it I would recommend getting the Charge instead, which has a bit less power but less than half of the size and weight.
Date published: 2019-03-25
Rated

5

out of

5
by
JerryB
from
Great Sound !!
I purchased two of these for Stereo to play in my Classic 67 DeVille because I didn't want to disturb original Radio and I Love them !! Excellent Sound !!
Date published: 2019-09-10
Rated

5

out of

5
by
Agent 99
from
Easy To Use - Easy To Enjoy
Bought this Xtreme 2 unit several months ago. Easy to order, and delivery came within several days. I love this product. I ordered the blue color. Connects easily to bluetooth (from my I-Pad or mobile phone). Instruction guide is clear. Very easy to use. I listen to streaming music and podcasts. The unit is not to big and I have it on the shelf. Of course, I could take this on trips as well if I want. Sound is fantastic. I bought this on-sale direct from JBL. If I can find the same sale price again I may get another unit (you can set-up stereo sound with 2 units). Overall very satisfied with purchase.
Date published: 2021-02-13
Rated

5

out of

5
by
joshitushar4242
from
Grand fun
I bought this product on thanksgiving and have so much fun..
Date published: 2018-12-20
Rated

3

out of

5
by
SonicSouz
from
Nerfed
I love the aesthetic/design and clearness of the speaker, however Im very displeased that the day my Xtreme 2 arrived in the mail, the 1.6 update that increased max volume and bass was pulled. Youtube reviewers stated that the update fixed most of the problems with volume, yet It was still removed. Now anyone who works in support is acting as if there never was an update. JBL, please end this long time trend of matching great hardware, with terrible software/firmware
Date published: 2018-08-09
Rated

5

out of

5
by
hubey
from
Great speaker highly recommend
Bought this a few weeks ago in the Black Friday sale. really good speaker great bass, battery lasts forever only had to charge it about 2 times. I also own a charge 4 and the party mode is really fun to use. Love the camouflage colour design.
Date published: 2019-12-14
Rated

4

out of

5
by
Nathan Williams
from
Great Speaker! Poor Upgrade...
This speaker is amazing, honestly. It's hands down the first product I'd recommend a friend to buy from JBL if they wanted something loud and affordable, but it's not everything it could've been. Bluetooth 5.0, outdoors mode, a bigger battery, more charging ports, easier access to the clip-on loops, more efficient battery consumption and more are all things they could've improved on to make this a worthy upgrade from the original JBL Xtreme. All in all though, this is an amazing speaker for the people who aren't currently using an old Xtreme.
Date published: 2018-06-23
Rated

3

out of

5
by
Wes Fro
from
Sound Quality is great, spkr quality not so much
I have had my Xtreme 2 for just over a year now. And the power button won't work and it will turn on eventually after clicking the power button multiple times sometimes up to 50 clicks before if finally powers on. I also have a friend that has had his for 2 years and his battery is shot and it won't hold a charge. The sound quality is by far the best out there, but the build and electronics part of it is sub par. My options are to replace it (which it now cost $100 more than when I bought it) or to have a repair service fix it for the cost of a new one. Really wish it'd last longer than 13 months.
Date published: 2021-06-01
Rated

3

out of

5
by
cmuzz
from
Great sounding speaker, lack of bass lets it down!
Was expecting more bass from this speaker. My friend has the same speaker with firmware version 1.6 and it outperforms mine by a considerable amount. The update seems to be unavailable now and im thinking of returning.
Date published: 2018-08-09
Rated

3

out of

5
by
Clo39
from
Its almost perfect!
I purchased my xtreme 2 months after searching for the best available outdoor portable BT speaker. After watching youtube reviews i made up my mind to purchase it. It looks nice, the case is strong and durable. The sound is clear my only problem which is the biggest dissapointment is the max volume. The speaker just dont sound loud at all. I looked on the web and youtube and found that if i update to the new firmware it would increase volume which i did not think so. It did however sound really nice and clean just not as loud as i expected.
Date published: 2019-01-04
bvseo_sdk, dw_cartridge, 18.2.0, p_sdk_3.2.0
CLOUD, getReviews, 8ms
reviews, product
Product Q&A
Hello! Does this product have the TF Card slot? Thank you Maurizio
No, it does not.
Date published: 2021-06-06
Hi. I have a question about the volume of the JBL Xtreme 2. Is it higher than with the JBL Charge 3 speaker?
Thank you for your question. Since the Xtreme 2 has a bigger driver than the Charge 3, the Xtreme 2 would definitely be louder .
Date published: 2021-06-06
can you plug speaker in for indoor use compare to jbl extreme
Yes, our JBL Xtreme 2 comes with a power adaptor so you can plug it in a wall outlet for indoor use.
Date published: 2021-06-06
I just bought a JBL Extreme second hand but didn't have an operating manual. My question is; how do you know if the speaker is charging or ehen it's finished. No light or sound seems to inform of such. The speaker is wicked by the way & worth every penny
Hi, When the JBL Xtreme is being charged, you'll see the leds on the foot of the Xtreme light up, one by one. Each led indicates approx. 20% charge, which means that when you see the 3rd led blinking, it will be charging from 40 to 60%. When the Xtreme is powered off, and the battery is fully charged, all leds will turn off.
Date published: 2021-06-06
Can I carry my Xtreme 2 into a lake for example, for a longer period of time? But I mean, not like submerging the speaker, I've would only just put the speaker on the water, and let it float and play music. Is that possible for like 1 and a half hour?
No, the speaker will not float. We also don't recommend this in open water to avoid losing the speaker.
Date published: 2021-06-06
Hi I just got my extreme 2 yesterday and I was searching if the app had a remote button for turn on and off, but I didn't find.
You can only rename the Bluetooth pairing name, control Party Mode, or Stereo mode (when pairing two same model speakers), and do firmware updates on the JBL Connect app. It doesn't have a remote control function.
Date published: 2021-06-06
I have seen many fake JBL speakers sold from Amazon with your logo with horrible sound compared to the original ones from your website. Can you guarantee that I will be getting the real product from your website?
Of course! Purchasing directly from us means that you're getting it directly from the manufacturer itself and you'll be sure that it's legit. You can also check our list of authorized dealers so you know you're getting legit products on the link below: https://www.jbl.com/authorized-dealers.html
Date published: 2021-06-06
Is it possible to connect 2 speakers via bluetooth but with the aux input?
Thank you for your question. You can connect the source device via AUX input to the first speaker, and use Connect + to pair multiple speakers in Party Mode.  Should you wish to receive further support, you may contact the Harman Customer Support team by telephone, email or chat in order to receive direct assistance. Please see https://uk.harmanaudio.com/support-contact.html#ns for further details.  Thank you.
Date published: 2021-06-06
Is it rechargeable from 220 volts?
The adapter (power brick) that comes with the JBL Xtreme 2 is an Auto-Volt charger and can be used with 110V-240V.
Date published: 2021-06-06
My Extreme 2 charges up to 4 dots while the 5th dot continues to blink and never fully charges?
We would like to work with you directly to help you with your issue. Please submit a case request at  https://www.harmanaudio.com/support-contact.html and the Customer Service Team will be more than happy to assist you.
Date published: 2021-06-06
Xtreme 2 is less loud than the Xtreme on batteries. Real bummer!! But plugged-in, it has the same loudness, suggesting there's a software restriction while on battery. Can we hope for a software upgrade? Losing some of the nominal 15h playing time is ok!
Thank you for your review, our sincerest apology for the inconvenience. Your feedback will be communicated to the proper department to improve our current and future product line. We would like to work with you directly, please submit a case request at www.jbl.com/support-contact.html and the Customer Service team will be more than happy to further assist you.
Date published: 2021-06-06
Can I use an external DAC And connect it to 2  partybox 100 ??
Our Partybox 100 has already an internal DAC it'll be redundant to have 2 DAC's and there isn't a way to bypass it and only use the external DAC.
Date published: 2021-12-21
what speakers pair up with the jbl xtreme 2 and is it easy to do?
You can connect JBL speakers that have Connect+ like the Flip 4, Pulse 3, Boombox, and Charge 4.
Date published: 2021-06-06
Hi, I understand Xtreme 2 have more loudness than older Xtreme, especially after update firmware. My question is about sound quality. What's the difference in bass treble and mid range frequency offered by the new one versus older one? Thanks.
Hi! The Xtreme 2 offers a wider frequency range which is 55Hz-20kHz rather than the Xtreme which has 70Hz – 20kHz.
Date published: 2021-06-06
Hello. I have a question about the mini jack in the speaker. Will you be able to play music from your phone through it? My point is to connect the phone minijack to the speaker.
Yes, the AUX input on the JBL Xtreme 2 is meant for music-playing.
Date published: 2021-06-06
Why does my JBL XTREME 2 sound louder when being charged than when not being charged? 
Our JBL Xtreme 2 has a rated power of 2 x 20W RMS Bi-amp(AC mode). Using it while it is plugged offers more wattage or volume to your speaker than when on battery mode.
Date published: 2022-06-08
Will it be offered in red? And can we expect it any earlier than Late June?
The JBL Xtreme 2 will be available only in midnight black, blue, and green and its expected shipping date is in late June. For changes and updates on release dates, please sign up for our JBL Newsletter. Thank you!
Date published: 2021-06-06
When using the 3.5mm input on an Extreme 2, are you able to share that analog input audio signal to a second Extreme 2 using the Connect+ wireless speaker pairing?
No, our JBL Connect + can only be used if you're connecting your JBL Xtreme 2 wirelessly through Bluetooth. If you have more questions, please contact us here: https://bit.ly/2zwFkYM
Date published: 2021-06-06
Can I use the speaker and play music while it is charging? Is it okay to use while the AC adapter is connected?
Yes, you can keep your Xtreme 2 plugged into the wall outlet while playing your favorite tunes. To add, the unit is designed to automatically stop charging once the batteries are fully charged.
Date published: 2021-06-06
Can Xtreme 2 connect to Flip 3 speakers?
No, since the JBL Xtreme 2 is on Connect+ and the Flip 3 in on Connect. Connect+/Connect speakers can only pair with other speakers with the same feature.
Date published: 2021-06-06
I'm going to buy an xtreme 2 speaker for amazon, but the model is JBLXTREME2GRNIN, the ending "IN" which means? regards
Thanks for reaching out. Based on the stock keeping unit you have provided, "IN" means the product was made to be sold in India.
Date published: 2021-06-06
Hi. Please , make Xtreme 2 louder than first xtreme. Sound in xtreme 2 is amazing but we need louder sound :)
Thank you for your review. Our sincerest apology for the inconvenience. Your feedback will be communicated to the proper department to improve our current and future product line.
Date published: 2021-06-06
If the JBL Xtreme 2 isn't plugged in to the wall, it wil only have 20W? Why shouldn't I get a Charge 3 instead then?
The JBL Xtreme 2 is rated at 2 x 20W for a total of 40W of power while the JBL Charge 3 is rated at 2 x 10W for a total of 20W; meaning the Xtreme 2 is more powerful than the Charge 3.
Date published: 2021-06-06
Hi JBL! How I can go back from 1.9 to 1.6 update? It was louder and sound better on battery mode before the update.
Hi! Apparently, no you can no longer downgrade the current firmware version that's currently assigned on your JBL XTREME 2.
Date published: 2021-06-06
I've heard people say the original Xtreme is getting an update that should allow it to connect to the Xtreme 2 and then I hear other people say it's not possible due to the X1's hardware limitations. What's true and what's not?
Unfortunately, the hardware used in the JBL Xtreme is different from that in the newer products, which come with JBL Connect+. We have been testing with different JBL Connect speakers ( Flip 3, Xtreme, Charge 3, Pulse 2 ). Only the JBL Charge 3 is compatible with JBL Connect+ which we already have an update available. Unfortunately, a firmware update is not enough if the hardware cannot support it. There are currently no plans to allow the Xtreme 1 to connect with the Xtreme 2.
Date published: 2021-06-06
is this speaker waterproof or water resistant
Yes, the Xtreme 2 features an IPX 7 rating. This means that the speaker can be immersed in water up to 1 meter for up to 30 minutes.
Date published: 2021-06-06
What's the width x height x length in inches
The JBL XTREME 2 dimensions in inches are as follows: Height = 5.35 in, Width = 11.33 in and Depth = 5.20 in.
Date published: 2021-06-06
Will the Extreme and the Extreme 2 link and play together for a stereo effect?
Hi! The JBL Xtreme has the Connect feature, and the JBL Xtreme 2 has the Connect+ feature. Due to the difference between the two, they would not be able to connect to each other for a stereo sound, or to play at the same time.
Date published: 2021-06-06
how to connect jbl speaker to tv?
You can use a 3.5mm aux cable to connect your JBL Xtreme 2 to your TV through the aux port at the back of your speaker. If your TV is Bluetooth capable, you can also connect your speaker to your TV through Bluetooth as well. However, as your JBL Xtreme 2 was designed for music, expect some synching issues between audio and video.
Date published: 2021-06-06
Can I play Bluetooth and aux simultaneously?
Our Xtreme 2 is capable of playing music via Bluetooth and AUX cable, but you cannot use both at the same time. It will prioritize the AUX connection over the Bluetooth connection.
Date published: 2021-06-06
bvseo_sdk, dw_cartridge, 18.2.0, p_sdk_3.2.0
CLOUD, getContent, 7ms
questions, product
Support
Register your JBL product
Do you own this product? Register it here in case you need to claim warranty
Register Now
Can't find what you're looking for?
Are you looking for product support, documentation, how-tos or older products?
JBL Support