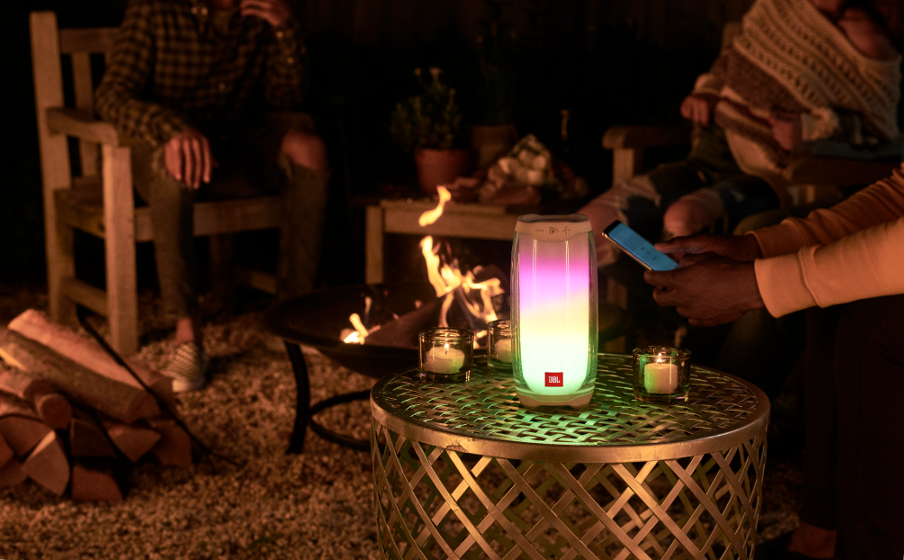 Light up the night
Pulse 4 shines through the night with an amazing, high-resolution, 360-degree LED lightshow.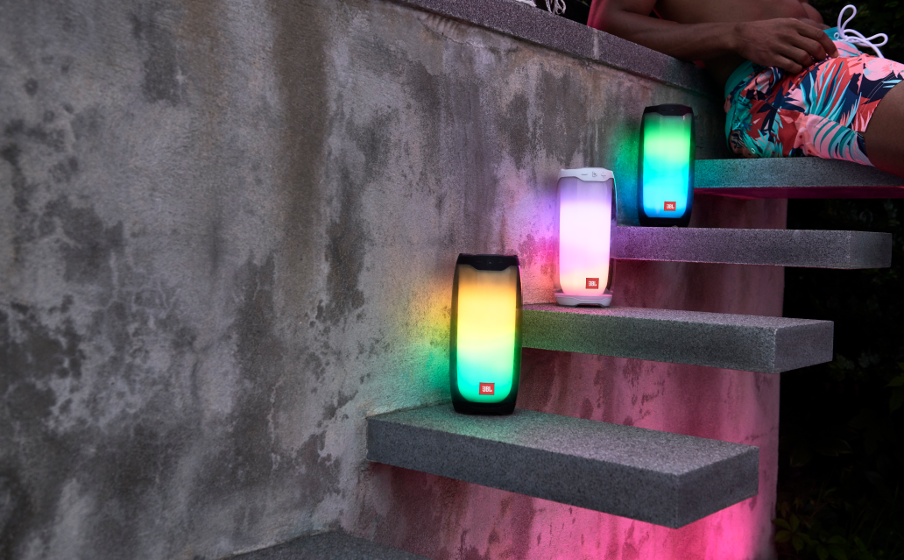 Follow the beat everywhere
Pulse 4 delivers JBL signature sound in every direction with its ingenious, 360-degree speaker array.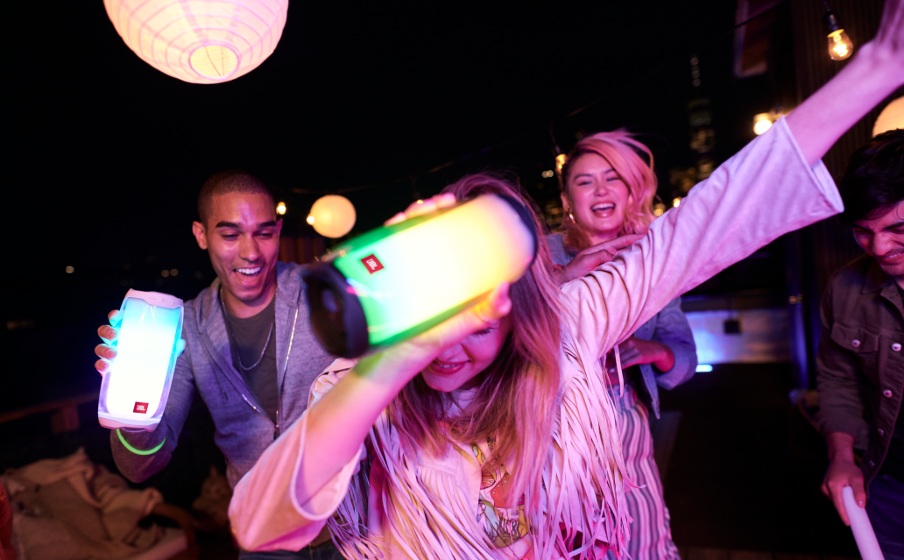 Up to 12 Hours of Playtime
Ready to get your groove on? Pulse4 delivers up 12 hours of party time on a single charge.
Features

Make a splash with IPX7 waterproof design
Bring your speakers anywhere. Pool party? Perfect. Sudden cloudburst? Covered. Bash on the beach? Pulse4 is IPX7 waterproof up to three-feet deep for fearless outdoor entertainment.

There's an App for that
Download the JBL Connect App to rule your party with ease. And visualise your music with a variety of light show themes or even customize your very own. Ready to tune out? Turn your speaker into an ambient light show whether your music is on or off.

Crank up the fun with PartyBoost
PartyBoost allows you to pair two JBL PartyBoost-compatible speakers together for stereo sound or link multiple JBL PartyBoost-compatible speakers to truly pump up your party.

Shake it to sync your light show
It couldn't be easier to connect your LED light show with other nearby Pulse4's. Simply hold your speaker nearby and shake it to sync up.
Specs & Downloads
Item# JBLPULSE4WHTAM
Description
Sound you can see

Kick start your party with JBL signature sound and a dazzling LED light show all in 360 degrees. Our bold, IPX7 waterproof design shines bright and will keep the tunes flowing for up to 12 hours on a single charge. Tap the JBL Connect App to change the sound-responsive colors and patterns and connect with other JBL PartyBoost compatible speakers to make your party epic.
General Specifications
Maximum music playing time (hrs)

12

Output power (W)

20
Dimensions
Dimensions (cm)

9.6 x 20.7 x 9.6

Dimensions (in)

3.8 x 8.1 x 3.8

Weight (kgs)

1.26

Weight (lbs)

2.8
Control and Connection Specifications
Bluetooth profiles

A2DP V1.3, ACRCP V1.6

Bluetooth frequency

2.402 - 2.480GHz

Bluetooth transmitted modulation

GFSK, π/4 - DQPSK, 8DPSK

Bluetooth transmitter power

≤10dBm

Bluetooth version

4.2
Battery
Features
Bluetooth

Yes

Charging cable

Yes

Lightshow

Yes

Waterproof

Yes

Wireless

Yes

Rechargable battery

Yes

JBL PartyBoost

Yes
What's in The Box?
1 x JBL Pulse 4
1 x JBL branded Type C cable
1 x Quick-Start Guide
1 x Safety sheet
1 x warranty card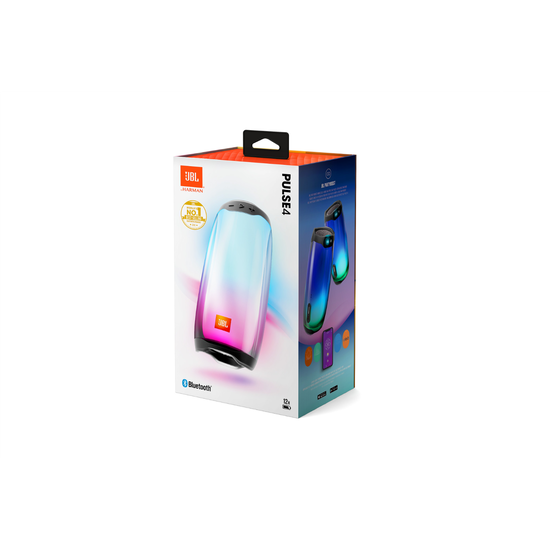 Documents & Downloads
Customer Reviews
Rated

2

out of

5
by
Lourdie
from
Not older than my Alexa!
I was very excited to received my speaker so fast but I wasn't expecting such low sound quality. Even the older model/version Pulse 3 is louder then the new version that I purchase Pulse 4. I was so looking forward to be showing off my light show and utilizing that feature but I require louder bass then colorful lights. It's definitely not worth $200. The name and quality of speaker device I understand but you buy a speaker for the sounds and not really for the name or style of device. Please make Pulse 5 as loud as your Boombox 2 or Flip 5, which ever is louder. I love the light show features on the pulse 4 but it's just barely loud and little to no bass at all.
Date published: 2020-05-30
Rated

2

out of

5
by
Kelli1017
from
Battery life kinda sucks!
We used to have the JBL charge 2. My husband left it on the hood of his work truck right at the windshield and he drove off and it was never to be seen again. I don't get upset about much but that one really got to me! That was the best speaker we have ever had. We were reluctant to get the pulse 4 simply because of the price. But we bit the bullet. It's a great speaker with great sound quality but the battery life is terrible. Even when we turn off the light show, it dies quickly. The JBL charge 2 still had great battery life being 5 years old. It held up so great! Wish I had it back. Someone out there probably found it and is enjoying the heck out of it.
Date published: 2021-07-29
Rated

5

out of

5
by
Real77055
from
Outstanding!!!
This is my second portable speaker from JBL. 1st one I bought about 3 years ago, when I first moved to the USA. It's served me perfectly well. My JBL Charge 3 was lucky enough to go to IBIZA 2 times!!! I can say it's just served me perfectly well at overseas… With my JBL PULSE 4 s now I have slight better sound and bass accompanied with great light effects.Guys it's just nice when you listen some chill music during night... Its also depends on what type of music listener you are. Yet, I just love my JBLs .I like how it's sounds and I do like how it looks....I hope you will like it as well Here is a quick comparison video
Date published: 2020-03-16
Rated

5

out of

5
by
Duvhe
from
Like no other!!!
I did my extend research without rushing for weeks .. so it seems they were the best, other just trying to compete... so I bought 1 just to check it out. OUTSTANDING!!! PERFORMANCE for a speakers this size specially if properly place in your house. Great futures with the app. The lights are colorful and bright. When you hold it you can just tell.. quality.what I like the best is the party boost, no distortion with the walls.last but important with this type of connection just think of possibilities, multiple linked quality speakers around your house or business. Boom box on main room..... JUST GREAT!!!. GREAT JOB JBL.
Date published: 2020-07-14
Rated

4

out of

5
by
apalmo1
from
Color Change is Awesome!
I really wanted to hate this speaker as I always felt the pulse series was more about looks than sound quality. However after a few days of use I have changed my mind and this one sounds really good compared to prior pulse speakers. For this review I will be mainly comparing the pulse 4 to the charge 3. Sound quality on the pulse 4 is great but it could be a little better, it has good highs, and decent lows, but I feel like the mids are muted. I noticed with the pulse 4 if you push it to close to wall it doesn't sound good. The optimal place i found for this speaker is more in the middle of a room that has a roof or covering. The 360 sound will fill the room and is plenty loud for a party. However outside with the top of the speaker facing the sky (no ceiling or cover to reflect the sound) the pulse 4 sounded good but but not as wonderful as it did in my kitchen. During the daylight the color LEDs get washed out and are sorta pointless to use, there is a button on the top to disable the LEDs which helps save power. At night time the LEDs are very nice and soothing, I can't wait to use this during summer evenings with friends. The Pulse 4 is very heavy (in a good way) and seems very well built/durable. The dimension are similar to the charge 3. Pros: Good Sound Party mode (didn't work with my charge 3 sadly) Fun to look at Good Battery Life USB C Waterproof Cons: A little pricey Mids are muted no charging block, just the usb cable no AUX input JBL connect app that is used to change colors or patterns sometimes doesn't connect to pulse. Overall I do like this speaker and this is a great party/dorm room speaker. However I prefer my charge 3 a little more as it has more features and (to me) is better sounding and cost less. The Pulse 4 is for sure a party speaker that makes your music entertaining to listen too.
Date published: 2020-03-12
Rated

5

out of

5
by
Jwill_n
from
Amazing sound and lights
This Bluetooth speaker is simply amazing from the lights to the 360 degree sound I have never used a Bluetooth speaker of higher quality or beauty. The passive bass radiator provides a deep rich sound, and the many lights options keep the party going. The battery life has been amazing even with the lights and heavy use and the usb type c makes charging easier than ever. The build quality feels top notch I wouldn't be afraid to drop this speaker and the water resistance adds even extra security. I cannot recommend this speaker enough nothing else to even compares.
Date published: 2020-03-09
Rated

5

out of

5
by
Azalea
from
Incredible speaker
My partner bought this speaker for me for my birthday. It is absolutely worth every penny. The light show is stunning, and the design of the speaker really elevates that. I downloaded the jbl connect app, and it lets you modify the colors of the light shows. Which is really nice. The bass is incredible. It shakes the table at times. Which surprised me because of the size of this speaker. It really adds to the speaker that the LEDs seem to coordinate with the bass; giving a stunning display. The highs are nice. Not exactly immaculate if you're an audiophile, but REALLY good for a portable speaker. Which, this speaker is easy to take with you. In a purse or a backpack. I think that anyone could, and will, enjoy this speaker. I've already recommended my friends and family get one.
Date published: 2020-07-15
Rated

5

out of

5
by
Robk123
from
pulse 4 great speaker
Let me just say that the JBL Pulse 4 speakers are very fun and unique speakers. I would say that If you want to have a speaker that is fun for the house parties, dorm, bbq's, camping. The Pulse 4 is perfectly adequate. 1. The sound comes from the top and the base from the bottom. I would say that the sound is relatively loud. Their sound is a little richer and defined. Unless you have walls and ceilings for the sound to bounce off of, the sound projects upward and is lost outdoors a little more. This was of course to accommodate the visually impressive light show. 2. The lighting is awesome and entertaining. I would say that these speakers are semi-portable. There is no handle to carry them and the polycarbonate shell is definitely fingerprint prone, Plus for smaller hands, it may be a little hard to carry. It can be slippery. So if camping, for example, you should invest in an aftermarket case. 3. The JBL Connect app. It is terrible and buggy. I have spent hours trying to connect the units with my phone or together in stereo. Sometimes it works sometimes it won't recognize the app. It does go into Party Mode easily by pressing the PartyBoost button on the unit (same sound out of both speakers=louder), but I find trying to get stereo mode (L-R separation) is near impossible. 4. The speakers are using an older Bluetooth Codec. not the newer AptX HD for example. So they are not for watching videos. The sync will be off. The newer codex allows a higher bitstream I gather, so more fidelity and a more defined sound. 5. Minor, but there is no AUX connector either. 6.They are for a person who likes the visual party vibe. They are a really good speaker, with good loud clear sound. There are better sounding ones for the money out there but you need to know how it will suit your lifestyle. I just wanted to point out some of the limitations that would make this a truly awesome speaker
Date published: 2020-03-24
Rated

5

out of

5
by
Markylad
from
Amazing speaker
Bought this as a replacement for a previous speaker, mainly due to the light show it does. I am nit disappointed at all. The different light shows are brilliant, and i usually use is as a mood lamp. The sound quality for its size is exceptional, excellent bass and very clear. Fantastic buy.
Date published: 2019-10-25
Rated

5

out of

5
by
travelinglizard
from
One of my favorite purchases
I've had this speaker for nearly a year and I'm absolutely in love with it. Sound is incredible for the size and it has great bass (sometimes too great - have to set it on something soft so it doesn't vibrate the whole table). I bought it for the light show and use it all the time for the lights even when I'm not using the speaker. It gets toted around the house with me like a portable electronic lava lamp. It is a bit heavy and isn't as portable as some of JBL's other speakers, but that's the only downside. This product is one of my favorite purchases, and I plan on getting another one at some point.
Date published: 2022-07-27
Rated

5

out of

5
by
alexaarm
from
Amazing!
I got the JBL Pulse 4 speaker a couple of weeks ago and know now why we've had JBL speakers in the past. Sound quality is good-I connected this to my tv and the sound filled room. Easy to connect to different devices. Controlling the speakers colours from the app is an excellent feature. Only criticism-a remote control would be very handy!
Date published: 2019-11-08
Rated

5

out of

5
by
Librow
from
Fun to use
This is a really nice unit. It goes all day and into the night. I like that it has the ipx7 rating because I like all of my valuable electronics to be waterproof, just in case. I also like the buttons on the top that are easy to find to make any playing adjustments. It provides plenty of sound for any room, while still able to be heard well outside. So basically, the highs are great at ANY volume, the mids are best at any point under 70%, and the lows are best between like 30 and 70%. A really important point is that there isn't any distortion. The colors are really great and help light up the room. Being able to change the colors and affects with the connect app is really nice. I know it has the party boost where it can link with other party boost devices but this is the only part boost I currently own.
Date published: 2020-03-20
Rated

5

out of

5
by
Sammysam99
from
Definitely worth it!
I was a little skeptical about spending $200+ on a speaker but I really wanted a new one and I had heard great things about this one so I decided to splurge. Best Buy ever! It's got multiple different settings for the lights and the bass is amazing. the battery life is great, I got it about a week ago and it only just died today and I've used it for hours every day. If you're on the fence about buying it, go for it! You won't regret it
Date published: 2020-06-25
Rated

5

out of

5
by
Anonymous
from
Has Bluetooth 5.1
I bought this speaker primarily for the light display which I am happy with. Doing some research I see that people are disappointed with the unit only having Bluetooth 4.2, it's even advertised as such. If you download the JBL app it will allow you to update the speaker to the newest firmware which has the newer Bluetooth 5.1! Light synchronisation to your music is also updated. JBL need to start telling people about the update lol
Date published: 2021-02-05
Rated

5

out of

5
by
Sar87
from
Awesome
Received this for Christmas and has awesome sound and love the light show
Date published: 2019-12-28
Rated

3

out of

5
by
Rodriguez12
from
Lacking Sound
I bought this about a week ago and am loving the lights. However the sound quality has left me feeling underwhelmed. Especially he bass quality. I think there are much better sounding speakers for the same price range.
Date published: 2020-05-27
Rated

3

out of

5
by
Alastair
from
Great but...
Brought this speaker with the charge 4, however the party boost is not backwards compatible with Connect+. This is a bit annoying since I bought both the speakers expecting to be able to connect them both. I am confused why they did this and didn't make partyboost speakers work with connect + speakers
Date published: 2019-12-01
Rated

1

out of

5
by
DebD
from
Worked for about two years only, no support
My son saved up for this speaker.He loved it while it worked. After abut tow years, poer buttons and bluetooth buttons no lnger worked rendering it useless! Naturally, JBL/Harma said, it is not under warranty so they can' help. Said to take to a service center and pay for repairs! Horrible support, They don't' stand behind their products. They said "sorry but"....Never buy this form them. There are better products and companies that will stand behind their products, even after 1 Year.
Date published: 2021-12-23
Rated

5

out of

5
by
nsl75
from
JBL Pulse 4- Love,love ,love this speaker !
Came beautifully packaged in a sleek box,this speaker looks every inch quality, is well built and exudes a sleek stylish look. The design of the speaker is fantastic with the 360 glass surround and simple function buttons which are easy to access. The sound that comes from the speaker is top class - the beat really packs a punch without a hint of tininess at any volume. Great to use all around the house,in the garden, garage etc etc. The lightshow that comes from the speaker is fantastic and the lights really do dance along to the music.The lights have several different sequences that can be easily selected via the actual speaker or through the app. Bluetooth connectivity is simple to connect and battery life seems neverending with plenty of warning when needing to charge up the speaker. It was taken in the shower and out on a trampoline in the rain with no adverse effects whatsoever on the sound or performance- this speaker really is a quality piece of technology. I would highly recommend this speaker for so many reasons, the sound, the amazing light effects, the sleek look and the fact that it can be used as a soothing light alone-Great for kids rooms also. This is my first JBL product and I am highly impressed enough to purchase another speaker as a gift for family.
Date published: 2019-11-14
Rated

5

out of

5
by
donfoolio
from
A Musical Experience Great for All Settings
This product is a blast. Fun from the first open, the music quality is great, the light show is immersive and its easy to connect to your phone with their app. I was personally blown away by the mini subwoofer at the bottom of the setup, and impressed that the entire setup is waterproof for no worry fun by the pool or anywhere in the house. A great way to treat yourself or to give an exciting gift for a teenager looking to light up their room or anywhere else on the go. one last thing - the build quality is solid. It feels sturdy and sounds it too!
Date published: 2020-03-16
Rated

1

out of

5
by
em610
from
Stopped Working for no reason
I have had this item for 2 weeks and I am shocked that it has just stopped working. I can't see any lights even on charge. I have done no damage to the speaker it just switched off. I am even more disappointed that upon contacting jbl they do not offer a replacement speaker only a refund. And because I bought the speaker on sale if I was to replace it it would cost me more money than the refund. Disgusting customer service and terrible product.
Date published: 2020-12-18
Rated

5

out of

5
by
Matty Boy
from
You need this!
I initially purchased the third version but I bought this recently after wanting it for so long, when I got it I immediately fell in love. It feels heavy and of good JBL quality which you come to expect. It's a unique speaker with a light show which is simply beautiful. The sound quality is good, nice and clear with a thumping bass even at lower volumes. It is pricey but it's worth every penny, It's like an art sculpture on and off.
Date published: 2020-06-25
Rated

5

out of

5
by
Ddizzle4shizzle
from
Love it
Love the speakers. The sound is good for indoors. Light show is cool. Battery life is great. Bought two and did party mode and they are pretty loud. Charging time on speakers is fast. Pretty durable.
Date published: 2020-07-17
Rated

5

out of

5
by
Anonymous
from
Great features
I bought The JBL Pulse4 it's one week ago and honestly I really love it. The bass is incredible, the glass design is Mind blowing , longest battery, the LED light is so fancy and it's waterproof too.
Date published: 2020-05-21
Rated

2

out of

5
by
Joey9
from
Lackluster sound
Compared to the rest of the jbl catalog of products the jbl pulse 4 wasn't as good sounding as the rest of the jbl products it looks nice atop a bookcase paired with a second pulse 4 it's great
Date published: 2020-05-27
Rated

1

out of

5
by
paul617
from
cannot hold a charge
Very frustrated with the Pulse 4. I bought because of the sound and the cool colors but It cannot hold a charge. Charged it for 8 hours and then played music for 1 hour woke up the next morning and had to be recharged and it gives no warning that it needs to be charged
Date published: 2020-08-13
Rated

5

out of

5
by
Higgy
from
Bought it a week ago and think that it is the best led speaker out there. I originally had the pulse 3 and I love the changes that were made
Date published: 2019-10-14
Rated

5

out of

5
by
Aaronk565
from
Outstanding!
I got this probably a week ago now and it's a amazing just like I knew it would be. I have had every pulse leading up until this one and I wasn't sure if I was going to get this because I want the party box but I seen it in Walmart the other day and couldn't resist. I have to say if you look at the pulse 1 to this you will be amazed. I loved the pulse 1 and then the 2 came out and I was blown away and didn't think the pulse series could get any better. Man was my belief wrong when I got my hands on the pulse 3 it was revolutionary I've never seen a speaker like it and that's why I knew I had to get the pulse 4. The pulse 4 offer incredible sound, and it has a long battery life which I enjoy because I'm constantly forgetting to charge my speakers, good thing I have several JBL speakers lol. I've only had the pulse 4 for about a week like I said but it's already my favorite, the colors and lights on this device really are a game changer. Put this in the middle of a dim party and it's really a dance show now. It pound enough for your house parties and chill enough to play while making dinner at night. Can't wait to use this at pool parties this summer!
Date published: 2020-01-29
Rated

3

out of

5
by
TMK1982
from
Expected More
The speaker looks cool but doesn't deliver the volume or base I expected for the price or from a name brand audio company.
Date published: 2020-07-16
Rated

5

out of

5
by
MHSAvv
from
Great features, extremely high sound quality.
Just purchased this speaker, and I couldn't be happier. The light features are work well, and I do appreciate the paired app in which you can change the colors simply by choosing your color. I do wish I could choose my color combinations (for multi-color effects), but I am happy with choosing my own directions of the lights. The volume goes very loud, if you need it to, but otherwise I wish I had a second!
Date published: 2020-05-27
bvseo_sdk, dw_cartridge, 18.2.0, p_sdk_3.2.0
CLOUD, getReviews, 8ms
reviews, product
Product Q&A
Hi on the pulse 4 white, will the white rubber part at the top and bottom of the speaker yellowen over time/ get dirty and not be able to clean properly?
Thank you for your question. The plastic should not change its appearance as long as it is stored in proper conditions, however, it may discolor due to the external factors, like direct sunlight, humidity, chemicals, etc. Should you wish to receive further support, you may contact the Harman Customer Support team by telephone, email or chat in order to receive direct assistance. Please see https://uk.harmanaudio.com/support-contact.html#ns for further details. Thank you.
Date published: 2021-06-06
The light show settings really aren't that great here (for example, spiritual is definitely a downgrade of strobe, even rave in Pulse 3). Will you be adding those back to this version please? Strobe was awesome. Spiritual is meh. And bring back rainbow.
We appreciate the feedback you've provided to us. We understand that our Pulse 4 light show didn't meet your expectations. We're always looking for ways to improve so we'll make sure to pass this along to the right department.
Date published: 2021-06-16
Will the JBL Pulse 4 pair with the Pulse 3?
No, it won't
Date published: 2021-06-06
1 how much does it cost?  2  where can I buy it?
JBL Pulse 4 currently retails for $249.95. For pricing and availability in your location, check out our list of countries here: https://www.jbl.com/countryselector
Date published: 2021-06-06
Can I connect Pulse 4 with my Pulse 3 through connect plus?
Our JBL Pulse 4 uses the JBL Connect + while our JBL Pulse 3 only has the JBL Connect, these two features are not able to connect with each other due to hardware improvements made on the Connect + feature. If you need more help, please contact us here. https://bit.ly/2zwFkYM
Date published: 2021-06-06
Can I leave the speaker plugged in most of the time and use it? Or will that degrade the battery life? 
Thank you for your question. Yes, after a while every battery does degrade a little bit. I would recommend not to keep it plugged in all the time. Kind regards
Date published: 2021-06-16
Does the Pulse4 have google cast/chromecast built in?
Thanks for reaching out. Our JBL Pulse 4 doesn't have Google Assistant/Chromecast built-in.
Date published: 2021-12-23
My pulse 4 won't charge or turn on. There is no indication of it working. I've had it for 7 months. What is my solution?
Thank you for your question. I am sorry to hear that your Pulse 4 is not turning on. Would you be so kind as to contact our Customer Support Team for further assistance on https://support.harmanaudio.com/gb/en/customer-service/contact.html Should you wish to receive further support, you may contact the Harman Customer Support team by telephone, email or chat in order to receive direct assistance. Please see https://uk.harmanaudio.com/support-contact.html#ns for further details. Thank you.
Date published: 2021-07-22
Is this item available in the state of Illinois,and which stores have this item available?
While we don't have a per-state authorized dealer list, you can check out the authorized dealer list here. https://www.jbl.com/authorized-dealers.html
Date published: 2021-06-06
How do you troubleshoot the pulse 4?
We'd like to know more about what's happening with your JBL Pulse 4. Please reach out to our Customer Support, and our representatives will contact you within 24-48 hours. https://www.jbl.com/support-contact.html
Date published: 2021-06-06
Which is better the pulse 3 or the pulse 4 
Our JBL Pulse 4 is an improved version of our JBL Pulse 3, but with a different connectivity feature which is called JBL Partyboost.
Date published: 2021-06-06
Can I connect it to a party box 100 
No. You can connect it with other JBL Speakers with a PartyBoost feature. These are Flip 5, Xtreme 3, and a Boombox 2.
Date published: 2021-06-06
Is this speaker available in kenya? And if not when will it be?
We don't have news to share about when our JBL Pulse 4 will be available in Kenya. You can sign up for our JBL newsletter or follow us for news and updates.
Date published: 2021-06-06
I have an old Pulse 2 that I use all the time..will the Pulse 4 connect to it so I can hear on both speakers?
Our JBL Pulse 2 has our Connect while our Pulse 4 has our PartyBoost feature. Due to technology limitations, PartyBoost isn't compatible with our Connect enabled speakers. As Bluetooth technology improves so do our portable products. Pulse 2 is compatible with our Flip 3, Charge 3, and Xtreme.
Date published: 2021-06-06
Hello There, I would like to request you whether you will ship it to Maldives? If so, kindly let me know. Best Regards, M. Yoonus Maldives
Thanks for your question. If ordering from our USA website, we can ship it only to US territories. If you wish to get a product to the Maldives, please contact your local distributor Harman Middle East using the link below. https://bit.ly/2ltUdqU
Date published: 2021-06-06
So the I have owned the first Gen and the third gen. Right now am about 50/50 on the new one. The technology in this new one and if I understand correctly. This one is not compatible with Bluetooth phone calls?? 
Our JBL Pulse 4 wasn't designed to take phone calls when connected to your Smart Phone. Instead, it features a more sleek light show design as well as improved Bluetooth connectivity and speaker to speaker connections. If you have other questions, you can reach out to us by visiting our Customer Support page: https://bit.ly/2K52L2x
Date published: 2021-06-06
How far away will the partyboost reach between two speakers?
JBL PartyBoost utilizes Bluetooth connectivity. The connection between the two speakers may reach up to 15-30 meters. Please note that this may vary depending on factors like obstruction or blockage.
Date published: 2021-06-06
I find that my Bluetooth speakers that last the longest allow me to use the speaker with no batteries installed and the cord plugging it into the outlet. Can this speaker be used that way? Also can you turn off the lights so as not to attract insects?
Yes, you can use our JBL Pulse 4 while charging since it has lithium-ion batteries. It also has a PCM (Protection Circuit Module) and charge management IC built-in, which manages the charging. If the unit is fully charged, it will automatically convert to trickle charging. Although to save energy, it still recommended to unplug or turn it off when not in use. The light can be turned off/on, there's a button on the back of the speaker that allows you to do it. More information is available in our Quick Start Guide here: http://bit.ly/2QYFYXl
Date published: 2021-06-06
I bought  JBL pulse 4 recently and as I received it I saw charging indicator was not working.I would like to know if it works only when charging or it works all the time when the speaker is on.has it a button to switch it on?in app I see that it's charged
Our JBL Pulse 4 has a battery LED indicator that shows the charging progress of the battery while on charge. Once it's full, it will turn off. This battery indicator will not always be on unless you press a button on the speaker. We highly suggest charging the speaker immediately once it shows a red light, which means low battery.
Date published: 2022-12-04
Just wanted to know if the pulse 4 is glass or plastic and are they discontinuing the pulse 3 
Our JBL Pulse 4's top part is made from composite materials as the JBL Pulse 3. The Pulse 3 will still be for sale until supplies last.
Date published: 2021-10-01
Can the lights on Jbl pulse 4 change color without the app
You may change the light modes of our JBL Pulse 4 by pressing the light button which is located next to the Partyboost button. You may Apply Lightshow presets and more with the JBL Portable App.
Date published: 2022-10-31
Using the app I selected a color but the lights still cycle through several - they aren't even shades of the same color. It keeps going back to multicolored after less than a min. Is this an app issue? 
We would like to get more information to help you out, please fill out the self help service link so we can assist you:https://bit.ly/3hH8oBR
Date published: 2021-06-06
How do I know the speaker is charging ?? Does the light turn on ?? 
Our JBL Pulse 4 has a battery indicator where the charging port is located. Once the battery indicator is fully lit, the speaker is now fully charged.
Date published: 2021-06-16
Will it pair with the xtreme2?
Our JBL Pulse 4 has PartyBoost while our Xtreme 2 has Connect Plus. Due to technology limitations, these features aren't compatible with each other. Pulse 4 can only connect with other speakers that have PartyBoost features like Boombox 2 and Flip 5.
Date published: 2021-06-06
would the light show light up a backyard with a pool? 
The light show from the JBL Pulse 4 will not be enough to light up a backyard.
Date published: 2021-06-06
Is there an AUX port in this product? I saw one in pulse3..
The aux input was removed because the majority of people preferred wireless connection. So we shifted our focus to improve interspeaker connectivity feature and sound quality instead. For more info, check this out: https://bit.ly/2lui9L0
Date published: 2021-06-06
Using the app I set the light direction on one motion but the lights still cycle through several. I dragged one direction into the customize field. Is this an app issue?
We'd like to work with you directly so we could try some troubleshooting with your JBL Pulse 4. Please reach out to our Customer Support at https://bit.ly/2Jc8wJp
Date published: 2021-06-06
how long is the guarantee for this product?
Thank you for your question. There is a 2 year warranty period on all our products. Should you wish to receive further support, you may contact the Harman Customer Support team by telephone, email or chat in order to receive direct assistance. Please see https://uk.harmanaudio.com/support-contact.html for further details. Thank you.
Date published: 2021-06-06
Does it have AirPlay 2 compatibility???
We don't have news to share about when Airplay 2 compatibility will be available for our JBL Pulse 4. You could sign up for the JBL Newsletter or continue following us for news and updates.
Date published: 2021-06-06
Is this speaker water proof
Our JBL Pulse 4 is rated as IPX7 waterproof. What this means is that our JBL Pulse 4 can be submerged up to a depth of 1 meter for 30 minutes without any damage.
Date published: 2021-06-06
bvseo_sdk, dw_cartridge, 18.2.0, p_sdk_3.2.0
CLOUD, getContent, 125ms
questions, product
Support
Register your JBL product
Do you own this product? Register it here in case you need to claim warranty
Register Now
Can't find what you're looking for?
Are you looking for product support, documentation, how-tos or older products?
JBL Support