Highlights
Rechargeable Battery
Features a rechargeable battery for convenient portability and extended playback time.
Bluetooth Connectivity
Allows you to wirelessly stream music through any Bluetooth enabled device.
Aux Connection
Auxiliary-input (aux in) connector allows you to plug into practically any audio device.
Built-in Microphone
The built-in microphone allows you to answer calls without skipping a beat.
The award-winning Flip 2 wireless portable speaker from JBL brings rich sound into your portable lifestyle for all your wireless phones and tablets. Engineered with JBL aptitude and attitude, the Flip 2 uses two drivers and a built-in bass port for powerful bass that adds dynamic depth to your listening experience along with crisp vocals all in a speaker that fits in your hand. And because sometimes your phone is for more than music, the Flip 2 has a built in microphones and SoundClear® echo and noise cancellation technologies so you can use Flip 2 as a hands free speakerphone and never miss a word. JBL Flip 2 the wireless, portable, rechargeable battery powered speaker that is an all-terrain party you can carry in the palm of your hand.
What's in the box?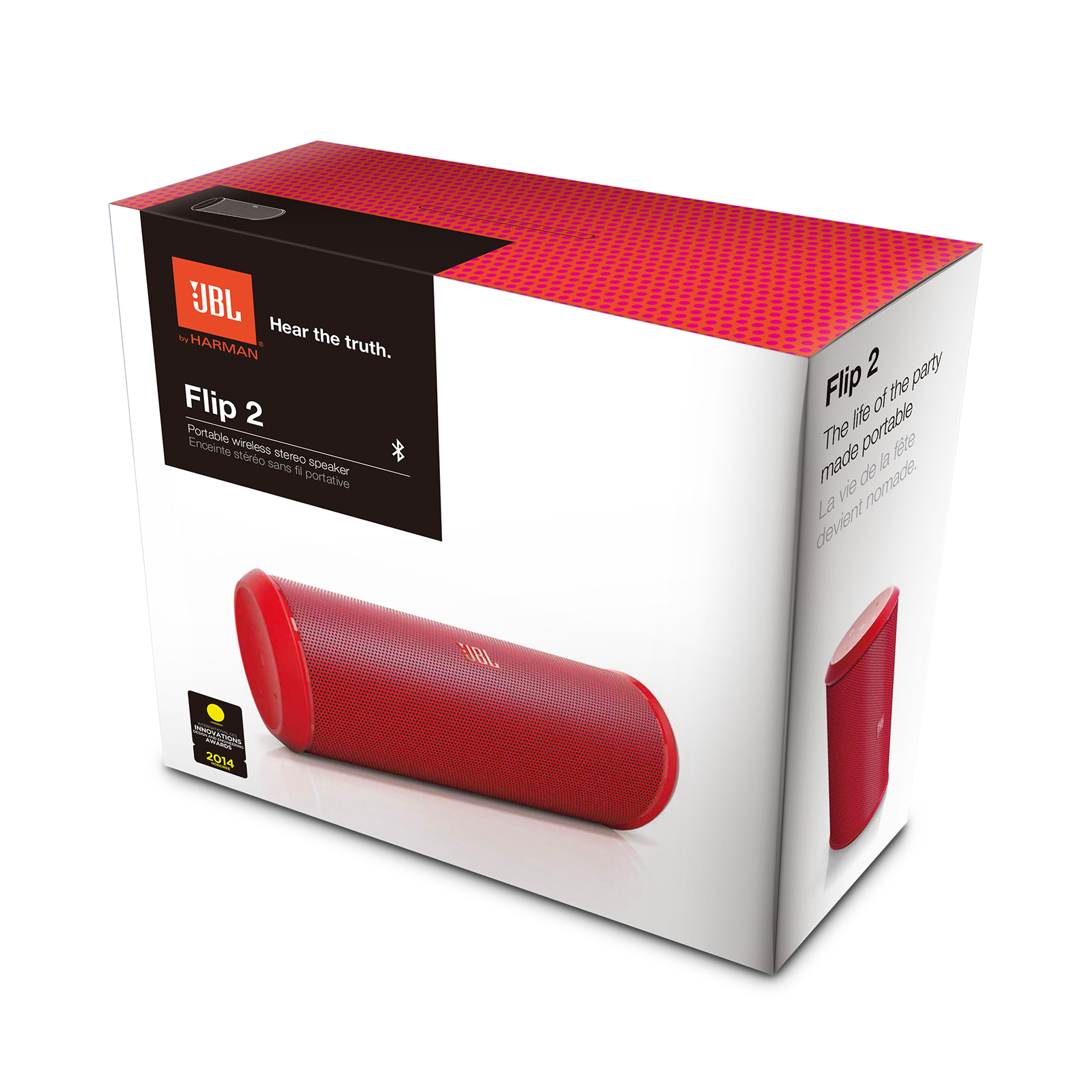 1 JBL Flip 2 portable stereo speaker
1 x USB adapter
1 x USB cable
1 x carrying case
Quick-start guide
Safety sheet
Sharing
JBL Flip 2
is rated out of
5
by
325
.
Rated

5

out of

5
by
Comepan0713
from
Charging problem
My flip 2 its no charging or battery isn't good, can someone help me Please
Date published: 2016-08-11
Rated

5

out of

5
by
Eric1972
from
Excellent speaker for the money!
I purchased this about 6 months ago and use it in my garage all the time. This small speaker produces really good sound and is not as expansive as some of the other brands. Great buy for sure.
Date published: 2016-07-01
Rated

5

out of

5
by
kimshoo
from
LOVE IT!!
I absolutely love it. It sounds good, has loud speaker volume and is easy to move around.
Date published: 2016-06-26
Rated

5

out of

5
by
Jarrod2012
from
Great Quality. Best BT Speaker EVER!!!
I couldn't be happier. It sounds amazing! :) But, I've only had it since the 10th, and the battery only lasts a hour and a half, and that's not cranking it. At first, it was about 4hrs+. Now I'm sad. :/
Date published: 2016-06-20
Rated

5

out of

5
by
TBurrrnnn
from
Great Service!
I had the original JBL Flip, but they don't offer it anymore. It worked fabulously with great sound for a long time before starting to hisssssss when it was supposed to be quiet. They walked me through troubleshooting and determined it required replacement. They didn't have any original Flips left, but they're sending me a Flip 2! I'll review that after I use it a while, but I'm very impressed with the speed and courtesy with which they handled my problem.
Date published: 2016-05-24
Rated

5

out of

5
by
Hammy55
from
Great sound!
Nice weight and easy to travel with. Shocked at how loud the speaker can get.
Date published: 2016-03-29
Rated

5

out of

5
by
Chevy
from
Thomas H
I bout one very pleased been researching bluethooth speakers for a year now seen varies versions that friends have had been looking for so long cuz i like my treble but i love good bass also then i saw this one in walmart and i knew jbl was a good product and tryed the display they had out witch gives this speaker no justice so i bout it on a gamble and i couldnt be happier with it it spunds amazing great bass and treble has a 5 hour battery power i no that jbl has a charge 2 witch has more bass and treb then this one but i didnt like the idea of spending so much money so for thw price i am happy with my speaker meets all my expectations would recommend to anyone to buy one
Date published: 2016-03-22
Rated

5

out of

5
by
ShuGalinMLB
from
Amazing sound for compact size
I checked various brands and decided on the Flip2 based on experience with my home stereo JBL Control 1G speakers. The Flip2 provides excellent sound quality across almost all registers. It's powerful enough to replace my home stereo. Great deal and very happy with my purchase!
Date published: 2016-03-05
Will this product be damaged if I leave it plugged in an and charging all the time?
The battery would stop charging once fully charged so you don't need to worry about overcharging the speakers.
Date published: 2016-09-27
Is there a way to disable the ringer while playing music? Even when I turn of the ringer on my phone Flip picks it up. I'm sure I'm missing an easy step on my part.
When you set the speaker as your phone's media speaker, there is also an option there to allow the speaker as your phone's main speaker(i.e speaker phone for the device). You can de-select the option for the speaker which is set as Phone Audio and just leave the setting Media Audio selected. That way, when you receive a call, it won't be routed to the speaker.
Date published: 2016-09-19
My flip 2 connects perfectly but when I try to play any audio no sound comes from the speaker till after about 5-15 mins.
What you are experiencing is not normal. Please try to pair it with a different Bluetooth source in attempt to find out exactly what's causing the issue. If the problem persists, reset the FLIP 2. To reset, in power ON mode press and hold the "Volume +" and "Phone" buttons at the same time for more than 3 seconds until it shuts off. If this doesn't help, please submit a case at http://www.jbl.com/contactus and the Customer Service team will be more than happy to further assist you.
Date published: 2016-09-28
I can't power on my flip 2, and it's fully charged. Pls help me. Thank u in advance.
The speaker is not working as it should there could be some issues on the FLIP 2's batteries. If the speaker is not over a year old. Please submit a case at www.jbl.com/contactus and the Customer Service team will be more than happy to further assist you.
Date published: 2016-09-13
The flip2 won't stay turned on even when plugged into the charger. The battery appears to be fully charged (all the white lights are on), but when pressing the on button, it "blips" then turns off.
I can see that you have already assisted by our Customer Service team. I'm glad that it has been taken care of.
Date published: 2016-09-13
Can i record audios in jbl flip 2 using the default sound recorder in smartphone?
If the audio to be recorded is a phone call. Yes, However this would depend on the app that you would be using, If it would be able to receive the audio signals coming from the FLIP2's speakers.
Date published: 2016-09-07
Can the Flip 2 be used as a USB powered speaker and microphone for viop calls and internet conferencing. Tried connecting it to the laptop using Bluetooth but didn't work. Can this be done? Can it be used to make internet calls using usb or Bluetooth?
The FLIP 2 can be used for VOIP calls using Bluetooth, you would just need to make sure that the VOIP software detects the speaker as a microphone capable speaker. Some computers/laptops also need to have their Bluetooth hardware updated to support Audio Streaming via Bluetooth. If the computer does not support or is compatible with A2DP protocols for wireless audio streaming. However, you can use the speaker for VOIP calls via a hardwired connection. You would need a 3.5mm AUX cable that has 3 bands/lines on the jack indicating microphone support.
Date published: 2016-08-13
How long we should charge JBL Flip 2 before first usage .
Initial charging would really depend on the factory charge that the speaker received before packaging. Most of our units have initial charges before packaging and should be charged at lease 2.5 - 3 hours or until the battery indicator states that it is fully charged.
Date published: 2016-08-13
Store Locator
No Online Dealer's available for this product
Find a Store Near You
The Store Locator is designed to help you find the closest store near you.
Click a store in the list or on the map to view details.