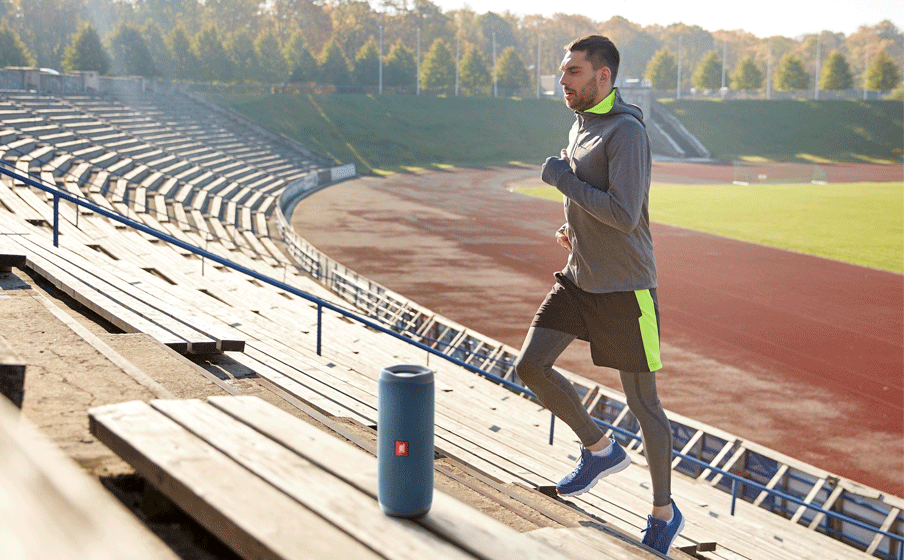 Sounds better than ever
Feel your music. Flip 5's all new racetrack-shaped driver delivers high output. Enjoy booming bass in a compact package.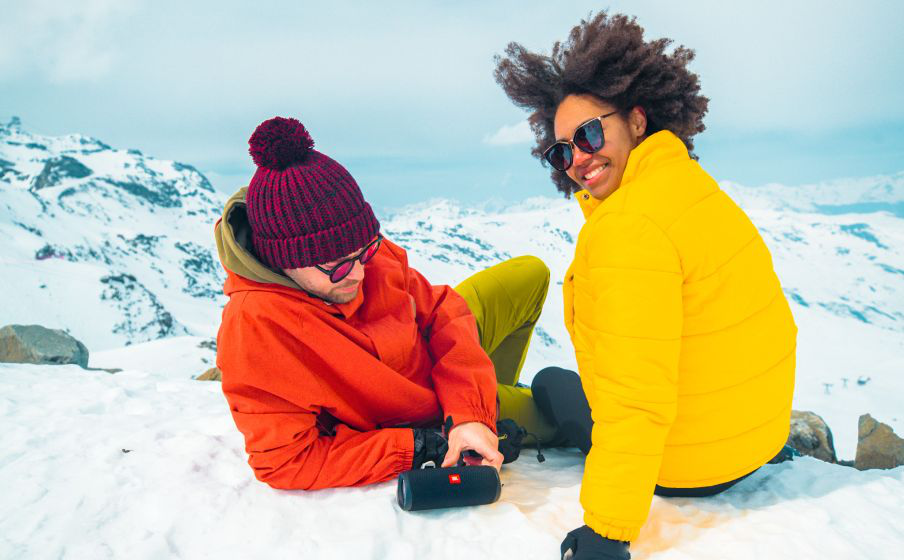 Up to 12 Hours of Playtime
Don't sweat the small stuff like charging your battery. Flip 5 gives you up to 12 hours of playtime. Keep the music going longer and louder with JBL's signature sound.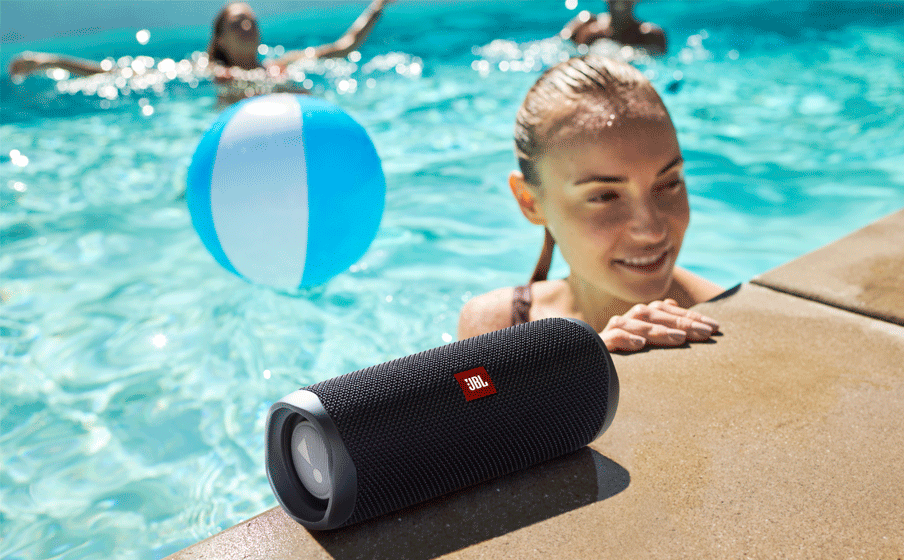 Make a splash with IPX7 waterproof design
Bring your speakers anywhere. Pool party? Perfect. Sudden cloudburst? Covered. Bash on the beach? Flip 5 is IPX7 waterproof up to three-feet deep for fearless outdoor entertainment.
Features

Crank up the fun with PartyBoost
PartyBoost allows you to pair two JBL PartyBoost-compatible speakers together for stereo sound or link multiple JBL PartyBoost-compatible speakers to pump up your party.

A rainbow of colors
With 11 distinct color options, the Flip 5 is anything but boring. Broaden your spectrum with JBL's signature sound.
Tough as it sounds
Slip this little gem onto your wrist and get grooving. Its durable fabric material and rugged rubber housing keep the Flip 5 safe while you let loose in the great outdoors.
Specs & Downloads
Item# JBLFLIP5BLKAM
Description
Bold sound for every adventure

Take your tunes on the go with the powerful JBL Flip 5. Our lightweight Bluetooth speaker goes anywhere. Bad weather? Not to worry. With its waterproof design, you can rock out to our signature sound rain or shine. Move more. Pair two JBL PartyBoost-compatible speakers together for stereo sound or link multiple JBL PartyBoost-compatible speakers to create a bigger party. Enjoy up to 12 hours of play time for your favorite music. Stand it vertical or horizontal and be bold with your choice of 11 vibrant colors.
General Specifications
Audio Specifications
Dynamic frequency response range (Hz)

65 Hz - 20k Hz
Dimensions
Dimensions (in)

7.12 x 2.91 x 2.71

Dimensions (cm)

18 x 7.4 x 6.9

Weight (kgs)

0.54

Weight (lbs)

1.2
Control and Connection Specifications
Bluetooth profiles

A2DP V1.3, AVRCP V1.6

Bluetooth frequency

2.402 – 2.480GHz

Bluetooth transmitted modulation

GFSK, π/4 DQPSK, 8DPSK

Bluetooth transmitter power

0-11dBm

Bluetooth version

4.2
Battery
Charging time (hrs)

2.5

Maximum music playing time (hrs)

12
Features
JBL PartyBoost

Yes

Charging cable

Yes

Waterproof

Yes

Wireless

Yes

Rechargable battery

Yes

Bluetooth

Yes
What's in The Box?
1 x JBL Flip 5
1 x Type C USB cable
1 x Quick-Start Guide
1 x Safety Sheet
1 x Warranty Card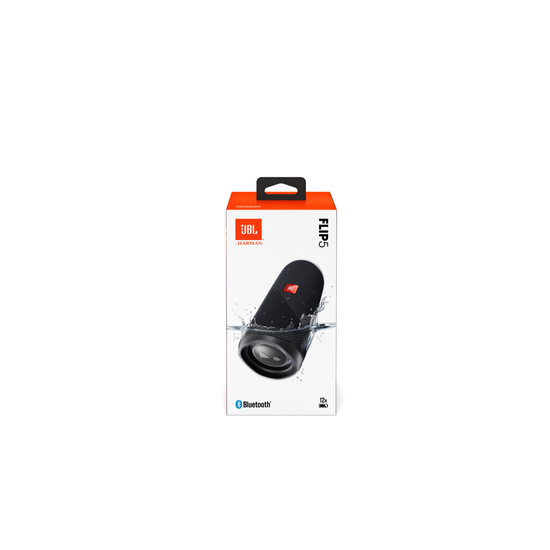 Documents & Downloads
Customer Reviews
Rated

3

out of

5
by
Bbs9
from
Great Speaker but Cmon JBL
I waited and waited.....and waited for this speaker because I lost my Flip 4 and thought the Flip 5 would be around much earlier than late July. So it finally comes and it has Partyboost that is not backward compatible with Connect+. Now I'm finding out the two features and how they connect use different hardware to do so and therefore a firmware update is most likely not possible so that partyboost and connect+ will become compatible. Dont get me wrong this is a darn good speaker and the best in its category but... NOW I am gonna get another Flip 4 to pair with my Charge 4 so I can party Connect+ style instead of Partyboost style. And no Bluetooth 5.0?!? Coming from a big fan - shame on you JBL
Date published: 2019-07-21
Rated

2

out of

5
by
Lamar
from
Why Party Boost
If you already made customers buy into the connect plus why make the party boost, it already connects to multiple so why make party boost, you guys are loosing people with your decisions..I was looking into the flip 5 and you took away connect plus with a money scheme which is ....party boost, no aux, mono speaker,4.2 Bluetooth while phones have 5.0 like my S10+.. Don't make your old models look like a better version even with your latest release.. Please DO NOT DO THIS TO THE XTREME 3 PLEASE KEEP STEREO NO PARTY BOOST...or release a update to pair with plus and keep the AUX
Date published: 2019-07-19
Rated

5

out of

5
by
Jaco
from
Great sound
I bought myself 2 jbl flip 5's and they really sound amazing. I used them indoors and even outside when having a braai and they surprised me every time, as a single speaker and even in partyboost. Therefor my 5 star rating. However I must say. Playing at 70 to 80% volume constantly made the battery last only 5 hours which is not to good for me. And even when playing 30 to 50% volume it wouldnt even last 12hrs as advertised.(your site shows more than 12hrs). And when playing in partyboost the speaker connected to your phone runs flat quicker than the other that's only connected to the main speaker. I love this speaker and will recommend it to anyone.
Date published: 2020-01-02
Rated

4

out of

5
by
I love music
from
Nice sound
Great sound from a little speaker ,to be so small this speaker does a good job at creating a decent sound stage ,it sounds even better if u connect 2 of them together and put them in different part of the room , the sound is amazing ,it's ipx7 waterproof the battery life is decent ,I played it at a little over half volume for about 6 hours and it still has over half battery life left .This is a great compact speaker to carry in a back pact or use the strap and carry in your hand or even a jacket pocket
Date published: 2019-08-22
Rated

5

out of

5
by
LABAMBA
from
Great Speaker
This is my second JBL speaker I bought the flip 4 on Amazon and it broke but I am pretty sure I got ripped off the product wasn't fake or anything it was just used and wasn't new but the flip 4 I was already surprised by its sound and how good it was when i saw the flip 5 come out I had to buy it and I am glad I did the sounds is very crisp considerably better bass than the flip 4. I did not have the chance to test the battery life on either one but the flip 4 battery life was already pretty good so the flip 5 must be better right. Also usb-c charging is faster than ever thank you JBL. Best portable speaker for 2019!!
Date published: 2019-07-24
Rated

5

out of

5
by
Anonymous
from
Great product
I bought this speaker about two years ago, this past just we had it on our roof top watching fireworks and listening to music. I accidentally left it on the rooftop from July and found the speaker in November. In those month it had rained, hailed, high winds. In my mind I thought that I would have to buy a new jbl flip speaker, I rapped in a blanket for about two days. Remarkably, when I turned on the speaker it turned on, it is still in great shape…thank you JBL for making a great product!
Date published: 2022-11-11
Rated

5

out of

5
by
JeonES
from
It is a commendable product!
JBL Bluetooth Speaker Box I opened it. Packed in a rigid box This can prevent damage to the product. Sponge inside the box The product is wrapped well. Prevent product damage on the go. The components are simple. Speaker body, manual, charging cab le The buttons are intuitively laid out It is convenient to use. Most of all, the FLIP5 has a clear charge indicator, and the part connecting the charger is external. There is a waterproof function Regardless of location or weather I can listen to music. JBL Bluetooth speaker for excellent grip Amazingly powerful sound JBL FLIP Bluetooth speakers let you listen to music in clear sound no matter where you are. Very satisfied "FLIP5" Bluetooth speaker!!
Date published: 2019-09-13
Rated

5

out of

5
by
Cutter
from
Wow! Just wow!
I was never impressed by many of the portable blue tooth speakers I've had the opportunity to utilize. After being gifted the JBL Flip 5 my opinion has changed forever. The clarity of this little speaker makes me wonder how they got all my favorite recording artists together inside one powerful sound machine. The deep bass is bone tingling. Not to mention the mid range and highs which make the tonal quality of this speaker unsurpassed. I would definitely recommend this product to anyone with a discerning ear and an empty pocket to carry it in. And the cost is utterly amazing.
Date published: 2020-02-22
Rated

1

out of

5
by
Lindsay C
from
Don't buy the inter-connectivity hype...
I have a Charge 4 that sounds great and works well--I wasted an entire day today going back and forth to stores, buying and returning other JBL speaker models including this one because they're so unclear about how their devices interconnect. Apparently the Flip 4 would have connected with my Charge 4, but the 5 no longer can. What I've learned the very hard way today is that the Charge 4 connects via "Connect+", the Flip 5 connects via "Party Boost", and the Link 10 only connects via Chromecast--but supposedly the Flip 4 would also use Connect+. At this point however, I'm so fed up I don't plan on buying it to test it. Long story short--unless you're going to connect more than one of the same EXACT speaker, don't hold your breath.
Date published: 2019-07-28
Rated

5

out of

5
by
Mayfield716
from
Great speaker
The JBL Flips has always been a wonderful budget speaker if you don't wanna spend the big bucks on other speakers. The only down fall to the Flips, they do not float. They sink very fast if not tied to something. So if you plan on kayaking or any sort like that. Tie it up, I assumed they floated cause of them being completely waterproof. Well I lost that $100 speaker on a kayaking trip. JBL, it would absolutely be a killer if you could possibly make the JBL float on it's on. Other than that, the Flip is a wonderful speaker.
Date published: 2019-07-07
Rated

5

out of

5
by
Rajiv36
from
Boom Boom Baby
Excellent sound quality from a very small speaker, got it today , Superbbbb... Only negative side is no AUX IN but this is 2019 ...no more wires.... Fantastic speakers..must have...if you are planning to buy one , please dont think twice.
Date published: 2019-07-01
Rated

2

out of

5
by
Twomuchsake
from
Returned!
I love JBL products but this is the second time I've returned a Bluetooth speaker! I purchased a Flip 5 since I usually like to stay up with the current generation and sell off my last gen product. Well this time around I'm not upgrading! Why you ask? Because as an owner of the JBL Flip 4, Charge 3 and Pulse 3 I was extremely disappointed to find that YET AGAIN JBL has changed their pairing software. So now I have hundreds of dollars worth of BT speakers that I can't pair together and play in sync. I learned my lesson the second time around. First disappointment was the Charge 4. It has Better base for for sure, but it's sound was "compressed" compared to my Charge 3. So I returned the Charge 4 and purchased another Charge 3. Now the Flip 5 has a similar "compressed" audio profile but with better base. Either way like the Charge 4 the Flip 5 doesn't sound as good as its previous model. Then add the blunder that is party boost and we have a total failure in my opinion. Oh and they also took away the speakerphone function. Why oh why are you stripping features and parts from your new products JBL? not cool!
Date published: 2019-09-08
Rated

1

out of

5
by
Gene D
from
Doesn't work with JBL Connect+
My wife purchased this speaker on Amazon. At first we were pleased with its performance on our lake trip, however, the change in the multi-speaker connection technology ruined outdoor family movie night. We were unable to connect our speaker to our family member's JBL xtreme 2. Half the family left early because they were unable to hear. Our family and friends are heavily invested in JBL speakers. I cannot think of a more conumer unfriendly decision. Save yourself some money and go with the Flip 4 or better yet go with a different company that doesn't support backwards compatibility.
Date published: 2020-09-13
Rated

5

out of

5
by
Jlindsey93
from
Powerful Bass-Heavy Sound
I purchased this within the last couple of weeks. So far so good. It is much louder than my Bose Soundlink Color 2s that I have. The sound goes out in all directions, which is a nice feature that in my opinion should be standard for all portable Bluetooth speakers. It handles my heavy (and I mean heavy) metal music with ease. And yet it'll also play the clearest melodies with crisp, clear sound. I love the camouflage color that I got; something about the pattern just spoke to me. I haven't given the battery the full test (aka, letting it drain all the way down), but it seems to hold a charge plenty long, at least for my listening needs. Of course the waterproof and dustproof factors are an added bonus. I am quite happy with this speaker. I just hope nothing breaks down on me!!!
Date published: 2021-09-15
Rated

1

out of

5
by
MusicGuy
from
No aux jack
The 1/8" aux jack is key to having the speaker work with lots of other devices new and old, especially when bluetooth is not working right. Dropping the aux jack in Flip 5 was a huge mistake.
Date published: 2020-06-04
Rated

5

out of

5
by
jejjowens
from
Great sound and perfect size
I previously purchased a JBL Charge 4, which is an awesome speaker as well, but wanted something a little smaller. Was going to buy the Flip 4, but waited for the Flip 5 due to it having USB C charging. We use this speaker all the time while cooking in the kitchen or grilling outside and it's perfect for traveling. You may be asking why not use the Charge 4 for these situations, but the Charge 4 is much louder at lower volumes and don't want to be that one disruptive neighbor that cranks their music too loud. The smaller size of the Flip 5 (compared to the Charge 4) also takes up less room in a backpack, which can be extremely helpful when packing for a trip. If hanging out with friends or somewhere that we can crank the volume or aren't concerned about space, it's definitely the Charge 4 over the Flip 5. The Flip 5 has great sound, looks good and has great battery life...plus has USB C charging. We have no complaints and would recommend to everyone. We were looking at other brands (spent a lot of time playing the demos set-up at various stores), but think JBL had the best mix of sound and features especially for the price.
Date published: 2019-11-06
Rated

5

out of

5
by
Anonymous
from
Amazing Sound and Customization is Crazy Cool
I had a friend bring one of these on a trip, an earlier version of the Flip. When it was cranked up it filled a really large room, I looked for the sound system...ha. I got one customized and it turned out really nice, great job JBL.
Date published: 2019-11-11
Rated

5

out of

5
by
Kath2319
from
This thing is dog proof
The sound on this speaker is great, but I'm most impressed with its durability. My dogs got at this thing while I was gone one day and destroyed it (or so I thought). It still works perfectly!
Date published: 2020-12-10
Rated

5

out of

5
by
ben444
from
Great Speaker - Slight improvements From Flip 4
I had the JBL Flip 4 which was very solid, and then sold it for the Flip 5. This speaker has slightly more bass and a little bit more of a low/mid range than the Flip 4. I compared the two side by side and you could tell the sound was a bit more distinct, the Flip 4 sounding more tin can like. Not a huge difference. I do miss the triple click on the play button to replay the song or skip to previous track. This seems to only have the skip feature with the double press.
Date published: 2019-07-29
Rated

1

out of

5
by
gwilkes
from
Battery life sucks for what I use it for
I do dishes & yes the speaker is great & the sound quality & volume is decent. But I'm giving it a one star Bc it's definitely not reliable like what's the point of having speaker of it can't even last shift. I can't sign into my account to send it back which sucks. I'm pretty disappointed & upset. I tried resetting my password & everything & it says it doesn't recognize it. Well how are you guys able to send me emails, but you don't recognize my email for me to even reset a password. That's confusing & annoying.
Date published: 2020-06-21
Rated

4

out of

5
by
RGALLOWAY
from
This speaker sounds amazing!
I love the personalized aspect of the speaker. We used a precious family photo that brings us great joy every time we see it. There is a problem with the speaker cutting in and out at times. I have to shut down all of the permissions in the apps so they don't interfere with the phone doing phone things. I have to make sure it's only being used as a speaker. Also, wifi in my location is always dicy sometimes I need to run the phone on the data link. Overall, I love the stunning bass response and great quality of the sound. Still glad I got it even though I have trouble with it at times. It could be just related to where I live.
Date published: 2021-09-16
Rated

1

out of

5
by
TadeuszKo
from
What is going on with all those different versions
There is a GG, TL and CS versions on sale right now and they all Label as Flip 5 but sound very different. Only TL sound decent. Rest are waste of money. Buyers beware!
Date published: 2019-09-14
Rated

5

out of

5
by
Hipo
from
Has more bass than the flip 4
However old bluetooth, this is 2019 and we're not getting bluetooth 5.0
Date published: 2019-07-10
Rated

5

out of

5
by
Anonymous
from
Awesome
Bought this for my daughters uni-days, so needed to be space saving, easy to use, enough battery life to be able to take anywhere without being plugged in and water proof for those nights out. Material and build quality are good, sound is rich with ample volume for something so small. Heavy enough to stop it rolling around and can be linked with others to make sure all areas are covered, just need to make sure you know which one is yours. Not the cheapest, but well worth the little extra for the quality and sound of this awesome portable speaker.
Date published: 2020-09-14
Rated

5

out of

5
by
Busynights
from
JUST HEAR ME OUT...
I purchased the JBL Flip 5 from a authorized dealer a week ago and the music is fantastic in every aspect of the sounds produced. You really need to listen to the JBL Flip 5 to believe the sound quality which it could produce. If you are a music lover you should be able to access and listen to music anywhere, anytime and the Flip 5 makes it happen rain or shine !
Date published: 2021-03-21
Rated

4

out of

5
by
Diamondaiv
from
Personalization is a must!
I am sooooo happy with this speaker. The sound is great! Beach approved. The personalization was perfect. I was worried the image would be pixelated but it really looks exactly as it appeared on the website as I was uploading my custom artwork. The battery life is pretty decent. That's mostly why I didn't give it 5 stars!!! It's a good battery life but it's definitely not the best out in the market right now. Aside from that it's a great gift or purchase for yourself. I would buy again.
Date published: 2020-05-19
Rated

5

out of

5
by
missgrinch86
from
Wow!!!
I have 2 JBL speakers. I have the clip 4 that I use at work and now the flip 5 for at home. I use it to listen to music and podcasts. It sounds incredible and gets quite loud! Build quality is fantastic. I got this for $60 on clearance at Walmart in the green camo color. I love everything about it and have nothing negative to say. All my speakers have great battery life that lasts longer than advertised. I don't play my speakers at full volume though instead around 50%. The flip 5 has great sound in a small package. I'm looking forward to taking it to the beach. I got my husband a personalized go 3 speaker to use at work and he loves it. Definitely worth the money!
Date published: 2022-11-04
Rated

5

out of

5
by
Roostapha
from
JBL CLIP 5
The sound quality of this speaker is absolutely second to none. I use it in the shower, when walking with my six month old in the pram, sorting the house and kids, out in the garden. I love it. It's brilliant to just have an impromptu boogie with my wife and kids. I'm a musician and this is not simply a speaker, this beautiful thing is an instrument in itself. Thank you JBL, music is a massive part of my life and you have added a vital means of adding this vital part of my life to my home. I love it. Thank you! The only thing is when listening to audiobooks the bass can drown out male readers a little bit but that's it!
Date published: 2022-05-06
Rated

3

out of

5
by
julie123
from
NO PARTYBOOST W JBL FLIP 4
I just bought this speaker with the excitement that my sister and I could pair our speakers with the partyboost feature. She has a JBL Flip 4 and JBL made it so the flip 5 won't pair with the flip 4 which is absolutely ridiculous. How can they expect for everyone to have the exact same model of speaker. They shouldn't even bother including that feature if they're going to be so particular on what devices it can connect to. My sister's flip 4 is only about a year and a half old and JBL made it so that speaker is already too outdated to pair with the next generation speaker.
Date published: 2020-04-30
Rated

2

out of

5
by
Thisnicknametaken
from
I thought if I paid more this would last longer
I bought a Flip 4 a couple years ago after I got tired of spending $money on cheap speakers that quit charging after a couple months. I have been extremely careful with this Flip and really only use it maybe once a week in my car. Love the quality of sound, plenty loud enough for me, was very happy with my purchase (direct from JBL, looked like there were some expensive fakes on Amazon). Welp, now fully charged it plays 2 or 3 songs and shuts down. Every time. It won't even stay on if it's hooked to the charger while I play it. I am ambivalent about how long it lasted compared to the cheap ones, I think it's a toss up what's the best use of my money. Disappointed with JBL to put out an inferior product like this.
Date published: 2020-08-18
bvseo_sdk, dw_cartridge, 18.2.0, p_sdk_3.2.0
CLOUD, getReviews, 7ms
reviews, product
Product Q&A
I bought two Flip 5 speakers to put in my Gazebo and play music in STEREO. I have only been able to use the app to put them in stereo mode 1 time in dozens of attempts. Please give tips to troubleshoot stereo mode and do a firmware update on the app.
I have same issue....the sync between the two speakers worked once and never again. Please let me know when there's a fix....kind of crappy when you buy the product specifically for this functionality.
Date published: 2022-12-25
Can you play music from an Alexa through the jbl flip? 
I think JBL misunderstood your question. If you are asking if you can use a flip 5 as your bluetooth speaker for your Alexa, the answer is yes. I have 2 paired with my Alexa for a stereo set. Works great
Date published: 2021-06-06
Does my Flip 5 support air play
Our JBL Flip 5 does not support Airplay.
Date published: 2021-06-06
why did you do this no mic and also you cant pair my flip4 thanks a lot jbl all you want is more money
I know JBL needs to stop "improving" with newer systems to connect their speakers. If I were them, they should stop at partyboost, and as of now partyboost is ONLY compatible with flip 5s
Date published: 2021-06-06
Does it come with a strap?
It does come with a wrist strap like the JBL flip 4
Date published: 2021-09-17
When you connect multiple speakers, can the volume be controlled individually or must they all be the same vokume
Thanks for your inquiry. The volume of the multiple JBL Flip 5 speakers connected via partyboost can be independently controlled by pressing the volume button on the speaker. If you have any further questions, please contact customer service.
Date published: 2022-07-02
Where can I get a wall mount for a JBL Flip 5?
Unfortunately, we don't sell wall-mount accessories for our JBL Flip 5.
Date published: 2022-08-01
Can you charge the speaker and play music through it at the same time?
Yes you can. Our JBL Speakers will charge while playing and once it's fully charged, it won't use the battery power and will just use the power from the outlet, keeping the battery safe from harm.
Date published: 2022-12-24
I am looking to get this JBL flip 5 for my bedroom but my phone has got to stay downstairs, does anyone know how far a phone has to be near the speaker for it to play music?? Nora
To avoid signal interference, please note that Our Flip 5 has a maximum Bluetooth range of 10 - 15 meters, with no large objects blocking the line of sight. A distance farther than that would pose signal deterioration.
Date published: 2022-10-25
What kind of USB charger is required to charge the Flip5? Is it a 5V/3A one? How long does it need to be charged first time round?
Thanks for your question. You would have to get a 5V/3A charging adapter so your JBL Flip 5 could get a full charge within 2.5 to 3 hours. For first time charging, it should be okay as long as the speaker gets fully charged.
Date published: 2021-10-12
what is beater to buy flip 4Refurbished for 70$ or flip 5 Refurbished for 90$
Flip 4 has our Connect + feature and 3.5 mm aux port, while our JBL Flip 5 has our latest PartyBoost technology. All refurbished products are inspected and tested, all accessories will still be included. Check out more information about our guide here: https://www.jbl.com/refurbish-guide.html
Date published: 2021-06-06
can i use it as computer speakers
Unfortunately, our JBL Flip 5 is not optimized as a computer speaker.
Date published: 2021-06-06
What is the difference between the Flip 5 and Flip 4 to justify the extra $20. 5 has an output of 20 RMS and the 4 has 2x8, and I don't know what that means.
JBL Flip 5 has a single dynamic driver that provides more power/ volume than it's predecessor, Flip 4. RMS is the wattage or indicator that shows the volume the speaker is capable of outputting. We've worked on improving stable wireless connectivity with our Flip 5 via Bluetooth technology.
Date published: 2021-06-06
What are the details of the auto-off feature? How long will it stay idle waiting to connect or connect again, before timing out and turning itself off?
Our Flip 5's power-saving feature turns off the speaker after 10mins of inactivity.
Date published: 2021-06-06
My JBL Flip 5 Bluetooth controls stopped working. I can't control volume or skip songs from the speaker anymore. It is connecting to the multiple phones but none of them could be controlled from the speaker anymore. Can't reset as buttons don't work.
Thank you for your question. Can you please try the following button combinations? Toggle Demo mode: Press Play/Pause & Bluetooth buttons simultaneously for longer than 10 seconds. And reset: The unit shall restore factory settings by long press Volume + / Bluetooth button. (long press is longer than 10 seconds). Should you wish to receive further support, you may contact the Harman Customer Support team by telephone, email or chat in order to receive direct assistance. Please see https://uk.harmanaudio.com/support-contact.html for further details. Thank you.
Date published: 2021-11-26
JBL5 2 weeks old battery fully charged unit will not turn on
We'd like to work with you directly so we could try some troubleshooting with your JBL Flip 5. Please reach out to our Customer Support through here: https://bit.ly/2Jc8wJp
Date published: 2021-06-06
Why does my Bluetooth not turn on anymore? Can't make any connection to my device. I've already tried many options offered by the website.
Try doing a reset to see if it helps. To reset, turn on your speaker then press and hold both Volume+ and Play buttons until it shuts off by itself. Once done, test it again.
Date published: 2021-06-06
Why doesn't jbl provide instructions in English instead of pictures for a toddler that give virtually no information?
Thanks for reaching out. We'd like to know more about what's happening with your unit. Please contact our customer support service via our official website or toll-free hotline so we can assist you further.
Date published: 2022-12-29
Why does my JBL speaker 5 does not turn on and won't charge
We would like to get more information to help you out, please contact us so we can assist you:https://bit.ly/2zwFkYM
Date published: 2021-06-06
Can I just leave the usb plugged in and connected to speaker? Will this damage battery or shorten play time?
Yes you can, there will be no problem with the JBL Flip 5 being plugged in while playing.
Date published: 2021-06-06
Hi when will the pink jbl speaker be in stock?
Thank you for your question, please contact us directly, https://support.jbl.com/us/en/
Date published: 2021-06-06
After firmware update, My Flip 5 will connect with bluetooth to my new MacBook Air, but it doesn't show up in System Preferences > Sound as an available output device. So I can't play music to it. Can you help?
We would like to get more information to help you out, please contact us so we can assist you:https://bit.ly/2zwFkYM
Date published: 2021-06-06
my second jbl BT spkr, a flip 5. It's unable to stay resting on a flat surface either horizontally or vertically. The triangle end is how it should sit on a surface? Because it refuses to sit plumb I will likely return it. Rationale?
We would like to get more information to help you out, please contact us so we can assist you:https://bit.ly/2zwFkYM
Date published: 2021-06-06
Why isn't it letting me upload a picture to personalize the speaker? Through mobile or computer. Is there Something with the website?
We'd like to work with you directly so we could get more information about your order. Please reach out to our Customer Support through here: https://bit.ly/2Jc8wJp
Date published: 2021-06-06
Can I add a passcode to my speaker to keep others from joining to it?
Our JBL Flip 5 doesn't feature a Bluetooth profile password. However, other devices shouldn't be able to pair unless the speaker is in pairing mode. It only connects to one source device at a time.
Date published: 2022-11-03
Are there any driver to pair with windows 7?
You must have a Bluetooth Transmitter on your Windows PC with the latest software driver in order to pair and connect with our JBL Flip 5. Please check out the Quickstart Guide and follow the Bluetooth pairing section.
Date published: 2021-06-06
how long does it take be personalized?
Our personalized orders have a timeframe of 5 to 7 business days. If you need more help, please contact our customer support for assistance.
Date published: 2023-04-09
My jbl flip 5 is not charging
Try doing the steps in our Battery and Charging Guide to see if it helps https://bit.ly/3dSJCw0
Date published: 2021-06-06
Can the USB cable be used to provide the connection to the computer for sound, instead of using the BT?
No, our JBL Flip 5's USB cable is only used for charging. If you need more help, please contact us here: https://bit.ly/2zwFkYM
Date published: 2021-06-06
How many Smartphones/Tablets can connect wirelessly at the same time? The flip 4 could do 2 devices, does this also support multiple devices? I don't want to have to re-pair each time I switch back and forth from my phone and tablet.
Hi there, the JBL Flip 5's Bluetooth connectivity is the same as the JBL Flip 4. It can connect 2 devices at the same time but can only play 1 device at a time. For more information, please submit a case request so we can assist you: https://support.jbl.com/us/en/customer-service/contact.html
Date published: 2021-06-06
bvseo_sdk, dw_cartridge, 18.2.0, p_sdk_3.2.0
CLOUD, getContent, 21ms
questions, product
Support
Register your JBL product
Do you own this product? Register it here in case you need to claim warranty
Register Now
Can't find what you're looking for?
Are you looking for product support, documentation, how-tos or older products?
JBL Support