JBL Charge
Details
https://www.jbl.com/bluetooth-speakers/JBL+CHARGE.html?dwvar_JBL%20CHARGE_color=Blue
Portable speaker with Bluetooth streaming and 6000mAh Li-ion battery
---
Highlights
Aux Connection
Auxiliary-input (aux in) connector allows you to plug into practically any audio device.
Bluetooth Connectivity
Allows you to wirelessly stream music through any Bluetooth enabled device.
Carry Case
JBL sound is always worth protecting. An included carry case keeps the device safe from bumps and bruises.
Rechargeable Battery
Features a rechargeable battery for convenient portability and extended playback time.
Recharges your Media Device
This speaker charges your device so you can listen longer and be ready to go at a moment's notice.
Introducing the JBL® Charge, the stereo speaker that provides more than 12 hours of playback time from a single charge of its built-in, high-capacity, 6000mAh Li-ion (lithium-ion) rechargeable battery. It can even charge your other mobile devices on the go with its built-in USB port. The JBL Charge wirelessly streams audio from any Bluetooth®-equipped smartphone or tablet, and it lets you enjoy unsurpassed portable audio performance from your mobile devices and tablets. With two 1-5/8-inch (41-millimeter) drivers, a built-in bass port, digital signal processing and 2 x 5 watts of amplification, it delivers full-range JBL sound with exceptional bass. Ideal for active, outdoor lifestyles, the portable JBL Charge speaker fits into a backpack and plays from either a vertical or horizontal position, so you can use it just about anywhere. The JBL Charge stereo speaker is a portable audio powerhouse for any environment.
What's in the box?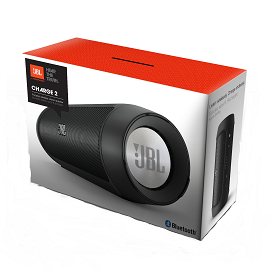 1 JBL Charge stereo speaker with Bluetooth technology
1 USB adapter
1 micro USB cable
1 Neoprene™ carrying pouch
Quick-start guide
Sharing
JBL Charge
is rated out of
5
by
199
.
Rated

5

out of

5
by
MoneyyBoyy
from
Excellent
Its a grate speaker for this money i love the speaker <3
Date published: 2016-09-14
Rated

5

out of

5
by
Joyful
from
Indestructible
I've had my JBL Charge over 2 years and use it almost daily at work. I drive a big brown truck for a living and my Charge sees a lot of abuse. One summer day, I was driving down a main road doing 45 miles an hour and hit a large bump. My Charge bounced out of the truck onto the road and I watched it in my mirror bouncing and skipping down the road missing semi's and cars. I turned around to get it expecting to see it in pieces. When I got in Bluetooth range, it started playing again! With only a dent or two and a year later, it still works perfectly!!! I tell everyone this story!! Todays America sell so much worthless junk but your product renews my faith that some companies still have pride and heart in their name!
Date published: 2016-08-07
Rated

5

out of

5
by
BluesSensei24
from
Great JBL quality and sound!
The best durable, sound expressive bluetooth spkr!
Date published: 2016-07-11
Rated

5

out of

5
by
Jizzle
from
Only a month but great features
Solid sound quality. Great speaker. I've only had it for a month, but so far so good.
Date published: 2016-05-28
Rated

5

out of

5
by
Antonio c
from
Great product.
Good quality for a great price. Would buy it again
Date published: 2016-05-16
Rated

5

out of

5
by
Galito
from
Awesome speaker
Sounds great cool design ! Best speaker for your money
Date published: 2016-05-15
Rated

5

out of

5
by
Terell
from
Works great! Very clear sound, wish I would've bought a couple of them..
Date published: 2016-05-14
Rated

5

out of

5
by
Mac14
from
Love it
Been wanting one,glad I got this one,nice sound,good volume
Date published: 2016-05-14
I have a "charge2". power light is on and one red l.e.d lit. it won't shut off or charge up. tried the power and minus volume together and nothing.. any ideas?
Please try one of the options to possibly resolve what you are experiencing with the CHARGE 2. -In power ON mode press and hold the "Volume +" and "Phone" buttons at the same time for more than 3 seconds until it shuts off by itself. -Disconnect cabling and unpair/disconnect any devices which may be paired/connected Bluetooth. Allow the battery to completely discharge. Apply the power source and allow the battery to charge completely. If none of these things work, please submit a request at www.jbl.com/contactus and the Customer Service team will be more than happy to further assist you.
Date published: 2016-09-26
JBL Charge won't charge and Bluetooth won't connect. it only works when plugged in and with the Aux Port. Any Ideas?
The CHARGE's battery is not working properly.We do have a one year warranty for this unit and if under warranty. Please submit a case at www.jbl.com/contactus and the Customer Service team will be more than happy to further assist you.
Date published: 2016-09-07
Is there any way to turn off bluetooth in Charge? I just want to connect it through Aux port at the back of this JBL Charge. The blue light at power button keeps blinking. I know it is trying to pair with some bluetooth devices. Thanks.
Unfortunately, the Bluetooth remains active and cannot be disabled. The Bluetooth connection disconnects automatically when the device source is connected via AUX.
Date published: 2016-09-05
I'd be using this always plugged in and with the aux. In that scenario, does this unit go into a Sleep/Standby mode require a press of the on button to wake it or would it remain always on and ready to play?
When the AUX-in source volume is very low, the product may enter standby mode. Increase the volume on the source device to prevent the CHARGE from entering standby.
Date published: 2016-08-24
The JBL Charger speaker is not connecting with my IPAD bluetooth? My IPAD bluetooth works with other speakers and computer I have?
When you press the power button on the CHARGE to turn it on, it has to be pressed and held again for 3 seconds, enabling Bluetooth pairing mode. The ring around the power button will now alternate between blue and red. Search Bluetooth devices from your iPad and connect to JBL CHARGE. Play music and enjoy.
Date published: 2016-08-15
I've got one but all of my devices can't discover it through bluetooth, how can I fix this?
Yeh! Finally got my JBL charge to pair with my devices. What you need to do is press and HOLD the start and minus buttons similtaneously until red and blue flashes. Happy now!
Date published: 2016-08-10
I am using a JBL CHARGE for more than 2 years. It is not getting paired with my iPhone 5s. Is there any method by which I can connect to iPhone?
Thanks a ton. Step 1 worked like a charm..
Date published: 2016-08-10
my jbl charge doesnt connect to my bluetooth at the phone. what can i do to fix it ?
If I understood you correctly, your phone was working okay with the CHARGE and now it's not. If this is the case, please perform the following: 1.Reset the CHARGE by following this step: - In Power ON mode, press the Power and the Volume Minus buttons simultaneously. The Charge now turns off, and when you turn it on again, it has been reset. 2.Unpair/Forget the CHARGE from the phone. 3.Turn the phone completely OFF. 4.Switch the phone back ON. 5.Turn the phone completely OFF "AGAIN". (this is important) 6.Switch the phone back ON. 7.Pair the CHARGE 3 with the phone. I noticed that you are in Israel. If this doesn't help, please contact the store where you purchased it and they will be able to help, or at least guide you to the people that can help.​
Date published: 2016-08-02
Store Locator
No Online Dealer's available for this product
Find a Store Near You
The Store Locator is designed to help you find the closest store near you.
Click a store in the list or on the map to view details.