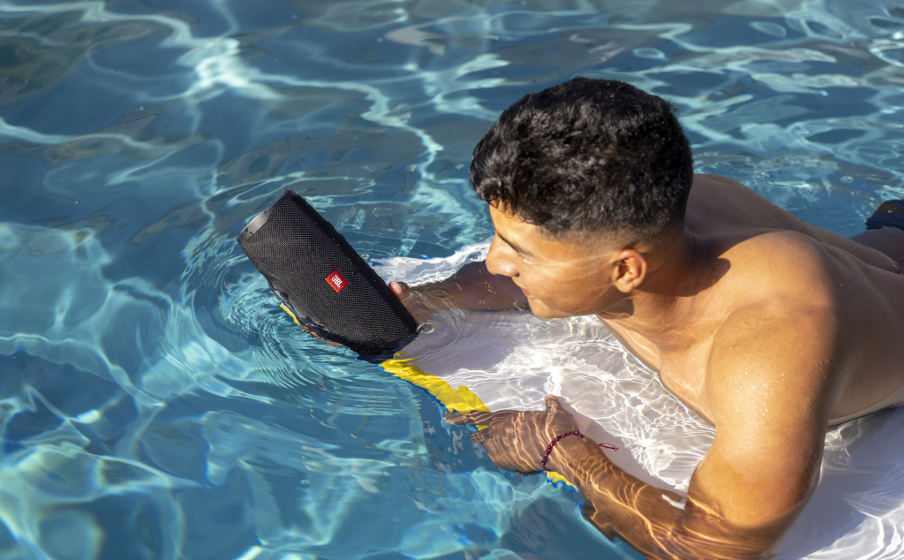 Wireless Bluetooth Streaming
Wirelessly connect up to 2 smartphones or tablets to the speaker and take turns enjoying powerful sound.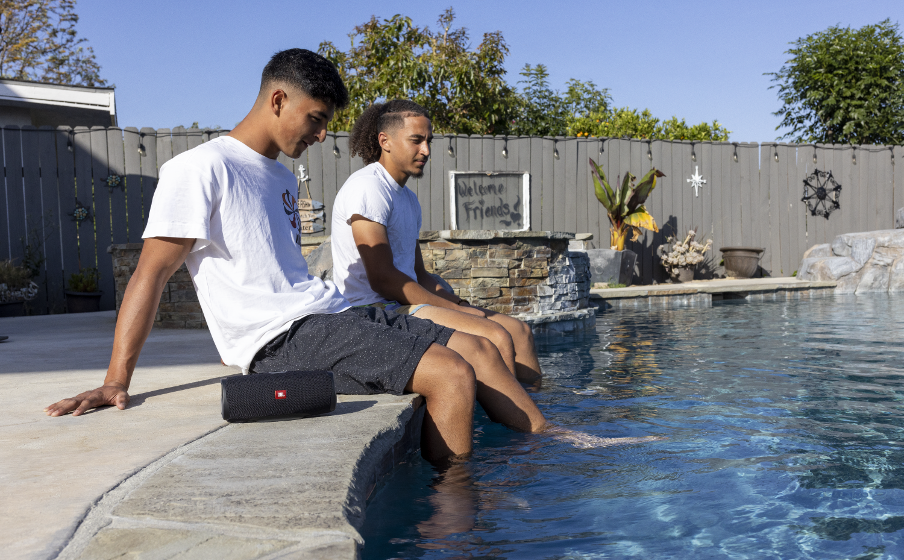 Up to 20 hours of playtime
Built-in rechargeable Li-ion 7500mAH battery supports up to 20 hours of playtime and charges your device via USB port.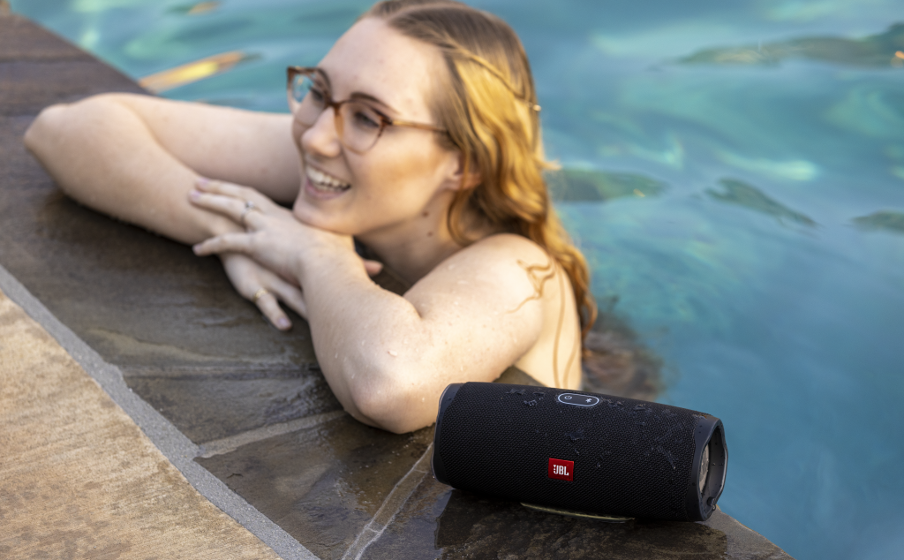 IPX7 waterproof
Take Charge 4 to the beach or the pool without worrying about spills or even submersion in water.
Features

JBL Connect+
Amplify your listening experience to epic levels and rock the party perfectly by wirelessly connecting more than 100 JBL Connect+ enabled speakers.

Durable fabric and rugged material
The durable fabric material and rugged rubber housing allows your speaker to outlast all of your adventures.

JBL Bass Radiator
Dual passive radiators deliver powerful, ear catching JBL sound that resonates loud and clear.
Specs & Downloads
Item# JBLCHARGE4BLKAM
Description
Play and Charge endlessly

Introducing the JBL Charge 4 portable Bluetooth speaker with full-spectrum, powerful sound and a built-in power bank to charge your devices. It features a proprietary developed driver and two JBL bass radiators that intensify sound with strong deep bass. Its high-capacity 7500mAh rechargeable Li-ion battery provides up to 20 hours of playtime. The speaker carries a convenient USB charge out to quickly charge your devices, such as your smartphone, so you will never run out of power again. The Charge 4 features a rugged design, IPX7 waterproof rated exterior and comes in a suite of cool colors. Together with JBL Connect+ it can wirelessly link more than 100 JBL Connect+ enabled speakers to elevate your listening experience.
General Specifications
Audio Specifications
Frequency response

60Hz–20kHz

Signal-to-noise ratio

>80dB
Dimensions
Dimensions (in)

8.7 x 3.7 x 3.7

Dimensions (cm)

22.1 x 9.4 x 9.4

Weight (kgs)

0.96

Weight (lbs)

2.12
Control and Connection Specifications
Bluetooth profiles

A2DP V1.3, AVRCP V1.6

Bluetooth frequency

2.402 – 2.480GHz

Bluetooth transmitted modulation

GFSK, π/4 DQPSK, 8DPSK

Bluetooth transmitter power

0-20dBm

Bluetooth version

4.2
Battery
Charging time (hrs)

4

Maximum music playing time (hrs)

20
Features
Charging cable

Yes

JBL Connect+

Yes

3.5 mm audio cable Input

Yes

Powerbank

Yes

Waterproof

Yes

Wireless

Yes

Rechargable battery

Yes

Bluetooth

Yes
What's in The Box?
1 x JBL Charge 4
1 x Type C USB cable
1 x Quick-Start Guide
1 x Safety Sheet
1 x Warranty Card
Documents & Downloads
Customer Reviews
Rated

5

out of

5
by
GoPa
from
Good overall sound for such a small package
Pleasantly surprised. I like big sound. It does not provide the big bass outdoors, but it fills the room adequately inside. I have the Boombox that fills the need for the outdoors. The sound quality of the Charge 4 is really clear with good mids and highs. It is actually a little too loud at night on the lowest volume setting when trying to go to sleep — NOT a problem at all because I just use the iPhone speakers. I have 2 old Xtremes. I was considering getting an Xtreme 2 to complete my connect + pairings, but I will get another Charge 4 instead (though I don't really need it). Now the old Xtremes serve me little purpose - that absolute SUCK JBL.
Date published: 2018-12-20
Rated

1

out of

5
by
Michael C
from
No available detail product guide
Recently purchased this product and very disappointed with product support and documentation. Other than the quick start guide, there is NO product feature description to allow you to optimize your music experience. For the price, I have to believe there are features available on this product beyond the quick setup description. Can anyone help? I expect to return the product. Customer support does not seem prepared to do anything but resend the quick start guide. Previous experience with JBL clip had me expecting this product (costing 3 times as much), would have enhanced features but so far it looks like I bought an overpriced portable phone charger.
Date published: 2020-07-08
Rated

2

out of

5
by
ColbyJack
from
Great design, but has a few flaws...
I am overall very disappointed, I had to buy and return two of these from Walmart until the third one I bought sounded a little better.. The problem is the right side passive radiator, at half volume and above it makes a rattling/thumping noise when the bass hits low. I own a Flip 3, Flip 4, and a few of my buddies have Charge 3's and none of the other speakers have this problem. I love Jbl in every way but this is downright disappointing. And not to mention it runs on one driver instead of two, on paper the specs look better but the charge 3 is cheaper and sounds a bit better.
Date published: 2018-11-15
Rated

1

out of

5
by
Camac03
from
Still horrible experience linking 2 speakers
Using the JBL Connect app to enable the "party" & "stereo" feature using two Charge 4 speakers is still a choppy, inconsistent experience at best. The app rarely properly detects both speakers so it almost never successfully allows the "stereo" feature to even appear on the app. I've tried endles workflow combinations of connecting to speakers, hitting the link buttons on the speakers, updating the app, disabling bluetooth on nearby devices. IF the stereo feature manages to connect, it actually causes the music playback to sound static-like, choppy, and randomly accelerate and slow the music. Just an awful experience and no improvement in paired speaker experience versus the Charge 3.
Date published: 2020-10-27
Rated

5

out of

5
by
Jaybird136
from
Awesome Speaker!!!
If you already own the jbl charge 3 I wouldn't say it is worth upgrading because there mainly just small minor tweaks to the charge 4 coming from the charge 3, the charge 4 does have a little bit more clarity as well as a little bit more bass, it's very similar in volume to the charge 3 but slightly more refined, it now has usb type c charging which is nice future wise because it could support even faster charging, one gripe I have is the flap covering the port is looser than on the charge 3 and there is only one rubber ring that seals it off compared to the charge 3 having 2 of them, so far it hasn't been a problem though and even if water does get through jbl seals off the other sides of the ports so no damage should occur just don't try and use the ports if they are wet until they dry, I do absolutely love this speaker and glad I got it, I just wish they would have added a tweeter since it is a mono driver handling everything, if there was a tweeter jbl would have been able to not only make it even louder but allow more excursion without the sound getting fluttery, but I guess they will do that in the charge 5? Thank you jbl for making an amazing product!!! Deffinetly recommend!!!
Date published: 2018-11-01
Rated

3

out of

5
by
Kylemink44
from
Overall disappointed
Quite a few of my friends have the charge 3. I worked in a automotive garage for a year where we used a charge 3 as music device that's really what made me fall in love with them. Audio quality was amazing. It had so much bass for how small it was it impressed everyone in the shop. So I held out thinking the charge 4 has to be better right? Wrong. I purchased 2 charge 4s to link together. The bluetooth connectivity is pathetic. They always break up. Crackle. the battery life is better. But compared to the charge 3 the sound isn't nearly as good. Way less bass. With the volume all the way up they both sound like they are struggling. The charge 3 sounds like it could keep getting louder and still sound good if it could keep going. Just overall disappointed in both of them. Save some money and buy the charge 3 if you can.
Date published: 2018-11-15
Rated

5

out of

5
by
HollyB
from
Flip 3 vs Charge 4- Both Great!
I purchased the Charge 4 for my husband after he kept using my nieces Flip 3. She told me the sound on the Charge 4 would be better so he got the newer version. I linked both speakers together and the sound quality is about the same. The Charge has the capability to charge your phone while in use and that is a bonus but it's not really worth the extra coins in my opinion. The Charge is larger which is ok, but I like the portability of the Flip. The Flip has more bass for its size, the Charge is lacking in bass. Overall both are great options!
Date published: 2019-06-05
Rated

5

out of

5
by
LUIS V
from
Excelent product
The sound quality is a lot better than the JBL Charge 3. At low volume and high volume, the sound is excellent. The design is very good, and it has great battery life. It is a little bit bigger than the Charge 3.
Date published: 2019-01-11
Rated

5

out of

5
by
JoeRico
from
Awesome Sound
I was looking into this product based on a friend's recommendation when he surprised me with it as a Christmas gift. What a fabulous sound and ease of setting up it is. It took me 5 minutes out of the box and I had it set-up and playing. The quick start instructions are short and simple...very easy to follow. The construction is sturdy and the packaging protects it from any rough treatment during shipping. I only wish it came with a carrying case but I found them in Amazon for $12. I hope it lasts for a long time.
Date published: 2018-12-20
Rated

1

out of

5
by
JCHOK
from
Bluetooth doesn't work
After about 4 months of using this speaker with my computer only a handful of times, it stopped connecting to the bluetooth on my computer. It works on all other devices, so I thought maybe the computer was the problem. But after hours with tech support on both ends, everything points to the speaker. I would have disconnect and reconnect every time I wanted to use it with the computer. Now it's not working at all with the computer. I've never damaged it, no water spills and it's just way too expensive to be doing this. I would really recommend looking elsewhere if you want one that actually works the way it should. Very disappointed.
Date published: 2021-11-30
Rated

5

out of

5
by
Miguel C
from
BOOMY! JBL speaker with great features.
I am very impressed with the new JBL charge 4. The sound is clear and has more boomy base compared to the Charge 3, which I own also. The JBL charge 4 is a definite improvement with the louder base. Other improvements are that It does have a higher capacity battery (7500 mAh) than the charge 3 which is 6000 mAh and a type C charge for it, which to me is better and faster on charging. Also the JBL charge 4 is slightly bigger than the JBL charge 3. The speaker is waterproof (IPX7) and with the higher capacity battery makes an even better powerbank to charge your device while listening to music for a longer time . Just don't forget to download the JBL connect app to connect more than one JBL speaker and to keep up with any firmware updates. I have to honestly say the JBL Charge 4 is an improvement from the charge 3. When comparing the two with features and sound I choose the JBL charge 4.
Date published: 2019-01-16
Rated

5

out of

5
by
Steven S
from
Charge series evolved!
When I first read the JBL charge 4 had done away with dual drivers in favor of one proprietary driver. I thought this was crazy (not in a good way) until I listened. I felt testing this new single driver against a charge 3 dual driver would be a fun and fair comparison. Standing in front anywhere from 5-15'ish feet, I could not tell a single driver from a dual driver'd charge 3. If anything, the charge 4 has more to give in ways of overall power, sound stage, tuning and loudness. The differences seem to fluctuate depending on music. For example, Gorillaz and Princess Freesia/Soulpersona (fist bump Oluv) gave the charge 4 the advantage over the charge 3 in overall soundstage and really showed a better tuned speaker. The charge 3 sounded as if there was some type of fabric wrapped around it. Rock like Jane's Addiction seemed to make the charge 3 & 4 sound more similar than different. Maybe this was a midrange thing? Stevie Wonder and Adele (once again) showed a much better tuned charge 4 vs. the charge 3 with more defined, crisp highs, cleaner but sweet lows and just overall more power and better separation. Lumineers also had more of a cleaner sound while the charge 3 just sounded like there was fabric wrapped around it..kind of a light muffle compared to the charge 4. I can kind of see why people claim the charge 3 and 4 sound similar but I am not one of those people. The charge 3 was a rock-solid speaker for its time but JBL DID evolve it with the charge 4. After comparing the 2 speakers' side by side in different rooms/distances/genres, I see what JBL did there with the charge 4 and I was pleasantly surprised. My hat is off to them for improving without straying from an already great recipe. Depending on your budget, the charge 3 is solid BUT if you have a little extra to drop in the charge 4 definitely do it! Minor side note, the charge 4 does not include a wall plug but does come with a USB A-USB C cable to charge it but you must provide your own wall/usb charger. The charge 4 uses a USB C cable to charge itself but it does have the USB A output in case you want to charge your phone while on the go.
Date published: 2019-01-15
Rated

3

out of

5
by
Seth Wood
from
Disappointing Trebel
I reviewed this product and gave it four stars back when I first got it about three months ago. I'm now downgrading to three stars because the trebel is too mediocre. It sounds good for a single full range driver and has good bass, but the JBL Charge 5 sounds much better with separate mid/bass and tweeter drivers. However the Charge 5 dropped a basic and essential feature which automatically disqualified it from my consideration: a 3.5mm aux-in jack, so I bought the Charge 4 for $50 less. I'd like to have something that sounds as good as the Charge 5 without sacrificing basic features. I plan to sell this and find something else.
Date published: 2021-07-28
Rated

5

out of

5
by
John Mark Cox
from
Loud and bass is great
It's loud and bass is great you are definitely getting what you paid for. And that's why I'm giving it 5 stars. Its definitely not a JBL xtreme JBL soundbar or JBL boombox so dont go into this expecting the sound to be like that. However it has wowed me and I do believe I'll be getting a second pair so kudos to you JBL. Drawbacks are and maybe this could be used for when you make JBL charge 5 if that happens. The bass is great my question is will the bass top charge 4 when charge 5 comes out and will JBL charge 5 have 360 sound ,4 speakers two on the front two on the back maybe a bigger bass. However I really do love the charge 4, for one speaker it sure does get loud. Now question two JBL charge 4s can be hooked up and in stereo sound now let's say you hook up like 20 of these things together what will the bass sound like any comparison to the soundbars the. Just curious.
Date published: 2018-12-29
Rated

5

out of

5
by
Joe0
from
As good as I expected
I bought this like 2 ish months ago and I'm very happy with it. It sounds good, it can get loud when I want it to but I mostly keep it pretty quiet. Best part is the battery seems to last forever. Only complaint is about the charger it that comes with it. The charging port is USBC, so it comes with a USB to USBC charging cable, but the USB part is different from anything I've seen and it's not compatible with anything I have. (A pic is included.) This isn't an issue if you already have devices that need USBC to charge (which doesn't everyone nowadays?) but on the off chance you don't you might need to buy a charger for it.
Date published: 2021-12-18
Rated

3

out of

5
by
xAwoL_MoNsTeR
from
No calls?
I have bought nothing but jbl since the first time I heard a jbl flip 2. Since then I have bought every charge that has came out. At first glance, I thought another great speaker, its now 30w instead of 20w and now its redesigned in many great ways. Then after trying to make a phone call like my last charge 3 could do, I was surprised that this feature was taken away, also I tried using the link feature with my charge 3 and other jbl devices, and another surprise it doesnt work. I'm kinda disappointed after buying this devices for so many years and it seems many companies are going this route with getting rid of great features. Might be taking this one back.
Date published: 2018-11-24
Rated

5

out of

5
by
Shuuk
from
Great Overall Speaker
I just bought this speaker recently and have been testing it out both indoors and outdoors. I do have to say its probably one of the best speakers for its price, especially when I bought it for $125 when it was discounted. The battery on the speaker is great, the high and mid tones are excellent, and the build quality of the speaker is just awesome. Though I have to admit that this speaker downgraded from two round drivers in the Charge 3, now to just one rectangular-shaped driver in the Charge 4. The speaker is placed on the right side but you can't hear much of a difference unless you stand about 2 feet from it. This speaker does also last longer than what JBL marks it. I highly recommend this speaker, especially if you have the budget of adding 50 more dollars from the Flip 4's $100 mark. The Flip 4 is also a good speaker.
Date published: 2019-01-29
Rated

5

out of

5
by
CaleB27
from
Love it
Got it for Christmas and I opened it and it sounds amazing best portable speaker on the market hands down. More bass than my charge 3 and sounds more clear plus a little louder very satesfied, however I wasn't able to link it to my charge 3 so I may have done something wrong but regardless great speaker, slightly bigger which may be an issue for some people but overall probably worth it
Date published: 2018-12-27
Rated

5

out of

5
by
Evan Fox
from
A Solid Portable Speaker
About a year ago I was given a JBL Flip 4 as a gift, and I was immediately impressed with the quality of sound and construction. I bought the Charge 4 recently, thinking I would replace the Flip 4. Right out of the box, it delivered a smooth, powerful sound for its size. It connected so flawlessly to my Flip 4 that I ended up keeping both speakers, and now I can have studio sound wherever I go. I've listened to Bose and Ultimate Ears portable speakers (and I've seen their price tags too), and I promise that JBL portable sound is the best bang for your buck.
Date published: 2020-04-14
Rated

3

out of

5
by
Ales_BK
from
Charge 4 vs. #
I have had Charge 3 and wanted to buy one more Charge to be able to listen STEREO, so I have decided to buy pair of Charge 4 as this is new model of Charge 3 and so I have expected that Charge 4 would have same features as Charge 3, but I´m disappointed with Charge 4 due to missing microphone, so Charge 4 cannot be used as an office speaker for conference calls due to absence of microphone. In addition and just to compare these 2 versions - in the box of Charge 4 man would be seeking for charger for ages, as simply charge is NOT included. Basically it feels like Charge 4 except the fancy body colours, which are great, does not offer anything beneficial among Charge 3. So I´m recommending you guys to purchase Charge 3, which is a FULL version and which I loved very much!!, while Charge 4 seems to be "CUT" version for JBL to gain more money for less production expenses. Sorry to say so, but this is the FACT.
Date published: 2020-03-23
Rated

4

out of

5
by
Miguel12345
from
Good sound- Connect plus breaks up
I bought a charge 4 several months ago and it was great. I decided to buy two more to link them up and play music inside and outside. They linked up fine but there are times when they break up/crackle if they are what im assuming too far away from each other. I thought they would reach further than 20 feet from each other and the source blue tooth. Aside from that its a great product and the sound is clean crisp with enough bass from such a small speaker. I also love the fact that the battery last so long, i can run these all day and not worry about having them plugged in. The weather proof feature is a huge bonus as well.
Date published: 2020-07-15
Rated

2

out of

5
by
JeanPoutine
from
Great Speaker, No Way To Charge It Though
The speaker sound great, has great blutooth range. The BIG issue I have is that the charging cord that comes with the speaker does not come with a wall end. It is a certain kind of USB cable which doesn't fit any other wall end I own, including the block I have from my previous JBL Charge 3 and JBL wireless headphones. After calling JBL customer service, I was told that the only wall block you can get that fits the charging cable that came with Charge 4 is an Android charger (which I don't own). JBL doesn't even make a charging block to use with the cable that comes with the speaker. Very disappointed with that part of it.
Date published: 2021-04-14
Rated

1

out of

5
by
Anonymous
from
Personalized
I personalized the speaker. It does say in the fine print the color might be slightly different. Well it looks nothing like the picture. The picture came out soo orange. I wasted 200 bucks and can't even return it.
Date published: 2020-10-23
Rated

1

out of

5
by
CVJ11
from
Died After 2 Months of Use
I bought a JBL Charge 4 speaker from Target about 2 months ago. We used it about every other day for the first 2 months and it worked great. Now, it won't charge, turn on, the lights won't come on, etc. Very disappointed in the quality since it died after such a short period of time.
Date published: 2020-12-23
Rated

1

out of

5
by
drjgg
from
Constantly dropping audio
I purchased this speaker specifically because it had the option to directly plug a signal in via AUX. While the bluetooth connection so far seems fine, inputting your music or playing a movie through the wired connection results in the audio getting constantly dropped for about half a second before getting picked up again. My sound experience with this device in short time I've had it has been an infuriating constant stuttering of the music I want to listen to. Searching a bit online, it seems many people have had this issue, with no response from JBL. The consensus seems to be that this can be resolved by raising the input signal to the max volume, but this has not worked for me.
Date published: 2020-05-04
Rated

5

out of

5
by
Val_p979
from
Perfect!!
I barely got it and I love it. At first I was nervous to get it because I saw a couple bad reviews but it is everything I hoped it would be. I saw how people would say that it doesn't sound even but mine does. I love it I got the pink one and it is so cute!!!
Date published: 2019-12-04
Rated

5

out of

5
by
Balmato
from
Great pure sound
Easy to hook up with any Bluetooth device portable and light weight
Date published: 2019-11-04
Rated

1

out of

5
by
Choncho
from
Charge 4 won't charge
I bought this product and was stoked to turn it on and was quickly dismayed that the charging cable that came with it had a gash through it clear to the inner wires. But not only that, the chord would not fit correctly into the speaker's port and would wiggle around.
Date published: 2020-06-09
Rated

5

out of

5
by
Csage511
from
Replacement Parts?
I had my JBL Charge 4 for about two years and one day it just stopped making sound. It would turn on and connect to my phone but absolutely no sound. I did some research and somehow got it to make sound and play music quietly. Once there was something with bass being played or it got too loud, it would just stop making noise. I think I need to replace the speaker part itself because I took the speaker about, I pulled the speaker part out and played music then slowly turned the volume up then the music just stopped. Nothing else seemed to be causing the problem so I'm asking if there are parts I can purchase to replace instead of spending too much money to buy another one.
Date published: 2021-02-08
Rated

5

out of

5
by
BD40
from
Great speaker all around
I bought this a month ago but not from here I did some research and found it on sale in a local store near me but I wanted to right the review here because this is the most amazing awesome sounds Bluetooth speaker iv ever had I can't imagine having another now I'm a listing to is all the time I give this 6 Stars I'd recommend this speaker to anyone one looking for one all the speaker have amazing sound and features. Really pleased. Thank you
Date published: 2019-08-05
bvseo_sdk, dw_cartridge, 18.2.0, p_sdk_3.2.0
CLOUD, getReviews, 5ms
reviews, product
Product Q&A
how many watts does this speaker have on the battery?
30w
Date published: 2021-06-06
Can you turn off Bluetooth?  My work doesn't allow Bluetooth for security reasons
Hi, Wordsmith, You cannot turn off your Bluetooth because it's already inpaired inside the speaker. The best option without using Bluetooth is using the aux port located on the side that has the words "Charge 4". The aux port is located next the charger port for the Charge 4. If you have any questions please contact JBL.
Date published: 2021-06-06
Is there a way to use Charger 4 as a conference call speaker when my phone is paired to it.?
Our JBL Charge 4 doesn't have a speakerphone capability, and it doesn't have a built-in microphone. Therefore, it can't be used to take phone calls.
Date published: 2021-06-06
What charging port does it use?
The Charge 4 uses USB type C for charging and the charger is included in the box when purchased.
Date published: 2021-12-26
Can the JBL Charge 4 attach to the Google Home Device and work.
You can connect the JBL charge 4 via Bluetooth to a Google home speaker. See default music player settings in the Google home app. They two speakers will not play sounds together but the charge 4 will play sound in place of the Google home speaker.
Date published: 2021-06-06
How do I charge it  It didn't come with a charger
You can use any phone charger to connect the USB cable that it came with to charge our JBL Charge 4.
Date published: 2022-08-09
Can I charge something by plugging it into the USB-C port or do I have to plug into the regular USB?
I understand what you are trying to ask. Mario didn't understand, probably Peach is typing for him :) I don't think you can charge out from the USB type C. You will need to use the USB port
Date published: 2021-12-25
Using JBL connect+ I can stream to multiple speakers at once. If I plug one in via an aux cord, can it still connect to a 2nd so that sound from the aux cord plays to both without a phone being involved?
I think officially not, but it works with my charge 3 and flip 4
Date published: 2021-06-06
Is it possible to pair the Charge 4 with more than one Bluetooth source device without having to go through the pairing dialogue each time? This would be a convenience when my wife's phone is not available but mine is.
Actually a case will be unnecessary. I finally tried this myself to see if it would work. I paired both my Pixel and my wife's iPhone to the Charge 4. It does work provided one doesn't try to have both paired simultaneously. It is necessary to dive into the Bluetooth menu on the respective phone which isn't being used and manually disconnect it via the "disconnect" button. The Charge will remain on the "Available Devices" menu unless one manually selects "Forget This Device". Very simple.
Date published: 2021-06-06
Can i pair my charge 4 with chage 3
Yes, as long as you have the Charge 3 updated to the Connect + firmware through the JBL connect app.
Date published: 2021-06-06
Would it play usb
Our JBL Charge 4 can't play music files from a thumb drive. The USB ports work as a power bank to charge other USB devices. You could check out our PartyBox speakers which have the capability to play music files from a USB stick.
Date published: 2023-04-02
Will this link with a JBL speaker that uses Party Boost
Thanks for reaching out. Our JBL Charge 4 uses the JBL Connect+ feature to wirelessly link with more than 100 JBL Connect+ enabled speakers. This speaker will not link JBL Speakers using the Partyboost feature.
Date published: 2021-12-14
If the speaker bottoms out how does it affect the speaker itself and the passive bass radiator?
Simply put, our JBL Charge 4 will sound bad if it's bottomed out. If you have more questions, please contact us here. https://bit.ly/2zwFkYM
Date published: 2021-06-06
Why does my Charge 4 turn off by itself after a few seconds, even when plugged in?
Thanks for bringing this to our attention. Please do a force power cycle. First, make sure that your product is not connected to a power supply or charger. Next, hold down the power button for more than 30 seconds until the unit turns off. You may also try to perform a factory reset by pressing "Volume+" and "Bluetooth" at the same time for 3-4 seconds until you hear the audible chime.
Date published: 2023-05-04
What happens if water gets behind the grille?
The grille of JBL Charge 4 serves as it's protection from dust and water from coming in the drivers. If water goes beyond it, it may compromise the audio quality or cause damage to the speaker.
Date published: 2021-06-06
Does the charge 4 come with a remote
Thank you for your question. Unfortunately the Charge 4 speaker is not compatible with an remote. But you can use your smartphone or tablet to control the music playback of your speaker, over Bluetooth.  Should you wish to receive further support, you may contact the Harman Customer Support team by telephone, email or chat in order to receive direct assistance. Please see https://uk.harmanaudio.com/support-contact.html for further details.  Thank you.
Date published: 2021-06-06
I'm reading that the wall charger should be (at least) 5v2A -- but if I use a 5v3.5A charging brick, will it still only draw 5v2A power? Or will it charge faster on 5v3.5A? And if it is faster, will the higher amperage damage the battery long-term?
Thanks for reaching out. The batteries of our Charge 4 are lithium-ion and have charging cycles. The life span depends on usage. There's no harm in using a higher voltage adapter, plus the charging time for the speaker will be fast.
Date published: 2022-10-03
I have a 2nd generation IPod (no Bluetooth) that I would like to connect to my Charge 4. I tried connecting from the headphone jack on the IPod to the auxiliary, jack in the back of the speaker, but no luck. Any suggestions? Thanks
We would like to get more information to help you out, please contact us so we can assist you: https://bit.ly/2zwFkYM
Date published: 2021-06-06
Can I leave the charge 4 permanently on charge, or will this cause issues?
Thank you for your question. The protection system in the device will avoid overcharging the battery, however, to ensure the best lifespan of the device, we would suggest to follow regular charging cycles. Should you wish to receive further support, you may contact the Harman Customer Support team by telephone, email or chat in order to receive direct assistance. Please see https://uk.harmanaudio.com/support-contact.html#ns for further details.
Date published: 2021-06-06
Can I take phone calls over the JBL Charge 4
Hi there, thanks for asking. Our JBL Charge 4 doesn't have the ability to take phone calls since it's not a speaker phone and it doesn't have a built-in microphone. You can see this information under Specs & Support>Features: https://www.jbl.com/bluetooth-speakers/JBL+CHARGE+4.html
Date published: 2021-06-06
I'll be giving a charge 4 as a gift back home.the question is that should it be checked-in or held as a hand carry? i don't want it to be confiscated so i'm making sure.thanks!
Please make sure to download our Declaration of Conformity from our website for JBL Charge 4 if you're planning to bring it overseas. Please see 'Manual and Downloads' on our website. http://bit.ly/2qUhTYt
Date published: 2021-06-06
Can you plug the Charge 4 in and while you use it? I have a Flip 4 and I know you are not able to charge it while using it or at least are not supposed too.
Yes, you can leave the JBL Charge 4 and Flip 4 speakers plugged in while using the it. It will directly use the power from the wall outlet and play music louder. Leaving it plugged in would not damage the battery because once the speaker is fully charged, it cuts off the power coming from the outlet.
Date published: 2021-06-06
My speaker is playing the start up jingle in slow mo? It's not turning on nor connecting to anything but when I plug it in, it seems to have a mind of its own? 
Thank you for your question. I would advise resetting your speaker by following these steps: 1- Please ensure the speaker is turned on. 2- Now press the Volume+ and Play buttons together for 3 seconds. 3- You will hear an audible tone and then the speaker will turn off and has been reset to Factory Settings. Before attempting to pair with the speaker after the reset, make sure you have forgotten the device from the Bluetooth menu on your smart phone/tablet. Should you wish to receive further support, you may contact the Harman Customer Support team by telephone, email or chat in order to receive direct assistance. Please see https://uk.harmanaudio.com/support-contact.html#ns Thank you.
Date published: 2021-06-06
Is it worth to switch from the jbl flip 5
We would like to get more information to help you out, please contact us so we can assist you: https://bit.ly/2zwFkYM
Date published: 2021-06-06
Will the song that I am playing on the Charge 4 also play on my Harman Kardon Onxy at the same time? Like I can have one speaker outside and one inside but they are playing the same song at the same time?
Our JBL Charge 4 has Connect Plus and it will only connect with devices that have the same feature such as our Flip 4, Pulse 3, Xtreme 2, Boombox and Charge 3 (w/ firmware update)
Date published: 2021-06-06
I'm looking for a speaker I can leave plugged into a wall USB charger 24/7 and then connect to it via PC Bluetooth without having to physically turn on the speaker. Will this stay on all the time if left plugged in, even with no Bluetooth signal? Thanks.
While our JBL Charge 4 is fine being plugged in all the time, all our Bluetooth speakers have an auto shut off feature that will turn off our devices when there are no Bluetooth signals for 5-10 minutes. We suggest keeping the music playing if you want to keep turned on.
Date published: 2021-06-06
Does the power have to be on while charging JBL Charge 4?
Hi there, the JBL Charge 4 will charge even when it's on or off.
Date published: 2021-06-06
I have 2 charge 4 and flip 4 now my question is I'm looking in to Google assistant to connect with my c Chromecast Ultra to connect to my TV for assistance and streaming and controlling the TV ! Does the speaker havea ssistance built-in or can you update
Nope, the Charge 4 and Flip 4 are only Bluetooth capable. For Google assistant speakers you may be interested in our JBL Link series . https://www.jbl.com/link.html
Date published: 2021-06-06
I bought the charger 4 and want to know weather resistant- in terms of max-hot and minus-cold on what i can use safetly with out damaging the speaker 
Our JBL Charge 4 is IPX7 waterproof, meaning it's splashproof and can withstand being submerged into water within 3 feet depth for 30 minutes. It would be safe to use the speaker as long as it's within the recommended working temperature between 5 and 35 degrees Celsius. (41 to 95 Fahrenheit). Also, note to make sure that the speaker is dried before charging.
Date published: 2021-06-06
I know the Charge 4 is a mono speaker, however, Can I pair 2 Charge 4 speakers and have a separate right and left channel for true stereo playback? not just double mono playback?
Yes, you can download and install our JBL Connect app to configure two JBL Charge 4s for stereo output. Make sure you have both of the speakers' detected and added in the app for the stereo option to be selectable.
Date published: 2021-06-06
bvseo_sdk, dw_cartridge, 18.2.0, p_sdk_3.2.0
CLOUD, getContent, 20ms
questions, product
Support
Register your JBL product
Do you own this product? Register it here in case you need to claim warranty
Register Now
Can't find what you're looking for?
Are you looking for product support, documentation, how-tos or older products?
JBL Support