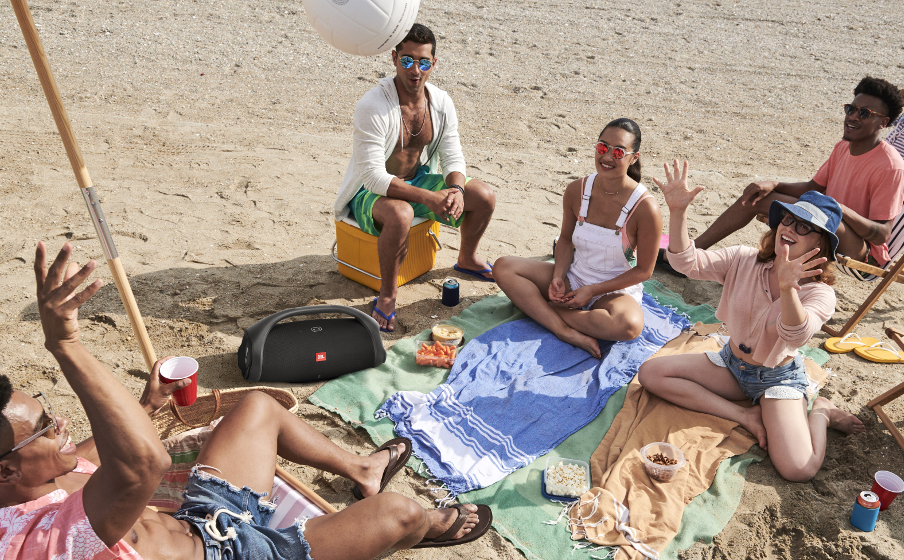 The loudest JBL boombox ever
Turn it up. Way up. Get the loudest, most massive JBL Signature Pro Sound on our most powerful portable speaker, the JBL Boombox 2.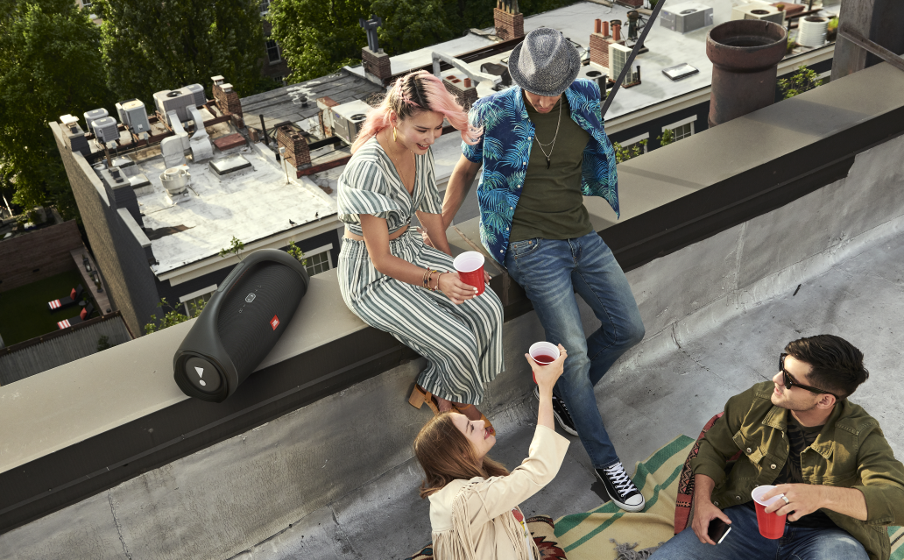 Monstrous bass you can feel
Dance parties thrive on bass, so let your friends feel it. JBL Boombox 2 pumps out powerful, deep bass just like your favorite JBL powered club.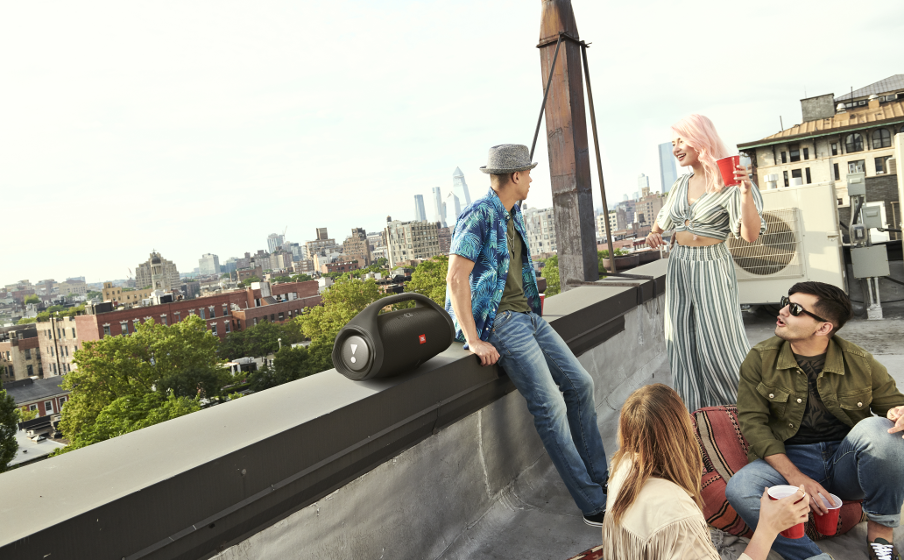 Keep the party going with up to 24 hours of playtime
The fun doesn't have to stop. Packed with up to 24 hours of battery life, JBL Boombox 2 lets you party all day and all night.
Features

Make a splash with IPX7 waterproof design
Bring your speakers anywhere. Pool party? Perfect. Sudden cloudburst? Covered. Bash on the beach? JBL Boombox 2 is IPX7 waterproof up to three-feet deep for fearless outdoor entertainment.

Strong, bold design
Sleek. Bold. Powerful. With its iconic grip handle and stylish side flares, JBL Boombox 2 will turn heads wherever you take it.

Crank up the fun with PartyBoost
PartyBoost allows you to link multiple JBL PartyBoost-compatible speakers to pump up the party.

Power up with the built-in powerbank
Don't put the party on pause. A built-in powerbank lets you charge your devices without taking a break from the tunes.
Specs & Downloads
Item# JBLBOOMBOX2BLKAM
Description
Massive Sound. All Day Long.

Own the party. From backyard barbecues to weekend road trips, JBL Boombox 2 brings it with monstrous bass, bold design and up to 24 hours of play time. IPX7 waterproof and portable, this powerful speaker pumps out massive sound all day and all night. Plus, you can connect other JBL PartyBoost-compatible speakers to turn the party up. JBL Boombox 2 keeps your friends dancing and its built-in powerbank keeps your devices charged. So you can groove from dusk till dawn and keep going strong!
General Specifications
Output power (W)

2 x 40 W RMS-woofer + 2 x 40 W RMS-tweeter
Audio Specifications
Dynamic frequency response range (Hz)

50 Hz - 20 kHz
Dimensions
Dimensions (in)

19.1 x 7.9 x 10.1

Dimensions (cm)

48.5 x 20.1 x 25.7

Weight (kgs)

5.9

Weight (lbs)

13
Control and Connection Specifications
Bluetooth profiles

A2DP 1.3, AVRCP 1.6

Bluetooth frequency

2.402 GHz – 2.480 GHz

Bluetooth transmitted modulation

GFSK, π/4 DQPSK, 8DPSK

Bluetooth transmitter power

≤ 10 dBm (EIRP)

Bluetooth version

5.1
Battery
Charging time (hrs)

6.5

Maximum music playing time (hrs)

24
Features
JBL PartyBoost

Yes

Charging cable

Yes

3.5 mm audio cable Input

Yes

Powerbank

Yes

Waterproof

Yes

Wireless

Yes

Rechargable battery

Yes

Bluetooth

Yes
What's in The Box?
1 x JBL Boombox 2
1 x JBL branded power adaptor
1 x Quick-Start Guide
1 x Safety sheet
1 x Warranty card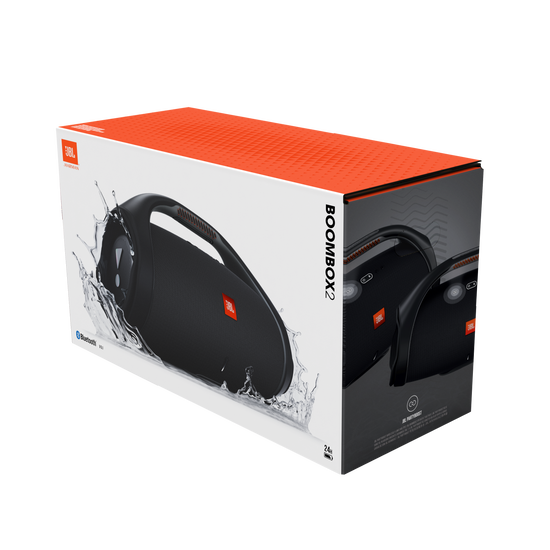 Documents & Downloads
Customer Reviews
Rated

5

out of

5
by
Vince123
from
It's loud
I bought this thinking I would jam out during the quarantine. About an hour in and the cops were at my door with multiple noise complaints. So yea, gonna be awesome this summer.
Date published: 2020-04-09
Rated

1

out of

5
by
Cred
from
Worked great until it didn't
Original bought this for outdoor movies to hook up with a projector, but found so many other uses for it. I purchased this in Oct 2020 and only had to charge it once, until now. Tried charging it for a second time, even overnight, but no luck. Customer support is polite and the guy I spoke to did the most he could do within his power, but they went through the same troubleshooting steps that are on the website. They told me I could buy a 60 dollar adapter to see if that would fix it and if that didn't work a 35% discount on a $500 speaker. I'm mad at the corporation not customer service, this seems to be a common problem. I was hoping to get at least 10 years out of this speaker, not 4 months past the 1 year warranty. Will look elsewhere when choosing another speaker.
Date published: 2022-01-29
Rated

5

out of

5
by
Nyck
from
Great speaker!
Ive had this speaker for about a day now and all I've been doing is playing music. I previously owned the original Boombox and the main differences between the two is the 2 has better deeper bass than the original. When I'm playing music on low volume you can hear the deep bass and you can see the radiators moving on the original I'd have to turn it up to about half to really feel the bass and for the radiators to start moving. On the original I'd have to keep switching modes depending on what music I was listening to if I wanted deep bass I'd have it set to indoor mode or if I'm listening to alternative rock, or Mexican music is have to change it to outdoor to really push up the mids. But on the new one it solves that problem so I'm happy with that so far I'm pleased with the speaker and volume wise it's roughly the same maybe a little louder on the new one. But I do like the new design much more than the old one.
Date published: 2020-04-16
Rated

5

out of

5
by
Jake129
from
Amazing!
I absolutely love this speaker! It is very loud and the bass is amazing! With a bass-heavy song and the volume up, it'll rattle the floor above you. That being said, this is not a super portable speaker. It's quite heavy. I've used it for family gatherings, and it's been great! However, I certainly wouldn't want to take it hiking with me. The battery lasts forever, too! I listen to music on it for usually and hour or two a day, and I've even charged my phone a couple of times, and it's still been over a week and a half since I charged it last.
Date published: 2020-07-05
Rated

5

out of

5
by
BlackMamba91
from
good, but we need software update to be louder!!
everything is good except volume, volume level is just like boombox 1...fix that please!
Date published: 2020-04-16
Rated

5

out of

5
by
Ourubus
from
Ridiculous bass
This thing is huuuuge. Very comfortable carrying grip, thankfully, but it is much heavier than my last portable speaker, the Extreme 2. For good reason, though, because this thing drives some seriously bone rattling lows, and the rest of the sound keeps from being submerged under the bass like with other lower quality sound setups. It's fun to just watch the drivers kick on this thing. Feels very durable, design is sleek, and music sounds fantastic (especially if you like bass). Only downside is I wish it was equipped with aptX for the price but its not an issue, as SBC isn't as bad as it once was and the Bluetooth 5 performs perfectly fine.
Date published: 2020-10-07
Rated

3

out of

5
by
Scanez1020
from
Awesome speaker with a HUGE let down
I had been looking forward to purchasing the boombox ever since it first came out. I already own a pulse 3, a charge 4 an xtream 2 and finally had the money to order the boombox2. I absolutely love the speaker. The sound was substantial. It had a deep base sound without it overpowering the highs, the volume went very loud and I could not wait to connect it to my other 3 JBLs. I downloaded the jbl app and to my shock and disappointment, it did not connect to any of my other JBL speakers. JBL changed the Connect + in the boombox 2. Why on earth would they do that. I understand when better technology comes out they want to use it but they absolutely need to make it possible for their customers to update their older model jbl speakers so they can all link up regardless if you bought one 6 months ago or 3 years ago. I immediately called customer service and requested a return label and shipped it back. I had to order the boombox 1 since that one was compatible with my other speakers. The fact that they all are supposed to connect with each other was one of the main reason why I have invested in JBL. This is bad business and needs to be fixed.
Date published: 2020-08-21
Rated

1

out of

5
by
JackReacher
from
Beware of compatibility!!!
Boombox 2 sounds great...too bad it doesn't work with existing speakers I own. C'mon JBL! You're going to erode your customer base if you don't make your legacy products compatible!
Date published: 2020-08-28
Rated

5

out of

5
by
Mckinky
from
Not meant for an apartment!
This speaker is amazing. Definitely an outside speaker. The bass is wild, sound is great. Wish it was a little lighter but at the end of the day, I don't care. I bought it for big sound and it delivers!.
Date published: 2020-12-30
Rated

2

out of

5
by
Brooks
from
Great Sound Quality - Poor Battery Life
Sound quality is phenomenal. Battery life if terrible. Advertised 24 hour battery life, even has a charging port for your phone. needless to say i might get 8 hours out of the battery. Contacted support, they gladly sent me a new one. Same thing. Then states well play at half volume to get close to the advertised battery life. Who wants this speaker at half volume. I wouldn't expect the full 24 but at least half. Give me 12 hours with no worries. This speaker is way too expensive to have to keep plugged into the wall. You can buy PA uprights for half the money if you want to keep one plugged in.
Date published: 2020-11-30
Rated

5

out of

5
by
AdamV
from
HIGHLY Recommend
I bought this speaker because I Ordered This speaker because I wanted something with DEEP bass, and this speaker delivers! In my experience in just over half volume and a deep bass song it can shake the walls! The bass is incredibly deep, but it still doesn't over power Treble and mid-range.
Date published: 2020-04-11
Rated

5

out of

5
by
Jeretekz05
from
Another level of sound quality
I bought the boombox 2 couple days ago and it is sound different from the old one. More louder and more booming than the bb1.
Date published: 2020-04-09
Rated

5

out of

5
by
Kyle H
from
Amazing Base and Sound Quality
So why buy the JBL Boombox 2? Bass Quality Durability If you're someone who enjoys drum and bass then this is 100% the speaker for you. Furthermore, the bass in no way infringes the quality of the sound (unless you're in a tiny room playing it on full volume). So this speaker is ideal for all genres of music whatever your taste may be. This speaker also gets very loud for its size. Indoors I rarely have the speaker over 15-20% volume for fear of my parents wrath. However, I am a university student and if you're looking for a house party speaker, the Boombox 2 is a great choice. My only real critique is that it is rather pricey. I managed to pick it up for £320 as JBL had a 20% discount on UNiDAYS, so if you're a student I would highly recommend taking advantage of this.
Date published: 2020-07-27
Rated

2

out of

5
by
Anonymous
from
Boombox 2 does NOT Connect with Boombox Original
Beware before purchasing!!! This boombox will NOT connect with the original boombox. The sound and quality are great however me owning a boombox original for almost $500 you would think JBL would make all of their speakers compatible for connection regardless of sound quality from one to the other since it is the speakers job to perform at its max potential especially with these all being around the same $500 bench mark price. This in my opinion is not right and is in a sense of buyer control to enjoy the nicer newer products, you can purchase the newer models but have to leave the older JBL speakers by the way side if you do a full party or event not being able to connect them all simultaneously to have a surround sound setting. Or you can just buy another older model to hook up to however, I think its pretty sad a good and successful a company like this is didn't add the bluetooth connect that they are more than capable of doing to connect to older models. If you are an older boombox owner beware before you spend another $500 plus tax for this newer version that will NOT connect to your original. I hope JBL will make adjustments or at least offer a buy back at full price of the original purchase price so we can all enjoy their older and or newer products together and not feel obligated to purchase more of the same product $500 each I may add again, to receive better sound quality. Not cool JBL...
Date published: 2020-04-02
Rated

5

out of

5
by
MNnice
from
Big sound, easy to connect to, durable
I've been using the JBL Boombox2 for the past month. Connectivity: It's very easy to connect to. Pairing Bluetooth mode at the push of a button to allow your friends to connect and play their music. Charging/Battery: Easy and accessible charging port that has a nice rubber gasket to cover when not plugged in. Battery life is 24 hours so throughout a three day weekend and on average using it 6-8 hours a day I never had to charge it. Accessibility & Sound: I've used this in an outside setting multiple times from camping, the deck, and on the boat. You get big and quality sound with volume levels that can still be heard from a distance away or over boat motor noise. Simple adjustment to volume with the push of a button on top of the unit or from your phone. Play as soft or as loud as you'd like with easy controls. Sturdy grip handle to carry and transport. This speaker will blow your smaller Bluetooth out of the water in bass and sound. Waterproof: Waterproof for that piece of mind when on the lake and wet conditions. I've physically poured a bottle of water over the speaker and watched it bead up and roll off, never once effecting the speaker's function. Summary: If you're looking for big, quality sound for around your campsite or jamming tunes at the sandbar when on the boat, consider the JBL Boombox2. I look forward to also using it as bigger sound for backyard movies on a projector screen.
Date published: 2020-07-19
Rated

4

out of

5
by
BrockManStereo
from
Overall Good portable speaker
I bought two of these one in Squad and one in Black and overall they are very nice speakers. However since I upgraded them from firmware 4.3 to firmware 4.4 i hve had major issues with pairing them together. I contacted JBL asking if there was any software updaters in the pipeline for these speakers and they just keep telling me to do these things i already tried 10 times BEFORE i ever contacted them. If and when these get another software update that fixes my issues i would give them 5 stars but until then im pretty disappointed about the partyboost pairing and firmware 4.4.
Date published: 2021-09-24
Rated

1

out of

5
by
adunn
from
Partyboost does not deliver
I bought 2 boombox 2. Party boost buttons seldom respond. Often don't connect. After multiple tries, eventually connect using Samsung tablet. But, using Samsung phone, connection weak. Songs skip consistently. No good. JBL Connect app appears to be most problematic. Poor app. Bottom line, don't buy hoping to pair sound for stereo. JBL promises but does not deliver. Very sad. Speaker by itself has good sound. Should work well as a team but doesn't.
Date published: 2021-01-18
Rated

5

out of

5
by
VictorV
from
Explosive!
Im going to get to the point.. this speakers rocks! OMG I cant believe my ears. I threw every genre of music at it and the speaker begged for more. Crisp high from classical music, furniture moving bass from hiphop, my body felt every beat drop of edm/trance, It was a live concert with my rock n roll playlist. The speaker itself is very well built, clean seams, no gaps, quality material used period.. JBL quality I expected and familiar with. The speaker handle felt good in my hand, was able to comfortably and confidently carry without fear of dropping it. Buttons and ports are current with all JBL products available, easy to read and navigate, no issues here. Bluetooth connection is spot on, pairs to my iPhone 11 Pro instantly and every time after that.
Date published: 2020-06-25
Rated

5

out of

5
by
gtech
from
Heavy system....actual purchaser review below
This is a quality speaker easily the loudest and clearest one i have used and i have used a few. the only thing that took me by surprise was the weight but then it the weight you expect of quality equipment. Highly recommended.
Date published: 2020-04-04
Rated

4

out of

5
by
BoogieDown
from
Great Product
I really like this product, I just believed that for the price it would have a better quality of sound than my PartyBox 100, it does not. I purchase it for better portability. I was going to give the PartyBox 100 away, but I think I'll keep it because it better sound quality and much more features. This is a great sound product and may have great battery life, but for the price tag. I believe there should be a little more bang for my bucks on the one. With that said, great sound, easy to carry about (the ladies my find it a bit heavy) and very good battery life. I will keep this one.
Date published: 2021-12-08
Rated

5

out of

5
by
vbryant
from
Best portable speaker around!
I've owned the flip 4, the charge 3 and 4, extreme 1 and 2 and the original boombox The boombox 2 is an absolute beast in all areas!!! Highly recommend!!!
Date published: 2020-04-10
Rated

5

out of

5
by
Xanxaus
from
Cautious of where I play my music
Extremely loud and full of bass. If it's over 50% the whole floor starts to rumble and neighborhood starts to look
Date published: 2020-05-11
Rated

5

out of

5
by
Marvel_15
from
Awesome
Im very happy that i bought JBL BOOMBOX 2 my room is rumbling and i love it the bass and sound quality is perfect
Date published: 2020-10-22
Rated

1

out of

5
by
Chivas
from
Alexandru Cerevco
after switching on, it froze, the column does not respond to the power button, I cannot turn it off. I tried different key combinations, nothing helps, the bluetooth was not connected. I pressed the key combination, reset to factory settings, after connecting the bluetooth, I wait until it is discharged, it can help. the power button does not respond, the battery indicator does not show that the column is discharged. very disappointed
Date published: 2020-09-23
Rated

5

out of

5
by
ProlDJ
from
BUY IT!
I received the Boombox 2 a few days and I have been abusing it ever since. It has fallen out of the back of my car and bounced down the street, tossed in the sand at the beach, and rained on. All that and it still sounds and looks great. This speaker is very durable, looks sharp, and has amazing sound. Wether your in the backyard or at the beach you'll have plenty of sound. Buy, buy, buy!
Date published: 2020-06-25
Rated

4

out of

5
by
Jetty
from
Great Features!( :o )
The're are only 3 things about this speaker that I like, the battery life, bass & sound; which is technically speaking the main attraction for most consumers(including myself), but unfortunately JBL forgot to mention a few things about this speaker, such as: they don't have a battery indicator level, I put tape on the battery indicator so I can better see how much battery power is left, the speaker will automatically enter sleep mode(goes silent) if the speaker isn't detecting a certain decibal BUT it does turn back on when it reaches the decibal that's required for it to do so (same goes for the Party Box On-The-Go). Whoever designed this must be kinda dumb lol. GREAT SPEAKER :)
Date published: 2021-12-05
Rated

5

out of

5
by
DjBrotherJim
from
So good I ordered a 2nd.
I purchased one Boombox 2 on account of the quality of sound produced by the mini JBL portable Bluetooth speaker Flip 5. The sound quality way surpassed my expectations of what to expect, that I purchased a 2nd Boombox 2 so that I could link them up to play in stereo. I now have nightclub quality sound in my living room. I cannot recommend these speakers more.
Date published: 2020-08-19
Rated

4

out of

5
by
Walzlurch
from
Well worth what I paid
I just bought this today for 50% off at Meijer. Well worth the $250. I would not have paid $500 though. I picked up a Charge 4 a week earlier and was happy with it but it just wasnt loud enough. I remembered they had one boombox left for half off so I went for it. No complaints so far except for one and it's not really a complaint. Certain songs dont quite sound right when using bluetooth. If you dont mind a cord I fixed this by plugging in my 3.5 mm jack in to the aux port. Same songs played perfect. I read it's a problem with the bluetooth codec or something. Not a problem with me, I'm old and can use a cord. It's quite loud and punchy too. That's about it for now, only have had it for half a day. If u can score a deal like I did it is well worth the cost.
Date published: 2021-01-31
Rated

2

out of

5
by
Meco
from
Awesome sound but disappointing
I bought this a couple months ago for my husband and we charged it one good day to use it to celebrate my husband honorable discharge from the army. We tried to use it again it would not work without plugging in the charger otherwise it just continues to Flash like its charging but it never charges. I am very unhappy with performance and the big ticket price. Too much money for it to not work. So disappointing.
Date published: 2021-06-05
Rated

4

out of

5
by
DanielS12181
from
Deeper bass and better sound than original
Great sounding Bluetooth speaker. Deeper bass than original with a better sound signature, more power, smaller battery but same capacity and is heavier by a little more than a pound telling me JBL upgraded the inside and drivers. Only gave it 4 stars because mine came with a crackling/clipping sound from one of the tweeters anywhere that a lot of treble was present. Currently waiting for a new replacement.
Date published: 2020-05-06
bvseo_sdk, dw_cartridge, 18.2.0, p_sdk_3.2.0
CLOUD, getReviews, 8ms
reviews, product
Product Q&A
Hi. Can i ask you why there Is difference between the battery capacity between two boombox speakers?
Thank you for your question. While two devices of the same JBL model have the same internal battery, differences between performance may be due to usage. Length of time used, level of battery charge and volume of music playback can all affect said performance. Should you wish to receive further support, you may contact the Harman Customer Support team by telephone, email or chat in order to receive direct assistance. Please see https://uk.harmanaudio.com/support-contact.html#ns for further details.  Thank you.
Date published: 2021-06-06
I just bought a Boombox 2 . if i press the on button when the unit is unplugged, it starts right up. when I press the on button with the unit plugged in to the wall outlet it does not turn on. is this normal ?
Thank you for your inquiry. Please try to perform a power cycle by pressing the power button for at least 30 secs. You may also try a factory reset by pressing and holding the "Volume +" and "Play" buttons at the same time for more than 3 seconds -> Unit will power Off by itself. If the issue persists, please contact our customer support service via our official website or toll-free hotline.
Date published: 2023-05-01
Can you daisy chain the Boombox 1 with the Boombox 2? If not, can you play them both at the same time using the App? 
Our JBL Boombox will not pair with the Boombox 2 as it only has the Connect+ feature. Our Boombox 2 has the PartyBoost feature for stereo and PartyMode.
Date published: 2021-10-20
Is it waterproof?
Yes. Our JBL Boombox 2 has an IPX 7 rating, which means it is waterproof.
Date published: 2022-10-11
Can you hook up a wireless microphone and use the bluetooth capability for music at the same time? Or is there an output you could plug in a microphone?
No, it doesn't support wireless microphones. Moreover, for microphones to work, the signal needs to be boosted before it passes to the speaker output. Our JBL Boombox 2 doesn't have this preamp boosting built-in. We have the JBL PartyBox Series that has this built-in but for wired microphones.
Date published: 2021-06-06
Why is there no shoulder strap ?
We would like to get more information to help you out, please contact us so we can assist you: https://bit.ly/2zwFkYM
Date published: 2021-06-06
Where are these things made?
Our products are designed in the USA and are made in China.
Date published: 2021-06-06
Can JBL Boombox 2 use for karaoke instead of JBL party to go?
Thanks for reaching out. Our JBL Boombox 2 has one Aux input. It doesn't support a microphone as an input.
Date published: 2022-03-31
Does this play usbs with music on the usb
Our JBL Boombox 2 doesn't play music files from a USB flash drive. The USB Type-A port is for the power bank function to charge other USB devices.
Date published: 2022-12-25
Is it possible to make 1st boombox2 as Left speaker and 2nd Boombox2 as the Right speaker = as a stereo system?
No, our JBL Boombox and our JBL Boombox 2 have different connectivity features.Boombox has the Connect + feature while our JBL Boombox 2 has the JBL Partyboost feature.
Date published: 2023-01-22
does it have FM tuner?
No, Our Boombox 2 does not have a built-in FM Tuner
Date published: 2021-06-06
Can the bass be reduced 
Thanks for taking the time in providing your feedback with our JBL Boombox 2. We can recommend trying to use an equalizer with the music app that you're using to adjust the audio to your preference.
Date published: 2021-06-06
When the camo boombox 2 will be available?
We would like to get more information to help you out, please contact us so we can assist you:https://bit.ly/2zwFkYM
Date published: 2021-06-06
Can you connect a JBL Boombox 2 to a Partybox 310 ? 
Our JBL Partybox 310 can only connect to another Partybox 310 using TWS connection.
Date published: 2022-12-09
Is the speaker good on sand?
Yes. Our JBL Boombox is IPX7 waterproof and dustproof. It can withstand being submerged into water for a depth of 1 meter up to 30 minutes.
Date published: 2021-06-06
Can someone tell me if i can hook up a wireless microphone to this speaker? also, what is the distance of transmission if i could hook the microphone into and walk away from speaker? Its for the purpose of graduation ceramony
No, it doesn't support wireless microphones. Moreover, for microphones to work, the signal needs to be boosted first before it passed to the speaker output. Our JBL Boombox 2 doesn't have this preamp boosting built-in, it's our JBL PartyBox Series that has this built-in but for wired microphones.
Date published: 2021-06-06
When will you all restock the black one?
Thanks for your interest in our products. We have no news yet of when we'll have stocks of our JBL Boombox 2 in black. Please subscribe to our newsletter at the bottom page of our website, to receive the latest news and updates about our products: https://www.jbl.com/
Date published: 2021-06-20
Would you place this speaker on a shelf in a corner so the sound would bounce off a brick house corner wall?
You could definitely try to place your JBL Boombox 2 in the corner to make the bass sound a little stronger due to resonance.
Date published: 2021-06-06
Does the boombox 2 have a indoor and outdoor mode
No it doesn't. It has a single mode optimised for both.
Date published: 2021-06-06
I currently have the Extreme 2 (with Connect+), but I want the Boombox 2 (with PartyBoost). How is PartyBoost better than Connect+? Is PartyBoost the last connectivity enhancement? I don't want to invest nearly $1,000 in speakers that won't sync up.
JBL PartyBoost is an improved version of JBL Connect +.As Bluetooth technology improves, so do our portable products. The new PartyBoost feature allows you to connect up to 100+ of other PartyBooost enabled speakers. It contains a more powerful Bluetooth transmitter, which allows you to play the speakers further apart from each other. If you have more questions, please reach out to our Customer Support. We're here to help. https://bit.ly/2zwFkYM
Date published: 2021-06-06
How can 10000mah battery in boombox 2 last the same as 20000mah  in OG boombox there's a ton of difference in the battery size and the fact that boombox 2 's output has increased & still lasts upto 24 hrs with a smaller capacity battery how ??
The Boombox 2 features the same battery capacity as the first generation Boombox. The Boombox 2 battery specs have recently been changed in measurement specifications but still provides up to 24 hours of audio playback.
Date published: 2021-06-06
will this pair with the Charge 4 Connect+ app?
Thanks for your inquiry. Our JBL Boombox 2 can't be paired with the JBL Charge 4. The Boombox 2 has a PartyBoost feature while the Chagre 4 has the Connect+ feature.
Date published: 2022-06-29
Do u finance
No, we do not.
Date published: 2021-06-06
Can this speaker work completely out of the power supply? With other speakers, after a while(say a year)the batteries degrade so much that the device becomes unusable. When this happens I would like to keep using my speaker from the AC adapter.
There is no harm in leaving your speaker connected to electricity at all times. You can simply pick it up, unplug it from the charger and be on your way, knowing that you have a full charge.
Date published: 2021-06-06
I am looking at this speaker, but the overall "2" rating is kinda putting me off. How does this speaker sound at lower volums??? I have an Xtreme and want to replace it with this BB2. lower volum is as good as the higher volum??
It would depend on the listener's ear how a speaker would sound as everyone has different hearing preferences. We suggest that you take advantage of our product's 30-day guarantee return if the unit was purchased from our website. If you don't like the speaker, you can use our self-service options to initiate refund here: https://www.jbl.com/support-returns-and-warranty.html
Date published: 2021-06-06
Do you have to break in the JBL Boombox or is it ready for full volume use out of the box?
There's no need to do a break-in. Please note that you will get a shorter music playtime on a full volume.
Date published: 2021-06-06
can the Boombox 2 be paired to work with other JBL speakers? and if so which ones and how are they connected and paired?
It can be paired and connected with other JBL portable speakers with the PartyBoost feature. These are the Flip 5 and Pulse 4. Simply press the PartyBoost buttons on each speaker to have them connected.
Date published: 2021-06-06
Is there any way to adjust the preset equalization? It is far too bright for me.
You can adjust the EQ via the source device/music app.
Date published: 2021-06-06
Does it support airplay 2?
No, our JBL Boombox 2 has no Airplay 2 built-in.
Date published: 2021-06-06
Hello, good morning, when will the new Boombox 3 be on sale and what will its price be?
Thanks for your interest. Hopefully, our JBL Boombox 3 will be available this summer of 2022 and retails for $499.95.
Date published: 2022-06-28
bvseo_sdk, dw_cartridge, 18.2.0, p_sdk_3.2.0
CLOUD, getContent, 157ms
questions, product
Support
Register your JBL product
Do you own this product? Register it here in case you need to claim warranty
Register Now
Can't find what you're looking for?
Are you looking for product support, documentation, how-tos or older products?
JBL Support