Well, it's official: This is the summer of social distancing. While a "return to normal" in a post-COVID world means different things to different people, one universal certainty is that as things begin to open up, live music, performances, worship services and presentations will require some different approaches and considerations for some time to come.
Even with an uncertain outlook, the warmer weather of summer and the ability to get outside brings opportunities for socially distanced events for those looking for new paths to a shared music or communal experience—all made easier with portable audio technology.
The power of a battery-powered P.A.
Portable P.A. systems are miracle multitaskers: They deliver pro-level sound reinforcement without breaking your wallet—or your back. And, with systems offering built-in mixers, effects, Bluetooth streaming and flexible I/Os, you'll never have to trade sound quality or control for the convenience of an ultra-compact system you can sling in one hand. Battery-powered systems open up an even wider world of possibilities; once you're free from the confines of power cords, your gigs are only limited by your imagination.
Today's rechargeable P.A.s are full-featured, yet surprisingly lightweight. The small-and-mighty JBL EON ONE Compact, for example, packs a pro-grade speaker, 4-channel mixer and Bluetooth functions into a compact system weighing just 17.6 pounds. Control premium effects and presets right from your phone or tablet using the JBL EON ONE Compact Control app, and use one-touch ducking to instantly lower background music volume below speech. EON ONE Compact offers 12 hours of play time, with tool-free, hot-swappable battery.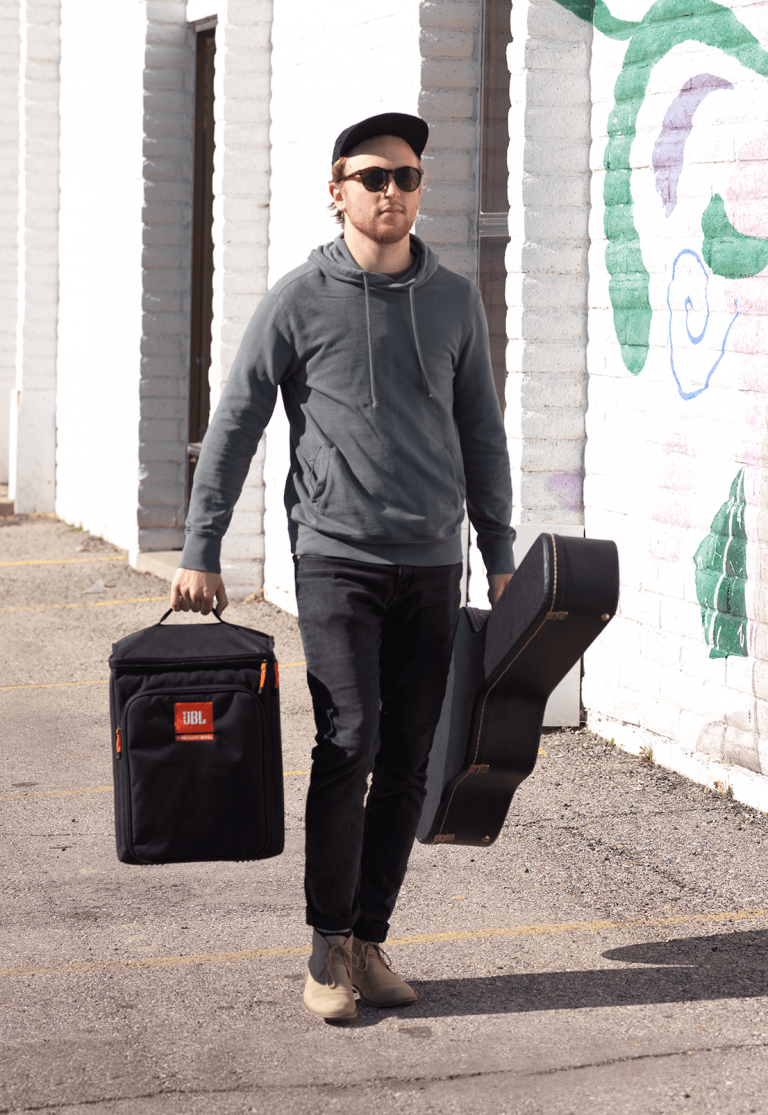 Make your event safer
Current social-distancing recommendations favor outdoor gatherings, which are already ideal settings for summer gigs. Only you can determine your personal comfort level with group situations, but if you're ready to perform socially distanced shows, take steps to protect yourself and others, including limiting attendance, asking participants to wear masks and establishing "stage zones" and dispersed seating that physically separates artists and audience members. Post signage with polite rule reminders. You might consider enlisting a local artist to make the signs more creative and appealing. We've seen some socially distanced events in Europe where graffiti artists have turned audience spacing into a work of art.
For more safety suggestions, consult CDC guidelines.
Lastly, set realistic expectations when it comes to both audience attendance and your take at the end of the event. Performing for reduced-capacity crowds means your gigs will likely be more about the experience of getting back out there and less about making up lost income, but don't forget to include your Venmo information for tips or donations on signage.
If you're looking for some creative ways to put on socially distanced events this summer, we have some ideas to inspire you.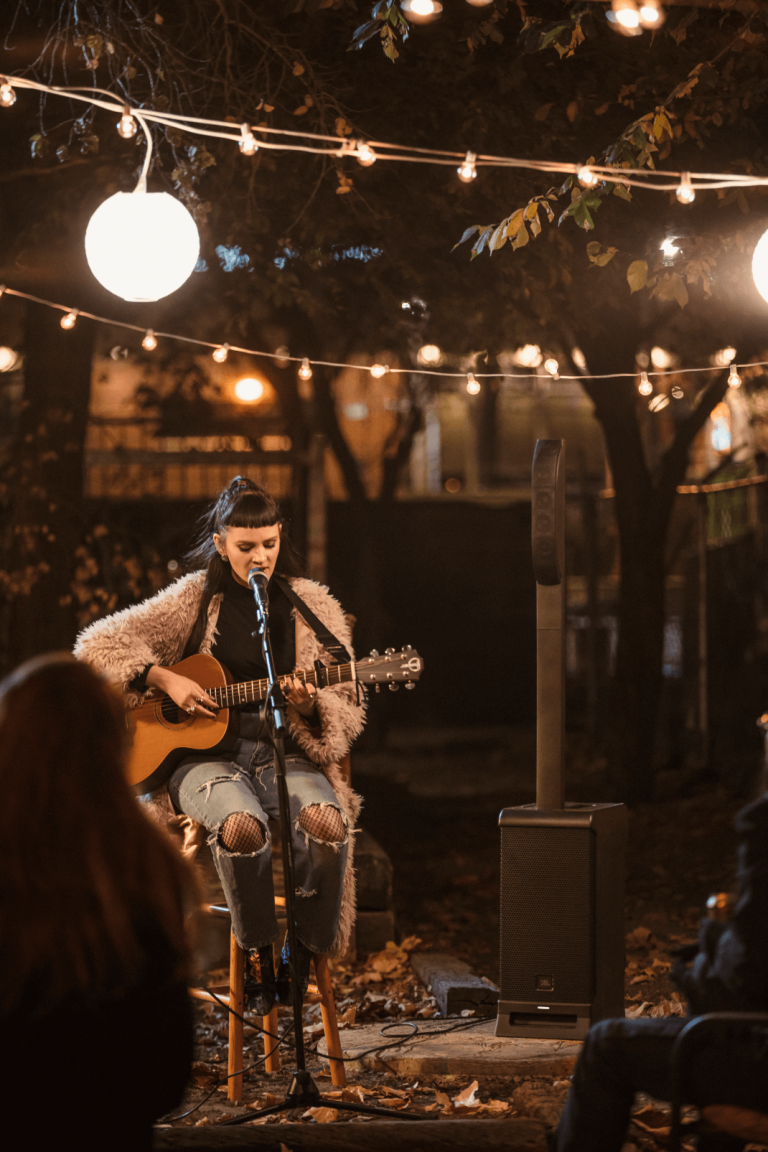 1. Busking From Afar
Street performers: This land is your land, from the farmer's market to the subway station. With a battery-powered P.A., the world is your (enormous, socially distanced) stage. The JBL EON ONE Compact is less than 17 inches tall and can be carried in one hand or for even more freedom of movement, in its backpack, making it the perfect traveling companion for singer/songwriters on the go.
2. Be a DIY DJ
What better way to be dancing in the moonlight than to have your dancefloor outdoors. If you're streaming Bluetooth audio, consider using four EON ONE Compact units, which can all be linked together from one app.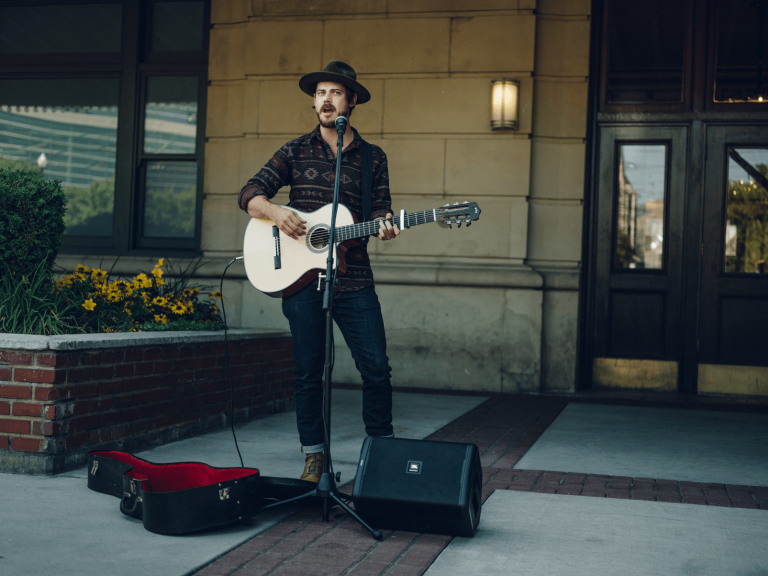 3. Outdoor Weddings
Love is pandemic-proof, and a bride with a perfect playlist is a happy bride. Whether you're DJing or playing live, from first kiss to last dance, the EON ONE Compact provide professional-quality sound whether you're in a backyard or even the most exotic socially distanced settings.
4. Supercharge Your Workouts
Fitness instructors: Don't drag that heavy, old boom box to your outdoor classes. If you a need soothing soundtrack for desert sunrise yoga or drill-instructor thunder for boot camp in the park, the JBL EON ONE Compact portable P.A. has you covered, for a full twelve hours: Plug in your favorite mic, stream playlists over Bluetooth, and use one-touch ducking to make sure those commands are heard loud and clear over your music. Because #NoExcuses!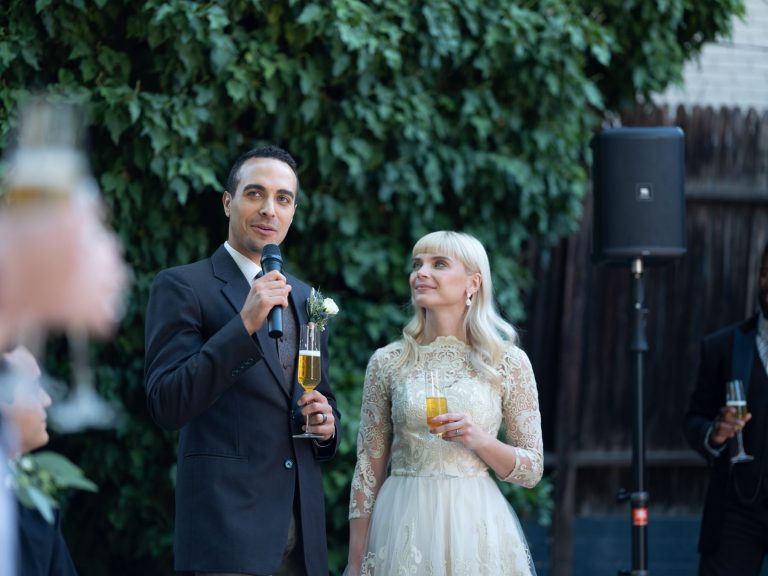 5. I'm On a Boat
Or at the beach. Or in the park. You're guaranteed to have more fun in the sun with a pro-level sound system that you can truly take anywhere—and you can count on JBL EON ONE systems' rugged, stress-tested polypropylene enclosures to withstand just about anything your outdoor gigs dish out. (No, they do not work as flotation devices.)
6. Pop-Up Drive-In
Drive-ins are back! Between movies, concerts and variety shows, car culture is making a comeback this summer. Why not host a pop-up drive-in show in your town? Once you get permission to use a lot, all you need are lights (check out solar options), a battery-powered P.A. and parking spaces for your fans. For this type of larger-scale event, which could take place somewhere where power is readily accessible, you might consider a more powerful, non-battery powered P.A. system like the IRX Series, EON700 Series or PRX800 Series.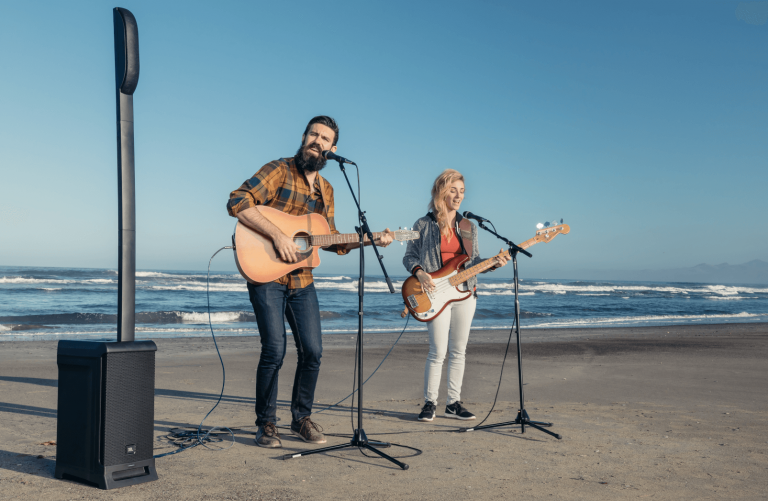 7. Burgers, Brats and Beats
Want to throw the best backyard bash on the block? Your grill skills are the just the beginning. When you host your next socially distanced BBQ or outdoor movie night, put the sizzle in your steak and your soundtrack with a powerful P.A. like the EON ONE Compact.
8. Power Your Presentations
Modern workspaces are evolving beyond traditional office spaces, from remote models to co-working spaces; taking your team outside could make your meetings a little safer. Have something important to say? Make sure your message is heard loud and clear, with sound that matches the clarity of your visuals. With the JBL EON ONE Compact's one-touch ducking feature, your voice will always be front-and-center, even over background music. The great thing about a rechargeable P.A. is it plugs in, too, which makes it a great choice for powered A/V setups, which means you can add wireless microphones such as the AKG DMS300, a state-of-the-art digital rig that encodes your signal for added security.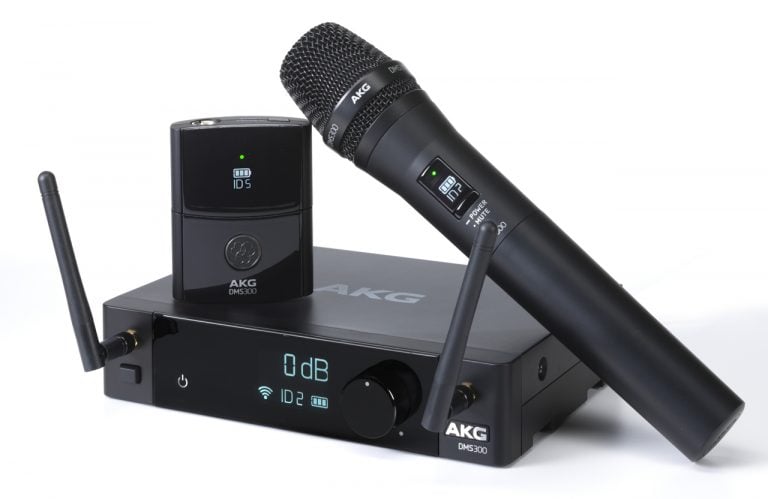 9. Rockin' and Rollin'
Zoom parties are so last month. Looking for a fun way to celebrate birthdays, graduations and other special milestones? Hop in a truck, fire up your cordless P.A., and throw a party parade that your loved ones will never forget.
10. Worship From Afar
With outdoor services offering better opportunities to socially distance than indoor services, houses of worship are getting creative this summer by assembling in parking lots and on church grounds. Battery-powered P.A.s are easy solutions for quickly and easily amplifying outdoor services: The JBL EON ONE systems provide the power to cross the distance with many of the features found in installed systems, with bonus features such as mic, line and instrument inputs, plus a built-in mixer and effects that'll let worship teams dial in inspiring sound, fast.
What are some ways you're hosting socially distanced events this summer? Let us know in the comments!