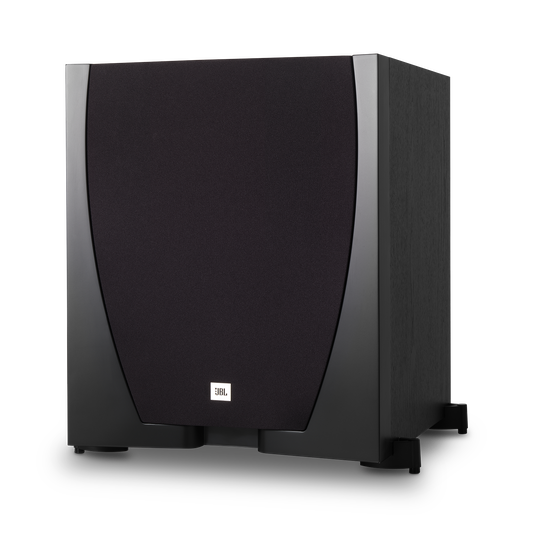 Features
Built-in 300-watt RMS (500-watt peak) amplifier
A 300-watt RMS (500 watts peak power) amplifier lets you play your Studio 550P subwoofer at body-quaking levels without any room-vibrating reverb or excessive heat output. A built-in limiter extends this ability by preventing distortion that can arise out of sudden peaks, taking the audio from merely impressive to completely immersive.
10-inch (250mm) PolyPlas low-frequency transducer
The Studio 550P features a 10-inch (250-millimetre) cone made from lightweight yet rigid PolyPlas cone material. For the listener, this structure means powerful heart-thumping bass with such low distortion that individual sounds remain both accurate and articulate, even at sustained low frequencies. This is the kind of bass that takes surround sound from simply a listening experience to a seemingly tangible, robust environment.
Sealed enclosure
Power and accuracy normally do not go hand in hand. The Studio 550P, however, is by no means a mere normal subwoofer. It features a sealed enclosure that acts to control the woofer cone's motion, thus providing consistent, reliable sound that remains smooth and rich even at the deepest of frequencies.
Forward-firing transducer
The Studio 550P places you in the centre of the action by sending the action straight at you via a powerful, forward-firing cone. Sound travels directly to your ears without reverberating off the walls or bending around the furniture. This is bass in its most potent form, from a subwoofer versatile enough to be placed in the middle of the room or against a wall.
Adjustable crossover frequency and phase control
A phase switch ensures that the action of the Studio 550 subwoofer's transducer moves in sync with your main speakers. As a result, the subwoofer's low frequencies blend seamlessly with the sound coming from the main speakers, regardless of where you place the subwoofer in a room. Furthermore, an adjustable crossover-frequency control lets you optimize the subwoofer for a variety of main/satellite speaker choices.
LFE and line-level inputs
A choice of LFE and line-level inputs lets you either use or bypass the subwoofer's internal crossover circuits for bass-boosting versatility. This option provides greater flexibility in how you use the Studio 550P while ensuring noise-free connections to virtually any type of audio/video amplifier.
Metal floor spikes included
Unwanted interaction between the subwoofer and the floor can cause distortion – but the Studio 550P includes an array of metal spikes to reduce distortion. The use of such spikes also creates clean sound by placing a cushion of air between the speaker and anything that could potentially disturb its pristine low-frequency waves.
Frequently Bought Together
Specs & Downloads
Item# SUB 550PBK
Description
Muscular sound from a 10" (250mm) subwoofer with built-in 300W RMS amplifier.

Bass is the foundation of great sound. You don't just hear it in your ears; you also feel it from the top of your head to the bottom of your feet. JBL® subwoofers are built to maximize such a feeling as well as enhance your entire experience of sound. The same JBL sound engineers who designed the playback systems for many of the world's top concert venues, recording studios and THX®-equipped movie theatres have optimized their technologies and materials in the Studio 550P subwoofer to play with just about any home system. This subwoofer incorporates your entire body into an enveloping bass experience. The 550P outputs astonishingly realistic and immersive low-frequency sound via a forward-facing, 10-inch (250-millimetre) transducer mounted inside a rigid yet light PolyPlas™ cast-aluminium cone frame. This is the kind of powerful, low-distortion bass that you can feel from skin to ear to chest cavity, and one that practically transports you to the very environment that you are hearing. The Studio 550P truly places you at the centre of the experience, right in your living room.
General Specifications
Enclosure Type

Sealed (forward-firing)

Finish

Black
Audio Specifications
Frequency Response

27Hz-150Hz
Dimensions
Height (mm)

379

Height (in)

14-29/32

Weight (kg)

23

Weight (lb)

50

Width (mm)

444

Depth (mm)

380

Depth (in)

41-31/32

Width (in)

17-1/2
Control and Connection Specifications
Controls

Crossover frequency, Volume level, Phase
Documents & Downloads
Customer Reviews
Rated

5

out of

5
by
Chip H
from
This is a great subwoofer!
I bought one of these subs for a new home theatre setup. When I tried it out it was great for music but lacking a bit for home theatre for my large living room with high ceilings. I added a second one of these and it now sounds great for movies as well as music. I was originally planning to build a high end subwoofer, but decided to try one of these because it was on sale at a fantastic deal. Even though I bought two of them I spent less at the sale price than I was planning to spend on building a sub. These are very well built with cast basket subwoofers and 1" thick mdf enclosures and weigh about 50 pounds each. If you can get one of these when it's on sale don't hesitate to buy one or maybe two.
Date published: 2018-01-30
Rated

5

out of

5
by
pet1700
from
Love the tight bass over my budget ported subs.
Initial impressions are setting them up...these JBL 550p sealed SUBS sound best at phase 180, just like previous BIC down firing 12" subs with the Polk XT speakers I'm using in my 5.2 configuration. I have to run them hotter at 3oclock versus the down firimg ported subs at 12oclock. Overall, I loving the musical sound of these subs and now understand why people love sealed subs over the ported subs. I am hearing various low notes versus just booms...the impact is still there when watching movie trailers, but seems so much cleaner and tighter. I can't wait to use them more and more...they are definitely not going back. You need at least 2 for best sound in a room with these.
Date published: 2023-04-29
Rated

4

out of

5
by
wrmcdesigns
from
Very Nice
I have had this for a couple of weeks and am very happy with the quality and sound. It was not handled well during shipping and received a chip that is about 1" tall on the front vert (see photo). I do not believe the chip or impact that caused it effects the sound or performance. I am not interested in having it replaced. I purchase the unit on sale, and if I had paid the full price I might peruse having the problem remediated (I bought it on sale). I do not view the chip as a negative towards the brand, and am still very happy with the purchase. I am looking forward to upgrading my other speakers, and believe it will enhance the sound quality of this subwoofer.
Date published: 2020-07-14
Rated

5

out of

5
by
Courtney931
from
Really impressive and the base is right on
I was watching this sub for it to go on sale and soon as that happened I made sure to order one. It says refurbished but the one I got looked brand new with not a scratch. Compare the weight to the HKTS 16 sub it was replacing this Sub was at least 4-5 times heavier. I have JBL in wall and ceiling speakers plus a studio 520C Center so I really wanted a good sub because the Harmon Kardon sub was not cutting it. So installation was simple enough, plug out my old sub and use that cord to plug this in and connect the electricity. Turn it on and WOW, my living room started to rumble.
Date published: 2020-05-05
Rated

1

out of

5
by
sg253
from
Defective Amplifier Board
Please avoid making the mistake I did, and do not buy the JBL SUB550P. If you are shopping for an affordable subwoofer look to polk, monoprice, or klipsch. For a higher end unit look to SVS, REL, Rhythmik, or Hsu. First, from a business practices standpoint the subwoofer is problematic, because they keep alternating the price between $199.99 and $599.99 so you don't know what value you are getting with the product. It seems like you are getting a good deal but the problem is that their amplifier boards are simply defective. The first time I ordered this subwoofer it was making buzzing sounds, even though it was acoustically isolated from the floor. In his youtube video "A DIY Project With the JBL 550P Subwoofer - Turning Broken Into Booming", Digimorphosis explains that his subwoofer was buzzing because of problems with the plate. I returned this unit and received a replacement. The first time using this replacement it worked fine, but the next day I tried no sound came out. The green light indicator was on and my receiver was working with the other speakers indicating that this was not a problem with the receiver, LFE cable, or power cable, but rather that the amplifier board in the sub550p was short circuited. If you want a reliable subwoofer look elsewhere.
Date published: 2021-08-12
Rated

5

out of

5
by
Mike1979
from
10" 50 pound beast
The JBL 550p may not seem very intimidating do to it's compact size, but man, after it settles in...you might just find yourself completely satisfied. Prior to the 550P I owned a JBL ES150p, dual Kilpsch R-10SW and dual SVS SB12-NSD. All properly set up, balanced and timed to blend appropriately. The JBL 550p does indeed out perform those models. At least for my tastes. I'm not a bass-head by any means, but I like full, clear, fast, thick, musical low end, and that's exactly what the 550p delivers. Superb sub 60hz musical tonality blending flawlessly with my Studio 190 towers. For the first time music playback in Stereo mode sounds like the music is "just in the room" and not coming from speakers and subwoofers. Despite being a sealed sub the rumble the 550p creates during movie viewing and gaming literally shakes my living area and moves my hair at times. FYI I have the sub gain at 12 o'clock and AVR trim at -2db. The 550p is 7.5ft away from main listening position. My living area is roughly 12x18, open floor plan, 8 ft ceilings. I'm well aware that dual subs is all but mandatory to many people and publications these days, but one 550p is more than enough for my house. I included the trim levels so readers didn't think that my hair was moving because I was running the 550p super hot. Quite the opposite. In fact the sub is a tad behind the chaise portion of my sectional and I still feel it. At the sale price the 550p is undoubtedly a HUGE value. At the standard sale price the 550p is certainly worth it. I highly recommend the 550p but heed these words...it takes several hours before the sub loosens up and starts performing as designed. So give it time to bloom and you shan't be disappointed.
Date published: 2019-04-30
Rated

4

out of

5
by
Nicknames suck
from
My review is based on the fact that these subs were purchased while on sale. It is used in a master bedroom setup with the 530's For the money the sub is good; good tonality and dynamics, very punchy. I have the gain turned down because it can be empowering and boomy and in my bedroom. I use it for both music and home theater. IMO, this is best suited for HT. Would I buy this at full retail? No. Better options exist. When on sale they are a steal and very good value.
Date published: 2021-02-23
Rated

5

out of

5
by
llemf
from
Accurate, powerful bass
I first bought the Infinity R 10 sub in Nov and this sub in Dec. I am using the R 10 for a 2.1 music setup and the Sub 550P for both music and movies. This was my first sealed sub. It was easy to setup with my AVR using the LFE connection. It is surprisingly deep, accurate, and it has power. I considered buying the Infinity R 12, but this unit is a better fit for a small to 230 sq foot medium size apartment living room. It has a fairly small footprint (does not eat my living room) and has both the looks and sound of quality. I'm happy!
Date published: 2018-12-20
Rated

4

out of

5
by
tcb1
from
Great Option for Music
I received the SUB 550P in early April and am very happy with its performance. The overall quality of the unit seems very high, but mine did come with a crack in the plastic that covers the front of the subwoofer (see pictures). I haven't yet heard back from their support as to what they think of the crack, but I'm hopeful they'll do something about it. I'm using the Subwoofer in a 2.1 configuration with the mains being Polk Signature S15's. I think a sealed sub is the way to go for music listening as they, in my experience, generally sound cleaner. They also avoid any sort of port noise that may be evident on many ported subs. The auto-on feature works really well, but I would like to note that the unit claims to use 6 watts in standby. I'd say this is accurate as the back of the unit is warm to the touch at all times.
Date published: 2019-04-18
Rated

5

out of

5
by
JoMo
from
Strong value
I'd been tinkering with my home theater setup, and the cheap ported sub I had was just not cutting it. There's never enough money for the really ambitious things in life, but the 550p went on steep discount just when I needed it. The bass effects not only tickle my bones, but the sub integrated smoothly with my setup, freeing up my (relatively inexpensive) towers for cleaner midrange voices, and that has helped my whole arrangement sound about ten times better.
Date published: 2019-03-21
Rated

5

out of

5
by
Vegas
from
Killer Speaker N Sound 1/17/22
My surround sound sounds good but I like more bass, with this speaker and built in amp it just thump's away, you can adjust it to your liking, plus it's not a cheap speaker or cabinet it's solid and has some weight to it, plus you can hook it up to your existing system, you want great bass then I Highly Recommend this speaker. I also replaced my car speakers with JBL Speakers and it's awesome!
Date published: 2022-01-17
Rated

1

out of

5
by
Tony2770
from
Kept over heating and shutting down
Only played it 5 times. Kept overheating and shutting off
Date published: 2019-01-05
Rated

3

out of

5
by
Hilton
from
I returned two of them
I bought two of the 550p subs for our family as a Christmas present. They were on sale and had free shipping with free returns. The plan was to put them in our living room with the es90 fronts, es25c center, 8" in wall plates, and two pair of the ceiling 6" atmos. Yamaha RX-A3070 receiver. I replaced a single "home built" 15" ported sub tuned to 18.8 Hertz. I've been a JBL fan for a long time, and wanted to give them a chance. I was disappointed that the two 550p subs could not reach as low as the single Adire Tempest they were bought to replace. I played with the room placement, phasing, and settings, and gave them a fair trial. I really wanted to like them. I very carefully boxed them back and and have shipped them back to our friends at JBL. The free shipping and free returns policy makes it easy to see for yourself if you like these.
Date published: 2019-01-01
Rated

5

out of

5
by
Flambe42
from
Happy Camper
I'd shopped for a subwoofer for my stereo for over a year when I found the Sub 550P. The combination of size, specs, and price looked promising so I decided to give it a try and I'm very happy that I did. I'd read some reviews that said it was musical and I agree. It plays deeper and stronger than my old sub so I'm discovering new aspects to music I've been listening to for a long time. I'm also pleased with its performance as a home theater sub. Plenty of power for the space it's in a living room/dining room with vaulted ceiling.
Date published: 2021-07-12
Rated

1

out of

5
by
Jackobox
from
Low output
Huge jbl fan for both vintage and new speakers. Absolutely like the 590's. Thought I would take a chance on the matching sub since it was on sale. I have many subs and this is the worst of the bunch and also the largest. My little elac sub blows the doors off this jbl sub. It just doesn't have much power and feels like it doesn't go down into low frequencies at all. I tried the paste etc and just not enough low end for a dedicated sub. Save your money and buy something else.
Date published: 2021-02-28
Rated

5

out of

5
by
Zizu
from
Good buy
For the price I paid I must say it's a bargain. Had Polk same size and I will say it's heading to the trush.
Date published: 2018-01-04
Rated

5

out of

5
by
Dan the speaker man
from
Fast, Tight, Musical bass.
The way I would describe the bass from this subwoofer is "correct " it's not boomy at all it's sealed so it is great for music. I have 2 of them matched with a pair of 590's, in a 2 channel system strictly for music. The build on them is solid, they are as heavy as lead. I got them on sale for $189 dollars each! Could not be more happy with them.
Date published: 2019-12-21
Rated

5

out of

5
by
JGS5607
from
Great Sub for what I wanted to use it for.
I am using this Sub in my Office to cover the low frequencies for the JBL Control 2P monitors I for my computer. It energizes the 12x12 foot room with clean detailed bass; I like the tight bass that you get from a good sealed sub. I think it best suited for a music system in up to a mid sized room. I bought it on sale and it is an absolute steal at under $200.00; if I needed it for a larger room, I would have bought 2. My HT system ( All JBL Studio series ) in a large room need a lot more than what this (or multiples of this could provide) to keep up and still not cover the lowest LFE, but then again, that is not what the 550P is designed for;. For what I needed, and for those focused 2 channel music listening, this sub is perfect. Highly Recommended
Date published: 2019-12-31
Rated

5

out of

5
by
MikeysMadispop
from
Budget King
I added this along with my old JBL PB10 and 2 others subs to our 3600 cubic ft room and am very happy with it. I had a small null that it has more than fixed. Got it on sale for an amazing price. Hope it lasts as long as the PB10!
Date published: 2022-12-23
Rated

5

out of

5
by
JR_2013
from
Deep Bass
Bought to replace a HKTS16 sub that went bad and man can you hear and feel the difference! Deep bass makes watching action movies and listening to music that much more enjoyable.
Date published: 2020-07-14
Rated

5

out of

5
by
Cpierce
from
I bought this sub for my husband for Christmas and he hasn't shut up about how good it sounds since he opened it! We love love it and would recommend it to anyone!
Date published: 2019-12-16
Rated

5

out of

5
by
Jabo
from
Great sub.
I already had one of these, but at the refurbished price I just had to have another. I always buy JBL and I'm never disappointed.
Date published: 2020-05-14
Rated

5

out of

5
by
Katz
from
Love it
Makes movie watching experience great. Have hooked it up along with Harmon Kardon infinity speakers and they pair great!
Date published: 2019-06-18
Rated

4

out of

5
by
BBall
from
Powerful Sub
Deep, rich base. This sub is a great compliment to smaller box speaker needing something better on the low end.
Date published: 2018-01-10
Rated

5

out of

5
by
J Joy
from
Deep and powerful bass
I love it. Best to watch movies. You can feel that deep bass.
Date published: 2019-12-16
Rated

5

out of

5
by
KnowKnees
from
Exceeded My Already High Expectations
Since I already own a couple of JBL's outstanding floor speakers I purchased this sub with already exceptionally high expectations which were surprisingly exceeded once I set everything up to my liking. In my personal opinion, this sub provides unsurpassed SHARP and ACCURATE bass in whichever format you happen to be using Iit for (musical stereo, surround sound, etc.). It clearly outperforms (and sonically compliments) my existing 12-inch sub that's currently positioned just behind my monitor. Thus far, I've positioned this enclosed 10-inch sub just behind my viewing/seating area wherein the two subs provide a virtually stunning, "room-filling," and immersive bass response. The bottom line is that these JBL 10-inch subs are an exceptional deal,, however, I very likely wouldn't hesitate to purchase another one, regardless of the cost.
Date published: 2023-02-06
Rated

1

out of

5
by
Themusicmaker
from
What a joke
I tried 4 of these in every possible configuration using Audyssey XT32. Tested as single, double, triple, and all four. Corner placement, center of wall, front rear. They just suck the life out of a great sound system.
Date published: 2021-10-03
Rated

5

out of

5
by
GChristian
from
The Sub 550P Rocks
The 550 Sub is a fine piece of engineering. Once adjusted to your system and your taste, the 550 rocks. Precise, powerful clean bass. Like any piece of audio equipment, if it's abused it will fail. Take care of the equipment and it will perform for many years. JBL is a quality company and produces a fine product in all categories. I highly recommend JBL and the Sub 550P.
Date published: 2023-01-24
Rated

4

out of

5
by
Scotty B from VA
from
A lot of bottom end for the buck
I have been an avid fan of JBL for almost 40 years, but mainly from the pro side. I am putting together a new home theater and I needed to replace my 10 year old subs. I originally wanted a 15" sub with at least 300 watts but the price of the SUB 550P made it a no brainer, so I bought two to compensate for the smaller size. So far so good.
Date published: 2018-01-31
Rated

5

out of

5
by
Gabe104
from
Big sound
I got this on a sale for cyber Monday and it is definitely worth the money it costs at normal price. It has deep lows and loud highs. Although when it is turned up there is a noticeable smell from the voice coil or amplifier, I don't push it terribly hard but the amp on the back does get warm and puts off a smell. Overall a great product
Date published: 2018-12-20
bvseo_sdk, dw_cartridge, 18.2.0, p_sdk_3.2.0
CLOUD, getReviews, 6ms
reviews, product
Product Q&A
Re: SUB 550P Your spec sheet states "Power Consumption (Standby) less than 6W (120V)" Do you have a more specific spec for current usage in Standby mode. 6W would be unacceptably high. best regards.
The power consumption of our JBL Sub 550P is less than 6W for 120V.
Date published: 2021-06-06
Saw this for $189 recently. Will it be on sale again when back in stock?
We don't have news to share right now about sales and stocks of our JBL SUB 550P. Please sign up for our newsletter for news and updates. https://www.jbl.com/subscribe.html
Date published: 2023-01-16
Will the 550 Sub pair with the JBL Charge 4?
Thanks for your question. Our JBL SUB 550P is a stand-alone system. Connecting other JBL speakers to it is not possible.
Date published: 2023-04-12
Omh and watts
The SUB550P is rated at 300W RMS and the load impedance of the speaker is 4-ohms. While the speaker is 4 ohms, being that it is self powered, this is irrelevant to the receiver it is being connected to.
Date published: 2023-05-18
Can I add a wireless transmitter and receiver kit to this sub and send the sound wirelessly from my avr?
Yes, you may use a wireless subwoofer adapter kit with our JBL SUB 550P.
Date published: 2023-03-07
If I buy a BT audio adapter for this, any problem connecting to my TV? I currently am using a (wired) soundbar and a BT powered sub. The BT powered sub that came with soundbar is lousy.
Hi! The Sub 550P will accept any signal that is sent to it. If you have a Bluetooth wireless transmitter and receiver that you can connect to the soundbar and the subwoofer, then that should work. But you would also need to check if the soundbar that you have has an audio output where you can connect the Bluetooth transmitter to because if the soundbar has no output, then the Bluetooth receiver will not work with the Sub 550P.
Date published: 2021-06-06
Is this model the studio version or a different version. In the description the term studio 550p is used several times but in the title of the item on this page it doesn't say it's the studio version 
The Sub 550PBK is the same as the Studio Sub 550P.
Date published: 2021-06-06
The receiver Pioneer VSX-1131 accept this sub. Thanks (From Brazil!)
Yes, There should be no problem with connecting the SUB 550P to the Pioneer receiver.
Date published: 2021-06-06
Will this work with Yamaha ats 1080 soundbar?
JBL SUB 550P is designed as part of our JBL Studio 5 series. Each brand is different and our products have the pure JBL Signature Sound. We would recommend getting a unit that is made by the same manufacturer of your soundbar for better audio balance. https://www.jbl.com/studio-5-series/
Date published: 2021-06-06
I am looking for a lightweight powered subwoofer either 10 or 12 inch, 31 pounds or less, that I can connect to my Bose S1 Pro speaker. For small home singer-songwriter- guitar performances. Does JBL have one? Thank you!
We would like to get more information to help you out, please contact us so we can assist you: https://bit.ly/2zwFkYM
Date published: 2021-06-06
Is the JBL SUB 550P being sold in the US capable of 220V power input?
The power requirement of JBL Studio 550P is 220V – 230V.
Date published: 2021-06-06
Hi, Can I check if this subwoofer can be driven as passive? Also, can i check if this model support 220v? Thanks.
Our JBL Sub 550P can only be run as an active subwoofer and it has a minimum voltage of 120V and the max is 230V so it can handle 220V. If you need more help, please contact us here. https://bit.ly/2zwFkYM
Date published: 2021-06-06
How will you connect this subwoofer to an old school amplifier ( Studio Standard by Fisher CA 800 ) that has no subwoofer out..
To assist you better regarding your JBL Sub 550P and your amplifier, please contact us so we can work with you directly: https://bit.ly/32SLnol
Date published: 2021-06-06
I have a batt/ac powered pa speaker 500 RMS w/ RCA,speakon outs & crossover. Can l connect the JBL to the pa for more thump? The pa is 15" woofer w/ 40 oz magnetic. Thx in Advance
Hello! Our Sub550 will work as long as you connect it to an audio input. In this case, yes you may connect it to your PA speaker. However, for compatibility you may need to reach out to the PA's speaker manufacturer.
Date published: 2021-06-06
Can this sub connect to party box 300 or even the 200? Thx !!
Thanks for reaching out, Yes, this is possible by connecting them using an RCA cable. If you have other questions or other inquiries, Please submit a case request at https://www.jbl.com/support-contact.html and the Customer Service Team will be more than happy to assist you.
Date published: 2021-06-06
What is the dB rating
Unfortunately, we do not have this rating for our JBL Studio Sub 550P.
Date published: 2021-06-06
I have four(4) of JBL Arena170 speakers and Harman Kardon HK3770 receiver Will this sub woofer work with my system?
Yes, these would go well with our other JBL speakers.
Date published: 2021-06-06
Does this have a universal voltage rating like Klipsch (100-240V)? The input AC spec has US and EU separated out. There are two SKUs?
We have a US and EU variant. The US only runs on 120V 60Hz while the EU is at 220V-230V, 50Hz/60Hz.
Date published: 2021-06-06
is this subwoofer refurbished
Thank you for your interest in our JBL SUB 550P. If you'd like to have a refurbished JBL SUB 550P, you may refer to this link: https://www.jbl.com/factory-refurbished/SUB+550P.html?dwvar_SUB%20550P_color=Black-USA-Refurbished&cgid=factory-refurbished
Date published: 2023-05-17
Will this work in a car?
Our JBL STUDIO SUB 550P is a powered subwoofer designed primarily for use in a home audio system. It is not specifically designed for use in a car audio system, and may not be suitable for use in a vehicle.
Date published: 2023-04-20
My 550p sub doesn't seem to go onto stand by mode even after turning off my amplifier for a long time. It produces very light humming sound. So I have to turn power off on my sub every time when finish playing. Any suggestions?
Thanks for reaching out, we would like to work with you directly. Please submit a case request at https://www.jbl.com/support-contact.html and the Customer Service Team will be more than happy to assist you.
Date published: 2021-06-06
This is a great sale price for a powered subwoofer. I dj wedding receptions, usually small ones, as a hobby and typically use a huge 18" passive sub. Could this give enough thump as a replacement? I wouldn't need a bass amp anymore too!
JBL SUB550P is a 10" subwoofer with a built-in 300W RMS amplifier. For more information, check out the specifications here: http://bit.ly/2OLxPW1
Date published: 2021-06-06
What is the db rating ?
It is rated to have 24dB/octave.
Date published: 2021-06-06
My 550P goes into standbye after about 7 minutes of no audio signal. The manual states that it should be after 20 minutes. Can anyone weigh in? Does your sub go into standby under 10 minutes? Preferable those of you who recently purchased the sub.
We would like to get more information to help you out, please contact us so we can assist you:https://bit.ly/2zwFkYM
Date published: 2021-06-06
Does any one know if this will work with the P2 driverack connected to jbl and crown amp 4040
We would like to get more information to help you out, please contact us so we can assist you: https://bit.ly/2SiwJDA
Date published: 2021-06-06
Is this sub also a studio sub? I could not see the back of it.....XLR's in and out............thanks
Sub 550P is one of our JBL Studio Series. Only R/L and LFE inputs are available through RCA cables.
Date published: 2021-06-06
Looking at the JBL 5.1 wireless system, comes with a 10" Sub. That Sub is Maybe 100W RMS? How does this Sub compares to that one? I assume it is way more power. Is is there a wireless adapter for the 550P so I can use that sub instead?
The Sub 550P is definitely more powerful than the Bar 5.1's subwoofer. Unfortunately The Bar 5.1 can only connect to the subwoofer that it came with and can't be connected to other subwoofers.
Date published: 2021-06-06
I saw that the specification of this product says 120V, 60Hz (US); 220V-230V, 50Hz/60Hz (EU). Then is it something you can use in 220V environment in Korea?
Our JBL Sub 550P sold in the US 110V versions. You will need to use a transformer to be able to use the 110V subwoofer to a 220V outlet.
Date published: 2021-10-03
Can I buy an EU variation of 220V Power input ?
Thanks for your interest in our products. Unfortunately, we do not have EU variants here in the USA.
Date published: 2021-06-06
I'm trying to confirm the dimensions of this unit as I have a tight space I'm trying to fit this into. The unit looks taller than it is wide but the dimensions listed say otherwise.
These are the dimensions of our JBL Sub 550P: Height (in)14-29/32 Depth (in)41-31/32 Width (in)17-1/2
Date published: 2023-02-17
bvseo_sdk, dw_cartridge, 18.2.0, p_sdk_3.2.0
CLOUD, getContent, 22ms
questions, product
Support
Register your JBL product
Do you own this product? Register it here in case you need to claim warranty
Register Now
Can't find what you're looking for?
Are you looking for product support, documentation, how-tos or older products?
JBL Support